Wanting a successful natural birth isn't too much to ask or plan for.
With c-section rates increasing and interventions in hospital births becoming more routine, it's absolutely a good idea to prepare yourself for success ahead of time.
As a mama who's had two natural births in a hospital, I've learned many things along the way that I think you should be aware of.
There are some things that should just never be done in the birthing room if your goal is to have a natural birth. And yes, of course, I know that nothing in the world of childbirth can be 100% guaranteed.
But not doing the following things in the birthing room can really help you on your way to having a successful natural birth.
Want a Successful Natural Birth? Avoid Doing These 12 Things in the Birthing Room!
1) Lying on your back during labor.
It irks me (to say the least) that the lithotomy position, aka laying down on your back with your feet raised, is still the most commonly used position during the second stage of labor in hospital births.
Not surprising, since it's only convenient for your medical birth team. And it's also the only birth position that has been ingrained in our minds through TV shows and movies.
For a successful natural birth, forget that this position even exists because it is literally the worst position for labor! This position is not conducive to a successful natural birth because it makes your pelvis smaller and causes you to have to push "uphill" or basically against gravity.
Why do that when you can stand instead for example and allow gravity to help you birth your baby?
Numerous studies have shown that this position increases the risk of injury, and causes more pain thus increasing the risk of distress in mom and baby. AND it makes labor longer…
You get the point.
Instead, try the squatting position. One of the many benefits of having a natural birth is having the freedom to move as you wish.
Your body will communicate its needs and lead you into various labor positions. Trust me, you'll know exactly what I mean when you're in labor. Have fun and try out different positions!
For just a few bucks, you can get this mini digital labor pocketbook and in it, you'll find TONS of info, including pictures of various labor positions you can try!
2. Coached pushing
This is basically when your medical team tells you how to push and when to push. According to the WHO, women in the pushing stage should be encouraged to follow their body's own urges to push.
Following your body's natural urges is key to having a successful natural birth.
This makes perfect sense because if you really think about it, in a natural birth, only you have the ability to feel what is occurring within your body.
Only you are able to identify what your body needs throughout the various stages of labor. If you've assembled a trusted birth team, yes, you should listen to their guidance when you need it.
But by listening to your body, you're preserving your energy, reducing your risk of tearing, keeping your baby happy and hopefully not in distress, giving your baby time to descend safely, and giving your body time to open up.
All of these will help you have a quicker and easier postpartum recovery.
3) Purple pushing
One of the downsides of coached pushing during labor is that it typically involves purple pushing, which is basically holding your breath as you bear down and push.
Your baby receives oxygen from you. So if you're not breathing, guess what happens to your baby?
Purple pushing increases your risk of tearing your vagina, is exhausting, causes low oxygen levels in both you and baby, and increases your risk of needing medical interventions such as a c-section.
Breathing during labor is super important for a successful natural birth.
4) Not DIYing your birth space decor
Transforming a blah birth space into a birth sanctuary fit for an empowered birthing mom (that's you!) is a great way to help you achieve your goal of having a natural birth, and also to help you cope with labor pain naturally.
If you're going to be giving birth in a hospital setting where your surroundings are cold and more clinical, you'll want to make the birthing space your own (within reason).
Dim the lights, bring some comfort items from home, diffuse some relaxing geranium essential oil, and play calming music to make your birthing space a safe space for you and to help you relax— and shorten your labor!
5) Not moving during labor
Studies have shown that movement during labor is a super important key to having a successful natural birth. So long as you're staying active and not laying down flat only our back (like we talked about earlier), you're good mama!
Laboring on all fours, slouched over an exercise ball, standing, or while walking, are all great ways to shorten your labor, decrease pain, make contractions more effective, and all the other good things you can think of.
Worried about not knowing which position to get into and when? I've got you covered. Moms have been loving The Natural Labor Playbook. I created this mini digital labor pocketbook and in it, you'll find TONS of info including pictures of various labor positions you can try!
6) Not controlling your birth space
Remember that it's YOUR birth. And you're in control of your surroundings.
If there is too much chatter going on, too many people waltzing in and out of your birthing space, or too much interference, it's OK for you to say "no", or to let people know you need space, quiet, or whatever the case might be.
Being focused and in tune with your body and the birthing process is key for a successful and positive birth experience, whether you're going for a natural birth or not.
Remember: childbirth is more of a mental game than it is physical.
Anything that is done or said at the wrong time can throw you off not only mentally but physically. So with that being said, don't forget that you're in control and it's 100% your right to set boundaries and ask for what you need and want.
7) Negative Thinking
Keep all negative thoughts and ideas far from you. I've already mentioned that childbirth will challenge you mentally more than physically.
Negative thoughts can trigger a stress response in your body and cause it to go into fight or flight mode thanks to a hormone called adrenaline. This is not part of the recipe for a successful natural birth or even a positive birthing experience.
8) Not eating and drinking during labor
Another benefit of having a natural birth is being able to drink and eat as you please.
Of course, you don't want to be throwing back heavy greasy foods that can make you feel queasy and sluggish. Instead, opt for foods and drinks that will fuel your body to have a successful natural birth.
The uterus is a muscular organ and muscles that need hydration and energy to perform efficiently. If you are dehydrated and weak during labor, not only will you be exhausted, but your uterine contractions will slow or they'll just stop altogether.
Once any or all of these things happen during labor, you're increasing your risk of developing labor ketosis and of needing forceps, an episiotomy, a vacuum, or even a c-section.
Keep in mind that you may not want to eat or drink at all during active labor. That's normal and totally OK! Just remember that at that point when labor is more intense, only drinking liquids is perfectly fine.
If you keep yourself nourished with high-quality foods, specifically during the earlier stages of labor, you won't really need to eat your way through labor.
Not sure what to eat and drink? Here are some suggestions:
Dates: there are so many benefits to eating dates both during pregnancy, labor, and postpartum.
Bananas + peanut butter: high in glucose and protein (glucose and protein)
Orange juice: high in magnesium, vitamin C, and potassium
Coconut water: high in electrolytes and magnesium
Nuts: convenient and high in protein
Honey: great for a natural boost of energy. These organic honey sticks make it super convenient.
Bone broth: high in collagen and electrolytes
9) Looking at the clock
Instead of looking at the clock, stay in the moment. Take each contraction and event as it comes.
If you keep thinking about how much longer you'll be in labor, you may end up feeling discouraged because things aren't progressing as you think they should be.
Childbirth is more challenging mentally than it is physically (I keep saying this because it's important and it's true!). You want to remain headstrong in the game and only focus on what is happening in the now.
Any mental breaks can lead to physical changes that may call for medical intervention, which you want to avoid.
10) Allowing routine cervical checks
I don't know about you, but I have mixed feelings about cervical checks.
I like to know if I'm close to 10cm. But it can be discouraging especially if you're not as far along as you think you should be.
According to this Cochrane review, "If labours that are slow, but not abnormal, are misdiagnosed as being abnormal, this can lead to unnecessary interventions such as drugs to try to speed labour on or cesarean section or forceps for giving birth."
Yikes! Definitely NOT conducive to a successful natural birth.
Cervical checks also increase the risk of infection. If you're having a natural birth in a hospital and you don't have a midwife, then you'll probably have more than a couple medical staffers checking you.
If you really want to be checked while in labor, perhaps wait until you actually have that natural urge… And know that there are other ways to assess dilation that do not involve anyone's hands up there.
By the way, the authors of that Cochrane review I mentioned earlier state, "We identified no convincing evidence to support, or reject, the use of routine vaginal examinations in labour".
11) Keeping the lights on
So you want to have a successful natural birth. Of course, you do.
Turn the lights off!
Research has shown that labor in natural birth typically starts at night or in the wee hours of the morning before the sun even rises. Mine did (for my second baby)!
Your brain produces melatonin at night and it actually starts building up in your body during the later part of pregnancy in order to facilitate labor.
Bright lights hinder the production of this hormone which works with another hormone called oxytocin to make your contractions more effective, thus shortening your labor and facilitating the process of childbirth.
I hope you enjoyed this post and that it really helps you have the birth of your dreams!
Take the Guesswork Out of Labor With My Natural Birth Toolkit
Are you worried you might forget all of your labor prep and info… during labor?! Grab The Natural Labor Playbook, your ultimate labor cheat sheet for natural-minded mamas for only $7!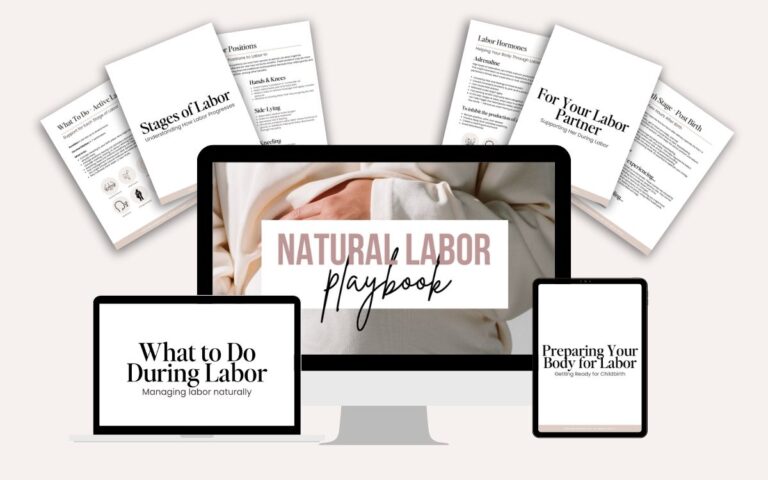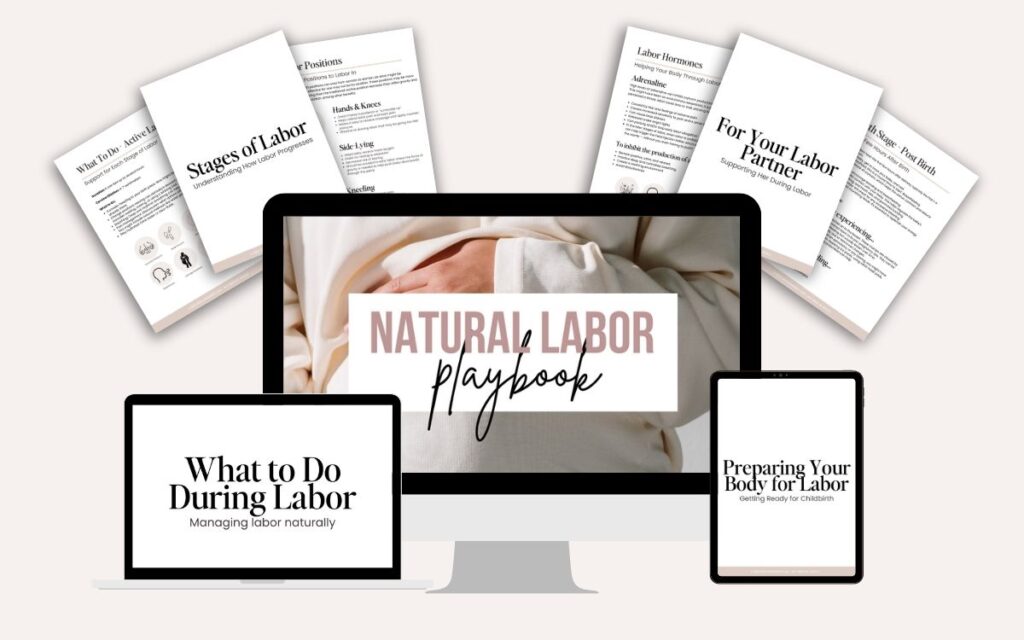 Learn More