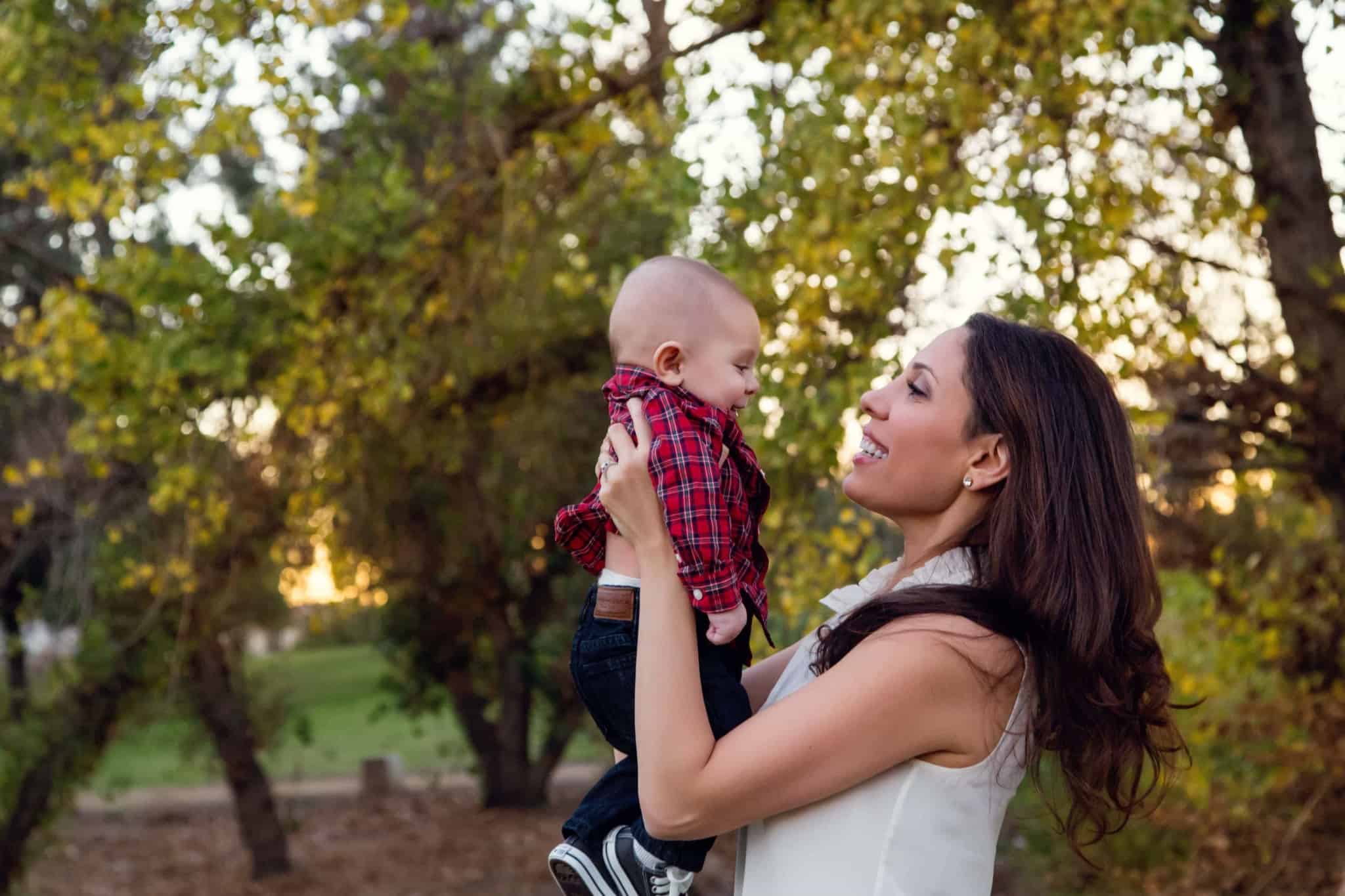 Hello, beautiful mama!
You're probably here because you care about the chemicals in baby products. And you want to have a healthy pregnancy. And raise your baby in a clean home free of harsh and toxic chemicals.
You believe in organic food and trying natural remedies first. You know that a lot of companies often go with what's cheap and easy to serve the mainstream. And you know there are better options out there. Above all else, you want the best for your family.
Welcome – you've found your people.
My name is Yasmine and I'm the founder of The Gentle Nursery. As a mom of two boys, I have definitely been in your shoes. Twice!
I'm the kind of person who would get excited about buying school supplies every summer before school started. So, when I was pregnant with my oldest baby, I was thrilled I could start buying baby products. I finally had a reason to go to the cute baby boutiques!
So I browsed the aisles at the baby shops and was disheartened to find cheap manufacturing and toxic ingredients in baby products. I didn't think that baby products could possibly be harmful!
As I started reading labels and digging a little deeper into some of the common products that are out there (and super popular) for babies, I discovered that so many of these commonly used products contain harmful chemicals linked with endocrine disruption, neurological dysfunction, cancer, and more.
How can these companies expect us to expose our sweet little babies to toxic chemicals?
This really upset me so I decided that I would do my best to minimize these harmful products in my home. That I would create a gentle environment for my son when he was born, as best as I could. So, I pretty much spent my entire pregnancy researching the best options in each product category, but I learned a ton and discovered some great companies that make healthier products for babies and toddlers.
And then I realized that there were other mamas out there like me, who cared about chemicals in baby products.
So I created The Gentle Nursery to make this process easier for you. My amazing team and I give you practical advice to help you avoid harmful chemicals and unnecessary elements in baby products, have a healthy pregnancy, raise a healthy baby, and have a healthy home. Don't worry: we don't expect you to churn your own butter. We're busy moms, too.
I'm passionate about helping parents give their baby the best start in life.
At The Gentle Nursery, we believe that babies are a blessing, and we hope to help parents make healthy, baby-friendly choices. To us, that means all of the following, whenever possible:
Choosing organic or natural products
Using minimal baby care products
Avoiding GMOs, artificial ingredients, petrochemicals, endocrine disruptors, and additives
Reducing the use of plastics and other known toxic ingredients
Identifying safe products and approaches to baby care and development
Finding ways to gently and respectfully care for babies
Sourcing products made in countries with reliable labor and manufacturing practices
Making good and healthy choices for your baby doesn't have to be overwhelming. Let's create a non-toxic environment for your little one. And let's raise happy, healthy babies, and be happy mamas ourselves!
---
My background is in research and I spent 9 years working in the corporate world as a senior manager in a position that required me to utilize my research and leadership skills daily. I also managed a team of six and loved being able to nurture someone else's career. I bring the same attention to detail to every article I write.
I'm a graduate of the University of Southern California (go Trojans!) and my mom is an integrative OBGYN. I grew up my entire life around babies and birth and so it felt natural to help other mamas after I became a mom.
At this point in my blogging career, having helped millions of moms along the way, I have always felt a little bit like a doula or a big sister. Now I'm happy to share that I am a doula in training! I love that I get to learn more about how I can support mamas like you during pregnancy, childbirth, and postpartum.
I'm also in the process of earning my Functional Nutrition Coaching certification through Functional Nutrition Alliance. As the daughter of an integrative OBGYN, I have always been passionate about healthy living and pregnancy, and now with my current studies in nutrition, I am excited that I will bring a new perspective to my readers.
In addition, I've done more coursework on the subjects I cover, including a newborn baby care course from CU, a course on chemicals and health from Johns Hopkins, and a prenatal nutrition program.
And being so passionate about health and wellness for moms and babies, I created Biomeology. We make targeted supplements for moms and babies, and our first product is a prenatal probiotic for moms to take before, during, and after pregnancy. And we also launched our infant probiotics (good for babies and toddlers), which is made with organic ingredients. Please follow us on Amazon and join my mailing list for updates; I am excited about the great ways I can help moms and babies with this company.
My Promise to You
Here are the commitments you can expect from The Gentle Nursery:
Honesty. My team and I won't recommend a product we don't believe in and haven't vetted ourselves. You'll hear the truth — even when it's not 100% positive.
High Standards. We'll search high and low to find the very best options for you.
Commitment. We're dedicated to bringing you the best and helping you make healthy choices for your entire family!
Candor. The advice and recommendations we give here are no different from what we'd say to a close friend over lunch (or text message, more likely).
Price Consciousness. In some cases, the products we recommend might be more expensive than their mainstream or traditional counterparts, but that's not always the case. We always try to find cost-effective options and promise not to recommend the most expensive option simply because it's the most expensive. That's simply not our style.
The 80/20 Rule. We try to be realistic about what we can do to protect our little ones from harmful chemicals. Otherwise, we'll just drive ourselves crazy. So, we try to live by the 80/20 rule, which means that most of the products recommended are non-toxic or organic, but not all will be. That means that we recognize you may not want to spend $900 on a changing table that is made from solid wood, and that I'll find the best alternative for you. We have to be realistic and not spend our time stressing — even stress is toxic.
Resources for you
My Team
I couldn't do this without an incredible team of women and advisors who help make this possible. This is definitely a team effort, so team bios will be added soon! If you're looking to get in touch with us for business development, advertising, or collaborations, please contact Allie.
Thank you for trusting The Gentle Nursery to help you make such important decisions for your family. Please join our mailing list. And join our Facebook community of like-minded parents.