Taking a high-quality prenatal vitamin is one of the most important things you can do to ensure a healthy pregnancy and healthy baby. In fact, choosing a prenatal vitamin is usually the first of many important decisions you'll make for the health of your baby!
But there are so many prenatal vitamins to choose from that it can be hard to know which are the best prenatal vitamins for you. With so many choices out there, how do you know which vitamins you should take during pregnancy?
I'm assuming that you probably already know that you want a high-quality prenatal vitamin, but you need some help deciding which one to take. This article will explain everything you need to know about choosing your prenatal vitamins, including my top choices for the best prenatal vitamins.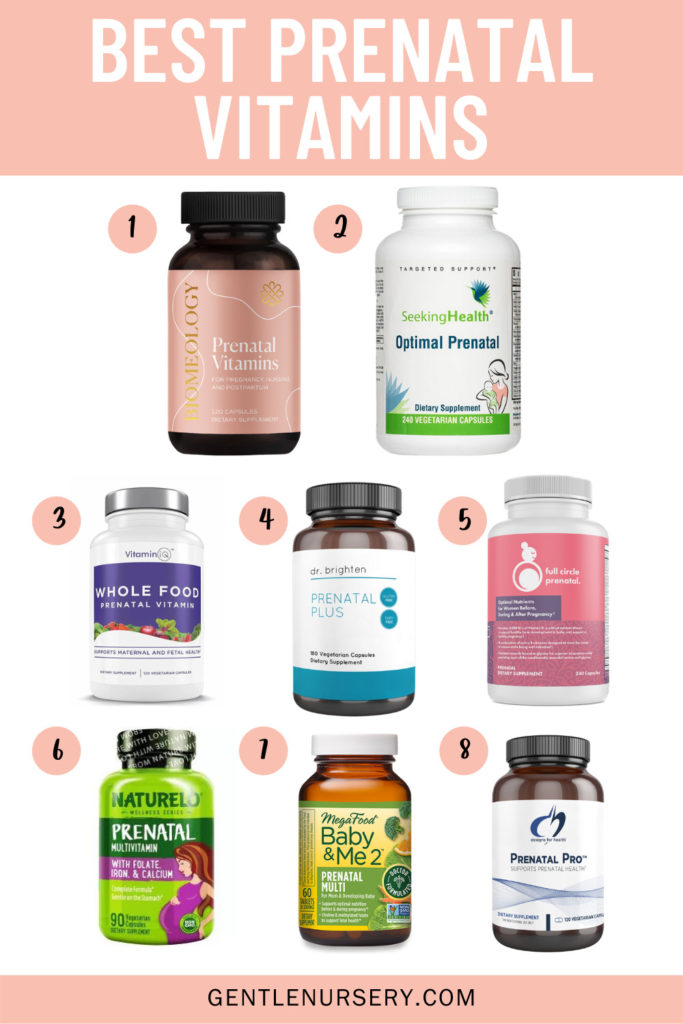 1 Biomeology Prenatal Vitamins | 2 Seeking Health Optimal Prenatal | 3 VitaminIQ Prenatal Vitamins | 4 Prenatal Plus | 5 FullWell Prenatal | 6 Naturelo Prenatal | 7 MegaFood Baby & Me 2 | 8 Designs for Health Prenatal Pro Vitamin
What Are Prenatal Vitamins?
Prenatal vitamins are supplements that you can take to make sure your baby gets all the nutrients they need during pregnancy. They come in many forms, including prenatal gummies, prenatal tablets, prenatal capsules and prenatal liquids. You might also hear them referred to as "prenatals."
For the purposes of this article, we're primarily focusing on prenatal multivitamins when we refer to prenatal vitamins. These are multivitamin supplements that include everything from vitamins C, D, and A to B vitamins (including folate) and iron, and play an important role in your health and nutrition during pregnancy. But we also provide recommendations for other prenatal supplements, including DHA, prenatal probiotics, and collagen.
Do You Need Prenatal Vitamins?
The answer is, most likely. During pregnancy, you'll likely need:
Most Americans don't get enough nutrients through their diet alone. And given that the recommended daily intake for most nutrients is higher during pregnancy, supplementing with high-quality prenatal vitamins is what most experts recommend.
You might be thinking that you eat a really clean diet, so you don't need to take any supplements before or during pregnancy. For very few people, this may be true; but for most Americans, the truth is that even if you happen to eat a perfect diet 100% of the time, your diet is only as good as what your body can absorb from your meals.
So if you have had any gut health issues in the past, or may not even realize that you have less than optimal absorption (which is really common), you may not even be absorbing enough nutrients through your diet alone.
This is where supplements can be really helpful.
Supplements, like prenatal vitamins, can help supplement your nutrient intake from your diet. Taking a prenatal multivitamin can help establish a solid nutritional baseline during pregnancy, especially when your body is going through so many changes and you may not be able to get enough nutrients through your diet.
And getting enough intake of certain micronutrients during pregnancy can help prevent certain birth defects, such as neural tube defects like spina bifida. Additionally, being pregnant can deplete your own nutritional stores in favor of your developing baby's needs. So, for most mamas, taking prenatal vitamins daily before, during, and after pregnancy can help ensure an adequate nutritional baseline.
A high-quality prenatal vitamin is a safeguard for your body as you journey into preconception, pregnancy, postpartum, and breastfeeding. This is when your baby's fetal development trumps your own body's nutritional needs. And this is even more so the case when you have food aversions, nausea, and exhaustion. Prenatal vitamins can also be helpful for preparing your body and supporting your hormones before pregnancy.
Which Nutrients Do You Need During Pregnancy?
First, let's start with which vitamins and minerals your body needs before, during, and after pregnancy. You should be getting these through a combination of a healthy diet and the supplements you take.
Pregnant women need the following essential micronutrients on a daily basis:
Calcium: 1,000 mg for pregnant women age 19+ to help build strong bones and teeth during pregnancy. Good food sources include broccoli, dairy, and kale.
Iron: up to 27 mg per day (depending on your lab work) to support your energy and help red blood cells deliver oxygen to your baby. Lean meats, spinach, poultry, and fish are good sources of iron.
Iodine: up to 290 mg to support your baby's brain development.
Choline: at minimum 550 mg per day for your baby's brain and spinal cord development. Eggs are a great source of choline.
Omega-3 Fatty Acids: this is one of the most important micronutrients for pregnancy and postpartum; 800 mcg per day is recommended.
Vitamin A: 3,000-5,000 IU per day is generally well tolerated; supports baby's healthy skin development, eyesight, and bone growth. There is mixed information on what the tolerable upper limit is, so to be safe never exceed 10,000 IU per day. Good food sources include organ meats, cheese, and eggs.
Vitamin D3: 40-50 mcg per day (equivalent to 2,000-4,000 IU) to promote bone strength, and teeth, and support the immune system.
Folate: 800-1000 mcg per day to support baby's brain and spine development. This is one of the most important nutrients for babies during pregnancy because of its role in supporting DNA synthesis and preventing birth defects. Methylfolate is the most tolerated and form, while folic acid is synthetic and not tolerated well by many people.
Vitamin B6: up to 10 mg per day to support mom's wellness during and after pregnancy. If you have taken birth control, this will likely be depleted.
Vitamin C: 400-500 mcg per day to support an overall healthy pregnancy, including tissue repair and baby's healthy teeth and bones.
Magnesium: 400 mg per day is recommended to support a healthy pregnancy and minimize risks of preterm birth. Magnesium can be taken in supplement form or absorbed transdermally (through the skin) in forms like magnesium oil or magnesium flakes.
Other important micronutrients for pregnancy include vitamin K, other B vitamins (thiamin, riboflavin, B6, biotin, and B12), zinc and copper, selenium, and vitamin E. (As a side note, protein requirements also increase during pregnancy.)
Of course, not all of this is required in your prenatal vitamins. You'll want to achieve this through a combination of food (by eating a healthy diet with lots of whole foods) and supplementation. Making sure your diet and supplements contain the right amount of these important nutrients is key to staying as healthy as possible during pregnancy, having a healthy baby, and keeping your energy up.
Note: Not All Prenatal Vitamins Provide Adequate Nutrition
Prenatal vitamins help ensure that you get the essential nutrients needed to support fetal health and development as well as your own health and wellness. High-quality prenatal vitamins help fill in nutrition gaps and ensure that you and your baby meet your nutritional needs.
But not all prenatal vitamins provide adequate nutrient levels.
Looking at the various prenatal vitamins on the market, most women assume that they all provide adequate nutrition support for pregnancy. They are marketed to pregnant women, right?
But if you take a closer look, most of these are formulated for convenience and not for optimal prenatal nutrition, especially drug store vitamins. In fact, if you pull two random bottles of prenatal vitamins off the shelf, chances are they contain different ingredients and you can't really compare apples to apples.
There are many prenatal vitamins on the market, and most of them don't include half of what your body needs during pregnancy.
But it's a good idea to be picky about your prenatals and what you put into your body before, during, and after pregnancy. Most popular prenatal vitamins skimp on the important (and expensive) nutrients and contain unwanted or unhealthy additives that aren't ideal for pregnancy. Be sure to take a clean, high-quality vitamin that contains more than just a handful of vitamins and minerals. Your body and your baby need a lot during pregnancy and we want to set you both up for nutritional success and wellbeing.
What Should You Look for in Your Prenatal Vitamins?
You can choose from gummy vitamins and chewables to capsules and tablets. How about 1 a day vs. 8 per day? And do you need choline or can you get that from your diet? What about prenatals without iron? What are methylated vitamins? Is it folic acid or folate?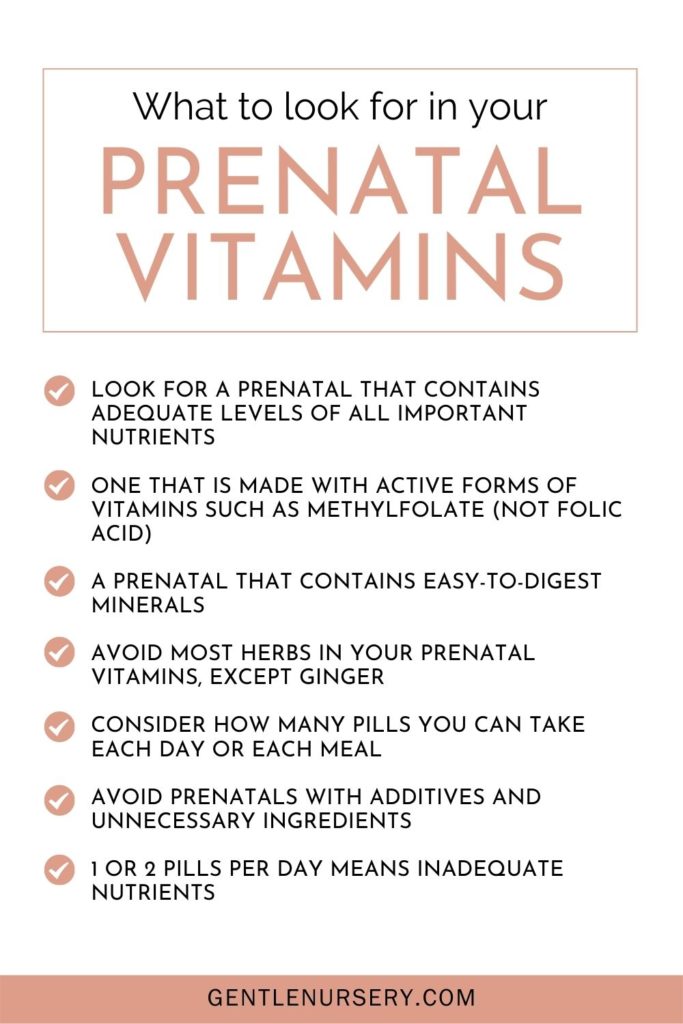 Honestly there is so much to figure out that I personally didn't even really know the answers until I sat down to do my own detailed research. Here's what I recommend:
Don't settle for a prenatal that doesn't contain adequate levels of important nutrients.
So many of the best-selling prenatal vitamins simply don't contain adequate levels of key nutrients. Some don't even contain key nutrients at all! Make sure to choose a prenatal that contains adequate levels of the vitamins you know you need to supplement; for example, if you aren't eating a lot of organ meats, make sure that your prenatal contains vitamin A in the form of retinyl palmitate (not just beta carotene).
If a prenatal that has fewer than 3 pills per day, it is likely missing key nutrients and should be swapped for one of these more broad prenatal multis. Sorry. I know the idea of one-a-day sounds great, but it's not doing much for your body.
Make sure to get a prenatal with vitamins in their active forms.
Be sure to look for prenatal multivitamins that contain the active form of each B-vitamin such as methylfolate. Avoid all prenatal vitamins that are labeled to contain "folic acid" and opt for folate in its bioavailable form, methylfolate, instead. (All of the supplements I have listed contain active B-vitamins and are MTHFR-friendly.)
Look for easy-to-digest minerals.
The easiest to digest minerals are going to be chelated, often appearing as "bisglycinate" or "buffered", such as those manufactured by TRAACS. Generally speaking, it's best to look for branded or trademarked ingredients, which will often have more studies behind them than generic ingredients.
As always, avoid unhealthy additives.
Avoid prenatal vitamins that contain additives that you aren't comfortable taking. Look for a clean prenatal, like the ones listed in this article. For example, most gummy prenatals contain added sugar and colors, which is best to be avoided in your prenatal (unless this is the only kind of prenatal you can stomach; see below for recommendations). Other popular brands like PureNatal contain soy, which is also best to avoid in your prenatals.
Avoid prenatals that contain herbs — with the exception of ginger.
Unfortunately, most herbs have not been tested for safety during pregnancy, so it's best to use a prenatal vitamin that does not contain any herbs or herbal blends. Ginger, however, is safe to use during pregnancy and postpartum.
Consider how many pills are included.
Some prenatals require 6-8 pills per day and this may not be manageable for all women or during certain stages of pregnancy. On the flip side of this, some of the most popular prenatal vitamins only contain 1 or 2 pills so you know that they aren't able to contain adequate levels of the important vitamins and minerals you need.
With these important nutritional guidelines in mind, let's go over the best prenatal vitamin brands I would recommend and the only ones I would personally consider using myself.
The Best Prenatal Vitamins for Pregnancy, Conception, and Postpartum
Choosing a prenatal vitamin is truly an important decision you make for yourself and your baby. I am a big believer in food-first nutrition, but it's also equally important to supplement your diet well with high-quality prenatal vitamins. Prenatal vitamins allow for an additional layer of protection for mom and baby. They can fill in the gaps where your diet or absorption might leave off.
After considering all the research, as well as looking closely at these prenatal vitamins and their nutrient levels and ingredients, here are the top brands I recommend.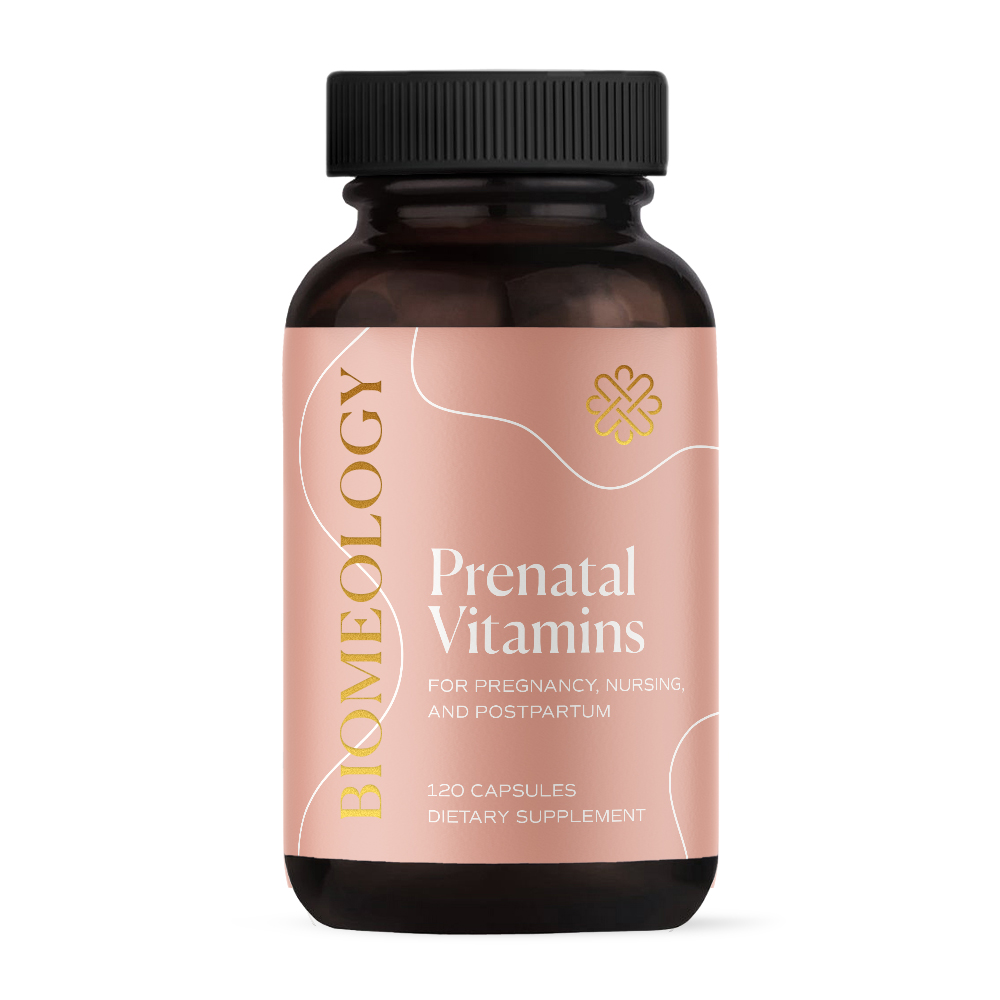 Buy on Amazon | Biomeology
Biomeology's prenatal vitamins are formulated to be highly effective and easy on your system. Made with active and bioavailable vitamins and minerals that are easily absorbed and digested, Biomeology's prenatals are our top recommendation for a high-quality prenatal vitamin.
Biomeology prenatals offer key nutritional support for fertility, pregnancy, and breastfeeding, as well as for baby's brain, eye, bone, and overall fetal development and wellness. This prenatal contains 26 vitamins, minerals, and antioxidants, is non-GMO, vegan-friendly (free of animal products), and MTHFR-friendly.
For most pregnant mamas, a high-quality daily prenatal vitamin like Biomeology's will help fill in the right nutrition gaps and provide the right levels of key supplements that will support a healthy pregnancy. At only 4 pills per day (I recommend taking 2 with meals, twice per day), I love that you won't feel overwhelmed with taking 6 or even 8 pills a day. That was really important to me!
They are also purity tested by the batch and created in a certified GMP facility.
Number of Pills: 4 daily
Contains Iron? Yes, contains 13.5 mg of iron
Contains DHA? No, you will need additional DHA supplementation
Contains Herbs? No, there are no herbs in this formula
Any extra ingredients? This includes high-quality myo-inositol, which may support healthy blood sugar levels during pregnancy, as well as anti-inflammatory carotenoids (zeaxanthin and lutein) which support mom and baby's eye health
---
Buy on Amazon | Seeking Health
Formulated by Dr. Ben Lynch, Seeking Health's optimal prenatal vitamins are made with your optimal nutrition in mind. With methylated and bioavailable vitamins, these prenatals are truly offering you the most advanced and bioavailable nutrients possible. Dr. Lynch is an expert on MTHFR and gene variations and this is a truly comprehensive prenatal vitamin.
One unique thing about this formulation is that it contains two active forms of vitamin B12 – methylcobalamin and adenosylcobalamin, which some with MTHFR gene variations respond well to. It does not contain iron, though, so you will need additional iron supplementation.
Number of Pills: 8 capsules daily
Contains Iron? No, you may need additional iron supplementation
Contains DHA? No, you will need additional DHA supplementation
Contains Herbs? Yes, it contains red raspberry leaf, milk thistle, and ginger
Any extra ingredients? Lots of extras – it contains CoQ10 (antioxidant), carotenoids (eye health), betaine HCI (digestive support), L-carnosine (energy and muscle support), and taurine (amino acid)
---
Buy on Amazon
If you are looking for a quality whole-food vitamin, consider VitaminIQ's prenatal multivitamin. What I love is that these come in regular sized capsules and not large tablets, which I personally found hard to take during my first pregnancy.
And also rare for a prenatal, VitaminIQ contains broccoli sprout (sulforaphane), a sulfur-rich compound and a helpful source of antioxidants; you might need to avoid this if you are sensitive to sulfur. But for most, this is a wonderful ingredient that offers many benefits.
Number of Pills: 4 capsules daily
Contains Iron? Yes, 18 mg of iron
Contains DHA? No, you will need additional DHA supplementation
Contains Choline? Yes, 350mg choline, so you will need 100mg additional choline from your diet
Contains Herbs? Yes, contains beet root powder, broccoli sprout, and ginger root
Any extra ingredients? No
---
Buy on Amazon
Another good option is Dr. Brighten's Prenatal Plus. Formulated with bioavailable vitamins and easy-to-digest minerals, Prenatal Plus is a nutrient-dense prenatal formulation that will help support your pregnancy and your baby's fetal development. One drawback is that this prental is relatively low on choline (45mg — and the daily recommended intake is 450mg), so you would either need to supplement additional choline or make sure you are getting it from your diet (broccoli and eggs are great, easy sources).
Number of Pills: 6 capsules
Contains Iron? Yes, contains 27mg of iron
Contains DHA? No, you will need additional DHA supplementation
Contains Herbs? No
Any extras? Contains lutein for eye health, and Benopure, which can contribute to healthy metabolism levels during pregnancy
---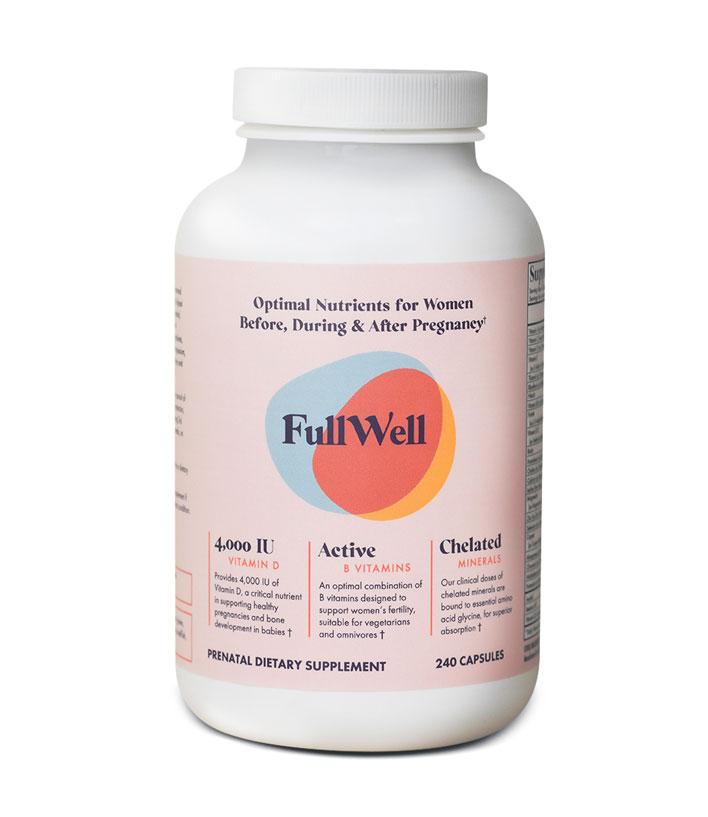 Buy on FullWell
A truly complete prenatal vitamin, FullWell is designed to support your nutrition during pregnancy. Other than deliberately not containing iron, FullWell doesn't leave anything out or take any shortcuts. For example, it contains 4000 IU of vitamin D, meeting most of your prenatal vitamin D needs. This is a top-notch prenatal vitamin and really the only downsides are the number of pills (8 per day) and for some, the price. But as one of the most complete prenatal vitamins on the market, you really can't go wrong with FullWell.
Number of Pills: 8 capsules daily
Contains Iron? No, you may need additional iron supplementation
Contains DHA? No, you will need additional DHA supplementation
Contains Choline? Yes, 300mg choline, so you will need 150mg additional choline from your diet
Contains Herbs? No
Any extra ingredients? Contains betaine HCI (digestive support)
---
Naturelo is a popular vegan prenatal and it includes a mix of whole-food vitamins with bioavailable nutrients. This is not one of the more complete prenatals on this list, so make sure that you are not relying on this solely for your prenatal nutrition because it does leave some obvious gaps in your nutrition. I think it's a good option for someone who is already eating a well-balanced diet.
It does have a pretty high copper dose (1.3mg) so if you have known issues with high copper or zinc/copper balance issues, this may not be the best unless you are supplementing additional zinc or working with a naturopath or MD on this aspect. And for vitamin A, it only contains beta-carotene so this may not convert well in the body.
Number of Pills: 3 capsules daily
Contains Iron? Yes, 27mg of iron, which may be high for some women
Contains DHA? No, you will need additional DHA supplementation
Contains Choline? Yes, 100mg choline, so you will need 400mg additional choline from your diet
Contains Herbs? No
Any extra ingredients? No
MegaFood makes a great prenatal vitamin that uses a blend of whole-food and synthetically sourced nutrients. If whole-food sourcing is your primary priority, MegaFood is a great brand to consider. With Baby & Me 2, they have improved their formulation and it has a cleaner profile than the previous version.
The serving size is two tablets per day, and to be honest I found them to be rather large and hard to swallow. So if you are sensitive to the size of your pills, or have a sensitive stomach overall, this may not be the best brand to consider. And it does not contain calcium, so you will need to take a separate calcium supplement.
Number of Pills: 2 tablets daily
Contains Iron? Yes, 18 mg
Contains DHA? No, you will need additional DHA supplementation
Contains Choline? Yes, contains 300 mg of choline
Contains Herbs? No, this version is herb-free
Any extra ingredients? Because these are whole-food based tablets, the "other ingredients" list is a bit longer than most prenatal capsules
---
Buy on Amazon
Overall, Designs for Health is a great brand that makes quality functional supplements. Their prenatal vitamin is a good option to consider, with one big caveat. While it is a high-quality prenatal supplement, it is pretty low in choline, magnesium, and vitamin D so you would need additional supplements. With 4 pills per day, I would personally choose a different prenatal vitamin that contains higher doses of these important micronutrients.
Number of Pills: 4 capsules per day
Contains Iron? Yes, contains 13 mg of gentle iron
Contains DHA? No, you would need to take a separate DHA supplement
Contains Choline? Only contains 50 mg of choline so you would need to take a separate choline supplement
Contains Herbs? No
Any extra ingredients? No
---
---
These Brands *Almost* Made the List
Thorne Research Prenatal: Thorne makes a great prenatal vitamin that was designed to be gentle for your system during pregnancy. With chelated minerals and bioavailable vitamins, this is another great choice for your prenatal multi. It is a little low on vitamin D (it only contains 1000 IU so you will likely need more in your diet or another supplement) and it doesn't contain choline at all, so you will definitely need to supplement with extra choline.
Emerald Labs: I wanted to list this product above on my list of prenatal vitamin recommendations because I know that some of my readers really like this product. But there are a few reasons I hesitated to include it. First, this contains only beta-carotene derived vitamin A, which alone doesn't convert well to vitamin A (usually I like to see a blend of beta-carotene and retinyl palmitate, unless you are getting a lot of fat-soluble vitamin A in your diet from organ meats, for example). But really, the main hesitation I have is over their additional ingredients. These capsules include ginger, acai, pomegranate juice powder, mung bean, millet, quinoa, and more. I don't think the dosage is really high enough to be of huge concern, but I personally like to avoid herbs and so many extra ingredients in my prenatals. You might feel differently about this, in which case you might like this option.
Pure Encapsulations: Pure Encapsulations is a wonderful supplement brand and their prenatal vitamin is an okay option to consider. Because it only requires 2 capsules per day, it is low in choline, iodine, and vitamin D, which would require you to take additional supplements. And it only contains the beta carotene form of vitamin A, which isn't actually vitamin A and doesn't convert well in the body. And this product does have a relatively strong smell, so if you are feeling sensitive to smells during pregnancy, this may not be the best option for you. If you really want to take a product from PE, their Nutrient 950 would be a better option. They also have an iron-free version of Nutrient 950. (Though please note that these Nutrient 950 products have a strong smell as well.)
Naturewise: This looks like a great prenatal formulation but it is low in a couple of important areas (vitamin D, choline) and it contains some extra ingredients that I personally wouldn't want to take.
Another brand that some of my readers really like is Actif Organics, which is an organic whole-food prenatal vitamin. But, the reason I wouldn't take this product (or include it on this list) is that it contains an herbal blend that I do not recommend taking casually during pregnancy.
What if You Can't Swallow Capsules During Pregnancy?
There are situations where you may not be able to take one of the vitamins listed above. Maybe you can only handle one pill per (or none at all!) due to nausea or hyperemesis gravidarum. These are the only circumstances in which I would recommend the following prenatal vitamins. Once your symptoms pass, I would recommend switching to one of the prenatals listed above.
Ritual Essential Prenatal: Ritual's prenatal is an all-in-one featuring 350 mg of DHA alongside 12 basic nutrients (vs 26 in Biomeology). Ritual combines its multivitamin with DHA in one pill; if this is all you can handle during your pregnancy (or part of your pregnancy where you are facing morning sickness or HG symptoms), this is definitely better than nothing. But if you are looking for good nutrition during pregnancy and postpartum, this prenatal vitamin leaves out a lot of key minerals and nutrients and there are just way too many nutrition gaps. For example, while it does contain a good amount of vitamin D (2000 IUs), it is low on nearly everything else it contains, especially choline (55mg). And even then, it is lacking several nutrients. There is only so much you can include with 1 capsule; unfortunately, Ritual leaves a nutrition gap too large.
Gummy Prenatal Vitamins: I know that some mamas can only handle gummy vitamins during pregnancy, and while they are less than ideal in terms of nutrient content and the fact that they are gummies you would be taking daily (I'm thinking about dental health as well as the ingredients used to make gummies), there are two brands I would take in this situation: Smarty Pants Organic Prenatal Vitamins and Garden of Life Gummy Prenatals.
Prenatal Vitamin Protein Powder: If you are unable to handle pills or gummies, you may want to consider a prenatal vitamin protein powder. These are protein powders that are made to substitute your prenatal vitamins. I would recommend the Needed brand or Seeking Health.
Liquid Prenatals: Though not an ideal prenatal vitamin formulation for your entire pregnancy, you could take a liquid prenatal like Mary Ruth's if you are really struggling with pills or protein powders.
Chewable Prenatals: If you would rather go with a chewable, try this one from Seeking Health.
What Other Vitamins Should You Take During Pregnancy?
This article covers your prenatal multivitamin, but there are additional supplements you need during pregnancy. Here are our top recommendations for these products:
Prenatal DHA
DHA (docosahexaenoic acid) is an omega 3 fatty acid found in cold-water fish that supports your baby's fetal brain development, and so this is a really important supplement to take during pregnancy. I recommend Nordic Naturals Prenatal DHA. They also make a plant-based DHA but my personal preference is the traditional fish oil source. This is an additional supplement you should definitely be taking during pregnancy.
Prenatal Probiotics
It's so important to consider your gut health during pregnancy as well! Probiotics specifically formulated for pregnancy and breastfeeding are better to take than generic probiotics. I recommend Biomeology Prenatal Probiotics.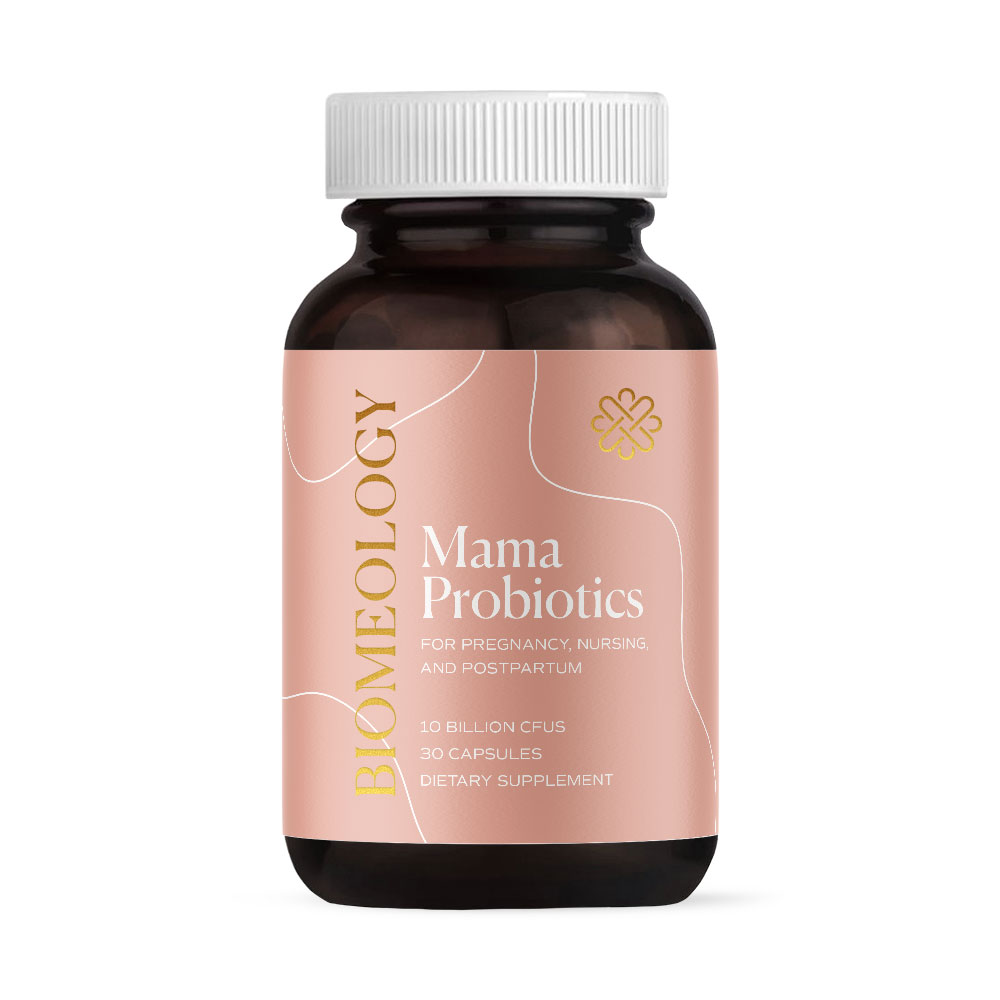 Prenatal Iron
If you need to take additional iron (usually determined by bloodwork run by your doctor or healthcare provider), we recommend the Seeking Health brand with cofactors or Blood Builder by Megafood.
Choline
If your prenatal of choice doesn't include enough choline, and you aren't getting enough from your diet, you will likely want to supplement with additional choline.
Grass-Fed Collagen Peptides
One of the prenatal supplements you may not have considered taking (but should!) is a grass-fed collagen supplement. High in glycine and other important amino acids, collagen offers many important benefits for pregnancy.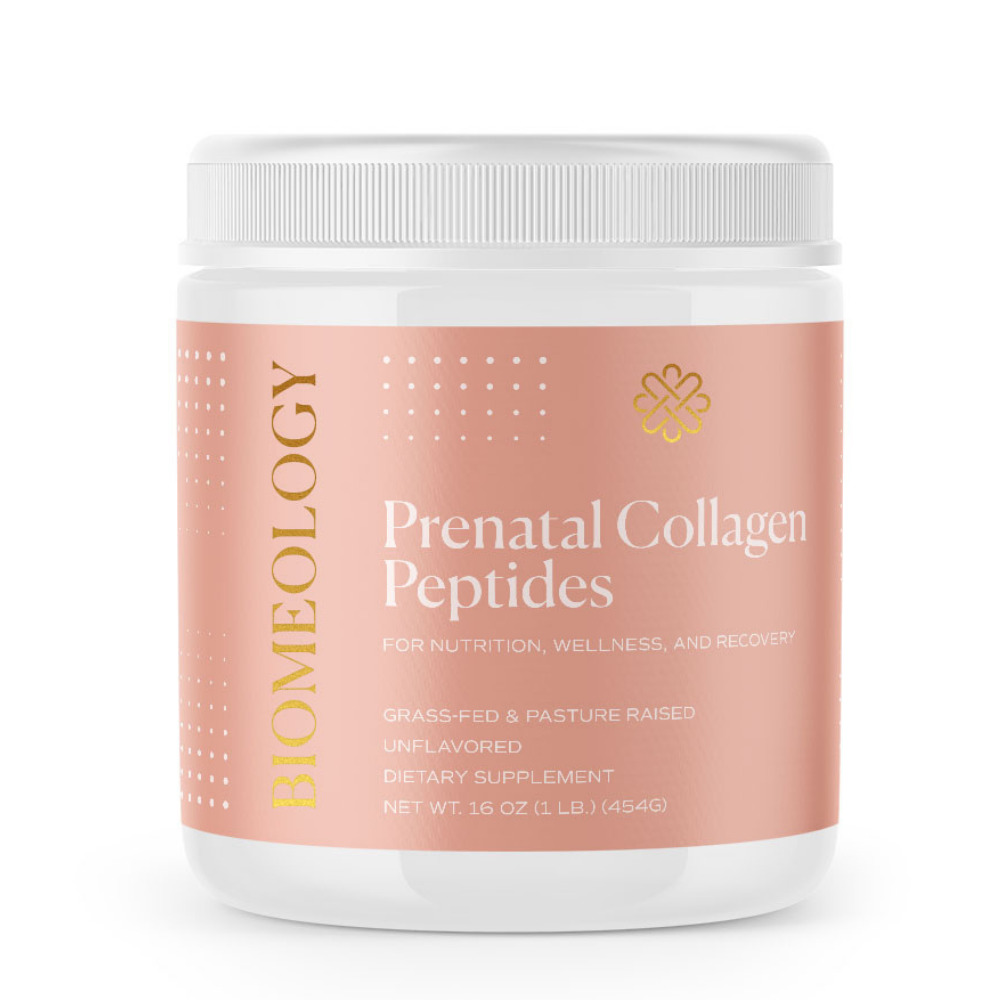 Here's to a Healthy Pregnancy!
The supplements you choose are an important part of your pregnancy and will support you and your baby throughout gestation. One of the best things is that you now have so many great prenatal vitamins to choose from. You'll be taking these vitamins for nine months or even much longer, so it's important to choose the best prenatal vitamins for you.
FAQs About Prenatal Vitamins
Whole Food or Conventional Prenatals: Which is Better?
As someone who prioritizes eating clean and purchasing organic food whenever possible, I naturally assumed that whole food-based vitamins would be better than conventional vitamins.
And they can be. Whole food vitamins offer a number of advantages to their synthetic counterparts, including the fact that they are sourced naturally from dehydrated foods. Synthetic vitamins, on the other hand, are isolated in a way that makes them almost identical to their food-sourced vitamin counterparts, but they still aren't naturally derived.
But the one area that some high-quality synthetic vitamins really stand out is bioavailability. That refers to how easily absorbed, digested, and metabolized the vitamin is.
During my first pregnancy, I took a whole food vitamin. But I later learned that it may not have been the best choice for my body (thanks to compromised gut health and my MTHFR genetic variations).
Remember how we talked about how you can eat the perfect diet and still not fully absorb your nutrients? It's the same with whole-food vitamins; you can take the perfect whole-food vitamins and still not fully absorb your nutrients. So if your body isn't able to absorb them easily, you aren't getting any actual benefits.
But bioavailable nutrients, on the other hand, have much higher rates of absorption.
And when it comes to getting your daily nutrients — especially during pregnancy — I think it's important to have confidence that your supplements are being absorbed. So to my own surprise, I skipped the whole food vitamins and chose supplements made with bioavailable ingredients instead.
And when it came time for my own company, Biomeology, to formulate our prenatal vitamins, I knew the answer was clear: only use high-quality bioavailable ingredients that offer maximum absorption and metabolization potential — and therefore offer the best benefits to mom and baby. This was a bottom-line decision with the goal of supporting your maximum nutrition during pregnancy and the childbearing years. (And mine!)
When should you start taking a prenatal vitamin?
It's never too early to prepare your body for pregnancy and build up your nutritional stores. Begin taking prenatal vitamins as soon as you decide you will be getting pregnant; ideally, this would be 3+ months before you begin trying to conceive.
Is it OK to take prenatal vitamins if you aren't pregnant?
Yes, prenatal vitamins are tailored to a woman's needs during the motherhood years. They can typically be taken well beyond pregnancy, during breastfeeding, and throughout your childbearing years as a whole. High-quality prenatal vitamins offer wonderful nutritional support for you in the event you might get pregnant, so it's smart to continue taking them as your regular multivitamin during your childbearing years.
Are gummy prenatal vitamins OK to take?
If you are having trouble swallowing pills, you might want to try taking gummy prenatal vitamins. For women with nausea, morning sickness, or even hyperemesis gravidarum, gummies are often easier to tolerate than capsules or tablets. Otherwise, if you are able to swallow pills, you will typically get more nutritional support from traditional prenatal vitamins. And gummy vitamins often contain so many added ingredients that it is usually best to avoid them unless you absolutely can't get your prenatal nutrients in any other way. If you do need to take a gummy, this is one brand we recommend.
I strongly do not recommend this popular brand of gummy prenatal vitamins because it does not contain adequate levels of most nutrients and it doesn't contain the active forms of B-vitamins.
When time of day should you take your prenatal vitamins?
The time of day you take your prenatal vitamins is based on your personal preference and tolerance. It is usually best to take prenatal vitamins with meals, but if you have nausea, for example, you may want to take them before bed. See what works best for your body, and if in doubt, check with your doctor.
What happens if you don't take prenatal vitamins in the first trimester?
It is not uncommon for women experiencing extreme nausea or morning sickness during the first trimester to not tolerate prenatal vitamins well. If you find yourself unable to take your prenatal vitamins in the first trimester, your body will use whatever nutritional stores you have to support your baby's fetal development. Your body will do what it can to support your growing baby, but often this can result in nutrient depletion for mom.
If you find yourself unable to tolerate swallowing pills in the first trimester, we recommend trying alternative sources of prenatal vitamins, such as prenatal vitamin gummies, prenatal vitamin shakes, or chewables. And if you can't tolerate these, work with your doctor to figure out the best path forward for you. Then, once you are better able to tolerate taking pills or alternatives such as gummies or shakes, begin taking your prenatals as soon as you can.
You might also like:
Want more support during your pregnancy?
Join PURE Pregnancy, my holistic pregnancy guide. Have your best, most prepared pregnancy… starting today!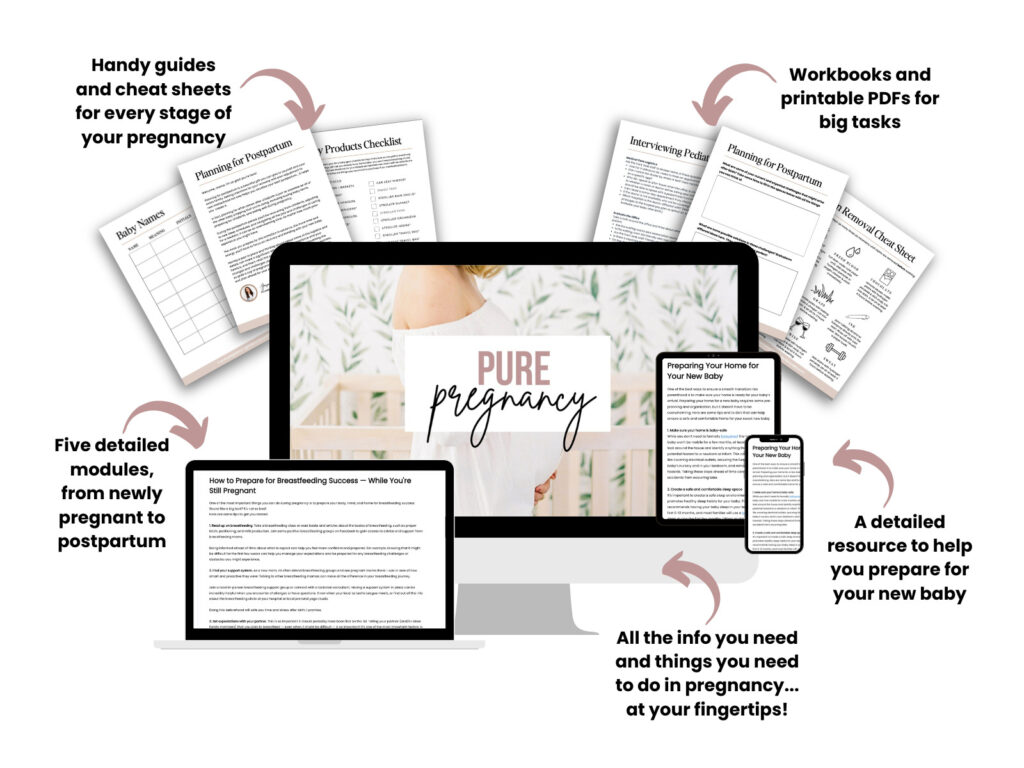 Learn More