Crayons are the ultimate tool for creativity. But, despite being fun, crayons can be full of undesirable ingredients and contaminants, so it's important to know exactly what's in the crayons before you offer them to your little artist.
Toxins in crayons? You might be wondering what I'm talking about. Well, the main concern with the ingredients in crayons is if your child eats them. And they do!
Trust me, given the chance, a baby who is into mouthing toys will approach a crayon in the same way, and an experimental toddler will always be tempted to take a bite. I've watched horrified as my own boys age crayons more than once.
Of course, I don't suggest banning all crayons from your household; they are essential for developing their fine motor skills, creativity, and imagination skills. But you have to do your homework and choose wisely. Or supervise those crayolas like a hawk.
Why Are Non-Toxic Crayons Better for Your Child?
Our government regulates children's art supplies, but the regulations don't always equate to zero toxins. And when your child is playing with these things daily, it's important to find the safest option available. Children are particularly vulnerable to chemicals in their art supplies. Not only do children tend to put crayons and fingers in their mouths, but they also are simply more sensitive to the toxins contained in them because their bodies are developing.
The Chemicals Hiding in Crayons
It depends on the brand (and in some cases, even the batch) of crayons you purchase, but some crayons may have lurking toxins such as:
VOCs (Volatile Organic Compounds)
PVC
Phthalates
Formaldehyde
Ammonia
Lead
Cadmium
Toluene
Xylene
How Crayons are Made
Most commercial crayons are made from paraffin wax and pigments. The paraffin wax can be derived from petroleum, wood, or coal and will start as a grey sludge-like material.
The paraffin wax is then heated as a liquid and combined with powdered pigments. Both of these processes can contain toxins. For example, pigments can be either man-made synthetics or derived from minerals – both of which can contain toxins and contaminants. While most of these toxic ingredients are regulated by the CPSC, they are just thresholds. You can find up to 100 ppm of lead in your regulated, "non-toxic" crayons even when it's been proven that there is no safe level of lead for children.
In addition to unsettling regulations, higher amounts of these toxins do creep into art supplies. For example, the Environmental Working Group found asbestos and lead in certain brands of crayons. There are also routine recalls of products containing enough lead to poison a child.
Something else to consider about paraffin wax from an environmental standpoint is that, since paraffin wax isn't biodegradable, old crayons will end up sitting in a landfill. Not exactly a feel-good product!
Luckily, there are alternatives to your mainstream crayon brands that have safer and healthier practices.
Related: 50+ Best Books for Toddlers and Preschoolers
You'll Find Better Ingredients in Non-Toxic Crayons
The best non-toxic crayon doesn't use paraffin wax. They opt for cleaner waxes that aren't contaminated with heavy metals, resulting in a healthier choice particularly for those little artists who might become little crayon eaters from time to time. Here is a look at the ingredients you might find.
Soybean Wax: Soybean wax comes from the soybean plant, so it's considered an organic choice. Overall, these crayons are very clean and safe. Keep in mind, soybean wax is generally very soft, which means the crayons may color really smoothly but are also prone to breaking.
Beeswax: Beeswax is a natural ingredient that is stronger than soybean wax. Many crayons either are made of all beeswax, or you might find some brands that use both beeswax and soybean wax. The only negative to beeswax is that it does have a slightly tacky or sticky feeling. Some children may not like the sensory experience of using them, so keep that in mind.
Plant and Vegetable Extracts: Using food-grade plant and vegetable extracts is considered to be the safest choice for non-toxic crayons. This type of pigmenting reduces any amount of trace heavy metal or toxins that may exist.
Related: The Best Lego Duplo Sets for Toddlers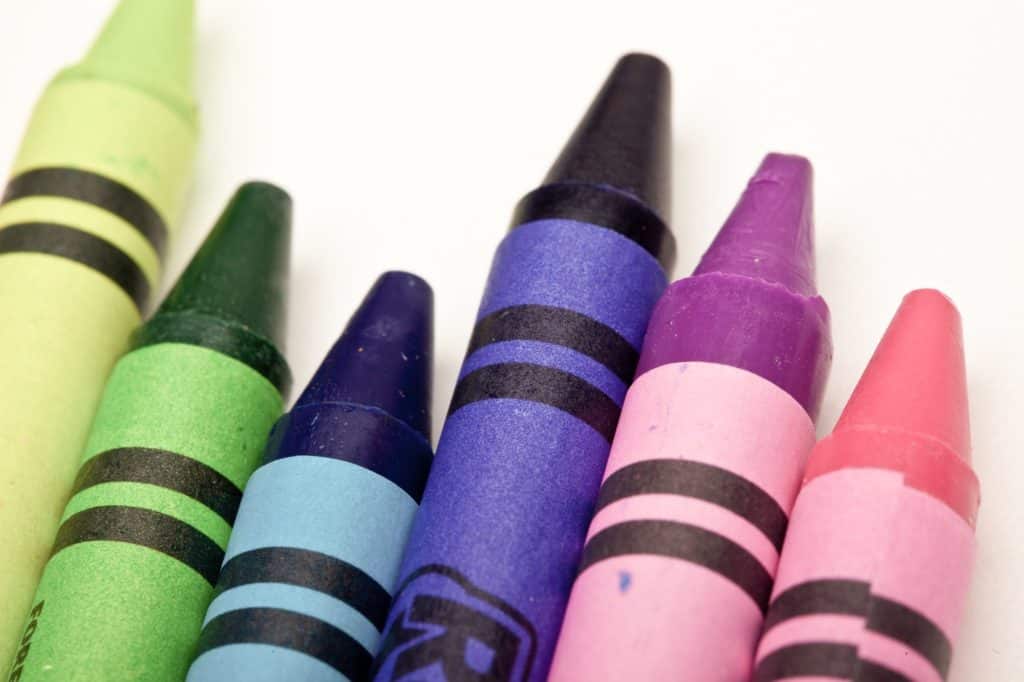 The 7 Best Non-Toxic Crayons
One of the best non-toxic crayon choices is Honeysticks. These are made from 100% pure New Zealand beeswax, and they use 12 different food-grade pigments for coloring. These are safe for even the youngest of artists, including babies and toddlers. You won't find any paraffin wax, filler, synthetic or tainted pigments. In fact, these crayons smell delicious!
Your child will love the unique, chubby shape of each crayon; they are super easy to grasp and color with! You'll also appreciate that while these crayons are on the expensive side, they don't break very easily, so chances are you'll have a crayon box full of whole crayons for a while.
I really love that this company is dedicated to sustainability through its harvesting and manufacturing processes. If you want to decrease any carbon footprint your child makes on the environment, beeswax is the way to go.
Keep in mind that some of these colors, while there are 12, aren't as rich and vibrants as other crayons can be.
Buy on Amazon
These vibrant crayons come in 12 colors and are made from non-toxic natural wax. One thing that everyone says about Lebze crayons is that they're so silky. You'll feel like you're using a marker rather than a crayon, which makes it really easy for kids to draw! These crayons come in a twistable body that rotates up and down like a lipstick tube, which means that the wax doesn't break too easily.
As a parent, you'll also love that these are washable on smooth surfaces (so any surprise wall markings should come off easily!). You can definitely feel good letting your children play with these crayons. Truly non-toxic, they meet all the CPSC certifications in the United States and pass all safety standards in Europe as well.
Buy on Amazon
Created from beeswax and food-grade pigments and made in Germany, these crayons pass tests for the detection of PCBs, heavy metals, and pesticide residues. The set contains 16 chubby crayons that are easy to grasp. Each color produces a really beautiful opaque pigment, so you can count on the crayons being very vibrant, and they won't fade over time. You'll also love that these come neatly packed in a tin container for easy storage.
One main downside is that these are on the pricey side. Note that you're making an investment, and these should last a long time!
Buy on Amazon
Another great crayon choice are these Filana crayons made of organic beeswax— totally paraffin free! You won't find any fillers, petroleum, additives, or contaminants either. All of their crayons have been hand-poured in Colorado for the last thirty years. Children will love all 12 vibrant colors and find the thick crayons very easy to color with. One of the fun advantages of these crayons is their ability to mix and blend colors: blue and yellow create green, red and blue create purple (but you knew all that…).
The only downsides to these crayons is that, like most non-toxic crayons, they are a bit more expensive than your conventional Crayolas. They also don't have paper around the crayon, so the color of the crayon may rub off on your child's hand as they color. That said, it's super easy to wash off with a little soap and water.
Buy on Amazon
As you might guess, Crayons Rocks are shaped like rocks! Both unique and fascinating, the shapes of these crayons actually help to strengthen your child's grip muscles as they draw. The crayons are made with non-toxic soybean wax and powdered pigments all produced in rural Kentucky.
The 16 vibrant colored crayon rocks all come in a drawstring muslin bag for easy storage, and they meet all safety standards including ASTM and CPSIA. The only downside is that these particular crayons are not really big, so children under age 3 should not play with them.
Buy on Amazon
These non-toxic crayons are perfect for everyone! OOLY creates crayons that have the most perfect blend of density and color. In this crayon pack, you'll find 24 bold colors that work extremely well on paper. They are all thick and triangular in shape for the best ergonomic fit (plus they don't roll right off the table!). You'll find these crayons to be very affordable compared to some of the other non-toxic crayons on the market, but do note that they are made in China and contain both beeswax and paraffin as ingredients, so you'll have to decide if you're comfortable with that.
Buy on Amazon
Azafran is an India-based company that creates really wonderful organic crayons. Using USDA and eco-certified organic soy wax, organic palm oils, organic soya butter, and food-grade coloring pigments, you can feel good about these non-toxic crayons.
The crayon formula is non-sticky, non-greasy, and they won't stain your child's hands. Unlike other crayons, these are shaped as square blocks. Kids actually enjoy stacking them just as much as they love coloring with them.
Note that, while the crayons wash off hands relatively easily, they can stain surfaces, so you will want to be attentive to your child during craft time. (Please don't blame the blogger when this happens!)
Buy on Amazon
How to Pick the Best Non-Toxic Crayons
Choosing the best non-toxic crayons for your child isn't always an easy decision. Here are some suggestions to help you pick the best non-toxic crayons.
The List of Ingredients: First, and most importantly, you need to look at the list of ingredients on the packaging. If the packaging doesn't list the ingredients, check with the manufacturer's website or send them an email. Always make sure this list is accessible and accurate.
Hardness: A soft crayon will break quickly, so you'll want to consider the hardness level from the wax used. For example, soybean wax is the softest and beeswax is harder. The ideal crayon will not be 100% soybean wax, but may contain both types of waxes.
Pigments: When kids color with crayons, the colors need to show up on the paper! That's what is most appealing to kids, after all. You want the colors to be vibrant and fun! Some natural crayons just don't deliver in the color department, so definitely take a peek at the reviews to see if they've had good results.
Easy to Clean Off: Perhaps one of the most important attributes of any art supply product is that it washes off! Yes, your child may color on the wall or floor at some point. You want crayons that wash off easily and don't require multiple scrubbing sessions to erase the damage.
Have Fun Coloring!
Choosing the best non-toxic crayons might not seem imperative, but remember that toddlers consider everything edible (especially when we aren't looking!) So, play it safe and choose non-toxic crayons for your little artist.
Now that you have a few options to choose from, I hope you find the right fit for your little one. Coloring has so many developmental benefits to children, so enjoy drawing everything the imagination can dream up.