Newborns and babies have developing immune systems and very high hygiene requirements. It is important to keep their environment clean and free of any harmful chemicals. Usually, this means investing in specific cleaning and care products and taking specific precautions for your baby.
There are several different types of baby dish wash soaps available in the market today. Here's a list of some of the safest and best baby dish soap products available today.
Buy on Amazon
Dr. Bronner's Baby Unscented Ingredients: Water, Organic Coconut Oil, Potassium Hydroxide, Organic Palm Kernel Oil, Organic Olive Oil, Organic Hemp Oil, Organic Jojoba Oil, Citric Acid, Tocopherol. (Potassium Hydroxide is used in the saponification process but does not remain in the final product.)
This is a multi-purpose castile soap that can be used to wash baby bottles, dishes, hands, hair, as well as floors too, which means it is very versatile. From an allergy perspective, you may not want to use this if you or your baby might be sensitive to coconut or corn (which is used in the manufacturing process).
Unscented. It has absolutely no added chemical scent, which means it won't cause any sort of irritation or allergic reaction.
Vegan and organic. The soap is also vegan and uses organic ingredients. It creates a rich lather that can help clean efficiently and very quickly.
No synthetic detergents. There are no harmful synthetic detergents or dyes in the product. It is completely natural without any GMO ingredients.
If you use any of Dr. Bronner's soaps, in my opinion, this is the one to use. The Dr. Bronner's Baby Unscented version contains more olive oil so it is more moisturizing than the other scents.
---
Buy on Mama Suds
Mama Suds Castile Soap Ingredients: distilled water and potassium olivate (saponified olive oil).
While Mama Suds makes a concentrated castile soap, I prefer to use their body was for handwashing and washing baby bottles. So while this is a body wash, it is an effective solution for washing baby bottles as well because it doesn't require dilution and comes with a pump top. It has a number of benefits like:
No Synthetic Ingredients. The soap is made from two natural ingredients. There are no synthetic ingredients like SLS, dyes, or artificial fragrances. Nothing extra – just saponified olive oil and soap!
Cruelty-Free. The product is cruelty-free and vegan, which means you can use it a guilt-free manner. It is also eco-friendly and safe for septic systems.
Gentle. This soap is gentle enough to be used as a baby body wash, too!
The wash produces a good lather. It can be used for a variety of purposes like cleaning kitchens and mopping countertops as well. For babies dealing with eczema or sensitive skin, Mama Suds is a great option due to its minimal ingredient list.
---
Buy on Amazon
Better Life Unscented Dish Soap Ingredients: Purified water, Potassium cocoate, Lauryl glucoside, Caprylyl/capryl glucoside, Decyl glucoside, Glycerin (vegetable), Disodium cocoglucoside citrate, Aloe barbadensis leaf extract, Tocopherol (vitamin E).
This soap is 100% plant-based and I love that. I have used Better Life products for several years now (thanks to Shark Tank) and have always been happy with their dish soap. However, please note that for washing baby bottles, I only recommend the unscented version.
Its advantages include:
No harsh chemicals. There are no sulfates, fragrances, triclosan, dyes, petroleum-based compounds, parabens, etc., in this product.
Easy on your hands. The product contains Aloe Vera and vitamin E, which means it won't dry out and irritate your hands. Often times, I don't even wear gloves while using this soap.
Overall, Better Life makes great non-toxic household cleaning products. We have used their products for years, including the hand soap, dishwasher gel, and all-purpose spray.
---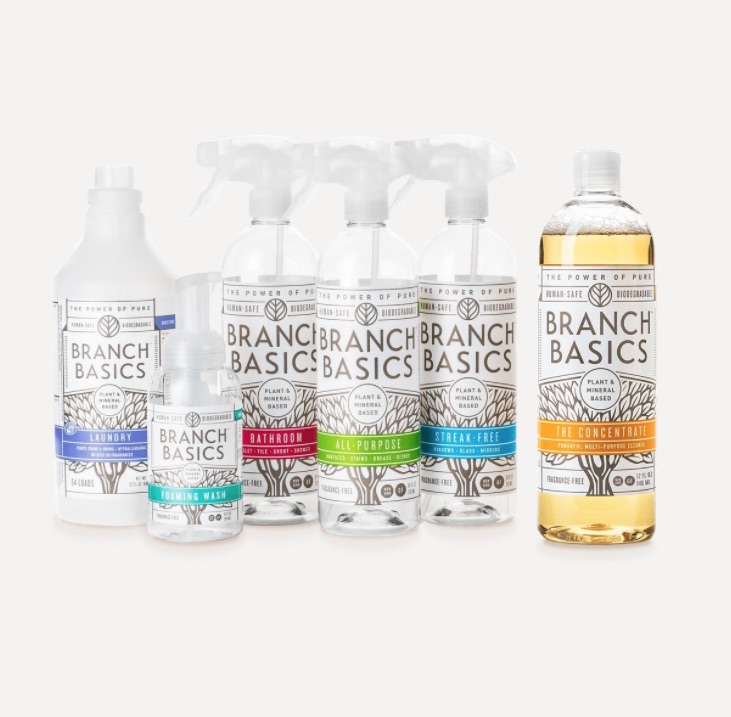 Buy on Branch Basics
Branch Basics All Purpose Cleaner Ingredients: Purified Water, Coco Glucoside (Sugar-Based Cleanser), Chamomilla Recutita (Chamomile) Flower Extract*, Decyl Glucoside (Sugar-Based Cleanser), Sodium Citrate (Food-Grade Emulsifier), Lauryl Glucoside (Sugar-Based Cleanser), Sodium Bicarbonate (Food-Grade Baking Soda), Sodium Phytate (Plant-Based Antioxidant). *certified organic
If you need something that will clean a wide range of surfaces and is gentle enough to clean baby bottles, toys, and pacifiers, this is a great option for you. It is an all-purpose cleaner instead of just a baby dish soap, which makes it very versatile. The benefits of the Branch Basics All-Purpose Cleaner include:
No harmful ingredients. The soap doesn't contain any phthalates, parabens, synthetic fragrances, synthetic preservatives, ethoxylates, alcohols, or SLS.
Concentrated formula. This is a potent, concentrated formula that cuts through grease effectively. It dilutes easily and can be used to clean all kinds of materials, including glass bottles.
---
MADE OF Baby Dish Soap Ingredients: Aqua, ORGANIC Helianthus Annuus (Sunflower) Seed Oil, ORGANIC Cocos Nucifera (Coconut) Oil, Potassium Hydroxide, ORGANIC Glycerin, ORGANIC Ricinus Communis (Castor) Seed Oil, ORGANIC Aloe Barbadensis Leaf Juice, Tocopherol, Rosemarinus officinalis (rosemary) extract.
This soap is 81% organic (certified by NSF), which makes it a gentle and natural alternative to store baby dish wash soaps. The benefits include:
Vegan and non-GMO. All ingredients are vegan and non-GMO. You don't need to worry about animal-based ingredients and other such issues.
Allergy-friendly. No nuts, soy, or other top 8 allergens are used in the manufacturing of this product.
Contains nothing harsh. MADE OF's baby dish soap contains no phthalates, sulfates, parabens, or synthetic ingredients.
---
---
Do You Need Special Soap to Wash Baby Bottles?
Yes – it is best to use a safe and gentle baby dish soap that doesn't contain harsh chemicals. This is because conventional dish soaps are packed full of chemicals and harmful ingredients that can leave traces behind on your baby bottles (and pump parts, sippy cups, pacifiers, etc.). Even these trace amounts could get into your baby's milk or water and pose a health hazard over time.
For example, Palmolive contains fragrance, sulfates, D&C Green #5, and D&C Yellow #10. [1] "Fragrance" is a catch-all term that companies can use when they don't want to disclose the chemicals they use to add scent to their product; products containing "fragrance" are often found to contain phthalates and other endocrine disruptors. Numbered food dyes are synthetic chemicals that are used for adding coloring; however, they are very harsh and have been linked with cancer, hyperactivity, and behavioral problems in children. [2]
These chemicals are also completely unnecessary. There are safer alternatives to conventional dish soap like Palmolive and Dawn, and even "greener" brands like Method and Mrs. Meyers. (Essentially, if your dish soap is bright green or has a fresh meadow scent, you'll want to swap it for non-toxic dish soap before using it on your baby's bottles.)
Ingredients to Avoid In Baby Dish Soap
A good quality baby dish soap should be safe and gentle for a child's delicate system.
You won't need a harsh soap to clean a baby bottle, especially if you clean it thoroughly and quickly after the feeding. A gentle soap will be safer for your baby.
It is best to avoid soap with petroleum-based ingredients and harsh surfactants. Skip well-known brands like Palmolive or Dawn and focus on brands that use safer, milder, but equally effective ingredients.
Here's a list of the main ingredients you want to avoid when shopping for the best baby dish soap:
Fragrance. Artificial fragrances are some of the most common irritants in cleaning products today. Unfortunately, anytime a company lists "Fragrance" or "Parfum" on the label, they aren't fully disclosing the ingredients they have used. This means that their ingredients can contain undisclosed compounds like phthalates, which can disrupt hormones. As always, avoid nondescript "fragrance" and synthetic fragrances, altogether. There's no need for your baby's bottle to smell lemon fresh.
Numbered dyes. Similarly, there's no reason why a dishwashing soap needs to be of a specific color. Dyes are another unnecessary and harmful addition to dish soap. These numbered dyes (e.g. Blue #1) are petrochemical-based and often linked to behavioral issues in kids. [2]
Antibacterial agents. Antibacterial agents such as benzalkonium chloride and triclosan (now banned) can cling to clean bottles even after a thorough rinse. The FDA actually discourages the use of antibacterial soaps, citing the fact that their benefits have not been proven. "Using these products might give people a false sense of security," writes the FDA, urging the public to use regular soap and water instead. Further, antibacterial soaps have been linked to antibiotic-resistant bacteria and long-term negative health effects. [3] Children exposed to high levels of antibacterial chemicals such as triclosan were found to have a significantly higher risk of developing allergies, hay fever, and other immune-related sensitivities. [4] (In fact, you should avoid antibacterial soap across the board because it is damaging to your body's microbiome.)
Sodium Lauryl Sulfate (SLS). SLS is a highly toxic surfactant made from coconuts. It is a commonly used ingredient in many soaps and personal care products. The reason SLS is toxic is due to the way it is manufactured; the process of manufacturing SLS creates 1,4 dioxane (a carcinogen with an 8 on EWG's health hazard rating) as a byproduct. SLS is linked with organ system toxicity, skin irritation, and endocrine disruption. [5]
Sodium Laureth Sulfate (SLES). SLES is a slightly gentler surfactant that is manufactured from Sodium Lauryl Sulfate. It has been associated with organ system toxicity and skin irritation. Like SLS, it has contamination concerns; SLES can be contaminated with 1,4 dioxane and ethylene oxide (which has a 10 on EWG's health hazard rating).
Parabens. Any ingredient ending in -paraben (such as methylparaben and propylparaben) falls under this class of endocrine disrupting chemicals. Parabens are used as preservatives and have been linked with organ-system toxicity, cancer, and endocrine disruption.
Methylisothiazolinone and Methylchloroisothiazolinone. These chemicals preservatives have been associated with lung toxicity, allergies, and possible neurotoxicity. [6]
Formaldehyde and formaldehyde-releasing chemicals. Formaldehyde can be added directly to soaps and personal care products as an ingredient, or it can be released by other ingredients. According to the Campaign for Safe Cosmetics, the ingredients to look for (and avoid) are: Formaldehyde, quaternium-15, DMDM hydantoin, imidazolidinyl urea, diazolidinyl urea, polyoxymethylene urea, sodium hydroxymethylglycinate, 2-bromo-2-nitropropane-1,3-diol (bromopol) and glyoxal. [7]
Of course, this list doesn't cover all of the troubling ingredients that you'll find in common dish soaps. I recommend researching the full list of ingredients in every product you plan to use – especially when it comes to baby items.
Do Baby Bottles Need to Be Sterilized?
Many parents regularly sanitize the bottles and baby dishware to kill lingering bacteria. While this is a nice addition to the cleaning routine, it isn't entirely necessary. You should sanitize a new bottle to help eliminate the germs lingering on it from the manufacturing, packing, and shipping process.
But there's no need to sanitize the bottle after first use. Just using a good-quality, gentle baby dish soap is enough to get the best results.
Some doctors might recommend sanitizing bottles before every use or regularly because of special health concerns. In such cases, it is best to follow their advice.
To sterilize baby bottles, you can use a baby bottle sterilizer or simply place your bottles and bottle parts in a pot of boiling water for five minutes. After that point, you will probably only want to sterilize them occasionally.
A word of caution about using plastic baby bottles: any heat that your baby's bottle is exposed to may cause chemicals to leach from the bottle. Although most baby products are now BPA-free, the chemicals used as a substitute are just as harmful. For this reason, I strongly recommend that all parents use glass baby bottles. (FYI, I've never had a glass baby bottle break, even after being dropped several times.)
Can Baby Bottles Be Washed In A Dishwasher?
Baby bottles can be washed in a dishwasher as long as they are dishwasher-safe. It is not recommended that you put plastic baby bottles in the dishwasher; high heat temperatures can cause the bottles to leach chemicals.
It is still a good idea to wash baby bottles by hand with hot water and a brush to get the best cleaning possible. You need to wash the bottle after every feed and rinse it thoroughly before every feed.
How Do You Hand-Wash Baby Bottles?
Hand washing a baby bottle doesn't require much effort or time. It is easy to do it immediately after the baby's feeding is complete.
Here's a look at how you should hand wash baby bottles:
Use a separate bowl. It is not a good idea to wash baby bottles directly in the sink because sinks often have a lot of food residue and bacteria. Place a bowl on your countertop, preferably away from the sink and wash the bottles in it. (Note: you can also use this to wash pump parts.)
Use hot, soapy water. Mix water and baby dish soap thoroughly before pouring the solution in the bottle. Mixing the solution beforehand ensures all soap particles are fully diluted and there's no chance of soap lingering on the bottle.
Clean with a bottle brush. Use a baby bottle brush to clean the bottle thoroughly. Move the brush around inside the bottle several times and rinse. It is a good idea to repeat this process a couple of times to ensure the bottle is fully clean.
Clean the bottle nipples. Rinse the nipples with soapy water and use a nipple brush to scrub the insides. Once that is done, squeeze some water out of the hole to clean it thoroughly as well. You can then rinse the nipple with running water.
Place on a drying rack. Don't put wet bottles in cold and dark places like drawers and shelves. That will encourage bacterial growth and might even lead to mold. Place the clean bottles and accessories on a drying rack. It is important to allow these items to dry in the open air. (Please do not use the "grass" drying racks as they are a breeding ground for bacteria.)
OK, that does it for my list of the best baby dish soaps! I hope you found one or two that you'd like to try!