As a parent, I know that you want to give your baby the best start in life. So you're probably pretty conscious of your baby's health and development and want to do everything you can to ensure that they grow up happy and healthy.
But something that's easy to overlook is your baby's gut health. Good gut health is the foundation for a healthy child and will influence your baby's health for many years to come. It's smart to consider giving baby probiotics as a way to support healthy gut development.
Building up your baby's gut health supports their immune system and digestive health. Good gut bacteria can also influence the health of other organs like the brain, liver, and kidneys, helping set your baby up for a lifetime of better health.
Baby probiotics can help establish good gut health for your little one. Probiotics can also be helpful with easing colic, constipation, eczema, and digestive issues.
Giving your baby probiotics might be one of the most important ways to ensure their health in the short and long term.
Our Top Picks for Baby and Toddler Probiotics
Keep reading for detailed reviews!
This information is not intended to prevent, diagnose, cure, or treat any disease. These statements have not been reviewed by the FDA.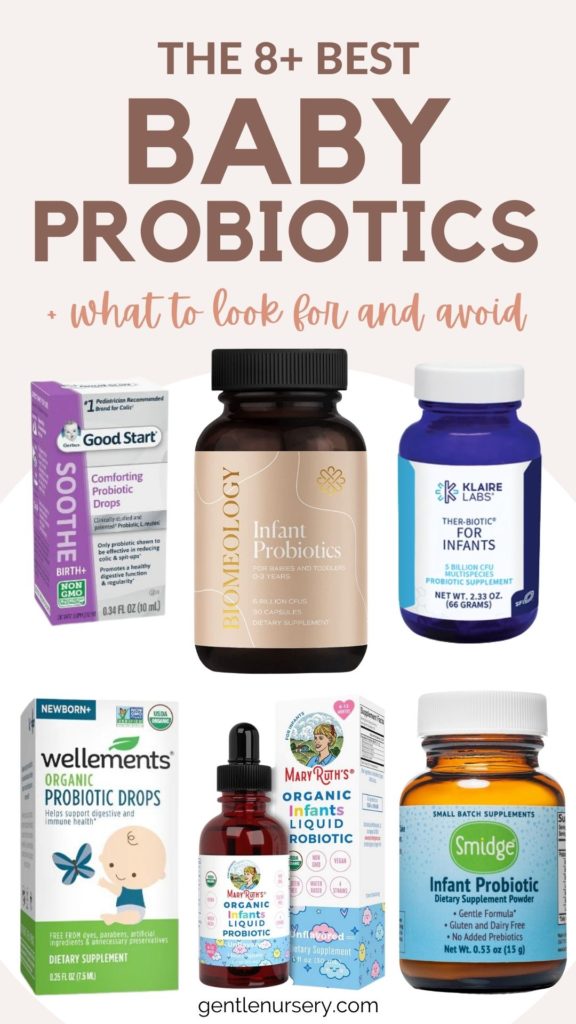 First, what are probiotics?
Probiotics are live bacteria and microorganisms that live in our body and can deliver health benefits.
Our bodies actually contain trillions of microorganisms, including "good" and "bad" bacteria, viruses, and fungi. Collectively, they are called the microbiota, though you might also see them referred to as gut flora or the microbiome. Probiotics are beneficial bacteria and yeasts that balance out the pathogenic bacteria in our bodies.
Probiotics can naturally be found in fermented foods such as yogurt, kombucha, sauerkraut, and kefir. They're also available in supplement form and in topical creams. Some baby formulas even contain added probiotics.
The most commonly available probiotics are bacteria that belong to the Lactobacillus and Bifidobacterium groups. Each has several strains with their own unique health benefits.
Some of the most beneficial probiotic strains for babies include:
Bifidobacterium infantis
Bifidobacterium lactis
Lactobacillus reuteri
Lactobacillus rhamnosus
Saccharomyces boulardii
Related: The Probiotics Breastfeeding Mamas Should Be Taking
How do probiotics help babies?
Your baby's gut health is critical to their overall health. Introducing baby probiotics will help your baby have a more balanced gut microbiome.
This may help with the following:
The Best Baby Probiotics (Reviews)
To choose the best baby probiotics brands, I considered a number of important factors:
probiotic strains included
strain diversity
fillers and other ingredients
allergens and their derivatives
probiotic efficacy
customer reviews
Based on this analysis, along with my own personal experience and feedback from my readers, here are my top choices for the best baby probiotics. Please note that I have personally used all but two of these products. (ProBiota and Wellements are the only ones I have not yet given to my kids.)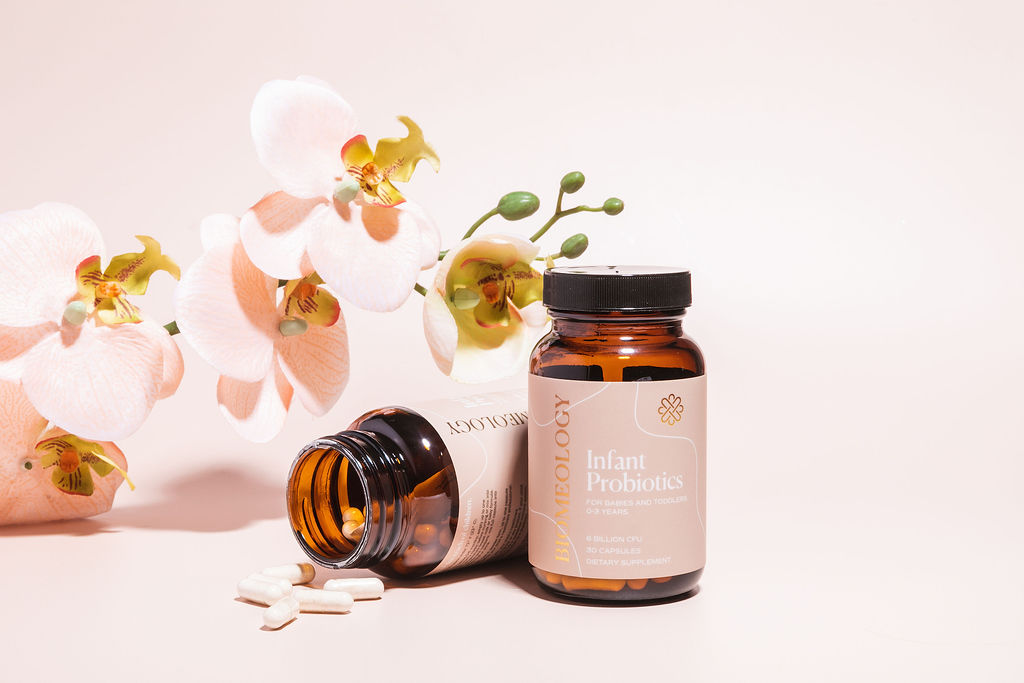 Buy on Amazon | Biomeology
With 12 important probiotic strains, Biomeology Infant Probiotics is one of the best multi-strain probiotics for babies and toddlers.
Featuring important strains like Bifidobacterium infantis, Bifidobacterium lactis, Saccharomyces boulardii (which is hard to find in infant probiotics!), Lactobacillus reuteri, and Lactobacillus rhamnosus GG and HN001, this is a premium probiotic that contains evidence-based doses. And it contains no filler strains, unhealthy ingredients like maltodextrin, or binders/excipients.
The strains in this infant probiotic are helpful with infant colic, baby reflux, constipation, and general fussiness and crying. They support healthy skin function as well as the digestive and immune systems.
Made with organic probiotic fiber, organic fructooligosaccharides, and resistant starches, this unique formulation is a synbiotic that feeds your little one's healthy bacteria as it populates the gut.
Biomeology Infant and Toddler Probiotics will ship to you from a refrigerated warehouse, and it comes in an amber glass bottle to protect the integrity and potency of the probiotic strains. For me, this is really important!
I personally saw firsthand how important a baby's microbiome is to their overall health. And I struggled for so long with my son's eczema that I went to great lengths to source the best probiotic strains for him. I tried so many different brands and combined probiotics and researched strains that I finally decided I would make a better probiotic for babies and toddlers. So I couldn't be more proud to be the founder of Biomeology and to have been the mama behind this amazing and doctor-formulated probiotic.
Impressive features:
Includes 12 important probiotic strains that are key for babies and toddlers
Contains premium strains like B infantis, B lactis, L rhamnosus GG, L rhamnosus HN001, L reuteri, and S boulardii. And it contains no cheap filler strains, which is common in many inexpensive brands.
Doctor-formulated for the developing microbiomes of babies and toddlers, ages 0-3.
Does not contain any common allergens. It is free from: dairy, milk, lactose, soy, eggs, wheat, gluten, peanuts, tree nuts, shellfish, sesame seeds, mustard, or celery.
Comes in pre-dosed capsules, so it's easy to travel with and easy to administer. Just open a capsule and pour it into a bottle, mix with breastmilk, or mix into food or drink. If you're breastfeeding, you can apply a small amount to the breast or a clean finger and give it directly to your baby.
Does not contain any strains that produce d-lactate, making it gentler for babies and toddlers.
Contains only histamine-neutral or degrading strains of probiotic bacteria, which is helpful for babies dealing with potential allergies, eczema, and/or histamine intolerance.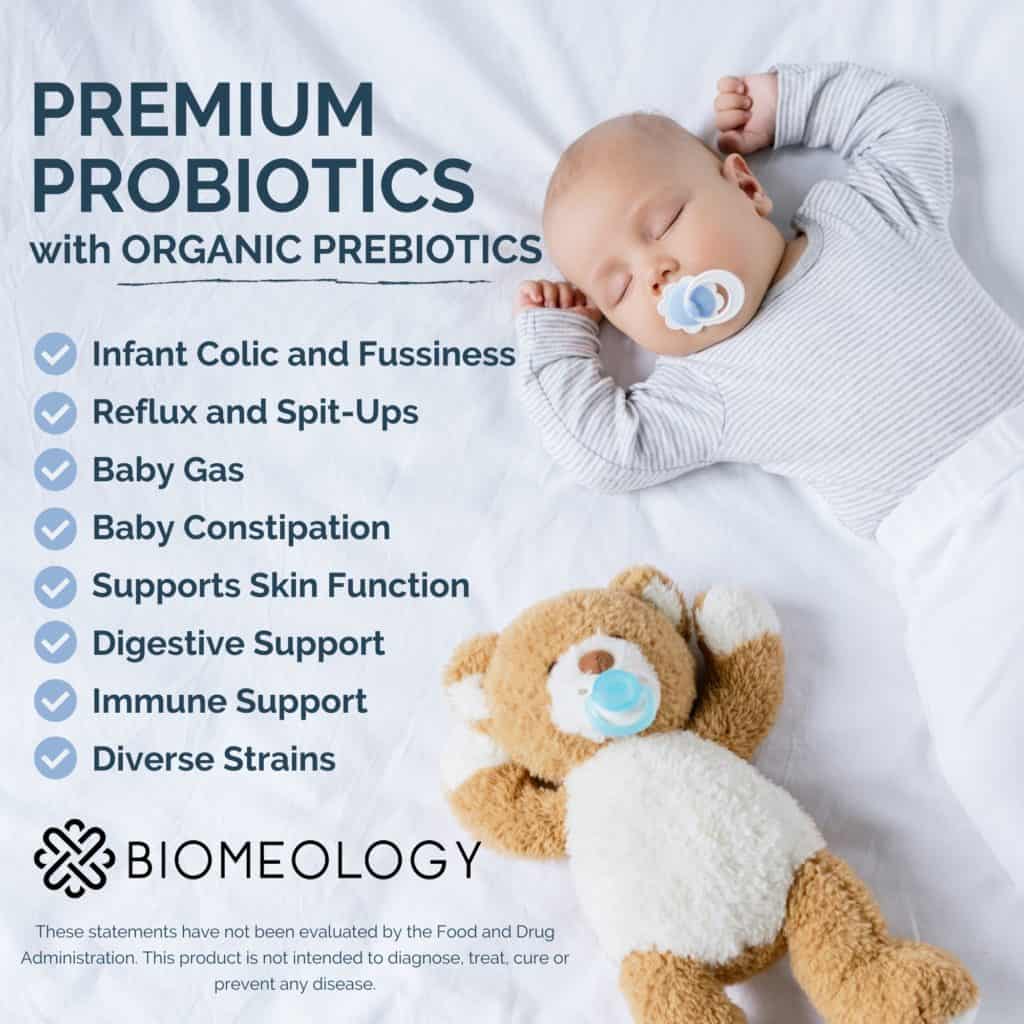 ---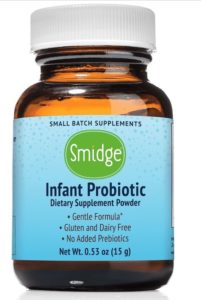 Buy on Smidge
Smidge (formerly GutPro Infant Probiotic) is an amazing probiotic for babies and toddlers. It was formulated based on research and feedback from parents and health practitioners.
It includes 50% Bifidobacterium infantis, a key strain of bacteria beneficial for babies. It is one of the most popular probiotics in the allergy community because it is pure and effective. (But it is potent.)
Smidge contains 7 highly concentrated strains, so introduce this probiotic very slowly. Many parents give their babies only a few grains of this powder on a spoon or pacifier and gradually work their way up to the full dose.
We have had a lot of success taking this probiotic powder. I have given it to my baby with eczema, and it helped tremendously with his skin. It has also helped him sleep better at night, which we so desperately needed.
At $75 per bottle, GutPro Infant can seem pricey. But given that each bottle has up to 750 servings, this breaks down to being less expensive than many other brands. Since you may not even start with an entire dose, the bottle seems to last FOREVER, so you get a lot of value for your money. I have had some issues with clumping, but we still got a lot of use out this product.
Impressive Features:
Contains 50% Bifidobacterium infantis (one of the most important bacterial strains for babies)
Does not contain milk/casein, eggs, fish, shellfish, wheat/gluten, peanuts, tree nuts, yeast, corn or soy; cultured on a dairy-free, soy-free, non-GMO vegetarian culture medium
Contains no artificial colors, flavors, or preservatives
Does not contain any strains that produce d-lactate, making it gentler for babies
Contains only histamine-neutral or degrading strains of probiotic bacteria, which is helpful for babies dealing with potential allergies, eczema, and/or histamine intolerance
---
Gerber Soothe Probiotic Colic Drops are a single-strain probiotic for babies. This is a reliable option for babies with colic, reflux, fussiness, or constipation.
This contains Lactobacillus Reuteri (DSM 17938), which has been clinically shown to reduce crying time in babies by up to 50% and spit-up frequency by up to 50% in as little as 2 weeks.It is also helpful for babies that struggle with constipation and dysbiosis.
This liquid probiotic is stable at room temperature, making it extra convenient, especially with a newborn. It's really easy to add the drops to a baby bottle or even directly to the breast for breastfed babies.
It comes in an amber glass bottle, which is best for probiotics. I don't love that this contains sunflower oil (an inflammatory oil), medium-chain triglycerides, and silicon dioxide (a preservative). You can get BioGaia Protectis probiotic drops instead, but their probiotics come in a plastic bottle.
Impressive Features:
100 million CFUs of Gerber's patented strain Lactobacillus reuteri (DSM 17938)
The number one recommended probiotic for colic
Available in original format or with added vitamin D
Non-GMO ingredients
Clinically shown to reduce crying time and spit-ups
---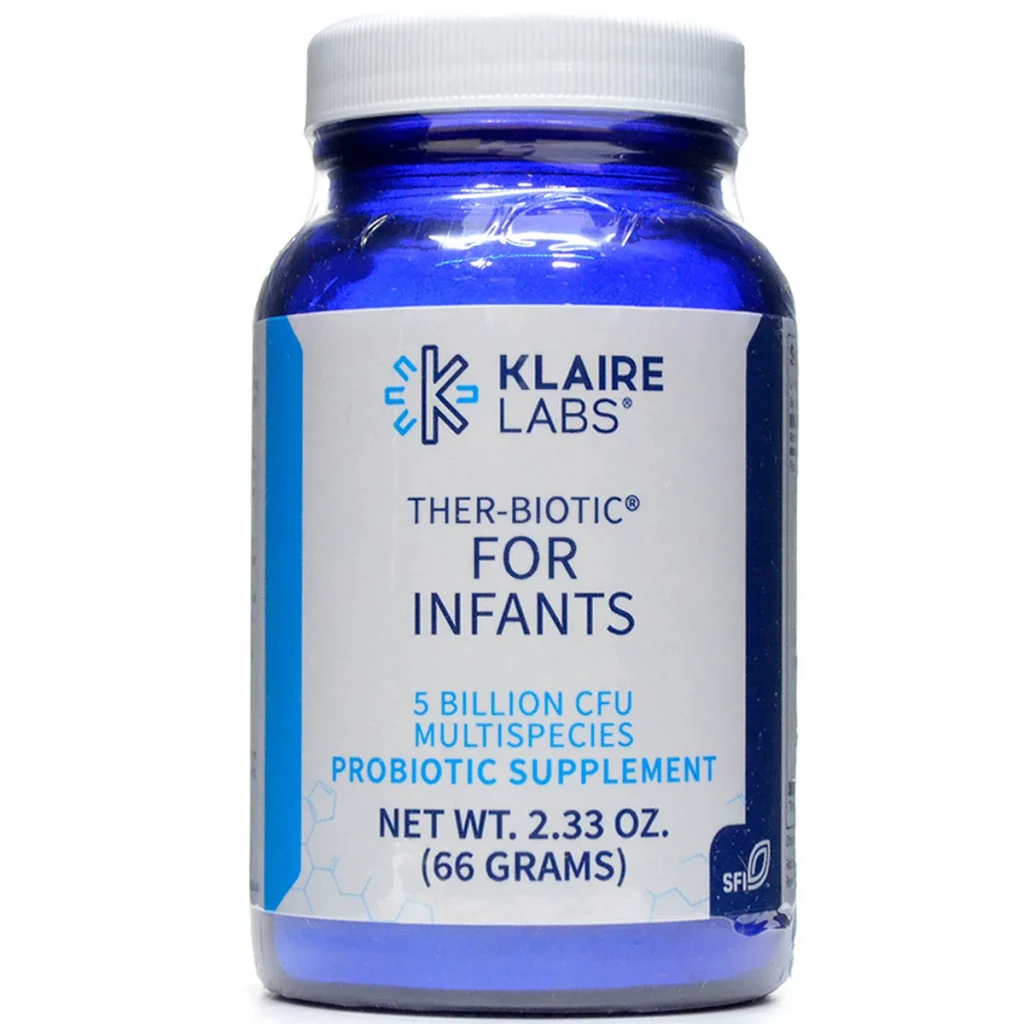 Buy on Blue Sky Vitamin | Amazon
Klaire Labs Infant Probiotic Powder is another one of my top choices for probiotics for babies and toddlers.
It is a 10-strain probiotic supplement that is free of the top common allergens, and long-proven to be an effective probiotic. With everything from eczema and reflux to gas and belly pains, Klaire Labs Infant has tons of fans who will tell you that it has improved their baby's symptoms. You'll find lots of happy customers and a lot of word-of-mouth recommendations for this product.
We have had good success with it as well, and I have given this to both of my boys. I can also confirm that it doesn't taste bad; in fact, it kind of has a sweet kick to it and tastes pretty good for a probiotic. Maybe a little like dry cereal. I don't mind taking it at all, and my baby actually squeals when I bring this out of the fridge and takes it directly off a spoon.
Impressive features:
5 billion+ CFU blend containing equal parts Bifidobacterium and Lactobacillus species
Contains no added common allergens, including wheat, gluten, corn, shellfish, fish, eggs, milk, peanuts, tree nuts, soybeans, and yeast
Free from artificial flavors, preservatives, and colors
Easily digestible by babies because it primarily produces L-lactic acid (not the D-isomer form that is common in many strains of lactobacilli)
Specifically designed for children ages 2 and under
---
Buy on Amazon | Mary Ruth's | Target
If you're looking for well-rounded probiotic drops, consider Mary Ruth's infant liquid probiotic. This product contains four important probiotic strains for babies: B infantis, B lactis, B bifidum, and L reuteri. What I also like is that this product is now available at Target, so if you ever find yourself in a run and in need of a probiotic, you can likely pick this up at your local store.
While this is promoted as an organic probiotic, please note that the probiotics are not organic (this is not possible, actually), and only the base (organic alfalfa) is actually organic. However, if your baby is exclusively breastfed and you're unable to use a powder probiotic, this is a good and reliable way to give your baby some important probiotic strains.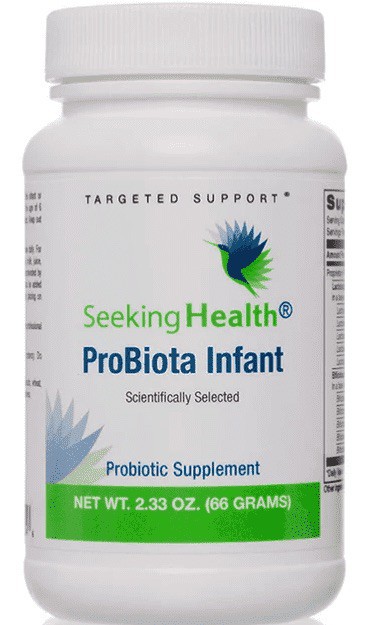 Buy on Amazon | Seeking Health
ProBiota Infant is another popular multi-strain probiotic powder for babies. Each strain is chosen based on research and safety data, as well as its importance to a developing gastrointestinal system of an infant.
It's also a great-tasting probiotic, so it can be given directly from your finger to your baby's mouth. Many parents saw an immediate improvement in their baby's digestive issues as a result of these probiotics.
Like Klaire Labs, ProBiota is one of the best baby probiotics on the market; both products actually contain the same probiotic strains, although the formulations may be different. ProBiota also contains twice as many total CFUs.
Impressive Features:
Each serving contains 10 billion+ CFUs of Lactobacillus and Bifidobacterium spp.
Free from common allergens such as dairy, eggs, fish, shellfish, tree nuts, peanuts, wheat, soy, gluten
Can given directly to baby because it has a sweet taste
Contains inulin (a prebiotic), which can also help support beneficial bacteria
Rave reviews by parents who report that the probiotic with their baby's gas problems, constipation, and skin issues such as eczema
Shelf stable, which means it can be shipped without a cold pack and does not need to be stored in the refrigerator
---
Buy on Amazon
If you are looking for liquid probiotics for infants, Probonix is a pretty good option to consider.
Probonix liquid probiotics contains 8 of the most effective probiotic strains that support and promote a healthy gut for infants. It is coated in a special acid that allows the strains to get to your baby's gut ten times more effectively than many other probiotics.
We used Probonix when my youngest was a newborn but I ended up switching to Smidge because his eczema was flaring up at the time. Otherwise, I found this to be a good probiotic and especially useful during the newborn stage.
Impressive Features:
Designed to help with problems such as gas, diarrhea, eczema, constipation, and lactose intolerance
No refrigeration required
---
Buy on Amazon
Wellements Organic Probiotic Drops is a newer probiotic for infants that is especially useful for supporting your baby's gut health. It contains two probiotic strains: Lactobacillus rhamnosus HN001 and Bifidobacterium lactis HN019.
These are two important and well-studied probiotic strains for babies.
In studies, L. rhamnosus HN001 has been shown to reduce the prevalence of eczema in breastfed babies. And B. lactis HN019 has been shown to establish healthy gut bacteria in infants while boosting immune system health. And I love that it's dairy-free.
Wellements' baby probiotic comes in a bottle, and it does require refrigeration. Let the bottle warm up in your hands for up to a minute before giving the probiotic drops to your baby.
Impressive Features:
Two live bacterial strains, Lactobacillus rhamnosus HN001 and Bifidobacterium lactis HN019 suspended in certified organic extra virgin olive oil
Free of gluten, dairy, soy, dyes, parabens, alcohol, artificial colors and flavors, and preservatives
---
Do babies need probiotics?
The short answer is yes. Most babies, including breastfed babies and formula-fed babies, can benefit from taking probiotics. Babies also get exposed to probiotics through breast milk when mom takes probiotics while breastfeeding.
I wish I had given both of my babies probiotics from day one instead of waiting for their reflux symptoms and eczema to appear. However, you should consult with your pediatrician before starting probiotics, especially if your baby was a preemie or has health issues of any kind.
Why am I such a firm believer in the benefits of probiotics for babies? One of the most important factors that determine your baby's lifelong health is the microbiome.
Remember, the good bacteria balance out pathogenic bacteria and viruses and also play a critical role in helping your baby's digestion, building their immune system and protecting from disease, and absorbing vitamins and nutrients from food.
What many people don't know is that a baby's intestinal flora is dependent on the mother's. A mother passes on her own microflora to her baby during gestation and as the baby passes through the birth canal during delivery. In fact, a vaginally delivered baby's microbiota resembles his mother's microbiota makeup within 20 minutes of being born.
However, babies aren't getting exposed to enough healthy bacteria anymore. During the last century, the following trends have contributed to degrading gut flora:
antibiotics usage
Increasing number of C-section deliveries
lack of breastfeeding
high levels of stress
sugar consumption
consuming processed foods
living an overly sanitized lifestyle
As a result, mothers are unknowingly passing on their compromised intestinal flora to their babies. Babies born by C-section are further at a disadvantage because they are not exposed to their mother's fecal and vaginal flora through the birth canal. And babies that are not breastfeeding are missing out on the natural regular exposure to mom's skin flora.
Sadly, all of these factors have contributed to the degradation of gut flora that has been passed on from generation to generation. It's no one's fault, either; this is a byproduct of living in a Western nation with its habits and dietary choices.
It's no wonder that there are more and more babies suffering from colic, acid reflux, food allergies, eczema, digestive discomfort, constipation, and other health issues.
The good news? Researchers are learning more and more about the microbiome along with the importance of healthy bacteria. Armed with knowledge regarding the benefits and uses of probiotics, you can help ensure your baby has strong and diverse gut flora.
Related: The Best Vitamin D Supplements for Babies
Is it safe to give your baby probiotics?
Studies show that you can safely give probiotics to most babies, except those with health issues such as short bowel syndrome. To be on the safe side, it's always best to check with your baby's healthcare professional before starting probiotics or any other supplements. You should avoid probiotics (or only take them under a physician's care) if your baby is taking medication or has immune health issues.
Additionally, if your baby has suspected allergies, you should verify that the probiotics you purchase are not cultured on such allergens (e.g., dairy or soy).
Start slow when introducing baby probiotics
When introducing probiotics to a baby, I always recommend starting with a tiny dose. Start with a few grains or one drop and slowly work your way up to the recommended dose gradually.
Probiotics can be potent, and it's best to ease your child into taking them to avoid any potential gassiness or upset.
You don't even have to give probiotics daily; it's common to skip a day or two.
To use, add the probiotics to your baby's bottle, give it directly on a spoon or pacifier, mix it with solid foods, or place some on your breast before nursing.
I hope you found the perfect baby probiotics for your little one. By being mindful of the importance of gut health, you're giving your baby an important gift for their future.
Keep up the great work you're doing!