As parents, we know that what we feed our babies will have long-lasting effects on their health and wellbeing. When your little one is growing bigger by the day, nutrient-rich food is essential for proper development. And, while you know how important it is to prepare fresh baby food, you may not always have the time.
I consider myself a busy mom who cares deeply about health and nutrition, so I've done a lot of research on the best baby food brands over the years. There are a few brands I would use on the go or for when I needed to "supplement" my own home-made cooking.
I was really happy to discover Yumi! They deliver on all essential points and do the hard work for you. Yumi offers organic, freshly-made meals delivered to your door and tailored to your baby's developmental journey. Yumi is a great, stress-free baby food subscription service that will help you put clean baby food on the table — whether you're feeding purees or baby-led weaning.
What to Look for in Baby Food
In general, there are a few key things to look for when considering a baby food brand. Here are a few to consider:
Look for Baby Food that's Certified USDA Organic
Organic ingredients make for the best baby food. That's why the first thing to look for when choosing a baby food brand is whether it's USDA Organic. This certification is important. USDA organic certified food means that the food has been grown and processed according to federal guidelines. This includes rules around soil quality, additives, weed control, and animal raising codes.
Now, if you look on the store shelf, you'll see many "all-natural" baby foods that are not certified. Most of the time, these terms do not guarantee that the food has been grown to any specific standards. "Natural" baby foods may be free from additives and artificial ingredients, but they aren't necessarily free from pesticides, herbicides, or chemical fertilizers, for example.
So, by choosing a USDA Organic certified brand, you can feel quite confident that the food isn't exposing your baby to anything harmful. Yumi ensures that all of their ingredients have undergone rigorous food safety testing and come from trusted farms that are both USDA Organic and non-GMO.
Avoid Preservatives and Allergens
To ensure a healthy diet, it's important to feed your baby freshly-made nutrient-dense meals. Unfortunately, many store-bought options are high in fruit sugars and low in actual nutritional value. You'll see that most factory-made baby foods have expiration dates that are a year into the future! Yikes.
Yumi really stands out because all of their baby foods are organic and made without preservatives or added sugars. They are also entirely plant-based.
All Yumi baby food items are free of the most common allergens: gluten, eggs, milk, peanuts, tree nuts, fish, crustacean shellfish, wheat, and soy.
Although some parents introduce common allergens early in their baby's development, that's an entirely personal choice. If you're looking for total peace of mind, you might opt for a baby food brand that is completely allergen-free.
And Find Packaging that is BPA-Free and BPS-Free
As someone who cares about environmentally-friendly packaging, I always look for packaging made with recyclable materials. However, this can be tricky when it comes to making sure recycleable food packaging is also safe for your baby. For example, glass jars can chip or shatter.
I recommend choosing baby food that is packaged in BPA-free and BPS-free materials. BPA (Bisphenol A) and BPS (Bisphenol S) are commonly used in food packaging. However, studies show that these chemicals can also negatively affect your baby's development.
In contrast, Yumi uses fully BPA/BPS-free plastic for all their packaging. And as an added precaution, they ensure that all of their containers are cold-filed (this is HUGE!), to reduce the potential for any plastic leaching into the food. Yumi products are curbside recyclable, in alignment with the company's dedication to reducing food waste and creating a more sustainable future.
The Yumi Story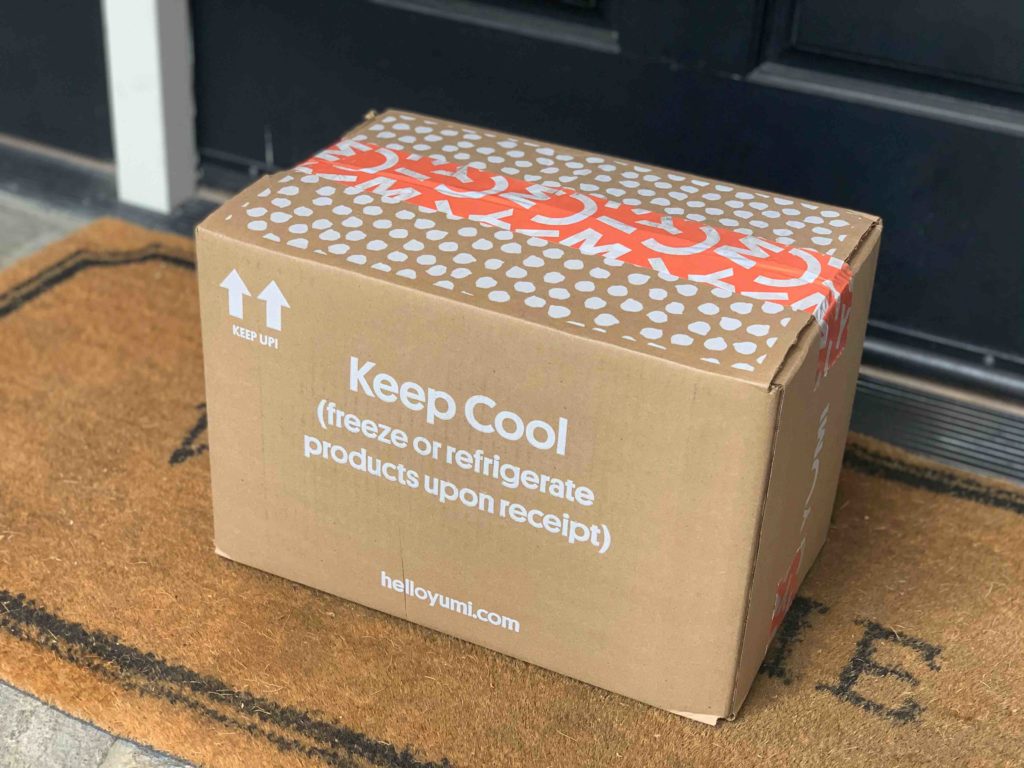 It's always fun to know how a brand came to life! Longtime friends, Angela Sutherland and Evelyn Rusli are the co-founders of Yumi. The brand was born out of a strong passion to help parents provide easy, nutrition-rich meals for babies.
Angela and Evelyn co-founded Yumi soon after Angela became pregnant with her first child. Angela had thoroughly researched nutrition for babies, and, it didn't take long for her to discover how few options there were for fresh, accessible baby food. From her research, she also learned that the first 1,000 days of a baby's life are the most important for a baby's brain and physical development (not to mention, baby's gut health!), including a baby's metabolism, and immune system. In fact, 60% of a baby's caloric intake is used for brain development in those early months.
So Yumi was born! They deliver freshly-made, pre-portioned meals straight to your doorstep. Each order lasts for seven days in the fridge or two months in the freezer, so you'll always have a choice of delicious, nutrient-rich options on hand.
Related: 40+ Best Finger Foods for Babies
What Makes Yumi Different from Other Baby Food Brands?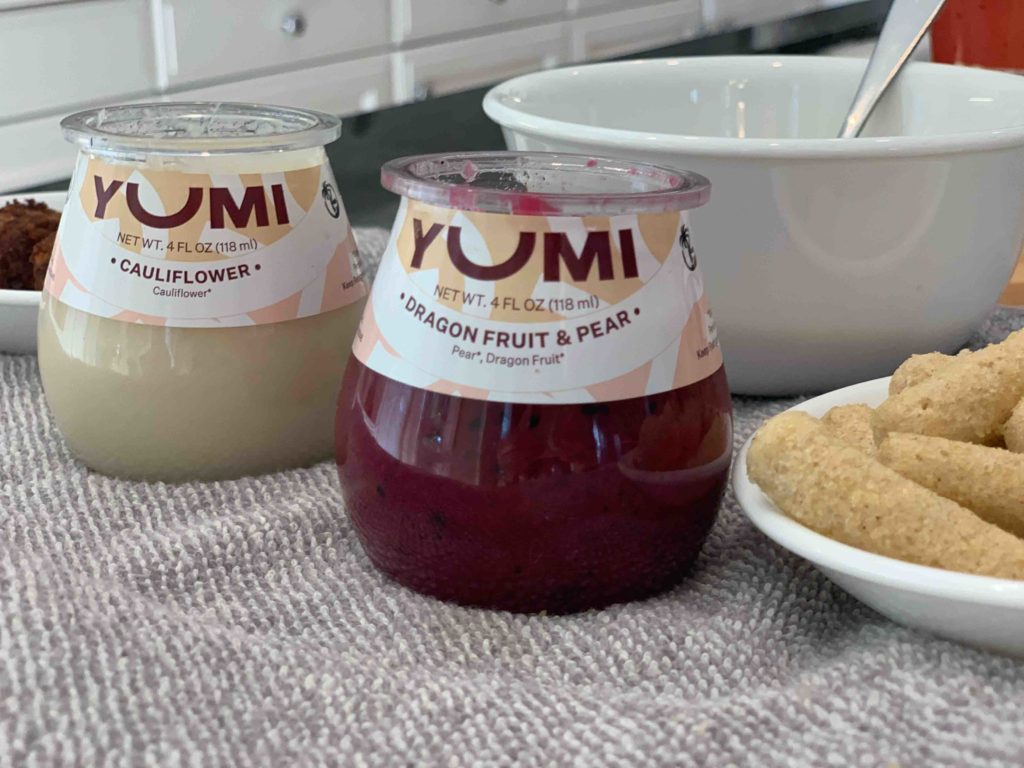 Commitment to Science and Nutrition Research: Yumi is a brand that is thoroughly rooted in the latest research on science and nutrition. The company works with a large team of medical advisors, nutritionists, and academics to ensure that all of its products fully support the developmental needs of babies and toddlers.
Carefully Selected Ingredients, Free from Heavy Metals: Yumi's commitment to carefully choosing each of their ingredients makes them stand out from other baby food brands. Recently, headlines have shown that worrying levels of heavy metals (ie. arsenic, lead, cadmium, and mercury) have been found in baby foods. Exposure to these toxic substances can harm infants' sensitive bodies and can lead to learning and behavioral problems later on. Certainly not something you want your little one exposed to through food! I definitely appreciate that Yumi regularly tests all of their ingredients and finished products for heavy metals. Instead, they specifically include ingredients that are "heavy metal fighters," such as broccoli, kale, and beans. These types of foods are high in calcium and iron and can help block heavy metal absorption.
Related: The Best Non-Toxic High Chairs for Babies
How Yumi Works
Yumi's website outlines all of their meal plan options and the specific ingredients that go into each jar of food. Simply input your child's date of birth, your zip code, and then choose the number of meals you'd like delivered each week.
The food jars will be delivered to your home in insulated packaging that keeps them chilled to the right temperature. Shipping is always free, and there are options for weekly or monthly billing.
Because Yumi works on a subscription basis, you don't need to worry about picking individual meals each week. You simply choose your preferred meal plan, and Yumi gradually introduces new flavors and textures, according to your baby's age.
Yumi's Milestone Plan
Yumi has several menu plans to choose from. The Milestone Plan really covers all of your baby's nutritional needs, from 6 months to 11+ months. This plan has different stages beginning with single-ingredient purees, all the way up to nutrient-rich finger foods. With this plan, your baby will be introduced to three or four new plant-based flavors each week. So, over the course of the Milestone Plan, your little one will be exposed to 100 different ingredients! This will help develop their palate over time and inspire a lifelong love for new tastes and flavors.
Each Yumi jar works out at roughly $4 each, but the price will vary depending on how many jars you choose to have delivered per week.
Here are some examples of the delicious organic flavors that Yumi offers at each stage:
Of course, there are other options available. And, if you're most interested in baby-led weaning, check out the Chunky Combos and Finger Foods plans. Yumi also gives customers the option to input their baby's flavor preferences for complete customization!
Try It Out!
Yumi does all the shopping, prepping, and cooking that you would do at home, in an FDA-approved and HACCP-certified facility, so you know the food is entirely safe for your baby. This no-fuss service means that you can focus on spending more time with your baby and less time in the kitchen or at the grocery store. For baby food that is healthy, convenient, and ready-to-go, Yumi is a brilliant subscription service that I consider to be well worth the cost. Give Yumi a try and let me know what you think!
What did you order from Yumi? I'd love to know!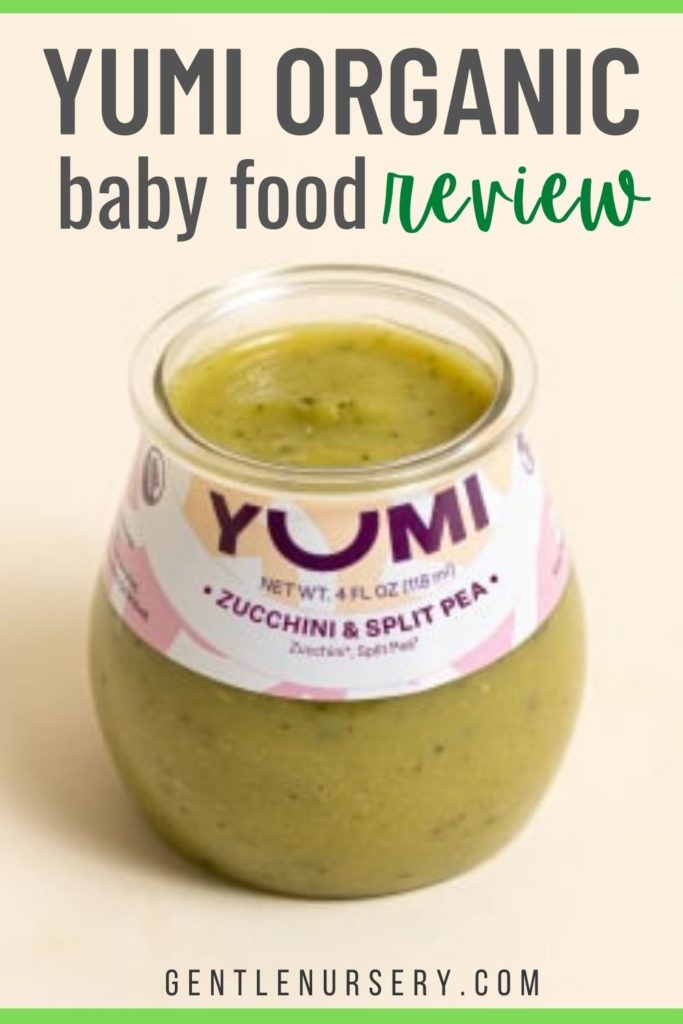 Want more info about introducing solids to your baby? Keep reading…