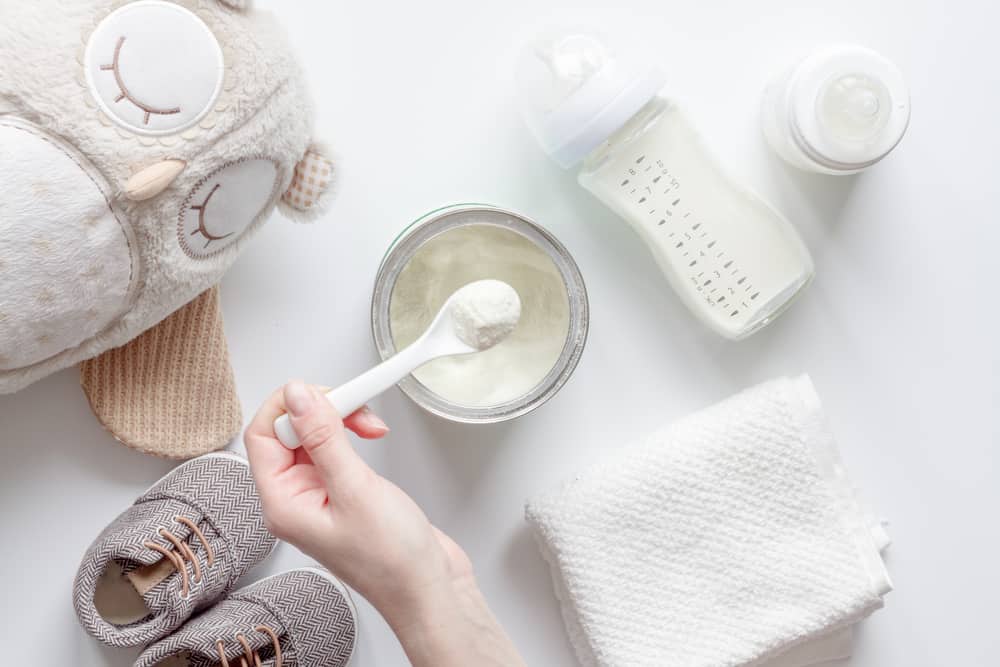 Organic baby formula is better for your baby because it contains healthier ingredients than conventional baby formula. If you are looking to supplement or formula feed, invest in the best organic baby formula that you can afford.
Breastfeeding provides the best nutrition and health benefits for babies and moms, but it doesn't happen naturally or easily for everyone. It can also be painful and difficult during the first few weeks as you, your body, and your baby adjust to nursing.
For many moms that are committed to the idea of breastfeeding, struggling to breastfeed or produce enough milk can be a big disappointment. If you are having a difficult time nursing, please see a certified IBCLC lactation consultant for assistance. Seeing a lactation consultant in your early days of nursing is one of the best things you can do for yourself and your baby.
But, when breastfeeding doesn't work out as planned, it's completely ok to use baby formula. In fact, a lot of moms struggle for weeks before deciding to use formula, which is stressful in and of itself. Usually, after they finally give in and start using baby formula, they wish they had done it sooner. While breastmilk is superior to formula, you have to remember to do what is best for your baby – and yourself!
So if exclusively breastfeeding isn't an option, how exactly do you choose the best organic baby formula for your baby? There's a lot to consider, and most mainstream US formulas just aren't good enough.
Where Can You Buy Organic Baby Formula?
Some of the European brands of organic baby formula recommended below (like HiPP and Holle) are not available through mainstream stores like Amazon or Target, for the most part. 
The three baby formula stores I recommend are:
Huggable: Huggable is a new baby formula store that's on a mission to make high-quality baby formula accessible to parents in the United States. Huggable only imports baby formula by air to avoid long transit times and unstable temperatures and they store their formula in a refrigerated warehouse as an extra precaution. As parents themselves, they have strict standards and quality control measures. Huggable carries a large inventory of European baby formula and is based in San Francisco. Take 5% off your order with Huggable coupon code GENTLE using this link.
BabyKind Market: BabyKind Market opts for manual inspections of all shipments to avoid radiation exposure. They also ship everything via air and have strict quality control standards throughout the entire shipment process including temperature, humidity, and general handling. New customers can take $5 off with code GENTLENURSERY through this link.
Organic Baby Food GmbH: Once you've figured out which formula your baby takes best, you may want to import baby formula from Germany directly to save on formula costs. Also a parent-run company, Organic Baby Food 24 offers fast and reliable shipping (sometimes as fast as 1-3 days) and you *shouldn't* have any issues with customs and it is unlikely that your package would be passed through an X-ray machine. Their warehouse is temperature-controlled (though formula does not need to be refrigerated). Take 10% off your first order with code GN10 through this link.
For more discounts and coupon codes, visit my Baby Deals page.
How Do You Choose the Best Organic Baby Formula For Your Baby?
If you decide to use formula, please know that there are no perfect options available. I would urge you to use one of the best European organic baby formula options if that's within your budget because these contain better ingredients than most American brands of formula.
What your baby consumes directly impacts their health and well-being, and sadly, traditional formula made by the likes of Enfamil, Gerber, and Similac, among others, contain harmful, unnecessary ingredients, including corn syrup, maltodextrin, and GMOs. Even some organic formulas are made with unnecessary ingredients that aren't good for a baby's developing digestive system, so please choose your baby's brand of formula wisely and carefully.
Let me just say this: choose the best quality baby organic formula you can afford.
Ingredients to Avoid in Baby Formula
Just some of the unhealthy ingredients that should not be in baby formula (but are) include:
Carrageenan (a potential carcinogen that is prohibited in the EU)
Sweeteners such as brown rice syrup
Maltodextrin
Palm Oil
Synthetic DHA and ARA extracted with neurotoxic hexane
Synthetic preservatives
Synthetic nutrients
Genetically modified organisms (GMOs)
Take a look at the ingredients list on any traditional brand of formula, and you'll probably cringe.
Baby Formula Options – What can you give?
Thankfully, there are some safer brands of baby formula available, including European formula. Your choices for baby formula boil down to the following:
Cow's milk formula: Dairy-based formula is the most common type of formula given to babies, although dairy can cause gas and fussiness in many babies that are intolerant to milk proteins
Goat-milk formula: Goat's milk formulas are a great alternative to dairy-based formula, but are typically not recommended for babies who are allergic to dairy
Soy-based formula: An alternative to cow's milk, soy-based formula is another option. However, unless your soy-based formula is organic, you can assume the soy is GMO (in which case it is not safe for babies, in my opinion)
Hypoallergenic baby formula: Hypoallergenic formula is for babies with milk and/or soy-protein allergies, and contains highly broken down milk proteins which are easier for babies to tolerate
DIY baby formula: Another option is to make your own baby formula using this recipe from the Weston A Price Foundation or this recipe from Mt. Capra; discuss this with your pediatrician before making your own formula. Personally, I don't trust myself to make my own baby formula, although I did consider it at one point.
Camel milk: Famous for its natural healing properties, camel milk has also been used by some parents as a formula for their babies as young as 6 months of age. However, this is not endorsed by the American Academy of Pediatrics. Please check with your pediatrician before giving your baby camel milk. If you do give camel milk, it is recommended that you introduce it to your baby slowly, so as to minimize any potential reactions. Start at 1/4 tsp. and gradually work your way up from there.
What is the Best Organic Baby Formula?
As we said above, there is no perfect option. But here are some of the best options currently available on the market. Please thoroughly review this list, weigh the pros and cons, and decide on the best formula for you.
The Best Organic Cow's Milk Formula
A detailed study of baby formula has been conducted by Charlotte Vallaeys, former Director of Farm and Food Policy at the Cornucopia Institute and now a Senior Analyst for the Consumer Safety and Sustainability Program at Consumers Union. Vallaeys details many of the ingredients you should avoid when choosing a brand of formula, which I've listed above.
Her recommendation is that if you're not interested in making your own infant formula, you could consider an organic European baby formula.
Here are some of the best organic baby formula options:
Goat's Milk Formula
While dairy can cause inflammation in the body, goat's milk is less allergenic and much more easily digested. (Fun fact: it's also naturally homogenized.) However, please note that most babies who are sensitive to cow's milk proteins are also sensitive to the protein found in goat milk. However, this does not apply to all babies.
Here are the best options for goat milk formula, including some that are organic.
Hypoallergenic European Baby Formula
If your baby has reflux, food allergies, eczema, or food sensitivities, you may want to consider a hypoallergenic baby formula. Talk to your pediatrician or gastroenterologist about whether this is best option for your baby.
HiPP is the only European manufacturer that makes hypoallergenic baby formula. However, due to the need for hydrolyzed proteins, HiPP's comfort/hypoallergenic formula are not organic. There are two options:
HiPP Hypoallergenic Combiotik: This has partially hydrolyzed whey proteins and can be gentler for sensitive babies.  The whey to casein ratio is 60:40 similar to breastmilk, but the casein is not hydrolyzed, making this option less effective for the most sensitive tummies.
HiPP Comfort Infant Formula: This is closest to American hypoallergenic formula and has reduced lactose content. HiPP Comfort contains no casein, which is why it may be a better option for sensitive babies with reflux or other digestive issues.
If your baby doesn't tolerate European hypoallergenic formula, you may need to switch to an American hypoallergenic formula like Alimentum, Neocate, or Nutramigen. Your pediatrician or pediatric gastroenterologist (you should see one if your baby has reflux) can help you choose which formula to use. I know many babies who did much better on a hypoallergenic formula.
(If you suspect that your baby might be sensitive to corn, I have heard that the Alimentum Ready-to-Feed version seems to be the most tolerated.) These brands are not organic and the ingredients are less desirable than what you'd find in the organic baby formula brands listed here.
HiPP's Comfort Milk formula is designed to be closest to American hypoallergenic formulas like Alimentum. This hypoallergenic European formula contains hydrolyzed whey protein and contains no casein, making it easier on a sensitive baby's system.
HiPP Comfort Milk Combiotic comes in two versions: HiPP UK Comfort (0+ months) which contains prebiotics and HiPP Germany Comfort (0+ months) which contains no prebiotics.
Shop HiPP Comfort: Babykind
HiPP Hypoallergenic Formula
A partially hydrolyzed baby formula, HiPP Hypoallergenic Infant Formula is not organic but it is as close as you'll get to a clean and gentler baby formula for sensitive tummies. Hipp HA Combiotik is made using hydrolyzed whey proteins, which should be easier for your baby to digest if they have a milk protein intolerance. However, not all babies do better on this formula because it does contain casein that is not hydrolyzed; some may do better on HiPP Comfort and others will need an amino-acid based formula like Alimentum, Neocate, or Nutramigen.
It comes in three stages: PRE (0-6 months), Stage 1 (0-6 months), and Stage 2 (6+ months).
Should You Buy Backup Formula if You Plan to Breastfeed?
Some women avoid buying any formula before their baby is born, thinking that it might jinx or hinder their breastfeeding efforts (especially in those early days when nursing is extra painful and hard to adjust to), while others prefer to have at least a can of formula on hand.
I can personally relate to both trains of thought, so I encourage you to figure out what works best for you and stick with that plan. I intentionally never bought any formula because I didn't want to reach for it in a moment of exhaustion or weakness (and there were many of those moments during my first couple of weeks breastfeeding both babies). And, I can say with certainty that not having any formula on hand helped me stick to my goal of breastfeeding. I nursed my first baby until he was 2 years old (I thought for sure we'd stop at 12 months…) and it got much easier over time.
But, I wonder what I would have done if I struggled to breastfeed. I know that I prefer European formulas, and they can take a few days to arrive by mail. So, maybe it would have been prudent to have one box on hand. It's your choice, mama! You know yourself best.
Would you be more committed to nursing if you didn't have some on hand? Can you or your partner run out to the grocery store to pick up formula if needed? Or would you prefer to have some European formula available, just in case?
While there are no "perfect" formula options out there, I think there are a few good ones to consider. Did you find a baby formula that you're comfortable with? Hopefully one of these options will work for you!
---
Still wondering where to create your baby registry? I recommend registering with Amazon for the widest selection of natural and non-toxic baby products, best prices, fast shipping, and excellent customer service. Start your Amazon Baby Registry now >>