If you're looking for the best organic baby formula for your little one, you might feel overwhelmed by all of the options.
How do you know if you should go with cow's milk or goat's milk, soy-based, or hypoallergenic?
And how do you know which formula your baby will tolerate and which one has the healthiest ingredients? This article will cover the best organic baby formulas and how you can choose the best one for you.
Whether you're just supplementing, planning to only have formula on hand as a backup, or are exclusively formula feeding, it's important to select the healthiest baby formula for your little one. This means looking into the nutritional content of these organic non-GMO baby formulas and making an informed decision based on what's important to you.
And, it's worth mentioning that while there are many high-quality organic baby formulas out there, there is no "perfect" baby formula out there. Finding what works for your baby may take a little trial and error. But we highly recommend the organic baby formula brands listed here because they're made with healthier ingredients than conventional formulas, making them a better choice.
So, how exactly do you choose the best organic baby formula for your baby? There's a lot to consider when choosing the healthiest baby formula for your baby!
Let's go over the details…
Our Top 5 Picks for Organic Baby Formula
How Do You Choose the Best Organic Baby Formula For Your Baby?
First, I want you to know that there is no such thing as the perfect baby formula—organic or not. Breast milk is far superior to anything else, and if you are in a position to breastfeed, I would encourage you to do so — even partially. Your baby gains significant health and safety benefits if you breastfeed even just once a day.
But typically, you'll find that organic baby formula brands contain far better ingredients than traditional brands. And you'll also find that European baby formulas are made with higher standards than most American formulas, so some parents choose to order formulas from Europe.
If your little one is going to be on formula, I would encourage you to choose one of the best organic baby formula options that's within your budget.
What your baby consumes directly impacts their health and well-being. Sadly, traditional formulas made by Enfamil, Gerber, and Similac, among others, contain harmful, unnecessary ingredients, including corn syrup, maltodextrin, and GMOs. Even some organic formulas are made with unnecessary ingredients that aren't good for a baby's developing digestive system, so please choose your baby's formula brand wisely and carefully.
The Best Organic Baby Formulas
As we said above, there is no perfect option for buying baby formula. But here are some of the best organic baby formula brands currently available on the market. Please thoroughly review this list, weigh the pros and cons, and decide on the best formula for you.
Here are some of the best organic baby formula options currently on the market:
Buy on ByHeart
ByHeart is a new baby formula that has nailed it regarding formula ingredients. Made with grass-fed, organic cow's milk, ByHeart contains no palm oil, corn syrup, soy, maltodextrin, or hexane-extracted DHA. The formula contains significant levels of alpha-lactalbumin and lactoferrin (the two most abundant proteins found in breast milk), plus organic lactose, and full-fat milk.
I really admire that Byheart designed their infant formula from scratch and that it is made with organic ingredients. They built their recipe to ensure that it uses all the right nutritional components from reliable, quality sources to provide your baby with everything he/she needs. You can trust this brand as an FDA-registered formula that also commits to finding short-batch operations, using hand-picked ingredients, and providing complete transparency.
I also love that they received the Purity Aware from the Clean Label Project, proving that they have achieved among the highest level of purity standards in the industry.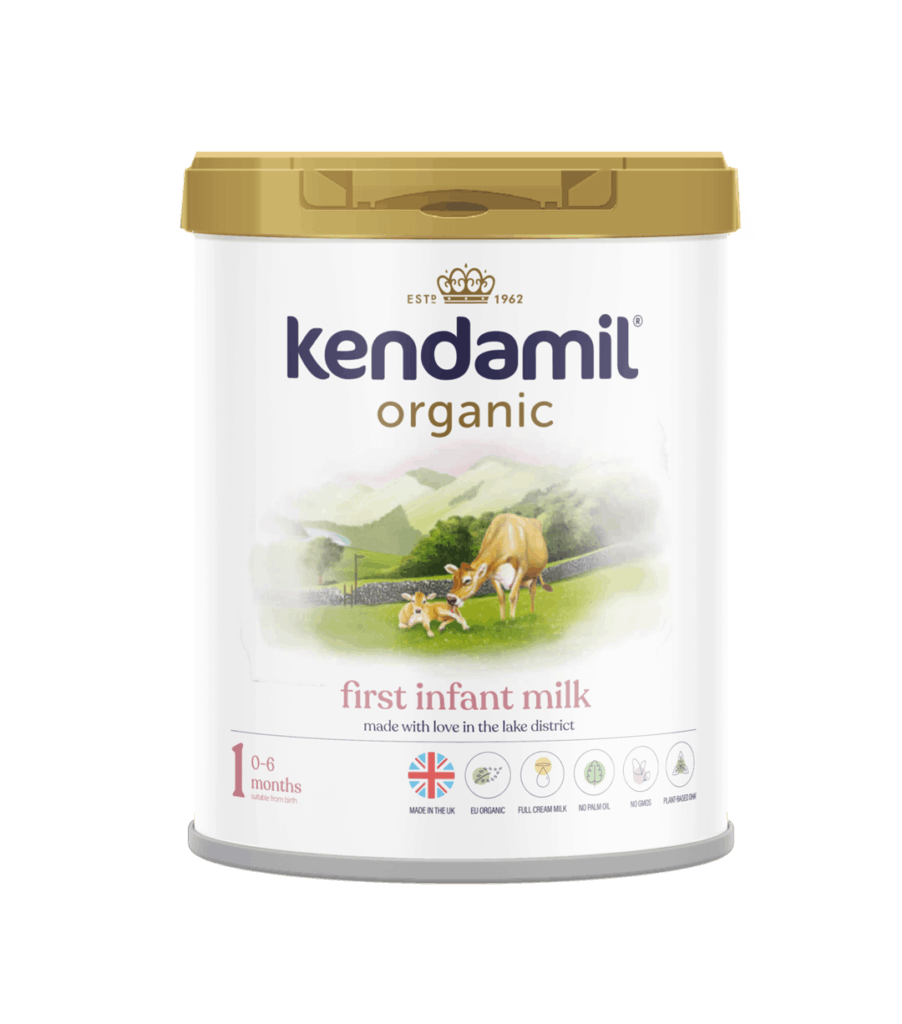 Buy on My Organic Company
Made in the UK, Kendamil is another organic baby formula brand made with some of the highest ingredient and manufacturing standards. Made with whole milk (not skim milk) from cows that graze on the pastures of local farms, Kendamil is manufactured to British and European organic standards, including no GMOs, no pesticides, and no use of hormones or antibiotics.
Kendamil sources its Omega-3 DHA from plant-based pure marine algae, making Kendamil a good choice for any babies with fish or shellfish allergy concerns. For more info, see our full review of Kendamil.
Kendamil is available in three stages:
---
Buy on MyOrganicCompany
A European goat milk baby formula, Jovie stands out as a great option for babies that need an easy-to-digest formula or have a cow's milk sensitivity. Whole organic goat milk and lactose are the main carbohydrates in this formula, and they pass all European stringent standards. It is also free of soy, coconut, palm oil, and maltodextrin, which is exactly what little tummies need if they are having trouble with other formulas. Unlike many other goat milk formulas, Jovie has added prebiotics, which many parents appreciate for their baby's digestion. This is one with an excellent nutritional profile with high-quality ingredients, tolerated by many sensitive bellies!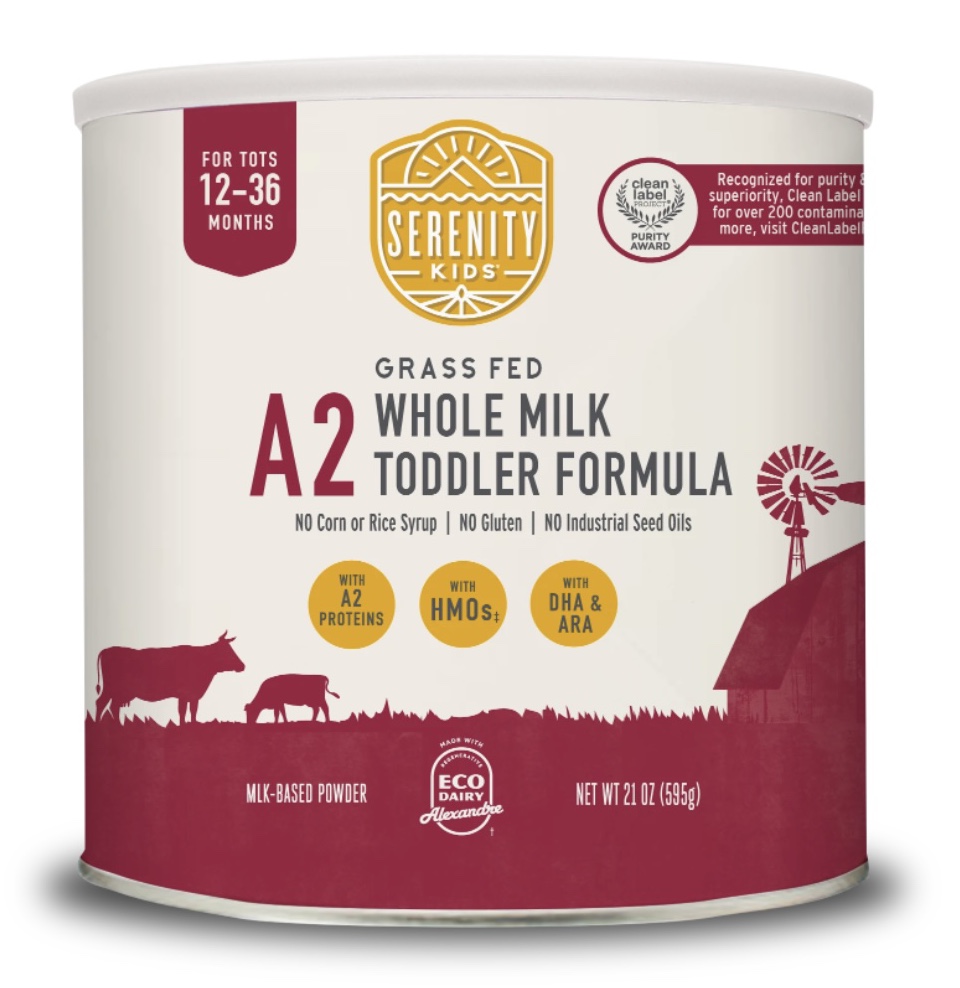 Buy on Serenity Kids
Designed for toddlers over the age of 12 months, Serenity Kids Formula offers a grass-fed A2 whole milk formula. This is great for toddlers who may need a little boost in their day or those who simply want a well-rounded, nutrient-dense option as their main source of nutrition. Like most quality formulas, they exclude soy, rice syrup, corn syrup, maltodextrin, and GMOs, and include all the good stuff (including L-methylfolate instead of synthetic folic acid).
You'll find they use A2 beta-casein proteins, which are easier to digest than its A1 counterpart, found in most cow's milk formulas. You will also find organic lactose as the main carbohydrate, important nutrient-rich fats derived from sustainably sourced oils, prebiotics, and probiotics.
They have also received the Purity Award by the Clean Label Project, giving you added assurance that the product uses quality, clean ingredients that are safe for your little one!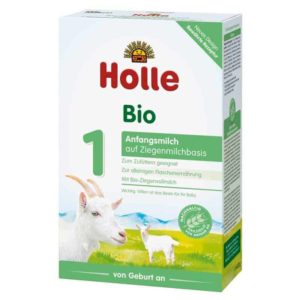 Buy on Organic Baby Food 24 | My Organic Company | Organic Formula Shop
In addition to their cow's milk formula, Holle also makes organic goat milk formula for babies using 99% organic ingredients certified to European standards. This formula contains no soy, artificial colors, flavors, or preservatives. Please note that it does contain maltodextrin.
Holle organic goat milk formula comes in three stages: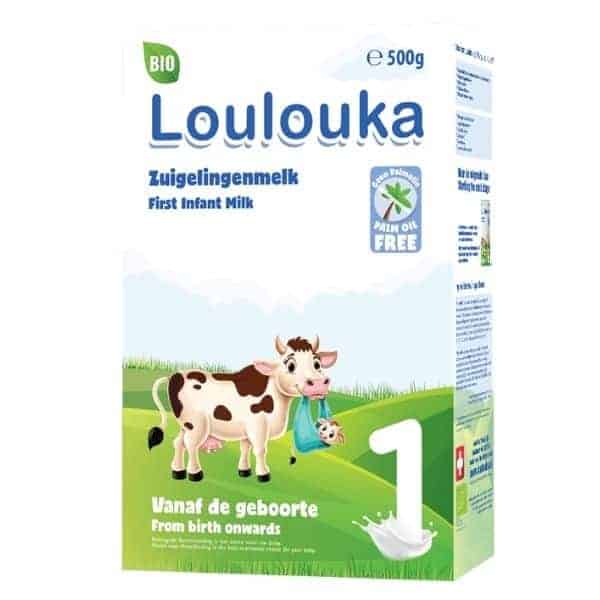 Buy on Organic Baby Food 24 | My Organic Company
Loulouka, a Swiss-made baby formula, tops our list of the best organic baby formula brands. Loulouka's infant formula is made with organic cow's milk sourced from Switzerland and many other essential ingredients and nutrients for your baby's development.
Loulouka is unique because this formula uses coconut oil rather than palm oil and contains absolutely no soy. Switzerland has very high-quality organic foods and is known for their strict regulations; every step of the process from the farm to the warehouse is inspected and regulated, so you can be assured that this formula is clean and provides optimal nutrition for your little one.
Choose between three stages of Loulouka formula:
---
---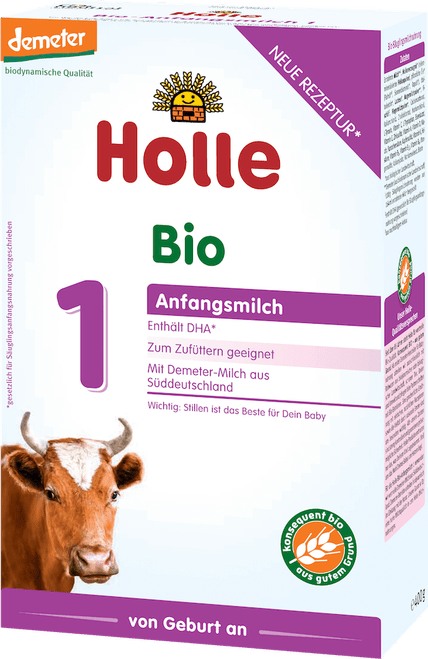 Available on Organic Baby Food 24 | My Organic Company | Organic Formula Shop
Made with organic ingredients and with milk from cows raised on Demeter-certified biodynamic farms, Holle is one of the most popular European brands of organic baby formula. Anecdotally speaking, many moms say their baby's colic symptoms eased up when switching from an American formula to Holle. This is one of the highest-quality organic baby formula brands available.
Choose between three stages of Holle Baby Formula: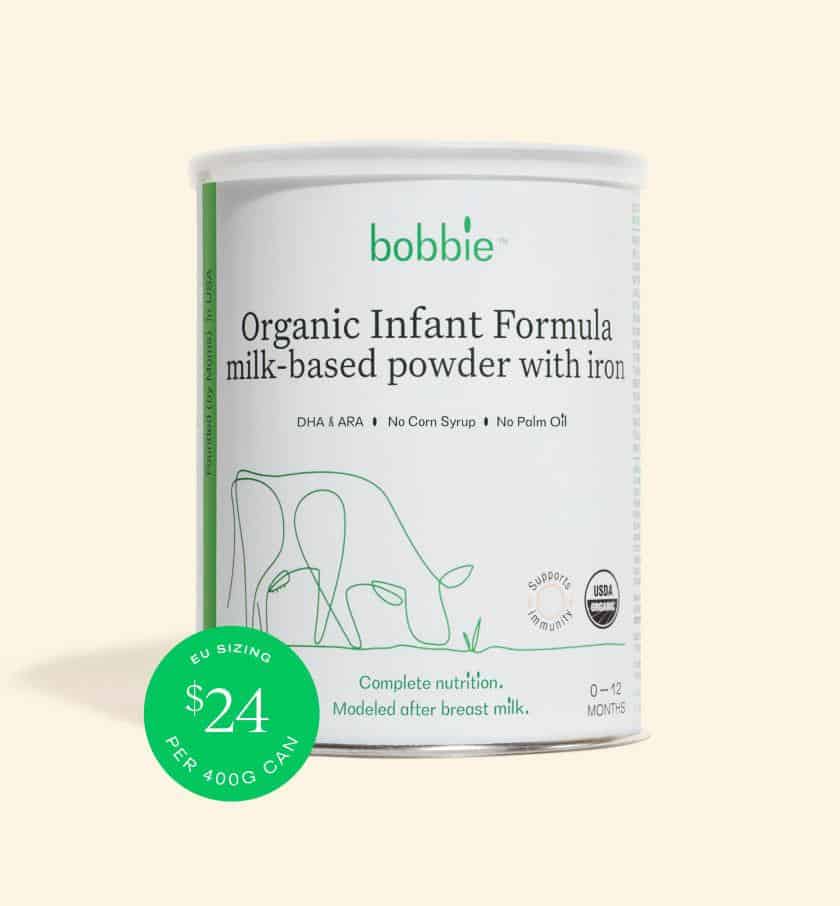 Made in the USA, Bobbie is a European-style baby formula that meets FDA requirements and is USDA organic. This makes Bobbie a very accessible baby formula brand for parents in the US.
This organic baby formula is promising not only because it doesn't contain palm oil (which is difficult for an infant's digestion), but it also doesn't contain maltodextrin or corn syrup.
Bobbie's first ingredient listed is organic lactose and it also contains organic nonfat milk, organic high oleic oil (safflower or sunflower oil), organic soybean oil, organic whey protein concentrate, and organic coconut oil.
The DHA is water-extracted, making it much safer than mainstream brands that use hexane-extraction. The only downside to this formula is that it contains soy. Otherwise, Bobbie is such a big win for American baby formulas!
Also, I love that Bobbie was founded by moms who wanted the best and most complete nutrition for their babies. Because let's be honest – most mainstream baby formula on the market doesn't meet your baby's nutrition needs in an ideal way. You can read all of the pros and cons of Bobbie in our Bobbie baby formula review!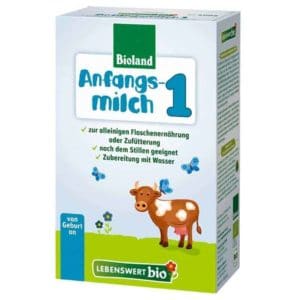 Buy on Organic Baby Food 24 | My Organic Company
Lebenswert is another one of the best organic formulas to consider, especially since this brand does not contain any maltodextrin or starches. However, it still contains such vegetable oils as palm oil, rapeseed oil (canola), and sunflower oil. Lebenswert is gluten-free and certified organic to Bioland standards.
Lebenswert is available in three stages:
---
Buy on Organic's Best
German organic baby formula, Löwenzahn Organics, offers 3 different stages of baby formula, all developed under European organic certification. The formula is designed using high-quality organic ingredients, is non-GMO, and does not include some of those unsavory ingredients like sucrose, corn syrup, or preservatives. Many parents will also appreciate that Löwenzahn Organics includes prebiotics, DHA, and ARA (Omega-3 and Omega-6). Note that you will find palm oil, which may be a dealbreaker for some parents.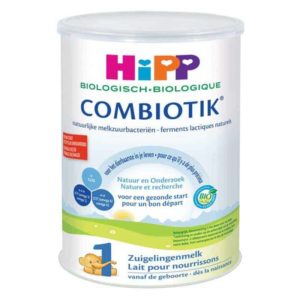 Shop HiPP: Organic Baby Food 24 | My Organic Company | Organic Formula Shop
HiPP is a European brand that ranks high up there in quality, as well, and it contains no gluten, maltodextrin, or soy lecithin. HiPP makes slightly different versions of their organic baby formula for the UK, Germany, and the Netherlands. For example, some contain probiotics and starches while others do not, and the Dutch version comes in a can and has a longer shelf life, while the others are in a box.
HiPP also makes several hypoallergenic baby formulas. Choose the version that is best for your needs.
HiPP comes in three main versions:
HiPP German: the company's original formulations; HiPP German includes prebiotic fiber and probiotics
​HiPP Dutch: comes in a can and has a longer shelf-life
HiPP UK: comes in a slightly smaller box than HiPP German formulas
---
Buy on Amazon
Consider Baby's Only if you're looking for an American-made (and easily accessible) organic formula. This is a good choice because it is easily accessible and does not contain palm oil or hexane-extracted DHA/ARA. If you get the version that contains DHA, you can feel comfortable knowing that it is safely extracted from egg yolks. This formula is made with A2 milk, meaning it might be a good choice for slightly sensitive or fussy babies.
Some families use Baby's Only from birth, though it is labeled as a toddler formula. Check with your pediatrician to see if it has all the necessary nutrients for your baby.
Baby's Only comes in a few different versions, including:
---
We all know Burt's Bees for their baby care products, but you might be surprised to know they recently released a new organic baby formula that appeals to sensitive little bellies. Made in the USA with using organic ingredients, Burt's Bees Baby formulas are made without hormones, antibiotics, preservatives, sucrose, artificial colors/flavors, starch, carrageenan, high fructose corn syrup, or GMO ingredients.
Their dairy ingredients are sourced from quality dairy farms in the United States, Canada, Europe, and New Zealand. You will also find water-extracted DHA (from hexane-free algae oil) and ARA (omega-6, from Mortierella Alpina. You will also find dietary prebiotics fructooligosaccharides that help support a healthy gut. Note that you will find palm oil and soy, which is the biggest downside.
You can also find two other Burt's Bees formulas on the market: Ultra Gentle and Sensitive. Ultra-gentle uses lactose and partially hydrolyzed whey protein to help ease digestion. Sensitive removes lactose entirely from the ingredients, which is a good option if your baby doesn't do well with lactose.
Happy Baby is another good choice for American baby formula because it is easily accessible, certified organic, and contains probiotics and a prebiotic. I know a few families who have really loved it.
Happy Baby comes in the following stages:
What Types of Baby Formula Are There?
Even though you know you want an organic baby formula, it's important to first narrow down the type of formula you want to use. Your choices for baby formula boil down to the following:
Cow's milk formula: Dairy-based formula is the most common type of formula given to babies, although dairy can cause gas and fussiness in many babies that are intolerant to milk proteins. Several organic cow's milk formulas are on the market today, giving you many options.
Goat-milk formula: While dairy can cause inflammation in the body, goat's milk is less allergenic and much more easily digested. Goat's milk formulas are a great alternative to dairy-based formula, but are typically not recommended for babies who are allergic to dairy. They may work just fine for babies who are displaying a "sensitivity" to cow's milk proteins. While there are several great goat milk formulas available, including Kabrita, which I would also encourage you to consider.
Soy-based formula: An alternative to cow's milk, soy-based formula is another option, especially if you are looking for plant-based or vegan baby formula. However, unless your soy-based formula is organic, you can assume the soy is GMO, which is not safe or healthy for babies. In addition, it's best to avoid soy in general because it contains phytoestrogens and this is why we do not recommend using soy-based formula for babies assuming other options are available.
Hypoallergenic baby formula: Hypoallergenic formula is for babies with milk and/or soy-protein allergies and contains highly broken-down milk proteins which are easier for babies to tolerate. Check out our full guide to the best hypoallergenic and sensitive baby formulas.
Homemade baby formula: Another option is to make your own baby formula using this recipe from the Weston A Price Foundation or this recipe from Mt. Capra; discuss this with your pediatrician before making your own formula. I don't know about you, but I don't trust myself to make my own baby formula, although I did consider it at one point.
Is Organic Baby Formula Better?
Organic baby formula is becoming increasingly popular as parents become more aware of the dangers of conventional formulas. There are many reasons why organic baby formula is better than conventional formulas, but it really comes down to two things:
Organic baby formula comes from milk products that do not contain pesticides, antibiotics or growth hormones.
Conventional baby formula is often made with cheap and undesirable ingredients.
Just some of the unhealthy ingredients that are commonly used in conventional baby formula include:
Carrageenan. Carrageenan helps to stabilize baby formula, but it really contributes no nutritional value. Many studies suggest that carrageenan could lead to inflammation of the intestines and even colon cancer. Additionally, due to scientific and medical findings, the European Union has outlawed carrageenan in all infant formula. Note that it is not outlawed in the United States and many US-based formula companies use this ingredient in their products.
Brown rice syrup. While brown rice syrup can be an alternative to other sweeteners like high fructose corn syrup, studies show that it has also been linked to high amounts of arsenic, a known carcinogen as cited by the EPA.
Corn syrup. This is often used as a carbohydrate in formulas because it's cheap. However, it's a major problem and something to avoid because it has a very high glycemic index. Infants are not physiologically prepared to digest higher glycemic index ingredients like this and will be much happier with lower glycemic index choices like lactose.
Maltodextrin. Maltodextrin, a food additive, is used as a thickener. The main issue with this ingredient is that it also has a high glycemic index. A Harvard study showed that maltodextrin produced a long list of issues in mice, indicating that it could contribute to intestinal inflammation.
Palm Oil. Used as a fatty acid to aid in the development of the nervous system and organs, palm oil can be an issue for many babies' immature digestive systems. Studies have linked it to constipation, colic, and difficulty with calcium absorption.
Synthetic DHA and ARA extracted with hexane. DHA and ARA are important in your baby's formula because they provide essential fatty acids. But hexane is a petroleum byproduct and a neurotoxin that can be used as a solvent to extract DHA and ARA. Unfortunately, hexane residues can reside in the oils, although the oils are purified after the process. Always look for non-hexane extracted DHA and ARA fatty acids.
Synthetic preservatives and nutrients. Preservatives are typically manmade chemicals that can be extracted using hexane or other questionable solvents. I always suggest avoiding preservatives like ascorbyl palmitate, beta carotene, nucleotides, lutein, lycopene, taurine, L-carnitine, and L-methionine.
Genetically modified organisms (GMOs). This is a process where foods are modified to create foods that are stronger and more resistant to plant diseases. While this makes food more cost-effective, the health impacts are largely unknown, so I recommend avoiding GMO ingredients. This includes corn and soy in baby formula. It can even include milk if a cow was fed GMO feed. Look for "No GMOs" on your baby formula.
Take a close look at the ingredients list on any traditional formula brand, and you'll find many undesirable ingredients. The good news is that there are many healthier options available that don't include these ingredients.
European vs. American Formulas
European formulas are becoming very popular among American parents. With a simpler approach to formula, most European brands offer clean ingredients made to European standards. But what are the real differences between American formulas and European formulas?
First, understand that both formulas are regulated. In the United States, the FDA oversees formulas. In Europe, the European Commission regulates baby formula. Both agencies set guidelines and regulations to ensure the baby formula meets health expectations. This includes making sure that baby formulas meet requirements for calories, macronutrients, and micronutrients.
The biggest difference between American formulas and European formulas is that the latter has stricter guidelines and requirements for baby formula. This means that European formulas have cleaner ingredients and superior nutritional value.
European formula is all organic and the farming practices and rules that coincide with organic products are quite stringent. European formula doesn't use GMOs, pesticides, antibiotics, or hormones. European formulas have requirements for key ingredients, but they also have requirements for how those ingredients are sourced, which is why EU formulas are generally considered cleaner. The US does not have nearly the same regulatory mandates in place!
Nutrients: Carbohydrates are the main energy source in baby formula, typically found in starches and sugars. You'll find that American formulas will use corn syrup, maltodextrin, and added sugars whereas many European formulas use only one carbohydrate: lactose. Additionally, the European Commission requires that infant formulas use at least 30% lactose where as American formulas do not have this requirement at all. In fact, some baby formulas don't even use lactose. All European formulas must also contain DHA for essential fatty acids (for eye development and brain health), and L-Carnitine. You'll also find that formulas routinely include both prebiotics and probiotics.
Farming: European formula is made according to European farming practices and stringent standards. This means that European formula is organic and doesn't use GMOs, synthetic pesticides, antibiotics, or hormones.
Ingredient Exclusion Rules: European baby formulas cannot include certain ingredients. For example, most European formulas will not contain corn, rice syrup, non-organic milk, carrageenan, locust gum, and guar gum.
Alternative Options: Many European formulas include goat milk instead of cow milk. Sometimes this is a great alternative for babies who struggle to digest cow's milk and are dealing with gas and stomach upset.
Stages: American formulas typically have one formula for all of infancy. Sometimes you'll see a formula suited just for newborns or just for toddlerhood. However, European formulas go several steps further (pun intended). They have different steps and stages formulated for specific ages designed to meet the exact needs of that stage of development.
FAQs About Organic Baby Formula
Still have some questions about choosing a healthy organic baby formula? Here are some of the most commonly asked questions we get.
What is the healthiest organic baby formula?
Based on a detailed review of all organic infant formulas on the market, the healthiest organic baby formulas are:
ByHeart Whole Nutrition Infant Formula
Kendamil Organic Baby Formula
Jovie Organic Goat's Milk Formula
Serenity Kids A2 Toddler Formula
Holle Organic Goat Milk Formula
Loulouka Baby Formula
Holle Organic Baby Formula
Bobbie Infant Formula
Lebenswert Organic Baby Formula
Löwenzahn Organic Baby Formula
HiPP Organic Baby Formula
Baby's Only Organic Formula
Happy Baby Organic Formula
This list includes American-made baby formulas as well as European baby formulas.
Is organic baby formula worth it?
Yes, organic baby formula is worth the additional cost because conventional baby formula is made with lesser ingredients than organic formulas. Organic baby formulas use non-GMO ingredients and won't contain pesticide residues or use chemical fertilizers like regular formulas. Additionally, conventional formulas are generally made with less expensive ingredients and contain more fillers than organic formulas.
Where can you buy organic baby formula in stores?
Some of the best organic baby formula brands listed above can be purchased in-store at shops like Whole Foods, Sprouts, Walmart, and Target. You can usually find clean formula brands like Serenity Kids, Baby's Only, and Happy Baby in these stores.
---
While there are no "perfect" baby formula options out there, we think there are a few really good ones to consider. Did you find an organic baby formula that you're comfortable with? Hopefully one of these options will work for you!
More resources for your baby: