No matter how you plan to feed your baby, having a breast pump on hand to use is essential.
As a mom-to-be, you'll want to think about how you will feed your baby. You might choose to breastfeed, pump, use formula, or a combination!
When I was expecting my first baby, I knew that I wanted to breastfeed. Breastmilk is naturally full of nutrients that will help your baby thrive. And, as a new mom, I thought it would be simple to breastfeed. Fast forward to reality, I would say that I faced a few challenges breastfeeding my baby. From clogged milk ducts to simply needing a break, my breast pump became quite helpful.
I definitely recommend all new moms have a breast pump. It can be an incredibly useful thing to have on hand. You can use it to boost your milk supply, unclog milk ducts, and build up a freezer stash in case of emergencies.
If you look at the breast pumps on the market, you will find that a high-quality breast pump comes with a bit of sticker shock. The good news is that many women can get a breast pump for free through their insurance provider! Here are some things you should know about the process of getting a free breast pump through insurance.
How Can I Get a Breast Pump for Free?
The Affordable Care Act mandates that insurance companies cover breastfeeding equipment to all mothers. But, the term "breastfeeding equipment" varies from company to company. Some insurance companies may pay for a manual hand pump while others may cover the cost of a double electric breast pump. You can call your insurance provider to find out specifically what they will cover.
Here are some basic steps to follow to get a free breast pump from your insurance company using Aeroflow Breast Pumps.

First, Do Some Research on Breast Pumps
Before you start the process of ordering a free breast pump, research the best breast pumps to figure out what kind of pump you might want to use.
There are two main types of breast pumps: electric/battery-powered pumps and manual pumps. An electric pump or battery-operated pump is often stronger and more effective. It's also more to clean and larger to tote around. You operate a manual pump by hand, so this kind is very lightweight and easy to tote around. But it is very hands-on and slower to extract milk.
Choosing a breast pump is a personal decision and should cater to your lifestyle needs. If you're a working mom or you want to build up a freezer stash of breastmilk, a double electric high-quality breast pump will be the best option for you. If you plan to use the pump to unclog milk ducts or boost your milk supply, a manual pump may work well for you.
Here are some breast pump characteristics that you might consider as you sift through the options:
Breast Pump Portability: If you will be carting your breast pump to-and-from work, consider the pump's weight and ease of transport Many electric pumps come with carrying cases for the pump and pump parts. Some even have a cooler inside to keep fresh milk from spoiling.
Feeding Method: If you will be exclusively breastfeeding and at home with your baby, you may not need a pump at all except for occasional use. In this case, you could use a manual pump. It's less to manage and clean. If you're a working mom, you will want an electric breast pump; they are often more effective at extracting breast milk and certainly quicker to use!
Related: What I Wish I Knew Before I Started Breastfeeding
Hands-Free Pumping: If you need your hands free to do other things while pumping, you will want to get an electric breast pump. Electric pumps are versatile in many ways. One perk is the option to use a special pumping bra for hands-free pumping. Manual pumps require you to do the work of extracting milk, so you can't easily multitask with this one.
Suction Adjustability: Many electric breast pumps mimic a suckling baby. They run on cycles, changing the intensity and rhythm to imitate your baby. But some women's breasts are sensitive to the suctioning. Choose a pump that includes suction adjustability for the greatest comfort.
Related: The Most-Loved Breast Pumps
Next, Call Your Insurance Company
Once you've done your research, you are ready to call your insurance company! When you call, have your insurance card with you. You will need to give them your member ID number so they can identify your benefits. Write down any important details discussed on the phone for reference later on.
8 Questions to Ask Your Insurance Company About Your Free Breast Pump
Call your insurance company and ask the following questions about how to get a free breast pump through insurance.
Will my policy cover the full cost of a breast pump?
Do you cover electric pumps and manual pumps?
Which brands and models of electric pumps do you cover?
Which breast pump suppliers does my insurance plan cover?
Can I buy the pump from any retailer and then submit the receipt for reimbursement? Or do I need to order through a medical supply store?
Am I able to order my breast pump before I deliver my baby or only after my baby is born?
What is the maximum cost that you will cover for the pump?
What documentation do you require from me to order my breast pump?
Ordering Your Breast Pump from Aeroflow
Once you've contacted your insurance company, get the necessary documentation together. Documentation might include a prescription from your obstetrician or your prenatal care record.
Depending on your insurance company's guidelines, there are a few ways to order a pump. Often times the options are to buy the pump from a medical supply store or a breast pump supplier. I was able to order one breast pump from Amazon and submit the receipt for reimbursement. If you're submitting the receipt for reimbursement, you may have the option to buy from a local store or even Amazon like I did.
Related: The Best Breastfeeding Hack (Ever!)
But, working with a breast pump supplier to get a pump can be super helpful. The supplier will usually pay for your pump and then give the receipt to your insurance company, saving you the hassle of paying upfront or having to submit a receipt to insurance and waiting for reimbursement. I like this approach because, to be honest, you already have so much on your plate during pregnancy.
I recommend Aeroflow Breastpumps because they offer eight popular brands of breast pumps: Medela, Ameda, Hygeia, Spectra, Motif, Tomy, Nuk, and Lansinoh. They have so many pumps to choose from and they will do a lot of the leg work when it comes to ordering your free breast pump through insurance. YAY!
You can certainly use any of the breast pump suppliers available (definitely stick to the one your insurance company works with if they don't work with Aeroflow), but I used Aeroflow to get my free breast pump. It was very easy to do, and I found Aeroflow to be so helpful in the process! They will verify your benefits with your insurance company and then explain your options. What's really nice is that they have a team dedicated to helping you find the right breast pump.
Here is a look at the step-by-step process when you order a free breast pump through Aeroflow.
Step 1: Fill Out Aeroflow's Breast Pump Insurance Qualification Form
You will want to have your insurance card with you to fill out this form completely. The form asks for your name, contact information, due date, and insurance information.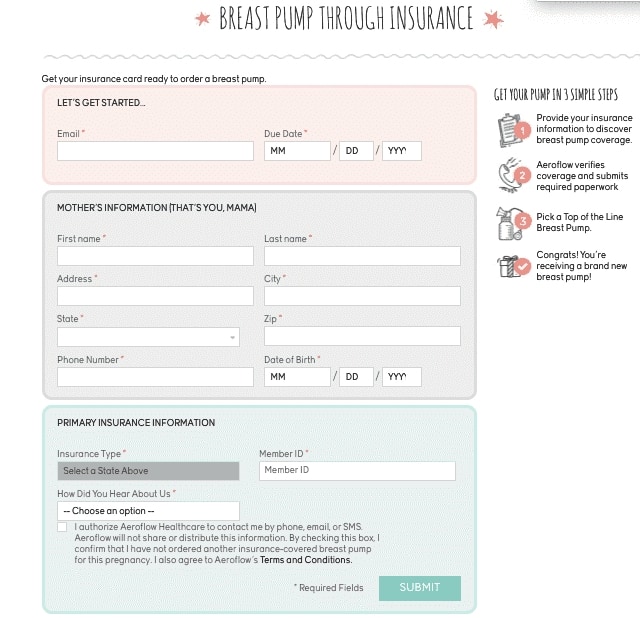 Step 2: Wait for Your Breast Pump Specialist to Contact You
It will take 3-5 days for Aeroflow to consult with your insurance company and then contact you regarding your insurance benefit details and breast pump eligibility. If your insurance company needs a prescription for the breast pump, Aeroflow will also take care of that work for you! They contact your doctor and even file the claim for you. They will also help you choose a breast pump that fits your needs and bill your insurance company for you.
I really like that Aeroflow helps you press the easy button when ordering your free breast pump through insurance. Like I said above, you have so many other things going on during pregnancy that it's nice to outsource this task (for free) to a specialist.
Step 3: Go Shopping for Your Free Breast Pump
Scroll through all the options and go shopping! If you need help, the Aeroflow breast pump specialists are very knowledgeable. Definitely also consult my guide to the best breast pumps because we've reviewed the top breast pumps for you. (There's nothing worse than getting a cheap breast pump only to find that it doesn't even work for you. Trust me – you don't need that hassle when you have a new baby.)

As you can see, there are many options. If you have an idea of what you want, try using the filters to rule out pumps that don't meet your specifications. Search by brand, pump type (electric or manual), or price (this is helpful if your insurance company has a coverage limit).
If you don't quite know what you want yet, they have a great breast pump comparison chart. This will help you see how features and specifications change from one pump to another. It's a helpful overview of all the options!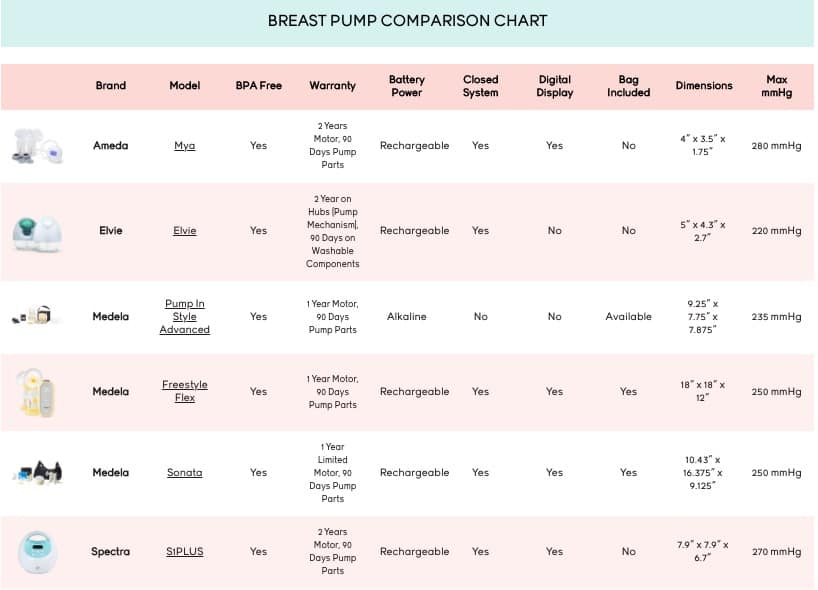 Once you decide on a breast pump, an Aeroflow specialist will let you know when it will ship out to you. There is no out of pocket cost to you unless you choose an upgraded breast pump. Upgraded breast pumps usually include convenience features for extra fees, but this depends on what your insurance company pays for.
Related: How to Increase Your Milk Supply Naturally (And Quickly!)
Other Helpful Tips
Aeroflow has a great bundle of breastfeeding resources with useful information, guides, and tips for you to check out. I highly recommend reading through their resources page and their blog!
In case you have more questions, read on to find answers!
FAQs About Ordering a Free Breast Pump Through Insurance
Do hospitals give you a free breast pump?
No – your hospital will not give you a free breast pump after you give birth. You may need to use a breast pump while in the hospital, and they'll have one available for you. But otherwise, your hospital will not send you home with a free breast pump.
Do I need a breast pump right away?
You may not need a breast pump right after birth, but it varies so much from one mom to another (and even from baby to baby!). Obviously, if you give a bottle to your baby at home or at daycare, pumping is essential. And if you are exclusively breastfeeding, you might not need the breast pump for a while. But you just don't really know what your baby will need.
There are certain circumstances where a breast pump can be a lifesaver! For example, if your baby has trouble breastfeeding or is losing weight as a newborn, your doctor might suggest pumping. It's also nice to have a breast pump to have a breast milk storage for emergencies.
I always suggest having one available to you before your baby is born.
How many breast pumps can I get through insurance?
Most insurance companies will cover one breast pump up to one year postpartum – per pregnancy. With each of my pregnancies, I was able to order a new electric breast pump.
When should I order a free breast pump through my insurance company?
I always recommend choosing your breast pump in the second or early third trimester. This gives you time to do your research, pick the one that works for you, and fill out the forms. This way, if your baby comes early, you'll be prepared! Many mamas order their breast pump around 30 weeks of pregnancy, but I honestly prefer to order a little earlier (but that's just me!).
Note, your doctor will likely be proactive and give you a breast pump prescription at your 28 week OB visit. This varies from state to state and you may not even need a prescription to get your free breast pump through insurance.
How long does it take to receive my breast pump through Aeroflow Breast Pumps?
When ordering through Aeroflow, you will receive your breast pump as soon as your insurance company allows the company to send it to you. Some companies limit you to receiving your pump within 30 days of your due date, while others will allow you to receive it anytime during your pregnancy and up to one year postpartum. It just depends on your insurance benefits and the insurance company's policies.
Can I reuse an old breast pump?
If you already have a breast pump, you can reuse a breast pump if it is a closed system pump. If you have an open system pump, I recommend getting a new one for each baby because they can never be fully sterilized and over time, you won't be able to trust that it is still sanitary. However, closed system pumps can be sterilized. They also include a milk barrier to prevent breast milk from touching the pump motor.
If you do reuse a closed system breast pump, there are a few requirements. First, make sure you store your breast pump appropriately. It should be thoroughly cleaned with sterilized parts before storing it in a cool and dry space. You can keep all the hard plastic parts in a food-safe air-tight container. Second, you should always purchase replacement parts for soft plastics including valves, membranes, and tubing.
Can I share a breast pump with someone else?
No, because this is not sanitary. The FDA does not recommend sharing or using a second-hand breast pump for health reasons. A breast pump cannot be fully disinfected, so it's never wise to share or use someone else's breast pump. The only exception to this rule is if you have a breast pump that is designed for multiple users, like a hospital grade pump. Check out the hospital-grade pumps I recommend here.
What is the difference between an open and closed breast pump system?
A closed system breast pump has a milk barrier in the pump so that your milk does not touch the pump motor or tubing. An open system breast pump means your breast milk could come in contact with the tubing. You will want to make sure your tubing is clean appropriately when using an open system. If you are unsure if your breast pump is a closed or open system, contact the manufacturer directly to ask.
Do I have to order my breast pump through Aeroflow?
Not necessarily. Make sure to find out which companies your insurance company allows you to order from. Many insurance companies work directly with Aeroflow, and they make the process so easy that it's my go-to recommendation. But you may prefer to order from another company and some other companies to consider are Edgepark, Lucina Care, and Byram Healthcare. Your insurance company may even allow you to order your breast pump through Amazon or another retailer and submit your receipt for reimbursement.
Here are the brands they sell:
Edgepark: Edgepark has many breast pumps to choose from. These include: Spectra S2 Plus, Medela in Style Advanced Starter Set, Freemie Independence Mobile, Spectra 9Plus, Lansinoh Smart Pump, Ameda Mya Hospital Strength Breast Pump, Lansinoh Signature Pro Double Electric Breast Pump, Evenflo Advanced Double Electric Breast Pump, Tomy Quiet Expressions Plus Double Breast Pump, and the Ardo Calypso Essentials Breast Pump.
Lucina Care: Lucina Care carries many popular brands including Melodi, Hygeia Enjoye, Phillips Avent, Rumble Tuft, Spectra, The Purely Yours, Lansinoh, Freemie Freedom, and Ameda Finesse.
Byram Healthcare: Byram Healthcare carries six breast pumps: Ameda Purely Yours Ultra Personal Double Electric Breast Pump, Medela Pump In Style Advanced Breast Pump, Freemie Freedom Hands-Free Breast Pump, Hygeia Q Breast Pump, Spectra S2 Hospital Strength Breast Pump, and the Lansinoh SignaturePro Double Electric Breast Pump.
But again, I definitely encourage you to use Aeroflow if your insurance company works with them or allows you to choose your own medical supplies company. They make the process so easy and have a wide selection of breast pumps. I've also never used those other companies myself so I can't personally recommend them like I can vouch for Aeroflow.
I hope this step-by-step guide to ordering your free breast pump through insurance with Aeroflow Breast Pumps is helpful!