Let's be honest. Pumping isn't the most glamorous part of being a new mom, but it definitely has many advantages.
Having even a little pumped breast milk in your freezer is such a good feeling. You don't even need a huge stockpile, either. (In fact, I don't even recommend that you try to stockpile hundreds of ounces of breast milk!)
It's just nice to know that you have breast milk in the freezer in the event that you aren't able to nurse your baby. It might even seem more appealing when you realize that it can give you some flexibility if you need to be away from your baby for a short period of time (even if you just want to get some rest while dad gives the baby a bottle). It is also useful to have some pumped breast milk stored in your freezer in case of illness or taking medication, for example.
I hope this guide to the best breast pumps will help you figure out which breast pump might work best for you by giving you a solid overview of the top breast pumps currently available.
Do You Need a Breast Pump?
You probably need a breast pump if you:
Want to avoid using baby formula
Want to have someone else give the baby a bottle
Will be going back to work within the first year after giving birth
Want to be able to give the baby a bottle when out in public
Want to build a freezer stash of breast milk
Have had difficulty getting your baby to latch
Experience engorgement, clogged ducts, or mastitis
Plan to donate breast milk to families in need
Want to boost your milk supply
It's so smart to have a breast pump on hand, even if you don't plan to pump often. Some moms find themselves pumping once per day just to store a little breast milk, increase their supply, or to give dad the opportunity to feed the baby, too. Others may end up exclusively pumping.
No matter what your pumping situation ends up being, there's a breast pump for you.
The 5 Different Types of Breast Pumps
The two broad types of breasts are single and double. Single pumps attach to only one breast at a time, while a double pump attaches to both breasts at the same time. Double pumps will probably pump more milk at a time, but they do cost more.
Then, you can it down further into the different types of pumps. Let's look at the five types of breast pumps. (Note: you may want more than one kind!)
1) Silicone Breast Pumps. Silicone pumps aren't a typical pump that stimulates the breast to cause a release of milk. Instead, silicone breast pumps attach to one breast while you feed your baby on the opposite one. It connects with suction, and the pressure of the suction helps to stimulate the release of your milk.
These pumps aren't designed to empty your breast fully, so don't depend on a silicone pump to be your sole breast pump. They're great for storing extra milk that you might have otherwise leaked into your breast pad. It's an effortless way to gather milk for the freezer. One of the most popular silicone breast pumps is the Haakaa Breast Pump.
2) Wearable Breast Pumps. Sometimes called hands-free electric breast pumps, wearable pumps have gained popularity over the last few years. They're portable breast pumps you can wear in your bra. Genius right?
The pump is a pump "cup" that fits over each breast, containing the flanges and milk bags. You can pump discreetly, and in different positions, anywhere you want!
The downside of hands-free pumping is the cost. Most hands-free pumps aren't covered by insurance, but they might be one day. Under some FSA/HSA, you might be able to get some reimbursements. The bags are expensive, and you can't reseal them. Check out the Freemie Liberty.
3) Manual Breast Pumps. Manual breast pumps don't use a power source; instead, you generate the suction with your hands by squeezing a handle. This type of pump is lightweight and portable, making them great for traveling and convenient for tired mamas who don't love being hooked up to an electric pump several times per day.
The downside to these pumps is that they don't express as much milk because their suction power isn't as strong as electric pumps. The Medela Harmony is an excellent manual breast pump.
4) Electric Breast Pumps. Personal electric pumps have a stronger suction than manual pumps. You can find pumps with features such as LCD screens, timers, multiple expression modes, and nightlights. If you plan to pump often, an electric pump is the way to go.
The downsides to electric pumps are their weight and higher costs. Some electric pumps cost as much as $400, while an average manual pump costs around $30. A popular electric breast pump is the Spectra S2.
5) Hospital-Grade Breast Pumps. Hospital-grade pumps are double electric with a closed system making them safe to rent out to different women. They offer reliable, more durable motors, capable of expressing milk eight or more times per day. Most hospital grade pumps can last through several children, making them a great choice if you plan to breastfeed multiple kids in the next few kids.
The two downsides to hospital grades are cost and availability. Most hospital grade pumps are rented rather than purchased because of their high costs — some cost upwards of $2,000.
How to Choose the Right Breast Pump for You
Not all breast pumps are equal, and they all have different features. You have to consider your personal needs as well to pick the best breast pump for you.
Here are some things to look at as you choose the best breast pump for yourself:
How many times a day will you pump? One of the most important considerations is how often you think you'll pump. Will you need to pump several times per day while at work? Or, do you think you'll only pump to relieve engorgement and when you need to go out somewhere?
The frequency of pumping can change what pump you want to get. Women who need to pump all the time should get an electric pump, while a woman who wants to pump now and then could have a manual.
Consider your lifestyle needs. Just like the frequency of pumping, your lifestyle plays a factor. If this isn't your first child, you know the drill, and you have a better idea of what you want to get. Working moms need to factor in their pumping schedule and ensure the motor can handle that frequency.
Stay at home moms may not want or need all of the fancy features. At the same time, having a battery-powered pump might be nice so that you can follow your toddler around.
Factor in the portability of the breast pump. Are you going to take your pump with you places, such as to and from work? Do you plan to pump while on vacation or in the car? You might want a pump that also has a battery-powered option for pumping in a vehicle.
Portable pumps come with cases, bags, or an easy way to transport. They should be lightweight as well; you don't want to carry a brick on your shoulder.
What kind of features will be helpful to you? The features often sell the breast pump. A few you might want to look for include:
Adjustable: You want to be able to adjust the strength and frequency of the pump. The strength is the power of each pump, while the frequency is the rate at which it pumps. Every mom responds to different rates and frequencies, so being able to adjust both of these is really helpful.
Letdown Simulation: Did you know your baby moves his or her tongue in a specific pattern to stimulate your breast to letdown? Look for a pump that has a mode to help stimulate the letdown before you begin pumping. You will find this setting in many manual and electric pumps.
Ease of Cleaning: You have to take the pump apart regularly to clean all the parts, so is it hard to clean? This can be a deal-breaker; who wants to struggle several times a day to get their pump cleaned?
Price is an important factor, too. Since the pricing can vary so much from pump to pump, price is definitely a factor to consider. The price of a pump depends on several factors, such as the type of pump. Electric pumps cost more than manual ones. Brands play a factor in the cost as well.
How bulky is the breast pump? Who wants to lug around a huge breast pump? Not you! Even if you plan to stay at home and pump, a bulky pump will get annoying after awhile. It should be lightweight, easy to care around, and easy to store when not in use.
What accessories does the breast pump come with? Most breast pumps come with accessories, but what you might not realize is that you will have to replace parts of your pump. Also, you might need to get different size shields to pump appropriately without discomfort. Over time, you'll need to replace the valves and, perhaps, the tubing and bottles.
Can you easily find pumping accessories at the stores near your home? If not, you need to store extra parts on hand if you pump often. Look at how many sizes of shields are available as well and what comes with the pump.
Consider the materials used. Is the pump BPA and PVC-free? If not, then don't purchase it! Check to ensure all parts of the pump that make contact with your breast milk are safe for your baby. Silicone pumps should be made with food-grade or medical-grade silicone.
The Best Breast Pumps [Reviews]
Let's go through the best breast pumps and the pros and cons of each of them. For convenience, this list is separated out into the different types of breast pumps.
The Best Silicone Breast Pumps and Milk Catchers
Buy on Amazon | Target | BuyBuy BABY
The Haakaa is a godsend and every breastfeeding mom needs to have a silicone breast pump. It's made from 100% food-grade silicone, and it's so low maintenance you won't even realize you're "pumping".
This pump is a one-piece pump that attaches to your breast and collects milk by using suction. You have to be nursing or pumping the other breast to help encourage your letdown stimulation. That means no power source is required aside from the suction.
I used a Haakaa consistently while nursing my second baby. When he was breastfeeding, I would attach it to the opposite breast, and I generally collected one to three ounces at each feeding. With no effort! The kicker was I didn't actually have to do anything aside from attaching the pump. It's excellent for adding milk to your freezer stash, and the price is low, so it's quite affordable.
Haakaa can be cleaned with steam sterilization or in boiling water. It's dishwasher safe since there are no batteries or cords included. Don't forget that this pump is so soft and gentle! You'll love it. Read my full review on why a Haakaa is the best breastfeeding hack, ever.
TIP: Use a Haakaa breast pump in addition to your other breast pump, not instead of it.
Buy on Amazon | Target | BuyBuy BABY
Have you ever noticed that your breast pads full up as you're nursing your baby on the opposite breast? Milk Savers know that every drop of breast milk matters, and you want to collect that milk. The Milkies Milk Savers is an excellent invention for mothers that allow you to collect your leaking breast milk as you nurse or pump, storing extra milk without any effort.
Milkie Savers aren't actual breast pumps because no sucking or suction is happening. All you have to do is slip the Milk Savers into your bra cup on the side you aren't nursing before you start to breastfeed. The Milk-Saver collects any of the breast milk that leaks from your breasts when they let down — no more wasting it by letting it soak into a breast pad.
When you're done, transfer the milk to your preferred storage containers. Each one holds a little more than two ounces, and it comes with a protective lid to stop liquid from coming back out again.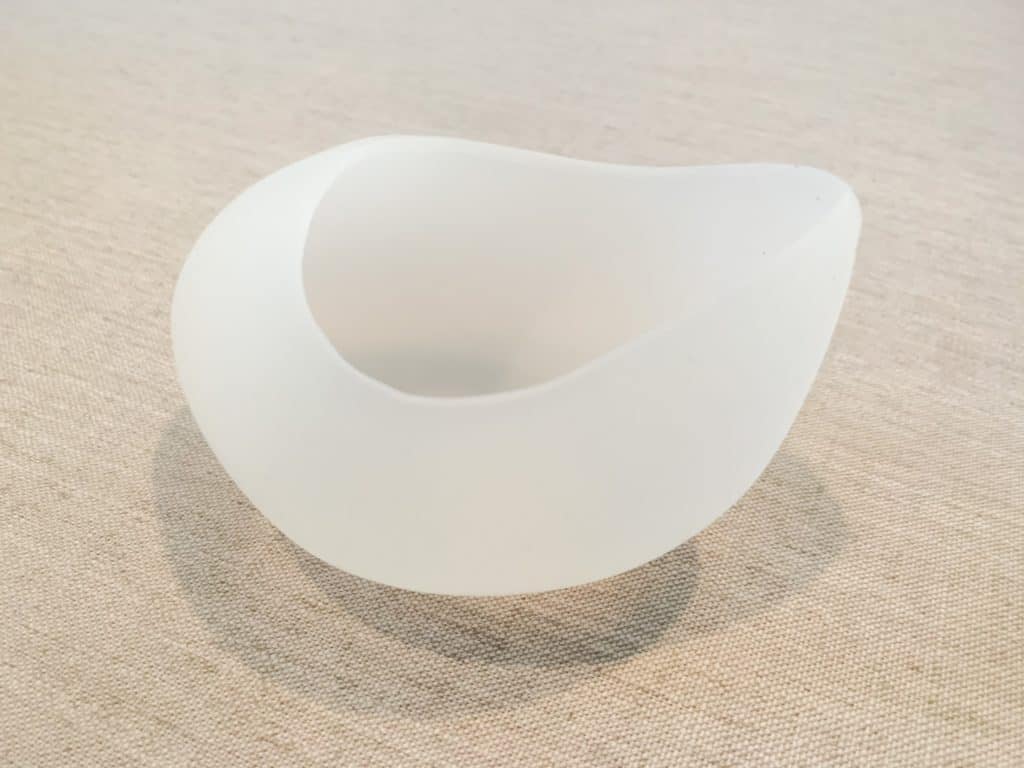 Buy on kindestCup
kindestCup is an innovative breastfeeding gadget that was designed by an actual breastfeeding mom. It's really useful because it can be used as a silicone breast pump (so you can suction it to the breast to collect leaking milk) but since it has a wider opening, it attaches to a larger area of the breast. This makes the latch really gentle and secure, which is going to be useful for any mamas dealing with clogged ducts or any other pain during nursing.
I also love that kindesCup works in practically any nursing position, including side-lying. You can use it to catch hand expressed milk; kindestCup is ergonomically designed to provide the perfect shield and reservoir to catch hand expressed milk. Then, kindestCup can be used as a feeding cup so you can cup-feed your baby the milk you just collected or hand-expressed. (Cup feeding is a great, natural alternative to bottle feeding because it is completely intuitive… and even newborns can do it. Don't worry – it doesn't interfere with breastfeeding (i.e. 'nipple confusion') or oro-facial development.)
---
The Best Hands-Free Breast Pumps
Hands-free breast pumps are great for pumping on the go – or for moms who don't want to have to sit in one place while pumping. They are discreet and convenient.
If you want discreet hands-free pumping with a rechargeable battery, look no further than the Freemie Liberty Breast Pump. The Freemie Liberty is a hospital-grade breast pump that you clip on to your belt and the cups can be worn inside of your bra for on-the-go pumping.
The pump itself is small and quiet – and wearable – making it a versatile and discrete choice. It can be charged from a computer or car USB port. Once you're ready to pump, you can pump anywhere – even while you sleep! It comes with a programmable sleep timer that lets you shut off the pump within 5 to 40 minutes, so you can even sleep while you pump. That's a game-changer, especially if you are exclusively pumping!
When you're done with pumping, remove the cups and transfer your milk into a storage container. Each cup can hold up to 8 ounces of milk and includes standard 25mm and 28mm breast shields.
Freemie also makes the Independence breast pump, which has most of the same specifications as the Liberty, except it doesn't have the sleep timer and it has a different display (LED) than the Freemie.
Another option is to use Freemie's Collection Cups with a compatible breast pump. So for example, if you already bought a Medela Pump in Style Breast Pump and want a more hands-free pumping experience, you could simply use the Freemie Cups instead of the Medela flanges it came with. You won't be able to pump as you walk around (as the Freemie Liberty), but it does help to pump hands-free. There are a few different pumps the cups are compatible with, including some models from: Medela, Spectra, Ameda, Evenflo, and others.
---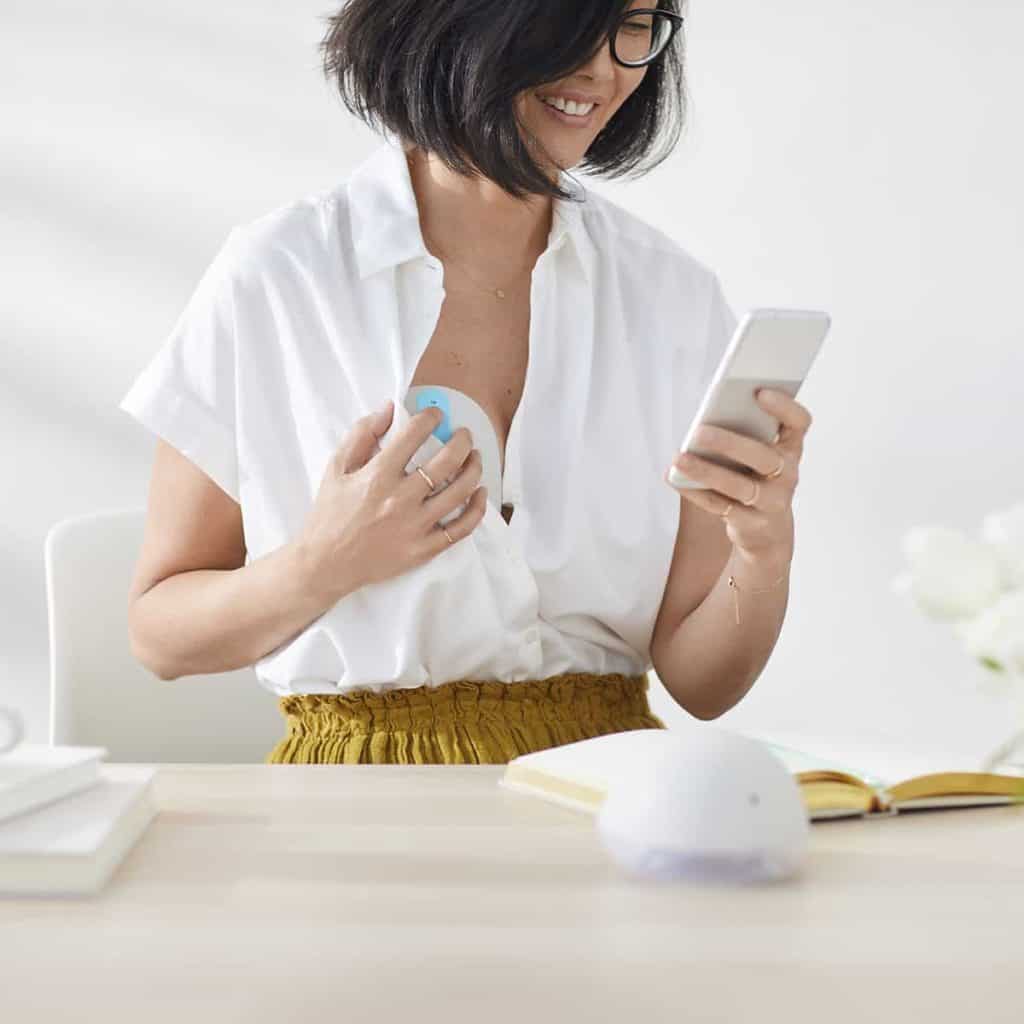 Buy on Willow
If you want a high-tech breast pump that allows you to pump whenever and wherever you'd like to, the Willow could be the answer to your prayers. It's a wearable breast pump that gives moms what they want – hands-free pumping without any cords or attachments. Each cup contains everything you need, even the motor!
The cups fit right into your bra, though Willow recommends using a full-coverage nursing bra. To use the Willow Breast Pump, slip the cup into your bra and go about your day as you pump. It's discreet, super quiet, and spill-proof. When you're done pumping, you can store your milk in the same bag you just pumped into, and you don't have to worry about leaks.
Moms rave about the Willow and all it has to offer. It is super quiet, so you can even use it while out and about with friends. Willow makes pumping easy: just fit together a few parts to start pumping, and you can wash them later (they are also dishwasher safe, but I prefer not to put plastic in the dishwasher.) Are you laying down? Willow still works – so, lay back and relax while pumping.
Willow offers an app with their pump that tracks how much you pump, your pumping sessions and time. Of course, all of this comes at a cost – which isn't cheap – and Willow is typically not covered under insurance. They do offer a payment plan, though, starting at $47 per month. The cup sizes work for breast size A-H.
The only downside (aside from the expense) is that this breast pump uses bluetooth technology. I am not personally a fan of this so I would make sure to keep this turned off and not use the app.
---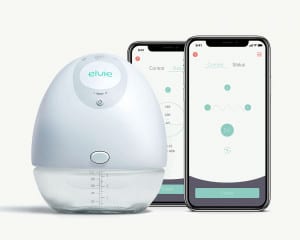 Buy on Elvie | Target | Aeroflow
Elvie fits right into your bra and makes pumping a breeze. Elvie is a silent wearable breast pump that allows you to pump in peace – anywhere.
This wearable breast pump that is small and lightweight, fitting right into your regular nursing bra. Unlike other hands-free pumps, the Elvie is truly hands-free with nothing to tie you down or hold you back. Another unique feature is that Elvie automatically switches from Stimulation to Expression mode when it detects that your letdown has begun. It pauses when the bottle is full, so you don't have to worry about leaks.
Moms love that setup and cleaning up is so easy. Elvie only uses five parts to clean, so assembly takes seconds. It connects to the free Elvie Pump app to monitor your milk volume in real time and your pumping history for each breast.
You can select a single or double pump, but the double is double the price! If you want hands-free pumping freedom, Elvie might be the way to go.
A few features to note are:
Seven variable suction settings

Three breast shield sizes – two included in the box.

2-hour rechargeable battery via USB port

Reusable 5 ounce bottles
---
The Best Manual Breast Pumps
The Medela Harmony is one of the most popular manual breast pumps on the market. I've owned two of these pumps over the years, and I've had great luck with it. In fact, any time I could use this over my double electric pump, I would!
The Harmony works as an excellent complementary pump with an ergonomic swivel handling, making pumping easy and comfortable.
The Harmony is compact and lightweight, ideal for traveling or pumping when you're engorged. It features a two-phase expression technology that lets mom stimulate her flow and then maximize it with the same pump. The size and technology allow moms to feed baby on one side while pumping the other breast simultaneously.
When you open the box, you'll see several accessories with the pump including two 5-ounce bottles with tops, a nipple with collar, one 24mm breast shield, two other membranes, one bottle stand, and a cap.
Buy on Amazon
Another option for the best manual breast pump is the Philips Avent Manual Breast Pump. It is designed to let you manually pump in a relaxed position – no more leaning forward as you do with some manual pumps!
The Avent pump is excellent for quick pumping to help relieve engorgement. The large, soft massage cushion has textured petals that help stimulate milk flow. Also, the ergonomic handle makes manual pumping comfortable in all positions.
You'll love that Avent designed their pump with only a few parts. It's easy to clean and assemble, making postpartum life just a bit easier. It's lightweight and compact, so you can drop it in your diaper bag without any worries that you need to express while on the go.
This pump comes with an Avent natural bottle and newborn nipple, a travel cover, and a sealing disc for storage. The breast-shaped nipple makes it easy to bottle feed and breastfeed because the nipple mimics the shape of a mother's nipple.
---
The Best Electric Breast Pumps
The Freestyle is one of Medela's most popular breast pumps. It is a personal electric breast pump, great for moms who are on the go because the Freestyle comes with a rechargeable battery that lasts three hours. This means that you can even pump while driving. #momlife
The Freestyle also comes with a power cord for pumping at home or at the office. This breast pump is a double electric so that you can pump both breasts at one time. It's compatible with most pumping bras that hold the flanges in place, allowing you to pump hands-free.
It's also nice that the Freestyle is pretty lightweight and has a backlight for nighttime pumping sessions.
The Medela Freestyle set includes two sizes of flanges (24mm and 27mm), a microfiber tote bag, four 5-ounce BPA-free bottles with tops, a cooler bag with an ice pack, and all necessary tubing. The Freestyle Flex is a more portable version but there are mixed reviews on it, so it doesn't officially make the list at this point.
Buy on Amazon | Aeroflow | Target
Another favorite from Medela is the Pump in Style Advanced. This is the pump that I used with both of my boys, including when I was pumping at my corporate job. It's a powerful breast pump that will pump efficiently, making it great for pumping at home or at work.
It's not as lightweight as the Freestyle, so it's definitely not as portable. But it can be operated with either 8 AA batteries or a power cord you can use it on the go.
The Pump in Style set contains a microfiber tote bag, two 24mm flanges, a cooler bag with an ice pack, and four milk collection bottles. You can easily store all of the accessories in the pumping bag for easy portability. I used to pack everything into the microfiber tote bag and bring it to work with me every day.
The motor and suctioning power are fully adjustable, and you can start your pumping session with a letdown stimulator before moving on to full pumping mode. Overall this is a great, highly effective breast pump and replacement parts are very easy to find, too.
Buy on Amazon | Aeroflow | Target
The Sonata is Medela's version of a smart breast pump. Sonata connects to the MyMedela app that lets you track feeding patterns, how much you pump, and has resources for breastfeeding.
Not a fan of unnecessary digital technology, the main reason I would consider using this pump is because of how well it works. It has the power of a hospital grade pump and is so quiet that no one will even know you're pumping.
On the front of the pump, the Sonata features an interactive digital screen with a timer that lets you adjust the suction power and pattern. It also has audio and visual feedback capabilities.
It has double pumping abilities so that you can pump more faster. Just like the other Medela pumps, it uses Medela's two-phase technology that switches from stimulation to expression phases to mimic a baby's natural nursing patterns.
When you order the Sonata, you receive the pump with two sizes of breast shields (24mm and 27mm), four bottles with tops, membranes, valves, bottle stands, a cooler bag with an ice pack, a power adaptor and a carrying bag.
Buy on Amazon | Aeroflow | Target
Spectra is a brand of breast pump that has a huge following among pumping mamas and even lactation consultants. It is one of those products that people just love.
Spectra S1 is an electric pump that is quiet, lightweight, and capable of pumping one or both breasts at the same time.
This is the S1 model, which is very similar to the S2 (below). When comparing, you'll notice that the S1 is a bit more expensive than the S2 because it has a battery powered option. That means you can take the Spectra Baby S1 with you wherever you go, while the S1 has to remain plugged in.
Both Spectra pumps offer a closed-system, a massage mode to stimulate your letdown, a timer, and a nightlight. Some mamas reportedly experience a better letdown with Spectra pumps, so that is a factor to consider, especially if you have a history of lower milk production.
The Spectra Baby S2 is the pink version and slightly less expensive than the S1. That means you won't have the option for battery powered, but that won't be an issue if you don't use your pump all the time or don't need to pump while traveling.
It offers many of the same features of the Spectra S1. Spectra S2 provides single and double pumping capabilities with a built-in nightlight for the middle of the night pumping. Just like the S1, the S2 has one of the quietest motors on the market and offers a massage mode to help simulate the natural suckling of a baby. Plus, there are several adjustable suction levels for a natural flow of milk.
One unique feature is the backflow protection created by Spectra to stop your breast milk from coming in contact with bacteria. Spectra uses a closed system, so you never have to clean the tubing, and the flanges prevent any liquid from going anywhere besides straight to the bottles.
Plus, with a considerable variety of suctions and speeds, you will be able to pump comfortably and effectively. The S2 remembers your settings from your previous pumping session and turns right back to that (so does the Spectra S1 if you are set on that pump)!
A double electric pump doesn't have to break the bank, and the Philips Avent Double Comfort is an affordable pump that lets you pump from both breasts at the same time. Avent uses a soft massage cushion to stimulate milk flow and power cushions. It also offers different suction settings to help you find the right one for you.
To help you generate a letdown, Avent uses a three expression setting, and you can sit back and (somewhat) relax as you pump. Pumping both breasts at one time helps to reduce the time it takes to express, and the design means you don't have to lean forward to express. The milk will flow right into the bottle, even if you're sitting straight.
With the press of a button, your pump starts on a gentle stimulation to get the milk flowing. Then, you can adjust between three levels, finding the right one for you. Plus, as mentioned earlier, those soft massage cushions feel warm against your skin, encouraging more milk flow. There are petals on the cushions that are designed to mimic your baby's suckling actions.
The Best Hospital Grade Breast Pumps
Medela created one of the top-rated hospital grade breast pumps, and the Symphony is known to achieve some of the highest pumping volumes. You receive the breast pump, a program card, a card protector, and the stand. The program card keeps track of all of your pumping information.
Like other Medela breast pumps, the Symphony uses a two-phase expression technology to transition between the stimulation phase to the expression phase with a single button. It has single or double pumping capabilities. Two-phase technology mimics a baby's nursing pattern.
The Symphony is pricey if you were to buy it out of pocket, so you'll most likely want to order this through your insurance. Unlike other Medela breast pumps, you'll have to purchase the flanges, bottles, and other accessories separately, but because this is a hospital grade pump, it can safely be used by more than one person.
Buy on Amazon
Another choice for the best hospital grade breast pump is the Ameda Elite. It uses an electric, piston-driven motor and a microprocessor technology to ensure a vacuum during pumping. It moves through the expression and collection of breast milk with ease. The Ameda Elite is designed to be used for multiple mothers and for high-volume daily operation. This pump is loved in many hospitals and lactation centers.
Ameda remembers your suction and cycle settings to accommodate your comfort level, so you won't need to reset those settings every time you start pumping (that is a nice feature, especially for frequent pumpers!).
And it's designed to mimic your baby's nursing patterns. You will need to purchase your collection system with the bottles and tubing. Best of all, the Ameda is pretty lightweight and easy to operate.
Buy on Amazon
The last pump on our list is another great hospital breast pump that comes at a pretty affordable price. The Hygeia Enjoye is a double electric breast pump that features independent speed and suction controls that mimic your baby's suckling pattern. It's ideal for daily pumping, so exclusively pumping moms and working mothers can enjoy the Hygeia.
Unlike other hospital pumps, the Hygeia does come with the personal accessory kits as well as a deluxe tote to carry all of the needed accessories with you. The pump weighs less than 3 pounds, so it's one of the lightest on the market, making it perfect for working moms.
How Can You Get a Free Breast Pump?
Before buying a breast pump, look into how you can get a free breast pump through your insurance company. Under new United States healthcare laws, many insurance companies provide a choice of breast pumps for mothers. You can either call your insurance to see what they cover or use a website like Aeroflow Breastpumps to find out if you qualify for a free pump.
When I was pregnant with my first baby, my health insurance company gave me a list of breast pumps to choose from and had me place an order online (through Amazon) and they reimbursed me in full. When I was pregnant with my second baby, I ordered a pump from a medical supply company and I went with Aeroflow and had a great experience.
Should You Add a Breast Pump to Your Baby Registry?
A breast pump is a valuable asset for moms who plan to breastfeed, giving you flexibility and the ability to feed your baby even if you return to work. Since a majority of insurance plans cover some or all of the costs of a breast pump, it's best to hold off on adding your main breast pump to your registry unless you can confirm that it's not covered under your plan.
Also, some moms like to have multiple breast pumps. Personally, I like to have an electric, manual, and silicone breast pump. And if I were to do it all over again I may end up using a milk catcher, too.
Final Thoughts on Picking the Best Breast Pump for You
I hope this review of the best breast pumps has helped you decide which breast pump is right for you. Remember, what works for you might not work for your friend and vice versa. You have to pick a breast pump based on your needs and desires, such as how frequently you plan to pump and what type of breast pump you want to use.