When you start breastfeeding, you'll quickly realize that breast milk is extremely valuable. It's the perfect food for your baby and it saves you thousands of dollars every year in formula costs.
Plus, as a nursing mom, you put a lot of time, effort, and energy into breastfeeding and pumping. It isn't easy!
This is why it's heartbreaking to spill breast milk or to leak precious milk into your nursing pads. That milk right there is valuable! It could have been added to your freezer stash or fed to your baby.
And I know this all to well. When my first baby was born in 2014, I remember being so upset about soaking my nursing pad while breastfeeding my baby. I didn't want to always pump while nursing (who wants an oversupply?!), but did I have to let all that breast milk go to waste? Wouldn't it be amazing, I thought, if there was some way to actually save all that milk instead of throwing it away?
Fortunately for you mama, the Haakaa breast pump has arrived.
Created by a New Zealand family-run company, the Haakaa breast pump is an amazing innovation for breastfeeding mamas because it allows you to almost effortlessly collect breast milk while nursing your baby.
Say goodbye to soaked breast pads and say hello to your new freezer stash.
Not only does a Haakaa help you capture precious breast milk that you may otherwise be wasting into your nursing pad, it also makes breastfeeding easier. How many products can we say that about!?
After having used one myself with my second baby, I can confidently say that the Haakaa is a major game-changer for breastfeeding moms. In my opinion, every nursing mom needs one. I will even go so far as to say that the Haakaa Silicone Breast Pump is the best breastfeeding hack… ever!
The Three Different Kinds of Haakaa Breast Pumps
Haakaa Breast Pump With Suction Base: This is the type I use and recommend because it has a built-in suction base. Affordable and useful, this is the one you want. It comes in a 4 oz. and 5 oz. version.
Haakaa Convertible Breast Pump: This Haakaa is useful because it can be converted into a bottle, which allows you to give the milk directly to your baby after collecting it in the Haakaa silicone breast pump. The main downside is that it's expensive and has multiple parts. The convertible Haakaa comes in a 5 oz. and 8 oz. version.
Haakaa Original Silicone Breast Pump: The original version doesn't have a built-in suction base. This comes in a 3 oz. and 4 oz. version.
What Is A Haakaa?
The Haakaa is a silicone breast pump that uses suction to pump breast milk.
It is completely different than a conventional breast pump. It's not electric or manual; instead, it works by using powerful suction to help draw the milk out of your breast. It's both hands-free and non-electric.
In fact, it's 100% silicone and 100% genius.
It's easy to use and will make your breastfeeding days so much easier! It is ideal to use during the first few months when your milk supply is at its most plentiful, and your baby is at his least active stage. I only used my Haakaa for the first 4-5 months, but I managed to build up a sizeable freezer stash of breast milk during that time.
How Do Silicone Breast Pumps Work?
Silicone breast pumps work by using powerful suction to draw the milk out of your breast. A silicone breast pump is designed to be used while you are breastfeeding.
To use one, simply suction the Haakaa breast pump while you are nursing on the other breast, and it will collect your breastmilk. It's genius; as anyone who has breastfed a newborn before can tell you, when you get a letdown, it happens in both breasts. And if a baby isn't latched on, the milk will soak into your nursing pad (or, if you're unlucky, your shirt).
With a Haakaa pump, all of the milk that would have gone to waste gets collected for you to use later.
But, let's be clear. Silicone breast pumps are not just milk collectors – if this were the case, the Haakaa would only collect the foremilk (the watery milk that comes out first). The Haakaa actually helps to draw milk out of your breast effectively enough for it to collect the thicker milk that comes out after your letdown (called "hindmilk").
I tried this pump with my second baby, and I was seriously impressed by how much milk I was able to save. Almost effortlessly! It was a true life-saver.
And although I was fortunate to not have supply issues, I struggled with electric breast pumps. But with the Haakaa, I could easily get 2-3oz. from a nursing session, so I built up a large stash of breast milk in my freezer. I also love that it didn't stimulate extra milk production like my electric pump would have.
The Haakaa breast pump has another big advantage going for it as well. As any pumping mama will tell you, one of the biggest drawbacks to pumping is cleaning all of the tiny little parts of your pump every single time you use it. The Haakaa is all one piece (except for its accessories) and is very easy to clean.
How Do You Use A Haakaa Breast Pump?
Using the Haakaa is fairly straightforward, but there can be a bit of a learning curve to get it just right at first.
The key to using the Haakaa pump is that you need to experience a letdown for it to work effectively. The easiest way to do this is to nurse your baby on the other side with the Haakaa attached to your non-nursing breast. You can also use the Haakaa pump while you're using a single electric pump on the other side.
Step 1: Wash and sanitize the Haakaa before first use. You can place it in boiling water for 5 minutes to sterilize it. Allow to dry completely.
Step 2: Squeeze the bottom part of the pump, position the flange over your nipple, and then release the pump to automatically suction it to your breast. For the best suction, fold back the flange before positioning it over your nipple, and fold it back over the breast after the body of the pump has attached to your breast.
Here is a helpful video that demonstrates this method.
It can take a bit of practice to get it comfortably adjusted. For example, if you squeeze the bottom part too hard, the suction might cause a bit of discomfort. If it doesn't feel right, simply remove the pump and try again.
Step 3: Allow the Haakaa to collect milk while you are nursing. Remove and reattach the Haakaa as necessary or until breast milk stops flowing.
Step 4: Remove the Haakaa pump from your breast and transfer the breast milk to a bottle, mason jar, or milk storage bag right away. It can be devastating to spill a few ounces of milk.
Step 5: Hand wash your Haakaa breast pump. Once it dries, cover it with a lid to keep it clean until the next use.
Which Haakaa Pump Should You Buy?
Convinced about how amazing Haakaa breast pumps are? Let's go over how to choose…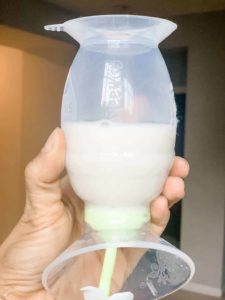 There are a few different versions of Haakaa pumps that all share the same basic design but include a few different features. My recommendation is to get this 4 oz. version of the Haakaa that comes with a base and stopper.
The Original Haakaa Silicone Breast Pump
The Original Haakaa Silicone Breast Pump is the original design that is one piece, holds 3 oz of milk, and it has the lowest price point. Truthfully, I would at least prefer one with a suction base – this was one of my only complaints about this version of the Haakaa: without a suction base, it was too easy for it to tip over.
However, this smaller pump might be better for travel purposes or for storing in your diaper bag.
The second-generation version of the Haakaa is the exact same as the original version, but it has a helpful suction base, which helps the pump stand upright and avoid spills (breast milk is precious, after all!). It is definitely worth the few extra dollars for the upgrade.
This version of the Haakaa pump includes a silicone lid to put over the pump to keep your milk sealed and safe after you're done pumping. This version comes in either a 3 oz. size, 4 oz. size, or a 5 oz. size.
And there's this top-of-the-line version that includes the base AND a stopper. To my surprise, the stopper actually works very well; it didn't leak even when turned completely upside down. This is the version of the Haakaa that I prefer.
The Third-Generation Haakaa Breast Pump
The newest model of the Haakaa pump has a slightly different design that has both pros and cons.
While the original models of the Haakaa are one-piece pumps, this version has two pieces. It is also more expensive.
That said, it does have one major advantage: the pump itself can become your baby's bottle. The flange part detaches from the pump, and you can simply replace it with a nipple lid. This is perfect for those times when you need breastmilk in a bottle ready-to-go, or if your baby doesn't nurse efficiently and needs a bottle after breastfeeding.
Less Expensive Alternatives to Haakaa Pumps
Haakaa breast pumps are incredibly popular, which means that copycat competitors have started to surface as well. You can now search Amazon for silicone breast pumps and you'll have dozens of options.
In situations like this, I try to reward innovation by shopping with the original manufacturer. This rewards the inventor and discourages copycats that are trying to profit from someone else's innovation. For this reason, I only bought and used the Haakaa version myself and would encourage other mamas to do the same.
However, I totally understand if you're on a tight budget. If you're looking for a lower cost option, there are two brands to consider. (Neither one of them has an attached suction base like some versions of the Haakaa do.)
The NatureBond Silicone Breast Pump includes a stopper and a base. It comes at a much lower price point and has great reviews.
Similarly, the Bumblebee Silicone Breast Pump seems to work in the same way as the Haakaa and has excellent reviews. Please note that the Bumblebee is a 3 oz. pump., just like the smallest Haakaa.
Haakaa FAQs
1. Does the Haakaa increase milk supply?
Everyone is different, but there are many women who swear that the Haakaa helped to boost their supply. If you are working on building a freezer stash before going back to work, the Haakaa is a perfect tool to help you accomplish that while not taking up any more of your time.
2. Can you use Haakaa breast pumps in place of a manual or electric pump?
Yes and no. This is going to depend on your situation and what you would use the pump for. If you are going back to work or traveling and will be away from your baby for a length of time, you're probably going to need an electric pump to pump milk while you're away from your baby.
If you're a stay-at-home mom or a work-from-home mom who breastfeeds 95% of the time, and you just want to have some milk on hand for occasional use, the Haakaa should suffice (this is what I used it for).
3. How often should the Haakaa be sterilized?
You should sterilize it before the first use and wash it after every use. You can do so by putting it in boiling water for 3-5 minutes. Unless your doctor recommends otherwise, you may continue to sterilize the Haakaa on an as-needed basis after you first sterilize it.
4. Is the Haakaa dishwasher-safe?
Yes, the Haakaa silicone breast pump is dishwasher-safe.
However, since the material is 100% silicone, I personally recommend hand-washing it so that you don't expose the silicone to heat. While silicone is believed to be stable at high temperatures, I personally prefer to keep all silicone and plastics out of the dishwasher.
We as moms want to do what is best for our babies, but pumping breastmilk can be a serious drain on your already-limited energy. The Haakaa pump can make it so much easier to build up your milk stash before you go back to work without needing to spend extra time away from your baby or hooked up to an electric pump.
And for those moms who exclusively breastfeed at home with your baby but still want a baby bottle to hand to your husband at the end of a long day, this might create the most perfect mommy break for you. Either way, I hope you enjoy the Haakaa as much as I did!