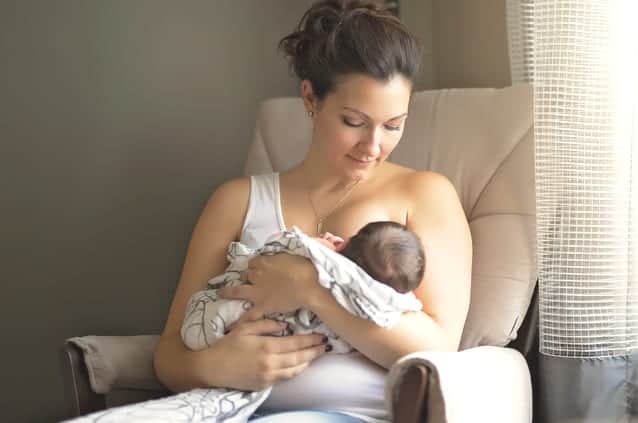 As you're setting up your baby's own gentle nursery, you might be wondering whether you should buy a glider or rocking chair. Some families don't get much use out of a rocking chair, while others use a glider multiple times a day. To me, having a glider is essential and I have probably used mine multiple times each day for the last 3 years – with both kids. It's nice to have a place to cuddle with your little one, and to get comfy during feedings. (It's also where I love to sit and read with my kids, as young as a few weeks old.) Also keep in mind that the gliding or rocking motion is soothing to babies. If you're going to purchase a glider for the nursery, I recommend investing in a non-toxic glider because I don't want the air in your nursery to be polluted with a chair that off-gasses toxic chemicals. Below I've listed the best choices for non-toxic gliders and rocking chairs for your baby's nursery.
What Should You Look for in a Non-Toxic Glider?
Look for a glider made with solid wood, low VOC finishes, and flame retardant-free foam (if any at all). For example, you might find an unfinished solid wood rocking chair, and this would be a great option. But because most gliders contain foam, and most families prefer a cozy chair to a hard wooden rocker, it's important to choose a manufacturer that does not use toxic flame retardants in their cushions.
Additionally, you'll want your glider to have low VOC emissions, and ideally be made with fabrics that are Oeko-Tex certified. I can't emphasize enough how non-toxic gliders or rocking chairs are worth the investment given that you'll spend hours sitting on one with your little one.
Price should also be a factor. For example, there is an amazing latex glider that contains no foam, but it costs $1,800. That was out of budget for me!
Should You Buy a Used Glider or Rocking Chair?
One way to reduce your exposure to off-gassing is to shop secondhand.
I considered being a secondhand glider when I was pregnant with my first baby, but I'm so glad I bought a new one. Here's why: my kids spit up… a lot. And I spent a ton of time nursing them on our glider. So, as you can imagine, there was a lot of spit up on it. And their diapers leaked, so there were other fluids on there too. Sure the cushion covers can be washed, but they spit up all over the place (on the arm rest, on the seatback, down the sides, etc.). Because of this, I just can't imagine using a secondhand glider. I know that not everyone will agree with me on this, but I personally don't recommend getting a used glider.
Non-Toxic Gliders
Dutailier: A Canadian company, Dutailier manufactures a variety of non-toxic wood gliders. Their chairs are of excellent quality and feature a beautiful, modern design. They have a ton of different styles, colors, options, and price ranges. Please note that their higher-end, higher priced gliders are non-toxic and free of flame retardants (and are CertiPUR-US certified), while their sleigh gliders and more of their lower-priced options are made with polyester. However, their glider frames are made with hardwood and the finish is non-toxic.
I also love that they offer a special nursing ottoman just for breastfeeding mamas.
Dutailier Sleigh Glider and Ottoman Combo

Dutailier Minho Upholstered Glider Recline

Dutailier Minho Upholstered Glider Recline

Dutailier Lungo Upholstered Swivel Glider

Dutailier Modern Glider Multi-Position Recline and Ottoman

Dutailier Sleigh Glider and Nursing Ottoman Combo

Search all Dutailier gliders and ottomans on Amazon
Monte Design Group: Also based in Canada, Monte Design Group was formed by a husband and wife team wanting to furnish their own son's nursery. The company uses high-density foam that is free of chemical flame retardants (and CertiPUR-US certified), wood that is LEED certified and contains no formaldehyde, water-based paints and finishes that are lead-free, and glues that are water-based and biodegradable. Their fabrics are Oeko-Tex Standard 100 compliant (meaning no hazardous chemicals are used in the manufacturing process), even when polyester is used. The total package!
The company sells most of their gliders through children's stores, but you will find some options available for purchase on Amazon and some on Land of Nod.
Monte Design Luca Glider 

Monte Design Grazia Glider

Monte Design Campo Recliner

Monte Design Milo Glider

Babyletto Tuba Slider Swivel Glider Chair and a Half: Offered through Land of Nod, the Babyletto Tuba Slider Swivel Glider is an extra wide glider chair. And most exciting of all, it is made without any chemical flame retardants. It also does not contain formaldehyde, and Land of Nod routinely tests their products for lead. At just over $400, this is a fantastic chair for a great price.
Babyletto Tuba Swivel Glider Chair and a Half

Non-Toxic Rocking Chairs
Joya Rocking Chair: A Land of Nod exclusive, the Joya Rocking Chair is manufactured by Monte Design Group (see above). This guarantees you a top quality non-toxic rocking chair made with the highest quality materials, including flame retardant free-foam, water-based glue, and lead-free finishes. The Joya is a slightly smaller rocking chair, designed to feel cozy.
Jackson Rocking Chair: Another by Monte Design Group, the Jackson Rocking Chair is a great option for families looking for a rocker with a more modern and colorful design.
Monte Design Jackson Rocking Chair

Did you find the perfect glider for your nursery? While you're working on creating your gentle nursery, be sure to check out my guide to non-toxic bassinets and non-toxic nursery furniture too.
---
Wondering where to create your baby registry? I recommend registering with Amazon for the widest selection of natural and non-toxic baby products, best prices, fast shipping, and excellent customer service. Create your Amazon Baby Registry now >>
SaveSaveSaveSave
SaveSave
SaveSave
SaveSave
SaveSave
SaveSave
SaveSave
SaveSave
SaveSaveSaveSave
SaveSaveSaveSaveSaveSaveSaveSave
SaveSave