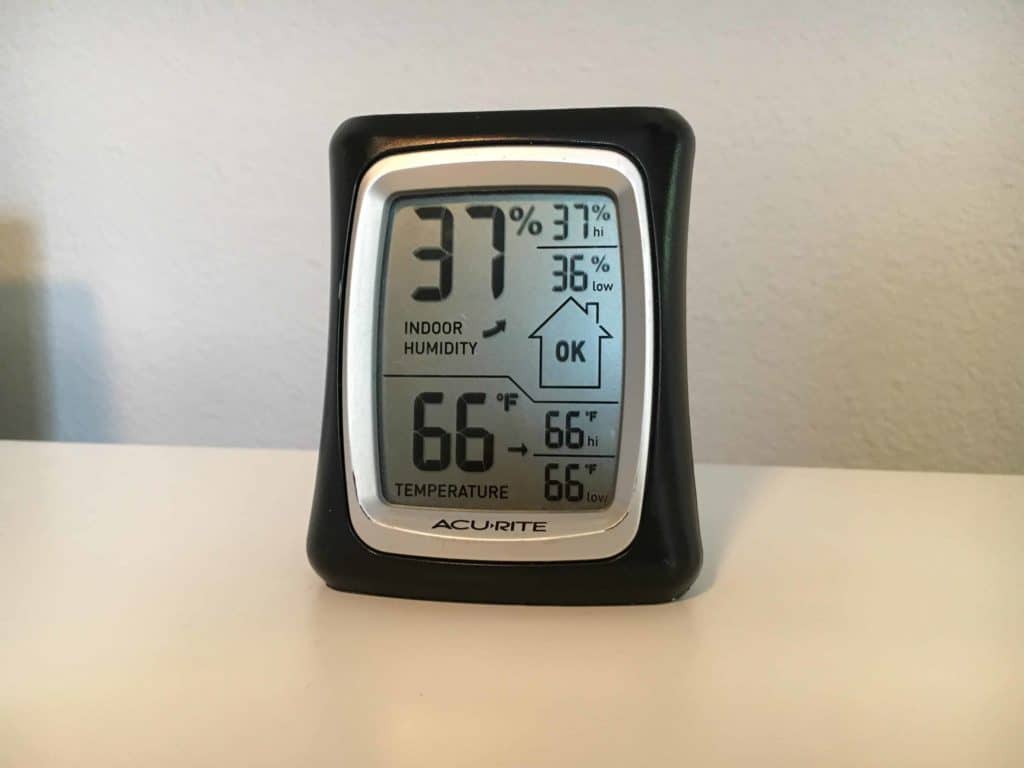 What is the ideal room temperature for your baby? Many experts recommend that babies sleep in a room that is 68-72° F (20-22.2° C).
In their list of safe sleep guidelines, the American Academy of Pediatrics recommends that you keep the baby's room at a comfortable temperature, and warns parents against overheating. Along with this recommendation, they advise parents to dress their baby in no more than one extra layer of clothing than an adult would wear and to room with your baby for the first six months of life. Read more about safe sleep guidelines.
If your baby is sweating, or their chest feels warm, they may be too hot. Be very cautious about overheating because it can contribute to an increase in the risk of SIDS.
For this reason, I like to have a room temperature monitor in the nursery at all times. I've found this to be the most effective method of monitoring the room temperature in the nursery. Some baby monitors also display room temperature, but I've never fully trusted the temperature gauge on monitors, so I bought a temperature and humidity monitor.
If you're looking to monitor the temperature in your room or in the baby's room, consider these room temperature monitors.
Nursery Room Temperature Monitors
Here are the best nursery room temperature monitors for you to choose from.
This is the room temp monitor that we use and I'm pretty happy with it. It offers both Fahrenheit and Celsius readings, and also monitors indoor humidity. It says it has a four-degree margin of error, which seems pretty high to me, but I have found it to be consistent in its temperature readings. It's a simple item that does a simple job and does it well. This runs on 1 A battery.
AcuRite Humidity Monitor with Indoor Thermometer
---
Designed for nurseries, Kelvin is a subtle night light, temperature gauge, and humidity monitor all in one. What's nice about the Kelvin is that it glows in three different colors, depending on the temperature in the room.
If you see Kelvin glowing blue, the temperature in the room is below 68° F or 20° C
When Kelvin is glowing amber, the temperature in the room is between 68-72° F (20-22° C)
When Kelvin is red, the temperature in the room is above 72° F or 22° C
It is made from ABS plastic, which is an added bonus! And the night light can be turned off if you prefer not to use it. The Kelvin does need to be plugged in, and does not operate on battery power.
Kelvin Color Changing Nursery Night Light and Thermometer
---
Very similar to the AcuRite monitor, the ThermoPro tracks room temperature as well as the humidity level. it also features a touch backlight, which is useful in the event you need to check the temperature in your bedroom or nursery in the middle of the night.
ThermoPro Humidity and Indoor Thermometer with Backlight
Did you choose one of these nursery room temperature monitors? I hope this was useful!
---
Wondering where to create your baby registry? I recommend registering with Amazon for the widest selection of natural and non-toxic baby products, best prices, fast shipping, and excellent customer service. Start your Amazon Baby Registry now >>
Sources: [1] American Academy of Pediatrics on SIDS
Download the Ultimate Baby Registry Checklist Spreadsheet
Planning for a new baby? Download a FREE copy of my complete baby registry checklist spreadsheet today! Make your baby registry planning process easy with this detailed Excel spreadsheet and manage your budget and actual spending, too! It's perfect for moms who like to plan and be prepared!