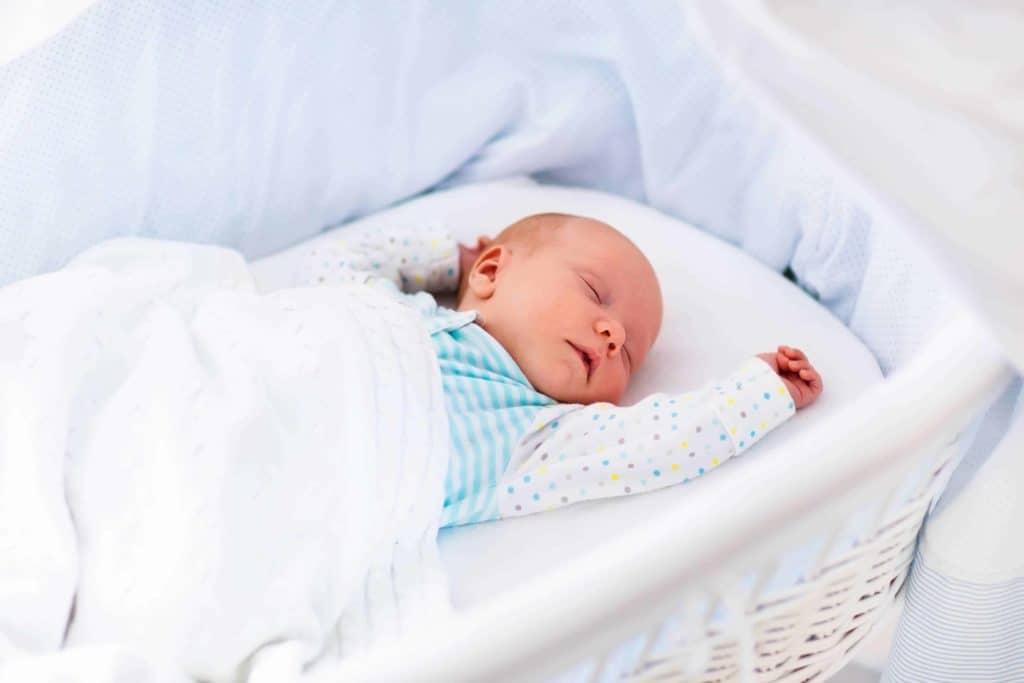 When you're preparing your home for a new baby, it's important to choose a safe sleep space for your baby's first few months. I recommend choosing one of these non-toxic bassinets.
How much (or how little) our babies sleep is one of those topics that unites us parents. We've all struggled with it at one point or another. Some babies are great sleepers from the beginning, and others need a lot more assistance and cuddles to fall asleep. Either way, you'll want to set yourself up for success and safety when it comes to newborn sleep.
For the first six months of life, the the American Academy of Pediatrics (AAP) recommends that your baby sleep in a bassinet or co-sleeper in your bedroom. And since babies are so tiny and their systems are still developing, it's important to invest in a bassinet that won't expose your baby to VOCs, formaldehyde, BPA/BPS, flame retardants, and other toxic chemicals.
Below, I've listed the best non-toxic bassinets and co-sleepers currently on the market for your newborn.
Newborn Safe Sleep Recommendations
While the cause of SIDS remains unknown, the AAP has issued preventive recommendations, including but not limited to: always put children to sleep on their back, use a firm sleep surface, avoid bumpers and soft objects in cribs, room-share (but not bed-share), breastfeed, give immunizations, and use a pacifier at naps and bedtime. [1]
There is a possible link between SIDS and toxic chemicals in baby mattresses, and while this theory hasn't been proven it hasn't been disproven. And there is growing evidence that may support this theory.
So, given all of the risks and uncertainty – and the general importance of reducing your baby's exposure to toxic chemicals – I feel it's important to invest in non-toxic bassinets, non-toxic crib mattresses, and organic bedding for your baby's sleep.
Do Babies Need a Bassinet?
The AAP recommends that babies sleep in the same room as the parents (but not in the same bed) for the first six months. Most families can't fit a crib in the master bedroom, so another sleeping solution is usually needed. For the first few months, I do recommend that you have your baby sleeping in a bassinet or co-sleeper in your room, although it's good to try to have your baby nap in their crib once a day so that they can get a little used to it from the beginning. It makes transitioning them to the crib a lot easier later on.
Important: If using a bassinet, Moses basket, or co-sleeper, you must discontinue use once your baby starts showing signs of rolling over, pulling up, or kneeling. Follow the manufacturer's instructions carefully.
What to Look for in a Bassinet or Co-Sleeper
Breathable sides. The bassinet that I originally bought didn't have breathable (mesh) sides, and after a while it started giving me anxiety because I was worried about my baby turning on his side and putting his face into the side of the bassinet. I think this is one of the most important things to look for in a bassinet.
Natural, untreated fabrics. Since babies spend so much time sleeping, you don't want them to be exposed to fabrics treated with chemical flame-retardants.
Portability. For the first few months, babies can sleep in a smaller, more portable place than a crib. You may find that it's easier to move a bassinet from room to room for naps, for example. Something lightweight is ideal.
Stability. I found some newborn baby bassinets to be too lightweight and practically flimsy. You'll want to make sure that whichever one you purchase will be stable enough to support baby, especially if you have older children or pets at home.
Height. You'll want to consider the height of the bassinet or co-sleeper when making a decision. Both my babies have woken up a lot at night, and I found myself getting exhausted at having to keep getting out of bed every time to get them. With my first baby, I wish that I had gotten a bassinet that would have allowed me to have the baby in his own sleeping environment, but just at an arm's distance. (And with my second, I did – I got this bassinet. It's not perfectly non-toxic but  I was comfortable with the choice.)
The Best Non-Toxic Bassinets & Co-Sleepers
When it comes to non-toxic bassinets, I feel that there is sadly no perfect option out there that meets all of the important requirements. It's frustrating because it could be so simple for one company to swoop in and make a truly all-around non-toxic bassinet. But there still are a handful of great options for you to choose from! Here's my list of the best non-toxic bassinets and sleep options for your baby's first few months:
Moses Baskets
Organic Moses BasketBuy Now
Rocking Moses Basket StandBuy Now
Moses baskets are growing in popularity, and for good reason – they're affordable, extremely portable, and offer organic options. What I dislike about Moses baskets is that the side bumper pads are not breathable, so for that reason I can't enthusiastically recommend this option. However, if you prefer to use a Moses Basket, consider the Wendy Anne Cozy Baby Organic Moses Basket and the Little Merry Fellows Baby Basket. No matter which brand of Moses basket you buy, you'll also need a rocking basket stand.
BABYBJORN CradleBuy Now
Naturepedic Organic Cotton Bassinet Oval PadBuy Now
BABYBJORN Fitted Cradle Sheet Buy Now
The BABYBJORN Cradle delivers big with breathable sides, Oexo-Tek certified fabric, and lightweight portability. It also rocks back and forth, which helps soothe babies back to sleep in those early months. The fabric and mattress cover are removable for easy washing, too. The cradle is manufactured in Bosnia and Herzegovina, but please note that even though they use non-toxic fabric, the cradle does contain an MDF board below the mattress. I'm disappointed that such a conscious company would use MDF in their baby cradle, but they assured me that it does not contain formaldehyde. Though BABYBJORN doesn't encourage using a different mattress, Naturepedic does make an organic cotton bassinet mattress pad that fits the BABYBJORN Cradle.
HALO Bassinest Swivel SleeperBuy Now
HALO Bassinest Mattress with Organic Cotton CoverBuy Now
Halo Bassinest Fitted Sheet 100% Organic CottonBuy Now
The Halo Bassinest has become a very popular option among parents. It's hailed as a great alternative to bed-sharing because it allows you to just almost barely bed-share by being right next to your bed, but still gives your baby her own sleeping space. This is the bassinet that I chose for my second baby because I have an impossibly high bed, and I am really happy with my decision.
Here's the lowdown on the Halo: (1) it offers breathable mesh sides so you don't have to worry when baby starts scooching to be closer to you or rolling to his side, (2) it is BPA-free, (3) it has a height-adjustment feature and a base that can be tucked under your bed to allow you to get baby super close to you in bed (making it much like bed-sharing), but also allowing you to save space, (4) it has a drop-down side wall that allows you to easily get baby out of the bassinet without completely getting out of bed (yes, this does matter!), (5) it rotates (or swivels, I guess) to allow you to get out of bed easily, (6) and it has a built-in nightlight and vibration feature (only available in the premiere series).
The downside is that the HALO contains polyester and polyurethane foam, though the manufacturer claims no flame retardants are used in any of their products. Thankfully, HALO does offer an organic bassinet mattress that is also free of chemical flame retardants and VOCs, which I recommend.
babybay Bedside SleeperBuy Now
babybay Bedside SleeperBuy Now
babybay Cloud Comfort MattressBuy Now
babybay Jersey Fitted SheetBuy Now
An amazing, non-toxic co-sleeper that attaches to your bed, the babybay is made with sustainably sourced eco-friendly beechwood and water-based no-VOC or low-VOC paints. It uses no plastic whatsoever, and contains no glues either. Consider this an all-natural version of the Arm's Reach Co-sleeper that is made from wood.
The babybay is manufactured in Germany and is designed to support breastfeeding and safe sleep up to approximately 6 months of age. Though it's on the pricey side, it's a great investment in a safe sleeping space for your baby. Keeping your baby so close to your bedside can be better for both mom and baby, encouraging better bonding during sleep and making it easier to take care of your baby during nighttime wake-ups. The babybay assembles in approximately 15 minutes and can be converted into a crib or changing table later on.
Since the babybay is customizable, all accessories are sold separately, including the mattress, Oeko-Tex certified fitted sheet, and optional rolling casters.
Lotus Travel Crib and Portable Baby PlayardBuy Now
One of my favorite non-toxic playards, the Guava Lotus now offers a bassinet conversion option! The Lotus is about as non-toxic as it gets: the travel crib is free of free of PVC, Lead, Phthalates, Formaldehyde, Heavy Metals, and chemical flame retardants. It is GREENGUARD Gold certified and has breathable mesh sides. It's wonderful, and now the company also offers a bassinet conversion kit! So much like a Pack n Play with a bassinet option, the Guava Lotus now comes with a bassinet — only better and non-toxic.
NUNA Sena AireBuy Now
Another play yard to make this list, the Nuna Sena Aire features a bassinet that makes me fall more in love with it. It is an attachment that hooks on to the full-sized play yard, meaning that it is more spacious than the Lotus bassinet. Newly redesigned, the Sena Are provides 360 degrees of air-flow while your baby sleeps or plays.
I have the Sena Aire, and while I didn't use it as a bassinet, I can confidently say it was one of the best baby product investments I made. I love how sturdy it is compared to the Guava Lotus crib, and my littlest one loves to play in there. Home-cooked dinners have been possible in my home because of the Sena Aire.
Oeuf Fawn Crib and Bassinet SystemBuy Now
A convertible system, the Oeuf Fawn starts as a bassinet and can later be converted into a full-sized crib. It is made in Europe with non-toxic, water-based low-VOC paints, Birch plywood and eco-MDF (not ideal materials, but it does meet GREENGUARD Gold certification standards for low emissions). Oeuf makes an effort to limit formaldehyde in its products, though they are quick to point out that formaldehyde is naturally occurring in wood in small quantities. The company also only uses water-based glues when manufacturing their MDF. Though I don't have any firsthand experience with the Fawn Bassinet, and there aren't many reviews to go off of, I think this is still a great option to consider, especially for families living in smaller spaces.
Babyletto Hula Convertible Oval CribBuy Now
Much like the Oeuf, Babyletto makes a bassinet that also converts into a crib, and later into a toddler bed. The Hula Convertible Crib is made with sustainable New Zealand pine wood and plywood, and finishes that are low-VOC and lead- and phthalate-safe (though not free of these substances). The Hula is GREENGUARD Gold certified, however, which is reassuring. I like Babyletto because they provide healthier options for families on a budget, though their products are made in China and Taiwan and aren't as low-tox as I'd like them to be.
Some Conventional Options to Consider
Newborn sleep isn't a perfect science, so I've listed a couple of conventional products for you to also consider. I don't enthusiastically recommend these since safe sleep to me also means cutting out as many toxic chemicals and materials as possible. But I do recognize that safe sleep also means that mom and baby are getting enough sleep, so sometimes conventional products make more sense.
Fisher-Price Snugabunny Deluxe Rock 'n Play SleeperBuy Now
Fisher-Price Deluxe Rock 'n Play SleeperBuy Now
The Fisher Price Rock & Play isn't intended for sleep, so many pediatricians will recommend against using this for unsupervised sleep. However, my oldest son had acid reflux and this was where he slept best. I know that for many families, the Rock & Play is an unintended favorite, simply because that's where their babies sleep best. Not only does it enable babies to sleep at a slight elevation (which goes against the AAP recommendation to have babies sleep flat on their back), but it also envelops them in an embrace.
This is one product I tell every mom about, but only recommend having as a backup in case baby won't sleep on a flat surface like a bassinet. Talk to your pediatrician about this option. Please note that if you do have your baby sleep in the Rock & Play, you'll likely have a tough time transitioning them to their crib once they outgrow it. However, there are ways around this.
The Fisher Price Rock & Play has been recalled. Do not use this product for sleep.
Arm's Reach Co-Sleeper BassinetBuy Now
Arms Reach Mini Natural MattressBuy Now
The Arms Reach Co-Sleeper has been a popular choice among parents who wish to co-sleep without bed-sharing because it actually attaches to your bed. It's definitely not the prettiest option available, but it is a functional choice for having baby near mom at night. A lot of my mom friends have used the Arm's Reach and been happy with it.
There's an option to purchase a Mini Organic Mattress for the Arm's Reach, which I'm very happy to see. It does have breathable sides, and a nice storage compartment below where the baby sleeps, for added convenience (i.e. you can change diapers in here!).
Wondering where to create your baby registry? I recommend registering with Amazon for the widest selection of natural and non-toxic baby products, best prices, fast shipping, and excellent customer service. Create your Amazon Baby Registry now >>
Sources: [1] AAP
Download the Ultimate Baby Registry Checklist Spreadsheet
Planning for a new baby? Download a FREE copy of my complete baby registry checklist spreadsheet today! Make your baby registry planning process easy with this detailed Excel spreadsheet and manage your budget and actual spending, too! It's perfect for moms who like to plan and be prepared!