Planning and preparing for a baby can be overwhelming. But planning and setting up your baby's nursery should be one of the most joyous tasks on your list.
Designing my baby's nurseries was super special to me. I loved to look at their space and imagine how they might spend their time as babies and into childhood in their own bedroom. Would they find their nursery to be a tranquil location for naps and quiet playtime? Would all of my planning give them that secure space children crave on super busy, overwhelming days?
The most important goal for me was to create a unique space for my child that was safe from top to bottom. That meant I needed to find the most harmless, nontoxic baby-friendly items to include while also adding fun touches that showed personality and fun.
Planning and setting up your baby's nursery takes time and energy, but I promise, it's super fun! Let's dive into the step-by-step plan to create the nursery of your dreams.
1. First, Pick a Theme
Before you can start setting up the nursery, it's a good idea for you to pick a theme. From stars or hearts to owls or elephants, this step might be the hardest. There are thousands of themes you might fall in love with, but if you don't feel particularly close to any theme, you can always choose a specific color palette instead.
Pinterest is your friend when you pick a theme. You can find color palettes. Coral, navy, and grey look great together for a girl! You might have a theme that connects to your family. For example, if dad is a firefighter, you could use that as a theme for the nursery.
So, take some time and decide on a theme that you love. Make a list and gradually whittle it down to your top choice. Then, it's time to move to the next step.
2. Sketch a Simple Room Design
When you're setting up the nursery, you don't want to have to move everything around several times to get it right. Instead, sketch out the room. First, draw the shape of your baby's room and mark down existing features. For example, indicate on your drawing where these items are:
Heating and cooling vents
Windows
Doors
Closets
This will help you think through where you will put the key nursery pieces. For example, you don't typically want to put a crib under a window. The light could disturb your baby, and you don't want to worry about your baby getting tangled in cords or pulling the curtains down.
I always suggest starting with the crib. Find the best, most comfortable location for your baby's crib or bassinet. I've always found that an interior wall not near a window is best since it's less likely to be too cold or hot.
After figuring out the crib location, look at where you want to put his dresser or changing table. Then, select a space that you might use to cuddle, read stories, and feed your baby. This space usually involves a comfortable glider where you will rock your baby as you give him a bottle or breastfeed. It's also a good location to put a small table with a lamp.
3. Pick a Paint Color
Next, you want to pick a paint color that goes with your theme. But beware: painted walls emit volatile organic compounds (or VOCs) after they are painted and dried.
It's important to look for the least toxic nursery paint available. Ideally, find a paint that contains no volatile organic compounds – VOCs – or low VOCs. You should also look for the Green Seal to ensure the paint is environmentally-friendly paint. You may also be able to find a good paint alternative made from earth-based pigments, tree and plant oils, beeswax, citrus-peel thinners, or casein.
"The Environmental Protection Agency (EPA) estimates that indoor VOCs are normally two to five times higher than outdoor levels…According to the EPA, some of the health dangers of VOC exposure include: irritation to the eyes, nose, and throat, headaches, organ damage, allergic skin reactions, fatigue, nausea and vomiting, visual disorders, and impaired memory."
An example of a less toxic paint would be ECOS Paints. The ECOS line of eco-friendly paints emits a low amount of VOCs without changing the quality of the paint, and they still offer a wide range of colors. However, a good rule of thumb is that lighter colors contain lower levels of VOCs than darker colors because they contain less pigment.
Also, if you plan to use polyurethane or stain any items in your nursery, look for organic stains and finishes. These products use tree resin or citrus oils. You might be surprised to find that many products fit these requirements. Note that water-based stains and finishes are always better choices because they dry faster and release fewer chemicals into the air.
Whatever you do, make sure that you avoid spray paint! It contains chemicals such as dichloromethane, trichloromethane, 1,4-dioxane, xylene, toluene, and other damaging toxins. Spray paint is linked to a long list of both short and long-term health effects. Not safe for a baby or for mama!
Important Painting Tips for Safety
Chances are, you'll be painting your baby's nursery when you're still pregnant. Painting isn't ideal but is generally considered "safe" for pregnancy; if you will be painting the nursery yourself, please be sure you're taking some precautions. Here are some painting tips for safety.
Paint early in the day.
Leave all of the windows open when you're painting to encourage faster drying time.
Run a high-quality air filter like the Air Doctor or Austin Air to reduce VOCs.
Let the room air out for at least seven days after application.
Do not sand any existing paint, especially if you live in a home built before 1979, as it can contain lead.
4. Decide on Your Flooring
You might already have flooring in your baby's nursery, or you might want to pick a new flooring if it's due for a change. The best thing you can do is to choose flooring that is safe for your baby and family. In general, natural woods and eco-friendly, sustainable carpeting contains the least amount of toxins.
If you want an area rug instead of full carpeting, try these brands:
Buy on Nordstrom | Buy Buy Baby
5. Pick Your Nursery Furniture
Once you've painted and installed any new flooring, you're ready to move on to the nursery furniture.
As a traditional nursery goes, you'll need a crib. I recommend purchasing a crib, even if you're planning to use a basinet and room-share. The crib is a great place for your baby to nap as your baby gets older, and can always serve as a "safe space" to put your baby if you need to step away for a minute.
Another furniture piece you might want to have is a changing table. A changing table will be designed specifically to change a baby's diapers, so it will typically have some safety features built in to make diaper changing easier. That said, many people add a changing pad to the top of a regular dresser, but you will need to secure it so that it's safe for your baby.
As a parent, I recommend that you think about storage. You'll be surprised to see how many things you accumulate over time, and you need places to store them. As your child gets older, you'll want areas to keep their books and unique toys. A storage piece such as a cubicle bookshelf works excellent for those situations.
To help you make a choice, I wrote a complete guide on how to pick non-toxic baby furniture to help make your decision easier.
In general, you want to look for natural nursery furniture that is free of paint and toxic wood varnishes. Eco-friendly nursery furniture contains little to no VOCs, and most are made with birch, bamboo, or solid wood.
Unfortunately, many of the baby furniture options in big box stores are made with pressed wood. Pressed wood is small bits of cheaper wood glued together to create a larger piece of wood. Those glues contain toxic chemicals. The most toxic of these chemicals in pressed wood is formaldehyde.
"Formaldehyde is a colorless, strong-smelling gas used in building materials and many household products. It is used in pressed-wood products, such as particleboard, plywood, and fiberboard. When formaldehyde is present in the air at levels higher than 0.1 parts per million, some people may have health effects, such as: watery eyes, burning sensations of the eyes, nose, and throat, coughing, wheezing, nausea, and skin irritation." –ACA
Instead, look for real wood, such as oak, maple, or birch. However, expect to pay more for these pieces of furniture. Here are some of the brands I love and recommend: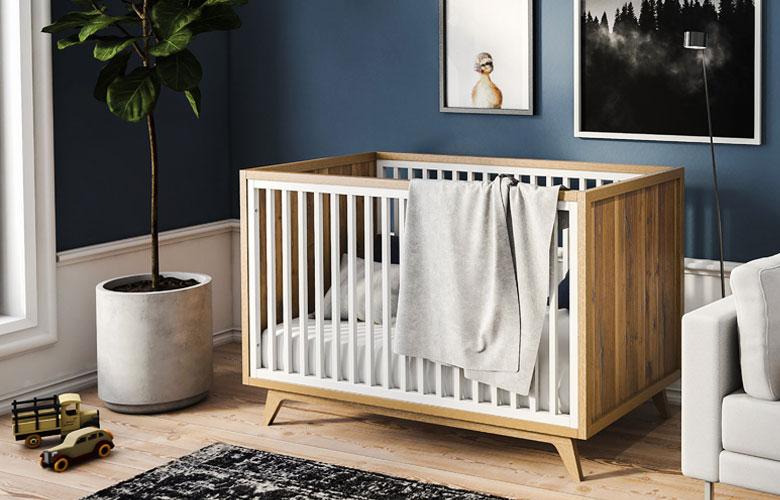 Buy on The Gentle Nursery
6. Find the Perfect Crib Mattress
Choose your baby's crib mattress wisely. I only recommend organic, non-toxic crib mattresses made without vinyl and flame retardants. Note that there is a lot of greenwashing out there in the mattress industry. Even some of the crib mattresses that are marketed as "natural" or have the word "organic" on the label might not be telling you the full story. Make sure you know the entire contents of the crib mattress before you buy it.
To help you with your decision, take a look at my picks for the best non-toxic organic crib mattress for babies.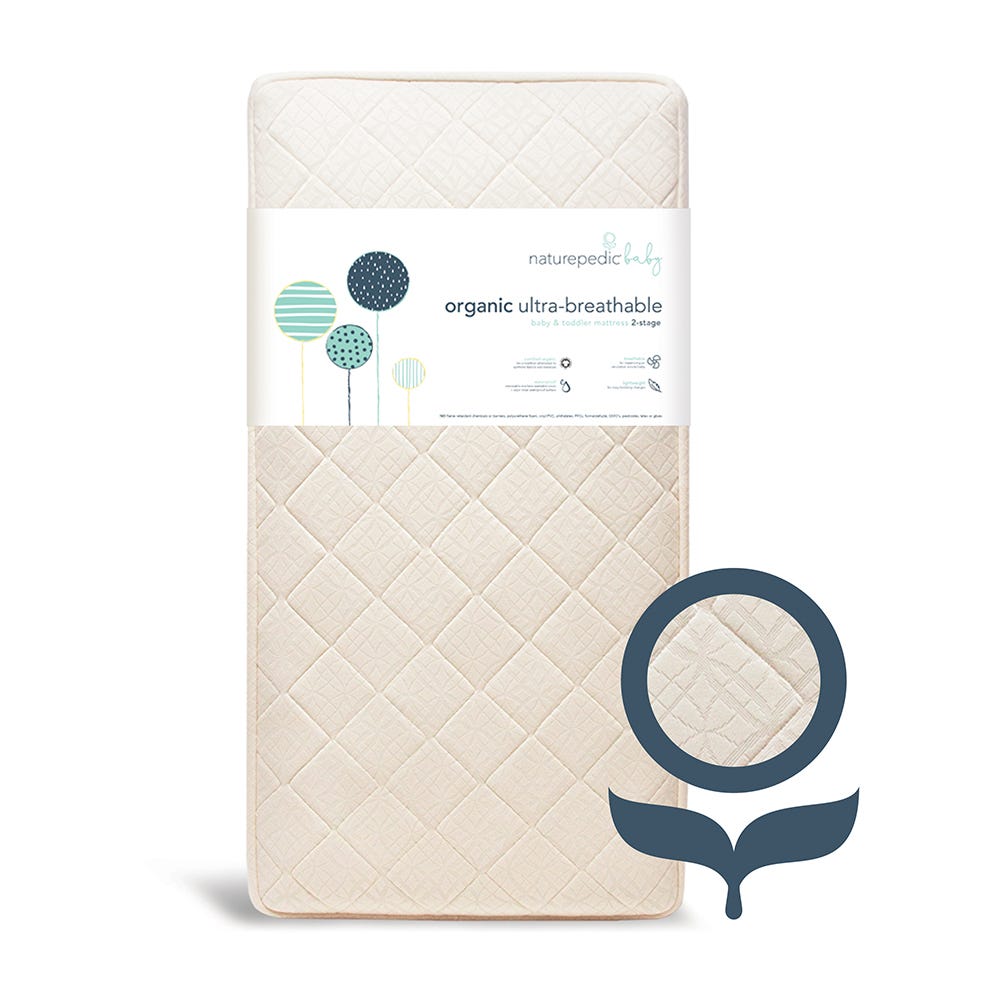 Buy on Naturepedic
Save 10% on your Naturepedic order with my exclusive Naturepedic discount code.
7. Get the Most Adorable Baby Bedding
Picking the crib bedding is usually one of my favorite tasks. Remember that cribs need to be empty besides a fitted crib sheet and a waterproof mattress cover. Organic, non-toxic, breathable fitted crib sheets are ideal. Take a look at my guide for the best organic baby sheets to pick the safest brand for your baby.
Remember that, while some bedding sets include them, crib bumpers are not safe for nurseries. Babies can suffocate in bumpers, so stay no to them.
Also, your baby doesn't need comforters, pillows, or heavy blankets. A wearable blanket is the safest choice. Always follow safe sleeping practices.
8. Think About Lighting
The best thing to do for lighting is to have a few different lighting sources for all levels of light.
Between window treatments, overhead lighting, and a lamp, you'll have all the options you could ever need. This can be particularly helpful for nighttime feedings, changing diapers in the wee hours of the morning, or full-on playtime in the middle of the day. Trust me, the last thing you want to do is kick the changing table in the quest to find your baby in the dark. That's a recipe for broken toes; ask me how I know!
I also like using amber lighting or Himalayan salt lamps for overnight feedings and diaper changes. These won't disrupt melatonin production.
9. Find Nursery Accessories
You're almost to the end of your nursery creation! Now it's time for some of the finishing touches. Everyone likes to look at nursery accessories. These can be for you or your baby. Here are some suggestions for things that you might want to add to your nursery.
10. Don't Forget about Baby Proofing!
A word of advice: do not wait to babyproof the nursery! Your little one will be crawling and curious before you know it.
Choose cord-free window treatments, use outlet covers, and anchor all furniture to the wall. You can read my complete guide to baby proofing for an expansive list to ensure your nursery is safe.
Final Thoughts
Designing your baby's nursery will take a few weeks or a few months. Luckily, you have around 40 weeks to get everything prepared and planned. When your baby arrives, his room will be ready for a lifetime of adventure and learning together. These steps to plan and set up your baby's nursery will help you get the design right while also ensuring your child has the safest room possible.
Do you have any advice on how to set up your baby's nursery? I'd love to know!
More Resources: