Laundry detergent and dryer sheets are toxic – the mainstream brands are definitely not safe for babies. They're petroleum-based, making them two of the biggest sources of toxic chemicals and carcinogens in our homes. It's sad, but true — Tide and other popular laundry detergents have been found to contain "problematic levels" of cancer-causing chemicals and endocrine disruptors.
Naturally, you wouldn't want to expose yourself to these harsh chemicals, let alone a baby. Thankfully, there are many baby-safe laundry detergents that are not only greener and gentler than traditional laundry detergent brands like Tide and All, but even more effective. Below I recommend some baby-safe laundry detergents that are effective enough to be used for the whole family. (Hint: I want you to use these for your laundry too!)
Top Picks for Baby Laundry Detergents
Keep reading for a detailed review of each of these non-toxic baby laundry detergents.
Do Babies Need Their Own Laundry Detergent?
Yes, babies need a gentle and baby-safe laundry detergent. Babies are new to the world and their skin and systems are immature and still developing. Their bodies simply aren't capable of dealing with harsh and toxic chemicals in a way that results in their ideal health and well-being (and, well, neither are ours).
Kids are exposed to more contaminants in…personal care products than adults. Immature organ systems are often less capable of fending off chemical assaults. Subtle damage to developing bodies may lead to disease later in life.

Environmental Working Group
And a baby's skin is going to be more sensitive than anyone else's. They won't tolerate regular detergents like an adult might; and again, many adults are sensitive or allergic to conventional laundry detergents, too. The important thing to keep in mind is that we want pure and gentle ingredients that won't be harsh or cause irritation.
Conventional laundry detergents like Tide, All, Gain, and even Mrs. Meyer's and Seventh Generation contain a number of harsh and toxic chemicals. Even Tide Free & Clear was found to have concerning levels of 1,4-dioxane – a carcinogen associated with cancer and organ system toxicity.
Here's a quick overview of how some popular brands of laundry detergent are rated on EWG. Notice how even some Free & Clear and hypoallergenic versions get poor ratings?
| | |
| --- | --- |
| Conventional Laundry Detergents | EWG Rating |
| Tide Liquid Detergent | F "Highest Concern" |
| GreenWorks Laundry Detergent Free & Clear | F "Highest Concern" |
| Mrs. Meyer's Scent Free Laundry Detergent | F "Highest Concern" |
| Trader Joe's Powder Laundry Detergent (Unscented) | D "High Concern" |
| Up & Up Laundry Detergent, Free & Clear | D "High Concern" |
| All Powder Detergent, Free & Clear | D "High Concern" |
| Cheer Bright & Clean Free & Gentle | D "High Concern" |
| Gain Liquid Detergent | D "High Concern" |
| ECOS Natural Laundry Detergent, Lavender | C "Moderate Concern" |
| Method Laundry Detergent, Free + Clear | C "Moderate Concern" |
And here's how some popular baby detergents rated:
| | |
| --- | --- |
| Popular Baby Laundry Detergents | EWG Rating |
| Dreft Laundry Detergent | F "Highest Concern" |
| Babyganics Laundry Detergent | F "Highest Concern" |
| All Baby Liquid Detergent | D "High Concern" |
| Purex Detergent for Baby | D "High Concern" |
| Up & Up Baby Liquid Laundry Detergent | D "High Concern" |
| Seventh Generation Baby Natural Laundry Detergent | C "Moderate Concern" |
So, as we can see – a product may be labeled "Free & Clear" or "Baby" and still contain ingredients of concern. Babies need something safer and gentler. (In fact, we all do.)
Is Dreft Safe for Babies?
No, Dreft is not a safe baby detergent. Please do not buy Dreft for your baby!
It may be the most popular baby detergent on the market but all of Dreft's products received an "F" rating from the EWG for having ingredients that pose "potentially significant hazards to health".
Some of their offending ingredients include:
Sodium Borate, which is associated with developmental, endocrine, and reproductive effects; skin irritation; allergies; and respiratory effects
Ethanolamine, which is known to have respiratory effects; general systemic and organ effects; nervous system effects; skin irritation; and allergies
Fragrance, which is a dubious and nonspecific term that allows the manufacturer to avoid disclosing why actually goes into their product. This can include a variety of synthetic chemicals, including petrochemicals – all of which are associated with various health hazards.
Diethylene glycol, which is found in products such as antifreeze, and has been associated with cancer; developmental, endocrine, and reproductive effects; damage to DNA; respiratory effects; digestive system effects; nervous system effects; skin irritation; allergies; organ effects; and more.
Here's a further glimpse into Dreft, courtesy of EWG: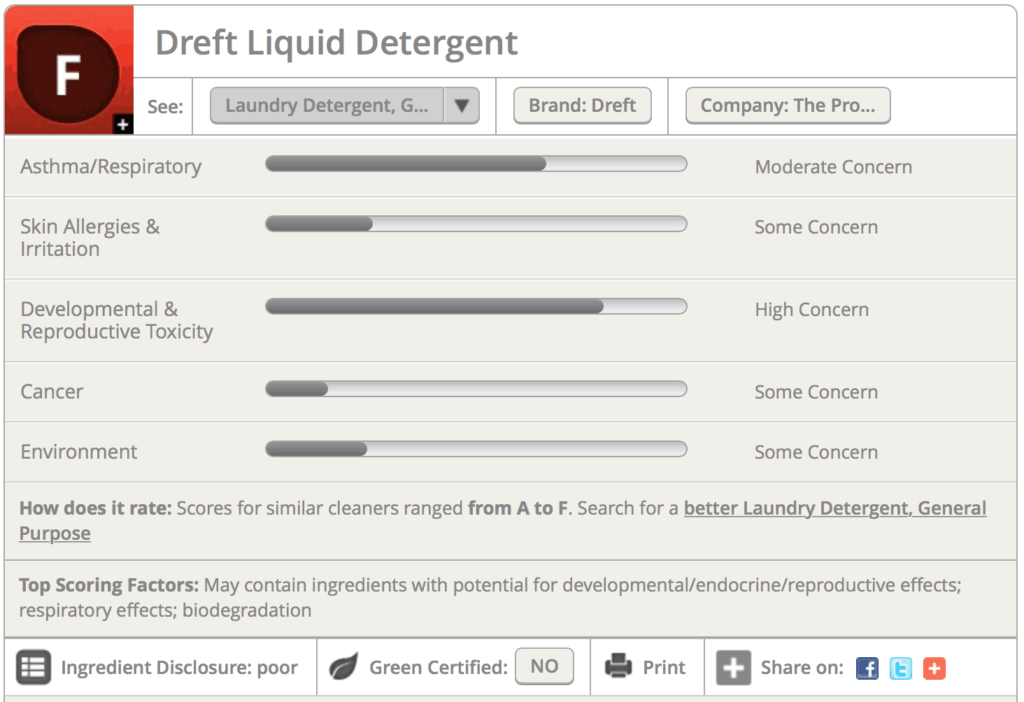 Even the gentle version of their laundry detergent, Dreft Pure Gentleness, isn't so pure and it definitely isn't gentle. While it is fragrance-free, it still contains sodium laurel sulfate, propylene glycol, and C12-16 Pareth along with other questionable ingredients.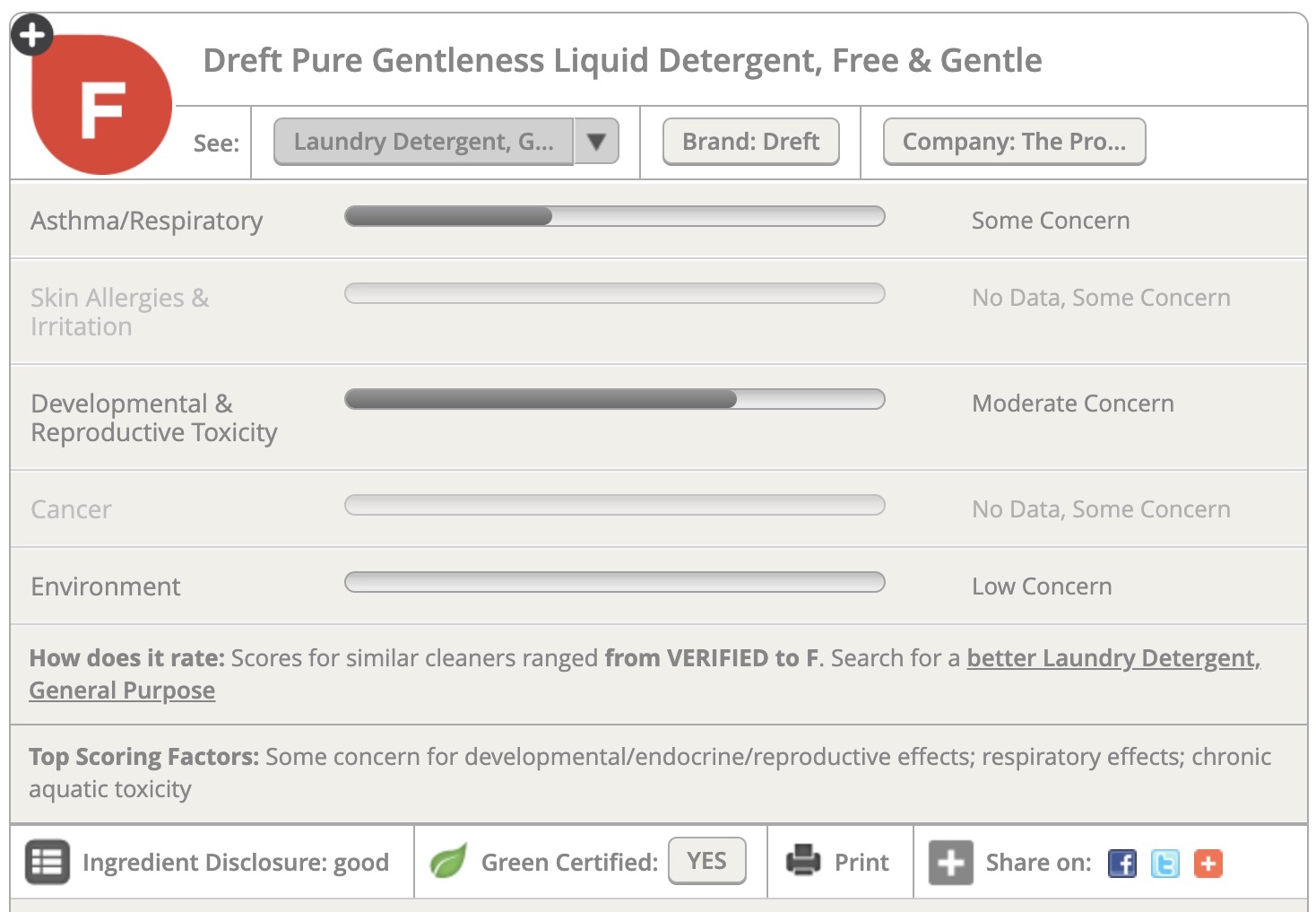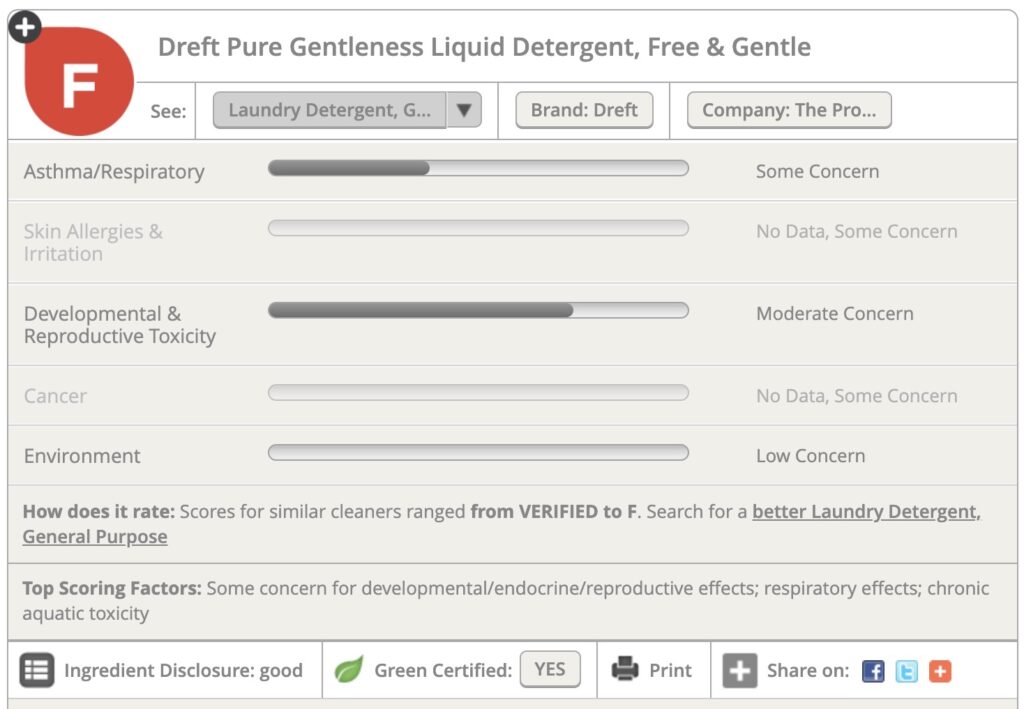 As you can see, some of the ingredients used in Dreft are of serious concern. So please join me in stopping the Dreft madness and avoid this brand altogether!
(Note: If you look closely at the chart of baby detergents above, you'll notice that Babyganics also received an F rating.)
If there is a better and safer alternative, why expose your baby to these health risks? There are better, safer, and gentler laundry detergents for your baby! And for the whole family, really.
The Best Baby Laundry Detergents
Not all laundry detergents are made the same – as we have clearly seen! Here are the greenest and gentlest baby-safe laundry detergents that I enthusiastically recommend.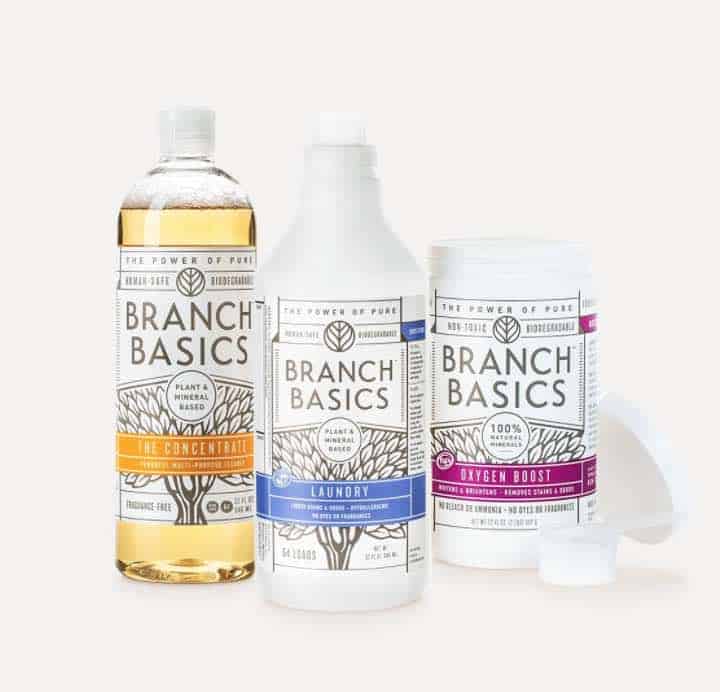 Buy on Branch Basics
Branch Basics has generously offered our readers a 10% discount on all starter kits with code THEGENTLENURSERY.
Branch Basics is a company you want to know about. The company was formed by three women who each healed their individual health issues by making diet and lifestyle changes. After learning the importance of avoiding toxic chemicals, they went on to create this amazing non-toxic household cleaning company.
Branch Basics' main cleaning product, the Concentrate, is a fragrance-free multi-purpose cleaner that can tackle almost any cleaning job in your home. To use it, dilute the concentrated formula with water in one of their bottles (which are marked with fill lines) and shake it well.
The laundry kit contains a 33 oz. bottle of Concentrate, one laundry bottle (to dilute it in), and one Oxygen Boost whitener for stains and soaking your clothing. The Laundry Kit handles up to 192 loads of laundry.
What's great about Branch Basics is that the plant-based cleaner should also help remove chemical residues from clothes that would be leftover from using mainstream laundry brands. The detergent is equally effective in cold and hot water, so you can also extend the life of your baby's clothes (and yours!).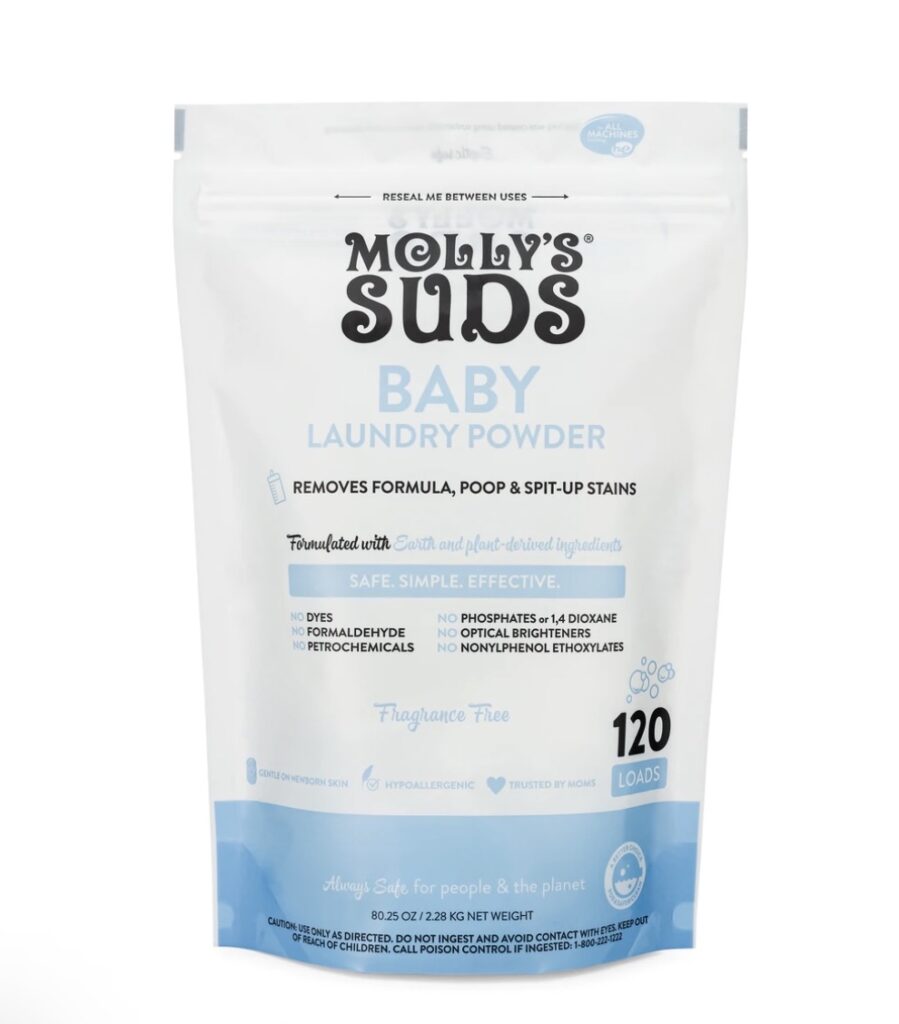 Buy on Amazon | Thrive Market | Molly's Suds
Save 15% on your order at Molly's Suds with my exclusive coupon code GENTLE.
Molly's Suds is all-natural, made of high-quality ingredients…and it actually works!
Molly's Suds contains no harsh chemicals, parabens, GMOs, toxins, preservatives, aluminum, synthetic dyes, phthalates, surfactants, or fragrances. It is free of 1,4-dioxane, formaldehyde, optical brighteners, phosphates, dyes, nonylphenol ethoxylates, petrochemicals, bleach, chlorine, sodium lauryl sulfate (SLS), and sodium laureth sulfate (SLES). It's safe for sensitive skin and for those with eczema.
Molly's Suds makes several cleaning and laundry products, and there are four unscented laundry detergents to choose from. All are great and it just depends on what you prefer and what works for you. These include:
In addition to using it as a baby laundry detergent, I've used Molly's for all of our clothes. It has not faded my darks and gets my colors and whites bright. It comes with its own scoop and I store mine in one of these air-tight containers for convenience, though it's not necessary to do so.
Molly's Suds All Natural Laundry Powder Ingredients: Sodium carbonate sourced from the Green River Basin in Wyoming, sodium bicarbonate, magnesium sulfate (heptahydrate), unrefined sea salt, and Organic (Arvensis) peppermint oil. (If you are sensitive to peppermint oil, or worried about using it around small children, be sure to buy the unscented version that comes in the black and white bag.)
For brighter whites, use Molly's oxygen whitener. Molly's has an A rating from EWG.
Free of synthetic fragrances, dyes, preservatives, and brighteners, Meliora laundry powder is a clean and safe detergent that won't irritate your skin. I love that they have both unscented and scented options, too. If you like a light scent that isn't full proprietary "fragrances" (i.e chemicals), you might like to try their lavender, lemon, or lemon-lavender-clove options. These scents are made from certified organic essential oils.
You'll also love the environmental friendly packaging! No plastics in this detergent. The canister is made of cardboard and steel (totally recyclable). Even the scoop avoids plastic! It's 100% stainless steel. And yes, it's safe for both HE and regular washing machines!
Note that their detergent is vegan and MADE SAFE certified.
Unscented Powder Ingredient List: Sodium Bicarbonate, Sodium Carbonate, Vegetable Soap [Sodium Cocoate, Glycerin, Organic Cocos Nucifera (Coconut) Oil, Water].
---
Buy on Amazon | Thrive Market
Another great natural laundry detergent for babies (and the whole family) is Charlie's Soap. Made without phosphates, dyes, bleaches, or perfumes, Charlie's Soap is a highly effective detergent that is made with just the bare minimum ingredients needed to get your clothes clean and fresh. A lot of people love how their clothes feel after switching to Charlie's, and say that their clothes last much longer – and smell like "nothing". I find that kind of funny because for years, companies have been telling us we need to smell like a summer breeze or a tropical rainfall, but those are the very synthetic fragrances that wreak havoc on your body.
Charlie's Soap is a gentle, baby-safe laundry detergent that is highly recommended by their many loyal customers. It's also popular for washing cloth diapers. One thing I love about Charlie's is that they recommend "detoxing your laundry" by running an empty wash with two doses of Charlie's Soap and a few rags thrown in to absorb any residue left by other detergents. Then, after a few washes, Charlie's says your clothes will be clean and feeling soft.
Charlie's Soap Ingredients: Sodium carbonate, sodium metasilicate (rinse aid formed by heating a mixture of sand and sodium carbonate), and biodegradable surfactants sourced from vegetables and minerals C12-15, Pareth-2. Unfortunately, EWG has an old rating for Charlie's Soap that was based on the nonspecific use of the term "surfectant". The company has since updated its labeling but EWG has not updated their rating.
A package of Charlie's powder soap should last 80-100 loads. If you have hard water, try adding Charlie's Laundry Booster to your wash, in addition to their powder or liquid soap.
---
Buy on Truly Free | Walmart
This Michigan-made, non-toxic laundry detergent is full of cleaning power but without all the ugly chemicals. This formula is free from dyes, synthetic fragrances, brighteners, dyes, SLS, thickeners, and glycol. Given the clean ingredients, you'll find it's very gentle on your skin and shouldn't cause any irritation.
What's really neat about this company is the environmental-friendly packaging and refills. With your first purchase of TrulyFree, you receive your detergent in a container. And with all future orders, you receive a pouch of detergent you can use to refill your container.
If you're interested in trying it out, get a free sample worth 100 free laundry loads from Truly Free here.
Ingredients: Sodium Citrate, Tetrasodium Salt, Sodium Carbonate, Polyacrylic Acid Sodium Salt, and Plant-Based Surfactants [Sodium Cocoate].
---
Buy on Amazon
If for some reason you aren't sold on Molly's, Charlie's, or Branch Basics, consider Better Life's Unscented Laundry Detergent. Better Life makes great plant-based, non-toxic cleaning and household products. Though I am trying to DIY more and more of my household products, Better Life is my go-to when I just need the convenience of a store-bought product. I love their products and find that they work really well.
Their laundry detergent is also made of plant-derived ingredients that shouldn't irritate your skin. It's a great alternative to mainstream laundry detergents and is gentle for even those who have sensitive skin. It has rave reviews, and overall is a great baby-safe liquid laundry detergent. Still, my personal preference is to use either Molly's or Charlie's because they have fewer ingredients.
Better Life Unscented Liquid Laundry Detergent Ingredients: purified water, potassium cocoate, decyl glucoside, lauryl glucoside, oleic acid, sodium citrate, quillaja saponaria bark extract, glycerin, sodium carbonate, citric acid, enzymes.
They also have a scented liquid laundry detergent, made with natural oils.
---
Buy on Mama Suds
Mama Suds always comes up on our lists of favorite non-toxic products and their laundry soap is no different. Made with saponified olive oil, Mama Suds's unscented liquid laundry soap is a top pick for the best natural baby laundry detergents — and that goes double if you have a baby or child with eczema or other sensitivities.
Mainstream laundry detergents (even those often recommended for eczema) can contain harsh irritants and chemicals. Sensitive skin definitely calls for a simple, natural laundry soap like Mama Suds, which is completely free of synthetic ingredients. This formulation is also biodegradable and safe for septic systems.
Reviewers say that this soap leaves their clothes cleaner and softer than other detergents they've tried. And it can be used for cloth diapers as well. It's available in three versions: unscented, lemon, and lavender. And the scents are very nice and subtle.
Note: this is a laundry soap, which is different than using a detergent. Many types of soap can leave a residue in your washing machine, but according to Mama Suds, this does not apply to their olive oil Castile-based laundry soap because it doesn't contain extra fat that would leave a residue behind. It should rinse out like any traditional laundry detergent would.
Best Stain Removers and Laundry Boosters
By now, you've hopefully chosen the best baby detergent for washing your baby's clothes, blankets, swaddles, and other play things. Here are the stain removers and laundry boosters we recommend. Note: we do not recommend using bleach, so all items here are bleach alternatives.
Made with just one ingredient — saponified olive oil — Mama Suds's laundry stain stick remover is a super gentle way to remove stains from your baby's clothes. This is truly a hypoallergenic product that's fit for even the most sensitive of babies.
a
This product is the best stain remover out there. With stain-fighting enzymes, Biokleen's stain remover spray works better than anything else on the market.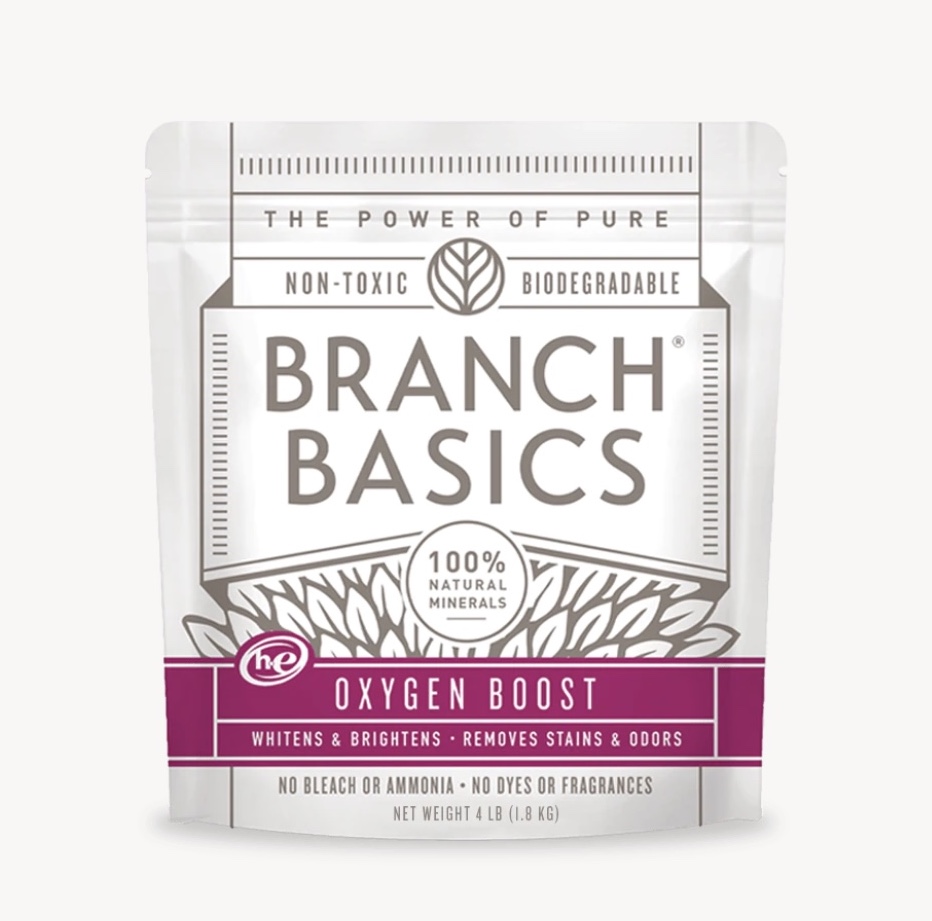 Branch Basics makes an excellent oxygen boost powder that can be added to your baby's clothes to help brighten the fabrics and minimize stains and odors. We love this product!
Another great product from Molly's Suds, the oxygen whitener works great on brightening baby clothes and helping keep them fresh. It works exceptionally well on dull clothes and even towels.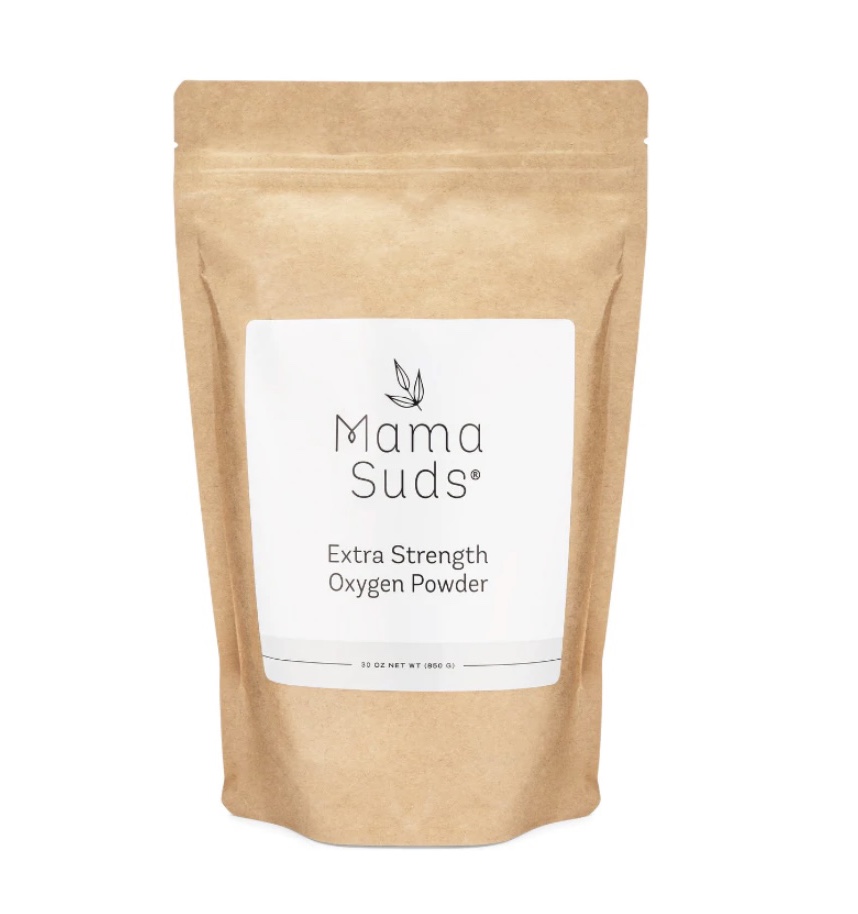 If you're looking for a gentle but effective oxygen powder, Mama Suds is again a great option for you. Surprisingly, this oxygen powder is made with only two (seriously!) ingredients. Simple and effective? Yes, please!
Even if you're using the best laundry detergent out there, stains still happen. And having a laundry scrub brush on hand is so smart! It can really help you remove stubborns stains from your baby's clothes.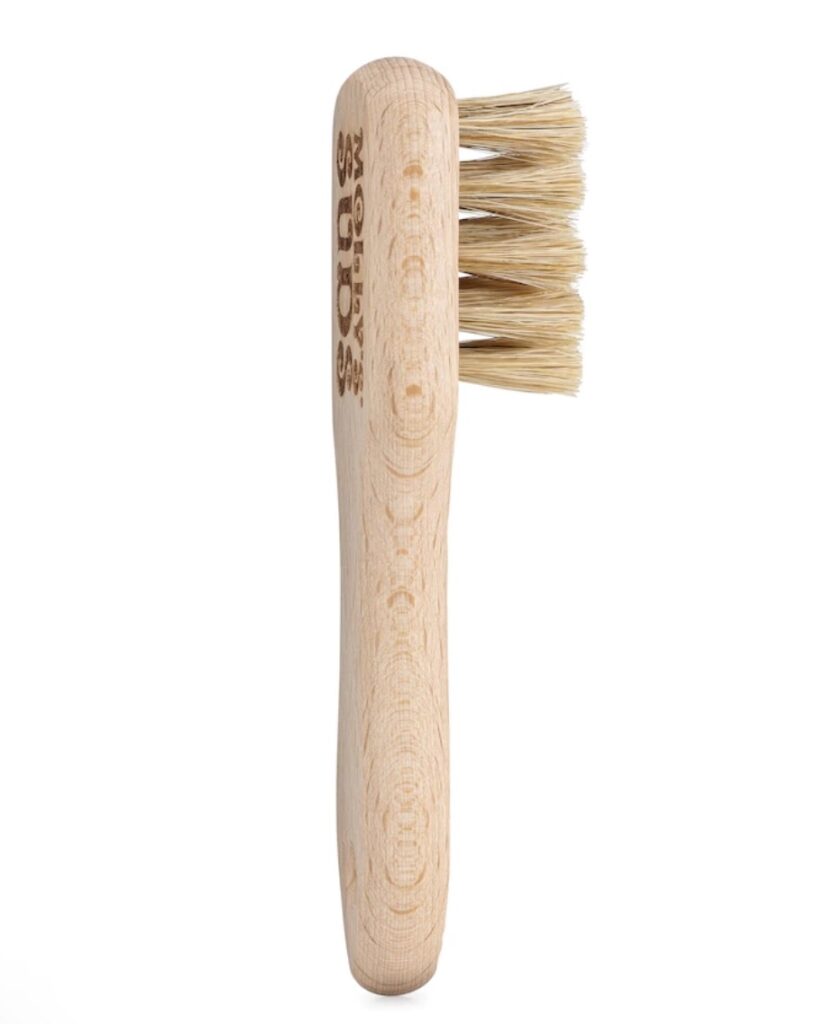 If you'd prefer a laundry scrub brush that has natural bristles, this one is a great choice!
Products That Didn't Make the Cut
There are so many "all-natural", "plant-based", or "gentle" laundry detergents out there, but many of them contain harsh ingredients. And all it takes is a quick glance at the ingredients list to find ingredients like fragrance, parfum, sulfates, and harsh preservatives.
Here are the ones we reviewed that DID NOT meet our ingredient standards:
9 Elements Liquid Laundry Detergent
All Baby Liquid Laundry Detergent
All Free & Clear
Arm & Hammer Laundry Detergent (all)
Attitude Laundry Detergent
Babyganics Laundry Detergent
Dapple Baby Laundry Detergent
Dreft Baby Detergent
Dreft Pure Gentleness Detergent
Dreft Blissful Laundry Scent Booster Beads
Dreft Stain Remover
ECOS Free & Clear Laundry Detergent
ECOS Laundry Detergent (all)
Healthynest Laundry Concentrate
Hello Bello Organic Laundry Detergent
Honest Hypoallergenic Baby Laundry Detergent
Laundress Laundry Detergent
Method Liquid Laundry Detergent
Mrs. Meyers Baby Laundry Detergent
Mrs. Meyers Clean Day Laundry Detergent (all)

Noodle & Boo Baby Laundry Detergent

Puracy Laundry Detergent (all)
Purex Baby Laundry Detergent
Seventh Generation Laundry Detergent (all)
Tide (all)
Up & Up Baby Liquid Laundry Detergent
Up & Up Laundry Detergent
Let's Also Talk About Not Using Dryer Sheets
In addition to choosing a baby-safe laundry detergent, you'll want to also ditch your dryer sheets and fabric softeners! They are another major source of unnecessary toxic chemicals and have been associated with causing asthma or allergies.
Bounce, for example, has straight D ratings from the EWG on all their dryer sheets – including the Free & Clear version.
A better alternative is to switch to wool dryer balls. (Or, if you're feeling motivated, I'd encourage you not to use anything in your dryer at all. For the most part, you don't need to add anything to the dryer cycle.)
Either way – it's one of the fastest and easiest switches you can make to begin detoxing your laundry routine. Simply stop using dryer sheets and fabric softeners, and switch to natural New Zealand wool dryer balls. You can even leave them in the dryer in between uses, so you won't have to remember to throw them in each time (like you would with dryer sheets). They work as a natural fabric softener that also leaves your clothes static-free. All of this is done without the use of the toxic chemicals found in dryer sheets and fabric softeners.
Why use petrochemicals if there's a safer, healthier alternative?
Wool dryer balls may also reduce your drying time and keep your clothes lasting longer. They last for thousands of loads, which makes them much more affordable than buying dryer sheets every 80-100 loads. I prefer wool dryer balls that are made with 100% pure New Zealand wool. I recommend buying 6 and using only 3 for small/medium sized loads.
I definitely recommend using wool dryer balls instead of dryer sheets for your baby's clothes, and the entire family's. However, it is not safe to add essential oils to dryer balls because they are flammable.
Tips for Washing Baby Clothes
Washing baby clothes may seem like a confusing or overwhelming task, but we promise that it doesn't have to be. Here are the most important things to keep in mind when washing baby clothes:
Use the right laundry detergent. Baby skin is delicate, so it's important to use only gentle detergents when washing their clothes. Choose any of the products we recommend above and you won't have to worry about harsh or toxic chemical ingredients.
Avoid dryer sheets and fabric softeners. Fabric softeners can irritate sensitive skin, so avoid them when washing baby clothes. If you need to use a fabric softener, use wool dryer balls in the dryer instead.
Wash baby clothes in cool or lukewarm water. Hot water can also irritate baby skin, so it's best to wash their clothes in cool or warm water. If you aren't familiar with your washing machine's water settings, keep an eye on the water temperature by testing it out by hand a few times until you know which setting is best to use.
Wash hand-me-downs several times. When it comes to hand-me-downs or baby clothes bought secondhand, you'll need to strip them of any previous chemical laundry detergents and fragrances they might have been exposed to. The general rule of thumb is to only get cotton baby clothes secondhand and to wash at least 5 times in hot water to remove past chemical residue.
Following these simple tips will help you keep your baby's clothes clean and their skin free from irritation.
So, which baby-safe laundry detergent did you choose? I am still loving Branch Basics!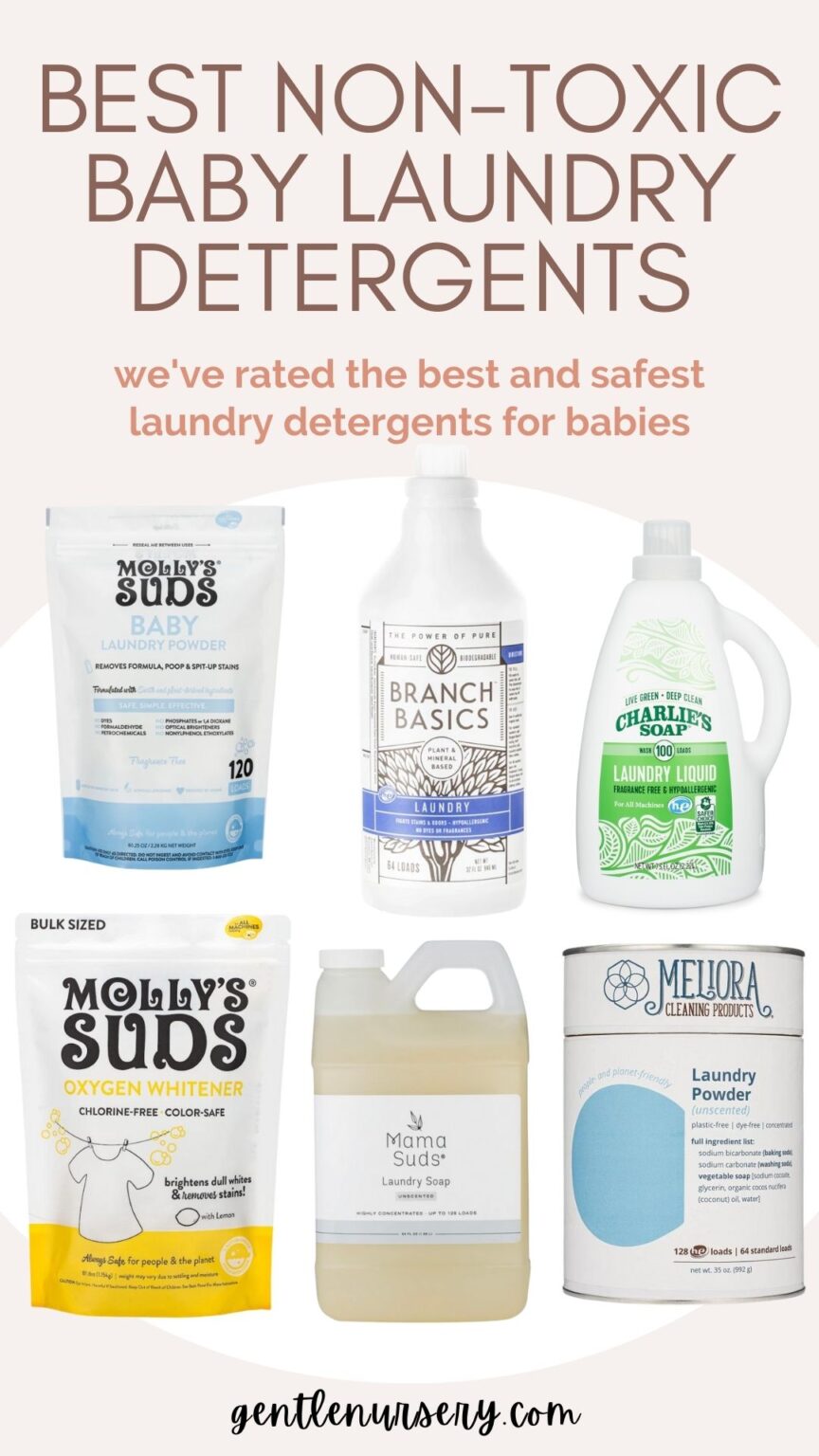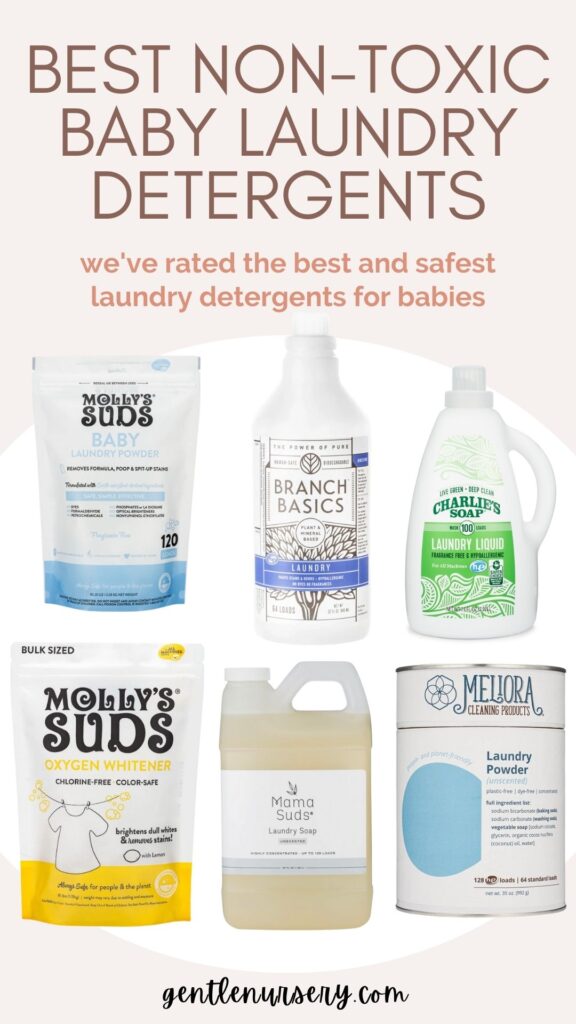 You might also like: