Are you a mama that's wondering how to make DIY cloth baby wipes? Then you are in the right place! The best part? It's super easy to do! Even the most novice seamstress can handle this project. And if you want to leave the sewing machine out of it, we've got some other options listed, too.
Making your own reusable baby wipes is an excellent choice to accompany cloth diapering, save money, reduce waste, and limit your baby's exposure to potential toxins. Talk about getting the most bang for your buck (or, in this case, DIY project)!
Aside from learning how to make DIY cloth baby wipes, we will also talk about how to store and use them to keep baby so fresh and so clean.
How to Make Your Own DIY Cloth Baby Wipes
Ready to make your own homemade cloth wipes? It's so easy! Here are some simple instructions for how to use or make cloth wipes at home.
1. Select the right fabric for your cloth baby wipes.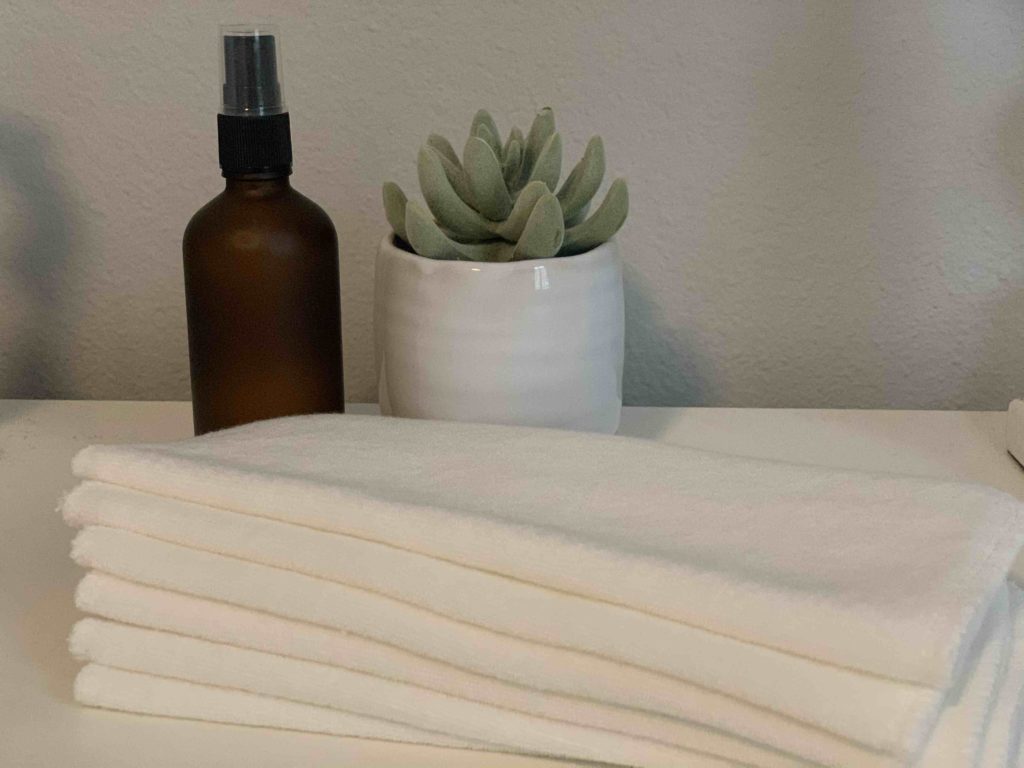 The first step towards making your own baby wipes is choosing the right fabric. Because this will be used on your baby's delicate skin, you want to choose something that's soft, but also absorbent enough to get the job done. With this in mind, I recommend cotton, cotton-fleece, or flannel for your wipes.
In order to make sure the fabric is as safe as possible, and especially if reduced exposure to toxins is important to you, opting for an organic fabric is a must. You have three options for how you source your wipe fabric:
Buy fabric by the yard and sew wipes. There are a wide range of organic fabrics available for purchase by the yard on Amazon and at local fabric stores.
Repurpose fabrics you already have. Another idea is to repurpose fabric you might already have. For example, if you have hand me down or old swaddles, burp cloths, wash cloths, shirts, baby clothes, bed sheets, or any other source of organic cotton, fleece or flannel, you can transform them into wipes in no time!
Buy precut fabric wipes. If you are not looking to sew your own cloth baby wipes, you can order precut cloth wipes instead. Here are some good choices:
2. Cut your fabric (if necessary).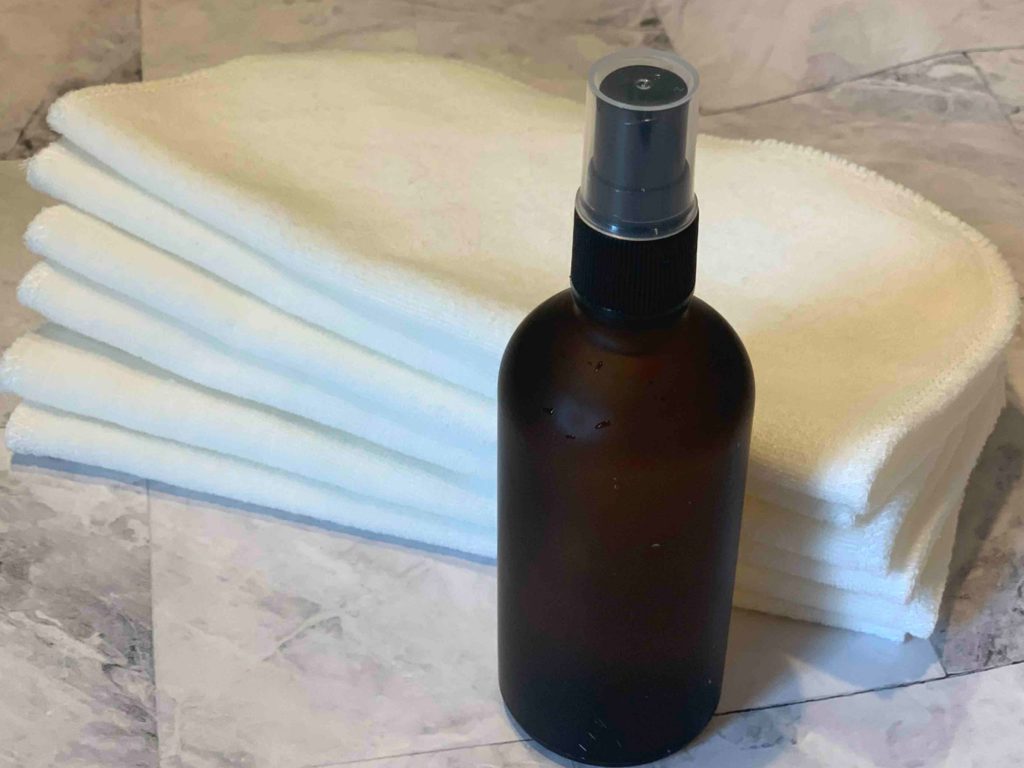 If you bought fabric by the yard or are repurposing older items for your cloth baby wipes, your next step will be to cut your fabric. If you bought precut fabric wipes, you can skip this step.
Deciding how big to make your wipes depends on personal preference, but most mamas opt for 9×7 because that is the size of a disposable baby wipe. But really, any size square or rectangle in that size range will work well. You've got a lot of flexibility here!
When you are cutting your fabric, you'll need to decide how many wipes you want to make and whether you want them to be one or two layers. If you are using flannel or cotton-fleece, one layer is probably fine. For cotton wipes, it's recommended to make a double layer wipe.
As for how many wipes to make? More is better! You'll never regret having extra wipes on hand (and less laundry to do!). Aim to make somewhere between 36 and 48 wipes, and you will be set.
Note: For a no sew option, make sure to cut your fabric using pinking shears. These will leave a zigzag pattern on the edge of your fabric and will help prevent fraying.
3. Sew your wipes—or not!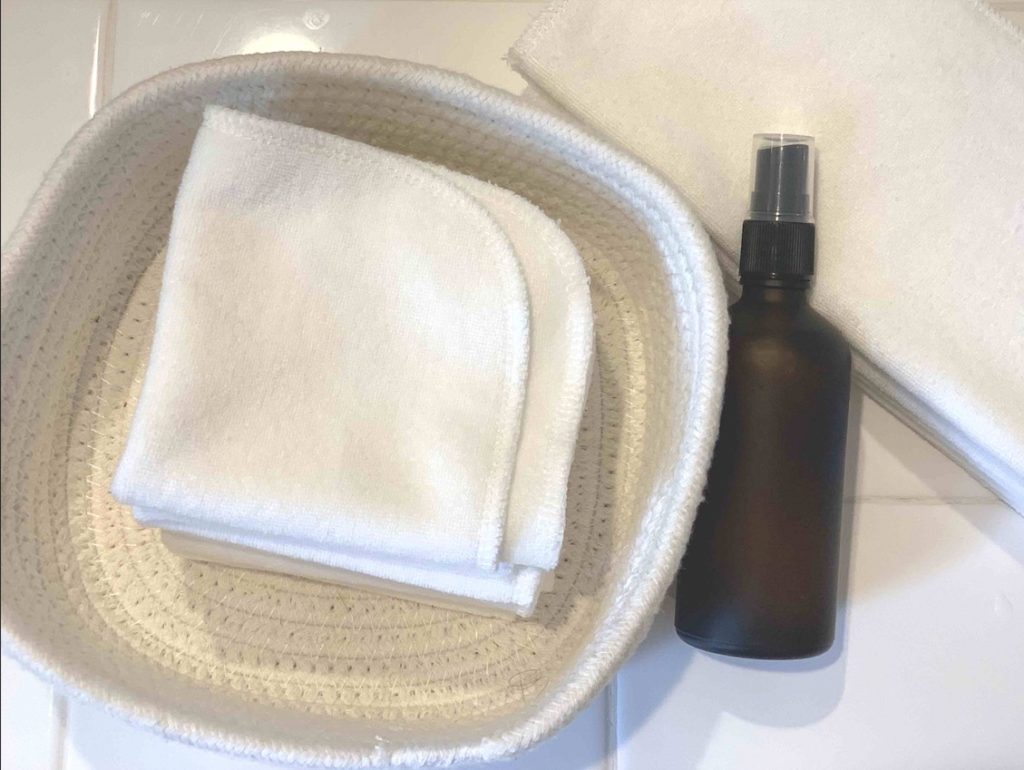 Now that you've got your fabric selected and cut, it's time to sew! This is another step where you have some options depending on what you want to make.
Single layer wipes:
You simply need to sew along the edge of each wipe using a serger or a tight zigzag pattern to prevent fraying when the wipes are washed.
Double layer wipes:
For double layer wipes, pin your two pieces of fabrics, right sides together. Sew along three sides of the wipe leaving a ¼ inch seam allowance.
Next, cut the corners of your wipe (being careful not to cut the seam) and turn it right side out.
Sew up the open side, and do an optional top-stitch around the entire wipe for a more finished look (this looks really nice and is worth the extra effort, especially if these are a gift!).
Finally, you'll want to sew seams across the wipe to prevent them from bunching up when they're washed. The seams also work as folding lines for easy wipe storage. You can do an "x", or sew two lines across that divide the rectangle into thirds.
4. Moisten your homemade baby wipes.
To use your cloth baby wipes, you'll probably need to moisten them with water, or a wipe-solution before using. There are a few convenient ways to do this:
Option 1: Just use water to moisten your baby wipes.
Use a spray bottle. An amber glass spray bottle, like ones you'd use for essential oil blends or cleaning solutions, is perfect for this! Simply moisten each wipe with the spray bottle before each use. Swap out the water in there every few days so it stays fresh.
Run your DIY baby wipes under the sink. Many mamas choose to store their cloth baby wipes in a basket or bin in the bathroom nearest to the changing station. This way, you can simply grab a few wipes and wet them with warm water before a change.
Pre-moisten your wipes. Your last option is to pre-moisten your reusable wipes and store them in a wipe container or wipe warmer that will hold in the moisture. If you choose to go this route, be sure to only moisten enough wipes for one or two days to prevent molding.
Option 2: Use a homemade baby wipes recipe.
If you'd like something that packs a little more power than water alone, try this simple DIY baby wipes solution.
Combine all ingredients and mix vigorously with a whisk. Let the solution cool. Then fill a glass spray bottle with your homemade baby wipes solution and spray your cloth wipes before each use. Refill or replace as needed.
What about using cloth baby wipes on the go?
For on the go use, pre-moistened wipes, and bring them along in a clean wet bag or travel wipes dispenser that will hold in moisture. Make sure you pack a separate wet bag for soiled wipes and cloth diapers, too. Or if it's easier, you can travel with disposable baby wipes instead.
Get your DIY on, Mama
I know that making things for my baby was one way I loved to connect and bond with my little one before they were born. This is a project that will give you that feeling and check a must-have off of your cloth diapering list.
Have fun with it, mama. Select fun fabrics, combine different patterns, and enjoy the process. And trust me, these cloth baby wipes will get a ton of use in the first years of your baby's life—so it's a project well worth doing!
Are you looking for more info for your cloth diapering journey? Be sure to read How to Cloth Diaper with Organic Cloth Diapers for a complete guide to every option when it comes to cloth diapering your little one.