Table of Contents

[Hide]

[Show]
Cloth diapering, especially with high-quality organic cloth diapers, is a great way to reduce your baby's exposure to harmful chemicals and reduce your carbon footprint and help protect the environment. Even knowing how beneficial it can be, cloth diapering for beginners can still be pretty intimidating. After all, there is a lot to learn — from the different types of cloth diapers to how you wash cloth diapers, and how you use them, and more.
This organic cloth diapers 101 guide is a complete introduction to cloth diapering for beginners.
Organic Cloth Diapers vs. Disposable Diapers
There are many different reasons to consider cloth diapering your baby. Possibly one of the best reasons to choose cloth diapering is that it can be a lot safer and healthier for your baby. The great majority of disposable diapers are full of a long list of chemicals that you want to avoid exposing your baby to. (Though there are safer disposable diapers available.) This is especially important when it comes to the diapers your baby wears because some of their most sensitive and delicate parts being exposed to whatever is in the diaper almost 24/7 for up to several years. Choosing organic cloth diapers over conventional cloth diapers is an extra precaution you can take to prevent exposing your baby to harmful chemicals and pesticides often used in the growing and processing of cotton.
In addition to being better for your baby, cloth diapers are also better for the environment. The manufacturing process of disposable diapers is much more wasteful of our Earth's limited resources than that of cloth diapers. Then there is the more obvious benefit to the environment which is reducing the amount of waste in landfills. A single baby that is diapered using disposables puts approximately 2,000 pounds of waste into a landfill over the course of two years. Think of all the waste not going into a landfill for every baby that is cloth diapered.
Cloth diapers get even better when you realize how much money you can save. Disposable diapers are a massive industry and one of the number one costs for most new parents. The cost of using disposable diapers and wipes can add up to thousands of dollars by the time your little one potty trains. As you can imagine, the best organic cloth diapers are among the more expensive of cloth diapers. However, even by choosing these somewhat pricier cloth diapers, you will still save a ton of money compared to using disposables.
There are a few additional benefits, too. One fun benefit of cloth diapering is how adorable they are. Different types of cloth diapers come in all sorts of cute colors and designs to make diapering your baby a bit more amusing. And, with cloth diapers, your baby will be more comfortable, they'll have a little cushion on their bottom for falls, and you'll never have to run to the store in the middle of the night because you've run out of diapers.
Disposable diapers win as far as convenience is concerned. And it's true that there are a couple of extra steps in the process when using cloth diapers. But it isn't much harder to use cloth diapers than disposable. Hopefully this cloth diapers 101 guide gives you the confidence you need to begin cloth diapering your baby.
The Different Types of Cloth Diapers
When it comes to choosing the best organic cloth diapers for you, you'll first want to learn about the different types of cloth diapers out there. There are many different types of cloth diapers available; some are very simple and similar to old-fashioned cloth diapers, while others are much more modern and specially designed for convenience. Here's an overview of your options:
Flats
This is the diaper that often comes to mind when you think of cloth diapering because it is an age-old way to diaper your baby. It is simply a large square of fabric that you fold to fit around your baby as a diaper before placing a water-resistant diaper cover over it. They are the most economical choice of the different types of cloth diapers.
OsoCozy is a popular cloth diaper brand that makes amazingly soft and affordable flats made of organic birdseye cotton. These are one of the most affordable organic cloth diapers available on the market. They are slightly more time-consuming and not quite as convenient as other options but they are unbleached, organic, safe for your baby, and easy to care for.
Prefolds
Here is a slightly simplified version of a flat. These are pieces of fabric that have already been partially folded and then sewn to keep the folds. They still require a diaper cover but take less folding than flats to get them to fit onto your baby properly. Prefolds are a little more convenient than flats but are still a very affordable choice.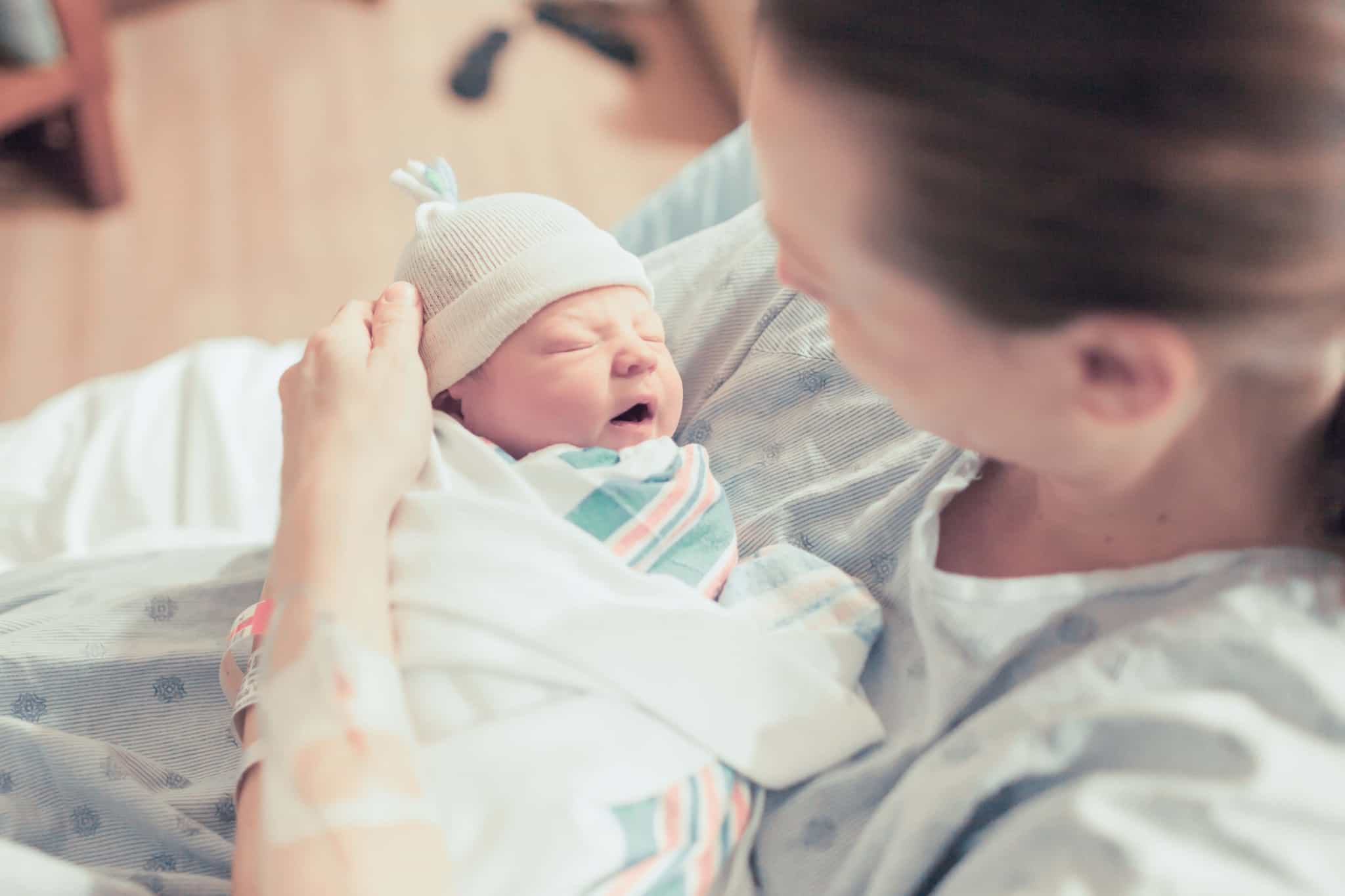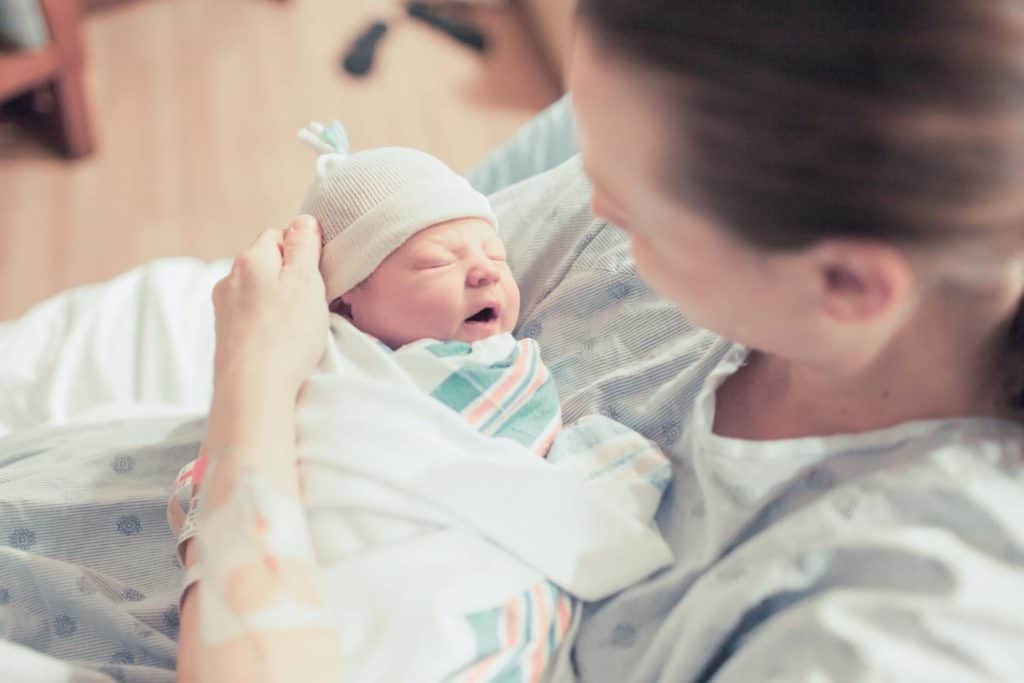 OsoCozy also makes some wonderful organic unbleached prefolds. They are not only very affordable but very natural and safe for your baby. They come in a variety of sizes to get the best fit for a baby of any size and can be used as a regular prefold or can be tri-folded and used as a cloth diaper insert as well. They also happen to make wonderful burp cloths too!
Contours
A step up from prefolds are contoured diapers. They are more or less a prefold that is shaped to fit more easily around your baby with no actual folding required. They sometimes include elastic around the back and legs of the diaper to provide a better fit. These do still require a diaper cover. These can be a great choice because they come at a pretty inexpensive price but are more convenient than prefolds or flats.
There isn't as much of a market for contour diapers so it may be harder to find good organic options out there. However, Pooters used to make an excellent one-size organic cotton contour that is soft, absorbent, and affordable. Its back and leg elastic combined with having to use a fastener for securing it give this diaper one of the best fits achievable. The Pooters contour is bleached so if that's a problem for you, this might not be the best diaper for you.
Fitteds
Fitted diapers are just like contours except they always have elastic on the back of the diaper as well as the legs of the diaper. They also have snaps to close them or in some cases, they may have a hook and loop closure, commonly known as Velcro. Fitteds are a bit more expensive than some of the other different types of cloth diapers, but are very effective and pretty easy to use as well. They do require a diaper cover to be water-resistant.
Some of the very best organic cloth diapers are fitted diapers. There are plenty of options available for great organic fitteds. OsoCozy and Bummis both have wonderful organic fitted diaper choices. The organic fitteds from Bummis are a bit more expensive but completely worth it thanks to their great absorbency and superior softness.
Pockets
These are the most common of modern cloth diapers. They are very simple to use and very affordable too. Pocket diapers consist of a diaper shell made of two layers with a pocket in-between the layers and either a snap or hook and loop closure. The outside layer of the shell is a layer of water-resistant fabric and the inner layer is made of a stay-dry material that is designed to allow liquid to pass through it to keep the baby feeling dry. You add different types of cloth inserts into the pocket of these diapers to be the absorbent part of the diaper making it easy to customize the level of absorbency.
Since pocket diapers usually contain polyester or a material called PUL (polyurethane laminate), there aren't any 100% organic options available. If you are going to use pocket diapers and prefer to use as many organic products as possible, your best bet will be to use organic cloth diaper inserts.
All-in-Ones (AIOs)
As one of the easiest to use of the different types of cloth diapers, all-in-ones are a very popular option and are especially great cloth diapers for beginners. Although the price range varies, these are typically pricier than pockets but still affordable for most budgets. They are similar to pockets but instead of having to add cloth diaper inserts for absorbency, the diapers already have a layer of absorbency built in. They close using either snaps or hook and loop closures and are considered by most to be as easy to use as disposable diapers. I'm all for convenience!
Just like with pocket diapers, all-in-one diapers do contain fabric made of PUL. That means that they can't be 100% organic, but there are some options of AIOs that are made with some organic elements in them. One great example of this is Thirsties all in one. The drawback of this diaper is that in total, only a small percentage of the diaper is actually organic. However, the part of the diaper that comes in contact with the baby is 100% organic cotton fleece.
Smart Bottoms All-in-One is very similar in materials to that of Thirsties. Although the AIO from Smart Bottoms is more expensive, it is also more durable, and it tends to allow you to achieve a better fit. Another added bonus is that Smart Bottoms is a highly trusted brand among the cloth diapering community.
All-in-Twos (AI2s)
The only real difference between AIOs and AI2s is that AI2s have an absorbent insert that, instead of being sewn in, is snapped into a diaper shell. Since the insert is snapped directly into the shell, the shell can sometimes be reused several times before it gets soiled, while only the insert is changed. These tend to be pricier than most other different types of cloth diapers.
AI2s also contain PUL and therefore the only organic AI2 options available are only partially organic. GroVia is an extremely popular brand of cloth diapers, specifically AI2 diapers. GroVia offers 100% organic cotton inserts for their diapers. This is nice since the insert is the main part of the diaper that actually comes in contact with your baby, but GroVia does tend to run on the pricier side.
Hybrids
Hybrid diapering systems combine the green factor of cloth diapering with the convenience of disposable diapering. They consist of a diaper shell that you put different types of cloth inserts or disposable inserts into. The shell can often be reused multiple times between washes since it is usually not soiled every time you change your baby. You can choose to use cloth or disposable inserts or both depending on what works best for your family. Hybrid diapers are a pretty affordable choice when it comes to the different types of cloth diapers.
Just like the last few different types of cloth diapers listed, the shells of hybrid diaper systems contain PUL and aren't available in 100% organic options. Luckily, you can still use 100% organic cloth diaper inserts in your hybrid diaper shells. One very popular and trusted brand that offers this is Nora's Nursery. Their diapering system with pockets gives you the option of using all organic inserts along with the choice of a variety of other different types of cloth inserts or even disposable inserts.
Hybrid Fitteds
These are probably the most expensive of all the different types of cloth diapers. They are similar to fitted diapers, but they tend to have more absorbency often in the form of snap-in inserts like the ones in AI2s and also have a built-in water-resistant layer and therefore don't require a diaper cover like fitteds. In addition to being very absorbent diapers, some of their appeal comes from the many designs and patterns they come in along with the ability to easily achieve a good fit with them.
Hybrid fitteds are not typically sold by cloth diaper companies. Rather, they are homemade and sold by small businesses. For this reason, finding an organic hybrid fitted may be a little more difficult. However, if you have any sewing skills, you could give making your own a shot. If you do decide to try your hand at diaper sewing, you can get some lovely organic cotton fabric from Organic Cotton Plus.
Essential Cloth Diapering Accessories
Depending on which kind of cloth diapers you decide to use, you may need some of these accessories.
Diaper Covers
Since not all diapers are water-resistant, some require a diaper cover to keep in moisture. Flats, prefolds, contours, and fitteds all need a diaper cover to be water-resistant. Diaper covers can be made from anything from PUL (polyurethane laminate) to fleece or wool. Some diaper covers close using snaps or hook and loop closures while others are designed in a pull-up style.
The best organic cloth diaper covers are no doubt organic wool covers. One perfect example of this is the luxurious Organic Merino Wool Covers by Disana. These lovely diaper covers are so comfy, come in plenty of fun colors, and are not only safe for your child but also work exceptionally well. The downside to these diaper covers is that wool tends to be pricier and they also require special care. Although, many wool lovers agree that it is completely worth it since there are so many great benefits to wool including that it is an easily sustainable, renewable resource.
Cloth Diaper Inserts
Just as there are many different types of cloth diapers, there are also many different types of cloth inserts. Pocket diapers require cloth inserts to be absorbent, but they can often be added to other different types of cloth diapers for additional absorbency as well. The many different types of cloth inserts may be made of microfiber, bamboo, hemp, cotton, or other fabrics.
When it comes to cloth diaper inserts, there are plenty of organic options. You can use the previously mentioned organic flats or prefolds as cloth diaper inserts, or you can use organic inserts from a variety of different brands. GroVia has some great organic cotton boosters.
Cloth Diaper Fasteners
Since some of the different types of cloth diapers don't have a built-in closure system, such as flats, prefolds, and some contours, they will require a fastener of some type. You can always go with old-fashioned diaper pins if you prefer. However, there are newer, more safe cloth diaper fasteners now available on the market. Snappis and Boingos both provide a safe and easy way to close your baby's diapers.
Cloth Diapering Basics
Many people are scared to jump into the world of cloth diapering because they think using cloth diapers is complicated, difficult, or even gross. Well, luckily, that is not the case at all and there is nothing to fear! Here is a little more basic cloth diapers 101 information to help teach how to use cloth diapers for beginners.
How Many Cloth Diapers Do You Need?
One of the first questions you'll probably be asking yourself is how many cloth diapers you'll need. This is going to vary a lot depending on the age of your baby and how often you plan to wash your diapers. A little simple math will get you a good answer though. For example, most newborns go through around 10 diapers a day, some more, some less. If you want to wash every 3 days, and you'll be diapering a newborn, 10×3=30, so 30 diapers would be a good guess of how many you'll need.
When deciding how many diapers to purchase, remember to keep in mind that the number of diapers a baby goes through will go down as they get older. You'll also want to consider that you need enough diapers to last in between laundry days. Finally, don't forget that sometimes things happen and you may get delayed in washing your diapers occasionally so it can't hurt to have a few extra diapers for your baby.
What Do You Do With Dirty Cloth Diapers?
You'll also need to know how to store your used diapers until you're ready for washing cloth diapers. This is going to add a few more important things to your cloth diaper checklist. First, you'll want to have something to store your diapers in around the house. For this, you'll want a diaper pail, but a small trash can could easily work as a diaper pail. You'll need something to line the diaper pail as well which is where the pail liner comes in. (Read more about the best diaper pails to use.)
A pail liner is simply a water-resistant bag that goes into a diaper pail to hold your diapers until it's time for washing cloth diapers. It's important to know what to do with a used diaper and that depends on what your baby did in the diaper. If your baby only urinated in a diaper, you can toss it straight into the diaper pail to wait for washing. If your baby had a bowel movement in their diaper, what you do will depend on your baby's diet.
For exclusively breastfed babies, you can toss any diapers straight into the pail because their bowel movements are water-soluble. However, if your baby is consuming anything other than breastmilk such as formula, purees, or solid foods, you will have an extra step before putting the diaper in the pail. You'll need to first transfer the solid waste from the diaper to the toilet.
To remove solid waste from a diaper, it is usually recommended to use a diaper sprayer and sprayer shield. A diaper sprayer is a device that hooks up to your toilet and allows you to use a stream of water to spray the waste off of a diaper. The sprayer shield holds the diaper and shields the spray of the water from getting you or the rest of your bathroom wet. It is the most convenient and least dirty way of removing waste from your diapers. SprayPal makes one of the best and most popular diaper sprayers and sprayer shields (buy them together here for additional savings).
Then, when you are ready, follow our easy instructions for how to wash cloth diapers.
Using Cloth Diapers On The Go
One more thing you'll probably want to put on your cloth diaper checklist is a wet bag for storing used diapers on the go. This is simply a smaller version of a pail liner that usually closes via a zipper. They often contain two compartments. The first one is to hold your clean diapers and the second is to separate your dirty diapers and hold the moisture in away from the clean diapers and the outside of the bag. Alternatively, some parents prefer to use disposable diapers when they're out of the house. It just depends on where you're going and what your personal preference is.
What Diaper Creams Can You Use With Cloth Diapers?
Another very important aspect of cloth diapers 101 is learning what types of diaper creams are safe to use with your cloth diapers. Some people don't realize that many common commercial diaper creams can cause problems with cloth diapers. The biggest issue is that most diaper creams contain petroleum which can get into the fibers of the diaper and cause it to repel liquids rather than absorb them. (If you're new to The Gentle Nursery, you should try to avoid petroleum-based products in general, anyway.) Some people use petroleum jelly as a water barrier between diaper changes as well which can also cause problems and should be avoided. (Don't do this.) Fortunately, there are cloth diaper safe alternatives to these products.
If you're looking for a good replacement to typical diaper cream, Boudreaux's Butt Paste comes in a more natural version in a green tube that is not only safe for your baby's diaper but also is made from more natural ingredients to help your baby's bottom avoid potentially dangerous substances. Natural Boudreaux's Butt Paste is free of parabens, phthalates, preservatives, talc, and petroleum. It uses natural aloe to provide soothing comfort to your little one. It does, however, contain 16% zinc oxide which fights the rash very effectively.
If you are interested in an even more natural way to deal with your baby's diaper rash, you may want to consider another wonderful product that is made by Bee All Natural. It is their Organic Baby Diaper Rash Salve. This is a great natural and organic product that will help soothe and heal your little one with all-natural ingredients such as organic shea butter, organic coconut oil, organic calendula flower powder, and more!
There you have it! Hopefully this organic cloth diapers 101 guide has helped you learn everything you need to know about using cloth diapers, from the different types of cloth diapers to washing cloth diapers. Cloth diapers have all sorts of great benefits and can help you to reduce your baby's exposure to chemicals as well as make a positive impact on the environment. Plus, they are much easier and more convenient than many people realize!