Outdoor play is what childhood memories are made of. Exploring nature, being pushed on the swings, doing hands-on water play, and even just laying on a picnic blanket with mom can all be such blissful activities for a baby.
But you're probably also worried about protecting your baby from the sun. Since sun exposure can be dangerous, and your baby's skin is delicate, you're smart to be cautious about this.
Don't worry, there are lots of things that you can do to help keep your baby safe under the sun. One of these is to choose the best baby sunscreen.
That means buying a safe, effective, natural baby sunscreen that doesn't contain toxic ingredients and endocrine-disrupting chemicals. Unfortunately, it isn't as simple as just buying any old sunscreen that Whole Foods sells. (Don't you wish everything were that easy?)
In this article, we're going to go over how to keep your baby safe in the sun and which brands are the best baby sunscreens.
The Top 3 Baby Sunscreen Brands
We've rated 9 of the best baby sunscreen brands for you but here are the top few!
Does Sunscreen Prevent Cancer?
The first question we need to ask is if sunscreen prevents cancer. While Americans continue to purchase sunscreen and use it diligently, the rate of melanoma has steadily risen over the past 30 years.
According to the CDC, the risk factors for skin cancer are family history, indoor tanning, fair skin, freckles, moles, ultraviolet radiation, and severe sunburns.
We know that UV exposure can cause cancer, and some research indicates that regular sunscreen use can lower the risk of certain cancers. But, there is a lot of confusing info on whether sunscreen prevents cancer. This may simply be because it can take decades for cancer to develop. For example, basal and squamous cell cancers may be related to UV exposure over a period of several years. And melanoma risk may be tied to the number of sunburns a person has had, particularly during childhood.
The evidence that sunscreen use can reduce skin cancer is inconclusive, in part due to the decades that may separate exposure from cancer.

Every major public health authority – the FDA, the National Cancer Institute and the International Agency for Research on Cancer – has concluded that the available data do not support the assertion that sunscreens alone reduce the rate of skin cancer.

Environmental Working Group
So this doesn't mean that sunscreen isn't important. Or that you shouldn't use sunscreen on your baby. Not at all! Sunscreen is an important part of your sun-safety toolkit.
Children Need Safe Sun Exposure Every Day
It's completely normal to be afraid of the sun when you think about how scary skin cancer is.
You might think that staying indoors — away from the sun's harmful rays — is a safer bet, but that's not a good choice either. Why? Because your body needs the sun. Your body needs vitamin D. And so does your baby.
You can get most other vitamins from the foods you eat — but not vitamin D. The Vitamin D your body needs mostly comes from daily sun exposure, because very few foods contain vitamin D. You can take supplements or give one directly to your baby (or even give cod liver oil with your doctor's approval), but the only way to produce vitamin D naturally is by exposing bare skin to the sun, without sunscreen — regularly.
Vitamin D is essential. It strengthens the bones, boosts the immune system, reduces inflammation, and reduces the risk of several cancers such as breast, colon, and kidney. It can play a role in your baby's mood and influences his cognitive function. In fact it is estimated to play a role in over 3,000 functions in the body. Vitamin D deficiency can be very serious and has been linked with over 100 diseases.
As you can see, staying away from the sun can be just as bad a choice as worshipping the sun. As a parent, that makes it even harder to know what to do.
So, what should you do?
Depending on where you live, your skin type, and how old your baby is, you and your baby will need up to 15 minutes of direct sunlight without any sunscreen or shade every day to produce the appropriate amount of Vitamin D. Ask your pediatrician how much time your baby should spend in the sun every day.
The goal is to do is get a few minutes of healthy sun exposure each day so that you and your baby can produce adequate vitamin D. Between 7am-11am or 3pm-5pm every day is when you'll get the safest sunlight.
Then, beyond spending a few minutes in the sun with your baby, follow the sun-safety tips below and use a natural baby sunscreen to protect your baby's skin.
Sun-Safety Tips for Babies and Children
Sometimes, your baby is going to be outside, and that's ok! There's no way to avoid being outdoors and you wouldn't want to do that anyway. (Summertime with young kids is the best – enjoy it!)
The key is to reduce your child's risk of getting a sunburn, which has been shown to cause cell damage and increase the risk of melanoma and skin cancers later in life. But there are safer ways to enjoy the sun than slathering your baby's skin with sunscreen all day.
Here are some tips for sun-safety with your baby:
Avoid sun exposure for babies under 6 months. Infants under 6 months should be kept out of direct sunlight. And most doctors will advise you not to use sunscreen on a baby under the age of 6 months. So, until your baby is six months old, dress them for the sun in loose clothes that cover their body, use sun protective clothing, and have them wear a sun hat (not a baseball cap) to protect them from the sun.
Avoid peak sunlight hours. Our bodies need direct sunlight exposure every day to maximize Vitamin D production. However, you should limit your baby to a maximum of 15 minutes per day during non-peak sunlight hours. The sun is at its strongest between 11 am and 3 pm. Avoid spending these hours outside when possible. Early morning (7am-11am) or late afternoon (3-5pm) are the best times of day to be out in the sun.
Use sun hats and UV protective clothing. One of the most effective ways to protect your baby's skin is to use sun hats and UV-protective clothing and swimwear. My go-to brands are Hanna Andersson and Primary because most of their items are Oeko-Tex certified. Even though the UV-protective clothes are made from synthetic fabrics like polyester, they are certified to be free of hazardous substances, so you can feel comfortable using them on your little one.
Use a stroller with a sun canopy. An easy way to keep your baby out of direct sunlight is to take advantage of your stroller. Most full-sized strollers have protective sun shades. Find out if yours does or invest in one for summertime. We swear by our full-sized stroller (and it has a pop out UPF 50+ sunshade) but I would also consider investing in a nice jogging stroller that has a UPF 45+ sunshade (don't worry – no actual jogging is required).
Find shade.

Sitting in the shade is a great way to get in some extra outdoor time every day. Use a

nice picnic blanket

under a shady tree for some extra play time or strategically place your baby's toys in the shade in your backyard.

Stay away from reflective surfaces. Water, sand, and snow reflect up to 50% of the sun's UV rays, so reduce your baby's time around these surfaces. Even sitting in the shade near a reflective surface won't guarantee that you aren't getting exposed to UV rays.
Watch for signs of discomfort or dehydration. Keep an eye on your baby outdoors. Don't let your baby get too hot and make sure they aren't getting fussy or their skin isn't starting to get red. Also make sure they are well-hydrated; give breast milk or formula for babies, and always bring a water bottle once your baby is old enough to drink water.
Don't forget about sun exposure in the car. Even if your windows are tinted, they may not provide adequate UV protection. Use window shades or a breathable car seat cover positioned to the window-side or hanging from the roof handle to provide your baby some extra protection from the sun while in the car.
Use baby-safe sunscreen for prolonged sun exposure. Choosing a good sunscreen is essential, but it is only one step in practicing safe sun exposure. Don't overly rely on sunscreen; the EWG goes so far as to advise you to use it as a last resort. Apply a thick-enough layer to provide good coverage and reapply it often, per the manufacturer's instructions. Keep reading for my baby sunscreen reviews below.
Why You Should Avoid Chemical Sunscreens
Sunscreen comes in two forms: chemical and mineral.
Chemical sunscreens are the brands we've all been using for years. Banana Boat, Coppertone, Neutrogena, and Hawaiian Tropic, among others, make chemical sunscreens. Surprisingly, even brands that you'll find at Whole Foods such as Alba Botanica make chemical sunscreen.
How does it work? Chemical sunscreen uses chemicals to absorb UV rays. They use a layer of chemicals to block the sun's rays from being absorbed by your skin.
Chemical sunscreens use one or more of the following active ingredients:
Oxybenzone
Octocrylene
Avobenzone
Octisalate
Homosalate
Octinoxate
The main concern is that these ingredients are rapidly absorbed by your skin and can cause irritation and other health hazards.
According to the EWG, chemical sunscreens "penetrate the skin and may disrupt the body's endocrine system, as their active ingredients…mimic the body's natural hormones and as such can essentially confuse the body's systems". More on this in a bit.
Is Mineral Sunscreen Better?
We've established that chemical sunscreen is unsafe for babies. So what's the safer alternative? Mineral sunscreen is generally safer than chemical sunscreen.
Mineral sunscreens use zinc oxide and/or titanium dioxide as the active ingredients to coat and protect your skin by reflecting UV rays. In the debate of chemical vs. mineral sunscreen, mineral sunscreen generally wins from a health and safety perspective.
These two ingredients are generally regarded as safe and effective:
Zinc Oxide: You want zinc oxide in your natural baby sunscreen because it covers the full spectrum of both UV protection (i.e. it reflects both UVA and UVB rays). Also, it's non-toxic and doesn't contain anything that would contribute free radicals to your body.
Titanium Dioxide: Many mineral sunscreens use titanium dioxide which is relatively safe, but it doesn't offer broad spectrum against both UVA and UVB rays. Some studies suggest that titanium dioxide creates more free radicals that might cause oxidative stress throughout your body.
There are a few things to know about mineral sunscreen:
Mineral sunscreen can be better for sensitive skin than chemical sunscreen.
You can't just buy ANY mineral sunscreen. They can contain some of the same toxic chemicals as chemical sunscreens, so you have to look closely at the ingredients. And some brands of mineral sunscreen have been found to contain up to 95% more lead than chemical sunscreens, though there is no available data on this at the time of writing.6
When choosing the best mineral sunscreen, you want one that uses non-nano particles. Nanoparticles are so small they can be absorbed by your skin, which poses a health risk; non-nano zinc oxide and non-nano titanium dioxide use larger particles so the risk of absorption is lower. However, and here's the rub: manufacturers aren't required to disclose the properties of their nanoparticles, so the terms "nano" and "non-nano" are somewhat meaningless until the FDA issues better guidelines for sunscreen ingredients. Still, go with something labeled non-nano until disclosures are required.5
Mineral sunscreens may not rub in as easily as chemical sunscreens. Most will leave a white coating on the skin and will require extra effort to rub them in. Try not to compare mineral sunscreen to chemical sunscreen. The trade off is in the healthier ingredients!
Overall, mineral sunscreens are believed to be a safer alternative to chemical sunscreens. But you still have to choose carefully. Let's go over which ingredients to avoid.
Ingredients to Avoid in Sunscreen
EWG's study on sunscreen revealed just how toxic and dangerous chemical sunscreens can be for children. They are made with toxic chemicals that you and I don't want to expose our children to.
But wait – some mineral sunscreens contain some of the very same ingredients. So we need to look at the ingredients carefully — both the active and inactive ingredients. Active ingredients are used as UV filters while inactive ingredients make up the base or formula. According to the EWG, inactive ingredients can make up as much as 70% of the formula, so it is important to pay attention to the entire list of ingredients.
Active Ingredients to Avoid in Baby Sunscreen
These are the active chemicals in chemical sunscreen (and some mineral brands too) and are best avoided — especially when it comes to a baby sunscreen. Some of these ingredients may appear under different names, too.
Oxybenzone: Oxybenzone rapidly absorbs into your skin and like estrogen in the body. Some studies suggest that it might alter sperm production. Detectable levels of oxybenzone have been found in human breast milk, amniotic fluid, urine, and blood. It is especially dangerous to children: "Children may be more vulnerable to harm from oxybenzone than adults 'because of the potential for higher absorption and bioaccumulation.'" EWG rates oxybenzone as an 8 out of 10 in terms of toxicity (with 10 being the most toxic). You want to keep your baby away from this stuff!
Octinoxate: This chemical soaks into your skin and stimulates hormonal activity. Animal studies show that octinoxate causes changes in the reproductive and thyroid systems. EWG rates this chemical at a 6, showing evidence that it is an endocrine disruptor. Hawaii and Key West have banned both octinoxate and oxybenzone due to the damage of the coral reef it causes. Even small amounts can cause harm to the delicate coral reef systems.
Homosalate: EWG gives homosalate a 4 safety rating, which means its moderately safe but there are possible side effects. Homosalate is widespread and has been found in breast milk. This skin-penetrating hormone disrupts estrogen, androgen, and progesterone.
Octocrylene: This UV absorbing chemical has been found to cause allergic skin reactions. It has also been banned in Japan and is associated with cardiovascular disease, biochemical changes, and cellular damage.
Octisalate: This is a penetration enhancer that has a decent toxicity rating from EWG. It is usually used in combination with other harsh chemicals that may not be as safe.
Avobenzone: While this ingredient has a low toxicity rating, it only filters UVA rays and has to be mixed with other (harmful) chemicals to stabilize it for use in topical sunscreens.
Inactive Ingredients to Avoid in Baby Sunscreen
Since there is such a wide range of ingredients that can be used, it's impossible to list everything you want to avoid, here are some of the key items to avoid.
Parabens: You want to avoid parabens in everything if possible. Parabens act as preservatives and appear under different names on ingredient lists. You might find it as methylparaben, Propylparaben, Butylparaben, and more — basically anything ending in "-paraben". Parabens are absorbed through the skin, act like estrogen, and some evidence links parabens to breast cancer. Avoid.
Propylene Glycol: A synthetic liquid made from petrochemicals, propylene glycol is best avoided whenever possible. It has been associated with a number of health issues including eczema, immune system toxicity, and allergies.
Methylisothiazolinone: This preservative is linked to causing allergic reactions. According to the EWG, it may also be a neurotoxin.
Retinyl Palmitate: While this is an antioxidant that combats skin aging, government studies indicate that it may trigger the development of skin tumors and lesions when used on the skin in the presence of sunlight. So, if you pick a sunscreen with added Vitamin A, you might be increasing the risk of skin cancer. Avoid this ingredient – it doesn't make sense to be in sunscreen.
Fragrance: As always, when a product lists "fragrance", the company is hiding something in their list of ingredients. That can be phthalates or other toxic chemicals that they aren't required to disclose. If you see this on a label, drop that product and find something that specifies what they use (or even better — something with no added fragrance at all).
Sodium Benzoate or Phenoxyethanol: While these preservatives can't always be avoided, there are ways to make sure that a product is still safe to use, even if it does contain them. If one of these ingredients appears at the beginning of an ingredient list, put the product down. If they are one of the very last ingredients, you might be okay with using the product if there isn't a better alternative. Finally, try to seek out products that don't contain these ingredients (see below for options).
Sulfates: Sodium Lauryl Sulfate and Sodium Laureth Sulfate are harmful if absorbed through the skin. They can cause skin and eye irritation as well as organ toxicity, and should generally be avoided in all personal care products, including baby sunscreen.
Formaldehyde-Releasing Agents: Formaldehyde can be added directly to personal care products like sunscreen, or it can be released from some preservatives. One of the commonly found formaldehyde releasers in sunscreen is diazolidinyl urea, which is also an allergen and known for releasing a large amount of formaldehyde. DMDM Hydantoin and Quaternium-15 are also commonly used in sunscreen. In general, it is best to thoroughly research the ingredients on any baby sunscreen you consider using.
Cetyl PEG/PPG-10/1 Dimethicone: This is an ingredient that I came across frequently while researching sunscreen. Linked with organ-system toxicity, this ingredient can also be contaminated with 1,4 dioxane (a carcinogen). Avoid this when possible.
Essential Oils: While essential oils are mostly safer than synthetic fragrances, essential oils aren't necessarily safe for babies. Some sunscreen brands like Young Living, for example, contain several essential oils — far more than most aromatherapists would recommend for use on babies. I also came across several brands of natural baby sunscreen that include rosemary oil extract. Opt for fragrance-free sunscreen for your baby when possible.
When it comes to products that you apply to your skin – or your baby's – the goal is to only use ingredients that have sufficient safety data. If you don't recognize an ingredient, always look it up in the EWG database. You may not always find the product itself reviewed by EWG, but they have an extensive ingredient database to help guide you.
How to Pick the Best Baby Sunscreen
Picking the best baby sunscreen is an important choice you are making for the health of your baby. Here are some considerations when you're trying to find the best mineral sunscreen for your baby, toddler, or young child.
Here are the criteria we'll be using:
Safer Ingredients. The most important thing to look at is the ingredient list. Ideally, zinc oxide will be the main active ingredient in your natural baby sunscreen. The other ingredients should have names you recognize and not include any parabens (or any of the other items listed above in the "avoid" list). Also, look for a sunscreen that might have safe and natural inactive ingredients such as jojoba oil and shea butter.
Broad Spectrum UV Coverage. It is important to ensure that the sunscreen you choose has broad spectrum coverage. This means that it protects against both UVA and UVB rays. Pay attention to the breakdown of the active ingredients: if it contains anything other than zinc oxide, it may not provide enough UVA protection. EWG provides good analysis on broad spectrum coverage.
SPF 30-50. You might assume that a higher SPF rating of 50+ is ideal for a child, but there is no proof it works better to prevent skin damage and skin cancer. SPF levels are misleading and inaccurate. When people see an SPF 50+, it tends to cause them to misuse the sunscreen by not reapplying it as much as needed. The best sunscreens have a rating between SPF 30 and 50.
Lotions or Sticks Only. When it comes to the lotion versus spray sunscreen debate, the answer is straightforward: spray sunscreen is not safe, no matter which brand it is. Not only is spray sunscreen flammable and hard to apply evenly (increasing your child's risk for burns), but it is unsafe for adults and children due to the risk of it being inhaled. Titanium dioxide, for example, can cause lung damage when inhaled.

If you use spray sunscreen, you (and your baby) can inhale the ingredients and the FDA hasn't properly tested this for safety. Just don't do it. Choose lotion or stick sunscreen and apply an extra layer if you use a stick.

Baby or Adult Sunscreen? It doesn't really matter. According to the Clean Label Project, it is unclear what makes baby sunscreen different from adult sunscreen; it does not contain different ingredients, work differently, or safer/cleaner in any way. It's just a marketing term; just choose a sunscreen with the best ingredients and it should be suitable for your whole family.
Watch out for allergens. Sunscreens tend to use a lot of food-based ingredients. Unfortunately, applying these directly through the skin can trigger or aggravate allergies. For example, one mineral sunscreen brand contains sesame seed oil, coconut oil, avocado oil, and almond oil; these can all be allergenic. Please be cautious when looking at ingredients and patch test sunscreen if you suspect that your baby may be sensitive to food or chemical ingredients. I left out all sunscreen brands that included tree nut oils.
Consider antioxidant ingredients. According to the Clean Label Project, antioxidant ingredients in sunscreen can help the body boost its natural defense against sun damage; this is a good reason to consider sunscreens with antioxidant ingredients such as green tea extract and vitamins C and E. However, you should ask your doctor if this is safe to use for your baby.
The Best Baby Sunscreens of 2021 [Reviews]
EWG selected 27 of the best-rated kids and baby sunscreens. After reviewing every ingredient in these 27 products (and a few more) and considering the factors above, I have narrowed that list down to the 9 best mineral sunscreens for babies. All of these products have a clean rating on EWG and are reef-safe.
These are also the only products I would personally use on my kids.
Note: Two notable brands, Thinkbaby and Baby Bum, were left off this list because they received a poor rating from Clean Label Project. At the time of publishing this article, Clean Label Project isn't providing any specifics on why they received a low rating. Is it because of heavy metal contamination? Is it because they don't have enough antioxidant ingredients? So in an abundance of caution, I have left these products off the list but I know that many of my readers love these brands.
1) Earth Mama Baby Mineral Sunscreen (SPF 40)
Buy on Amazon | Earth Mama
Earth Mama always gets it right – and their baby sunscreen is no different. While all formulations were rated a "1" by EWG, this version has the cleanest ingredients when taking common allergens into consideration. Overall, this is one of the best baby sunscreen options available, but since it is high in zinc oxide it is a little hard to rub in. (But to be honest, that's pretty much the case with most mineral sunscreens.)
---
2) Raw Elements Baby + Kids Sunscreen (SPF 30)
Buy on Amazon
Designed by an ocean lifeguard for active people, Raw Elements is a performance sunblock that is safe for all ages. The Baby + Kids version is designed specifically for sensitive skin and includes antioxidants to help protect your child's skin from sun damage. This is a good choice for a long-lasting sunscreen that will hold up; it is water resistant for up to 80 minutes.
2021 update: Raw Elements had one of their products recently test positive for benzene, so I can't recommend this brand until further notice.
---
3) Badger Baby Mineral Sunscreen (SPF 30)
With a clean ingredient list, Badger is a favorite. But, please note that while the formula is thick and offers good coverage, you do need to reapply it more often than other brands. Bring two bottles if you are traveling. Also available in an unscented version.
---
4) Waxhead Sun Defense Baby Sunscreen (SPF 35)
Buy on Amazon
Made with only 6 ingredients, Waxhead Sun Defense Baby Sunscreen is another winner. It is on the thick side and may not rub in easily, but mixing it around in your palm a bit before applying it to a wiggly baby may help. The Waxhead Sunscreen Stick may be easier to apply. Given the basic ingredient list, this would be a great sunscreen for babies with eczema or possible food allergies. Please note: this product contains added Vitamin D3 (which is mostly a good thing unless you are already giving a baby vitamin D3 supplement).
5) Just Skin Food Baby Sunscreen Stick (SPF 31)
Buy on Just Skin Food
As clean as it gets, Just Skin Food Baby Sunscreen Stick is handmade with mostly certified-organic ingredients. Be sure to apply evenly and add an extra layer since this sunscreen comes in a stick.
Just Skin Food Baby Sunscreen Ingredients: Active Ingredient: Non-Nano Zinc Oxide 25%. Other Ingredients: Organic Coconut Oil, Organic Raw Unrefined Shea Butter, Organic Mango Butter, Organic Cocoa Butter, Beeswax, Non-GMO Vitamin E (made from sunflowers)
---
6) Sunbiologic Kids Sunscreen Stick (SPF 30)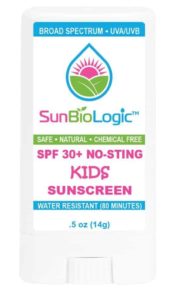 Buy on SunBioLogic
Water-resistant up to 80 minutes, SunBioLogic Kids Sunscreen Stick is another great sunscreen choice for babies and kids alike. With organic ingredients and zinc oxide mined in the USA and tested for impurities, you can feel comfortable using this on your little one.
SunBioLogic Sunscreen Ingredients: Active Ingredients: Non Nano Zinc Oxide 23%. Inactive Ingredients: Organic Cera Alba (Beeswax), Organic Magnifera Indica (Mango) Seed Butte, Organic Ricinus Communis (Castor) Seed Oil, Organic Simmondsia Chinesis (Jojoba) Seed Oil, Vitamin E Sunflower Extract Non-GMO
---
7) Adorable Baby Sunscreen Lotion (SPF 30)
Buy on Amazon
Adorable Baby is popular because it goes on smoothly and seems to work well. This vegan sunscreen is made using no synthetic ingredients. It will need to be reapplied every 1-2 hours (or as directed).
---
8) Goddess Garden Organics Baby Sunscreen (SPF 50)
Buy on Amazon | Target | Walmart
A good option for a baby sunscreen, Goddess Garden's kids mineral sunscreen is water resistant for up to 80 minutes. This is one of the best baby sunscreens for spending time in the pool or at the ocean. While the ingredients are vegan, please note they are not organic and this product does contain salicylates (which you may want to avoid if your baby/child has eczema, allergies, or histamine issues).
9) Pipette Baby Sunscreen
---
Buy on Pipette Baby
I was really happy to see a clean sunscreen from Pipette! Their mineral baby sunscreen has SPF 50 and can easily be used by the whole family. Its active ingredient is 20% zinc oxide and the inactive ingredients are quite beneficial too, like squalane. It does contain gums, which my kids are sensitive to. But otherwise I think this is a fantastic mineral sunscreen for babies and the whole family. It is also available in travel size, which is really nice to keep in your diaper bag.
---
Which sunscreen did you choose for your baby? I know it can seem like there are lots of options and so many things to consider. Just do the best you can and choose the one that seems to be the best for you. Remember – you want one that works well and protects your baby from getting a sunburn.
Hope you found some good options on this list of the best baby sunscreens!
Which sunscreen did you choose for your baby? I know it can seem like there are lots of options and so many things to consider. Just do the best you can and choose the one that seems to be the best for you. Remember – you want one that works well and protects your baby from getting a sunburn. Hope you found some good options on this list of the best baby sunscreens!