If you're heading out the door with your baby, you most certainly won't want to forget the diaper bag. If your baby needs a fresh diaper, change of clothes, bottle, pacifier, or toy while you're out, your diaper bag will come in handy. Speaking from experience, I suggest that you always keep it stocked and somewhere it won't be forgotten.
Funny story – but if you're squeamish about poop you might want to skip this paragraph. Still reading? OK. When my youngest was about 3 months old, he had a huge blowout in the car on the way to the grocery store. HUGE. When I got him out of the car, it got all over me as well. When I went to grab the diaper bag to change him in the trunk, I quickly remembered that I had left it in the nursery. I needed to restock it. So there we were, in the Whole Foods parking lot, covered in it and diaperless. It was a humbling moment, for sure. #momlife
So, as you can see, your diaper bag will become an absolutely indispensable item once your baby is born. (Though it's not a bad idea to keep some extra diapers and wipes in your trunk, too. Just. In. Case.) And no, your diaper bag doesn't have to look like a diaper bag. It's possible to be carrying a diaper bag AND maintain your super sophisticated and stylish self.
What Should You Look For in a Diaper Bag?
If you've never used a diaper bag before, you may not give this too much thought. But there are little differences and conveniences that you should factor in based on your personal needs.
Lots of Space: I know babies are tiny little creatures and you'd think to yourself "How many things can this little guy possibly need?" The answer is: more than you might expect! Your diaper bag should be big enough to fit at least one change of clothes, 4-5 diapers, baby wipes, a blanket, pacis, a couple of toys, and a bottle. You will also need some extra space to keep your things like wallet and keys (unless you plan to bring your own purse).
Useful Compartments: This is probably one of the most important features to look for in a diaper bag. Because there are so many things you need to put in the bag, compartments will help you stay organized. You won't need to keep fumbling around in the bag looking for your baby's socks; they'll be neatly tucked away in a side pocket. I love having a "go-to" spot for everything in my diaper bag. It helps me to know where I keep the pacifier, the car keys, or an extra burp cloth.
Consider the Materials Used: How important is it to you that the bag be organic or only made from natural materials? Though I believe it's important to avoid harmful materials like PVC or teflon (which is sadly used in many diaper bags), I don't think that your diaper bag needs to be organic. It doesn't usually make direct contact with your baby, so I personally don't stress too much about the materials used. I do like a bag that can either be washed or wiped down easily, though. And, I've included all the non-toxic diaper bags I could find on this list as well.
Type of Bag: Do you think you'll prefer a tote bag or backpack? Will you have more than one bag for different uses or occasions? How does style vs. function come into play when choosing the best diaper bag for you?
Here Are The Best Diaper Bags
All of those things considered, there's probably no such thing as the perfect diaper bag, so you really have to find the one that works for you. Scroll through the list and find the stylish diaper bag that best suits you and your personal style!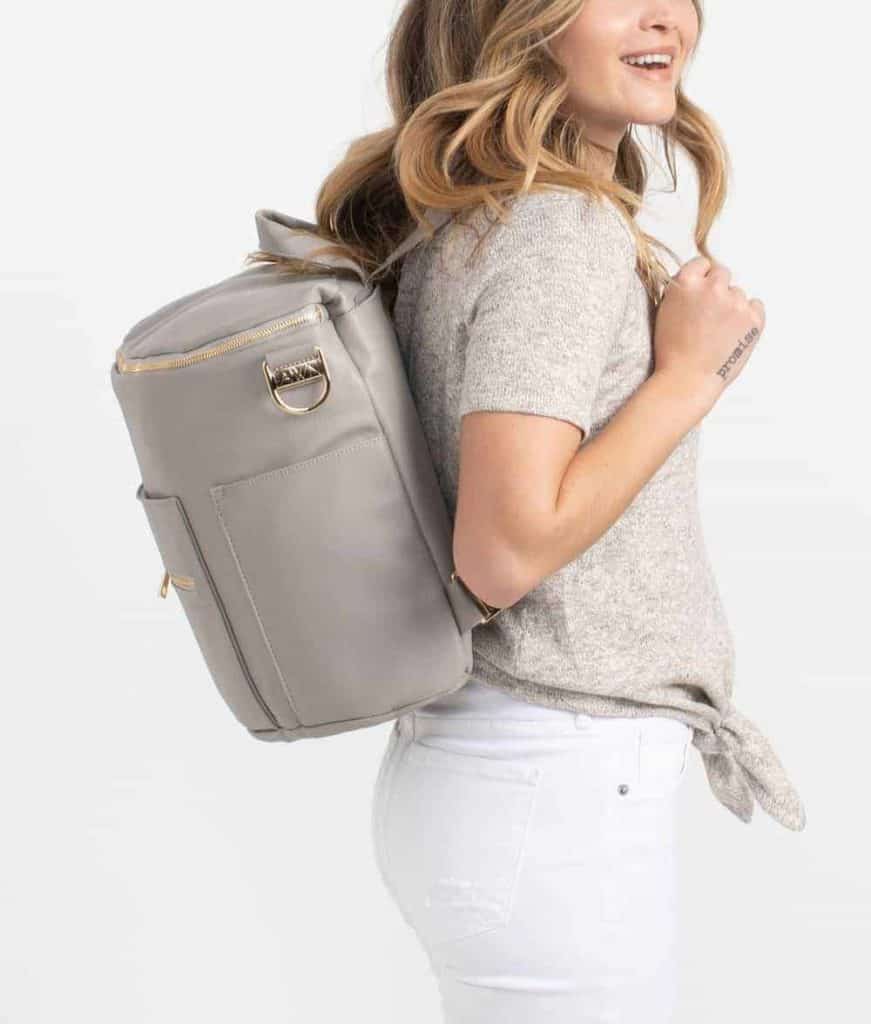 This is probably the most gorgeous diaper bag that exists anywhere. Made from faux leather, Fawn Diaper Bags are among my favorite diaper bags. Their original design has a beautiful finishing and can be the perfect bag to take along for any occasion! It doesn't even necessarily look like a diaper bag.
It's very cute and creatively designed. Swoon…
Features:
4 exterior pockets and 6 interior (including a zippered pocket)
Keychain hook attached so you won't lose your keys
Can be worn as a backpack or a messenger bag
Looks amazing in person; very chic
If you're looking for a bag that you can continue to use long after your children are out of diapers, this is one of the stylish diaper bags that would make for an excellent choice! The bag perfectly combines style with durability and versatility.
Features:
Food jar pockets (removable) with elastic rims that hold the jar in place
Insulated bottle carrier (removable)
Matching purse for holding mommy's things
Cell phone pocket; attached key fob
Water repellent changing pad
This bag is chic and has great functionality. It's ideal for everyday use and has plenty of space to fit everything you will need for your baby. It definitely earned a place on the list of best diaper bags for your baby! Plus, I can imagine that men would feel pretty comfortable using this diaper bag as well, so it kind of does double duty.
Features:
11 pockets along with 2 side pockets to hold all of the baby's items (there's even a zippered pocket for the parent's use)
The Shuttle Clip feature allows for the bag to convert from a shoulder bag to a stroller bag
The bag is Phthalate-free so a great choice if you're shopping for non-toxic diaper bags
Includes a cushioned changing pad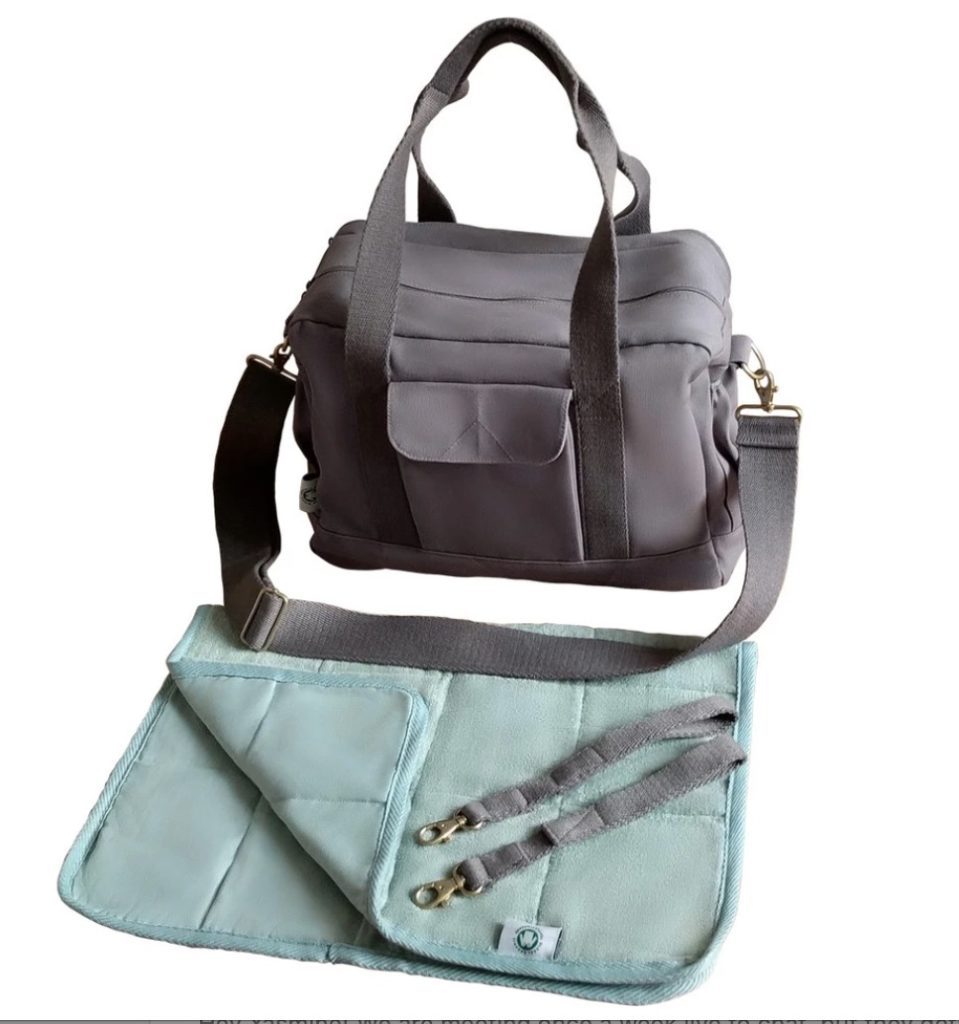 This is one bag that both moms and dads are sure to love! Perfect for families on the go, the bag is super comfy to carry around with lots of easy access pockets. It is made with all-natural materials but it is hard to find though, so check the manufacturer's website and Facebook marketplace.
Features:
Made from GOTS-certified organic cotton (yay!)
Large changing pad (also GOTS-certified)
Stroller straps to help convert from shoulder bag to stroller bag
10 roomy pockets and 2 separate compartments
This is a basic diaper bag that has been designed really well. It's durable enough to stand up on its own but at the same time lightweight. The bag has plenty of space and easily accessible pockets, but it is a little on the smaller side. I wouldn't use this with more than one child in diapers. But otherwise, it's a perfect choice for someone looking for a stylish and compact diaper bag that looks more like a tote bag and less like a purse.
Features:
Zip-top closure, allowing the items in the bag to stay in their place
4 pockets on the interior and 7 on the exterior
Beautifully designed front panel which allows for more storage
Shuttle Clips allow the bag to convert from a shoulder to a stroller bag
Pocket to hold laptops/tablets up to 15"
This is one of those stylish diaper bags that perfectly combine elegance with functionality. It's the size of a regular bag but still roomy enough to fit all your baby's essentials. The non-slip stroller strap helps to easily convert from a shoulder bag to a stroller bag.
Features:
Made from durable nylon material with vegan faux leather accents (

50% Nylon, 40%Polyester, 10% Polyurethane)

12 pockets (2 of which are insulated to hold the baby's bottles)
Adjustable/detachable shoulder strap
Changing mat with pockets to hold diapers and wipes
PVC-free so a great choice if you're looking to purchase a safer/non-toxic diaper bag
Backpacks are the ultimate hands-free diaper bags. The Skip Hop Forma's lightweight material (and cute quilted design) make it a great choice for multitasking, busy parents. The bag is relatively spacious and has multipurpose compartments to hold snacks and baby clothes.
I have one of these and use it on day trips to Disney, the zoo, or anywhere that I'll be wrangling two kids for an extended period of time. Using a backpack makes it a lot easier, and this is a high-quality bag. It's also really cute! Definitely recommend.
Features:
Interior pockets are elasticized to keep everything in place; exterior pockets are insulated for bottles
The front compartment of the bag has 2 multipurpose mesh cubes that allow for extra storage (these are handy)
Wide zip opening allows you to find essential items immediately
The changing pad pocket can be used to hold laptops up to 15"
BPA-free and Phthalate-free
100% polyester
This is a super comfy diaper bag to carry around especially on days when you are out and about. It is water-resistant and the polyester fabric is easy to clean. There's enough room to store all the baby's things along with exterior pockets for your personal items.
Features:
11 pockets to keep everything organized
Convenient front pocket that holds two packing cubes; the first is insulated to hold up to two bottles and the second is multipurpose for items like snacks and clothing
Can easily be hung on a stroller
Comes with cushioned changing pad
This is a beautiful bag and if you're looking for something that doesn't scream "diaper bag" this would be it! Made from vegan leather that is durable and easy to clean, this bag is made for the effortlessly chic moms looking for stylish diaper bags. It can be worn as a crossbody bag or worn as a purse or over the shoulder.
Features:
10 pockets along with two insulated exterior pockets
Wooden key ring and removable tassel
Stroller strap for neatly hanging the bag on a stroller
Phthalate-free
Boasting a modern design, with all the features of the classic Duo, perhaps the best thing about this bag is its quality. Stroller straps and a changing pad are included. A definite tried and true favorite among diaper bags with a special design and rolled handles.
Features:
Includes 9 pockets to keep you organized along with 2 insulated pockets for bottles
The main compartment has a zipper to ensure that your things stay in place (I prefer bags with zippers)
BPA-free, Phthalate-free
Made from a durable material that is easy to clean, this bag definitely makes it on the list of best diaper bags to buy for your baby! It's on the pricier side but I really love Marc Jacobs. I'm not a huge fan of designer diaper bags but every time I've seen someone with one of his diaper bags, I have definitely gotten diaper bag envy. They're cute, chic, and functional.
Features:
Zip closure to ensure all your things stay in place
Shoulder strap that is both adjustable and removable
Exterior zip for easy access to necessary items
Interior zip and welt pockets
This chic bag perfectly combines style and elegance with functionality. I have this bag and have used it for over 4 years now. I originally bought it after a friend of mine showed me hers; I thought it was so elegant and pretty I just had to have one. I don't think the pictures do it justice.
It's much larger than most Skip Hop diaper bags. It has a lot of space and several compartments for wipes, bottles, and more. I think it's a really well-designed bag that makes it easy to go out with your baby. Recommend!
Features:
12 spacious pockets with 2 insulated pockets for bottles
Adjustable shoulder straps
Can be worn over the shoulder or hung on a stroller
Cushioned changing pad included
BPA-free, Phthalate free
Available in a variety of colors, fabrics and designs, this stylish diaper bag is made from lightweight material and caters to all the features you are looking for in a diaper bag. It is so well made and the design is super cute. I've always wanted a Petunia Pickle Bottom diaper bag (but I had to draw the line somewhere…).
Features:
Built in changing station (change your baby anywhere and anytime!)
Organizational pockets
Variety of carrying options to choose from
Exterior pockets for bottles/snacks
Cotton
This is a beautiful and well-made bag, large in size so it can fit everything you can possibly want to carry. It looks less like a diaper bag and more like a purse so you can use it even after you're past the diaper bag stage! A lot of reviews call this the perfect diaper bag 🙂
Features:
6 interior open pockets and 1 with a zipper; zip closure in main compartment to ensure all your belonging stay in place
Washable changing pad and casing for wipes
Shoulder strap made from vegan leather
Protective feet to keep your bag from getting dirty
Canvas faux leather
I have always loved Kate Spade designs and had my eye on her adorable diaper bags. Again, I'm not a huge fan of designer diaper bags (I'd rather put the extra money toward a non-toxic crib mattress or another high-priority baby item) but there are a couple that have made my list because they're so cute, including this one.
Though it's hard to tell from the photo, this is a gorgeous and practical diaper bag. It is also quite spacious and it made from black nylon with light gold-plated hardware.
Features:
Diaper pouch along with an inner zippered pocket and two open slip pockets along the front wall
Water resistant changing pad
Zippered top closure
Removable/adjustable shoulder strap
Made from faux leather with an eye-catching front panel, this beautifully designed diaper bag is just the right combination of class, style, and functionality. I am swooning over the dusty pink color! It also looks like a regular tote bag, so it's definitely something you could continue using long after your baby is in diapers (as long as you don't mind the "Baby" in "Babymel of London" on their logo).
Features:
Roomy compartments along with an internal zip pocket to keep you organized
Stroller strap to easily convert from shoulder bag to stroller bag
Exterior pockets for easy access to important items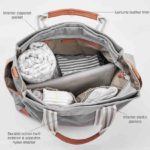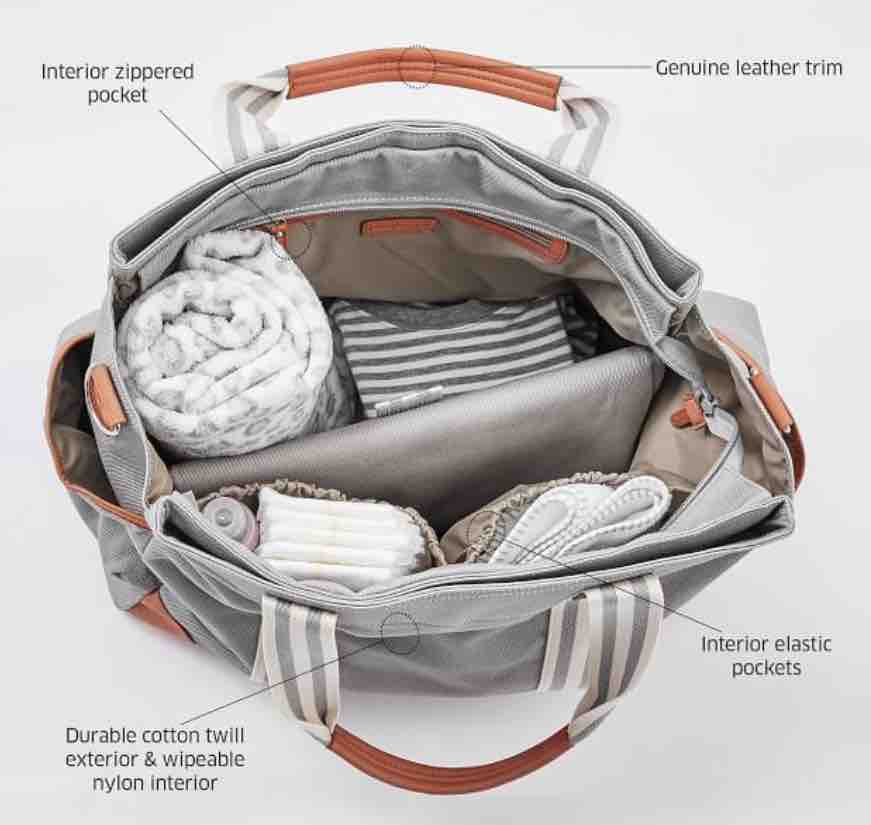 Pottery Barn Kids has some adorable diaper bags, including their classic diaper bag. If you're a fan of preppy style or just want a sturdy and spacious bag, this is a great way to go.
This stylish diaper bag will not leave you disappointed; with an exterior made from polyester and an interior lined with nylon, this sturdy bag is not only durable but also chic enough to use for when your kids are out of diapers!
Features:
Adjustable shoulder strap
Four feet to keep your bag dirt-free
Two exterior side pockets; inside includes a zip pocket and two elastic pockets
Magnetic closure and a dog clip included
If you're looking for a sporty, lightweight, comfy diaper bag that looks stylish at the same time, this might be the one for you! It is SO chic. I have a few friends who have this bag and it is gorgeous. It's also spacious and includes a super handy insulated food and bottle bag.
Features:
Straps on outside of bag so yours or baby's jacket is easily accessible
Changing mat and two mesh pockets for nappies/creams
Two external side pockets
Made from a premium canvas fabric that can easily be cleaned, this bag combines style with practicality. Storksak is on the pricey side, but their bags are so well-designed they can be used long after your baby is in diapers.
Features:
Includes a small organizer bag that features a zipped main compartment along with 5 external pockets
Insulated bottle compartment for keeping bottles warm/cool
Zipper for main compartment; one external pocket and one interior zip pocket
Removable shoulder strap and stroller strap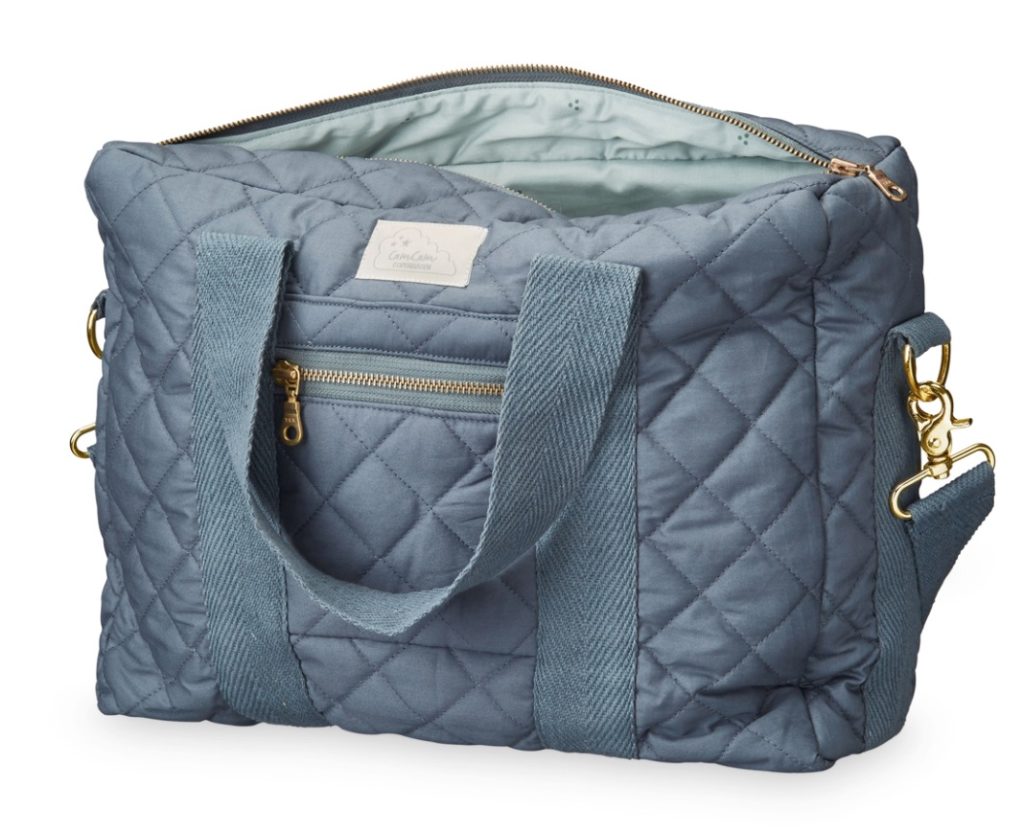 Made from 100% organic cotton with an Oeko-Tex certified polyester filling, this stylish diaper bag is a great choice for someone looking for a non-toxic diaper bag that is easy to carry and looks chic! Availability is limited, so you may not find them on Amazon; you can shop on their website here.
Features:
Roomy inner pockets so you always stay organized
Shoulder straps and adjustable long strap to convert to a stroller bag
Zipped pocket on the outside
Diaper Bag Checklist
Now that you've hopefully found a stylish diaper bag for yourself, what goes in your diaper bag?
The answer is – anything that you need to keep yourself and your baby comfortable on the go. I also try not to overstuff my diaper bag. Here are a few suggestions for what to pack in your diaper bag:
Bottle/sippy cup
Plastic bags (for wet/dirty clothes/diaper disposal)
Snacks
Breastfeeding pads
I hope you're all set with your diaper bag!