Though they have been around for thousands of years, it seems like essential oils are everywhere nowadays. They've grown fast in popularity due to the sales efforts of MLM companies like DoTerra and Young Living.
Many people use essential oils daily and consider them to be a remedy for all kinds of ailments and stressors. And more and more well-meaning parents are using essential oils on their young children to reduce colic symptoms, boost the immune system, help their child sleep better, and to address health or behavioral issues.
Essential oils are growing in popularity so quickly, in fact, that the industry is projected to reach $11 billion in revenue worldwide by 2022. The growth is understandable: with their luring aroma and promise to heal, essential oils appeal to those of us who prioritize natural wellness. But, because essential oils are largely considered to be "natural," it's easy to assume that they're completely safe.
Many people assume that essential oils are harmless, but serious adverse reactions are possible. There are many things to consider when using essential oils, including safety guidance and usage guidelines for each oil. This goes double when using essential oils on or around babies.
My personal goal is to spread awareness about products and practices that are baby-safe and baby-friendly. Though it would be convenient (and lucrative) to jump on the essential oil bandwagon, I try to question the norm and want to encourage other parents to do the same. In this case, there is so much bad advice being given about how to use essential oils – especially on babies – that I feel the need to address the issue.
This guide to essential oil safety for babies was written with the guidance of a certified aromatherapist. Before you grab a bottle of your favorite essential oil, please refer to this list, seek the advice of an aromatherapist, and always use common sense when using essential oils around babies or young children.
All of the information provided in the article is for informational purposes only. Though it was written with an aromatherapist, she is not your aromatherapist. This information is not intended to treat, diagnose, or cure illness. It does not replace medical advice.
What Are Essential Oils?
Essential oils are volatile plant compounds. While naturally occurring, essential oils do have chemical components—the oils are steam distilled or cold-pressed from various parts of plants: the shrubs, flowers, trees, roots, bushes, fruit, rinds, resins, and herbs, depending on where it is located in the plant itself. Essential oils are highly concentrated, making them very potent.
Are Essential Oils Safe for Babies?
Essential oils are not recommended for general use on or around babies because they are not without safety risks. Toxic exposure to essential oils has more than doubled in recent years, with 4 out of 5 cases being in children.
There are many reasons that essential oils can be unsafe for babies:
Some essential oils are simply too potent or not safe for babies. Some essential oils are unsafe to use around babies and children because of their strength and/or the concentrated nature of their chemical compounds. If used improperly, stronger oils pose a high risk and may cause adverse reactions such as rashes, burns, breathing issues, and blood coagulation problems. Phototoxicity (chemical-induced skin irritation) can also occur in less potent oils, such as citrus oils.
Children should never ingest essential oils. Misinformation is rampant around the topic of essential oils. MLM companies are at the heart of this; often times, these companies give out inaccurate advice about the safety of ingesting oils and using unsafe or undiluted oils on children. Note: Please do not ever ingest essential oils or add them to your food unless you are under the care of an aromatherapist.
Essential oils are greatly overused. People are using essential oils casually and grossly overusing them. Overuse is dangerous. Just like any other medication or remedy, essential oils should be used intentionally and with caution — preferably under the guidance of an aromatherapist.
They may be used incorrectly. For example, even kid-safe essential oils should never be applied undiluted to a child's skin. A diffuser should not be left running for more than 15-30 minutes at a time, but it is common practice for people to run a diffuser for hours at a time. This is not safe or recommended.
Oil quality and purity also play a factor. The essential oil industry is not well regulated, so there are no rules that dictate what essential oil companies must disclose on their product labels. This leaves the door wide open for a number of chemicals and additives to make their way into your essential oils. Please do not buy inexpensive essential oils from Wal-Mart, Target, Amazon, and other big box retail stores. Buy direct from the manufacturer. I have personally limited my essential oil usage to these select brands: Rocky Mountain Oils, Plant Therapy, and Mountain Rose Herbs.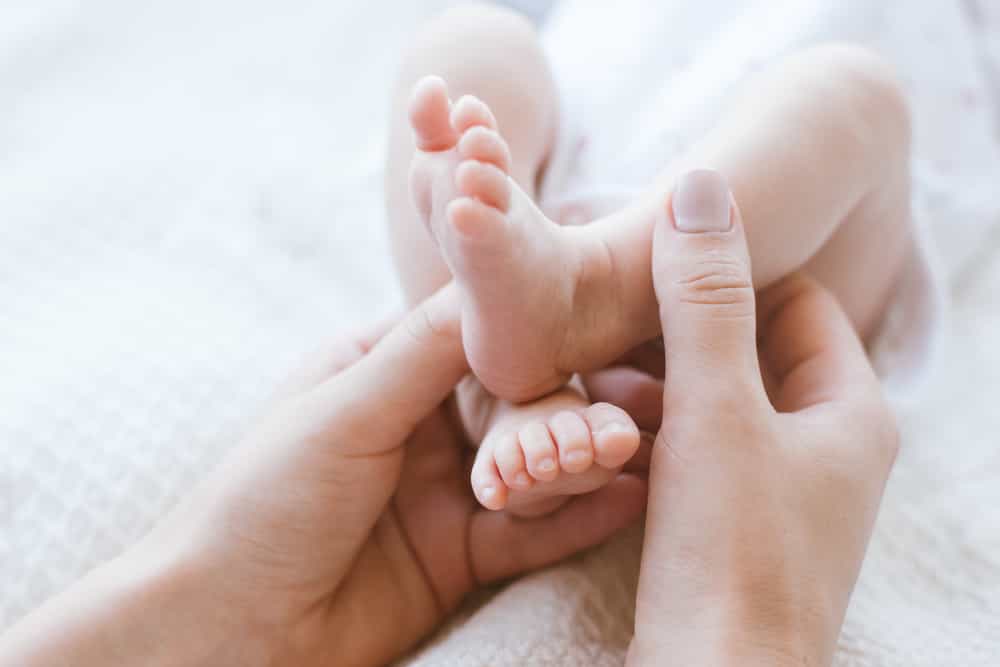 At What Age Can You Use Essential Oils Around Babies?
At the very least, do not expose your baby to essential oils before the age of 6 months. This includes avoiding topical or aromatic exposure before the age of 6 months. At that point, you might consider running a diffuser very cautiously and sparingly – and only when necessary. Avoid topical use before the age of two.
Also, it is important to avoid overusing essential oils around children as this can lead to systematic sensitization and result in the inability to use essential oils.
Before you turn to essential oils for a young child, ask yourself what you are trying to accomplish and consider gentler alternatives. For example, offer a teething toy if your baby is teething or give baby probiotics if your baby has digestive issues instead of relying on essential oils to address these issues. Always weigh the pros and cons of using essential oils.
Once you start using essential oils in your home and around your children, it is best to introduce one new oil at a time. You will want to closely monitor your children for a few hours after using any new essential oil. While not a common occurrence, reactions can look like a skin rash or chemical burn; they can also come in the form of nausea, vomiting, headache, lethargy, and respiratory difficulty. Seek medical attention immediately if this occurs.
Essential Oil Safety Tips
Use essential oils sparingly. Despite the current norm, please refrain from using essential oils as a remedy for anything and everything, especially with a baby. It is best to only use them when necessary and to avoid casual use.
Use only the recommended dose. Essential oils are very potent; never use more than is necessary. Seek the guidance of an aromatherapist for dose guidelines.
Follow oil safety guidelines. If an oil is not safe to use on or around babies, refrain from doing so.
Keep oils out of the reach of children. Never let your children play with essential oil bottles. Essential oils are harmful if swallowed.
Monitor your child for reactions. Keep an eye on your child after administering a new essential oil to watch for allergic reactions or irritation.
Don't use products that contain essential oils. A lot of scented products now contain essential oils, but this doesn't mean that this is safe exposure for babies. Stick with unscented baby products like baby shampoo, lotion, and baby wipes.
Are Hydrosols Safe for Babies?
Yes, hydrosols are safer for babies than essential oils. If you feel that your baby could benefit from aromatherapy, hydrosols are less concentrated versions of essential oils that you can use.
Hydrosols are produced by distilling fresh leaves, fruits, flowers, and other plant materials, but are far less likely to result in an adverse effect because they are simply the leftover distillate water. They usually contain minute traces of the essential oils, lending to their therapeutic benefits, but because it is in such small amounts, hydrosols pose little risk.
Hydrosols can be used undiluted because they are milder than the oil of the same plant. While there is less risk with using hydrosols, I would recommend that you adhere to the same oil safety recommendations below to learn which hydrosols would be beneficial or unsafe for babies.
Which Essential Oils Are Unsafe for Babies?
Here is a list of some of the essential oils that should always be avoided for use on or around babies and young children.
Some essential oils that are on this list may be safe for use in older children; however, there are usually other kid-safe alternatives that work just as well. For example, oregano essential oil is not kid-safe because it is a hot oil, but tea tree oil is a much safer option that has similar benefits.
Please note that this is not an exhaustive list. It is always best to consult with an aromatherapist when you are unsure whether an oil is safe for your child.
Do NOT use these oils for babies and young children:
Anise
Aniseed
Basil (Lemon)
Bay Laurel
Benzoin
Birch
Black Seed
Cajeput
Cardamom
Cassia
Cinnamon Bark
Cinnamon Leaf
Clove Bud
Cornmint
Eucalyptus (all varieties)
Fennel
Garlic
Hyssop
Lemon Balm
Lemon Verbena
Lemongrass
Marjoram (Spanish)
May Chang (Litsea Cubeba)
Myrtle (Lemon and Honey)
Niaouli
Oregano
Peppermint
Ravinsara
Rosemary
Sage
Lemon Scented Tea Tree
Thyme
Turmeric
Turpentine
Wintergreen
Please also note that essential oil blends Thieves from Young Living and OnGuard from DoTerra are unsafe for use around children under the age of 10. Please do not use these products in your home until your children are over the age of 10. This includes avoiding their household cleaners and laundry products, too.
Which Essential Oils Are Safe for Young Children?
Generally speaking, the safest approach is to not use essential oils on children under the age of 2. While it may be common practice to use some of these oils on babies as young as 6 months of age, it is only recommended in certain circumstances when the benefits outweigh the risks. Please contact an aromatherapist if you think you would like to use essential oils in a therapeutic way on a child under the age of two.
Essential oils safe for babies include:
Bergamot
Blue Tansy
Cedarwood
Clary Sage
Copaiba
Cypress
Frankincense
German Chamomile
Geranium
Ginger
Grapefruit
Helichrysum
Lavender
Lemon
Mandarin
Neroli
Palmarosa
Patchouli
Petitgrain
Roman Chamomile
Sandalwood
Spearmint
Marjoram
Orange
Tangerine
Tea Tree
Vetiver
How to Use Essential Oils
There are a number of ways to use essential oils safely. After you have identified an essential oil that is not on the unsafe list, you can introduce the oil safely using one of these methods (as appropriate). Let's look at some of the most common and useful ways to experience their benefits.
Diffusing
Diffusing is one of the best ways to use essential oils. You can choose a single oil or a blend of oils. I prefer to use an ultrasonic cool mist diffuser. It is recommended that you diffuse 4-8 drops with water for 15-30 minutes. After that, turn off the diffuser for at least 15-30 minutes.
Topically
Using essential oils topically is helpful when you are dealing with skin conditions or achy muscles. Never apply essential oils undiluted to the skin. Please consult an aromatherapist before applying any essential oils topically to babies or young children.
To dilute essential oils:
For babies and young children, 0.5-1%. This is roughly the equivalent of 1 drop per 1-2 tsp. of carrier oil.
Ages 5-12 and for the elderly, 1-2%. This is equivalent to 1-2 drops of essential oil per tsp. of carrier oil.
For healthy adults, 2-5%. This equates to 2-5 drops of essential oil per tsp. of carrier oil.
Inhalation
Inhalation is another great way to get the benefit of your essential oil of choice, especially if you are in a place where you cannot diffuse (staying in a hotel, for example). Simply put a drop on the corner of your sleeve, the handkerchief in your pocket, or piece of jewelry with a lava stone.
Another option for aromatic use is to apply a few drops to a cotton ball. This is my favorite way of using essential oils such as lavender around my kids.
Which Essential Oil Brands Are Recommended?
Like most products, essential oils are not created equal. Don't get bogged down in the lure of "therapeutic grade" oils. There is no third-party certification to guarantee the quality or standards of any essential oil on the market, so it's important to look at the tests performed for each product. Many honest companies are transparent and careful to explain their origins, processes, and testing.
I prefer USDA Organic Certified oils whenever possible, and recommend the following essential oil brands.
I personally love Plant Therapy's organic line of essential oils. They even have a KidSafe Organic line that includes both undiluted and prediluted roll-ons all formulated to be safe for your little one. The blends even have cute names like Immune Boom and Nighty Night. (Please check age appropriateness for any oils you consider for your child.)
Their organic oils are 100% pure organic and high quality, which I trust. Plant Therapy performs GC/MS (Gas Chromatograph/Mass Spectrometer) tests along with organoleptic tests. This testing provides a breakdown of the chemical constituents of each oil; checks the consistency, color, and smell; and is used to detect synthetic additives.
Rocky Mountain Oils is another trustworthy company that promotes the health and wellness of its customers through doing complete GC/MS test results from a verified third-party testing center. They are careful to source plants from their original sources, ensuring the plants' natural properties are protected. The company offers a 90-day return policy.
Mountain Rose Herbs has high standards for quality control, ensuring that certified-organic or pesticide-free sustainably harvested plants are used in the making of their essential oils. The company emphasizes the importance of laboratory testing to ensure oil purity. They have a full microbial and analytical lab onsite. Read more about their testing methods or request a copy of their COA.
I hope this intro to essential oil safety for babies has been helpful! Using essential oils is a great way to help support your family's quality of life, if done safely. You might even want to get in touch with an aromatherapist to receive further guidance on how to incorporate them into your family's health routine. Try them out and experience the benefits, but always use them in moderation and with intention.
---