Breastfeeding can provide an amazing bonding experience between you and your baby. And while there is nothing quite better than being able to feed your baby and nourish them in a way that only you can, it can come with a bit of pain at first.
In those early days of breastfeeding, there might be an adjustment period as both you and your baby are learning how to nurse. I can tell you from personal experience that breastfeeding wasn't always the relaxing, warm and fuzzy experience I expected it to be — at least in the beginning.
It was hard at first. Really, really hard. But breastfeeding got much easier over time, and eventually the pain completely went away. And I ended up nursing my babies for over two years, each.
It's common for the early days of breastfeeding to leave your nipples cracked and dry and painful. But, if there's anything I know, it's that moms are tough and can power through with the help of a nipple cream. Organic nipple creams are a huge help! They reduce pain and help to heal your nipples, all while being baby-safe.
---
The Best Organic Nipple Creams
I've chosen the best organic nipple creams that consist of natural healing ingredients that are safe for you and your nursing baby.
Buy on Amazon | Earth Mama
Earth Mama Organics makes one of the most well-known organic nipple creams on the market. If you want a salve that is made of all-natural ingredients, Earth Mama Organics is a wonderful choice. Chosen by many hospitals nationwide for breastfeeding mothers, it is a reputable, safe product.
A few details about Earth Mama Organic include:
It's a lanolin-free, non-sticky nipple cream that is great for breastfeeding and dry skin.

Earth Mama uses organic herbs that are traditionally used to soothe and moisturize nipples and dry skin.

This nipple cream is 100% organic, and it's the first non-GMO Project Verified nipple cream.

It's made without petroleum, parabens, and lanolin.

You don't have to wash this off before nursing!

They also make a beeswax-free vegan nipple butter if you're looking for a vegan product.
It's hard not to love this calendula-rich herbal nipple cream. Earth Mama used organic herbs to soothe, heal, and moisturize nipples. Moms consider this one of the best organic nipple creams, and the ratings prove it.
Earth Mama Nipple Butter Ingredients
Organic Olive Fruit Oil, Organic Beeswax, Organic Cocoa Seed Butter, Organic Shea Butter, Organic Mango Seed Butter, Organic Calendula Flower Extract.
---
---
Do you want an organic nipple cream that soothes, heals, and protects your nipples? Mommyz Love is the perfect choice! Their nipple cream is created to make your breastfeeding journey easier.
Here are some details about the Mommyz Love Organic Nipple Balm.
Their balm doesn't contain any harsh chemicals or toxins, and it's a pediatrician-tested formula.

It's free of lanolin, petroleum, fragrance, and dyes.

We love that Mommyz Love is cruelty-free, gluten-free, and GMO-free.

Mommyz Love is USDA certified organic by the New Mexico Department of Agriculture.
Mommyz Love Organic Nipple Balm Ingredients
Organic Coconut Oil, Organic Sunflower Oil, Organic Beeswax, Organic Olive Fruit Oil, Organic Shea Butter, Organic Calendula Flower Oil, Organic Aloe Leaf.
---
---
Buy on Amazon
Motherlove's nipple cream is safe enough that you don't have to wipe off before nursing. It's an organic cream that uses all certified organic ingredients, including shea butter, extra virgin olive oil, beeswax, marshmallow root, and calendula flowers.
Here are some other details about the Motherlove Nipple Cream.
The cream is safe for ingestion

, so no need to wipe off before your baby nurses.

It has a consistency similar to a lightweight ointment, making it easy to spread.

This brand is affordable, and a little goes a long way.

It's not scented, but it does smell like olive oil.

Not only is the cream USDA certified organic, but it's also certified cruelty-free by Leaping Bunny.
Motherlove Nipple Cream Ingredients
Organic Extra Virgin Olive Oil, Organic Beeswax, Organic Shea Butter, Organic Marshmallow Root, and Organic Calendula Flower.
Buy on Amazon
Tiny Human Supply Co.'s organic nipple balm is an excellent solution to those cracked nipples that need help healing.
What do we love about TIny Human's Organic Nipple Balm?
They use USDA organic ingredients that are infused with shea butter, calendula, and coconut oil. The combination of ingredients soothes and heals cracked and dry skin.

Their nipple cream is free of glycerin, synthetic fragrances, alcohol, parabens, artificial dyes, sulfates, bleach, and phenoxyethanol.
Tiny Human Organic Nipple Balm Ingredients
Organic Cocos Nucifera (Coconut) Oil, Organic Helianthus Annuus (Sunflower) Seed Oil, Cera Alba (Beeswax), Organic Oleas Europeae (Olive) Fruit Oil, Organic Butyrospermum Parkii (Shea) Butter, Organic Aloe Barbadensis Leaf Juice (Aloe Vera) Powder, Organic Calendula Officinalis (Calendula) Flower Oil.
---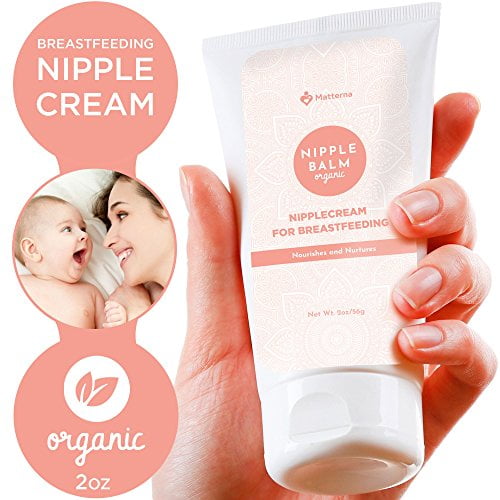 Buy on Walmart
Matterna Organic Nipple Cream is a naturally soothing, lanolin-free nipple balm. Their nipple cream helps to soothe and moisturize your skin. Through the extensive hydrating properties, it is perfectly formulated to quickly relieve your pain and start the healing process.
Why should you consider Matterna Organic Nipple Cream? Here are a few reasons.
It promotes healing between feeding times by offering quick relief.

It's safe for mom and baby, made with natural plant-based ingredients. You don't have to worry about wiping the cream off of your nipples before feeding your baby.

This balm might be called a nipple cream, but it's an all-purpose balm that can be used to repair dry lips, hands, and even feet. It also protects your skin against heavy metals and free radicals.
All of the ingredients used by Matterna serve an essential purpose. Sunflower oil improves skin health, and beeswax acts as a natural moisture barrier. Cocoa seed butter is creamy with vitamins E, A, and C, which heal skin cells.
Matterna Organic Nipple Balm Ingredients
Organic Sunflower Oil, Organic Beeswax, Organic Cocoa Seed Butter, Organic Coconut Oil, Organic Orange Peel Oil.
---
You might recognize the name Bamboobies because they make some of the best nipple pads on the market. Moms love Bamboobies, and their organic lanolin-free nipple cream has hundreds of positive ratings by moms who love it.
Why do they love it so much? Let's take a look.
It's a lanolin-free formula that is USDA organic, certified by Oregon Tilth.

Bamboobies only uses natural, organic materials, so you never have to worry about harmful ingredients coming in contact with your baby.

Take a look at the ingredient list; they only use five simple, easy to pronounce ingredients.

No need for moms to wipe it off before breastfeeding.
You can apply to nipples after each nursing session or as needed. All of the ingredients are safe for ingestion by your baby, so you can start to heal without any worries.
Bamboobies Organic Nipple Balm Ingredients
Organic Extra Virgin Olive Oil, Organic Beeswax, Organic Shea Butter, Organic Marshmallow Root, Organic Calendula Flower.
---
Created by Fairhaven Health, Milkies Nipple Nurture Balm uses all-natural ingredients that are made to soothe, protect, and heal your sore and cracked nipples. It's a 100% organic formula that is safe for both mom and baby.
What else do we love about Milkies Nipple Nurture Balm?
Because Milkies is made from all organic, safe ingredients, you don't have to wash off the cream before feedings.

It's free of any harsh chemicals and additives.

This balm contains no animal products and isn't tested on animals!
A unique ingredient that this product contains is called self-heal. Self-heal is a medicinal herb that has been used for centuries to fight bacteria and heal damaged skin. Their unique formula quickly alleviates the discomfort that comes with cracked and dry nipples.
Milkies Nipple Nurture Balm Ingredients
Organic Shea Butter, Organic Beeswax, Organic Extra Virgin Olive Oil, Organic Calendula, Organic Marshmallow Root, and Organic Self-Heal.
---
Related: How to Choose the Best Breast Pump For You
---
Why Do Breastfeeding Moms Need Nipple Cream?
Not all moms will need to use nipple creams when they start breastfeeding, but many do. You may never end up needing it, but I definitely recommend having one jar on hand, just in case.
In fact, when I first started nursing both babies I was adamant that I would only use olive oil on my nipples. But while olive oil was helpful, it still left me in pain whereas I found nipple cream to be an absolute lifesaver.
At one point when my second baby was about 3 weeks old, I remember crying because of how soothing Earth Mama nipple cream was. I kept one upstairs in my bedroom and one downstairs in the kitchen. I would have written a love song to it if I could have! As you can probably imagine, that was a particularly rough patch for us in our breastfeeding journey. But the good news is that we made it through and didn't even need to use a nipple cream for longer than a couple of weeks.
You may also need to use a nipple cream because breastfeeding takes time to learn and establish with each baby. When you start to nurse your new baby, both you and baby have to learn how to work together, creating a good latch, and proper suction technique. And all of this practice can be painful at times!
Sometimes sore nipples are caused by your body getting used to the frequent suction and other times, it's a result of your baby's latch issues. Some babies will simply need to practice. And other babies who have trouble nursing might have an underlying issue like a tongue or lip tie. If you are experiencing pain, I suggest seeking help from a lactation consultant. They are nursing professionals who will help you and your baby nurse correctly. A good lactation consultant is a miracle problem-solver!
While you're working on your baby's latch and trying to nurse your baby pain-free, an organic nipple cream may be one of the most effective tools in your toolbox. Nipple cream is a miracle worker that will ease discomfort and help dry, cracked nipples.
Keep in mind, some women only need to use organic nipple cream for a couple of weeks to help your nipples adjust to breastfeeding. Other moms may need to use it for longer periods of time. Either way, dab it on and get some relief!
How Do You Choose a Nipple Cream?
You'll find hundreds of nipple creams available for purchase. Not all of them contain high-quality, safe ingredients, and not all of them actually help to heal your nipples. Here are some factors to consider before buying a nipple cream.
Take a close look at the active and inactive ingredients. It's best to pick an all-natural product that is safe for both you and your baby. I'm a fan of simple ingredients. The simpler the ingredients, the better the cream is. Good brands contain aloe vera, shea butter, or coconut oil along with some herbs or other products to help soothe your nipples. All of the best organic nipple creams use natural ingredients to heal and soothe your nipples.
Avoid all of the harmful ingredients we talked about before. You don't need a nipple cream that contains alcohol, perfume, lanolin, or crazy ingredients. If you can't pronounce it or the name wraps around the bottle, don't buy it.
Also, organic matters! You want the safest ingredients for your nipples, especially if your baby is going to nurse with the cream still on your nipples. Look for a cream that uses ingredients that are organic. (Preferably the entire product will be organic itself.)
Consider the price as well. The price of the best nipple creams varies depending on how high-end you want to go. Many quality creams can be purchased for between $8-15, and some are more expensive. Most are pretty affordable, and thankfully, you might only need one jar!
What You Should Avoid in Nipple Creams
Here is a list of some of the most common ingredients to stay away from when you're looking at the best nipple creams to use.
Lanolin-based creams.

While many people recommend lanolin creams, lanolin comes from sheep's wool, and it's often treated with pesticides. Lanolin can contain other harmful elements, such as GMO or fecal matter. It's best to avoid lanolin and pick safer alternatives.

Synthetic or added fragrances.

Fragrance is definitely not needed. Always pick nipple creams that are free of artificial fragrances. Fragrances can be an irritant and cause your child to have an allergic reaction.

Anytime you see "fragrance" or "parfum" on a product ingredient list, you should know that the company may be using tens or hundreds of additional chemicals to make up that fragrance. Many synthetic fragrances contain phthalates, which are known endocrine disruptors, for example.
Numbing Agents. Never use a nipple cream that contains a numbing agent!

While it might sound like a good idea to numb your pain, you don't want to numb your baby's mouth. Plus, numbing the pain isn't taking care of the actual problem nor will it heal your nipples, which is what you need and want.

Mineral oil.

Mineral oil is derived from petroleum, a probable carcinogen. It can have negative impacts on your skin function, and it even can aggravate acne.

Allergens.

Always be on the lookout for possible allergens. If you're allergic to an ingredient, you'll want to avoid it because your baby might have the same allergy.

Or if you have a sensitive baby, or a baby with eczema, be sure to watch for anything that might trigger a flare-up.
Alcohol-based products. Alcohol is a disinfectant that can dry out your skin, and you don't want to dry out skin that is already cracked. That'd just make the situation even worse.
Products that need to be wiped off. Some nipple creams need to be wiped off before you nurse your baby because they coat your nipple in a waxy film that creates a barrier against your clothing. While the extra barrier can feel good, they might need to be wiped off when it's time for a feeding. Always read the label to figure out if you have to wash your nipples or if it's non-toxic enough not to wash off. You can always wipe off one of the organic nipple creams listed in this article if you want to… but I don't recommend using a product that has to be wiped off. What does that say about the ingredients?
But there are many brands of clean, organic nipple creams that you can choose from that contain natural ingredients, as we covered here in our guide.
How and When Do You Use Nipple Cream?
You can use nipple cream as often as you want. Most mamas apply it after they finish nursing, so it has plenty of time to soak into their skin, healing any cracks before the next nursing session.
Here are some steps to use nipple cream.
Make sure your nipples are dry. It's important to let your nipples air dry after nursing and before applying my nipple creams.

Wash your hands, especially if your nipples are cracked. You don't want to introduce any bacteria to your cracked nipples, which could lead to mastitis.

Apply the cream liberally. You should wait a few moments before putting your nursing bra back on each time.

Apply the cream after feeding, when you get out of the shower, or whenever you need some relief.
Related: 16 Breastfeeding Tips for New Moms
Easy DIY Alternatives to Organic Nipple Creams
Instead of using nipple cream, you can use a DIY alternative. You make these alternatives at home! Sometimes, you don't want to run to the store, or you forget to order it online before you run out. So, if you're interested in a DIY nipple cream, here are some ingredients to consider.
Coconut Oil. Coconut oil is the main ingredient for many nipple creams, and you can use it plain on your nipples if you want. It's soothing, healing, and creates a barrier. At the same time, it's non-toxic and safe for babies.
Olive Oil. Olive oil is another common ingredient, and you can find great organic choices in most stores near you. You can use olive oil on your nipples if you want, but that might stain your clothes with greasy stains, so it's best to mix olive oil with other ingredients.
Cocoa Butter. Who doesn't love the smell of cocoa butter? It's delicious! Cocoa butter is a food-safe ingredient that thickens balms and protects your skin. You could also substitute for mango butter or shea butter!
Beeswax. Beeswax creates a good natural barrier against your clothing. Cracked nipples touching clothing can feel like sandpaper. Not only does beeswax create a thick barrier, but it also helps to harden up your DIY nipple cream.
Herbs. Most DIY nipple creams and store-bought creams use some sort of herbs for the healing properties. A few good choices are calendula flowers, chamomile flowers, and marshmallow root.
Got all of your ingredients gathered up for your DIY nipple cream? Here is what you need to do to make a homemade nipple balm.
Measure all of your oils and beeswax in a small saucepan or double boiler (preferred). Use at least 1 cup of oil or beeswax. Turn it on a low heat and let everything melt together.

If you want to use herbs, add a total of 1/4-1/2 cup of herbs once all of the oils and beeswax are melted. Let everything simmer on very low heat for at least an hour.

Strain out the herbs from the oils.

Pour the melted ingredients into small, airtight glass jars.

Let everything cool completely before using.

Apply to your nipples as needed.
Related: The 7 Best Nursing Covers for Breastfeeding Moms
---
FAQs About Nipple Creams
Have more questions about nipple creams? Read on!
Is Nipple Cream Safe for Babies?
Yes! Many nipple creams are safe for babies, so long as they use safe ingredients. Your baby will ingest anything that you put on your nipples, so it's important to choose wisely and use an organic nipple cream.
What Else Can I Do to Relieve Painful Nipples?
Aside from using nipple creams, here are a few other tips to get relief from cracked or painful nipples.
Learn how to latch your baby effectively.
Many times, cracked nipples are due to babies latching onto your breast incorrectly. All it takes is a few times to end up in severe pain. So, seek help from a lactation consultant once you give birth to your baby.
Don't forget to also learn about how to position your baby. Sometimes, different positions feel better than others, and it can give you some relief. A good lactation consultant will show you different positions to help you find the ones that work for you.
Let your nipples air dry.
You want your nipples to air dry after each feeding. Just let your chest air day for a bit before putting your cream on and covering with your nursing bra. Letting your nipples air dry is soothing and healing, just like when you let air get to a cut. It's great for those cracked nipples.
Change breast pads often.
You want to keep the area around your nipples as dry as possible. A saturated breast pad keeps too much moisture around your nipples, and that can lead to problems. Moisture prolongs healing, and that's the last thing you want to do.
Plus, wet breast pads are the perfect environment for microorganisms to grow. If your nipples are cracked, you don't want any bacteria near your nipples so change those pads often!
Use a warm washcloth before nursing.
Before you nurse, put a warm, moist washcloth on your nipples. It can help reduce the pain you feel when you latch your baby on for each nursing session.
Use cool pads afterwards.
Sometimes, a bit of coolness feels fantastic. You can use a cold washcloth or purchase packs of cool pads that fit into your bra. They feel so great after you are done nursing, but they don't heal your nipples. They just help with the pain.
How long should I expect nipple pain to last?
Typically, pain associated with dry, cracked nipples should not last for more than a week if you're treating them with organic nipple cream and taking steps to ease your discomfort. If you notice worsening of pain or experience any symptoms associated with infection (swelling, pus, fever), talk to your doctor immediately.
---
Cracked and painful nipples from breastfeeding are common but they can be a big pain. Hope you found the perfect organic nipple cream for you!