Finding an eczema cream that's both effective and suitable to use on your baby or toddler can be a real challenge. You want one that works well, but is free of harsh and irritating ingredients, making it actually safe for your little one's developing body.
That shouldn't be too much to ask, right?
I was shocked at some of the terrible ingredients found in some common eczema creams and medications, including polysorbate 80, propylene glycol, fragrance, parabens, and mineral oil. Some of these ingredients are downright toxic, and some shouldn't even be used on broken skin. Especially for a baby!
As an eczema mom that successfully cleared her baby's skin, I personally searched far and wide for the best natural eczema creams, and I tried dozens and dozens of creams in my quest to heal my baby's eczema. I tried what seemed like every cream on the market, and had to use topical antibiotics and steroids (out of desperation but completely against my better judgement).
If you have read some of my other articles, you'll know that I definitely know the importance of using organic products on myself and my kids. So, naturally I started off using organic eczema creams. There are some amazing organic eczema creams made with almond or sesame oil, and ones containing hemp oil and other food-based ingredients.
BUT, then I learned that you shouldn't even use food-based ingredients on eczema because introducing a food through broken skin may trigger an allergy. For the most part, they aren't suitable for most babies – unless your baby has already shown an oral tolerance to that food. So, I eventually started using a more traditional baby eczema cream, and it helped tremendously.
I know that having a baby or toddler with eczema can be extremely challenging and taxing on you as a parent. You're probably searching far and wide for answers, and I have definitely been there myself.
To help you and your little one, I've looked at the best baby eczema creams currently available and found the ones that are truly safe and will hopefully be effective for your baby. (And now that I know you mostly shouldn't use food-based ingredients on baby eczema, you won't find any of the more common natural or organic eczema creams on this list.)
Let's go over the best eczema creams and a few other helpful tips that can hopefully help clear up your baby's skin. Trust me when I say this from personal experience: it is possible to clear your baby's skin.
What Causes Eczema in Babies?
Eczema is currently on the rise in the United States, Canada, and other countries. Many people have theories about why the skin condition is on the rise, such as:
The overuse of sterile environments

that don't prepare or build a baby's immune system

.

An increase in inflammatory foods, such as fried foods, processed meats, and refined sugars.

The common overuse of antibiotics

, which has created antibiotic resistance and an affected immune system

.

Cleaning products that contain artificial fragrances and irritants

.
What officially causes eczema in babies is still debated, but research shows that genetic factors may play a role in whether your baby develops eczema. If at least one parent has eczema, the child is two to three times more likely to have it as well.
However, genetics aren't always a factor because many babies develop eczema without any family history of this condition. I can tell you that neither my husband nor I had eczema and our second baby did. So this didn't apply to us.
Toxic exposures as well as vitamin and mineral deficiencies can be at play. And let's not overlook how important mom and baby's overall gut health are. Mom's gut health and bacterial transfer at birth may also play a big role in whether a baby develops a healthy gut, which can play a role in developing eczema and food sensitivities or allergies. Taking high-quality probiotics while breastfeeding and giving your baby a probiotic are two important thing you can do to help support your gut and your baby's microbiota.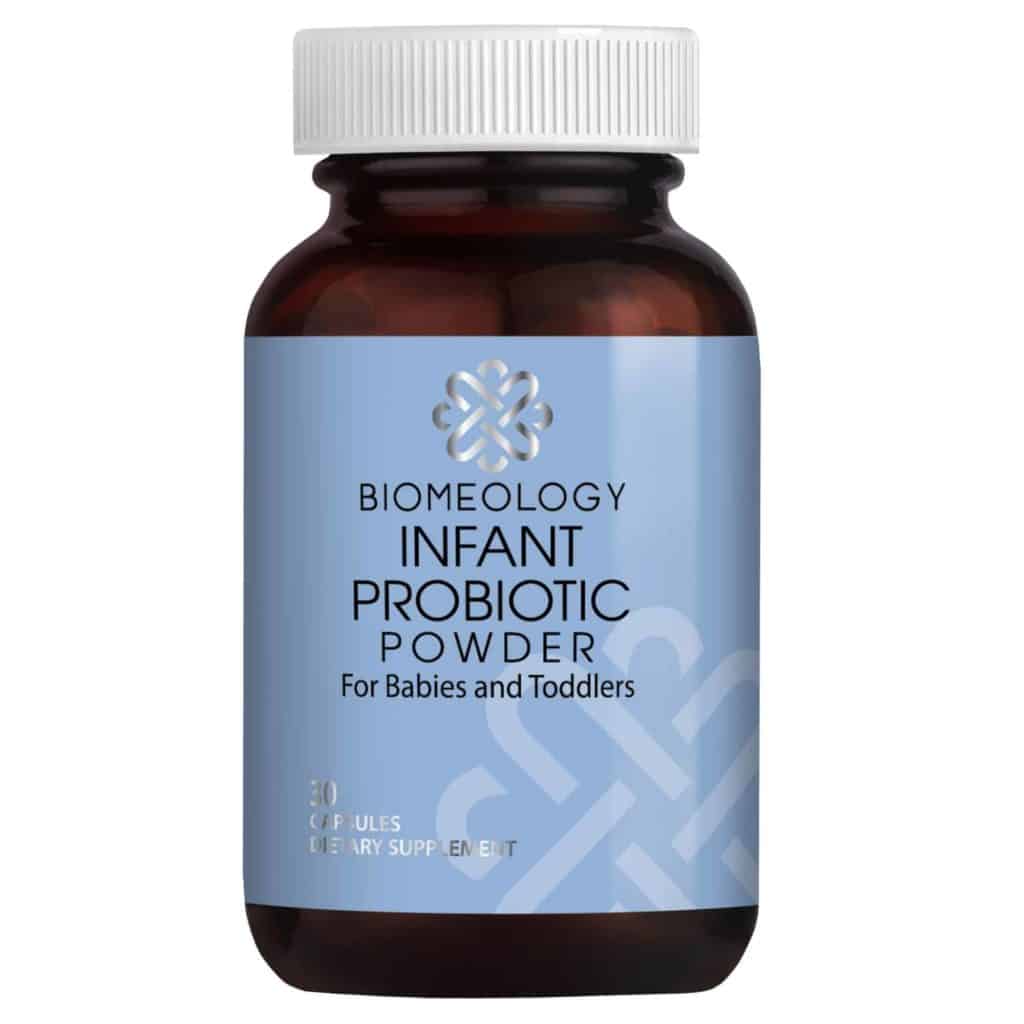 Buy on Amazon
What Triggers Eczema Flareups in Babies?
Normal, healthy skin provides a barrier to prevent moisture from leaving the skin and stops irritants from getting inside. Babies with eczema have skin that doesn't have a proper barrier function and their immune system tends to react strongly to irritants – especially those that enter through the skin – leading to itchy, red, and broken skin.
Eczema can come and go; during a flareup, the skin can break open, ooze, and crust over. Eczema also means that your little one's skin may be drier and easily irritated by temperature, clothing, and other external triggers.
Common eczema triggers (not causes) include:
Dry Skin

: During the winter, dry skin is more common, but it can be a year-round trigger. It's essential to keep your baby's skin hydrated daily.

This is what these baby eczema creams can help with.
Food Triggers: While food allergies may not necessarily cause eczema, they may play a role in exacerbating it. If your baby is eczema prone and sensitive to dairy, for example, it may trigger a flare-up.
Irritants in Products

: Many products that we use every day might have irritants in them that cause eczema flare-ups, such as hand soap, shampoo, body soap, hair care products, lotions, dish detergent, laundry detergent, household cleaning products, and more.

Irritants in the Air

:

Pollutants in the air can also trigger eczema flare-ups. You can take steps to reduce indoor air pollution, such as removing carpet, not using indoor air fresheners, and always taking your shoes off in your home. A HEPA air filter also helps to keep the air clean, so this is a smart investment.
Sweating and Heat: The heat can cause eczema flares, ranging from sitting in a car seat or synthetic baby carrier to even sitting in a bath that's too hot. For months I thought my baby was allergic to his car seat because he would flare up in the car, until I realized that he was just getting so hot in there. Don't overdress your little one, stick to 100% cotton or organic baby clothes, and aim to keep the indoor temperature in your home between 66-72℉.
Pet Dander, Pollen, and Dust

: These triggers are more common in adult eczema, but it can happen in children as well. You can use a special vacuum to remove pet hair from your child's areas.
How is Eczema Cream Helpful?
When your little one has eczema, they'll probably itch or have an uncomfortable rash. Using an eczema cream locks in moisture, which may reduce flare-ups. It helps create a barrier that protects their skin when it rubs on surfaces while soothing the itch.
Do eczema creams "heal" eczema? Not necessarily, but depending on how severe your baby's eczema is, the right eczema cream may provide enough temporary relief and moisture that it allows the skin to heal. Then, your goal will be to prevent future outbreaks.
Some people have luck with topical antibiotic creams, hydrocortisone creams, or antifungal creams, and these may be useful in helping your baby's skin heal. Ideally, these aren't to be used long term because of the ingredients and the side-effect. Also, many of these creams need to be prescribed by a doctor, so you'll need to see your pediatrician or a specialist like an allergist or dermatologist to get these creams.
What to Look for in a Baby Eczema Cream
Finding the right eczema cream that works for your baby can be very helpful in clearing up their skin. By soothing their skin with a good eczema cream, you can prevent or reduce scratching, and by moisturizing their skin, you can support the skin's normal function.
Here are some things to look for in a baby eczema cream:
Avoid all lotions. Please let me say this again – lotions are not suitable for eczema.

You might be tempted to use a baby lotion or other lotion, but they tend to be thinner and usually contain more ingredients than creams or balms. This means they won't create a thick barrier across the skin, protecting your baby from irritation. Also, many lotions contain alcohol that can be drying or irritating to those with eczema.

Stick to fragrance-free eczema creams.

Artificial fragrances can cause further damage, often times because they contain dozens of undisclosed chemicals (sometimes hundreds!). These chemicals are harsh and many are toxic, and shouldn't come in contact with any baby's skin

, especially one with eczema.
Check the label.

It's fantastic if you can find an organic or natural baby eczema cream, but realize that just because something is labeled organic doesn't mean it's not going to trigger your little one's eczema. A lot of eczema creams contain tree nut ingredients or other allergens. Always read the labels to be sure that what you're purchasing for your baby won't lead to additional irritation.

Below I've listed the top eczema creams for babies and toddlers, as well as called out the ingredients that you need to know about, when applicable.
The 13 Best Eczema Creams for Babies and Toddlers
Buy on Amazon
Shea butter can be used for eczema support as long as your baby doesn't have a tree nut allergy. After you bathe your baby, dry him off and apply the shea butter right onto his skin. Many people note that the effectiveness of shea butter is comparable to classic petroleum-based products.
Shea butter works by increasing moisture retention that is a protective layer of your baby's skin. It helps to prevent water loss on the first layer and to penetrate the other layers to moisturize.
You want to pick the right brand of organic shea butter, and we love the Sky Organics brand. Their shea butter helps with eczema by forming a layer of protection that moisturizes and helps restore damaged skin.
A few other reasons to love Sky Organics Shea Butter include:
It glides on smoothly with a light scent that fades fast.

The shea butter may offer some basic sun protection with an SPF 6-10 rating.

Their product meets stringent USDA organic standards.

Shea butter moisturizes and softens the skin – it works like nothing else.
Using shea butter to support eczema skin is a great idea, and Sky Organics is one of my trusted brands.
---
Buy on Amazon
Baby Cerave Moisturizing Cream is a skin protectant that creates a barrier on your skin that moisturizes, protects, and maintains your baby's skin. The formula uses three essential ceramides – 1, 3, and 6-II.
Here are some of the reasons that make it a great eczema cream for babies.
It contains ceramides, which is reason enough to try this product. Ceramides create a skin barrier that help restore the protective skin barrier.

It provides moisture and protection for up to 24 hours after each application.

The formula is paraben, sulfate, and fragrance-free.

Baby Cerave uses hyaluronic acid, which helps to retain the skin's natural moisture level

It received the National Eczema Association Seal of Acceptance, which only accepts products that meet strict criteria for the use of those with sensitive skin or eczema.
Baby Cerave is a dermatologist-recommended moisturizing cream. Their complete line was developed with the help of experts to ensure they often a safe and effective moisturizer for those with eczema.
Personally speaking, this was the most effective eczema cream for my baby. Once I started using it, I noticed an improvement almost right away. I know it's not an all-natural baby eczema cream, but it is effective and the Baby Cerave version is pretty clean for a synthetic eczema cream. And if you can use it for a short period of time while helping your little one, I think you can still feel good about doing that.
---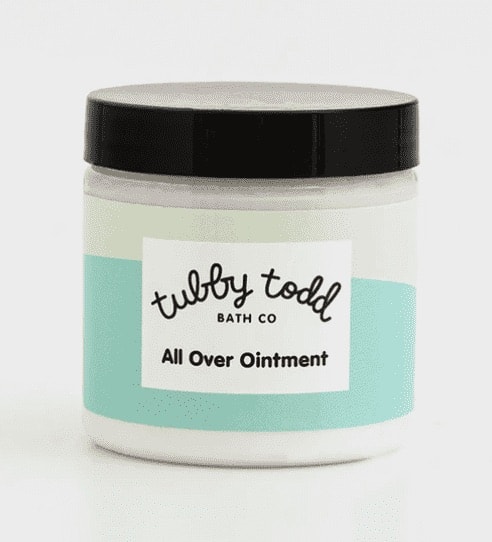 Buy on Tubby Todd Bath Co.
Another really popular baby eczema cream is Tubby Todd's All Over Ointment. It is loved by so many parents for helping clear up their baby's acne and eczema, and it literally has a cult following.
As with other eczema creams, the ingredients are far from perfect so you'll want to use it only as needed. But when you compare it to steroid creams and other commonly prescribed medications, this is another pretty clean alternative, all things considered.
What makes Tubby Tudd's All Over Ointment so popular? Here are a few key reasons!
It is fragrance-free and has a smooth texture that allows it to go on smooth and never feel greasy on the skin
It contains Saccharomyces Ferment Filtrate, a probiotic yeast that may help balance your baby's skin microbiome
Made with organic ingredients
Helps seal in hydration, which eczema skin so desperately needs
---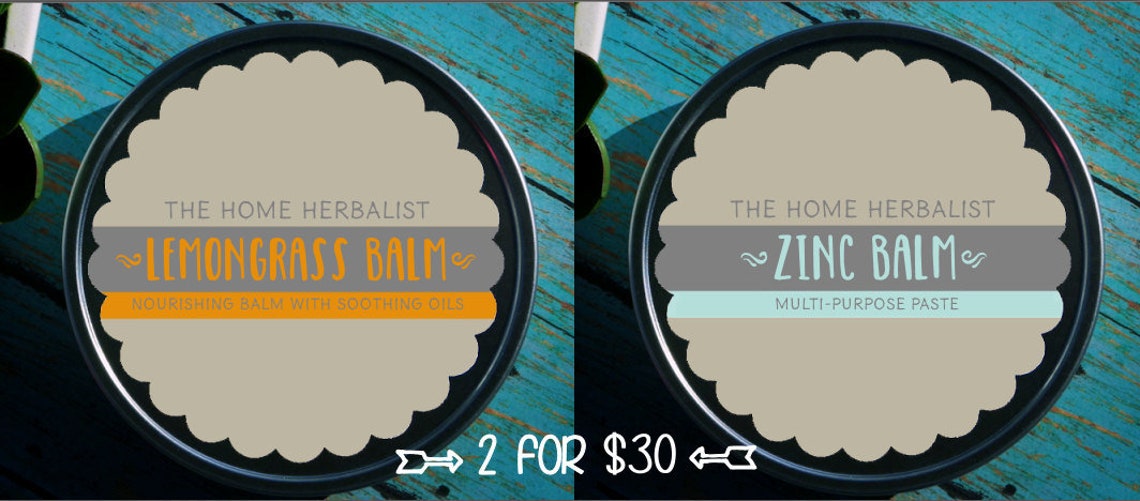 Buy on Etsy
Supporting small businesses is a big deal, and I love finding products created by moms just like me that work. Home Herbalist created her formula after her son was born and he had steroid-induced eczema, which is known as Red Skin Syndrome. These balms can be used for eczema, rashes, and skin conditions of all types.
What makes Home Herbalist's balms so awesome? Let's take a look.
It's a zinc paste balm that uses a blend of pharmaceutical-grade zinc oxide with nourishing oils that keep moisture on your skin and providing a protective barrier.

Zinc helps to reduce the oozing that happens when eczema becomes infected and heals red lesions.

Lemongrass has medicinal qualities that help on mild skin infections and diaper rash. It also works for cracked and dry hands and feet, scratches, bumps, and bruises.

You can use this balm on all parts of the body, such as cracked hands and feet.

It works well on raw skin and diaper rash because Home Herbalist uses pharma-grade zinc.
If you want to give the balms by Home Herbalist a try, it's best to use them at night after a warm bath before bedtime. Coat your child's skin thickly, and cover with clothing, socks, or gloves for best results. This formula also helps with lymph drainage. Rub swollen glands with this balm in a circular motion two times per day.
---
Vanicream isn't marketed specifically for babies, but it is baby-friendly and a highly recommended baby eczema cream by dermatologists. It's one of the highest-rated on the market with thousands of pleased users.
What makes Vanicream so useful? Here are a few key details.
It's free of dye, fragrances, parabens, and lanolin. Even though lanolin is a derivative of wool and considered natural, some babies have a sensitivity to lanolin.

The cream is creamy and thick, so it provides an all-day itch relief even on sensitive skin.

The entire family can use this cream as a regular, everyday moisturizer.

Vanicream is sold in an easy-to-use pump

.
It is effective for even the most sensitive of babies – it's highly unlikely that it would irritate the skin.
Vanicream is a thick, smooth cream that helps to restore and maintain healthy skin moisture levels. Whether your baby has red, irritated, cracked, or itchy skin, Vanicream's gentle formula is effective. This formula is excellent for eczema, psoriasis, winter itch, and ichthyosis. The only downside is that it does contain BHT, which is generally toxic and best to be avoided, so keep this in mind when choosing how often you'll use this cream.
---
Buy on Amazon
Another popular pick among eczema parents is Green Goo Baby Balm. It's a versatile balm that has a variety of uses, from being a diaper rash cream and eczema balm to a cradle cap treatment and owwie buster.
With active ingredients such as yarrow extract, comfrey leaf powder, calendula, beeswax, and olive oil, Green Goo Baby Balm is a soothing choice for your baby's eczema.
A couple more reasons to consider Green Goo Baby Balm are:
The ingredients are quite clean for an eczema cream; aside from sunflower oil and tocopherols, I can't really complain about their ingredients too much!
With various herbs and natural ingredients, this balm is designed to heal and support the skin.
Having Green Goo Baby Balm on hand for your baby's eczema patches and for general baby care use is a great idea.
---
Buy on Amazon
Let's file tallow balm under "things I never expected to recommend".
Tallow balm is a wonderful moisturizer, naturally containing lineolic acid and fat-soluble vitamins. It is a thick and creamy eczema cream and is helpful in alleviating inflammation and redness.
The reason I would have never expected that I'd use or recommend tallow balm is because it is a rendered form of beef fat. The only thing that brought me to consider using tallow balm was a complete state of desperation when I was trying to heal my son's skin. (I didn't end up using it on my son because I was worried that he would react to the tallow, but I later learned that allergies to tallow are rare. I wish I had known!)
While you can use pure grass-fed tallow for cooking or even use it to make your own tallow balm, Vintage Tradition tallow balm is blended with organic olive oil for better consistency. The unscented version doesn't contain essential oils, so you will be able to smell the tallow odor but it goes away after you rub it in. .
You'll love using tallow balm for eczema because:
Its natural properties enrich the skin and reduce inflammation.
It is so moisturizing and can be used all over the body.
Because it is grass-fed, you can have confidence in the quality of the animal fat
This gentle tallow balm may help reduce your baby or toddler's need to itch their eczema
---
Buy on Amazon
Medicine Mama offers another simple yet effective healing skin cream. Sweet Bee Magic is Medicine Mama's miracle skin cream that soothes, heals, and hydrates the skin.
NOTE: this contains honey, bee pollen, and other potentially allergenic ingredients. This should only be used on older babies or toddlers who are not sensitive to these ingredients.
What makes this formula so magical? Here are some of the details you should know.
It uses a proprietary compound created to heightened prebiotic, antioxidant, and anti-inflammatory benefits. At the same time, it soothes, heals, and hydrates all skin types.

Their products are made in small batches to help ensure top quality across the board.

It's made with organic ingredients that contain medicinally active materials, such as organic extra virgin olive oil, organic cera alba beeswax, organic honey, bee pollen, and royal jelly.

Sweet Bee Magic contains no chemicals, fillers, or binders.

It's dermatology tested and approved, so you know that there are no irritants in the formula.
Sweet Bee Magic is so pure that it's edible – seriously! (But don't let a baby under the age of one consume this or use it near their mouth.)
Medicine Mama ensures that their products are cruelty-free, and they're always tested for purity. Their formula is free of synthetic dyes, fragrances, chemicals, preservatives, parabens, sulfates, soy, or petroleum.
---
Buy on Amazon
Do you want a versatile treatment for eczema along with other resistant skin conditions? If so, Emuaid is the answer to your problems. It's designed to penetrate skin and nails, using a unique delivery system that carries all of the healing ingredients deep into your body.
Here are some of the crucial details about Emuaid.
Emuaid uses medical-grade homeopathic ingredients that are antibacterial and antifungal. It reduces pain, inflammation, and the symptoms of over 100+ skin conditions.

It's a non-steroidal cream with any reported side effects, and it won't conflict with other medications.

You can use it anywhere on your body or your baby's body safely, including infants.

Studies show that Emuaid kills 99.99% of bacteria in less than a minute.

The formula is fast-acting, and most users get a noticeable improvement in their skin condition within 24 hours.
Emuaid is one of the only creams on that market that has a 99% efficacy approval rating. Physicians and customers recommend it, and you never have to worry about side effects. Customers have never reported adverse side effects. Instead, you can kiss the eczema good-bye for good.
---
Buy on Amazon
Petroleum jelly is made with harmful chemicals that shouldn't come in contact with your baby's skin. Alba Botanica Un-Petroleum Jelly is the safe version of this jelly that works wonders against eczema. Their formula helps to hydrate and soften skin with natural ingredients such as sunflower seed oil and beeswax instead of petroleum jelly.
Let's take a look at why you should give Alba Un-Petroleum Jelly a try.
This versatile jelly provides a rich moisture barrier to protect your skin from chafing and irritation.

You can use it to remove eye makeup or soothe an irritated diaper rash.

Alba Botanica uses a 100% vegetarian formula without any parabens, phthalates, or synthetic fragrances.

They never test their products on animals, so this is cruelty-free. You can tell this by the Leaping Bunny Certification on their packaging, which is an international logo symbolizing cruelty-free products.

It contains only five ingredients.
If you're recently learning about the dangers of petroleum jelly, or if your pediatrician or allergist insists on you using petroleum jelly, you might want a comparable product. Alba Botanic Un-Petroleum Jelly offers the same type of consistency that petroleum jelly has, locking in moisture and protecting your skin. However, this jelly is safer for your child and made with much cleaner ingredients.
---
Buy on Beautycounter
BeautyCounter Baby Daily Protective Balm gives your baby's skin the tender loving care it needs to thrive. The formula is designed for even the gentlest newborn skin. It's an all-purpose nourishing balm that provides all the hydration and comfort babies need.
Here are some reasons to give BeautyCounter Baby Balm a try:
It uses a soothing blend of organic shea butter and jojoba oil that creates a layer of protection from head to toe.

Moms love that this formula is free of irritants and hidden, harmful ingredients. It's entirely safe for your baby; you don't have to worry.

Their ingredients are easy to understand, including things such as beeswax, cera alba, and sunflower seed oil.
The ingredients will keep moisture in a while also soothing and healing your child's already damaged skin. BeautyCounter offers a variety of other baby products to help keep your child's skin moisturized and healthy. I really love their diaper rash cream – it's my top choice actually!
---
The last option on our list of the best baby eczema creams is Avene Cream. It's an ultra-rich, lipid-replenishing balm that targets the irritation, itchiness, and redness caused by eczema. Avene Cream successfully nourishes and restores skin prone to atopic dermatitis and eczema.
If you spend enough time in the eczema community, you'll eventually come across stories of incredible healing from Avene, France, where the thermal spring water is low in mineral content and high in silicates. People travel from around the world to bathe in these waters. A company in France has made skin care products using this water.
A few other reasons that parents love Avene Cream so much include:
It's formulated with a few ingredients that are essential to moisturizing and maintaining a healthy balance in the skin's microbiome. The microbiome is the top layer of skin that contains microorganisms like yeast, skin flora, and bacteria that defend against harmful bacteria.

Their patented I-Modulia supports the skin's natural defense system for normal, healthy skin.

Avene uses an exclusive, patented airless pump that keeps the cream sterile and safe for its use without any preservatives, parabens, dyes, or fragrances.
Parents note that, on average, it takes five days for the itching to disappear, and over 50% of skin dryness reduces in seven days. This results in a significant improvement in the quality of sleep in a week!
Buy on Robertson's
One look at all of the testimonies of Robertson's Skin Repair Ointment and you'll quickly know that you found an excellent option for a baby eczema cream. This ointment contains natural active ingredients such as cod liver oil and colloidal oatmeal that work together to relieve the symptoms of eczema and dry, inflamed skin conditions.
Why does Robertson's Repair Ointment work so well? Let's take a look!
Cod liver oil is one of the active ingredients, which contains omega three fatty acids and DHA.

The ingredients work together to provide a skin protectant and barrier, enhancing the benefits to repair and protect a compromised epidermal barrier.

It's a very thick ointment that penetrates the skin deeply to stop the itch and protect the skin.

When applied regularly as recommended, parents can expect to see results within one to two weeks.
To work correctly, parents need to apply Robertson's Ointment three times daily. You only need a small amount of ointment per application. At first, you might notice some reddening of the affected area, but that will subside after several uses.
Related: The Best Infant and Toddler Probiotics
---
Final Thoughts on Choosing an Eczema Cream For Your Baby
Eczema is a common problem that sadly many babies and toddlers suffer from each year. If your baby is struggling with this skin condition, it's definitely important to use a safe and effective baby eczema cream to soothe and heal the damaged skin.
But, remember that eczema creams are only one part of the puzzle. Making sure that the skin isn't infected is a big part of allowing the skin to heal (infected skin patches will not heal until the infection is clear). And making sure that you are working on your little one's gut flora (and yours as well) is another big part of healing your little one's eczema.
Eczema stems from the inside, and it will only clear up when you address the internal root cause.
I know firsthand how difficult and frustrating it can be when your baby has eczema. If you need support or want to ask questions, join my baby eczema support group.