If you are breastfeeding, finding the perfect organic nursing pillow is essential.
A good nursing pillow can make breastfeeding much more comfortable for both mom and baby, providing comfort and closeness during breastfeeding. They are designed to bring your baby closer to the breast and to help you nurse in a more comfortable position.
Like most new moms, you'll probably use your nursing pillow a lot. It can be used for breastfeeding and bottle-feeding, and you may even use it for tummy time or for other playtime activities.
Surprisingly, one of the most important things to know when choosing a nursing pillow is that most nursing pillows are made from polyester or polyurethane foam. These traditional nursing pillows might be popular and inexpensive, but they may contain flame retardants or other harsh chemicals. Organic nursing pillows, on the other hand, are made from cotton and/or other natural materials.
Also beware of mainstream brands offering an "organic" nursing pillow that really only has an organic cotton cover. The main area of concern is the pillow fill, not the outer cover (though we want that to be organic, too).
Here are the brands of organic nursing pillows that we love and recommend!
The Nesting Pillow – Organic Nursing Pillow
Made in USA. The Nesting Pillow is our top choice for an organic nursing pillow. It is crescent-shaped, which makes it easy to fit your baby on the pillow in your lap. And it is filled with organic buckwheat hulls, which allows you to shift the contents around, much like a beanbag. It comes with a washable slipcover made from 100% organic cotton canvas milled in the US and is all-around wonderful, although a little on the heavy side.
Compared to some of the other nursing pillows on this list, the Nesting Pillow isn't as useful for tummy time and other playtime activities.
Materials: GOTS-certified organic cotton canvas slipcover, and filled with organic buckwheat hulls
Dimensions: 26" x 16" x 5" quarter moon-shaped. It weighs 5.5 lbs.
---
Holy Lamb Organics Cotton & Wool Nursing Pillow
Made in USA. The Holy Lamb Organics Nursing Pillow is another great choice for an organic nursing pillow. This u-shaped pillow is made with an organic cotton cover and eco-wool batting. If you have your heart set on a Boppy but prefer one made with natural materials, this may be the best option for you. It is compatible with Boppy's organic slipcover.
Materials: 100% GOTS-certified organic cotton sateen cover and eco-wool batting
Size: 19" x 23" x 9″
---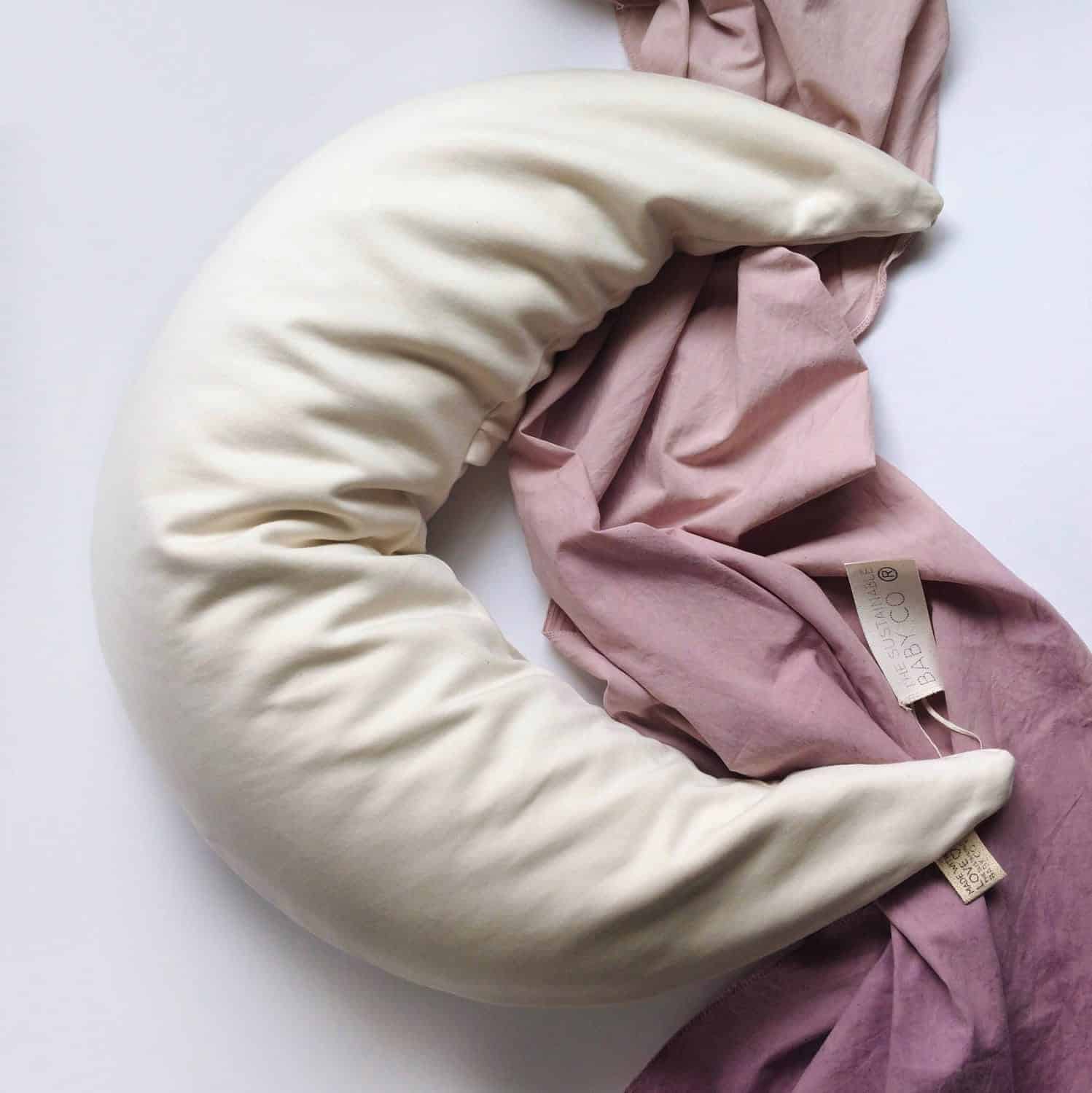 MoonWomb by Sustainable Baby Co.
Made in USA. Another crescent-shaped organic nursing pillow, the MoonWomb is made with all organic materials. The pillows are also beautiful, and a nice addition to any nursery. They have numerous different outer fabrics to choose from, so if you're looking for a stylish organic nursing pillow, this may be the right one for you.
It also includes a small pocket with a removable sachet of organic lavender and chamomile flowers, that can help to calm you and your baby. This is probably the only pillow on the list that would nicely double as a pregnancy pillow. I love products that can serve more than one purpose!
Materials: Organic Cotton Canvas, Organic Buckwheat Hulls
Size: 33″x 16″x 9″
---
---
Made in USA. The Organic Caboose nursing pillow made from 100% certified organic cotton grown in the US. It is a great pillow but may not be as firm as the other options on the list, since it is only filled with cotton. This product may be discontinued or difficult to find.
Materials: 100% organic cotton
Size: 25" x 16" x 6", 2 lbs, spot-clean only
We Didn't Include These Brands:
Design Dua
Snuggle Me
Boppy
My Brest Friend
Different Ways to Use Your Organic Nursing Pillow
Use your nursing pillow when breastfeeding or bottle-feeding your baby in bed, on the couch, or in your glider.
Use the nursing pillow when you want to cradle your baby in your arms but need extra assistance.
Use your organic nursing pillow to position your baby for tummy time.
Some nursing pillows can be used as a body pillow during pregnancy.
Continue using your nursing pillow to prop up your baby as they grow.