Americans spend about 90% of their time indoors, and since indoor air quality can be as much as 5x more polluted than outdoor air, clean air matters. Air Doctor indoor air purifiers are a good choice for your home if you need to remove odors, smoke, and airborne allergens from the air in your home.
You've probably heard of AirDoctor HEPA air filters and want to know if this brand is a good choice for your home. After having an AirDoctor Pro for the last five years, I wanted to write this AirDoctor review because I am so happy with mine!
AirDoctor ranges in price from $329-$999 but keep reading on for my special discount as well!
AirDoctor 1000
AirDoctor's compact unit is perfect for smaller spaces. In a room up to 235 sq. ft., it will cycle the air 5x/hour.
Coupon: Order now to save $120 on the AirDoctor 1000.
---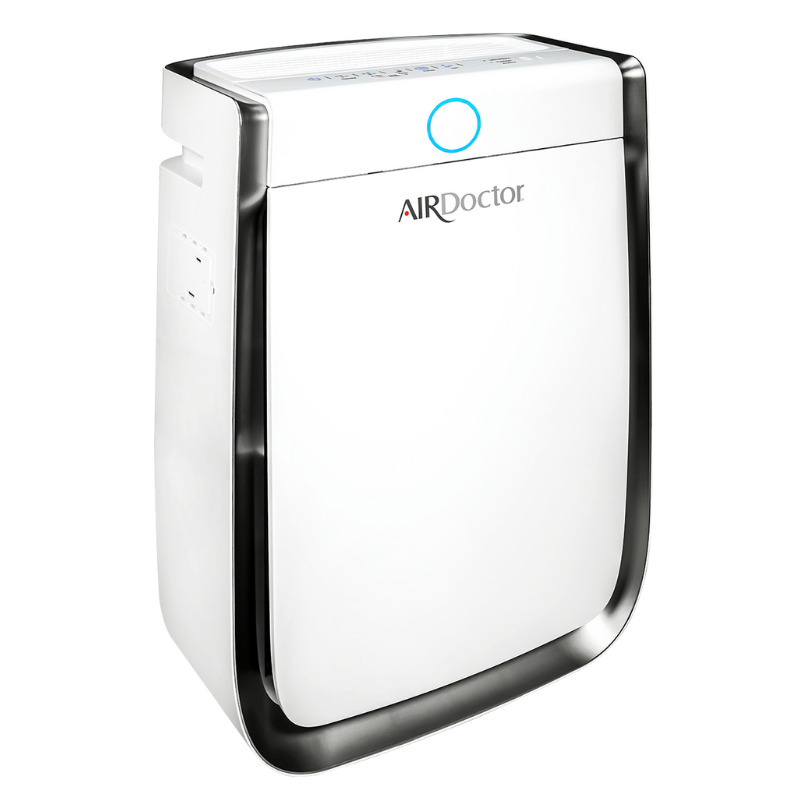 AirDoctor 3000
AirDoctor's flagship model, the 3000 unit is perfect for most residential needs. In a room 505 sq feet, it cycles the air 5x per hour.
Coupon: Order now to save $280 on the AirDoctor 3000.
---
AirDoctor 5000
With double the filtration, the Air Doctor 5000 rivals some of the most powerful air filters on the market.
Coupon Code: Order now to save $300 on the AirDoctor 5000.
My Personal Experience with AirDoctor
As you probably know, there are lots of home air purifiers to choose from. Hundreds or thousands, maybe. But not all air filters have the same capacity for air filtration. So I personally did a lot of research before investing in air filters for my home. I have an AirDoctor and an Austin Air filter and am very pleased with both purchases.
I purchased my air doctor back in 2017. I did a lot of research before buying and found that it was an air filter with really good reviews at a relatively affordable price. So at the time I decided to go with what seemed like the best option for me. I really have no complaints and can say that my experience has been great! The air quality is noticeably better around our house than when we had a regular, inexpensive air filter.
AND, when there was a wildfire just a couple hundred feet (yes, feet) from my home, it helped to keep our indoor air quality at an optimal level even when we had smoke exposure in our house that could have been dangerous.
I was truly impressed and this solidified AirDoctor as a quality home air purifier in my mind. I was drawn in by its affordable price at the time but now that we are raising two kids in Southern California, indoor air quality is really important to me.
AirDoctor HEPA Air Purifier Overview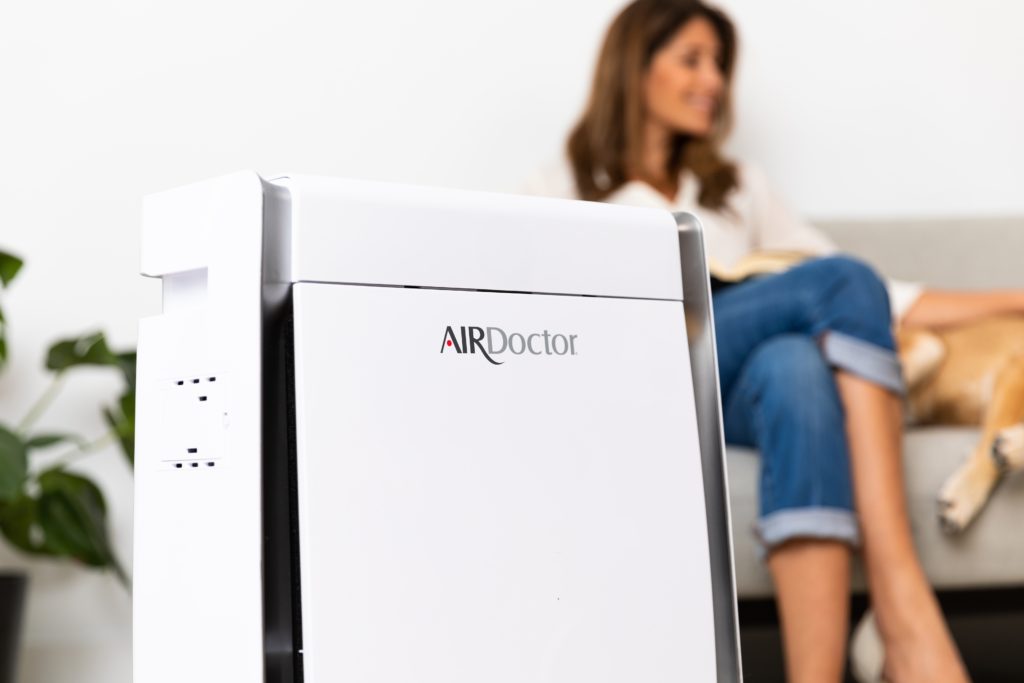 AirDoctor air filters are affordable and high-quality with good reviews from customers. With three air filter units of different sizes, the Air Doctor family of air filters offers something for everyone and every space.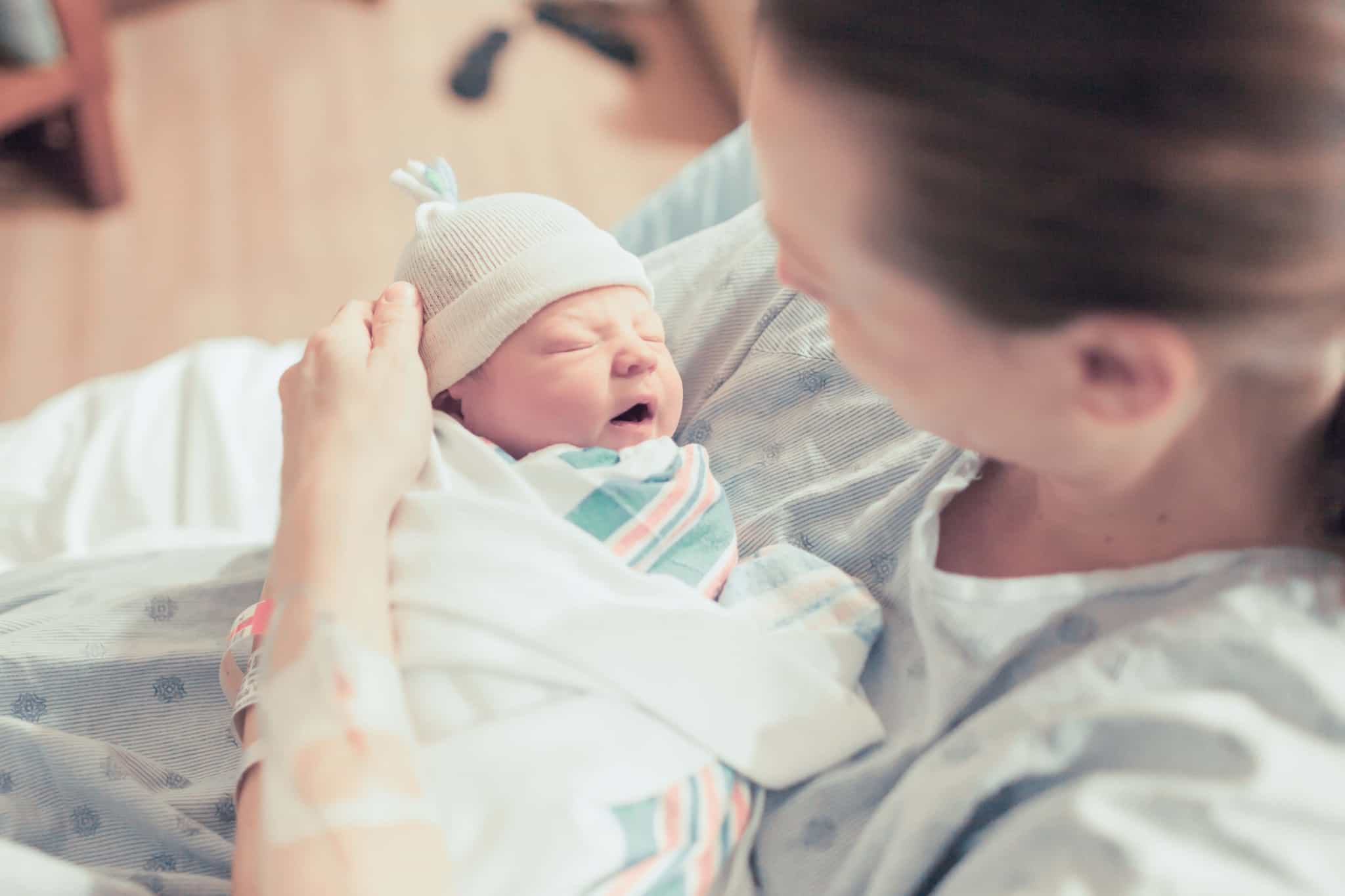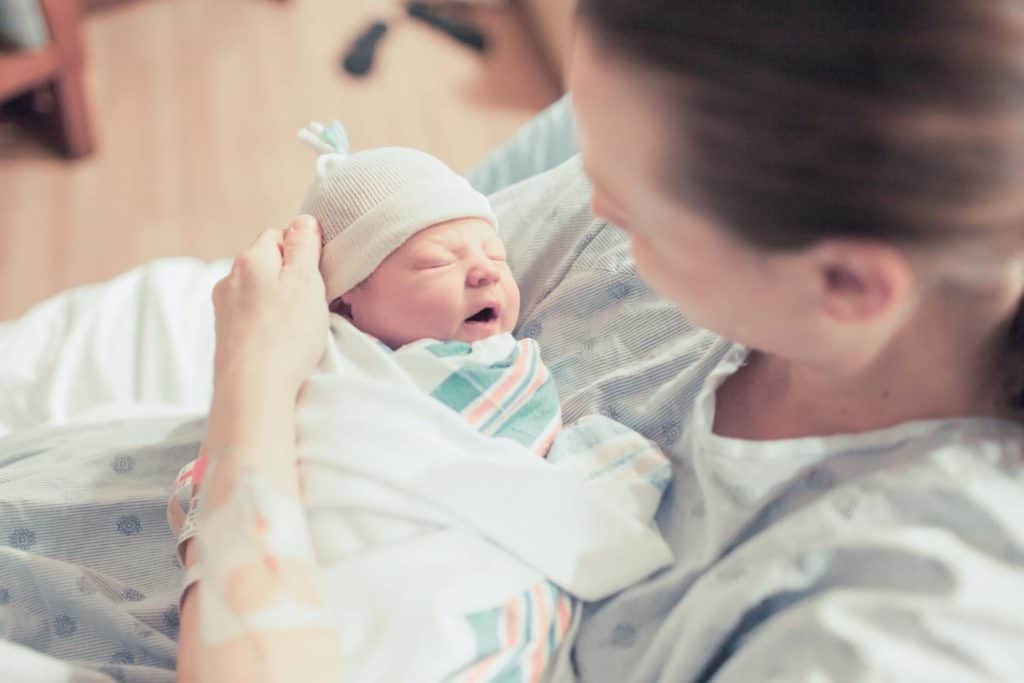 Air Doctor's air filters are made with high-quality UltraHEPA filters that are as much as 100x more effective than traditional HEPA air filters. (The HEPA standard claims 99.97% removal of particles 0.3 microns in size while independent laboratory tests prove that AirDoctor captures 100% of particles at 0.003 microns in size, making it 100 times more effective.)
Combined with a carbon filter that captures dangerous gases and VOCs, this makes for a powerful air filtration system — at a great price.
The Air Doctor air filters use a patented technology, which is composed of billions and billions of microscopic pores that capture particles as small as 0.0037 microns (that's smaller than the width of some human hairs). The Air Doctor air purifier will remove 99.97% of allergens such as dust mites, pet dander, and pollen. The Air Doctor air filtration system also removes odors like cooking smoke or animal smells and dander, as well as gases and VOCs such as formaldehyde.
Air Doctor has three air filter models that you can choose from that offer powerful performance capacities in each of their respective room sizes:
Air Doctor 1000 — A junior air filter unit that is perfect for smaller spaces. This unit weighs 10 lbs. and can cycle the air 5x per hour in a room 235 sq. feet. or smaller.
Air Doctor 3000 — This is AirDoctor's flagship model. The 3000 is versatile and commonly used in high-need areas such as bedrooms or kitchens. In a room that is 505 sq. feet, it cycles the air 5x per hour.
Air Doctor 5000 — The 5000 is a more heavy duty air filter with double the filters, perfect for larger spaces and bigger jobs. It covers a space as large as 868 sq. feet by cycling the air 5x per hour, but it cycles the air twice per hour in a space as large as 2170 sq. feet.
Air Doctor's Filtration System: How it Works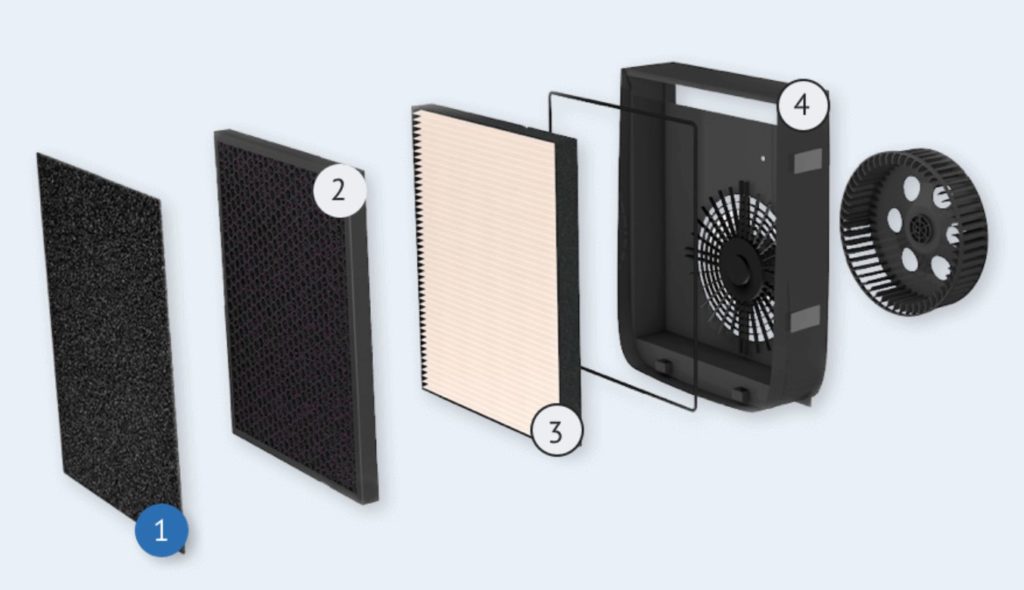 To filter and cycle the air in your home, AirDoctor uses a smart 3-stage filtration system:
Stage 1 Pre-Filter
The pre-filter removes large air particles like dust and hair. By doing so, it extends the life of your filters and reduces air flow resistance. It can be vacuumed or washed by hand and doesn't have to be replaced often.
Stage 2 Dual-Stage Filter
Using activated charcoal and potassium permanganate, the stage 2 filter captures and deactivates VOCs and toxic fumes such as formaldehyde and benzene.
Stage 3 UltraHEPA Filter
During this final stage of filtration, the UltraHEPA filter captures and is able to capture 100% of airborne allergens and pollutants at 0.003 microns in size that include dust mites, pollen, mold spores, cigarette smoke, and pet hair and dander.
This stage helps reduce airborne germs, bacteria, and viruses — up to 99.99% of a range of bacteria and viruses including H1N1 Swine Flu. (Note that this claim is made from a standardized testing room, which may differ from a home or office environment.)
With the help of AirDoctor's quiet fans, the units cycle the air out in your room multiple times when they are turned on. (Check the room capacity below to determine the right air filter for your room of choice.)
What You'll Also Love About AirDoctor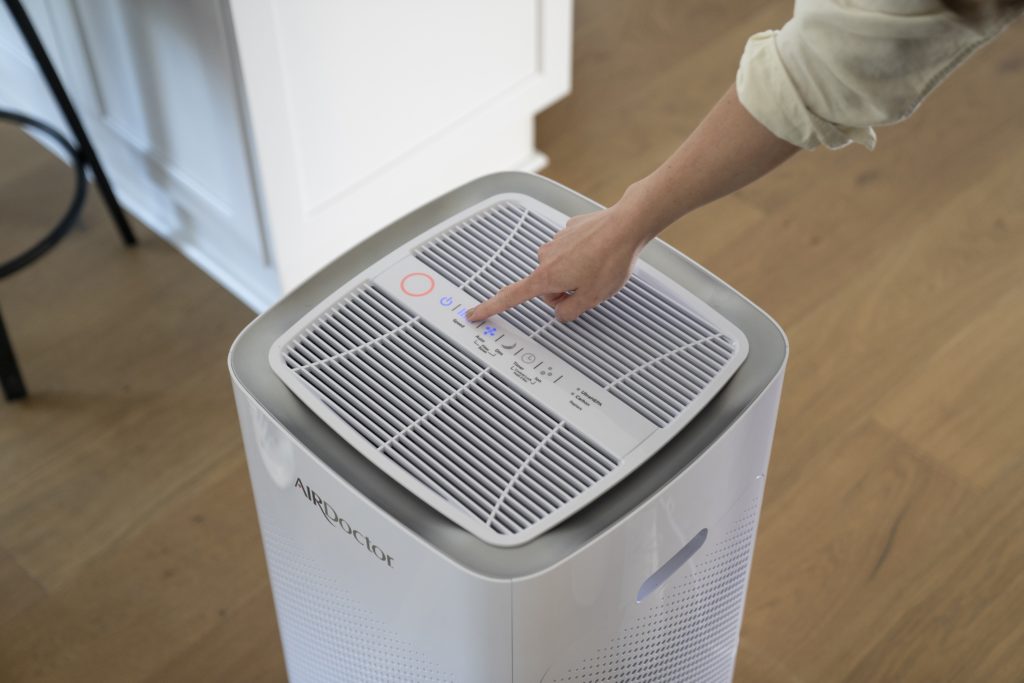 Aside from the filtration capabilities, here are 9 great reasons to love and choose AirDoctor.
Air Doctor uses a 100% sealed system. By having a sealed system, your indoor air will pass through the Air Doctor filtration system; dirty air won't be able to bypass the filters by escaping through leaks.
The QuietWhisper Jet Fans. The fans on the Air Doctor are pretty quiet, except when you are using the higher settings. QuietWhisper fans are supposed to be 30% quieter than the fans found in most air filters. I love that this provides a little white noise but isn't overbearing. I've slept with my Air Doctor running overnight on many occasions and it doesn't bother me at all.
Automatic air quality sensor. This is one of my favorite features. The Air Doctor automatically senses changes in your indoor air quality and adjusts the fan speed accordingly. So for example, if someone is smoking outside your window and the smoke enters your home, the Air Doctor could pick up on that and turn up its fan speed to cycle the air out faster. This is great peace of mind for busy parents!
AirDoctor is easy to maintain. The filters are easy to replace and the unit overall is easy to maintain. It's also very lightweight and can be moved around from room to room easily.
Recirculates the air more than its competitors. AirDoctor cleans the air 5 times per hour or every 12 minutes (in its stated coverage area) while many competing air filter brands only clean the air 1 to 2 times per hour.
Dim settings for nighttime. If you want to keep your Air Doctor running overnight, you don't have to worry about bright blue lights disrupting your sleep. Simply use the "night" setting and the lights all turn off. (My older unit has a small blue light, so I love that they changed this in the newer models.)
Change filter alerts. The Air Doctor will tell you when it needs new filters, which is nice because I usually try to keep mental notes of when I replaced the filters. But it never works and I always end up confusing myself. So it's a win for me that AirDoctor tells me when to replace the filters.
It's white and sleek-looking. Most air filters have an industrial look, but the AirDoctor is actually quite pretty! It fits in well with my home decor and doesn't stand out like a sore thumb. It actually looks quite nice and I've had many guests compliment me on it.
And it's affordable. It's one of the most affordable high-quality air filters on the market when you shop with my discount. Save up to $300 on your purchase of an Air Doctor filter through my exclusive link!
AirDoctor Models — Which One is Right for You?
Trying to decide which AirDoctor is right for you? Since all AirDoctor systems come with all of the convenience features such as an air quality sensor and auto mode, your decision mostly comes down to room size and capacity. Take a look at how the AirDoctor units compare to one another.
AirDoctor Purifier
1000
3000
5000
Room Size Coverage
235 sq. ft. 5x/hour
589 sq. ft. 2x/hour
505 sq. ft. 5x/hour
1262 sq. ft. 2x/hour
868 sq. ft. 5x/hour
2170 sq. ft. 2x/hour
Air Quality Sensor
Auto Mode
Fan Speeds
4
4
6
Filters
1 Pre-Filter
1 Carbon/VOC Filter
1 UltraHEPA Filter
1 Pre-Filter
1 Carbon/VOC Filter
1 UltraHEPA Filter
2 Pre-Filter
2 Carbon/VOC Filter
2 UltraHEPA Filter
Recommended Filter
Change Frequency
(Based on 24/7 Usage)
Every 6 months
Carbon Filter: Every 6 months
UltraHEPA: Every 1 year
Carbon Filter: Every 6 months
UltraHEPA: Every 1 year
CADR (Smoke)/CFM
152
326
560
Power Consumption
Lowest Speed: 7 watts
Highest Speed: 40 watts
Lowest Speed: 11 watts
Highest Speed: 110 watts
Lowest Speed: 10 watts
Highest Speed: 100 watts
Sound levels
Lowest Speed: 34 dB
Highest Speed: 54 dB
Lowest Speed: 39 dB
Highest Speed: 59 dB
Lowest Speed: 30 dB
Highest Speed: 50 dB
Dimensions
9" (W) x 9" (D) x 23" (H)
15.75″ (W) x 8.35″ (D) x 23″ (H)
16" (D) x 16" (D) x 29.75" (H)
Weight
10 lbs
18 lbs
33 lbs
How Much Does an AirDoctor Cost?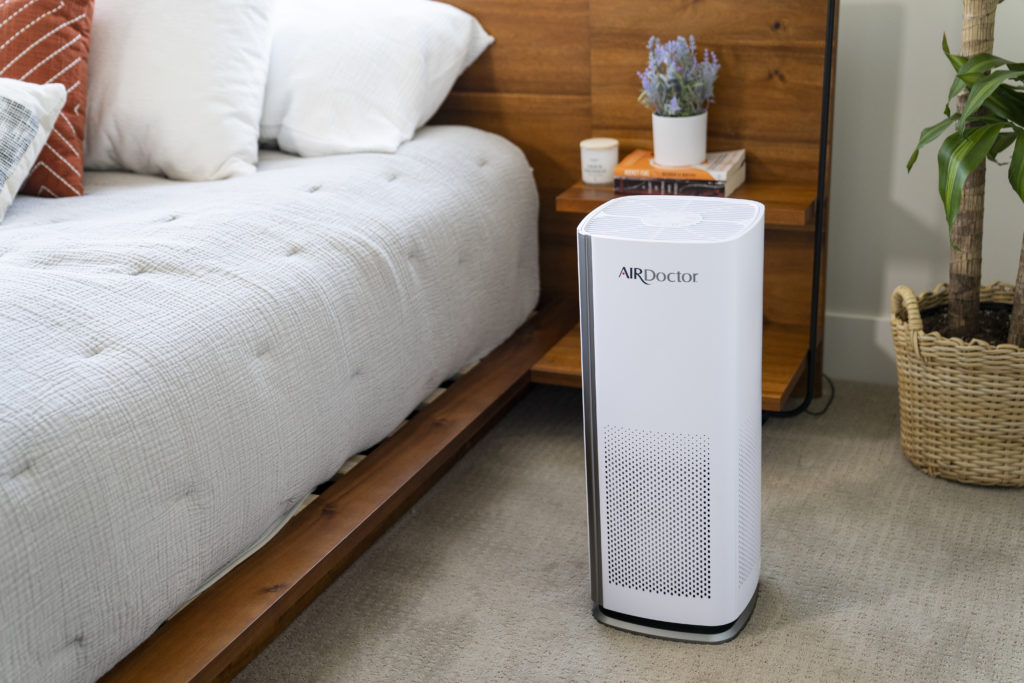 Clean indoor air is truly an important investment (and one of the most important, in my opinion) in our health. Here are the official prices on AirDoctor's air filters:
AirDoctor 1000 sells for $329
AirDoctor 3000 sells for $629
AirDoctor 5000 sells for $999
All AirDoctor units also require a $29.95 shipping and handling fee. The company also offers financing through Affirm. But, as a partner of AirDoctor, I'm so pleased to offer you my discounted pricing. You can save up to $300 on the AirDoctor model of your choice through my personal link.
Is an Air Doctor Worth It?
Yes, I can confidently say that AirDoctor is a great investment for your health and your family's. Given the filtration capacity of their units, along with their great pricing, AirDoctor offers fantastic value and is one of my top product recommendations.
For example, you could spend $80 on a regular HEPA air filter that has nothing near the capacity of an Air Doctor, and it would help cycle out the air in the room of your choice and capture some airborne particles. But this doesn't really compare to the filtration of AirDoctor, which captures 100 times more particles of a smaller size.
Air Doctor Discounts
If you're shopping for an AirDoctor air filter, you can get substantial savings through my personal affiliate links. Save up to $300 on AirDoctor using these links (and as an affiliate of AirDoctor's, purchasing through my links costs you nothing extra but actually saves you a significant amount on your purchase).
What is Air Doctor's Return Policy?
AirDoctor offers a 30-day Breathe Easy Guarantee on all their products. If you are unhappy with your AirDoctor, contact the company to return your unit within 30 days, less the price of shipping and handling.
Here's to Cleaner Indoor Air for Your Family
If you're in the market for an air filter, then I hope that this AirDoctor review has helped to clarify some of your concerns and given you a sense of what Air Doctor air filters are all about! We really love and rely on ours and I am happy to be able to spread the word about such a great product.