I wanted to write this Austin Air review because indoor air quality is one of the most important factors we need to consider when creating healthy homes. You might be surprised to know that indoor air is often more polluted than outdoor air. In fact, studies show that air quality inside our homes can be up to five times more polluted than the air outside. Yikes!
Indoor air pollutants can come from a variety of sources. From indoor furnishings and appliances to building materials and good old fashioned dirt, each of them contributes to poor air quality. Unfortunately, the cumulative effect of such toxins can have an impact on your health. Acute exposure may result in frequent headaches, nausea, dizziness, fatigue, asthma, and irritation of your eyes, nose, and throat. And chronic exposure can have more serious, long-term health effects like heart disease, respiratory disease, and other serious illnesses.
When you have young children in your home, maintaining clean indoor air is all the more so important. Not only do babies and children come in closer contact with contaminants by crawling on the floor where these toxins lurk, but they are also smaller and their systems are still developing. With repeat exposure to poor indoor air quality, a baby's delicate immune system can have a pretty difficult time battling viruses and airborne bacteria. Even toddlers and young children can't process contaminants without health consequences. Air pollution affects neurodevelopment and can negatively affect motor development. And the AAP explains explains that it's important to examine your indoor air, especially if your child has asthma.
So, I strongly encourage you to consider indoor air as a top priority for the health of yourself and your family. Using an effective air purifier can extract dangerous pollutants from the air and is an extremely easy way to support the health of your family. In fact, it's right up there at the top of my list of how to detox your home, with using a powerful water filter.
Air and water quality — that's where I'd start.
And when it comes to choosing a quality air filter. Austin Air Systems is my top-rated air purifier brand. I recommend them for almost every family, regardless of where you live or the size of your home. They have a strong track record of effectively dealing with a host of air quality issues, including everything from typical home indoor air pollutants to ventilating homes affected by wildfires and gas leaks. In addition to purifying the air in residential homes, Austin Air purifiers are widely used in schools, medical facilities, and office buildings.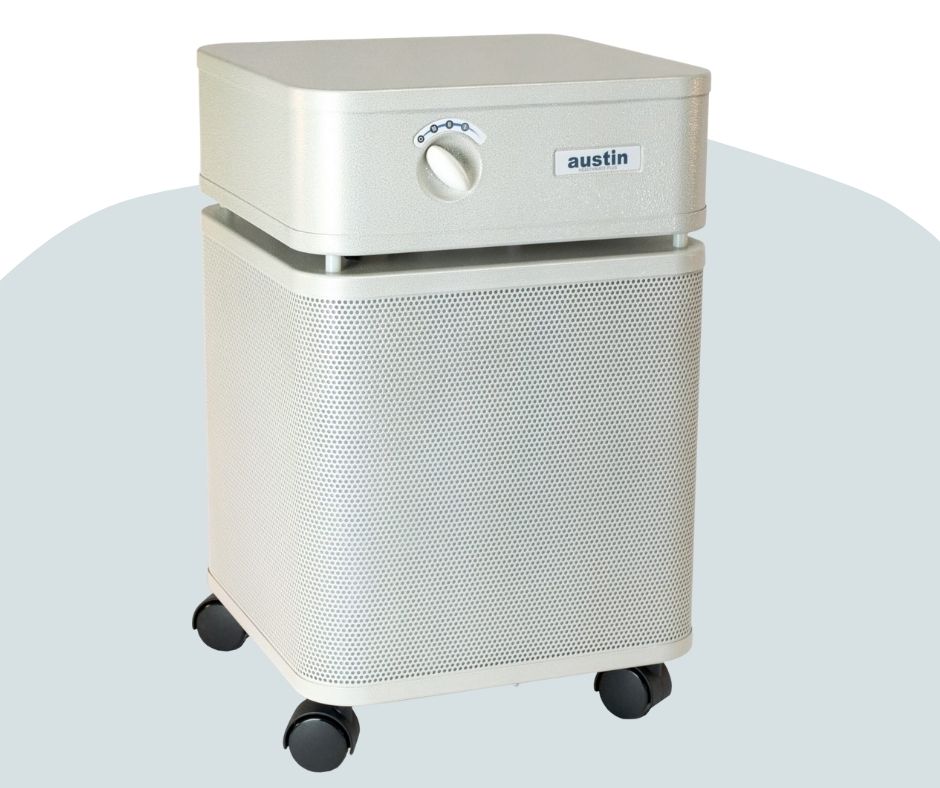 Grab our exclusive Austin Air discount code
A discount so good I can't share it publicly. Click the link below to shop and save on your Austin Air filter.
Shop Austin Air Now
What Makes Austin Air One of My Top Purifier Brands?
While indoor air quality can seem like a scary thing, a good air purifier will clean up the air making it safer and healthier for you and your family. Plus, it actually has some nice added perks! In addition to protecting your children from indoor pollutants, an air purifier can help with a variety of health conditions, including easing asthma and allergy symptoms, as well as improving quality of sleep.
Once you decide to add an air purification system to your household, it's important to note that they are not all equal. It's important to look for a HEPA system made with carbon and to consider the brand's reputation, longevity, performance, and independent testing results.
1 | Austin Air Systems are Clinically Proven
I appreciate how much testing has been done on the Austin Air Systems. Both in independent clinical trials conducted at university hospitals and in government tests, Austin Air purifiers continually prove effective. They've even shown to outperform over 100 other products.
Austin Air explains that extensive tests on flow rate, flow design, removal of vapors, gases, and sub-micron particles have been performed by two separate reputable third-party laboratories including Battelle Laboratories and the Army Corp of Engineers at the U.S. Army Aberdeen Test Center.
Between the testing sites, clinical trials, and university hospital recommendations, you can be confident Austin Air is the real deal.
2 | Austin Air Makes Medical-Grade HEPA Air Filters
HEPA, the best efficiency standard for air filters, stands for "High-Efficiency Particulate Arrestance." A HEPA filter has layered minuscule glass fibers that are compressed to create HEPA paper. In an Austin Air purifier, air passes through a 360° intake system where the filter traps airborne particles and pollutants. Clean air is then circulated back into the surrounding area through a one-way vent.
Austin Air purifiers use true medical-grade HEPA, which ensures that they filter 99.97% of particles with a diameter greater than 0.3 microns and 95% of particles with a diameter of 0.1 microns. They also use pleated HEPA filters, which means a very large amount (60 square feet) of HEPA makes up each filter to make it strong and long-lasting.
Although HEPA extracts the vast majority of airborne particles, there are some pollutants, like gases, smoke, odors, and VOCs, that it can't entirely remove. So Austin Air does a little more to eliminate these pollutants; Austin Air purifiers combine the use of HEPA with activated carbon. The filters also contain zeolite, a volcanic mineral with absorbent properties, to trap ammonia, carbon monoxide, and various other odors.
3 | Austin Air Filters are Well Made
Austin Air units use different materials than other air purifiers you might be commonly familiar with. They are made with solid steel components and powder-coated paint, all of which are safe for your home. These materials are much better than plastic or polystyrene, which you'll commonly find in other purifiers.
In fact, Austin Air purifiers are
I've gotten a lot of questions about the size and appearance of the Austin Air units. I wouldn't say the units are designer air filters but I got my Austin Air Healthmate Plus in Sandstone and love the look and the color of it. I was originally going to get a white one, but went with Sandstone and am really happy because it blends in well with my transitional style decor and neutral paint in my home. I also don't mind the size, but we do live in a larger home.
4 | Austin Air's Extensive Testing
Finally, let's look at Austin Air's popularity among top institutions. Austin Air Systems has provided air purification systems to homes, schools, offices, government buildings, hospitals, and medical and dental facilities for over 30 years. They've also got a great track record with the highest institutions and have been called upon to address air quality concerns following 9/11 in New York and in Porter Ranch after the gas leaks.
Which Austin Air Filter Is Right For You?
Austin Air Systems offers a few different units for different purposes, but at the end of the day they are all HEPA-grade filters. Austin Air tests all products for effectiveness and quality assurance, so you really can't go wrong with any of their purifiers. But maybe you'll find one that fits your particular needs and concerns:
However, out of all their air purifiers, I recommend the HealthMate Plus or the Bedroom Machine for most families.
The HealthMate Plus
The HealthMate Plus is a step up from Austin Air's HealthMate unit. Designed for indoor environments (up to 1500 sq ft), this purifier is especially recommended for individuals with chemical sensitivities, allergies, asthma, or other pre-existing health conditions.
In addition to its medical-grade HEPA filter, the HealthMate Plus also contains zeolite, activated carbon, and carbon with potassium iodide. These filtering processes make it super effective at removing ammonia, formaldehyde, and other indoor toxins. It's highly effective at eliminating off-gassing of new building materials, so this is perfect for those living in a recently remodeled home.
Furthermore, the HealthMate Plus is particularly effective at lessening the viral load of its surroundings, removing 95% of airborne viruses with a diameter of 0.1 microns or larger. It also has an excellent capacity for eradicating bacteria, smoke, dust, pollen, and other irritants.
Buy on the Gentle Nursery
The Bedroom Machine
Although it costs somewhat more than the HealthMate Plus, the Bedroom Machine features the most advanced filtering technology of any Austin Air product. In addition to the protection offered by the HealthMate Plus, this unit filters the broadest range of particles down to the sub-micron level to give you the best defense against allergens, asthma, irritants, viruses, noxious gases, odors, and VOCs.
The Bedroom Machine contains five stages of filtration, and along with medical-grade HEPA, this air purifier uses a HEGA (High Efficiency Gas Adsorption) military carbon cloth. The antimicrobial cloth provides a large surface area inside the filter to help absorb chemicals, odors, and gases. This extra protection makes the Bedroom Machine the most effective unit for keeping the air in your home comprehensively clean, allowing you and your loved ones to get a peaceful, healthy night's sleep.
Buy on the Gentle Nursery
Warranty and Maintenance
You know I love a company that stands behind its products. Austin Air has a solid warranty and maintenance program, offering a 5-year warranty on the material, craftsmanship, and mechanics. They also offer a 5-year pro-rated warranty on the filter itself.
Note that, if you purchase an Austin Air cleaner, you have 30 days to try it out. If for any reason, you don't like the filter, you can return for a full refund, no questions asked. (Be sure to keep the original packaging if you plan on returning your unit.)
---
FAQs — Austin Air Review
Got more questions on Austin Air filters? Read on!
Do air filters improve health?
Yes, simply put air filters extract toxins and particles that can have negative health effects. Studies show that air filters can improve heart rate and blood pressure as well as improve respiratory health, especially for those with asthma. Because there are studies that prove exposure to indoor air pollutants can cause health effects ranging from sneezing and coughing to exacerbation of chronic respiratory disorders like asthma and even cardiovascular disease and cancer, we also know that minimizing air pollutants can decrease the risk of these health effects.
Do HEPA-like filters work just the same as regular HEPA?
No! A true HEPA filter meets standards set by the United States Department of Energy. HEPA air filters must be able to remove 99.97% of all particles which are 0.3 microns (micrometers) in diameter. "HEPA-type" filters may look like HEPA filters, but they actually don't have any of the same requirements or standards. "HEPA-type" or "HEPA-like" are vague terms that don't actually guarantee that the air purifier will be successful in removing pollutants and are often used to market ineffective products. Avoid these filters and stick to true HEPA filters.
Austin Air Filters vs. Air Doctor
Both Austin Air and Air Doctor are quite popular with my readers. In fact, I have one of both units and I love them both for different reasons. The Air Doctor is more lightweight than the Air Doctor as it is made from plastic. I've even traveled locally with mine, so that's one thing I like about it. It has a built-in air quality monitor that triggers higher filtration settings (ie. high speed) when it detects poor air quality. The Austins contain more carbon than Air Doctors do, and they have more clinical backing — so that's something to consider as well.
Overall I find that I use the Austin Air more for heavy duty and important filtration such as in the bedroom overnight, and I keep the Air Doctor handy for other jobs. I truly think they have different uses and purposes and both can play a role in keeping your indoor air cleaner. If you do end up shopping Air Doctor, use this link to save over 40% on your purchase.
Are Austin Air Filters safe?
Yes, you can be sure that Austin Air produces safe air filters. They do not use ozone, ions, or negative ions— all of which can be dangerous to your health. The materials used are also non-toxic. The body of the air purifier is made of solid steel. The powder-coated paint is also non-toxic and will not off-gas.
How long does Austin Air filter last?
A lot of air filters on the market recommend changing the filters every few months. Austin Air filters require changing them every 5 years with normal use.
Is it safe to run an air purifier when I'm not home?
Always check with the manufacturer of your particular unit, but Austin Air filters are specifically designed to run all day, every day whether someone is home or not. This ensures you always have clean air cycling throughout your home.
Where should I place my air purifier?
If you only have one air filter unit, Austin air recommends you place the air purifier in the bedroom, noting that you can move it around to other rooms during the day. It's especially important to keep it in your bedroom while you sleep because that is when you breathe most deeply for long periods of time.
Enjoy Cleaner Air With Austin Air Filters
Now that you're armed with all the information, I hope you prioritize your families' health with a daily dose of clean air. Finding the right air filter can be a big task, but I assure you won't regret the Austin Air. It's the best on the market! And you'll definitely notice the difference.