One of the most forgotten aspects of preparing your home for a new baby – or just maintaining a healthy home in general – is the indoor air quality.
I was alarmed to find out that the air inside our homes can be as much as 5 times more polluted than the air outside. Dust and dust mites, mold, household products, pet dander, carpets, paint, water damage, VOCs, secondhand smoke, and outside elements can all contribute to poor air quality in your home.
A study conducted in 2009 found that the typical American home contains over 500 chemicals, including phthalates and pesticides, and 120 chemicals that researchers were unable to identify.
As you can imagine, this can be hazardous to your health, and especially hazardous to your baby's health. Babies and toddlers are most susceptible to poor indoor air quality and toxic elements at home because they are frequently on the floor and often put their hands in their mouth.
Since their systems are still developing, this can inflict more damage than it might to an adult. This is why we should do our best to maintain better indoor air quality.
Don't worry – you can do something about this, and it doesn't have to be expensive. Follow the steps below to quickly and easily improve the indoor air quality in your home.
How to Improve the Indoor Air Quality in Your Home
1) Open your windows often
Let the air in your house circulate by frequently opening the windows, even when it's cold outside.
On weekends, I like to open all the windows for a few hours at a time to ventilate the house. When you're cooking, especially if you use the oven or stove, it's important to also open a window and use your kitchen's exhaust fan (as long as it cycles air outside).
2) Dust and vacuum regularly
According to a study by Silent Spring Institute, "Chemicals from consumer products are released into the air and accumulate in dust. People can inhale or ingest small particles of dust or even absorb them through the skin."
Make it a goal to vacuum and dust your home as many as 2-3 times per week, ideally. When dusting, use a cotton towel, and not a feather duster, which just spreads dust around.
For vacuuming, use a vacuum with a closed high-efficiency particulate air (HEPA) filter, which has been proven to filter out over 99% of small particles.
Consider a Miele vacuum (closed system), Shark Navigator, or the lightweight VonHaus vacuums.
Miele Classic Pure Suction Canister VacuumBuy Now
Shark Navigator Upright VacuumBuy Now
VonHaus 2 in 1 Stick & Handheld VacuumBuy Now
3) Replace your HVAC air filter often
A dirty air filter means that dust and allergens are making their way into the air that you breathe at home. Replace your air filter every 2-3 months with a new electrostatic air filter. It's inexpensive, easy to do, and makes a big difference in your home's air quality.
The higher the MERV rating, the better the filter. Unfortunately, it can be hard to find a high MERV filter for some dimensions. Buy the highest-rated filter that you can find to fit your intake.
Filtrete Micro Allergen Defense Air FilterBuy Now
4) Use a HEPA air filter in your home
HEPA air filters trap harmful particles, and can be very effective at reducing airborne toxic elements in your home. Many air purifiers contain a HEPA filter, but it's important to buy a system that is large enough for the room in your house you plan to use it in.
For small spaces, Honeywell and GermGuardian are both highly rated budget brands, while Austin Air is a top-rated air filter that is what you want to have on hand in the event of bigger air quality issues including everything from off-gassing new furniture to being located near a wildfire. I also have an Air Doctor and use that for everyday air purifying as well.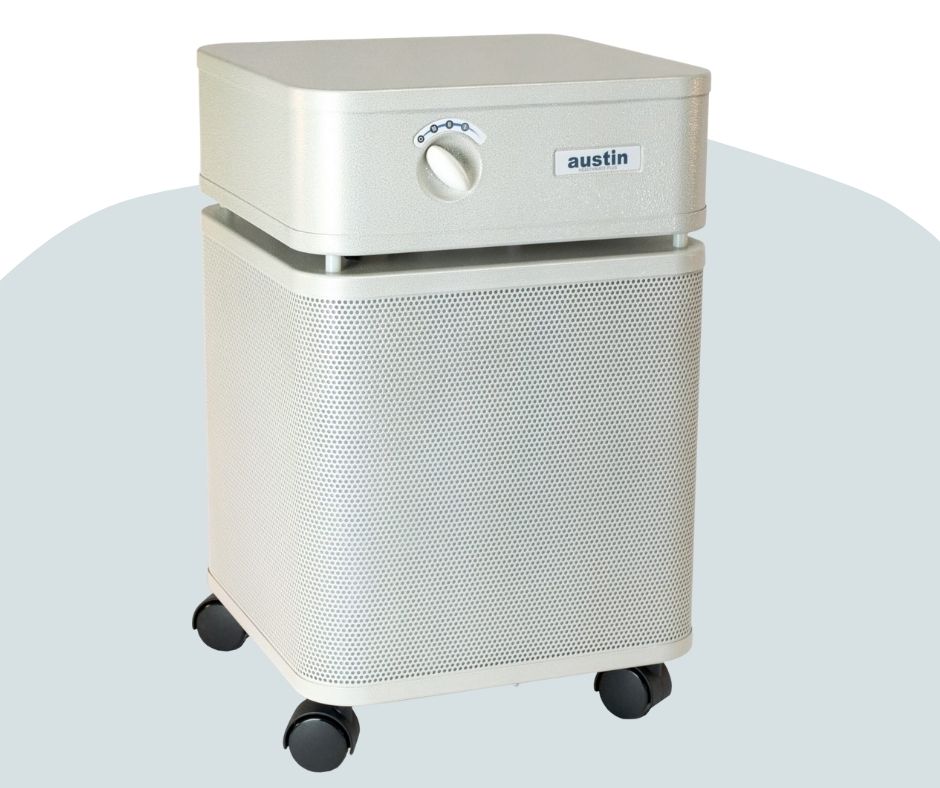 Buy on The Gentle Nursery