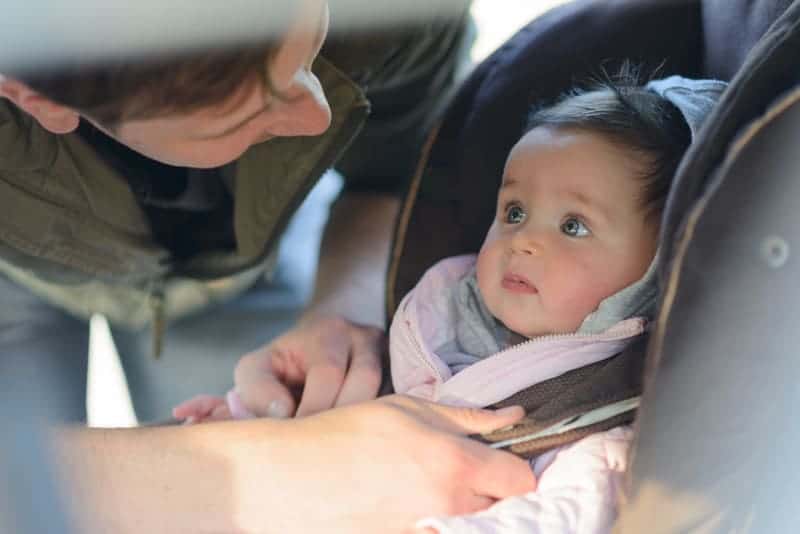 You're required by law to buy a car seat. It's actually the only baby product that parents have to use. And for good reason – car seats save children's lives. Because they are designed to protect our children, choosing a car seat is an important decision (and in. But, how exactly do you choose the right car seat for your baby and your car? I remember being overwhelmed when I first started shopping for a car seat. Going into it, I knew that physical safety was the top priority. My baby's comfort mattered too, so I knew I would spend a little more for a plush seat. But as I began digging deeper, I discovered that car seat manufacturers were using toxic flame retardant chemicals in their car seats. Chemicals that I don't want to expose my children to (especially not on a surface they make contact with for prolonged periods of time). This is what opened my eyes to the importance of considering chemical safety when buying a car seat. It is an important factor that I want you to consider, as well. While there are only two infant car seats on the market that don't contain any flame retardant chemicals (this one and this one), there are a growing number of manufacturers using potentially safer flame retardant chemicals in an effort to bring us safer, non-toxic car seats. You have some great options to choose from!
What Are the Top Rated Non-Toxic Car Seats?
The Ecology Center recently released their HealthyStuff Children's Car Seat Study, which evaluates  flame retardants and toxic chemicals in car seats. The findings weren't very good: 87% of car seats tested had toxic flame retardant chemicals.
The three car seats that received the highest rating in the Ecology Center's HealthyStuff Car Seat Study are: ★ UPPAbaby Mesa Infant Car Seat in Henry (the only infant car seat that received this rating), ★ Britax Marathon ClickTight Convertible Car Seat, and ★ Maxi-Cosi Pria 70 Convertible Car Seat.
UPPAbaby MESA Infant Car Seat, Henry

Britax Marathon ClickTight Convertible Car Seat

Maxi-Cosi Pria 70 Convertible Car Seat

Other seats that got a good recommendation in the latest study were the ★ Clek Foonf Convertible Car Seat and Orbit Baby Toddler Convertible Car Seat (currently unavailable). Below, you'll also find other options for highly rated non-toxic car seats, as well as my thoughts on each of these seats.
Skip ahead: Non-Toxic Infant Car Seats and Non-Toxic Convertible Car Seats
What is The Problem With Flame Retardants in Car Seats?
To answer this question, let's dive a little deeper into the main source of the problem: hazardous chemical flame retardants.
Car seat manufacturers are required to meet federal motion vehicle flammability regulation FMVSS 302 to reduce injuries in the event of a vehicle fire. In theory, this is a worthy idea. However, there is no evidence that many of the chemicals being used to adhere to these requirements provide any safety benefit in the event of a fire. In fact, there is widespread concern that these regulations are exposing children to more harm and health hazards. According to the Ecology Center's 2015 Study on Chemical Hazards in Car Seats:
Flame retardants may also contribute to injury when they burn. For example, when foam containing pentaBDE burned, it produced twice as much smoke, seven times as much carbon monoxide, and 70 times as much soot as foam without flame retardants. [1]
And that's just the tip of the iceberg. But despite this sad truth, this is the current law, and car seat manufacturers must continue to meet these standards. To do so, many manufacturers use low-cost but harmful, halogenated flame retardants. The Ecology Center's HealthyStuff Car Seat Studies have found popular car seats to include brominated or chlorinated flame retardants such as Chlorinated Tris, TCPP, Bromine, HBCD, and TBC, among others in car seats manufactured as recently as 2014. Their 2015 study even found six unidentified brominated compounds in car seats made by Graco, Eddie Bauer, Cybex, Evenflo, Harmony, and Orbit Baby.
Why Do We Need Non-Toxic Car Seats?
We need non-toxic car seats because these flame retardant chemicals are associated with numerous health risks.
Exposure to halogenated (brominated or chlorinated) flame retardants have been associated with a wide range of impacts on animals and humans. These include immunotoxicity, reproductive toxicity, endocrine disruption, impairment of fetal and child development, interference in thyroid, liver, and neurological function, and cancer. [2]
Irresponsible car seat manufacturers are exposing our babies to these chemicals!
Because of the way these chemicals are applied to the foam and fabric of car seats, they break down and can be present in the air and dust inside vehicles. Babies and children can become exposed to these chemicals through ingestion of dust, inhalation, or throug physical contact. Considering how much time children spend in their car seats – and how sensitive their systems are – this exposure is concerning. There is some good news, though.
First, manufacturers can meet government flammability standards without using toxic chlorinated or brominated flame retardants; there are a growing number of manufacturers who have chosen to use phosphate-based chemicals, which are considered to be safer than chlorinated and brominated chemicals at this time (though further studies are still needed). This is promising! Manufacturers are moving away from these nasty chemicals because parents are voting with their wallets. For example, HealthyStuff's testing detected no chlorinated flame retardants (such as Chlorinated Tris) in any of the 2016 model car seats they tested. (Chlorinated Tris is a known carcinogen that was removed from children's pajamas in the 1970's, but was still used in car seats as recently as 2014!) This is a positive trend!
Is There a Car Seat Without Any Flame Retardant Chemicals?
Yes! Most exciting of all, in June of 2017, UPPAbaby introduced the first-ever naturally flame retardant car seat. The UPPAbaby Mesa Henry is an infant car seat that contains no chemical flame retardants. (More on this below.) UPPAbaby is the first manufacturer to step up to the plate and do what's right. UPPAbaby FTW!
UPPAbaby MESA Infant Car Seat, Henry

UPPAbaby Vista Henry

Since then, Nuna has introduced the Pipa Lite Infant Car Seat, which is also made without flame retardants. This is also the lightest car seat on the market!
Nuna Pipa LiteBuy Now
Read on for a complete list of non-toxic car seats, as well as some advice on choosing the right car seat for your child.
Car Seat Buying Tips
A car seat is an important purchase. Before we get into which car seat to buy, here are a few notes and tips about buying and using car seats:
All approved car seats in the US are required to meet the same safety standards, though some might have features that make it easier to correctly install your car seat. Easy installation is a huge factor when choosing a car seat, because over 70% of car seats are installed incorrectly [4]. The best car seat for you is one that fits your child and that you can install safely in your car, every time. A safely installed car seat can reduce the risk of death in road injuries by at least 71 percent [5]. Physical safety comes first.
Don't buy a used car seat. Once a car seat has been involved in an accident, it should no longer be used. Unfortunately, you'll never know the car seat's full history when buying secondhand. Car seats also have expiration dates.
Make sure that your car seat is installed correctly. Read your car seat manual cover to cover. Get to know its safety features and guidelines. If you need assistance, you can have a Child Passenger Safety Technician (CPST) check your installation and walk you through the safety features.
Children should remain rear-facing in their car seats as long as possible – until they outgrow their convertible car seat's height or weight limit [6].
Register your car seat with the manufacturer, so that you can be notified of any recalls.
The Best Non-Toxic Infant Car Seats
Most families use an infant car seat for their newborn. An infant car seat is a rear-facing, portable car seat that attaches to a base in your car and can also attach to a stroller, so your baby could stay in their car seat while you transfer them to the stroller (and if they're sleeping, most likely, staying asleep in the process). This is why most parents choose to start with an infant seat. You can use it until your baby outgrows the seat height or weight limits, which usually happens around 12 months of age. However, Consumer Reports recommends that parents switch to a rear-facing convertible car seat before age 1 for added protection [3]. I like making the switch around 6 months of age.
Taking into consideration safety, comfort, and use of toxic chemicals, here are some of the best non-toxic infant car seats currently on the market.
Tip: With any infant car seat, I strongly suggest buying this breathable car seat canopy. I never use the infant car seat without one! It blocks the sun from getting in their eyes, gives them a little privacy to help them nap, and prevents strangers from peeking at or trying to touch your baby.
UPPAbaby MESA Infant Car Seat, Henry

The UPPAbaby Mesa is a relatively new car seat, but is growing in popularity. This lightweight (10 lb!) car seat features side-impact protection, a no-rethread harness, and UPPAbaby's Smart Secure™ system for an easy and safe installation. UPPAbaby has two models of this car seat: the traditional Mesa car seats and the Henry, which contains no flame retardants.
The UPPAbaby Mesa Henry uses no flame retardant chemicals. It meets flammability requirements by using wool instead of chemicals. And, what's great is that this chemical-free claim has been verified by the Ecology Center after extensive testing. The Henry model costs a little more than the standard Mesa car seat and is worth it in my opinion.
In its standard Mesa car seats, UPPAbaby does not use halogenated flame retardants, and meets government flammability standards without the use of these harmful chemicals, making this one of my favorite non-toxic car seats. This is the car seat we have used, and I was mostly happy with it, except for the fact that I was unable to use the belt-path installation in my car because the seat kept getting loose. UPPAbaby customer service was very helpful and suggested that I switch to using a LATCH install, which was much better.
The Mesa is compatible with UPPAbaby's own line of strollers, including the Vista in Henry. Since it's a newer car seat, you'll find less compatibility with other stroller brands at this time. (Baby Jogger discontinued making adapters for the Mesa.)
Overall, I am happy with the UPPAbaby Mesa car seat and recommend it to new parents. Even more so now that the Henry model was released. I love you, UPPAbaby! 
Britax B Safe 35 Infant Seat

Britax B Agile & B Safe Travel System

Britax is another one of my favorite car seat companies because their seats are very sturdy. What's more, since 2013, they have been working to eliminate flame retardants containing bromine, chlorine, or other halogens from all components used in their car seats, while still meeting government flammability standards by using phosphate-based flame retardants. (Remember, these are considered better than halogenated flame retardants, but further testing is needed.) Both the B-Safe and the B-Safe Elite offer side-impact protection, though the Elite version offers an additional layer of protection. The Elite version also offers a few other perks such as a no-rethread harness (which makes adjusting the harness a bit easier as your baby gets taller…and taller…) and an easy-to-remove cover. Both seats are on the heavier side, making them a little less portable than the UPPAbaby Mesa or the Maxi-Cosi, for example. But I do like that they are sturdy and I highly recommend Britax. You can purchase an extra base for a second car as well, making it easier to get around with your baby.
Maxi-Cosi Mico Max 30 Infant Car Seat

This is a great choice because it features a rebound protection bar for added safety, machine washable self-wicking fabric to keep your baby cooler (and happier) in their car seat, and side-impact protection. It's also one of the lightest car seats available, which helps when you're lugging your little one around town. The Maxi-Cosi is a pretty plush and comfortable car seat, which might help your baby to feel more comfortable. Another one of Maxi Cosi's convertible car seats tested very well in the Ecology Center's car seat report. You can purchase an extra car seat base and matching stroller frame for the Maxi-Cosi as well.
Nuna Pipa LiteBuy Now
This is Nuna's first car seat that is made without any flame retardant chemicals. (Note: their other car seats still contain flame retardant chemicals.) Weighing in at only 5.3 lbs., the Pipa Lite is the lightest car seat on the market. The materials used in the seat do not contain any flame retardant chemicals and meet government flammability standards naturally. However, the company would not be specific with me about how they meet these regulations. All they say is that the materials used are sourced because of their ability to be naturally flame resistant.
The Pipa Lite also features side-impact protection and uses lightweight foam that is lightweight, resilient, and reduces the force transferred to the baby by absorbing and diffusing energy. The only downside to the car seat is that it cannot be used with only a belt-path installation. So, if you plan to use it on an airplane, you will need to travel with the base. I would personally opt for the UPPAbaby Mesa in Henry.
The Best Non-Toxic Convertible Car Seats
After your baby outgrows their infant car seat, they'll need a rear-facing convertible car seat. Convertible car seats are not portable and do not attach to a stroller, so you would need to remove your baby from the car seat and transfer them to a stroller or baby carrier. Some parents skip the infant car seat altogether and save money by using a convertible seat from birth.
Here are the best non-toxic convertible car seats currently available.
&
Britax Advocate ClickTight Convertible Car Seat

Britax USA Marathon ClickTight Convertible Car Seat, Vibe

This is one heavy-duty car seat, and in my opinion it's one of the safest car seat options on the market. The Advocate has a steel frame and boasts Britax's 3-layer, maximum level of side impact protection. And, the seat is extremely easy to install. Britax added the ClickTight installation feature to their convertible car seats, making it trivially easy to install. Simply adjust the recline, position the car seat in your car, open the front panel of the seat, buckle the seatbelt snug across the belt path, apply a little pressure, and finally close the panel. Then, you have a super tight install. Remember, being easy to install is really important and this seat is foolproof. I love this seat, and recommend it to everyone.
Britax offers two other models in its ClickTight family: the Boulevard and the Marathon. The ★ Britax Marathon ClickTight in Vibe (the most economical model in the ClickTight family) received the Ecology Center's highest rating because the seat tested negative for any halogenated (brominated or chlorinated) flame retardant chemicals. It was also found to not contain any flame retardants in the seat's fabric. While the study only tested one Britax model, the company has been recognized by the Ecology Center for their commitment to using safer flame retardants, and only as needed. Yay, Britax!
Britax also offers the Boulevard ClickTight. The main difference between these three models is the side impact protection; the Advocate has 3 layers of side impact protection, the Boulevard has 2, and the Marathon has 1. The Marathon also lacks the Click & Safe Snug Harness Indicator, and has 2 fewer headrest positions than the other two models. For these reasons, I prefer the Advocate.
Side Impact Protection
Quick-Adjust Headrest
Click & Safe Snug Harness Indicator
Britax Advocate ClickTight
3 layers
14 positions
Yes
Buy Now
Britax Boulevard ClickTight
2 layers
14 positions
Yes
Buy Now
Britax Marathon ClickTight
1 layer
12 positions
No
Buy Now
If the ClickTight models are too expensive, you could also consider Britax's traditional convertible seats that don't have the ClickTight feature: Roundabout, Marathon, and Boulevard.
Maxi-Cosi Pria 70 Convertible Car Seat, Blue Base

Along with the Britax Marathon Clicktight, the Pria 70 Convertible Car Seat received the highest recommendation from the Ecology Center. The Blue Base model is the one that was tested, and it was verified to not contain any brominated flame retardants and no flame retardants in the fabric of the seat. The Pria features side-impact protection and self-wicking fabric that helps keep your child cooler in their seat. Forward-facing, it can be used up until your child weighs 40 lbs., and rear-facing it can be used until your child weighs 70 lbs. The seat fabric is removable and can be washed in the washing machine (love this feature!). The seat comes with a cup holder and an optional car seat canopy (though the reviews are mixed).
Clek Foonf 2017 Convertible Car Seat

The Clek Foonf is an amazing seat to consider if it's within your budget. Made in North America but designed to meet European standards, the Foonf accommodates extended rear-facing up to an impressive 4 years of age (the standard in Europe) or 50 lbs. The seat is easy to install and boasts side-impact protection, an anti-rebound bar for rear-facing installation, and a steel and magnesium structure for added safety. The Foonf is a non-toxic car seat; the company uses GREENGUARD Certified fabrics that are free of brominated and chlorinated flame retardants, also making this a top pick in my book. This seat is less than 17 inches in width, making it easy to install three seats side by side (aka "3-across") in many vehicles. I highly recommend this seat and know many families who are happy with it. Clek also offers a recycling program for its car seats – wow! To me, this is one of the best non-toxic car seats available, though the Capri model received only a moderate recommendation from the Ecology Center for what I perceive to be minor concerns (flame retardants in the velcro or on the warning label).
The Most Toxic Car Seat Brands
The brands that received the lowest recommendation from HealthyStuff's Car Seat Study include:
Baby Trend
Chicco
Cosco
Diono
Evenflo
Graco
Joie
Nuna
Recaro
Safety 1st
I would recommend avoiding these brands if possible, since there are safe alternatives listed above. And as for Chicco? I have struggled with whether or not to include Chicco on my list of recommended car seats. I love their car seats for their safety features, ease of use, and safe installation. Car seat technicians rave about Chicco's Keyfit Infant Car Seat because it's so easy to install – and that is a major factor in my book when it comes to choosing the right car seat for your child. To me, physical safety ranks higher than chemical safety.
That said, Chicco still uses brominated flame retardants in their car seats. The Keyfit 30 Infant Car Seat tested positive for HBCD or a related brominated flame retardant. According to the EPA, HBCD has been found to have "persistent, bioaccumulative, and toxic characteristics". Since there are other easy-to-install car seats listed above that don't use these chemicals, I have kept Chicco off my list.
If you are still interested in a Chicco car seat, despite their use of brominated chemicals, please read on for my reviews.
Chicco Keyfit 30 Infant Car Seat: [Not recommended] This is one of the most popular infant car seats on the market because it's very easy to install. The seat is made with EPS energy-absorbing foam for improved impact protection. The bad news is that Chicco still uses brominated flame retardants. If they were to remove these chemicals from their products, I'm sure the Keyfit Infant Car Seat would move near the top of my list. So, from a safety and installation perspective, the Chicco is top-notch and I still recommend this car seat for that reason. However, I believe there are better, safer options from companies like Britax and UPPAbaby that have made an effort to eliminate such harmful chemicals.
Chicco Nextfit Convertible Car Seat and Chicco Nextfit Zip: [Not recommended] Chicco also makes popular convertible car seats that are lauded for their safety features and ease of installation. The Nextfit Zip also wins points with parents because of its machine-washable, zip-off seat pad. There are many times I've wished my Britax had this zip-off seat pad.
A Final Word About Non-Toxic Car Seats:
While there's still a long way to go, the market is changing.
Manufacturers are starting to respond to parents' requests to remove harmful chemicals from car seats. Journalists are exposing the dangers of these chemicals. Lawmakers are paying attention.
We as parents don't want to expose our children to unnecessary chemicals that have an array of health hazards including hormone disruption, cancer risks, mental impairment, or reproductive damage.
Here's what you can do:
Buy a healthier car seat. Vote with your wallet. Don't support the brands that use brominated flame retardants. (Or if you have one of these car seats, vacuum regularly with a handheld HEPA vacuum.)
Sign the petition. The Ecology Center's Toxic-Free Car Seats petition challenges manufacturers to develop safer policies and implement an action plan to eliminate hazardous chemicals in their products.
Contact your representatives. Let your elected representatives know that you support legislation that overturns these well-intentioned but harmful fire safety regulations.
Spread the word. If you found this article helpful in your search for non-toxic car seats, please share it with other families! Encourage others to follow your lead.
UPPAbaby MESA Henry Infant Car Seat

Clek Foonf Convertible Car Seat

Britax B Safe 35 Elite Infant Seat

---
Wondering where to create your baby registry? I recommend registering with Amazon for the widest selection of natural and non-toxic baby products, best prices, fast shipping, and excellent customer service. Create your Amazon Baby Registry now >>
Sources: [1] Ecology Center (2016) [2] Ecology Center (2015) [3] Consumer Reports [4] Today [5] SafeKids [6] SafeRide 4 Kids [7] EPA
SaveSaveSaveSaveSaveSave
SaveSave
SaveSave
SaveSave
SaveSave
SaveSave
SaveSave
SaveSave
SaveSaveSaveSave
SaveSave
SaveSave
SaveSave
SaveSaveSaveSaveSaveSave
SaveSave
SaveSave
SaveSave
SaveSave
SaveSaveSaveSave
SaveSaveSaveSave
SaveSave
SaveSave
SaveSave
SaveSave
SaveSave
SaveSave
SaveSave
SaveSave
SaveSave
SaveSaveSaveSave
SaveSave
SaveSave
SaveSave
SaveSaveSaveSave