When it comes to buying a car seat for your little one, you want the safest option available. That gives you peace of mind knowing your baby will be as safe as possible when you're on the go. For this reason, choosing a car seat is one of the most important product decisions you will make for your child.
But what if that "best" option is actually kind of toxic?
Unfortunately, this is the reality: most popular car seats out there are pretty toxic. Flame retardant chemicals and PFAS are two common toxins found in infant car seats — and they can be extremely harmful to our children's health.
The good news is that there are now some great non-toxic car seats on the market.
So choosing the best for our babies and toddlers means avoiding toxic flame retardant chemicals and PFAS as much as possible. This article will explain why they're toxic and why you should choose a non-toxic infant car seat instead.
Some of our favorite non-toxic car seats include the Nuna Pipa Lite LX, Nuna Rava, and Britax Advocate. These seats don't contain these harmful chemicals, and they're just as safe as car seats that are made with chemical flame retardants.
Our Top Picks for 2023
How to Choose the Safest Car Seat for Your Child
A car seat is essential for any new parent, so make sure you choose the right one. But how exactly do you choose the right car seat for your baby and your car?
There are two key aspects to consider when choosing a car seat for your baby or toddler: physical safety and chemical safety.
Physical safety is always the top priority when buying a car seat.
Your child's physical safety is the #1 thing to consider. Consider how easy it is to install the car seat (in your car, not someone else's) and what extra safety features it has.
Here are some tips for shopping for a car seat:
Choose a car seat made by a reliable manufacturer. All car seats in the United States have to pass the same safety standards, and pretty much all car seat manufacturers have had recalls, but some manufacturers might be more reputable than others. They might handle your customer service questions with more care. Some car seats come with extra safety features that *might* be helpful in the event of an accident, for example.
Check the car seat's height and weight limits. Make sure the car seat is appropriate for your child's age, height, and weight by checking the car seat's specifications. A car seat that's too big or too small for your child won't be safe. Know your child's stats, especially as they grow.
Find a car seat that is easy to install and use. For a car seat to work properly, it must be easy to install correctly in your car, every time. If you can't install the car seat correctly, (for example, you find that the base gets loose or it's hard to pull the straps tight enough), you should not use that car seat. Your car seat must be easy to install — reliably, every time. Some car seats have extra features that make it super easy to install your car seat (like Britax ClickTight car seats). Before you buy, you can try installing a friend's car seat in your car or head to a baby boutique that allows you to do a test install of a car seat in your car.
Look up NHTSA car seat safety ratings. Car seat safety ratings can be helpful when choosing a car seat for your little one, but it's important to note that results vary from car to car. So while these are helpful to consider, they shouldn't be your only deciding factor when buying a car seat. Remember: all US-made car seats pass the same safety standards and testing.
Rear-face your child as long as possible. Rear-facing is safer for your child in the event of a collision. While each state has its laws about rear-facing, the AAP recommends keeping your child rear-facing until age 2 or until they outgrow the rear-facing height or weight limits. In many parts of Europe, kids are kept rear-facing until the age of 4.
But a car seat's chemical safety is important, too.
Chemical safety refers to whether the manufacturer uses toxic chemicals such as hazardous flame retardants and fabric treatments. Of course, chemical safety isn't as important as physical safety — the car seat's job is to protect your child in the car — you'll still want to pay attention to the chemicals that a car seat will expose your child to.
These can include:
Halogenated flame retardants
Phosphorus-based flame retardants
Perfluorinated chemicals (PFAS)
Antibacterial agents such as triclosan
Exposure to these kinds of chemicals during infancy can have real and lasting effects on a child's health. Babies and children have developing bodies that are especially susceptible to the dangers of toxic chemicals, especially in their car seats, where they can spend a significant amount of time during infancy.
Since the Ecology Center began studying toxic chemicals in car seats, car seat manufacturers have begun listening to parents who are concerned about the use of toxic flame retardant chemicals and perfluorinated chemicals in car seats. At this time, six manufacturers have introduced car seats without flame retardants.
This means you have some wonderful non-toxic car seats to choose from when shopping for your baby or child. To help you choose the right non-toxic car seat for your little one, let's talk a little about why you should be cautious about flame-retardant chemicals and PFAS in your child's car seat.
Toxic Chemicals Found in Child Car Seats
The Ecology Center has tested several car seats for harmful flame retardant chemicals and per- and poly-fluorinated alkyl substances (PFAS) on the car seat fabrics (fabric treatments that make the fabric stain resistant). I love that they are looking at more chemicals that we as parents would want to avoid exposing our kids to.
Thanks to the Ecology Center's studies on car seat toxicity, we know the following:
83% of car seats tested still contain flame-retardant chemicals that may be hazardous.
50% of the seats tested contain PFASs and the Ecology Center indicates that these chemicals are unnecessary.
Since their studies began, PBDEs and Chlorinated Tris have been phased out by manufacturers.
Not enough testing is being done on the chemicals that are used in car seats.
Three car seat manufacturers (Britax, Maxi Cosi, and Chicco) make seats with removable, washable covers to help avoid the need for PFAS for stain resistance.
Why You Should Be Concerned About Flame Retardants
While car seats are made for children, they are subject to automotive regulations (which were last updated in 1981).
All car seats sold in the United States must meet federal motion vehicle flammability regulation FMVSS 302 to reduce injuries in the event of a vehicle fire. In theory, this is a worthy idea.
However, many manufacturers use low-cost halogenated flame retardant chemicals to meet these standards. There are three major problems with this:
Problem #1: These flame retardant chemicals are associated with numerous health risks.
Exposure to halogenated (brominated or chlorinated) flame retardants has been associated with a wide range of impacts on animals and humans. These include immunotoxicity, reproductive toxicity, endocrine disruption, impairment of fetal and child development, interference in thyroid, liver, and neurological function, and cancer.
Because of how flame retardant chemicals are applied to the foam and fabric of car seats, they break down and can be present in the air and dust inside vehicles. Babies and children can become exposed to these chemicals through ingestion dust, inhalation, or physical contact.
While cars themselves aren't free of flame retardant chemicals, this is concerning considering how much time children spend in their car seats — and how sensitive their systems are. Car seat companies are exposing babies to these chemicals in their car seats — an item kids make regular and direct contact with, often for prolonged periods (in and out of the car).
Problem #2: Flame retardant chemicals may not even be necessary in the event of a fire.
The National Highway Traffic Safety Administration (NHTSA) itself can't justify the use of these flame-retardant chemicals. The NHTSA "never evaluated the effectiveness of the federal motor vehicle standard in children's car seats. The agency also said it was unaware of any records, data or studies that indicate the current flammability standard is relevant or provides any fire safety benefit in a child's car seat."
Problem #3: These chemical fire retardants may be ineffective.
There is no evidence that many of the flame retardant chemicals companies are using to meet these flammability standards provide any safety benefit in the event of a fire. In fact, there is widespread concern that these regulations are exposing children to more harm and health hazards. Flame retardants emit carcinogens when they burn. Additionally:
Flame retardants may also contribute to injury when they burn. For example, when foam containing pentaBDE burned, it produced twice as much smoke, seven times as much carbon monoxide, and 70 times as much soot as foam without flame retardants.
And that's just the tip of the iceberg. But, this is still the current law, and car seat manufacturers must continue to meet these standards.
There is some good news, though.
Manufacturers can meet automobile flammability standards without using toxic flame retardants. Thanks to consumer demand, companies are making car seats that contain no flame retardant chemicals at all, and there are many more who use phosphate-based chemicals instead of halogenated flame retardants. (Phosphate-based flame retardants are believed to be somewhat safer than chlorinated and brominated chemicals at this time, though further studies are still needed to prove their safety.)
Why Should You Avoid Perfluorinated Chemicals?
PFAS is a family of harmful chemicals that includes perfluorooctanoic acid (PFOA) and perfluorooctanesulfonic acid (PFOS). These chemicals are used in many products, including food packaging, non-stick cookware, and stain-resistant fabrics. They're also found in some car seats. Studies have linked PFAS exposure to cancer, thyroid problems, reproductive issues, and other health problems.
Additionally, thanks once again to the Ecology Center, there is more transparency regarding the use of perfluorinated chemicals (PFCs/PFOAs) in car seats. These chemicals are stain, water, and grease-repellant treatments that are used as fabric treatments on many car seats. They're also used to make non-stick cookware.
These chemicals have been linked to human health hazards and have been shown to have the following effects in animal studies:
disrupt normal endocrine activity
reduce immune function
cause adverse effects on multiple organs, including the liver and pancreas
and cause developmental problems in rodent offspring exposed in the womb.
Ideally, we would want to avoid exposure to these chemicals whenever possible – especially direct contact.
Manufacturers Are Now Making Car Seats Without Flame Retardants and PFAS
Chemical flame retardants are unnecessary but inexpensive. That's why most car seat manufacturers use them. But, there's a better way: by using inherently flame-resistant fabrics such as wool and polyester, manufacturers can still meet flammability standards without the use of chemical flame retardants.
In fact, since the Ecology Center first began studying car seat toxicity, six car seat manufacturers have introduced car seats without flame retardants. This is a huge advancement, and I am so happy to see that manufacturers are doing better for our babies.
The list below is a complete list of all car seats without flame retardant chemicals that are available in the United States. Please note that while these car seats do not contain flame retardant chemicals, they still contain polyurethane foam used as padding. At this time to my knowledge, no car seat manufacturers are using an alternative to polyurethane foam or even Certi-Pur foam.
To be certain that you are buying a car seat without flame retardant chemicals, please note the exact car seat model, fabric, and colors listed below. The links should take you to the right model, but please double-check before ordering your car seat because links and fabric options change.
The Best Non-Toxic Car Seats Without Flame Retardants
Since 83% of car seats tested were found to contain potentially hazardous flame retardant chemicals, it should be no surprise that the cleanest car seats are the ones that contain no added flame retardant chemicals.
The non-toxic car seats listed here do not contain flame retardant chemicals in the seat fabric or in the entire seat itself; and I've also indicated which do not contain PFAS/PFCs.
Nuna (10 Car Seats)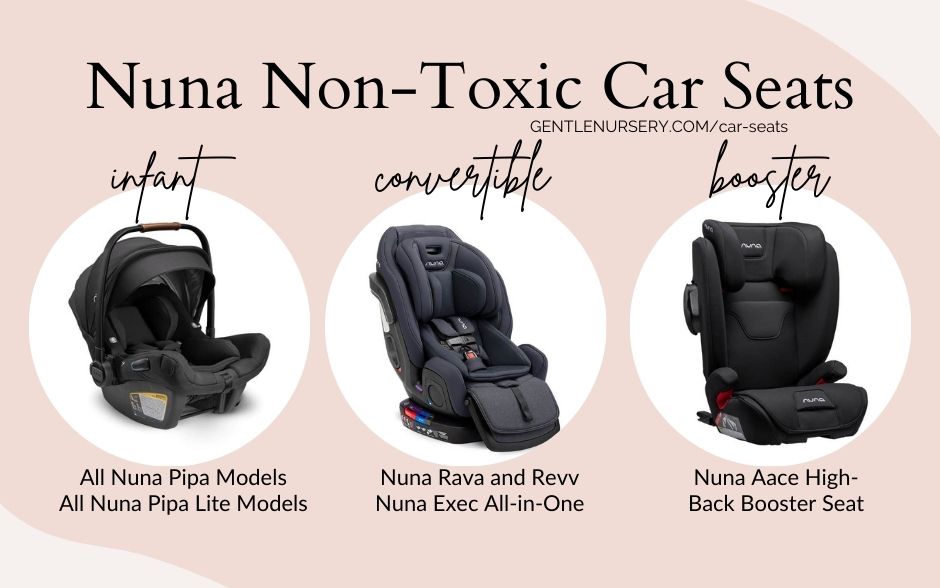 All Nuna car seats 2020 and newer are made without flame retardant chemicals
Nuna has completely phased out using flame retardants and perfluorinated chemicals in their car seats. Their car seats are completely free of flame-retardant chemicals, making Nuna one of our most trusted baby gear brands.
Their infant, convertible, and booster car seats are made with the highest quality standards. All car seats use Merino wool blends to meet federal flammability standards naturally. Nuna's car seats are all Greenguard certified, too, which tests for additional chemical emissions.
If you are looking for a truly eco-friendly, non-toxic car seat, Nuna makes some of the best. Their line is also stylish and comes in various fabric choices. All of their 2020 and newer models are made without flame retardant chemicals, so you can choose any fabric and model that works for you.
Nuna's Non-Toxic Infant Car Seats
Nuna's infant car seat is the Pipa, and it comes in lightweight and regular models. All Pipas feature luxurious fabrics and a beautiful leather handle for easy toting. Each Pipa model has a large 50 UPF canopy with a flip-out shade and is compatible with all Nuna strollers using an adapter.
Nuna Pipa car seats are suitable for babies 4-32 lbs. and up to 32 inches. They have two types of bases: the original Pipa series base and the reclining RELX base. All models feature side-impact protection and are easy to install using Nuna's 5-second TrueLock installation feature.
The "R" models come with the Relx car seat base, which has a lower profile than the original Pipa base and can recline in 4 positions.
Nuna Pipa Infant Car Seats
Nuna Pipa: The Pipa is Nuna's original infant car seat and their least expensive model. The fabric on this seat is polyester and the seat weighs 7.9 lbs.
Nuna Pipa RX: This is the original Pipa car seat, but it comes with Nuna's low-profile, reclining RELX car seat base. Since it can be installed using the belt path, the Pipa RX is great for travel and taxis.
Nuna Pipa LITE Infant Car Seats
Nuna's Non-Toxic Convertible Car Seats
Nuna Rava Convertible Car Seat: This car seat could win an award for being one of the most popular baby products with my readers. It's a plush convertible car seat that has side-impact protection, extra legroom for your little one, and a hassle-free installation. What's also great about the Rava is that it allows for longer rear-facing than most convertible car seats. It can be used rear-facing from 5-50 lbs./49" and forward-facing up to 65 lbs./49" with the seat-belt install. This wonderful, non-toxic car seat will last your child a long time.
Nuna Revv Convertible Car Seat: One of Nuna's newer car seats, the Revv is pretty unique — you can install it once and then it spins 360° for easy in/out and to switch between rear and forward-facing. Your child can use this car seat in either position until they reach 40 lbs. or 43". It comes with many added features, including 10 positions and 5 reclines, as well as a built-in anti-rebound bar. Great car seat with many advantages, but your baby won't be able to use it as long as the Rava (and it's more expensive than the Rava).
Nuna Exec All-in-One Car Seat: The Exec is an all-in-one car seat that starts as a convertible car seat and converts into a forward-facing belt-positioning booster seat. This seat can be used from birth, beginning at 5 lbs., and will last your child well into elementary school. I think the only downside to this seat is that it doesn't work as a forward-facing harness booster; it only works as a forward-facing convertible seat or belt-positioning booster. So if your 4 or 5 year old wants out of the convertible car seat, but isn't mature enough to sit still in a booster seat, you may need to keep them in the convertible seat longer than they'd like. Otherwise, this investment will last you many years (up to 120 lbs./57" in booster seat mode). It's also great for fitting three across (3 car seats next to each other) in most mid-size vehicles.
Nuna's Non-Toxic Booster Car Seats
Nuna Aace Booster Car Seat: The Nuna Aace is a convertible booster seat that starts as a high-back booster and can later be converted into a no-back booster seat. To use this seat, your child must be at least four years old and mature enough to sit still in their car seat without a restraint, between 38-60 inches, and weigh between 40-110 lbs.
Where to Buy Nuna Car Seats
Nuna is only available at select retailers. Use the following links to check pricing and availability:
Britax SafeWash (9 Car Seats)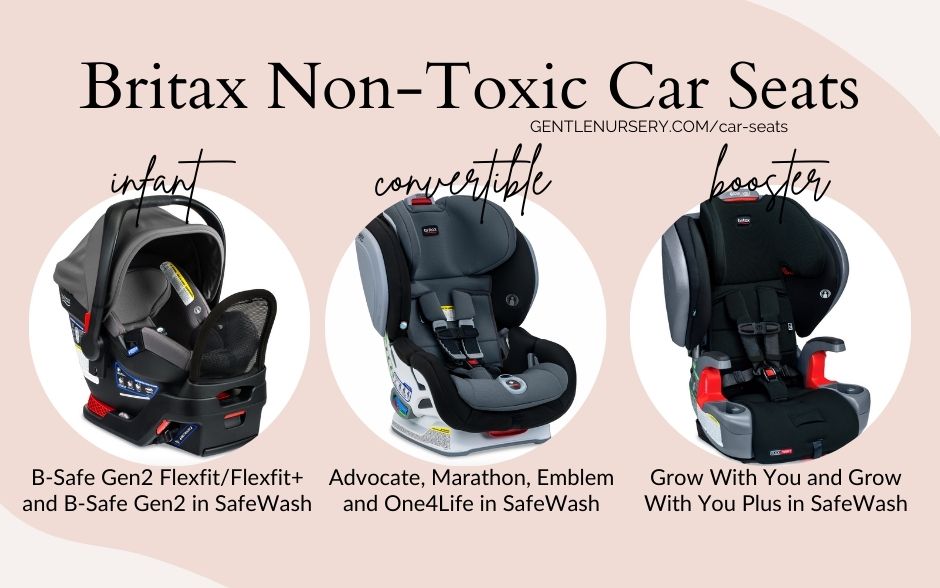 Only Britax car seats in SafeWash fabrics are made without chemical flame retardants
Britax has always been a leader in car seat safety, so that's why it's exciting that they introduced their SafeWash line of non-toxic car seats. Any of their car seats that come in a SafeWash fabric meet our criteria — they are free of chemical flame retardants, heavy metals, phenols, phthalates, and perfluorinated chemicals.
Britax uses tightly woven fabrics to meet flammability standards naturally, so the seats are not made with wool. The seat fabrics are removable and can be washed (follow manufacturer instructions). Replace the cover after 30 washes.
When shopping for Britax, check to see if the car seat you want is available in any SafeWash fabric. It looks like Britax is adding different colors to the SafeWash line. So far in 2022, we've seen Otto, Jet, Twilight, Cobblestone, Greystone, Eclipse, Mod (various), Plum, Cadet, Drift, and Cowmooflage 2.0.
Britax's Non-Toxic Infant Car Seats
B-Safe Gen2 FlexFit+ in Jet or Otto SafeWash: The B-Safe Gen2 is a high-quality infant car seat with Britax's best safety features. It comes standard with an anti-rebound bar, a steel frame, Britax's safe-cell impact protection technology, and two layers of side impact protection. It also offers a European belt guide for installing it without the base, like on an airplane or in a taxi. Installation is easy and secure with a LATCH or belt path install.
B-Safe Gen2 FlexFit in Cowmooflage, Twilight, or Jet SafeWash: This Flexfit model is available in Cowmooflage SafeWash but doesn't come with an anti-rebound bar. If you have the budget, spring for the Flexfit+ instead for the added safety. Here's a link to the travel system if you'd like to get the matching stroller at a discount.
B-Safe Gen2 in Cobblestone, Greystone, or Eclipse SafeWash: This is an affordable non-toxic car seat (around $200). Yay! It doesn't have the same bells and whistles as the first two models listed here, but it still comes with Britax's safety features and is available in three SafeWash colors.
At the time of publishing, the B-Safe Ultra and B-Safe 35 car seats are not available in SafeWash.
Britax's Non-Toxic Convertible Car Seats
Britax's Non-Toxic Booster Car Seats
Britax makes harness-to-booster seats that give your child the feel of being in a high-back booster but with the added safety of a 5-point harness. In my opinion, these are some of the very best booster seats on the market because they allow you to keep your child in a 5-point harness for much longer than other high-back boosters that just use the car's seat belt through a belt positioner. (These do not transition into a backless booster seat, FYI.)
At the time of publishing, the Highpoint and Skyline booster seats were unavailable in SafeWash.
Where to Buy Britax SafeWash Car Seats
Britax is available at big box stores and most retailers. Use the following links to check pricing and availability:
Clek (7 Car Seats)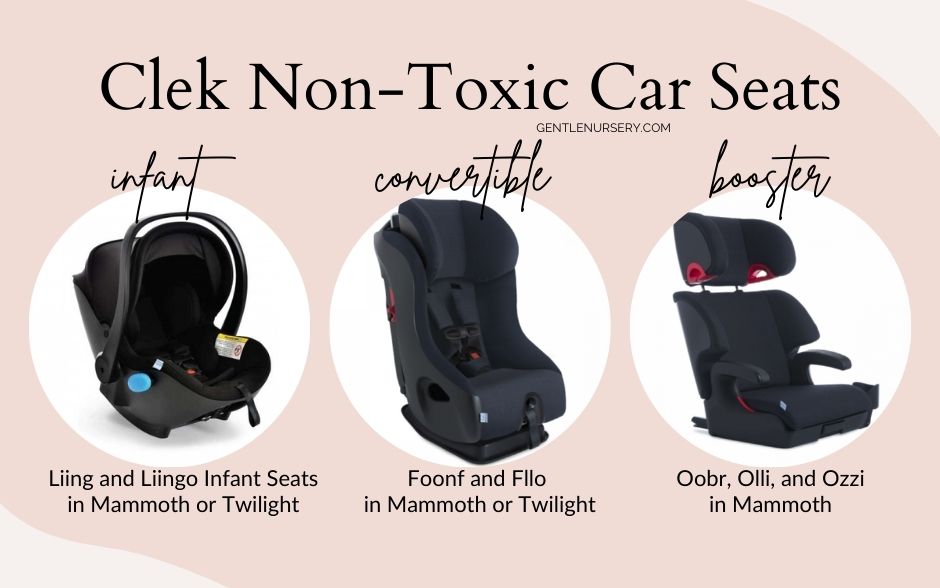 Only Clek car seats in Mammoth or Twilight/Full Moon fabrics are made without chemical flame retardants.
Clek is an innovative Canadian car seat manufacturer and was the first to introduce convertible car seats without flame retardant chemicals. Made in North America but designed to meet European standards, Clek's convertible car seats accommodate extended rear-facing up to an impressive 4 years of age or 50 lbs. The seats offer side-impact protection, an anti-rebound bar for rear-facing installation, and a steel and magnesium structure for added safety.
Any of their seats in "Mammoth" or "Twilight/Full Moon" fabrics are made to be naturally fire-resistant and do not use flame retardant chemicals. The Mammoth fabric is an Oeko-Tex certified Merino wool and TENCEL blend, while the fabric on Twilight/Full Moon car seats is 100% Merino wool. It may be harder to find seats in Twilight/Full Moon at this time, but some stores do carry them.
Note: All other Clek fabrics do contain flame retardants (though not the halogenated or brominated kind) and possibly perfluorinated chemicals. Only buy Clek car seats in Mammoth or Twilight/Full Moon.
I highly recommend Clek's wool car seats. They aren't as easy to install as our Britax ClickTight, but it is a wonderful car seat brand and their FR-free seats are made with the best materials. The only downside to Clek's non-toxic car seats is that the seat fabric is not removable, so it can only be spot-treated.
Clek also offers a recycling program for its car seats – so cool!
Clek's Non-Toxic Infant Car Seats
Clek's infant car seats are a great option, too. They're also suitable for 3-across and are compatible with several stroller brands including BabyJogger, BabyZen, Bugaboo, Bumbleride, Silver Cross, Stokke, Thule, and UPPAbaby — just make sure to use the Maxi Cosi adapter for your stroller brand. (Clek does not currently make strollers.)
Clek Liing in Mammoth or Twilight/Full Moon: The Liing infant car seat has a number of nice safety features, including an energy-absorbing metal load leg, advanced side-impact protection, 7 recline options, a 100 SPF sun canopy, and a LATCH install option. And since it can be installed using the belt path, the Liing can be used on an airplane without its base.
Clek Liingo in Mammoth or Twilight/Full Moon: The Liingo is pretty advanced in its design: it is the only baseless infant car seat on the market. The Liingo's LATCH adapters are built right into the car seat, meaning you don't need to use a base unless you want to. (You can still use it with the Clek base if needed.) I think Clek deserves some kudos for this amazing design.
Need some help deciding? It basically comes down to this: do you want an infant seat with or without a base? That's the main difference between the Liing and Liingo. Liingo can be used with or without a base.
Clek's Non-Toxic Convertible Car Seats
Both of Clek's convertible car seats are less than 17 inches in width, making it easy to install three seats side by side (aka "3-across") in many vehicles.
Clek Foonf in Mammoth or Twilight/Full Moon: The Foonf is Clek's flagship convertible car seat, with a few more features than the Fllo. The Foonf can be installed with Clek's rigid LATCH system or using the belt path, and it comes with an anti-rebound bar and advanced side-impact protection.
Clek Fllo in Mammoth or Twilight/Full Moon: Clek Fllo is a lighter convertible car seat that is used with the belt path. It comes with an anti-rebound bar and side-impact protection.
What's the difference between Foonf and Fllo? The Foonf has a rigid LATCH system and three different recline positions, while the Fllo only offers a belt-path installation and only one recline position. The Fllo weighs about 10 lbs. less than the Foonf, and also sits a little lower in the car. (We loved the height on the Foonf, and it allows babies to better see themselves in a car seat safety mirror.)
Clek's Non-Toxic Booster Car Seats
Oobr in Mammoth or Railroad: The Oobr is a high-back booster seat that can be installed with rigid LATCH installation. It's nice because it offers your child a head rest with deep side wings and has an energy-absorbing foam layer. The Oobr is a great purchase because it can be converted into a backless booster. Oh, and, it comes with a cup holder, which we both is what the little ones care about.
Olli in Mammoth: The Olli is a portable booster seat for big kids, ages 6-12. It can be installed using LATCH (this is important, in my opinion) but has a quick-release system and a carrying strap.
Ozzi in Mammoth: The Ozzi is another backless booster seat that also installs with a latch. This booster comes at a slightly lower price point than the Olli because it doesn't have the quick-release feature or the carrying strap. If you aren't toting your child's booster from car to car or on a trip, the Ozzi is a great choice. The Ozzi wasn't available in Mammoth at the time of writing, but you might find this option once it restocks.
Where to Buy Clek Car Seats
Clek is only available at select retailers. Use the following links to check pricing and availability:
Chicco ClearTex (5 Car Seats)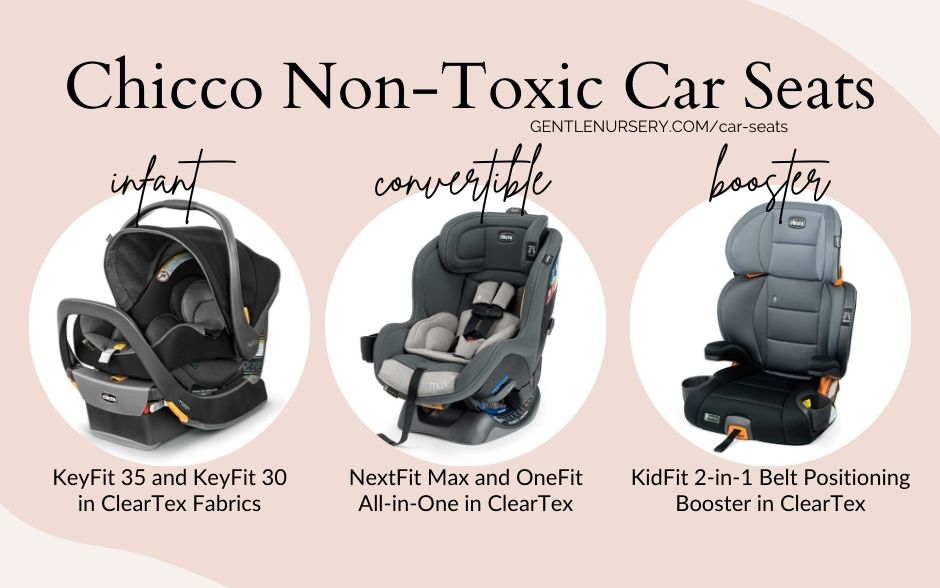 Only Chicco's car seats in a ClearTex fabric are flame-retardant free
As far as making non-toxic car seats goes, Chicco is pretty late to the party. But I'd like to give them credit for finally coming around because they have been making some of the (otherwise) safest and easiest-to-install car seats for over sixty years. So it's good that Chicco is now finally making car seats without flame retardants.
All of Chicco's car seats are made using ClearTex fabrics, which are free of added flame retardant chemicals, and are Greenguard Gold certified (meaning they tested low chemical emissions). Plus they feature the same safety features that Chicco is known and loved for.
Yay for another car seat manufacturer who is now making more non-toxic car seats!
Chicco's Non-Toxic Infant Car Seats
The KeyFit is one of the most trusted infant car seats of all time, and two models are now available in ClearTex fabrics. The covers are machine washable, but don't pop them into the dryer; hang them dry and plan for this to take a few hours.
Chicco KeyFit 35 in ClearTex: The KeyFit 35 model is designed for babies up to 35 lbs. and up to 32" tall. As far as safety goes, the base comes with an anti-rebound bar for added stability, premium LATCH connectors, and an easy and secure tightening belt. The seat has a no-rethread harness, and can be installed without the base.
Chicco KeyFit 30 in ClearTex: At a slightly lower price point, the Keyfit 30 model lacks the anti-rebound bar that the KeyFit 35 has (though it does have the same tightening belt). The seat itself is relatively lightweight, at 9.5 lbs. and can be used until baby is 30 lbs. or 30".
Between the two KeyFit models, we would recommend the KeyFit 35 due to the anti-rebound bar.
Chicco's Non-Toxic Convertible Car Seats
NextFit Max Convertible Car Seat in ClearTex: The NextFit is an extended-use convertible car seat that can be used rear-facing until your baby reaches 50 lbs. This is great if you plan to keep your baby rear-facing well past the age of 2, which is recommended. The NextFit has all of Chicco's safety features, including premium LATCH install, a secure LATCH tightening belt, and side-impact protection.
OneFit All-in-One Car Seat in ClearTex: OneFit is an all-in-one car seat that goes from convertible rear-facing to forward-facing, and then to a belt-positioning booster seat. The OneFit has a slimmer design, so it's extra useful for small- and medium-sized cars.
Chicco's Non-Toxic Booster Car Seats
KidFit 2-in-1 Belt-Positioning Booster in ClearTex: If you have a big kid who's ready for a belt-positioning booster, the KidFit model in ClearTex is made without flame retardants. This booster has 10 height positions and converts to a backless booster for extended use. The seat installs using Chicco's premium LATCH connectors, making for a secure seat.
Where to Buy Chicco ClearTex Car Seats
Chicco's ClearTex line is available at most retailers. Use the following links to check pricing and availability:
UPPAbaby (2 Car Seats)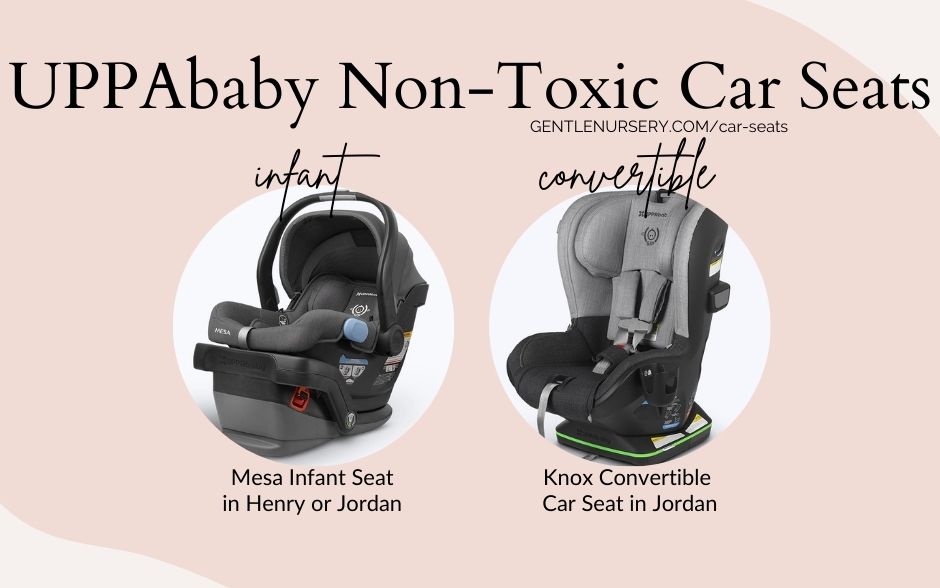 Only UPPAbaby's car seats in Henry or Jordan fabrics are made without chemical flame retardants
UPPAbaby was the first company to introduce a car seat that does not contain any flame retardant chemicals. They have truly paved the way for car seat manufacturers to make non-toxic car seats.
However, not all of their car seats are FR-free (flame retardant free). Only UPPAbaby's car seats in Henry and Jordan fabrics use a wool/polyester blend that is naturally flame resistant and does not require added chemicals to meet automotive flammability requirements. The standard UPPAbaby fabrics (Bryce, Lucca, Jake, Morgan, and Sasha) are made with polyester fabric and contain phosphate-based flame retardants.
And while 50% of the seats tested by the Ecology Center were found to contain PFAS, the Merino wool UPPAbaby seats did not contain any.
We also love UPPAbaby's overall style and functionality. The Cruz is really lightweight and the Vista is great if you have two little ones in a stroller at the same time. The company also offers virtual car seat checks with a certified car seat technician, which we found very helpful.
UPPAbaby's Non-Toxic Infant Car Seats
Mesa Infant Car Seat in Henry or Jordan: The Mesa is a high-quality infant car seat (speaking from experience using it with both babies). In addition to being made without flame retardant chemicals, this lightweight (10 lb!) car seat features side-impact protection, a no-rethread harness, and UPPAbaby's Smart Secure system for an easy and safe installation using LATCH or belt path.
UPPAbaby's Non-Toxic Infant Car Seats
Knox Car Seat in Jordan: Not available in Henry, the UPPAbaby Knox convertible car seat does come in one FR-free fabric: Jordan. The Knox uses a SmartSecure installation that secures the seat belt into the seat and uses a rear-facing tether for added control (this can reduce the risk of injury by up to 45% based on UPPA's independent studies).
UPPAbaby's Non-Toxic Booster Car Seats
None: At the time of publishing, UPPAbaby's Alta booster car seat was unavailable in a Merino wool fabric blend.
Where to Buy UPPAbaby Car Seats
UPPAbaby car seats are available at select retailers. Use the following links to check pricing and availability:
Maxi Cosi PureCosi (8 Car Seats)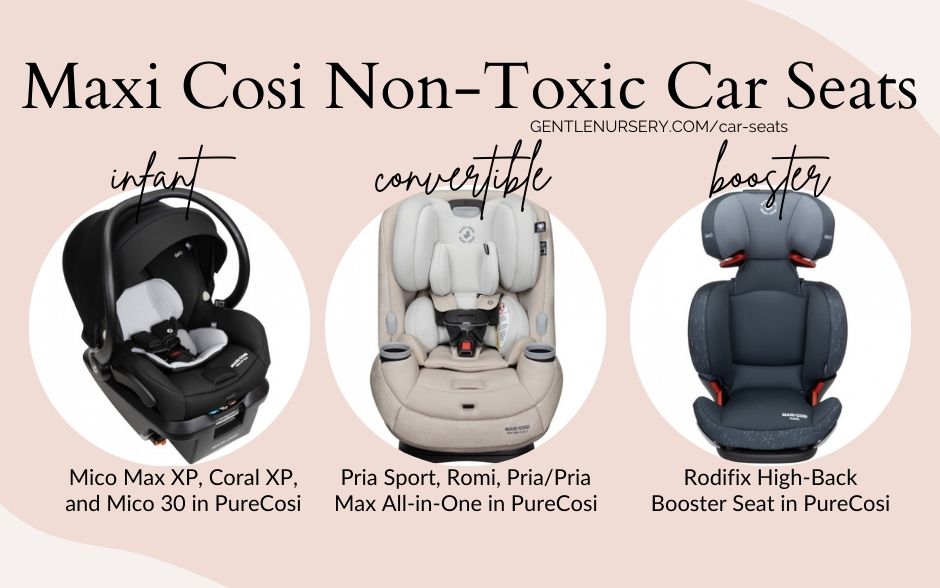 Only MaxiCosi car seats in a PureCosi fabric are non-toxic and flame-retardant free
With the introduction of their PureCosi line of non-toxic car seat fabrics, Maxi Cosi is on a mission to become a more sustainable baby gear brand. The company has always made safe, high-quality car seats (that are also stylish), but now they are joining the list of manufacturers making non-toxic car seats.
Using fabric weaves that are naturally flame-resistant and dyes that are more eco-friendly, PureCosi car seats avoid including chemical flame retardants and many other harsh or toxic chemicals in their seat covers. PureCosi fabrics do not contain wool so they are removable and washer/dryer friendly, which is a nice convenience.
Some of MaxiCosi's car seats are only available in PureCosi fabrics, while others come in non-PureCosi fabrics. Please double-check that the name of the fabric includes PureCosi. For example, it would be labeled as "After Dark – PureCosi".
MaxiCosi Non-Toxic Infant Car Seats
Mico Max XP in PureCosi: Similar to the Nuna Pipa, the Mico Max XP has several added safety features such as side-impact protection and an anti-rotation stability leg. This seat is easy to install and has that Maxi Cosi plush feeling. It does offer belt-path installation so it can be used in a taxi or on an airplane without the accompanying base. The canopy is large and also gets a lot of love from parents.
Coral XP in PureCosi: The Coral XP is pretty genius in its design. In addition to the typical carrying handle you normally see on infant car seats, it comes with side handles and a removable inner infant carrier. WHAT! So if you get tired of lugging around the entire car seat, you can detach a lightweight inner carrier (that weighs about 5 lbs.) and even wear it cross-body. This is really innovative!
Mico 30 in PureCosi: The Mico 30 is one of MaxiCosi's more basic infant car seats. This seat gets mixed reviews, saying things like the straps are hard to tighten or the seat is hard to remove from the base. Meh. Save your money and choose a different car seat.
MaxiCosi Non-Toxic Convertible Car Seats
MaxiCosi Non-Toxic Booster Car Seats
RodiFix Booster Seat in PureCosi: The RodiFix is the only MaxiCosi booster seat that comes in PureCosi. Even though it's "just" a booster seat, the RodiFix includes side-impact protection and a secure rigid LATCH installation.
There are no PureCosi belt-positioning booster seats at this time.
Where to Buy Maxi Cosi PureCosi Car Seats
Maxi Cosi's PureCosi line is available at select retailers. Use the following links to check pricing and availability:
The Most Toxic Car Seat Brands
Several brands received a poor rating from the Ecology Center's HealthyStuff's Car Seat Studies. Some of these brands have since changed their manufacturing methods and introduced non-toxic car seats. The following brands have not:
Baby Trend
Diono
Eddie Bauer
Evenflo
Graco
Joie
It would be best to avoid these brands if possible since there are safer alternatives listed above.
What if Your Car Seat is on the Toxic List?
Don't stress if your car seat is on the toxic list. If you own a car seat that was rated of high concern, here's my advice:
Don't keep your baby in the car seat longer than necessary. When removing your baby from the car, hold your baby or switch to a baby carrier or into the stroller seat. Cutting down on your baby's use and time spent in the car seat will help.
Wash the fabric regularly. If (and only if) your car seat fabric can be washed, wash it often per the manufacturer's washing instructions. You can also leave the seat outside in the sun for a couple of days to speed up the off-gassing of chemicals, though flame retardant chemicals are unlikely to be washed out.
Vacuum your car and car seat regularly. Use a handheld HEPA vacuum to clean the inside of your car regularly. Also, keep a microfiber cloth in your car to wipe down any settled dust because dust is one avenue for exposure to these chemicals.
Consider replacing the car seat.

Ask yourself how long you'll be using it? I would advise you to consider how long you will use the car seat before replacing it. For example, if it is an infant car seat and you will be moving up to a convertible car seat within a couple of months, you would probably not need to replace the infant car seat. (However, in this situation you might want to switch to the convertible car seat sooner than you would have otherwise.)
How much would it cost to buy a non-toxic car seat? Keeping your budget in mind, does switching to another car seat make sense?
A Final Word About Non-Toxic Car Seats
In the words of Jeff Gearhart, research director at the Ecology Center: "Manufacturers who continue to produce seats with toxic flame retardants are going to be seen as dinosaurs."
The future of baby gear is non-toxic.
It might start with organic crib mattresses and non-toxic car seats and avoiding chemicals while you're pregnant, but the truth is that babies should not be exposed to toxic flame retardants and PFAS and other toxic chemicals.
It's time for ALL manufacturers to step up.
Yes we have some manufacturers that are starting to respond to parents' requests to remove harmful chemicals from car seats. And journalists who are exposing the dangers of these chemicals. Lawmakers that are paying attention. But it still requires more.
We as parents don't want to expose our children to unnecessary chemicals that have an array of health hazards including hormone disruption, cancer risks, mental impairment, or reproductive damage.
So here's what you can do:
Buy a healthier car seat. Vote with your wallet. Don't support the brands that use brominated flame retardants or even PFASs.
Sign the petition. The Ecology Center's Toxic-Free Car Seats petition challenges manufacturers to develop safer policies and implement an action plan to eliminate hazardous chemicals in their products.
Contact car seat companies. Email car seat companies and let them know that you are not buying their products because of the chemicals found in their car seats.
Contact your representatives. Let your elected representatives know that you support legislation that overturns these well-intentioned but harmful fire safety regulations.
Spread the word. If you found this article helpful in your search for non-toxic car seats, please share it with other families! Encourage others to follow your lead so that toxic car seat sales decrease.
If you found this guide to non-toxic car seats useful, pin and save it for later!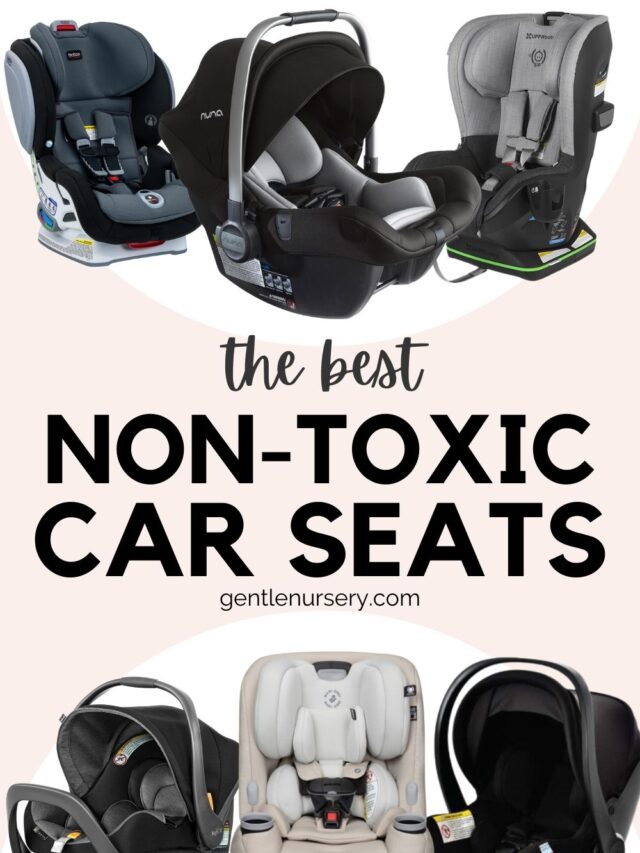 Other Resources: