A safe and healthy mattress for your baby is one of the most important items in your baby's nursery. In fact, as far as I'm concerned, an organic crib mattress should be the #1 purchase to make when planning for a new baby. If you're on a limited budget, start with the crib mattress and let everything else adjust accordingly.
Babies spend thousands of hours sleeping in their cribs during the early years, so the healthiest choice you can make is to ensure that they are using a certified organic crib mattress.
To help you choose the best organic mattress for your baby, I've looked at nearly every crib mattress on the market. I've learned all about how crib mattresses are made and waded through all the marketing claims to identify which mattresses are actually organic (and which are just greenwashing!).
This article lists the best organic crib mattresses for you that are actually certified organic — from brands you can trust. These organic crib mattresses are free of chemicals that can affect your baby's health and development in the long term.
Why Buy an Organic Crib Mattress?
Believe it or not, most mainstream crib mattresses are a major source of toxins, exposing babies to unhealthy levels of chemical emissions while they sleep.
Two studies conducted by the University of Texas at Austin over a two-year period found these shocking results:
Crib mattresses [release] nearly 30 different types of volatile organic compounds, or VOCs, and other potentially harmful airborne chemicals such as endocrine-disrupting phthalates and fragrance allergens.
Conventional crib mattresses off-gas these chemicals at room temperature, posing a threat to indoor air quality and presenting numerous health hazards. In fact, the same study found that chemical emissions from crib mattresses are the strongest within a sleeping baby's breathing zone.
According to the Environmental Working Group (EWG), these findings are particularly concerning because "infants' respiratory systems are fragile, many babies spend much of their first year of life in a crib, and body heat intensifies emissions."
The chemical safety of your baby's crib mattress is of the utmost importance. With any the organic crib mattresses on this list, you can be sure that your child is sleeping on a safe surface that has not been treated with any harmful chemicals.
Please read on for more information about why I strongly recommend non-toxic, organic crib mattresses for babies and toddlers, as well as my list of the best organic crib mattresses starting at under $300.
The Best Organic Crib Mattresses At a Glance
11 Things to Look For When Buying a Crib Mattress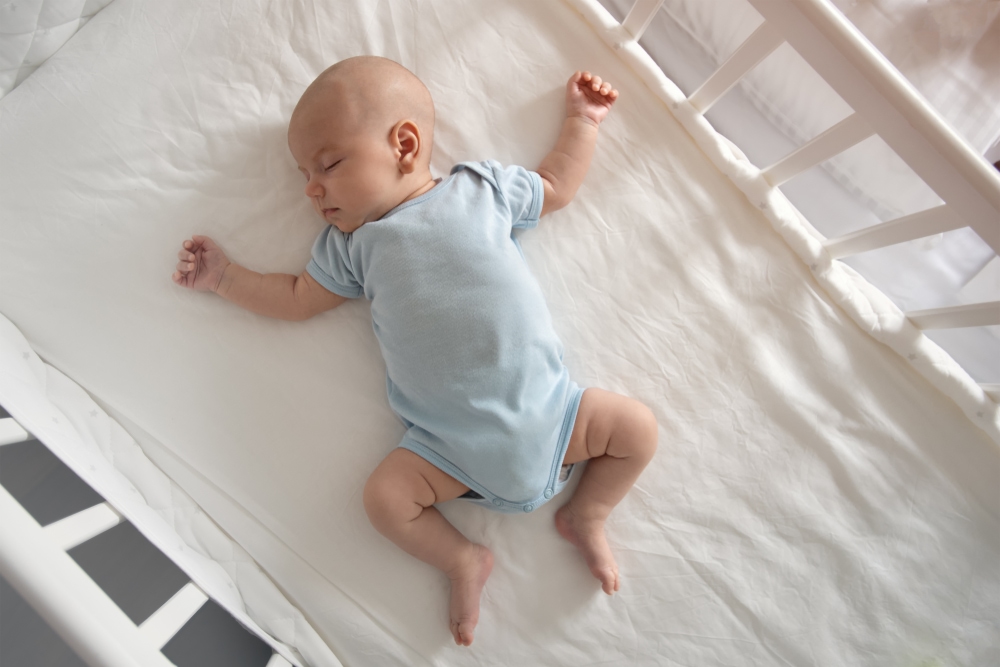 When it comes to crib mattresses, I firmly believe that you get what you pay for so it's important to invest in your crib mattress. However, you can still buy an organic crib mattress in the $250-$400 price range if you'd prefer not to spend $500+.
Here's what to look for when buying a non-toxic, organic crib mattress:
1) Watch out for greenwashing.
Organic on the outside but toxic on the inside… a lot of companies market their mattresses as "organic", when in fact only the outside cover is organic. Unfortunately, this is a very effective greenwashing technique, because most people don't realize this only applies to the cover and not the rest of the mattress. Please pay close attention to all of the materials used. Even if the outside cover is made from organic cotton, the inside may still be polyurethane foam, or it may contain other chemicals or materials of concern.
2) Make sure the entire mattress has the right certifications.
To ensure that your crib mattress is organic, make sure that the entire mattress is certified by the Global Organic Textile Standard (GOTS) or Global Organic Latex Standard (GOLS).
Buying a mattress that is fully GOTS/GOLS certified means that the mattress itself is certified by the highest standards in the textile industry. And it ensures that the mattress is made in a GOTS-approved factory — and the certification process itself is rigorous.
When it comes to buying a mattress, any other certifications are pretty much meaningless, including Oeko-Tex, USDA organic, and Certi-Pur. While these certifications are "better" than buying a mattress without these certifications, the standards aren't high enough and the mattress materials may not actually be organic.
For example, "natural latex" isn't the same as GOLS-certified latex because it can contain up to 30% synthetic materials (including polyurethane foam!). And even USDA organic cotton can be adulterated after it is purchased because the certification does not control what happens to the cotton after it is purchased. Some companies may use an organic cotton cover and proudly display this on their product label, but that doesn't make the entire mattress organic.
When it comes to choosing a crib mattress, GOLS and GOTS certifications are an absolute must.
3) AVOID all flame retardant chemicals.
Mattresses are often treated with flame retardant chemicals to meet federal flammability regulations. However, manufacturers can meet these regulations without the use of toxic chemicals. It is very important to make sure that your baby's mattress does not contain any flame retardant chemicals. Instead, look for mattresses that naturally meet flammability regulations without the use of chemical flame retardants. This can be done a number of ways, including through the use of wool. If they are reputable, the manufacturer will usually openly state this upfront without you needing to contact them.
We'll go into more detail on flame retardant chemicals below.
4) Avoid Polyurethane foam, soy foam, or vegetable-based foam.
Polyurethane foam is a highly flammable petroleum-derived material that emits VOCs and is often treated with flame retardant chemicals. Even so-called "soy-based" and "plant-derived" foams are polyurethane foams mixed with these other elements for marketing purposes (aka greenwashing).
Even though many foam mattresses are now certified by Certi-Pur and/or Greenguard, it is important to consider that these certification programs (while helpful) do not test for every possible toxin or contaminant. Note: this applies to memory foam, too.
5) Avoid vinyl waterproofing.
While a waterproof mattress sounds like a good idea, most waterproof mattresses are made using vinyl, a highly toxic plastic that contains chemical additives such as heavy metals, phthalates, and organotins.
Vinyl (aka polyvinyl chloride or PVC) is known to be the "most toxic plastic" and it "releases some of the most toxic chemicals on the planet that have been linked to cancer, birth defects and other serious chronic diseases." For this reason, please avoid vinyl waterproof covers and mattresses at all costs. Instead, you can buy an organic waterproof mattress or simply use an organic waterproof mattress pad. Here is another wonderful organic waterproof mattress pad that works really well.
If you feel strongly that you need a waterproof mattress, the only brand I would consider at this time is Naturepedic, since their waterproof mattresses use food-grade polyethylene instead of vinyl.
6) Make sure the mattress is made in the USA.
Many so-called organic crib mattresses are manufactured in China. While I'm not against all items made in China, I strongly prefer mattresses made in the USA where quality control and contamination are not going to be major concerns. All of the mattresses listed below are made in the USA.
7) Avoid synthetic or recycled materials.
Mattresses can be made from countless different materials. If you are looking for a truly organic crib mattress, you'll want to avoid synthetic and recycled materials such as polyester. The only exception to this would be food-grade polyethylene waterproofing.
8) Look for a firm sleep surface.
Make sure to purchase a firm crib mattress, per AAP safe sleep guidelines. As far as whether to choose a single or dual firmness crib mattress, this choice comes down to personal preference and budget. You don't actually need a dual firmness mattress, but the advantage they provide is that you can flip the mattress over for a slightly softer feel when your baby becomes a toddler. The firm side is for babies because a firm sleep surface is recommended for safer sleep. If you buy a single-firmness crib, it will be firm on both sides and your baby can still use it well into toddlerhood.
9) GREENGUARD Gold certification can also be helpful.
This certification tests for harmful emissions, and a mattress that is Greenguard Gold certified has been tested to emit low levels of volatile organic compounds (VOCs). Please note that this is important because it confirms that the mattress has low chemical emissions, but this certification alone does not mean that a mattress is non-toxic simply because the certification is unable to test for every possible contaminant or substance of concern. And, truthfully, you will find many mattress brands that have this certification but do not meet the criteria on this list.
Greenguard Gold certification is also quite expensive, so keep in mind that not all manufacturers will invest in getting their mattresses certified.
10) Make sure the mattress has a snug fit.
All crib mattresses should have a snug fit that passes the two-finger test: there should be no large gaps between the mattress and the crib, and you should not be able to insert more than two fingers between the mattress and the side of the crib. Most cribs are made to fit a standard crib mattress.
11) Latex or Innerspring? The choice is yours.
Generally, you'll want to decide between a latex mattress and an innerspring mattress. The choice mostly comes down to price, preference, and allergens (latex is an allergen). More on this below too!
The Best Organic Crib Mattresses
The good news is that you have lots of great options when shopping for organic crib mattresses. Here are the organic crib mattresses that are actually organic. Read on below for an overview of these mattresses, check out what each is made from, and find the right one for you.
The mattresses listed here are GOTS- or GOLS-certified, are made with natural materials, and do not contain chemical flame retardants; these organic crib mattresses meet the flammability requirements naturally by integrating fabrics that resist flammability without the need for added chemicals.
Buy on Naturepedic | BuyBuy BABY | Nordstrom
Made in USA. Naturepedic is one of my top recommendations for an organic crib mattress. Their mattresses are Global Organic Textile Standard (GOTS) certified and the innerspring line is made with GOTS-certified cotton, heavy duty innerspring coils, organic cotton and PLA batting, and polyethylene waterproofing and firmness layers.
All materials used in Naturepedic crib mattresses are certified by Oregon Tilth to meet the requirements of the Global Organic Textile Standard (GOTS). The mattresses also have Greenguard Gold Certification and are certified to be formaldehyde-free; the company regularly tests their products for chemical emissions.
Naturepedic crib mattresses contain no flame retardant chemicals, polyurethane foam, soybean or biobased foam, latex, soy, polyurethane-coated fabrics, antibacterial treatments, biocides, glues, adhesives, GMO fibers, or insulator pads. The only criticism I can make is that the company uses non-GMO PLA batting to help meet flammability requirements; what you need to know is that PLA batting is essentially a type of polyester, though it is sourced from starchy vegetables.
When it comes to choosing the right Naturepedic crib mattress for you, there are three main types to consider:
Innerspring crib mattresses: these have either 150 or 252 coils, and come in single or dual firmness, and are either seamless or have regular seams. See below for a comparison table of the Naturepedic innerspring mattresses we recommend or check out the collection here.
Lightweight crib mattresses: made with a polyethylene foam core, these mattresses are lighter than the innerspring models but still offer a firm sleep surface. My personal preference is to stick with the innerspring mattresses based on the materials used, but you can check out their lightweight series here.
Breathable crib mattresses: if you are interested in a breathable crib mattress, Naturepedic makes the safest options but first, please read my article on what parents need to know about breathable crib mattresses.
We have used a Naturepedic mattress since day one, and I've been very happy with it. We continue to use it after 5 years (and two kids) and have had no issues, even after my youngest discovered that he likes jumping on his bed. Some reviewers have complained that the mattress has an indentation after a short period of use; I didn't experience this myself, and I have spoken with the team at Naturepedic who have assured me that this issue has since been corrected — but if there is an issue you should contact their customer support team.
Don't forget: If you're buying an organic, non-waterproof mattress such as this Naturepedic, make sure to get a Waterproof Fitted Crib Mattress Pad. You can also add a breathable mattress pad if you'd like to make the crib mattress slightly more breathable, but this does add a layer of polyester to your baby's sleep surface.
---
Buy on MyGreenMattress
Made in USA. Another excellent option is the Emily Natural Crib Mattress, a 150-coil innerspring mattress made with all-natural materials. The Emily mattress is made in the United States (La Grange, Illinois) and is 100% GOTS-certified.
The Emily Natural Crib Mattress is made with GOTS-certified organic cotton, GOTS-certified organic wool, and a GOTS-certified organic coconut coir pad that is blended with Global Organic Latex Standard (GOLS) certified latex. These materials are layered over a firm innerspring core and are designed to provide an even weight distribution.
Since the mattress cover is made with wool, the mattress is naturally flame retardant and requires no chemical flame retardants. Wool is naturally resistant to mold, mildew, and dust mites, which are obviously unwanted in your baby's sleeping surface. Made without the use of polyurethane foam, there are no petrochemicals in the Emily Crib Mattress. The mattress is Greenguard Gold certified.
The Emily mattress gets excellent ratings for having just the right level of firmness. Many of our readers have been very happy with the Emily Crib Mattress.
My Green Mattress also makes GOTS-certified adult and children's mattresses (we have the Natural Escape and Kiwi mattresses and love them!). MyGreenMattress offers a 10-year warranty and a 100-night guarantee for all its mattresses, providing you 100 nights to try the mattress with an opportunity to exchange or return your mattress at any time during the trial period (one return or exchange per household) when purchased through the manufacturer. This mattress is one the most affordable organic crib mattresses on this list, and the company also offers a no-interest payment plan.
The Emily Natural Crib Mattress was inspired by the owner's daughter, who suffered from eczema and allergies. Emily inspired their family to switch to an all-natural lifestyle, and the Emily Natural Crib Mattress was created.
Since this organic crib mattress isn't waterproof, be sure to buy a waterproof mattress pad.
---
Buy on Avocado Mattress
Made in the USA. Designed and manufactured in Los Angeles, Avocado offers two crib mattresses: their organic green crib mattress and the luxury organic crib mattress.
Their mattresses are Greenguard Gold, GOTS and GOLS certified organic crib mattress. I like that Avocado really does it all from harvesting their materials to manufacturing the finished product. Every crib mattress is carefully crafted of quality organic materials to ensure that each and every mattress is free of all harmful substances and is safe for your baby.
Their original crib mattress is the more affordable organic crib mattress of the two. It's dual-sided to ensure that it offers the perfect amount of support for your growing little one from infancy through toddlerhood. It's composed of organic cotton, coconut fiber, and latex and wrapped in organic wool to act as a natural flame retardant and provide breathability. It's finished with tightly knitted organic cotton batting.
The luxury crib mattress is a 170-coil mattress made as part of Avocado Green's Conscious Luxury Collection. This luxurious organic crib mattress is made with premium materials and cotton-wrapped coils. Offering two levels of firmness, this mattress also grows with your baby from infancy to toddlerhood. Its coco husk core gives optimal support to the edges of the mattress so that it doesn't sag even after your little one tirelessly bounces on it. On the infant side, you simply have coco husk infused with GOLS organic latex, which is firm and meant for infants. The toddler side features a thicker layer of GOLS organic latex, and an additional quilt of 100% GOTS organic certified cotton for added breathability. Cotton-wrapped coils and reinforced coco-fiber perimeters ensure a softer supportive layer.
What I like about Avocado crib mattresses is that they successfully avoid glues, formaldehyde, petroleum-based foams, chemical adhesives, and flame retardants. And their GOLS organic certified latex, GOTS certified wool and cotton have all received Standard 100 by Oeko-Tex class 1 certification, meaning that ongoing annual lab testing is done on the materials to ensure that no toxic substances or chemicals are present in the mattresses.
Also included is a 25-year limited warranty making this a quality choice for your baby's crib mattress! You definitely won't have your crib mattress for that long but it's helpful to have peace of mind when buying an organic crib mattress.
---
Made in USA. Green Cradle is trusted organic mattress and furniture manufacturer located in Los Angeles. The owners are truly dedicated to making the best heirloom-quality organic products available. They don't cut corners and I have personally been to their showroom and can attest to the quality of their products.
Green cradle makes three crib mattresses: the innerspring crib mattress is an excellent choice to consider when you are shopping for an organic crib mattress. The mattress has 260 firm coils wrapped in multiple layers of GOTS-organic cotton and encased in GOTS-certified wool.
The Green Cradle Organic Latex Crib Mattress is made with 4" of GOLS-certified latex, and provides an extra firm sleep surface for your baby or toddler. The latex mattress core is wrapped in organic wool and organic cotton that have been certified organic by GOTS. Green Cradle also offers the same mattress in a 6" height option, if you would prefer a slightly higher profile crib mattress.
As with all Green Cradle products, these mattresses contain no synthetic ingredients, so they aren't waterproof. Instead, the company recommends using two wool puddle pads and covering them with their organic cotton mattress pad.
If you are shopping for a crib mattress that is 100% organic inside and out, shop from Green Cradle. This mattress comes with a 1-year limited warranty.
Buy on Lifekind
Made in USA. If you want an extra-firm innerspring mattress, this 280-coil Lifekind mattress will be a fantastic choice for your baby. The mattress is encased in a durable, double-stitched cover created from GOTS-certified organic wool and cotton.
All Lifekind crib mattresses come with an impressive 20-year limited warranty. We also love that Lifekind is one of the only crib mattress brands that uses a third-party approved facility to create their mattress. Located in Northern California, all of their beds are made in Eco-Factory, so you can rest assured that your baby's mattress won't be exposed to any harmful chemicals.
This mattress isn't waterproof and requires a barrier cover. You can either buy their wool puddle pad (having a few is a good idea) or a waterproof mattress pad.
---
Buy on Lifekind
Made in USA. Lifekind crafted a certified organic mattress that gives your baby a healthy, comfortable sleep environment. It's one of the purest mattresses you can purchase, created with strict attention to details. Lifekind offers a 20-year limited warranty for their mattresses.
This mattress meets the GreenGuard Certification standards for children. It's a metal-free, natural rubber mattress that perfect for hay fever, asthma, or upper-respiratory issues. A double-stitched, quilted cover surrounds the mattress, crafted from GOTS-certified organic wool and cotton.
There is plenty to like about the Lifekind mattresses. It's made in the USA. They use third-party testing, and no chemicals come through the factory doors at Eco-Factory in California.
---
Buy on Savvy Rest
Made in USA. The Savvy Rest Baby mattress is a GOTS-certified mattress made of a single, solid 5" layer of GOLS-certified Dunlop latex inside of an organic casing.
Savvy Rest, often just called Savvy Baby, meets government flame retardant standards by using GOTS-certified organic wool batting. It's the perfect, natural flame barrier that also regulates temperature by allowing plenty of air flow. This is great because it may also reduce the risk of overheating.
Around the wool batting, Savvy Rest added a soft, organic cotton quilted fabric. The quilted top is attached with a zipper so that you can remove it for spot cleaning. Unfortunately, the mattress isn't waterproof, but it includes a wool moisture pad, so it can be classified as moisture resistant. And you can always add a waterproof mattress pad if you'd prefer.
---
Buy on Soaring Heart
Made in USA. Based in Washington state, Soaring Heart mattresses are made by hand in their Seattle showroom. This company is the real deal – there's no greenwashing here. Soaring Heart's 100% organic crib mattress is made with Global Organic Latex Standard (GOLS) certified natural Dunlop latex, organic wool sourced from New Zealand, and organic cotton grown in Texas.
Soaring Heart is devoted to helping its customers get a great night's sleep. They hand-make all of their products to order and work closely with their suppliers to ensure that only the highest quality materials are sourced. They're backed by over 30 years' experience in mattress craftsmanship and truly care about their customers. Soaring Heart also offers a generous 20-year warranty on their products and a 30-day comfort guarantee. This is a great mattress choice!
---
Summary: The Best Organic Crib Mattresses
Here's a glance at all of the organic crib mattresses that made the list.
FAQs About Buying Organic Crib Mattresses
Still have some questions? Here are some of the most frequently asked questions I get about organic crib mattresses.
Why Do Conventional Crib Mattresses Contain Toxic Flame Retardants?
Before we get to the list of the best organic crib mattresses, let's talk a little more about flame retardant chemicals. This is SO important because most "organic" crib mattresses (that aren't on this list!) will still contain flame retardants, despite being marketed as green, eco-friendly, or organic.
All mattresses sold in the United States (including children's mattresses) are required to meet Federal CPSC regulations 16 CFR § 1632 and 1633, which outline strict mattress flammability standards. To comply, manufacturers usually treat mattresses with synthetic flame retardant chemicals that have recently included chlorinated Tris, Firemaster 550, TCEP, TDCPP, and TCPP, among others. There are two major problems with the use of these chemicals:
Problem #1: The flame retardants themselves are highly toxic, accumulate in our bodies, and have been associated with a variety of serious health concerns.
Researchers have demonstrated that such chemicals can make fires more toxic.
Some of these chemicals are recognized carcinogens, listed on California's Proposition 65 as known to cause cancer or reproductive toxicity. Chlorinated Tris is a known carcinogen that was removed from children's pajamas in the 1970's – but was never officially banned despite evidence that showed it can damage DNA. It is still in widespread use in baby products, including crib mattresses. Studies have linked flame retardant chemicals to serious health concerns, including cancer, impaired fertility, obesity, and neurological and developmental problems, such as hyperactivity and lowered IQ.
There is evidence that these chemicals may cause liver toxicity, thyroid toxicity, and neurodevelopmental toxicity.
These chemicals are persistent, toxic, and accumulate in our bodies. A study conducted by the Center for Disease Control and Prevention found that 97% of Americans had flame retardants in their blood.
So, how do these chemicals find their way into our bodies? Since foam is treated with flame retardants during manufacturing (as opposed to being bound to the materials), the chemicals break down and off-gas, polluting the air and dust in our homes. This is worrisome for babies and children, who have been found to have very high levels of these chemicals in their bodies from hand-to-mouth transfer. How? Babies and children crawl on the floor, put their hands in their mouths, and play with toys that have accumulated household dust. But, this is also especially dangerous if your baby sleeps on a mattress loaded with flame retardant chemicals because they are directly being exposed to these chemicals for several hours each day while they sleep.
During the first year of life, infants are still developing, particularly their brain. And some of these flame retardant chemicals have chemical structures similar to known developmental neurotoxicants.
It goes without saying, but I'll say it anyway: we don't want this near our babies.
Problem #2: These flame retardant chemicals are ineffective.
The same toxic, harmful chemicals that are being used to comply with mattress flammability standards are ineffective at preventing fires from spreading.
Recent studies suggest that the chemicals may not effectively reduce the flammability of treated products.

Flame retardant concentrations are insufficient to make any meaningful reduction in hazard.

Nor are flame retardant chemicals particularly effective at their purported purpose: to prevent fires from taking hold and spreading.
While we can't wave a wand and change these flammability requirements, and can't ensure that every item that comes into our homes isn't treated with these harmful chemicals, we can make it so that a baby's sleeping surface is not one of them. Thankfully, there is a way to avoid the use of these harmful and essentially ineffective chemicals when purchasing a crib mattress.
Just like with non-toxic car seats, mattress manufacturers can meet the government's strict flammability standards without the use of harmful flame retardant chemicals. Non-toxic, organic crib mattresses are the safer option.
Latex vs. Innerspring: Which should you buy?
In addition to price and personal preference, there are two factors to consider when choosing between an innerspring and latex mattress, including price, preference, allergens.
Latex is a common allergen. If your family has a history of sensitivities and allergies, you may prefer to avoid mattresses that are made with natural or synthetic latex. This may or may not be an issue for your baby, but it might be smart to avoid latex in this case since you don't know whether it might pose a problem. (As an anecdotal side note, most people who have a wool allergy find that sleeping on GOTS-certified wool is not a problem. It is suspected that it is the chemicals used to process non-organic wool that people react to.)
Do innerspring mattresses function as antennae for EMFs? There has been some talk that mattresses with coil innersprings may function as antennae for electromagnetic frequencies and I wanted to address this. Of course, I'm concerned about this — but I'm not convinced. This has been called into question many times, and many have claimed to debunk this theory. I try to turn to reliable data when making a decision so I found that consumer advocate Debra Lynn Dadd conducted some of her own research using EMF meters and concluded:
Choosing to not sleep on an innerspring mattress will NOT reduce your exposure to the actual source exposures of EMF in your home that are an actual danger.
In other words – your mattress doesn't seem to play a role in your level of exposure to EMF inside the home. In a private email exchange, Naturepedic wrote the following:
We've tested for EMF…immediately above an innerspring mattress (i.e. where a person would be sleeping), and then repeated the test in the exact location but with the mattress removed. The EMF field does not change…. The EMF in a space is not affected by the presence of an innerspring mattress present. The innerspring is NOT amplifying, attracting, or magnifying EMF beyond what's already present.
Though I haven't done my own testing, I remain unconvinced that innerspring mattresses amplify EMF waves. Still, the research is ongoing; if you are concerned and prefer to play it safe, you can just buy a latex-based mattress. I've listed a few GOLS-certified latex mattresses on this list of the best organic crib mattresses.
What About Less Expensive Organic Crib Mattresses?
I have done a thorough search of organic crib mattresses, I feel that there are many crib mattress brands out there that use organic components but do not make actual organic or non-toxic crib mattresses. Some of the brands I intentionally left off this list include: Oeuf, Babyletto, Nook, LA Baby, Sealy, Moonlight Slumber, and Colgate.
I know, I know – the mattresses I listed are expensive. High-quality organic crib mattresses are a bit pricey, and I know it can be cost-prohibitive!
I'm on the hunt for an organic crib mattress that's at a more affordable price (i.e. under $200), but so far I haven't been impressed by the options out there. If cost is preventing you from getting the mattress you prefer, I would recommend adding gift cards and a crib mattress to your baby registry. Hopefully, some generous friends and family members will help you get the mattress you're hoping for; if not, you may be able to use Amazon's 15% completion discount to save a little extra on your preferred mattress.
Which organic crib mattress did you choose? Wishing you and your baby great sleep!
Keep Reading:
---