While there are many ups and downs, overall, being pregnant is incredibly beautiful. Wherever you are at in your pregnancy, these inspirational pregnancy quotes are here to uplift, motivate, and encourage you during the next nine months.
You will only find positive and uplifting words in this list of quotes for expecting mothers. Use them as you post about your pregnancy on social media or to help you when things get rough.
Hopefully, one of these quotes about pregnancy will speak to you and help you to remember that what you are doing is amazing!
Inspirational Pregnancy Quotes
Seeing your body change and adapt to growing your baby is simply miraculous. I believe that every baby is a blessing and a gift from above.
However, with pregnancy often comes challenges and discomfort at times. No matter if you need a little pick me up or just want to further enjoy your pregnancy; these inspirational pregnancy quotes will definitely do the trick.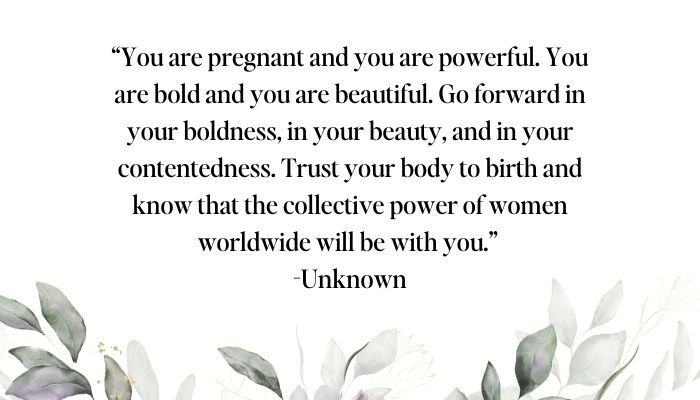 1. "You are pregnant and you are powerful. You are bold and you are beautiful. Go forward in your boldness, in your beauty, and in your contentedness. Trust your body to birth and know that the collective power of women worldwide will be with you." -Unknown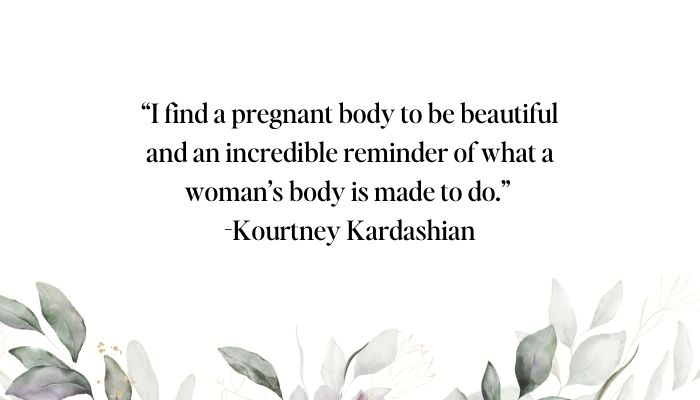 2. "I find a pregnant body to be beautiful and an incredible reminder of what a woman's body is made to do." -Kourtney Kardashian
3. "For this child, I prayed, and the Lord has granted the desires of my heart." -1 Samuel 1:27
4. "It makes me feel like a woman. It makes me feel that all the things about my body are suddenly there for a reason. It makes you feel round and supple, and to have a little life inside you is amazing." -Angelina Jolie
5. "Life is always a rich and steady time when you are waiting for something to happen or to hatch." -E.B. White, Charlotte's Web
6. "The wonder of life begins in the womb of a woman." -Lailah Gifty Akita
7. "A mother's joy begins when new life is stirring inside… when a tiny heartbeat is heard for the very first time, and a playful kick reminds her that she is never alone." -Unknown
8. "Carrying a baby is the most rewarding experience a woman can enjoy." -Jayne Mansfield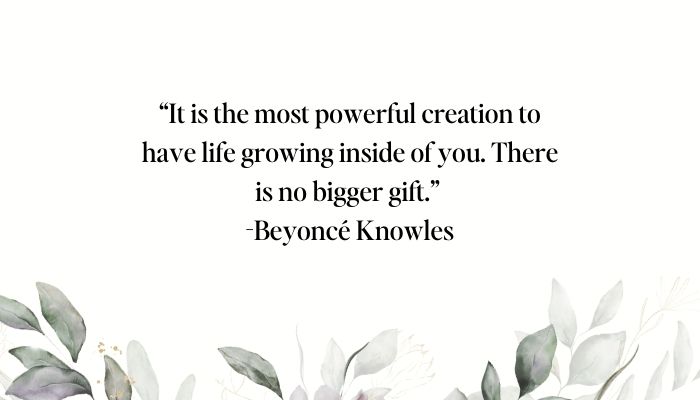 9. "It is the most powerful creation to have life growing inside of you. There is no bigger gift." -Beyoncé Knowles
10. "Before you were conceived, I wanted you. Before you were born, I loved you. Before you were here an hour, I would die for you. This is the miracle of Mother's Love." -Maureen Hawkins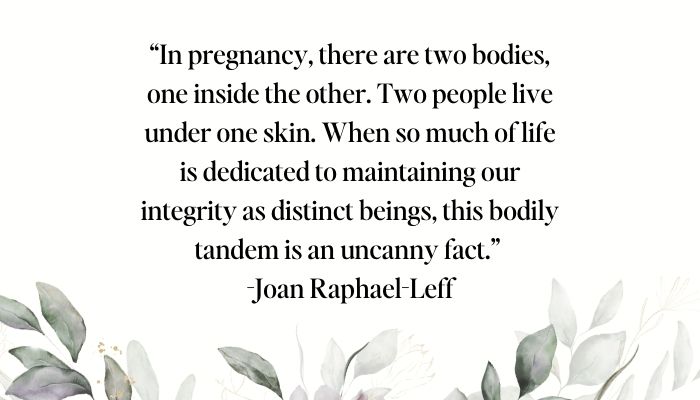 11. "In pregnancy, there are two bodies, one inside the other. Two people live under one skin. When so much of life is dedicated to maintaining our integrity as distinct beings, this bodily tandem is an uncanny fact." -Joan Raphael-Leff
12. "Loving a baby is a circular business, a kind of feedback loop. The more you give, the more you get, and the more you get, the more you feel like giving." -Penelope Leach
13. "Whether your pregnancy was meticulously planned, medically coaxed, or happened by surprise, one thing is certain—your life will never be the same." -Catherine Jones
14. "I'm in love with a human I haven't met yet." -Miss Planner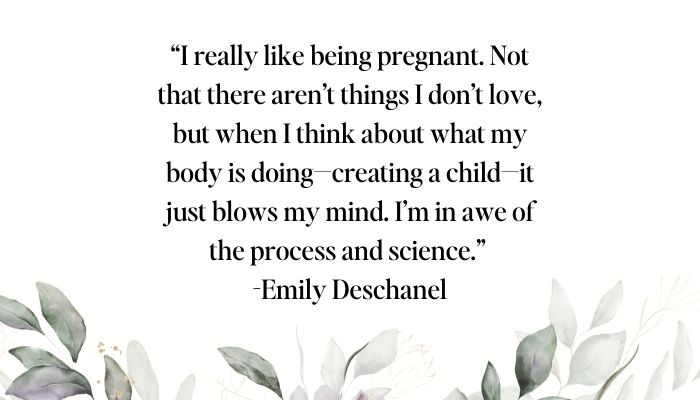 15. "I really like being pregnant. Not that there aren't things I don't love, but when I think about what my body is doing—creating a child—it just blows my mind. I'm in awe of the process and science." -Emily Deschanel
16. "Pregnancy is the only time when you can do nothing at all and still be productive." -Evan Esar
17. "There is no way out of the experience except through it because it is not really your experience at all but the baby's. Your body is the child's instrument of birth." -Penelope Leach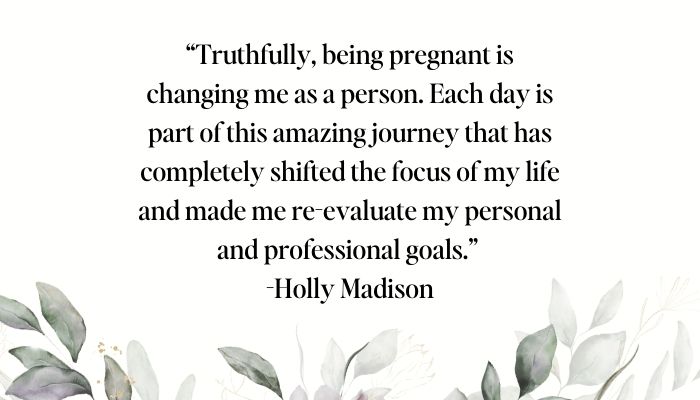 18. "Truthfully, being pregnant is changing me as a person. Each day is part of this amazing journey that has completely shifted the focus of my life and made me re-evaluate my personal and professional goals." -Holly Madison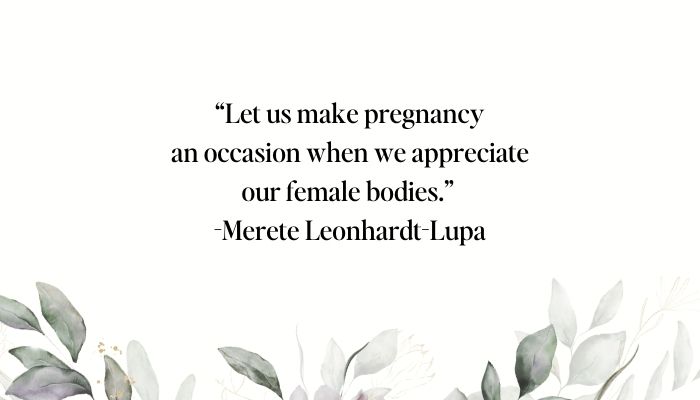 19. "Let us make pregnancy an occasion when we appreciate our female bodies." -Merete Leonhardt-Lupa
20. "You never understand life until it grows inside of you." -Sandra Chami Kassis
21. "Everything grows rounder and wider and weirder, and I sit here in the middle of it all and wonder who in the world you will turn out to be." -Carrie Fisher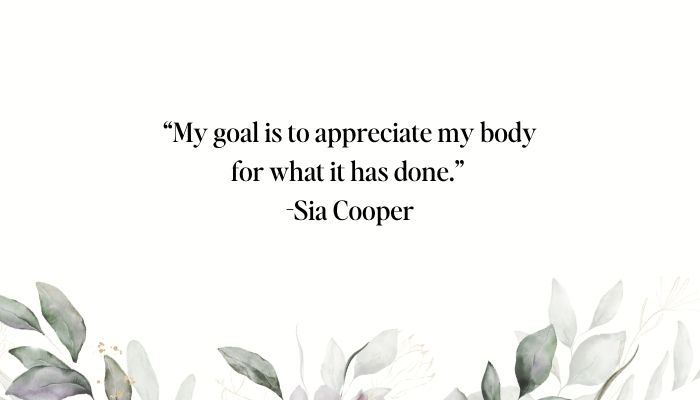 22. "My goal is to appreciate my body for what it has done." -Sia Cooper
23. "Pregnancy is a process that invites you to surrender to the unseen force behind all life." -Judy Ford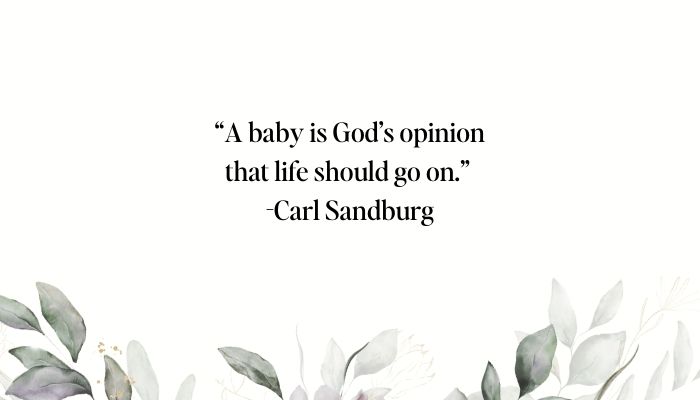 24. "A baby is God's opinion that life should go on." -Carl Sandburg
25. "When I was pregnant, I was so huge, and people on the bus would get up for me. That made me feel so precious and valued and valuable. I try to treat everyone like they're pregnant." -Mariska Hargitay
26. "Pregnancy is getting company inside one's skin." -Maggie Scarf
27. "When you moved, I felt squeezed with a wild infatuation and protectiveness. We are one. Nothing, not even death, can change that." -Suzanne Finnamore
28. "To be pregnant is to be vitally alive, thoroughly woman, and distressingly inhabited. Soul and spirit are stretched — along with body — making pregnancy a time of transition, growth, and profound beginnings." -Anne Christian Buchanan
29. "It's amazing, the mentality shift that occurs in pregnancy. All of a sudden, you want to be good to yourself." -Elisabeth Hasselbeck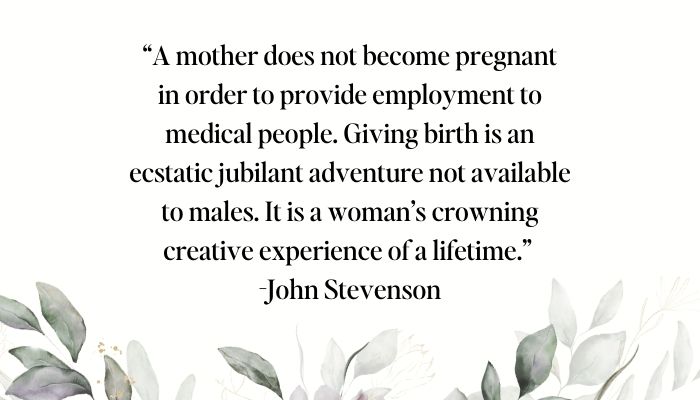 30. "A mother does not become pregnant in order to provide employment to medical people. Giving birth is an ecstatic, jubilant adventure not available to males. It is a woman's crowning creative experience of a lifetime." -John Stevenson
31. "Maternity is a glorious thing since all mankind has been conceived, born, and nourished of women." -Martin Luther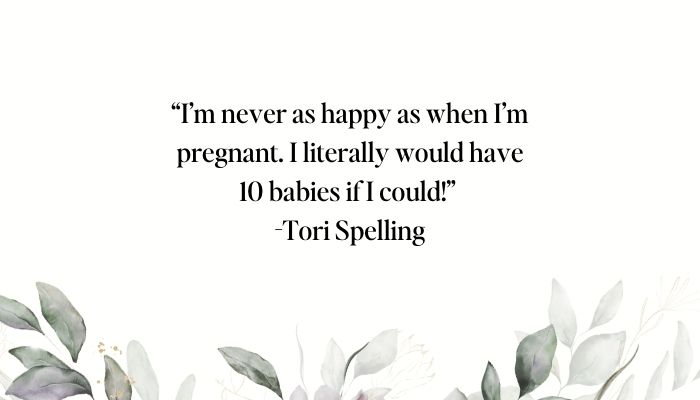 32. "I'm never as happy as when I'm pregnant. I literally would have 10 babies if I could!" -Tori Spelling
33. "I begin to love this little creature and to anticipate his birth as a fresh twist to a knowledge which I do not wish to unite." -Mary Wollstonecraft
Being pregnant is a wonderful blessing and deserves to be celebrated, so celebrate yourself! Be proud of what you are doing and appreciate your body for each of those nine months you carry your baby.
Quotes About Pregnancy and Motherhood
Being a mom is one of the most fulfilling things in the world, and you start to experience that as soon as you find out that you are pregnant. These pregnancy and motherhood quotes for expectant mamas will remind you just how much joy you get from being a mom.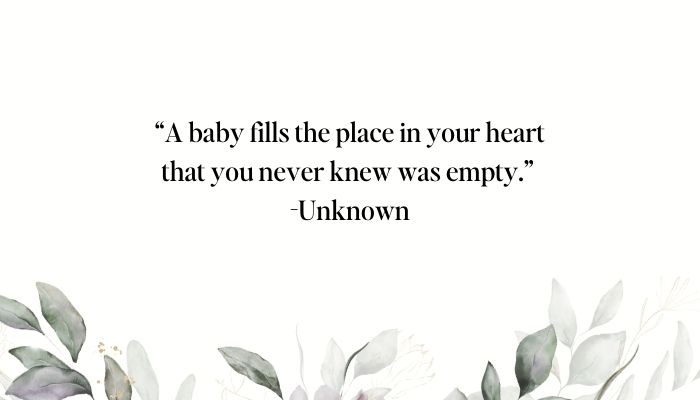 34. "A baby fills the place in your heart that you never knew was empty" -Unknown
35. "Of all the rights of women, the greatest is to be a mother." -Lin Yutang
36. "A baby is something you carry inside you for nine months, in your arms for three years, and in your heart until the day you die." -Mary Mason
37. "Being a mother is the most rewarding blessing in the world, just knowing you can love someone so much and get that same love in return is wonderful." -Unknown
38. "Making the decision to have a child – it is momentous. It is to decide forever to have your heart go walking around outside your body." -Elizabeth Stone
39. "Motherhood – It is a choice you make every day to put someone else's happiness and well-being ahead of your own, to teach the hard lessons, to do the right thing even when you're not sure what the right thing is, and to forgive yourself, over and over again for doing everything wrong." -Unknown
40. "Having a baby is like falling in love again, both with your husband and your child." -Tina Brown
41. "Being a mother is not about what you gave up to have a child, but what you've gained from having one" -Unknown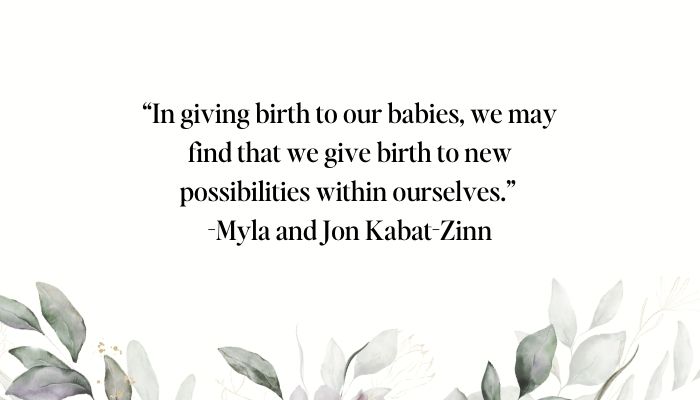 42. "In giving birth to our babies, we may find that we give birth to new possibilities within ourselves." -Myla and Jon Kabat-Zinn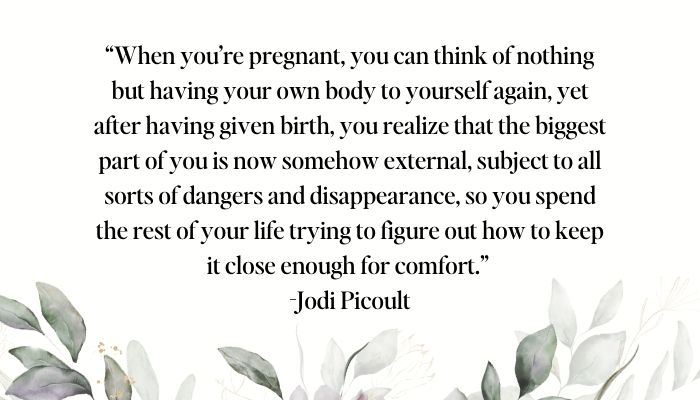 43. "When you're pregnant, you can think of nothing but having your own body to yourself again, yet after having given birth, you realize that the biggest part of you is now somehow external, subject to all sorts of dangers and disappearance, so you spend the rest of your life trying to figure out how to keep it close enough for comfort." -Jodi Picoult
44. "Still the most magical day of my life was the day I became a mom." -Linda Becker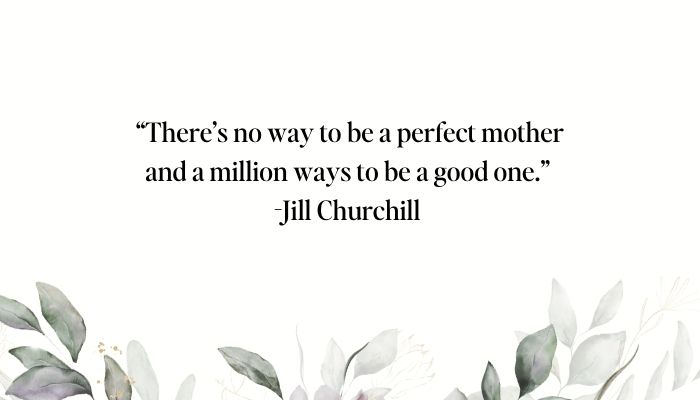 45. "There's no way to be a perfect mother and a million ways to be a good one." -Jill Churchill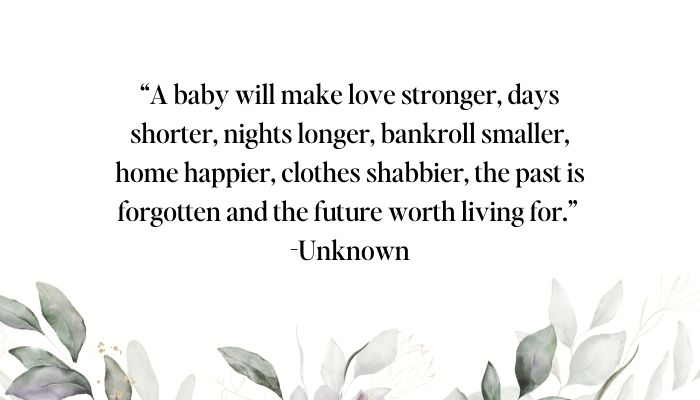 46. "A baby will make love stronger, days shorter, nights longer, bankroll smaller, home happier, clothes shabbier, the past is forgotten and the future worth living for." -Unknown
Just remember that even while you are pregnant, you are holding your baby and giving your precious little one exactly what it needs. You are already being the best mom you can be for your baby!
Pregnancy Quotes
Being pregnant for nine months is not easy by any means. You might find yourself experiencing different pregnancy challenges. Use these pregnancy motivational quotes when it gets hard — to help you remember how amazing you truly are for being a new mom!
47. "Pregnancy seems designed to prepare you for life as a mother. You start making sacrifices nine months before the child is born, so by the time they put in an appearance, you are used to giving things up for them." – Brett Kiellerop-Morris
48. "All pregnant women are warriors. It takes strength just to get up and go to work." -Camilla Luddington
49. "No matter how bad my day's been, it takes one little kick to make everything feel alright." -Unknown
50. "If I had my life to live over, instead of wishing away nine months of pregnancy, I'd have cherished every moment and realized that the wonderment growing inside me was the only chance in life to assist God in a miracle." -Erma Bombeck
51. "One of the hardest things about parenting is that you just never know what the outcome will be. It's a total leap of faith." -Catherine Newman
52. "Being pregnant finally helped me understand what my true relationship was with my body – meaning that it wasn't put on this earth to look good in a swimsuit." -Amy Adams
53. "When we encourage new parents to 'treasure these moments because they don't last forever,' we need to remember to also reassure them that they will survive these moments because they don't last forever." -L.R. Knost
54. "Feeling fat lasts nine months, but the joy of becoming a mom lasts forever." -Nikki Dalton
55. "Pregnancy can be a time when you take tremendous pleasure in eating, not only because you may enjoy food more but also because you know that it is nourishing both you and your baby." -Martha Rose and Jane L. Davis
56. "You will never have this day with your little one inside you again. So, while it is tough and challenging, take a moment to be fully present with that growing baby inside of you and remember that your baby is always with you." -Kelly Jackson
57. "Even a good mom has bad days, great days, normal days, overwhelming days, perfect days, trying days, supermom days, just being-a-mom days, a whole lot of love and real and crazy motherhood day." -Unknown
58. "We have a secret in our culture, and it's not that birth is painful. It's that women are strong." -Laura Stavoe Harm
59. "You'll learn to lower your expectations about what you can accomplish in a day. Some days, it will be all you can do to keep a baby safe, warm, and fed, and that will be enough." -Unknown
60. "Think of stretch marks as pregnancy service stripes." -Joyce Armor
61. "Being a new mom is exciting and full of joy. If you listen to your intuition, you'll always be on the right path." -Unknown
62. "Being pregnant for nine months definitely was one of the hardest things I have ever done in my life. But it has also been the most rewarding thing in my life too. It definitely is worth it!" -Jill Hutchinson
Yes, being pregnant comes with a few challenges and is not easy by any means, but there are plenty of happy and wonderful times throughout pregnancy that makes it all worth it.
Happy Pregnancy Quotes
These next few maternity quotes will make for a great pregnancy photo caption to share your beautiful baby bump with your friends and family on social media!
63. "Pregnancy is like the beginning of all things; wonder, hope, a dream of possibilities." -Unknown
64. "My body has given me the greatest gift of my life." -Hilary Duff
65. "A new baby is like the beginning of all things – wonder, hope, a dream of possibilities." -Eda LeShan
66. "I love you bigger than the world and sky." -Marty Klazmer
67. "Words can not express the joy of new life." -Hermann Hesse
68. "There is such a special sweetness in being able to participate in creation." -Pamela S. Nadav
69. "Sometimes the smallest things take up the most room in your heart." -A.A. Milne
70. "You are the closest I will ever come to magic." -Suzanne Finnamore
71. "Being pregnant means every day is another day closer to meeting the other love of my life." -Unknown
72. "You are my sun, my moon, and all of my stars." -E.E. Cummings
73. "Being pregnant is all about being fully alive; it is about being a complete woman, and it is a period of growing, transition, and of new beginnings in the journey of life." -Unknown
74. "Now my belly is as noble as my heart." -Gabriela Mistral
75. "I have never been happier than when I was pregnant." -Crystal Torres
These are some of the best pregnancy happiness quotes that work perfectly for any social media post you share with your friends and family.
You're Amazing, Mama ✨
Hopefully, these pregnancy quotes were able to uplift and inspire you. You are not alone during these nine months, and I want you to always remember how amazing you are, mama.
What you and your body are doing is an incredible thing. Appreciate your body and when you need a little pick-me-up, use any of these inspirational pregnancy quotes!
If you found these positive pregnancy quotes useful, save it for later!