Whether you're a first-time mama or a veteran, every baby is unique and has their own learning curve — especially when it comes to handling their fussiness. Crying, irritability, positional discomfort, and general discontentment are all different ways that babies can express their discomfort or needs. And as someone who has definitely been there and dealt with having to calm a fussy baby many times, I know that it can be so hard on us parents.
Fussiness can arise at different times of the day, especially for younger babies. It can also become a routine phase of the day— particularly in the evening (the witching hour, as the saying goes). While you might think you've tried just about everything, there are always a few more techniques to try that may just be the very cure for your fussy baby!
Here are 12 ways to calm a fussy baby. Try them and see what works for your little one. Hopefully, with the help of the tips on this list, your baby will feel calmed and comforted in no time at all.
1. Do a Diaper Check
First things first: always check the diaper. No one likes to pee on themselves, including babies. Just imagine how uncomfortable it is to be sitting in an even slightly wet or dirty diaper. So, always start with checking the diaper to see if your baby needs a change. (Also, this might seem like a basic suggestion but it can easily be forgotten when there's a baby wailing in your ear.)
Check for a Soiled Diaper. This might seem obvious, but check to see if your baby's diaper is wet or soiled. Some babies can't stand a dirty diaper. Easy enough to check and change.
Check the Diaper Position. If your baby's diaper isn't fastened comfortably, this can make your little one fuss. Take a peek at your baby's hipline where the diaper fastens together and make sure it's not too tight or pinching the skin. You can also check around the legs for any evidence of rubbing or chafing. Adjust the diaper to make it more comfortable for your baby.
Check for Signs of a Diaper Rash. Look at your baby's bottom for redness and general skin irritation. These signs may indicate that your baby's bottom is sore and the cause for his fussiness. For some babies, certain types/brands of diapers can cause rashes. Other babies are sensitive to certain types of diaper rash creams, meaning the cream you're using could be making the problem worse. And sometimes, babies are just more prone to diaper rashes and could use a more frequent diaper change to solve the issue.
You can reduce your baby's risk of diaper rash or irritation by using non-toxic diapers or cloth diapers, changing the baby's diaper frequently, using water wipes or reusable wipes (rather than traditional wipes), and using a regular application of coconut oil or breast milk to prevent diaper rashes from forming.
2. See if Your Baby Might Be Tired
Oftentimes, babies are fussy when because are overtired (overdue for a nap). A tired baby will show the classic baby sleep cues: rubbing their eyes, yawning, spacing out, pulling at the ears, and showing general disinterest in toys or other activities. If those cues were missed or overlooked, babies typically proceed to the next stage of more extreme tiredness by crying and fussing.
If they reach the overtired state, the best thing you can do is to help them regain control through calming down and trying to go to sleep. You can do this by retreating away from light and noise and going into a quiet, darkened room. If your baby is a newborn, swaddle them, and if you are breastfeeding, try to nurse to settle your baby. You might also try rocking, swaying, and shushing. When your baby is overtired, they'll need extra help to get to sleep so don't worry about all the "sleep rules" when they're in a "get me to sleep right away" kind of mood.
And in general, try to pay close attention to your baby's unique "I'm sleepy" cues so you can act more quickly to calm your little one and avoid the overtired state. I also recommend creating a consistent nap routine by having a daytime schedule that supports your baby's sleep needs.
3. Offer Breastmilk or Formula
When's the last time your baby ate? If it's been 1-3 hours, it may be time for your baby to nurse or have another bottle. Typically a baby won't have a set eating schedule in early the first few months, so it's important to offer breastmilk or formula often. They might be hungry or they might just need the comfort — and screaming is one way they tell you that.
(Was your baby rooting or trying to chew on their hand? Classic "I'm hungry" signs right there.)
Keep in mind that breastfed babies can go through stages of cluster feeding where all they may want to do is nurse for hours on end. Cluster feeding can occur in the late evenings or really, all day— especially during a growth spurt. During this time, your body will learn that it needs to make more milk to continue to support your baby's growing needs. This is totally normal, and it's an important stage to help you develop your supply.
Most lactation consultants don't recommend supplementing with formula during the cluster feeding phase because this helps your body adjust its supply. However, if you have any concern that your baby isn't getting what he needs from you, contact your doctor to make sure he is gaining weight and your milk supply is adequate.
Remember the true signs of a low supply or baby not getting enough milk are: low diaper output, weight loss, or failure to gain weight. As long as these things are normal, continue to nurse on demand. Put your feet up, get a big glass of water, and nurse baby as much as they need to during a fussy bout of cluster feeding, and trust the process.
4. Sing to Your Baby
There is a lot of fascinating research that supports the effectiveness of infant-directed singing to calm your baby. One study done at the University of Toronto found that when mothers sang to their infants in a soothing tone, arousal levels decreased for both mom and baby.
Singing to your baby when they are fussy, especially in conjunction with babywearing, swaddling, bouncing, or other calming mechanisms can be a highly effective way to calm your baby (and yourself) during a bout of fussiness. Step up your baby song game with these 25 baby songs to sing to your baby.
I also recommend picking 1-3 songs that you regularly sing while nursing or soothing your fussy baby. The idea is that your baby will start to associate those specific songs with comfort and calmness.
I kid you not, the second one of my kids would start wailing in the car seat, I'd start singing "Wheels on the Bus" and it would instantly soothe them most of the time. These routine lullaby songs can become a magical remedy. The power of song (and the sound of mama's voice) is truly amazing.
5. Try Baby Wearing to Calm a Fussy Baby
Once you've ruled out the basics (is it the diaper? are they hungry, in pain or tired?), consider that your baby might just need some comfort and snuggle time from mom or dad. Fussy babies usually respond well to babywearing. If your baby can't seem to calm down, try putting them in the baby carrier.
By wearing them on your front, with their body facing in towards yours, it allows them to feel your heartbeat and warmth. Babies also tend to love the sway and rhythm of your movement, so try walking around your house with the carrier. An added benefit to babywearing is that your hands are free, and you can complete other tasks while also providing your baby with the closeness and comfort he craves. A true win-win!
As a reminder, always read the baby carrier directions completely and follow steps for proper baby positioning. Some of my top recommendations can be found in The Best Organic Baby Carriers for Babies.
Buy on Amazon
6. Remove Excess Stimulation
When babies are already feeling fussy and unsettled, excess stimulation can make it so much worse. This was especially true for my firstborn who was very sensitive to the environment, particularly during the evening hours.
Try taking your baby into a darkened room and putting on a white noise machine. Hold your baby close and see if removing excess stimuli helps soothe your baby. This strategy can be really helpful in calming him down enough that he will nurse, take a bottle, or even fall asleep.
7. Bounce With Your Baby on a Yoga Ball
It's no secret that many infants like the motion of a rocker, glider, or swing, but have you tried bouncing on a yoga ball? Bouncing on a yoga ball was one of the most effective ways of calming my baby and helping him fall asleep!
So, if you haven't tried bouncing with your baby yet, give it a go! Remember to bounce very gently, always supporting your little one's head and neck by holding your baby close to your chest. This is also a great way to help your little one get to sleep if they are overtired. (Is this a sleep association? Sure. Does that bother me? No. My kids won't go to college with me bouncing them to sleep on a yoga ball, so I'm personally ok with it.)
8. Hold Your Baby in Front of a Mirror
Developmentally, even the youngest babies are fascinated by human faces, and this includes their own. Putting a fussy baby in front of a mirror can be a great way to distract and engage them and may provide the exact change of scenery he needs when he's fussy.
Simply hold your baby facing forward with one hand under their legs and one hand over their body and stand in front of a mirror. I like to stand in front of the closet mirror so that we can get pretty close up. It's almost automatically soothing for baby.
In Montessori-style baby rooms and nurseries, you will often see a mirror set low near the ground for a baby to use. The idea of a mirror is to promote independent movement, concentration, and exploration.
Keep in mind that if overstimulation or exhaustion is the source of your baby's fussiness, a mirror might be too much for them until they are well-rested.
9. Check for Pain or Discomfort
When it feels like you've exhausted all the calming techniques, don't forget to check for things that may be bothering him or causing discomfort.
So as you're trying to figure out why your baby is being fussy, consider whether they may have hurt themselves or they may be bothered by something that they just don't yet have the words to express. Check whether something may be bothering them, even if it's something like teething (in which case, try these helpful teething hacks).
One common culprit is what's known as a "hair tourniquet," which is just as terrifying as it sounds! If one of your hairs accidentally gets wound around your baby's toe or finger, often inside a sock or zipper pajamas, your baby will be inconsolable. Always check your baby's extremities when they are extremely fussy despite your best efforts. It's important to rule out this situation. If you do find a hair wrapped around baby's toe or finger, experts suggest loosening it with a bobby pin to help it pop off.
Other things to check when your baby seems inexplicably fussy:
Check their temperature to see if a fever is causing excess fussiness.
Feel the nape of their neck. If it's cool to the touch, your baby may be too cold. If it is hot, your baby may be uncomfortably hot. Redress your baby appropriately.
Check for itchy or bothersome tags on baby's clothes.
Check if something is pinching them or causing uncomfortable chafing.
10. Go on a Walk or a Drive
Some fresh air and movement is almost always the cure for fuss. Whether you choose to babywear during the walk or use a stroller, the change of scenery can really do the trick. And if a nice stroll does the trick, try incorporating it into your daily routine. Or if you go for a drive, being buckled in the car seat may help your little one get to sleep.
11. Consider Your Diet If You're Breastfeeding
Sometimes, excessive gas is to blame for all the fuss. This can be especially true if you are breastfeeding because some foods you eat while breastfeeding can cause issues for your baby, especially if you might have a permeable gut. If you notice your breastfed baby is gassy or experiencing constipation, reflux, colic, and/or consistently needs help passing gas, it might be time to take a closer look at your own diet.
In cases of pure colic, doctors often mention that your diet can be an effective line of defense; the cause may be associated with food allergies or intolerances, an immature digestive system, or an imbalance of healthy bacteria in the digestive tract.
Whatever the case may be, trying to eliminate possible triggers from your own diet to help your baby feel better is well worth it (but also shouldn't be done without careful consideration). The most common cause for digestive issues in babies from their mother's breast milk is dairy. Cow's milk is actually the only food that is conclusively linked to fussiness and gassiness in babies. Once you omit dairy from your diet, you can expect to see some improvement in the baby's symptoms within a week but it will take as much as 6 weeks for it to fully clear your system — and your baby's.
Keep a food journal and try comfort measures like gripe water and baby probiotics in the meantime while you work on dairy-free breastfeeding.
12. Give Your Baby Probiotics
Probiotics are well-known for their ability to help maintain a healthy gut for both mom and baby. When your baby has an imbalanced microbiome, they may develop health issues or digestive issues like acid reflux, colic, diarrhea, and constipation. As you might guess, this can definitely have an impact on your baby's fuss level.
Ensuring that your baby has a good balance of gut flora by giving baby probiotics can help improve digestion, ease colic, and boost your baby's immune system. In fact, probiotics are the only scientifically proven effective treatment for colic.
Biomeology Infant Probiotic Powder is a premium probiotic for babies, made with 12 important strains and organic prebiotics.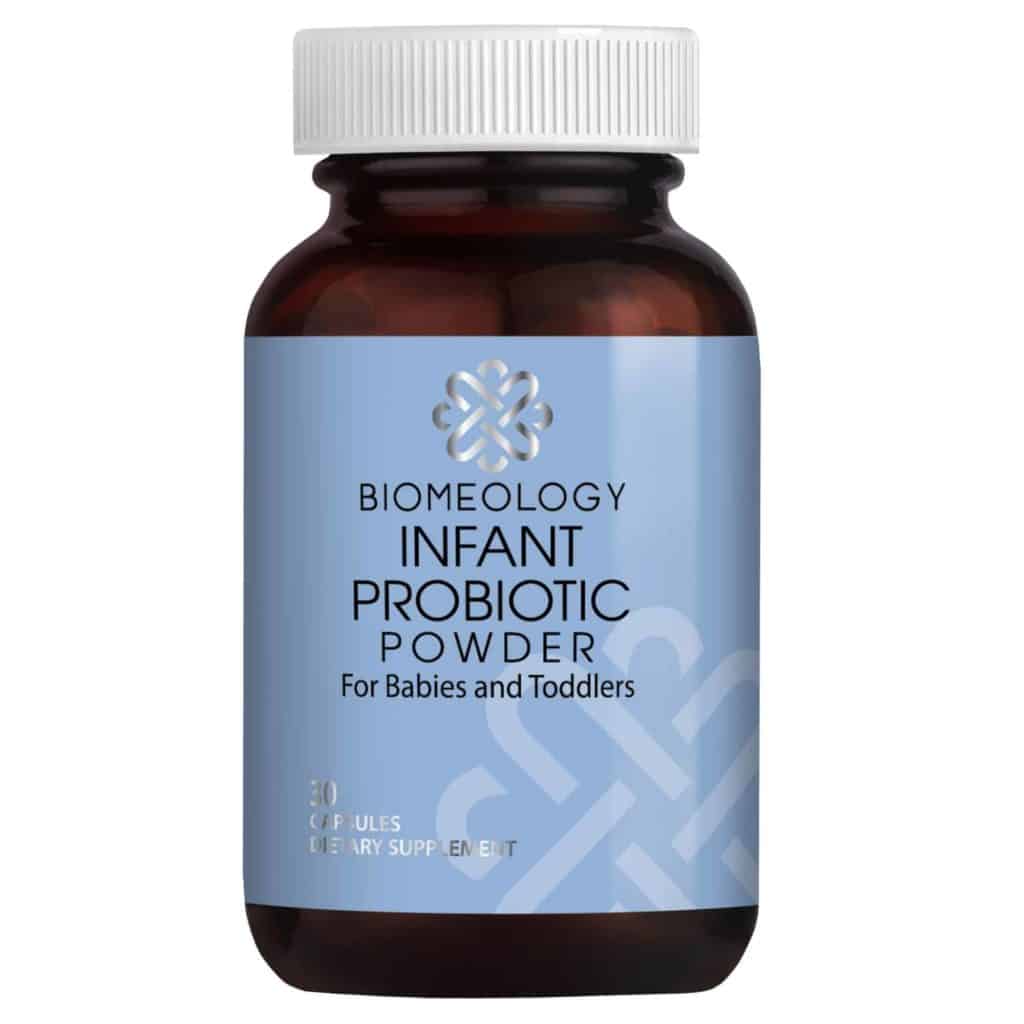 Buy on Amazon
And don't forget Mama! If you're breastfeeding and have an undernourished microbiome, this can trigger inflammation, reflux, eczema, colic, and more in your baby. So, it's hugely important for all moms to focus on healing the gut and providing healthy bacteria to their baby through breastmilk in the form of probiotic foods and supplements. You can try Biomeology Prenatal and Postnatal Probiotic to help optimize your gut health and pass healthy probiotics through your breast milk.
13. Try the Colic Hold
If your baby is in need of soothing and you don't think they're tired, hungry, or in pain, try the colic hold. Developed by Dr. Robert Hamilton from Santa Monica, CA, this method seems to work almost instantly.
Watch the video for a demonstration and be sure to hold your baby carefully as you try this.
Here's how to do the colic hold:
Hold your baby facing out in front of you
Wrap both of their into their chest and hold onto their arms with your non-dominant hand
Lean them forward so that they are facing down and use your dominant hand to hold their bottom
Give them a little bounce and let their legs dangle
Here's another great example of this in action from Dr. Andrew Dorough:
14. Try Shushing or White Noise
Though this is mostly considered a sleep tip, shushing your baby is also useful for helping to calm them. Hold them and give a calm and gentle "sssssssh" while bouncing and patting them on the back. I found the Baby Shusher extremely useful for car rides with my second baby because it mimics the shushing sound. Brilliant!
Buy on Amazon
15. Consider Seeing a Chiropractor
Before becoming a mom, I never thought I would take my baby to a chiropractor. I'm sure I would have rolled my eyes at the thought (what did I know??).
But under the care of the right chiropractor who is properly trained in adjusting babies, a chiropractic adjustment for a baby is so gentle that you barely even notice anything is being done. Seeing a chiropractor can help correct any misalignments in the spine that may be contributing to your baby's discomfort. It can help support the nervous system and restore balance in the body.
If you decide to try chiropractic care for your baby, be sure to ask around for a good, gentle chiropractor who has experience working with babies. My chiropractor was also skilled in craniosacral therapy and it was also very helpful.
Sending You Baby-Calming Vibes, Mama!
I know how frustrating it can be when your baby is non-stop fussy and crying. It breaks our mama hearts seeing our babies so upset and not knowing how or what we can do to comfort them. Just know that if you are trying the strategies on this list and giving your baby lots of close love and attention, you are doing all that you can.
Be patient, and don't ever let anyone tell you you're spoiling that sweet baby by calming them when they fuss. You are doing exactly what you are supposed to be doing and meeting your sweet baby's needs.
If you sense that something isn't right and your baby is continuing to struggle or show excessive signs of fussiness, you might want to have your baby checked by a lactation consultant for a lip tie. Unfortunately, most pediatricians do not know how to diagnose oral ties properly so you will have the best luck seeing a trained lactation consultant or someone who specializes in oral ties.
FAQs: Still Have Questions?
When is fussiness in babies considered 'normal' and when is it not?
Almost every baby will have bouts of fussiness for one reason or another. Often it's associated with discomfort, hunger, or exhaustion, but sometimes babies are just inexplicably fussy. To some extent, regular bouts of fussiness in their day is considered normal.
Normal fussiness in infants
Normal, daily fussiness usually starts when your baby is 2-3 weeks old and lasts until they are 3-4 months old. This fussiness typically comes on during the late afternoon and evening and is often referred to as the witching hour. This period of time might last for 1-4 hours, occurs around the same time each day, and does improve at least a little with some of the strategies on this list such as holding, babywearing, rocking, going outside, etc. Usually, the witching hour just means that your baby needs an earlier bedtime (like MUCH earlier, around 6-7pm).
Signs of colic in infants
Colic is a form of excessive crying and fussiness in young babies that exceeds what is considered normal fussiness. Typically, Colic is determined through the rule of three: crying for three or more hours per day, at least three days per week, for at least three weeks. Colic is also associated with excessive, loud, high-pitched crying that doesn't respond to soothing strategies. Working on your baby's gut health may help.
If you have any concerns that your baby's fussiness is outside of the realm of normal, it never hurts to bring it up to your pediatrician. They will be able to help you determine if your baby has colic and help you and your baby cope.
When should I worry about my fussy baby?
In general, if your baby feels off or isn't acting like themselves, it's always wise to contact your baby's pediatrician. Examples of this would be if your baby is vomiting or spitting up more than usual, if they have a fever (anything over 100.4 F if he is younger than 3 months old), if he is lethargic and difficult to arouse, or if he is super fussy after feeding. Give the doctor's office a call if you're the least bit concerned.
What should I do if my baby is not napping?
If your baby is not napping and always seems fussy because of it, you will want to try to get into some kind of routine to help encourage your little one to nap. A general nap time routine will include settling into a quiet room without any excessive stimulation. You might read a book, sing a song, rock, and nurse to sleep. Repetition is key in creating a nap routine. Beyond creating a nap routine, getting your baby to nap is also about creating enough activity during wakeful hours so that your baby is ready to settle in for a nap later on. This includes time on an activity mat, getting out on a walk for some fresh air, seeing new sites, and providing the opportunity to breastfeed or take a bottle.
What exactly is the witching hour?
The witching hour is a routine period of time during the day when all babies are generally fussy and irritable. Most parents will say that it starts between 4p and 5p daily and can go into the evening hours. (No, it's not just one hour long…) The best thing to do is keep the time as relaxing and distracting as possible. Consider a walk outdoors, an early bath, skin-to-skin cuddling, breastfeeding—really, anything that will help to soothe your little one as he approaches bedtime.