When it comes to caring for your baby, it can seem like there are endless things to track. Things like, how often they're eating, daily diaper output, tummy time and—sometimes the most elusive—hours asleep. Which, in turn, means you should be paying attention to wake times for babies.
Clocking enough hours asleep is essential to your baby's development and growth, but also their general disposition throughout the day and ability to sleep.
Wait what? Yes. You read that correctly. Sleeping is essential to sleep. Once I figured out that magic formula, around the time my first was 6-8 weeks old, napping and nighttime sleep became so much easier. Sure, some days were still unpredictable, and sleep was still interrupted for a long time, but my baby was happier and spending a lot more time sleeping because I knew what to do.
So, if the key to getting your baby to sleep more is sleep, how do you achieve this? With a strong understanding of awake times for babies, signs of tiredness in babies, and identifying your baby's unique sleep needs.
Trust me, this is one of the greatest secrets of parenting a baby under the age of one.
What Are Baby Wake Times?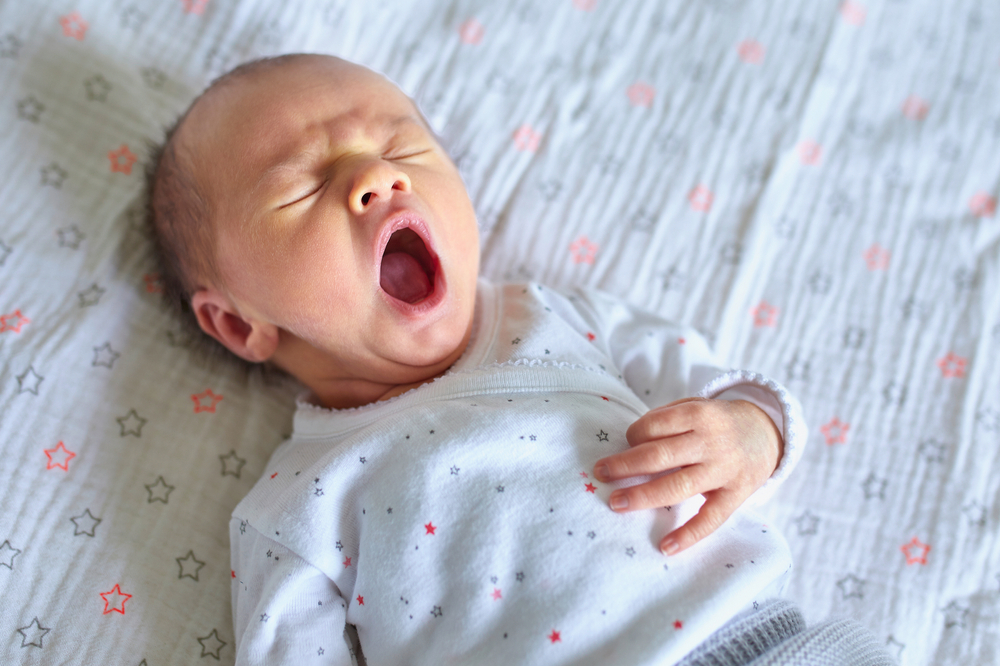 I mentioned that one of the best ways to optimize your baby's sleep in the first year is by understanding baby wake times. Wake times are the average length of time your baby stays awake during the day between naps without becoming cranky or overtired.
Keying into your baby's unique average wake times is essential to helping your baby get enough naps during the day. By knowing how long they can comfortably stay awake, you'll know when to start the nap process and encourage sleep for your baby. Missing the window of sleepiness can lead to an overtired and overstimulated baby that will be unable or far more difficult to settle for a nap.
This cycle can lead to long stretches of unhappy awake time and less sleep overall because remember—sleep begets sleep!
Average Baby Wake Times in The First Year
A great place to start when it comes to discussing wake times (and total sleep needed) for babies is by taking a look at the averages. The American Academy of Sleep Medicine published official guidelines for pediatric sleep to promote optimal health which are endorsed by the American Academy of Pediatrics as well:
Infants 4-12 months: 12 to 16 hours of sleep in a 24-hour period, including naps
Babies 1-2 years: 11-14 hours of sleep in a 24-hour period, including naps
Children 3-5 years: 10-13 hours of sleep in a 24-hour period, including naps
The only problem is that these guidelines lump 4-12-month-olds together into one category when in reality the sleep needs of a 4- and 12-month-old are usually quite different.
The published guidelines also explicitly state that they do not give recommendations for infants younger than four months "due to the wide range of normal variation in duration and patterns of sleep." Ok, but as a parent? That's not very helpful.
Consider these guidelines to be a great starting point to evaluate if your baby falls within the ideal range of sleep for optimal health. But, I'm willing to guess that you are looking for more specific advice. And you probably need answers… like now!
Sleep and Wake Times Chart for Babies in the First Year
So when it comes to knowing how long to keep your baby awake in between naps, here is a more detailed breakdown of what to expect in the first year:
| | | | |
| --- | --- | --- | --- |
| Baby's Age | Daily Sleep Needs | Average Wake Times | Notes on Daytime Sleep |
| Newborn | 15-18 hours | Varies but is typically 45-60 minutes; very important to look for baby's tired cues. | Newborns sleep a lot but it may be in the form of round-the-clock catnaps. Wake times can be as short as 20 minutes, and shouldn't exceed 2 hours. |
| 1-4 months | 14-15 hours | 45 minutes – 2 hours. Wake times at this age can be as short as the duration of the last nap. | 4-5 naps per day of irregular lengths. Shorter "cat naps" are common during this age range. The first nap of the day should occur 40-60 minutes after waking. |
| 4-6 months | 14-15 hours | 2-3 hours between naps, may depend on previous nap's length. | 4 then reduced to 3 naps per day. Single sleep cycle naps (~40 minutes) are still common. Work towards a somewhat regular nap schedule. |
| 6-10 months | 12-15 hours | 2-4 hour wake times. | 3, quickly reduced to 2 naps per day. Many babies start to do well on a 2-3-4/2-3-3 wake time schedule. |
| 10-15 months | 12-14 hours | 3-4 hour wake times. | Babies this age generally still need 2 naps. The ideal time to drop to one nap is between 15-18 months. |
Sources: Baby Sleep Site and daytime sleep guidelines at Baby Sleep Science
How To Identify Your Baby's Natural Wake Times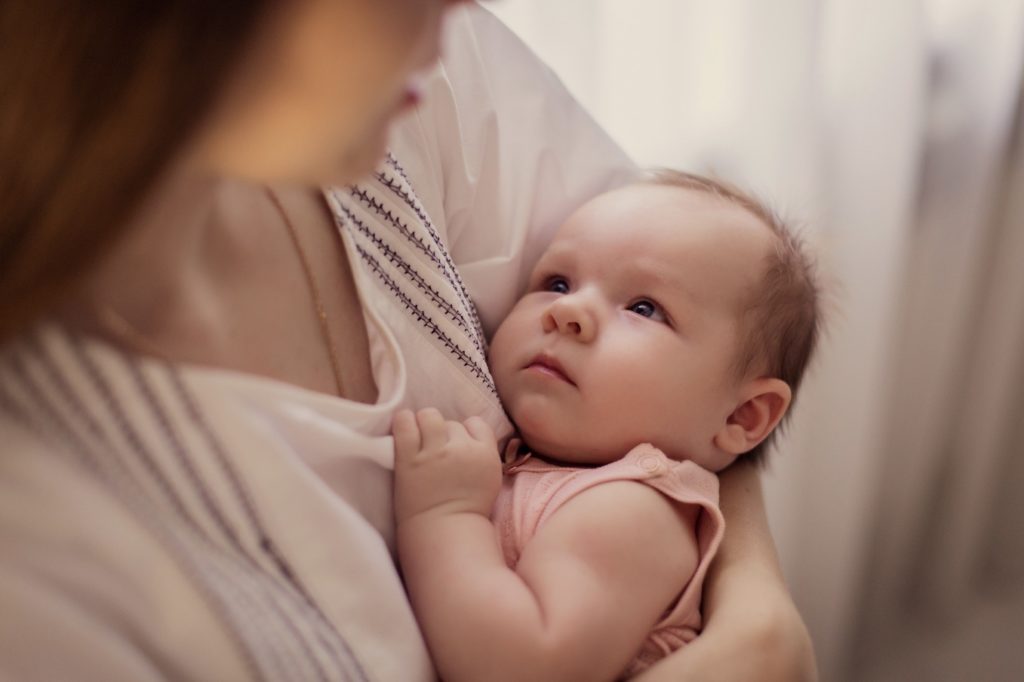 Now that you have a foundation of average wake times and daily nap needs let's talk about how to apply this to your little one. These are averages, after all, and, as you probably noticed, even the averages contain a pretty wide range!
Tips to determine the best wake time lengths for your baby:
Start with the low end of average wake times on day one of establishing a nap schedule.
Take notes for 2-5 days to help you identify patterns.
Write down exactly when they fall asleep and wake up from each nap, note the time awake between each nap, and their disposition, feedings, and tired cues.
Generally, wake times increase as the day wears on. This is why the 2-3-4 nap schedule works well for many 6-12-month-olds. In this schedule, your baby will have their first nap after 2 hours awake, their second nap after 3 hours of wake time, then go down for nighttime sleep after 4 hours of wake time.
If your baby takes a longer nap than usual, don't assume they will need (or can handle) a longer wake time following that nap. In general, nap length doesn't affect wake times until your baby is much older. This was a trap I fell into all too often!
Signs that your baby is having the right amount of wake time:
Baby is taking age-appropriate nap lengths.
Baby wakes up happy from their nap (keep in mind, newborns and young babies may wake up hungry because of their small stomach sizes, but should be content soon after feeding).
Baby is relatively easy to settle down for naps and bedtime.
What to do when your baby's waketime window is closing:
Now that you've identified a rough window for your baby's waketime, it's important to know how to handle the waketime. For example, if your newborn can stay awake for about 45 minutes, that means that you'd want to change their diaper, nurse them, and get them ready for a nap within that 45-minute window.
Identifying your baby's sleep cues (and watching out for them diligently) will also be very helpful in knowing when you'd better start your baby's naptime routine.
Learn Your Baby's Signs of Tiredness
Learning your baby's signs of tiredness, or sleep cues, will help you get a handle on where they fall on the average wake time spectrum. Ideally, you want to notice their 'early sleep' cues. Because if you miss the window, it can sometimes be too late!
Early Sleep Cues in Babies
These are the signs to look for when you either don't know your baby's own typical wake times, or on days where their schedule just seems off. If you see any of these behaviors, it's time to act now on getting your nap/sleep routine going before baby becomes too tired and risks being overtired.
Lack of engagement and eye contact, looking away, not responding to your voice or smiles
Staring off into space, blank stare
Self-soothing (such as thumb sucking, ear pulling)
Generally quiet or calmer
If nursing, sucking is weaker or slower
'Too Late' or Signs of Overtiredness in Babies
These signs mean you may have let the baby stay awake a little too long. This will vary; some babies can tolerate sleepiness better and still be settled, while others quickly become too irritable and overtired to be easily settled, which can throw off sleep for the rest of the day.
Yawning, especially repeatedly
Rubbing eyes, redness around eyes, eyelids drooping
Fussing, crying, general discontentment
Are You Keeping Your Newborn Awake Too Long?
Newborns (0-4 week olds, and in some cases up to 8 weeks) need A LOT of sleep. Some newborns can easily settle and sleep when needed, but others need some help settling. The world outside of the womb is busy, bright and exciting which can make it hard for them to fall asleep on their own
It can be very easy as a new parent to miss your newborns sleep cues, or assume that because they're not just falling asleep that they aren't tired. This can set you up for more challenges with sleep overall. If you have a newborn that is consistently staying awake for 2+ hours (even if they're not particularly fussy), you are probably missing their sleep window.
Try to be intentional about offering your newborn the opportunity to sleep every 40-60 minutes if they aren't dozing off on their own. You can do this by nursing or bottle feeding in a darkened room, rocking baby, or bouncing with baby on a yoga ball to encourage sleep.
A Note About Baby Sleep Cycles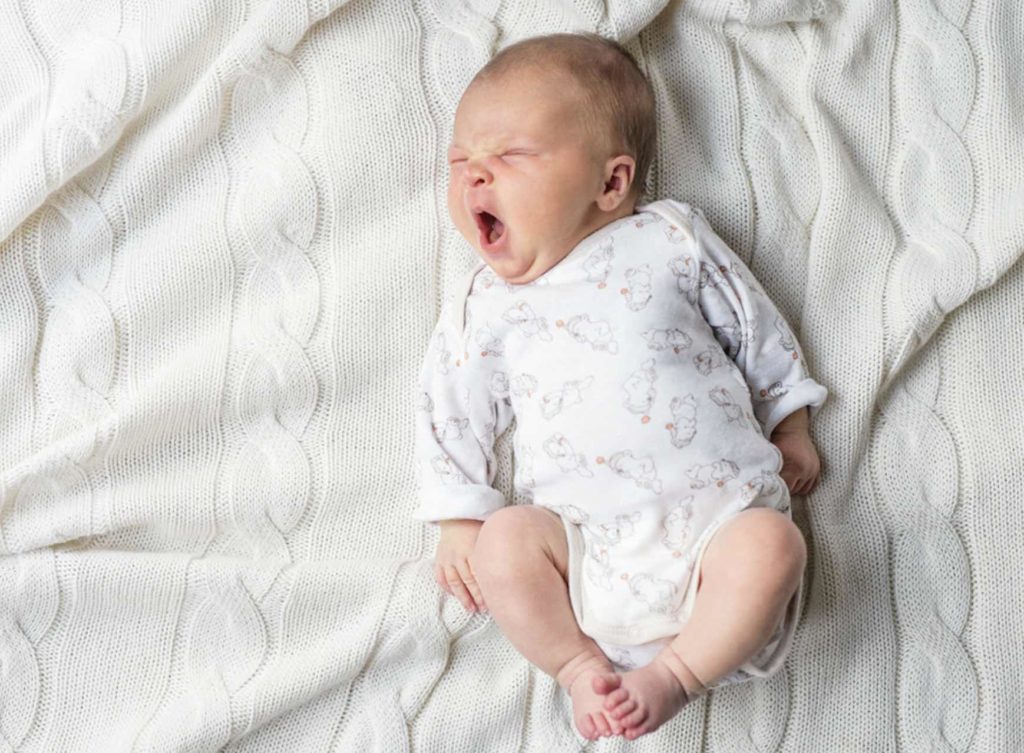 Baby sleep cycles are very different than adults. Knowing how your baby's sleep cycles work is helpful to understanding nap lengths, how to get them to stay asleep, and why they always seem to wake at certain intervals.
Circadian Rhythm in Infants
Sleep-wake cycles, also known as the Circadian Rhythm, is how our brains know when it's time for sleep. This is greatly influenced by light and dark. This rhythm doesn't develop in babies until they are around 6 weeks, and a really predictable rhythm can take up to 6 months to develop.
Another interesting note about this is that newborns do not produce enough melatonin on their own to induce sleepiness and do not produce it consistently though out the night until they around 2 months old. For adults, when our brains perceive darkness, our pineal gland releases melatonin to help us sleep at normal, predictable intervals.
But there is something that can help with this! Melatonin is present in breastmilk. Therefore, nursing your baby to sleep, and immediately upon waking during the night, can help them better establish a Circadian Rhythm, and induce sounder sleep. This might explain why you can easily nurse your baby back to sleep during the night, but your partner's rocking and bouncing is just met with crying.
Baby vs. Adult Sleep Cycles
Sleep cycles for all humans consist of two phases or 'speeds', REM sleep which is active sleep and NREM which is the quiet phase of sleep. Baby sleep cycles are about 50/50 of active sleep and quiet sleep vs. adults who only spend 20-25% of their night in 'active sleep'. What's more, adult sleep cycles usually last 90-120 minutes, whereas baby sleep cycles are much shorter at 40-50 minutes.
What does this mean? Babies spend the first half of their sleep cycle in active sleep. During this 20-30-minute phase, your baby will wake more easily. The second half of their sleep cycle is the quiet phase, a more solid and deep sleep. After they complete the quiet phase, they will either wake up after one complete sleep cycle (hello, all too familiar 40-minute nap), or, as they get older, bridge to the next sleep cycle.
Most babies are unable to bridge their sleep cycles until they are around six months. This explains why average nap lengths and night sleep stretches increase around 6 months (see chart above).
This information helps set realistic expectations in how long your baby will nap, and helping them to sleep for longer stretches.
Some strategies to help your younger baby stay asleep longer and bridge between sleep cycles during the day:
Babywearing during naps
Doing a nap 'dream-feed' when you know their sleep cycle is drawing to an end
Eliminating noises and disturbances that may wake them during the active stage of sleep
Now You Know Your Baby's Ideal Wake Times
Now that you have a thorough understanding of average wake times for babies at different ages, how to figure out your baby's comfortable wake times, and why it's so important to sleep overall, you can help your baby get on a better schedule.
Focusing on wake times and helping your baby achieve the ideal length throughout the day will lead to a happier baby and mama and a more predictable schedule for everyone.
Want to Read More About Baby Sleep?
I know how hard it can be to navigate your baby's sleep. Here are a few helpful books to read about baby sleep: