Not only do baths get your little one clean, but they can serve as quality, calming time for your baby. Warm water tends to help relax babies, and eventually, the routine of bath time can be a familiar fixture in the day. So, if you give your baby a bath before bed, it will eventually serve as a queue that bed time is approaching. Your baby will recognize the routine and feel safe and secure because of it.
The Different Kinds of Baby Bathtubs
I have always found baby bathtubs to be worth having because they are designed to safely cradle your baby while washing. They also position your little one so that it's easy for you to wash him. There are a few different types of baby bathtubs on the market to consider.
Sink Insert: This type of baby bathtub is directly inserted into the bathroom or kitchen sink (depending on the size of the sink/basin). Typically, these bathtubs are made of soft, squishy foam and cradle your baby inside the sink. These can be useful for early infancy because you can simply stand at the sink and fill the sink with warm water. The sink insert can also easily be folded and stored away, so it's great for those who are tight on space.
Standalone Tubs: These are mini bathtubs that can be placed in a larger bathtub or even be used on the floor by themselves. These are typically larger plastic basins that you fill with water. Often they have different position options for both younger infants and older babies who can sit up. That said, you probably wouldn't use this kind past the age of 6 months because they tend to be smaller in size.
Transition Tubs: Transition tubs are similar to the standalone baby bathtubs, but they are larger and designed to grow with your baby into toddlerhood. Often, this type of tub includes extensions for every baby stage. For example, a sling for the newborn stage, an inclined backrest for early infancy, and a seat for sitting upright.
As many parents will agree, it can be quite a challenge to clean a slippery, wiggly baby inside a bathtub. This is where it pays to take some time and think about what type of baby bathtub might work best for your setup. Not only can the right baby bathtub make bathing easier, but it can ideally put your baby in a comfortable position to enjoy (or eventually enjoy) bath time.
What to Look for in a Baby Bath Tub
Every type of baby bathtub is a little different, but there are some common features to look for to ensure that it's hygienic and safe for your little one.
Non-Skid Surfaces. Make sure the baby bathtub has non-skin surfaces both on the inside of the tub AND the outside of the tub. This will ensure the tub is stable and won't move around, tilt over, or cause your baby to slip.
Proper Support. The baby bathtub you choose should offer appropriate support for your baby's age. If the bathtub is for a newborn or young infant, the bathtub should offer optimal cradling support for his head, shoulders, and body.
Smooth design. A baby bathtub should not have any sharp corners or edges. Test it out by running your hands along the rim and inside the tub.
Portability. While you may not anticipate bathing your baby anywhere else besides your bathroom, make sure you consider what you will do if you travel, or simply want to bathe your baby in another area of your home.
Hygenic. Definitely consider how easy it is to dry and clean. Plastic bathtubs are often the quickest to dry and clean. They don't harbor mold or bacteria and are safe to use for a long time.
Related: The Best Plastic-Free Toys for Safer Bath Time Play
The Best Baby Bathtubs
Here are my top recommendations for baby bathtubs!
1. Puj Flyte Compact Infant Bath
This sink bathtub is a smart little solution for your baby's first three months of life. Free of BPA, Phthalates, and PVC, this is a safe vessel for bathing your baby. Simply place it in the sink when it's bath time. The outer part of the bathtub features a strong grip material that safely secures the bathtub to your sink. You will love that it's foldable, easy to store, and is super comfortable for newborns and young babies.
Buy on Amazon
2. Stokke Flexi Bath
This is by far one of the most clever baby bath designs. Not only is it suitable for all babies (up to 4 years of age!), but it's also lightweight, portable, and has a heat-sensitive plug that changes color with the water temperature! Simply place the bathtub inside a regular bathtub, or use it anywhere in your house. It offers a non-slip base for safety, and you can purchase additional accessories, including a newborn insert. Made of polypropylene, this bathtub will definitely last for years.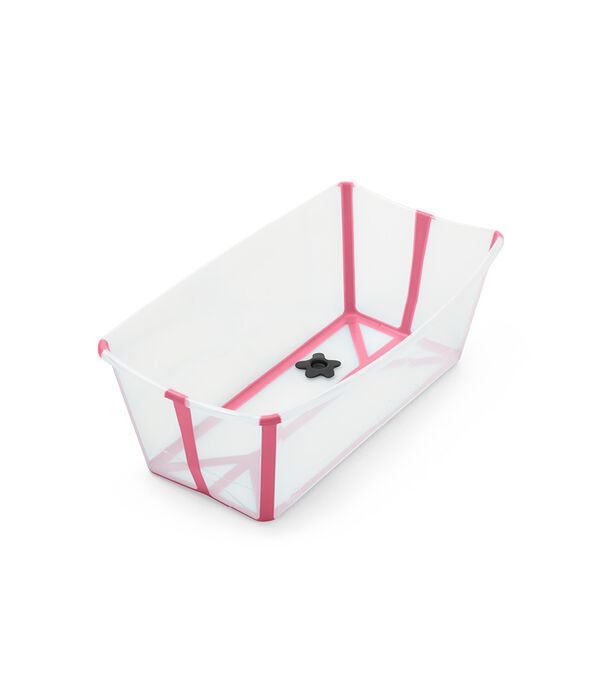 Buy on Amazon
3. Beaba Shnuggle Baby Bath Tub
The Shnuggle Baby Bath offers a smooth, innovative design that is super easy to use for ages 0-12 months old. It features a bum bump that helps to hold all babies, including newborns, in a safe, upright, and gently reclined position. The bottom of the tub has a non-slip grip, and the back of the tub has a comfortable foam for ultimate comfort. You'll find this tub is on the smaller side as it only uses 2 liters of water.
Buy on Amazon
Related: The 9 Best Organic Shampoos For Your Baby
4. Angelcare Baby Bath Support
If you aren't looking for a baby bathtub, but simply a support system to use inside your bathtub, the Angelcare Baby Bath Support is perfect! Simply place the support inside the bathtub and fill the tub with a few inches of water. You can also fit this inside some sinks (depending on the size of your basin). The mesh support keeps your baby in one place and cradles his head and neck for optimal security. When not in use, simply hang it on a hook! It's super lightweight, hygienic and easy to clean, too. Keep in mind, this is best for young babies up to age 6 months.
Buy on Amazon
5. The Original Tummy Tub
The Original Tummy Tub looks a little more like a bucket than a bathtub, but it's designed to mimic the mother's womb, making the baby feel calm and relaxed. Its ergonomic, stable support ensures that the tub will not tip over, and it's made of quality BPA-free, recyclable materials. Perfect for babies ages 0-12 months old.
Buy on Tummy Tub
6. Skip Hop Moby 3-Stage Bathtub
And here comes the most fun-looking baby bathtub from the list! This Moby tub grows with your baby, offering three stages of use. From day one, you can start with the comfortable mesh sling (though FYI it is made from polyester) that locks into place and cradles your newborn. When your baby is ready for assisted sitting, you simply change the position of the sling to use as a supported, gently reclined backrest. And finally, when your baby is able to sit up on his own, remove the sling altogether for plenty of splashing bathtime fun!
Buy on Amazon
Enjoy Your Baby's Bath Time!
I hope this list of bathtubs helps you find the very best one for your little one. You can also think about purchasing two different tubs as your baby grows. Some parents like to start with foldable sink inserts before moving onto the bathtubs, while others prefer to stick with one bathtub that grows with the baby. There is no wrong choice!
Related: How to Give Your Baby a Detox Bath
FAQs
More questions about bath time? Read on!
How do I bathe my baby safely?
Bathing a squirmy slippery baby can be a little anxiety-inducing, and as with anything involving babies/children and water, you must take a few safety precautions for every single bath.
Never leave your baby unattended. While this might seem like a no-brainer, it's important to never leave your baby unattended in the tub. Always stay within arm's reach of your baby while he's in the bathtub at all times. Babies can drown in just a few inches of water in a matter of seconds.
Make sure the bathtub is stable. Make sure the bathtub, your baby, and your own positioning all feel stable when bathing your baby to avoid slips, falls, or tumbles. You can also purchase a non-slip mat for the regular bathtub.
Temperature. The bathtub water should never be hot or cold. The best temperature for baby baths is about 100°F.
Do you really need a baby bath tub?
No, you don't necessarily need one, but baby bathtubs make bath time a whole lot easier and safer! It's very difficult to bathe a wiggly newborn who requires head support! I highly recommend using a baby bathtub.
How long do you use a baby bath tub for?
In general, most parents will use a baby bathtub for at least the first 6 to 8 months. Once your baby is a stable sitter, you can think about using the regular bathtub more easily. But keep in mind a lot of these baby bathtubs can be used for at least the first year, if not longer.
When should I start bathing my baby every day?
It really depends on your baby. If your baby spits up a lot or has daily diaper blowouts, chances are, your baby will need a bath. Most often, baby's can be bathed two to three times per week for the first three months. Once he starts rolling around, trying purees or generally gets out of the house more frequently, you might find it more necessary to bathe your baby daily. Just keep an eye on his skin and make sure it doesn't look too dry or irritated. You can always skip the soap and just wash it with water, too.
How long can a baby stay in the bathtub?
A reasonable bath is pretty short. 5-10 minutes should suffice! After that, the bathwater might be too cool for comfort. This is also important for your baby's skin. A longer bath may make your baby's skin too dry.
What baby bathtub did you chose? I'd love to know what's worked for you!