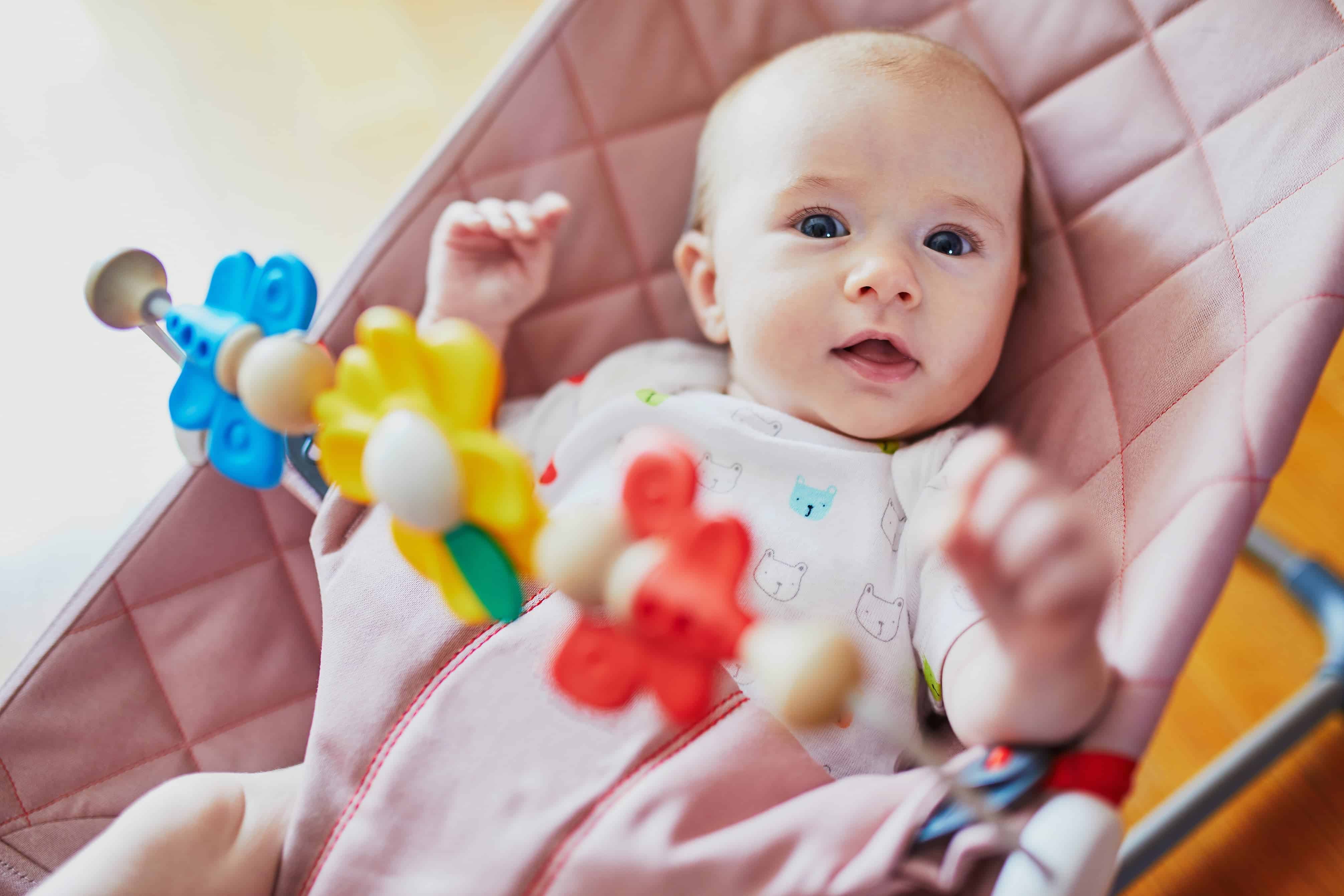 Non-toxic baby bouncers are a great investment for the newborn phase. Here's my list of the best bouncers for your precious newborn!
Those early days at home with a newborn are so special and sweet. They're so tiny and cuddly, and the excitement of bringing your baby home is in the air. Caring for a newborn is a 24/7 job, though, and there will certainly be times that you won't be able to hold or babywear, such as when you're in the shower, or when you'd like to just sit down for a meal.
Although I'm a big advocate of cuddles and closeness, I feel it's important to have a safe and comfortable place for your baby to sit from time to time during the day. That's where baby bouncers come in. And naturally, I'm going to recommend the best non-toxic baby bouncers for you to choose from, because we want your baby to be surrounded by nothing but the safest materials.
The Best Non-Toxic Baby Bouncers
A bouncer is essentially a baby seat, and I recommend having one because they're incredibly useful. Bouncers can be really soothing to babies, too, so it's a win-win for both the baby and mom and dad. Just make sure your baby can see you (and that you can keep an eye on them) while in the bouncer, and that you don't have your baby in their bouncer too long. (A good rule of thumb I've heard is no more than two hours per day sitting "in something".)
I recommend buying one bouncer for each floor in your home; otherwise, you'll end up lugging the bouncer up and down the stairs every day. If you have a two-story home, for example, that gives you an opportunity to put your baby down while you make breakfast downstairs, and while you take a shower upstairs. (Tip: If you want your baby to sit in the bouncer while you shower, make sure they have just woken up from a nap and have a full tummy. Otherwise, you'll have to tend to a crying baby mid-shower, and probably with a head full of shampoo. Spoken from experience.) If your baby doesn't take to their bouncer right away, give it some time.
Here are some wonderful non-toxic baby bouncers that are made with safer materials and fabrics for you to choose from.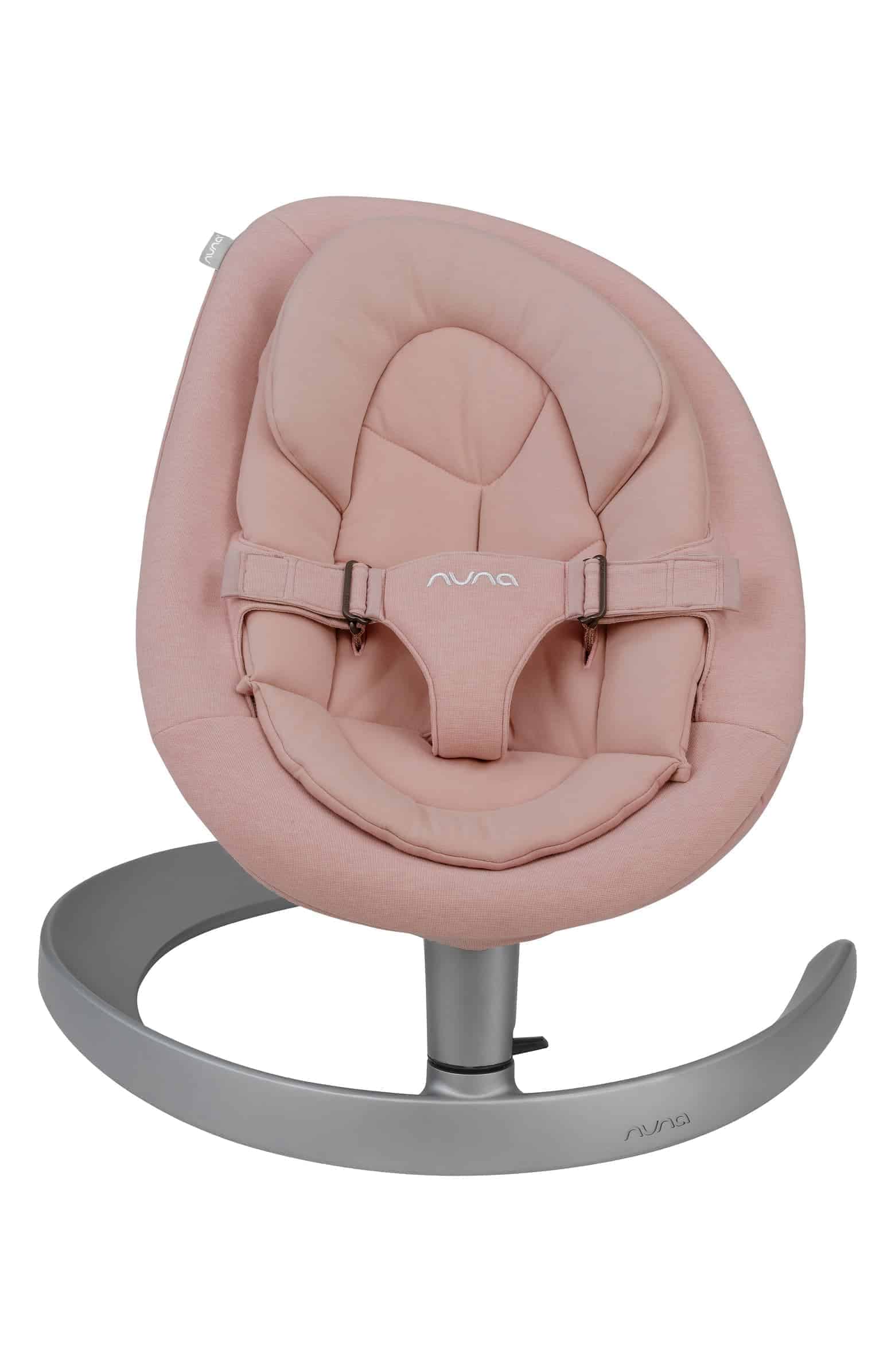 I love the Nuna Leaf! It's a gentle bouncer that has a soft rocking motion that won't overstimulate your baby. It is not electronic in any way – meaning it has no cords, batteries, or vibrating motion. It simply rocks naturally with a gentle push, making this is such a nice and comforting bouncer seat for your baby. In the company's own words, the Leaf was inspired by the "carefree float of a leaf on a breeze".
(If you prefer not to have to nudge the seat every few minutes, you can buy the Nuna Leaf Wind attachment, which is a small motor that can hook up to the Leaf.)
The Leaf features a GOTS-certified organic cotton insert, ensuring that your baby only comes in contact with the gentlest of materials. I highly recommend this – it's one of my favorite non-toxic baby bouncers!
Don't forget the adorable toy bar, which will be really handy from about 8-12 weeks of age.
---
BABYBJORN Bouncer BalanceBuy Now
&
We have used the BABYBJORN with both kids and have been very happy with it! Actually, that's an understatement because it has been both of my children's favorite place to sit (aside from mom's lap!). The best part about this bouncer is that your baby's own movements will keep them bouncing happily in their seat. You can also push the seat to bounce your baby, but your baby will likely learn very quickly that they can power the seat all by themselves.
The BABYBJORN has four positions and can be used from birth to age 2, making this a versatile bouncer. The fabric used is Oexo-Tek certified, meaning it's free from harmful substances. And with the fabric being removable, it's easy to throw it in the washer. It also comes in a variety of colors to match your home or nursery.
You can also add on the Wooden Toy Bar for this bouncer, giving your little one something to play with while they are seated. All in all, the BABYBJORN Bouncer is a great choice!
---
&
Another wonderful bouncer to consider, the Stokke Steps Bouncer is powered by your baby's own movements. It features a plush padded seat and was designed to give your baby the feeling of being cradled.
The bouncer comes with a newborn insert so that you can begin using this from the newborn stage until your baby reaches the 20-pound weight limit. The Stokke bouncer has multiple seating positions to accommodate your baby at various growth stages, and can also be folded down flat for storage. It also comes with a detachable toy bar for your baby to play with.
The Steps Bouncer is ergonomic in design and is manufactured in The Netherlands.
---
Bloom Coco Stylewood LoungerBuy NowBloom Coco Organic LoungerBuy Now
&
Probably the most stylish bouncers available, the Bloom Coco Go Bouncer and Stylewood Lounger feature a contemporary design that won't stand out like a sore thumb in your living room. The Coco Go Bouncer has a concealed vibration unit, while the Stylewood Lounger features a self-rocking motion.
Both choices are great, depending on your preferences. Personally, I was never a fan of using vibration for babies, so I would lean toward the Stylewood Lounger. Both seats feature an organic cotton seat, so you can rest assured that your baby won't be coming in direct contact with any harmful substances when using the Bloom bouncers.
Which non-toxic baby bouncer did you choose? I personally love the Nuna and the Bjorn bouncers. Hope you found one that you love!
---
Founder and CEO | The Gentle Nursery. Yasmine is the CEO of Biomeology, a company that makes supplements for mothers and babies. She is a graduate of the University of Southern California, a doula in training, and a Functional Nutrition Coach.
Yasmine's driving mission is to help reduce the rates of disorder, disease, and trauma in mothers and children and to inspire others to lead a healthier, happier, and non-toxic life. After learning about the toxic chemicals found in mainstream baby products, Yasmine created The Gentle Nursery to help other parents make healthy choices for their babies. With a 10-year background in research, analytics, and leadership for a Fortune 100 company, Yasmine applies the same principles and attention to detail to every article she writes and researches. Yasmine's advisory team includes an amazing team of moms, medical professionals, chemists, and other experts that help ensure accuracy and perspective. Yasmine is the author of The Baby Registry Handbook.