If you are a breastfeeding mama, you will spend a lot of time nursing, especially when your baby is having a growth spurt. Create a breastfeeding station stocked with everything you will need to make breastfeeding easier and enjoyable for both you and your baby!
Whether you are brand new to breastfeeding, or you're a veteran mama, you have likely heard (or experienced) just how often you breastfeed in the first year of your baby's life. Depending on your baby's age and stage, you may find yourself glued to the nursing chair for hours on end. Whether your baby is going through a growth spurt and nurses around the clock or your baby feeds every couple of hours, it's very helpful to have a designated breastfeeding space.
There is nothing better than sitting down to cuddle up with your baby to nurse knowing that you have everything you may need within arm's reach. Queue: the breastfeeding station. A breastfeeding station is a room, area, or just a chair that is exclusively for breastfeeding sessions. It should be comfortable and accessible so that breastfeeding is a relaxing, enjoyable bonding experience for both you and your little one. Here are the most important things to consider when planning your breastfeeding station.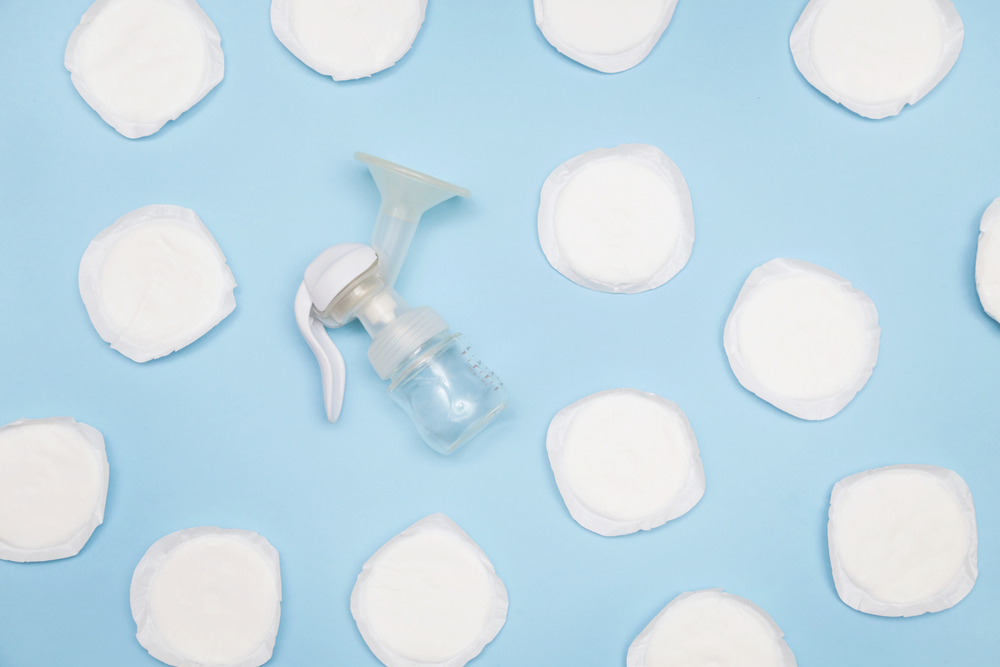 Location, Location, Location
The first rule of real estate is also the first rule of creating a breastfeeding station: location, location, location. Decide where you want to be when you nurse.
The first factor to consider is comfort. You want to choose a space in your home where you know you will feel comfortable for long stretches of time. Ask yourself if you want to be located in the middle of the action (like the family room) or if you prefer to be tucked away in a quiet space like the nursery. Alternatively, you can set up a few smaller stations around your home so you have a few options on any given day. I know a mom who worked from home and put a comfy chair in her home office, and another who set up on her back porch to enjoy the fresh air and sunshine (obviously this will depend on where you live and what time of year it is!).
Whatever you decide, make sure you can relax, focus on your baby, and enjoy your time together. Of course, you have to be realistic. If you have other little ones to care for, you may not be able to hide away in a nursery for hours at a time, so finding a corner in a playroom or family room might be more suitable.
Related: 15+ Realistic Self-Care Ideas for Tired New Moms
Lighting
I always suggest that layered lighting is key. Basically, having multiple ways of lighting or dimming a room can be hugely useful when you're nursing at different times of the day. A lamp, an overhead light, curtains and/or blinds, and a nightlight are great ways to vary lighting as needed. You may choose to have it nice and bright if it's feeding and playtime, or you might choose to make it dim when you're trying to calm the baby for a nap.
Buy on Amazon
Seating
While you may have a comfortable rocker or glider in the nursery, you may not actually spend the majority of your nursing time using it – especially if you're setting up your breastfeeding station in the family room. A comfortable armchair or couch in the living room or wherever you set up your nursing station might be just as important! In fact, I know that some moms order two gliders: one for the nursery and one for the family room or playroom!
Of course, any chair will do as long as you can relax and comfortably hold your baby. For many moms, this means a seating option with armrests, a lumbar pillow, and a footrest or ottoman. You also want to make sure that the upholstery is resilient and cleanable. The baby will almost certainly spit up on the chair at some point!
Buy on Amazon
Breastfeeding Pillow
When you and your baby are just learning to breastfeed, a lot of moms find that using a nursing pillow such as the classic Boppy or My Brest Friend is really helpful. These U-shaped pillows have a few differences: the Boppy is more pillow-like, and the Brest Friend is slightly stiffer. It also includes a buckle around your waist to help with positioning. A few well-placed pillows can work in the same way, but a nursing pillow can be convenient and helpful for the first few weeks or months of breastfeeding.
Buy on Amazon
Entertainment
If you're going to be spending long periods of time sitting down, having some kind of entertainment is a must. Newborn growth spurts have become infinitely more enjoyable since the invention of streaming services like Netflix, Hulu, and Amazon Prime. There are few excuses for binge-watching your favorite show that are as good as needing to sit down and nurse your baby. This is an especially good option in the early days when you need to use both hands to support your newborn while nursing.
Once your baby can support his own head and you have a free hand, a Kindle or even your smartphone are often good options if you want to read or check a few to-dos off your list. So, have everything you need for some entertainment: a TV remote, a charging cord, or a good 'ole fashion book!
Related: 16 Genius Breastfeeding Tips for New Mamas
Food
It's important to eat! Even if you have spent the last five hours nursing and sitting on your couch watching episodes of your favorite TV show, your body works hard to produce all that milk. It's important to keep your body fueled. Keep in mind that when you're breastfeeding, you burn an additional 200 to 500 calories a day.
Of course, I know how difficult it can be to prepare proper meals when you have a young baby at home–especially if your partner has returned to work. I always recommend you make things as easy as possible. First, keep easy grab-and-go snacks available in your refrigerator. Containers of washed and sliced fruits and veggies are good choices. Also, consider items that are protein-rich like single-serve yogurts with oats mix-ins or granola bars. If you have time or a friend who wants to help out, you could also ask them to make some homemade protein bites. There are lots of great recipes on Pinterest! These can be kept in the fridge and pulled out for a quick snack at any time. For a store-bought option, I like Kashi or Kind bars, but take a look around your local health food store to find your favorite option.
Depending on your preference, you can even consider purchasing a mini-fridge to store near your nursing station. Outlet accessibility permitting, it can be really helpful to load it up with refrigerated snacks and drinks, so you can get whatever you like to eat without having to get up or make your partner do a fridge run for you.
Drinks
This is the big one. The importance of staying hydrated cannot be emphasized enough. If you don't drink enough liquids, your body won't be able to produce enough milk. It's recommended that breastfeeding women consume about ½ to ¾ of an ounce per pound of their weight. So, if you weigh 150 pounds, you should be drinking a minimum of 75 ounces a day!
Note that all liquids you consume can count towards this total, but water is the healthiest option. Many people prefer to drink their water cold, so try out an insulated tumbler or water bottle that won't spill if it gets knocked over.
If you find yourself struggling to drink enough water, you are not alone! Tea, milk (including milk alternatives), and water-rich foods such as melon can count towards your liquid intake as well. You could also try a fruit infusion water bottle, adding a few berries or lemon slices to add some flavor to your water. And don't forget about smoothies! You can prep ingredients ahead of time in separate bags and store them in the freezer until you are ready to mix them up. With a helping of Greek yogurt and a spoonful of a protein source tossed in (I like chia seeds or flax, but you may have a favorite), a smoothie can both fill you up and help with hydration.
Buy on Amazon
Storage Area
It's a good idea to have a side table or basket next to you. Simply store everything you need in the storage area so that it's easy to grab while you nurse and quick to tidy up at the end of the day. In addition to your water bottle, snacks, TV remote, book, and whatnot, you can also store all the baby essentials like diapers, pacifiers, burp cloths, and baby blankets.
Buy on The Gentle Nursery Shop
Transportable Caddy
In addition to your main breastfeeding station, I suggest you have at least one transportable breastfeeding caddy. This might be a basket or bin you can easily move around your house that is also fully stocked with all the breastfeeding and baby essentials. This is great to have by your bed at night or carry around the house as you need!
Buy on Amazon
Checklist of Breastfeeding Station Items
So now that you have the basics for your breastfeeding station, the next thing to do is stock it. Here is a complete list that breastfeeding moms and babies might need.
Items for Mom
Water bottle
Snacks
Chapstick
Nursing Cover
Nursing Pads
Nipple Cream
Haakaa
Breast Pump
iPad/Kindle/iPhone
Charging cord
Items for Baby
Burp Cloths
Extra Diapers
Baby Wipes
Pacifiers (clean)
Baby Blanket
Extra onesie or sleeper
A notebook to track feedings
Vitamin D
Baby Probiotics
Happy Breastfeeding!
I hope this helps you create the perfect breastfeeding station for you and your little one! Remember, having a defined place in your home used solely for the purpose of nursing will keep things easy. Skip the hassle of getting up and down or sending your partner to retrieve all the things after you've already sat down and ave your station fully stocked so you're ready to relax and enjoy your bundle!
What did you keep in your breastfeeding station? I'd love to know!