Is there really a way to give birth naturally without pain?
Disclaimer (I explained this in detail in my last post): there is a major difference between regular pain which can happen as a result of something gone wrong like an injury, and functional pain which occurs when there are normal physiologic processes taking place (as in during childbirth). You'll understand why I'm mentioning this again in a bit.
With that being said, in your baby's journey out of your womb, down the birth canal, and out into the world, you can expect to feel something. Even moms who get epidurals can still feel pressure (sometimes even pain) during labor.
Whatever you choose to call those sensations (pains, contractions, surges…) is totally up to you, but my point is that you will still feel something during childbirth. I personally refer to these sensations as "pains" because I have made peace with the word and am now able to differentiate between regular pain and functional pain.
So in this post when I'm referring to having a natural birth without pain, please understand that I do not mean feeling absolutely nothing at all. What I mean is that you do not have to endure excruciating regular labor pain as is described by many moms and portrayed in movies. You can instead have an enjoyable natural birth even with the feelings of functional labor pain.
So how exactly do you do this?
How to give birth naturally without pain
GET. RID. OF. FEAR.

That's it.
As ridiculous as that may sound, I promise that getting rid of fear can have a major impact on your childbirth experience. This was true for me! During my first baby's natural birth, I was anxious and scared, and my body responded accordingly during labor, because stress + fear= tension and regular pain. I fought my contractions and wanted the whole thing to come to an end fast. After my daughter was born, my entire body from head to toe was sore.
Although he and I were both healthy, all that built-up stress and tension in my body left me feeling like I had been hit by a truck. I was hurting.
With my second baby, I kicked fear out the door, had a much more positive and empowered approach to labor, and as a result my 2nd natural birth was like a dream…it was a wonderful experience even with normal functional labor pains, and I was up and running immediately afterward!
Did I feel discomfort during labor? YES. But I had prepared myself ahead of time and had a much easier time coping with labor. It was an empowering experience.
According to this study, fear of labor pain is one of the reasons for the increasing c-section rate and medical intervention during birth! Once you understand the way the fear-tension-pain cycle works, you'll know why it's key that you let go of fear ASAP.
The more fear, the more tension in the body, and the more pain you feel.
Once you feel more pain, you're even more afraid that something is wrong, more tension builds up, and now you're in even more pain…You get the point. This cycle often continues until mom and baby are in distress and there is a need for medical intervention. By the time that happens, stress and fear completely overwhelm the body and functional pains feel like regular pains.
Have you said NO to fear yet?
I know it's hard not to be anxious and scared when many of us women have been conditioned to believe that natural births are "terrible," "unnatural," "avoidable," and "unnecessary".
But saying NO to fear and having a positive mindset is key to having a birth where you don't feel like you're suffering. Just a normal birth where you feel some discomfort but all is good. Know what I'm saying?
In fact, having a positive attitude, in general, is key to enduring and enjoying any challenging thing that comes your way!

I know you know what I'm saying!
Train your mind and your body will follow.
The mind is powerful.
Even more powerful than the body, that's why the saying goes, "Train your mind and the body will follow". If you can get your mind right, you can have that dreamy birth you've always wanted to have.
It doesn't have to be terrible. It doesn't have to feel like the worst pain ever. Even if it doesn't go exactly according to plan, you can still have a great experience when you're prepared and NOT gripped by fear.

If you need some help getting your mind set up for birth, I've got you covered! I created this Natural Labor Playbook to help you feel prepared for childbirth.
Need some natural pain relief tips? Check out these 9 effective natural pain relief techniques!
If you're planning on having a natural birth in a hospital setting, it's even more important that you prepare yourself in advance so be sure to check out this post where I give you the best tips on how to have an empowered birth in a hospital setting.
I hope you enjoyed this post on how to give birth naturally "without pain"!
Take the Guesswork Out of Labor With My Natural Birth Toolkit
Are you worried you might forget all of your labor prep and info… during labor?! Grab The Natural Labor Playbook, your ultimate labor cheat sheet for natural-minded mamas for only $7!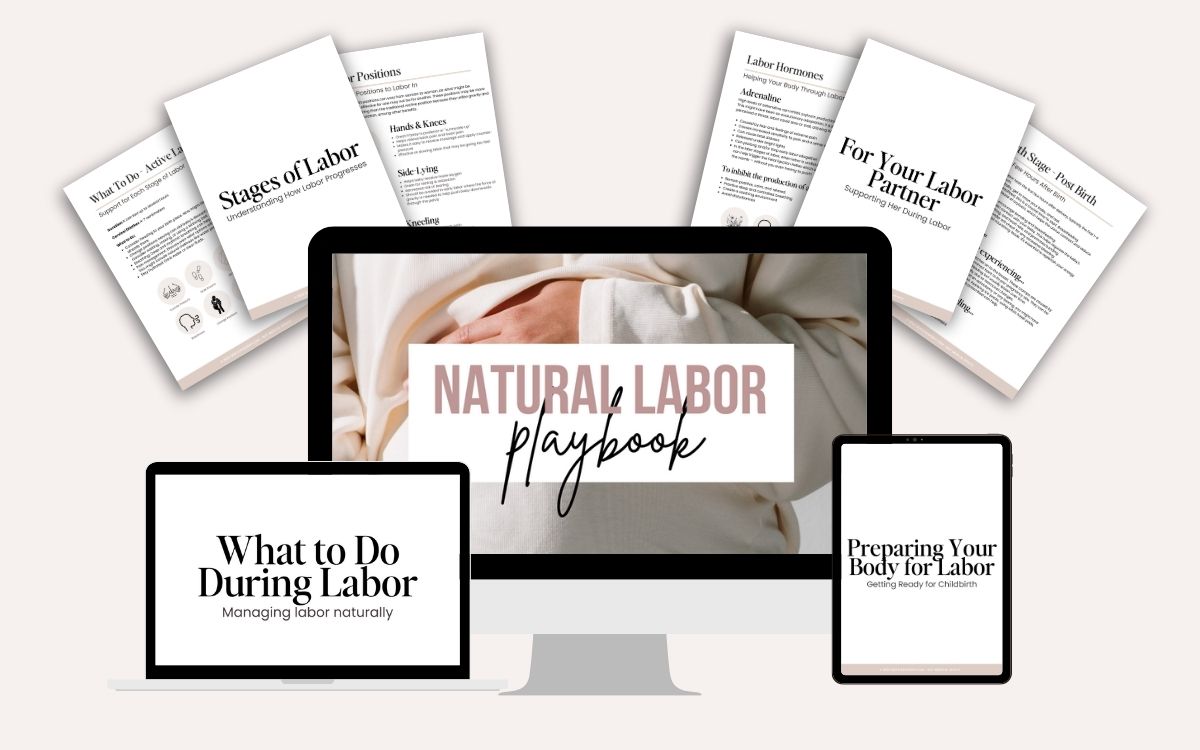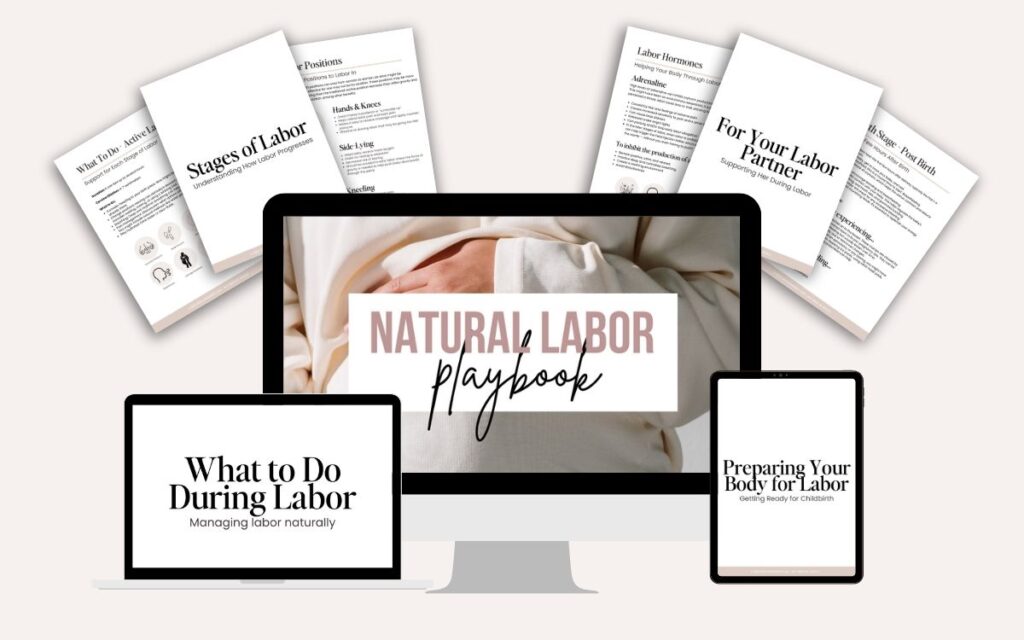 Learn More
Save this post on giving birth without pain for later!