Looking for a healthy smash cake recipe?
Whether you want an all-organic, gluten-free, dairy-free, eggless, vegan, allergy-friendly, or no added sugar birthday cake for your baby, check out these delicious and customizable healthy smash cake recipes.
---
Your baby is turning one – congratulations on this huge milestone!
You can't skip the smash cake, whether you're throwing a first birthday party or are celebrating at home. But does the thought of giving your baby a store-bought birthday cake make you uncomfortable? I totally get it! You're a health-minded mama who wants to do what's best for your baby.
You've probably spent the last few months carefully choosing your baby's meals, giving organic fruits and veggies and avoiding processed foods. You may have skipped rice cereal and gone straight to pureed vegetables or baby-led weaning. (Your baby has probably even tried green juice — and liked it.)
So now that your baby is turning one, choosing a first birthday cake doesn't have to be any different — no matter what your MIL says.
After all, your baby only started eating solid foods a few months ago. It's natural not to want to overload their system with processed ingredients and refined sugars. Especially if they've never even had them before.
So if you can't find an organic bakery or simply aren't comfortable with a store-bought smash cake, I am here to tell you that your baby can still enjoy birthday cake. And NO — it doesn't have to be loaded with sugar, artificial flavors, and numbered food dyes.
And if you want to use a store-bought smash cake, that's OK too! Let your baby enjoy it, and don't stress about it. They probably won't even eat much cake, and you can chalk it up to the 80/20 rule.
But if you decide to make your baby's birthday cake, below are some excellent healthy smash cake recipes for you to choose from.
Some of Our Top Picks:
What is a Smash Cake?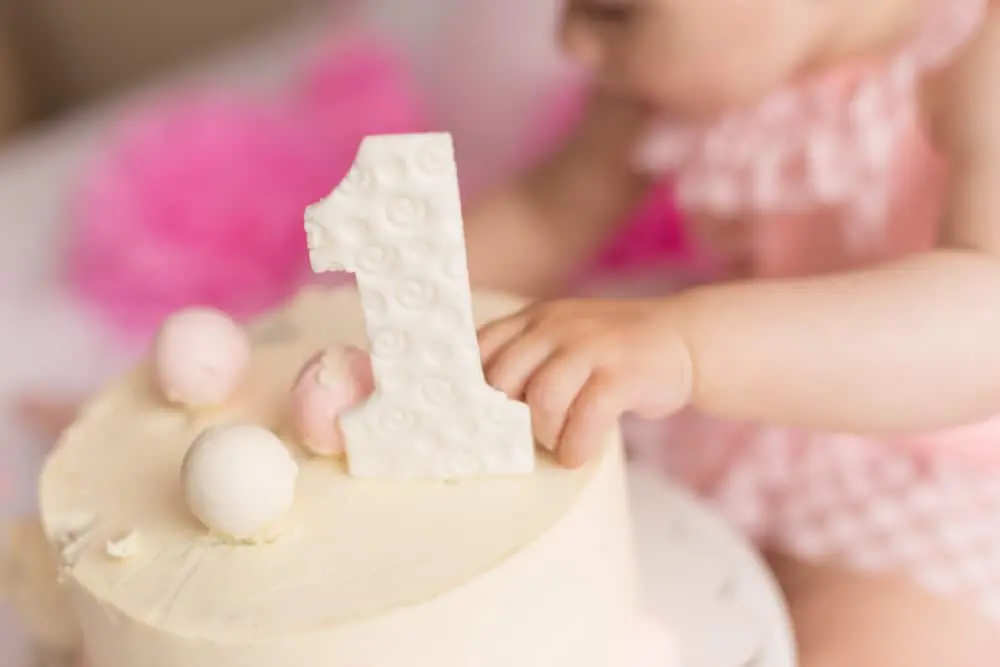 A smash cake is a small cake made just for your baby on their first birthday. Since your baby has probably never had a birthday cake placed in front of them before, they'll likely dig their hands into it and smash it apart. Hence the name smash cake.
A smash cake is a fun tradition to use at your baby's first birthday photo shoot and/or to serve on their birthday. Most smash cakes are small — usually 6″ in size — so family and party guests would be served from a different cake.
Giving your baby their own mini cake allows you to customize it to their dietary needs and taste preferences. A smash cake can be anything you want it to be: a fancy frosted cake, a watermelon cake, or unsweetened banana bread with cream cheese frosting.
Most of all, remember: you know your baby best.
Would she really prefer a decadent chocolate cake over banana bread? You get to choose and make your baby's first birthday cake however you'd like to, with wholesome ingredients if that's what you want!
Related: Gift Ideas for Your Baby's 1st Birthday
Why Should You Make a Healthy Smash Cake Yourself?
While you can now order a smash cake from most bakeries or grocery stores, more and more moms are making their own healthy smash cakes at home. Making your own smash cake gives you control over the ingredients in your baby's cake. It allows you to customize the smash cake to your baby's needs and preferences.
By making a homemade healthy smash cake, you can do it your way…
Use all-organic ingredients
Cut the sugar in half or use maple syrup instead
Customize the texture to your baby's preferences
Bake the cake in your favorite glass Pyrex dish or stainless steel loaf pan
Swap out ingredients for foods your baby likes
Make an allergy-friendly smash cake using your baby's safe foods
Decorate it simply or even with a cake topper
Choose a one-layer cake or one with several cake layers
And even if it doesn't come out perfectly, your baby will still love it because you made it just for them. (But if you try to be a Pinterest mom like me, please do a trial run before the big day.)
Unhealthy Ingredients in Store-Bought Smash Cakes
If you need a little convincing to make a healthier first birthday cake, just look at the ingredient list of any cake you'd find at the grocery store. Here are some of the concerning ingredients I found at a mainstream retail bakery. Of course, eating these one time likely won't have lasting effects but you understand the point here.
Allergens. Many store-bought cakes contain allergens or may be exposed to them in the baking process. If you are concerned about common allergens such as peanuts, tree nuts (including coconut), milk, wheat, soy, fish, shellfish, or sesame, it would be much safer to make your smash cake.
High Fructose Corn Syrup. Topping the list of what we want our kids to avoid, HFCS causes inflammation and increases the risk of obesity, weight gain, insulin resistance, type 2 diabetes, and other serious diseases.
Preservatives. Because store-bought cakes often include dozens of ingredients, you'll usually find a dose of chemical preservatives. For example, in looking at some Walmart cakes, I found TBHQ listed as a preservative. Linked to behavioral issues, TBHQ is a chemical preservative that causes chronic neurotoxic effects and vision disturbances.
Unhealthy Oils. Oils high in omega 6 or otherwise harmful such as palm oil, soybean oil, and sunflower oil are often used in store-bought cakes. These oils are unhealthy and can disrupt the gut and lead to inflammation.
Propylene Glycol. Propylene glycol is a synthetic food additive derived from petroleum and is called the less-toxic, ingestible version of ethylene glycol (which is an ingredient in antifreeze). I prefer to stay away from it when I can (as with most petrochemical ingredients) and definitely wouldn't want it in my baby's smash cake.
Artificial Flavors and Colors. Derived from petroleum, artificial flavors and colors are carcinogenic and also linked to hypersensitivity and behavioral issues. Numbered food dyes like Red-40, Yellow-5, and Yellow-6 contain benzidine, a human and animal carcinogen permitted at low levels. It's a good practice to always avoid these chemicals.
Artificial Sweeteners. Highly processed food additives, artificial sweeteners are chemicals that are used to sweeten food. They taste several thousands of times sweeter than table sugar. Studies demonstrate some ill effects, increasing risks for metabolic syndrome and Type 2 diabetes and disrupting gut health.
Refined Sugar. Refined sugars have been linked to various health issues, including inflammation, obesity, heart disease, and more. When refined sugar enters your body, it depletes vital minerals and vitamins from your body as it is processed. And, if you didn't already know, sugar is highly addictive and weakens the immune system. While avoiding refined sugar altogether is difficult, it's important to limit it to a small amount whenever possible, especially for your sweet little baby. It's easy to avoid added sugar when you make your own healthy smash cake for your baby.
Not to mention that at mainstream stores like Walmart or Ralph's, none of the ingredients will be organic. By making your own smash cake, you're in better control of the ingredients.
Related: The Best Straw Bottles and Cups for Toddlers
Tools You Might Need for Baby's First Birthday Cake
If you're planning on making a healthy smash cake for your baby's birthday, ensure you have the right tools. If you're new to baking, be sure that you have everything you need to be able to make your baby's cake, as it's much easier to bake successfully when you have the right tools to use.
Here are some items you might need, depending on the recipe you decide to make:
Ingredients Needed for a Healthy Smash Cake Recipe
While each of the healthy smash cakes below includes its own unique ingredients, some of the ingredients you might want to use include:
Oils: Coconut oil or olive oil. I've baked with olive oil plenty and it works just fine. It's best not to use canola oil or vegetable oil, as these are inflammatory oils.
Flours: Oat flour, whole wheat flour, coconut flour, almond flour, or cassava flour.
Other: Alcohol-free vanilla extract, maple syrup, eggs, applesauce, or organic yogurt.
20 Best Healthy Smash Cake Recipes
Here are the best healthy smash cake recipes, including options that are gluten-free, dairy-free, paleo, AIP, nut-free, egg-free, and low-sugar or free of added sugar.
And yes, they are all delicious and very smashable!
One quick note before you make any of these recipes is to check the serving size. Not all of these recipes are specifically portioned for smash cakes, so make sure to either modify the recipe or be prepared for a little extra cake. Yum!
1. Oatmeal Applesauce Smash Cake (No Added Sugar, Gluten-Free) | The Artisan Life
This gluten-free smash cake includes unsweetened applesauce in place of granulated added sugar. It contains flax seeds and also uses plain Greek yogurt for frosting! While this recipe does contain dairy, you could easily use a non-dairy substitute for this one.
2. Small Batch Vanilla Cake | Cooking with Karli
This recipe is along the lines of a traditional smash cake, but it's made with simple ingredients. That said, it doesn't use any specialized dietary ingredients; it's made with flour, eggs, baking powder, milk, vanilla, and sugar. It would be perfect for the family that wants to make a cake from scratch using wholesome, organic ingredients.
3. Peach and Banana Cake | Super Healthy Kids
This cake is free of refined sugars and a good match if your kiddo loves peaches! This recipe uses peach and banana puree to sweeten the batter, and it uses maple syrup to sweeten the frosting. Calls for very ripe bananas.
4. Gluten-Free and No Added Sugar Smash Cake | Our Haven Hill
Instead of added sugar, this smash cake recipe uses bananas for some sweetness and gluten-free flour. For the frosting, the recipe uses concentrated unsweetened apple juice, cream cheese, and vanilla extract. I think you could also just use unsweetened apple sauce if you wanted to avoid concentrated apple juice.
5. Paleo Baby Smash Cake | Grazed and Enthused
This smash cake recipe is free of grains, eggs, nuts, sweeteners, and dairy. It's made with avocado, sweet potato, beef tallow, carob, and coconut flour. This cake recipe follows the paleo diet and is made with ingredients your baby is likely already eating, so he is sure to enjoy it.
6. Gluten-Free Vegan Lemon Drizzle Cake | Rhian's Recipes
This is a citrusy and sweet cake — without containing any refined sugars. It is completely vegan and gluten-free and uses pure maple syrup as a sweetener. It uses coconut oil, almond milk, almond meal, and maple syrup.
This looks completely delicious and would be great for a spring birthday party!
7. Fruit-Sweetened Smash Cake | New Ways Nutrition
This recipe is naturally sweetened with fruit (strawberries and ripe banana), so if you're looking for a sugar alternative, this would be a good one to try. It does contain dairy; the frosting recipe includes whipping cream with a few freeze-dried strawberries, which actually makes the cake a pretty pink color! If you wanted to make it blue, you could always substitute the strawberries with blueberries.
8. Healthy Smash Cake (no added sugar!) | Love In My Oven
This cake is free of refined sugars. It uses whole wheat flour, whole milk, egg, unsweetened applesauce, and banana. For the frosting, the recipe is simply maple syrup and whipping cream. You could always try dairy and/or gluten-free substitutes for this one as well.
9. Hugo's Barely Sweetened Banana Pineapple Smash Cake | The Baker Chick
This smash cake recipe looks so sweet for a first birthday. As the title suggests, this smash cake uses ripe banana and pineapple to sweeten the cake, and the frosting is made of cream cheese and a touch of maple syrup.
The recipe calls for flour, egg, and coconut oil along with cinnamon, vanilla extract, and baking soda. I think this cake would easily be adaptable for any dietary restrictions or preferences you might have.
10. Vegan Coconut Cake | Recipe World
Coconut is both tasty and looks so pretty on top of a cake! This cake does use granulated sugar, but it also uses ripe banana and unsweetened applesauce to cut down on the amount of added sugar it uses. It follows the vegan diet (suggesting to use vegan margarine; you could replace this with coconut oil if you prefer).
11. Blueberry Smash Cake | Chow Hound
This cake is made with whole wheat flour and no refined sugars. While this cake won't be as sweet as a traditional cake, it uses naturally sweet ingredients to make it the perfect dessert for your little one. Bananas, blueberries, and maple syrup work together beautifully in this recipe.
12. Baby Smash Cake (Allergy-Free, Paleo, Vegan) | Bake it Paleo
This recipe uses a variety of paleo-friendly flours including cassava flour and tigernut flour. As is the theme with healthy smash cake recipes, this one also uses unsweetened applesauce and maple syrup to bring out the sweetness of the cake while staying healthy.
13. Egg-Free, Nut-Free, Dairy-Free Chocolate Cake | Allergic Princess
This is an allergy-friendly chocolate cake recipe: egg-free, nut-free, and dairy-free! It does not include a frosting recipe, so you could think about using a sweet potato chocolate icing listed below.
14. Cake with Coconut Whipped Spinach Frosting | The Veg Life
This cake is easily adaptable to any dietary restrictions you might have (gluten-free, dairy-free, nut-free, vegan), and best of all, it's completely free of refined sugars. The frosting is also green, thanks to a little spinach, and you can sweeten it with maple syrup.
15. Eggless Vanilla Cake | Mommy's Home Cooking
If you're looking for a more traditional cake that is dairy-free, this is a good one to try. You can substitute the cow's milk for any plant-based milk, and as the title suggests, there are no eggs.
16. Eggless Orange Cake | Yummy Tummy
This is an egg-free and butter-free recipe for those love the zesty taste of orange! You can make this into a gluten-free cake by substituting regular flour with gluten-free flour.
17. Gluten, Egg, and Dairy-Free Chocolate Cake | Momables
This gluten-free, egg-free, and dairy-free chocolate cake looks amazing! It uses vinegar (or apple cider vinegar) and baking soda to allow the cake to rise. While it does use granulated sugar, you could substitute applesauce as a healthier way to sweeten the cake. Additionally, the frosting recipe calls for powdered sugar, so instead try this Vegan Chocolate Frosting.
18. Sugar-Free Vegan Carrot Cake | Eggless Cooking
If your little one loves carrots, this is a great first birthday cake recipe. Since this recipe calls for chopped walnuts (and they can be a bit of a choking hazard for babies), I would recommend using a blender to grind them up.
19. Gluten-Free, Paleo Pumpkin Cake | Savory Lotus
I love pumpkin year-round but this would also be a wonderful smash cake for an autumn birthday. This is a simple pumpkin cake that is moist and fluffy. It also includes a dairy-free frosting. Instead of granulated sugar, this recipe uses coconut sugar and pure maple syrup. Yum!
20. Maple Cinnamon Sweet Potato Bread | Rebooted Mom
I know this says "bread" rather than "cake," but it certainly could work as a smash cake. It's loaded with delicious sweet potatoes! This recipe does call for brown sugar, but if you're trying to cut out sugar, you could certainly use a little unsweetened applesauce or just a little extra pure maple syrup.
21. Healthy Almond Flour Smash Cake Recipe | Eating Bird Food
Made with yummy ingredients like banana, eggs, cinnamon, and almond flour, Eating Bird Food's healthy and easy smash cake recipe is one to consider! This recipe was recommended by a few readers who said it's absolutely delicious.
Healthy Frosting Recipes for Smash Cakes
Here are two baby-friendly frosting recipes for your little one's smash cake. Feel free to modify according to your preferences.
1. Vegan Chocolate Frosting | Beaming Baker
This vegan (dairy-free, gluten-free, and paleo!) chocolate frosting uses coconut cream and vegan chocolate chips to make a very delicious chocolate frosting you could easily pair with any of the healthy cake recipes I've mentioned in this post.
2. Sweet Potato Chocolate Icing | Naughty Nutrition
This 4-ingredient frosting looks and tastes amazing. It's both high in fiber and does not have refined sweeteners. This would be a great frosting to add to any cake. It uses sweet potatoes, cacao powder, honey, and salt!
3. Cream Cheese Frosting | The Bojon Gourmet
This is a great and customizable recipe for a cream cheese frosting that you can use to decorate and frost your baby's first birthday cake. You could even substitute the granulated sugar with maple syrup or honey (if you are comfortable using honey).
Here's hoping your baby's first birthday cake will be sweet and delicious, no matter which healthy smash cake recipe you choose.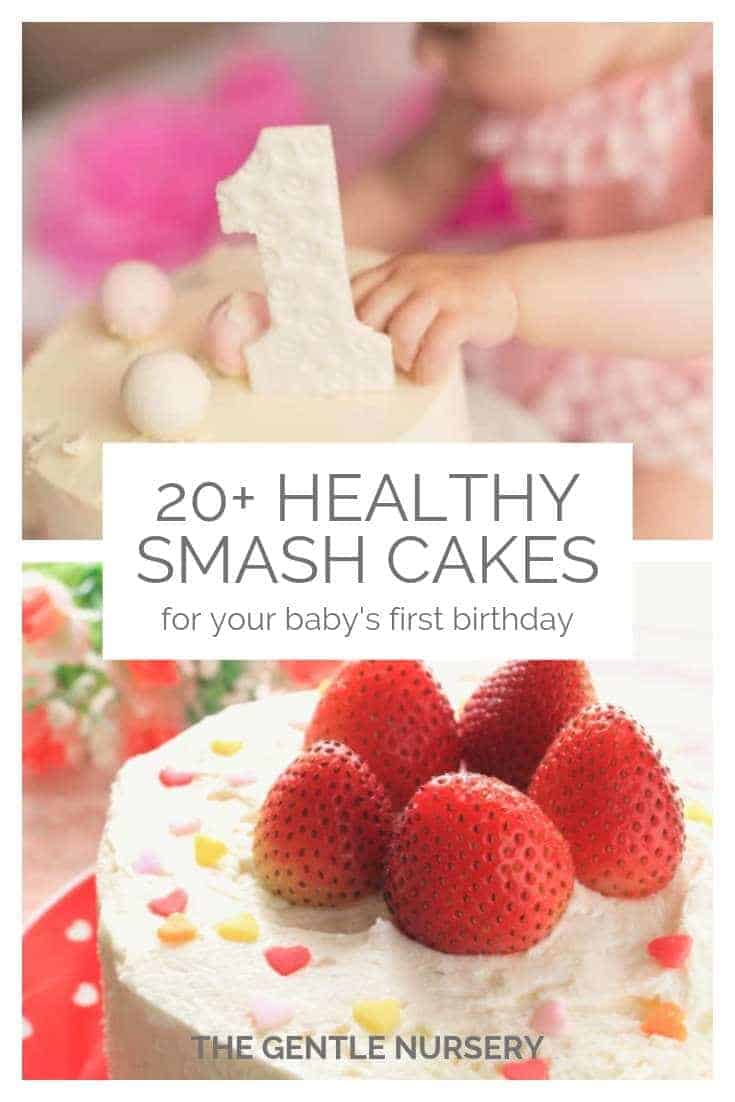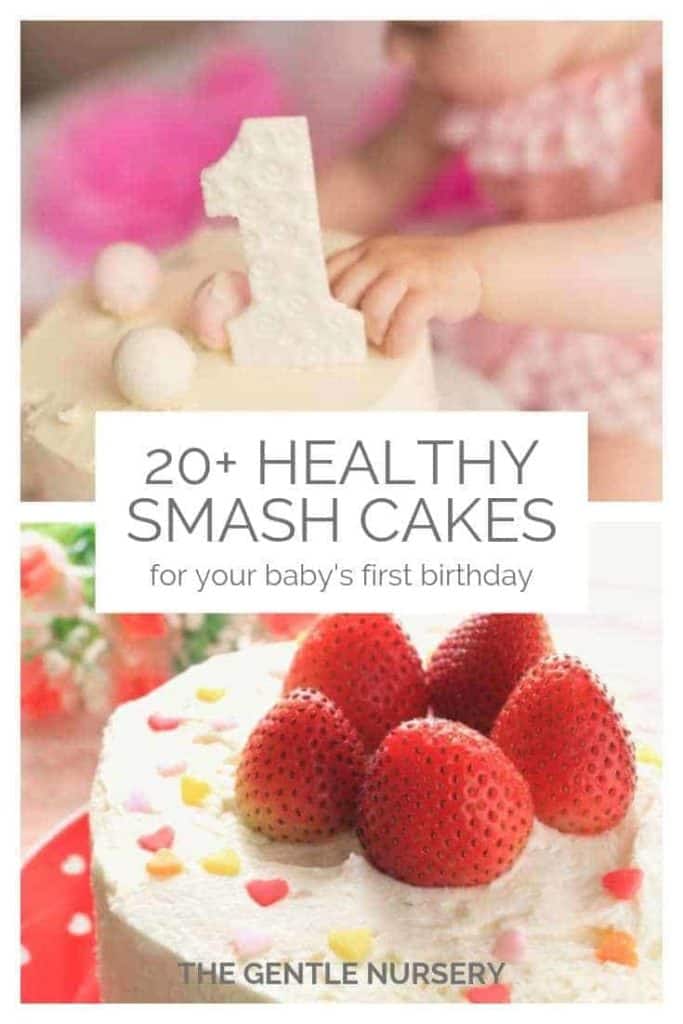 FAQs About Smash Cakes
What cake is best for a smash cake?
A small, 6″ cake made with healthy ingredients is the best choice for your baby's first birthday cake. You can customize your baby's smash cake based on their dietary needs and preferences. For example, if you are avoiding added sugar, you can make a smash cake without added sugar. Ultimately, the best choice for your baby's smash cake is a healthy smash cake recipe that is made without unhealthy ingredients.
Is a smash cake necessary?
A smash cake isn't necessary for your baby's first birthday, but it can be a fun way to celebrate your baby's first birthday. Many parents choose to use smash cakes for their baby's first birthday photoshoot or as part of their first birthday party. Another reason to have a smash cake for your baby is that you can customize the ingredients and make it healthier for your baby (instead of using a store-bought cake that's loaded with added sugar and food dyes).
What is the purpose of a smash cake?
The purpose of a smash cake is to give your baby their own small birthday cake that they can feed themselves. By making your baby their own special birthday cake, you're also able to control the ingredients according to their dietary needs and preferences.
What flavor is best for a smash cake?
A simple flavor like vanilla works great for a smash cake, but many parents also go with healthy and low-sugar recipes like banana bread, chocolate cake, or even blueberry.
What cake can I use for a smash cake?
There are lots of options you can use for a smash cake, including a store-bought cake from a bakery, using a cake mix to make your own smash cake, or baking a homemade smash cake. If you're looking for a healthier cake mix you can use to make your baby's birthday cake, try the Simple Mills brand (it contains 5g of added sugar per serving).
What do smash cakes taste like?
You might be surprised that many smash cake recipes taste great, even if they're naturally sweetened or made with low sugar. Some healthy smash cakes can be a little denser than a traditional or store-bought cake, too. If you're worried about what your baby's healthy smash cake tastes like, just remember that your baby hasn't developed a mature palette so they will likely enjoy simpler, and even more savory cake flavors than an older child or adult might.
Some parents even find that their baby doesn't enjoy a traditional, sweet birthday cake as much as they had expected, so a low or no added sugar smash cake can be a better choice for your baby's first birthday cake.
How do you decorate a smash cake?
You can decorate a smash cake with a healthy frosting like cream cheese frosting and fresh berries. Keeping your baby's smash cake decoration sweet and simple is best, because the purpose is for your baby to smash the cake and feed it to themselves.
How do you store a smash cake?
When you make a smash cake, store it covered in the refrigerator. Then remove it about 20 minutes to allow it to come to room temperature before serving to your baby.
What is the difference between a smash cake and a regular cake?
There isn't really a difference, other than the size and shape of a smash cake. A smash cake is a mini cake made specifically for your baby's first birthday, and they are typically 6″ round cakes.
You can use them for a smash cake photoshoot and/or for their first birthday celebration. The purpose of a smash cake is to allow your baby to While you can use any kind of cake for a smash cake, and you can decorate it any way you'd like, many parents choose to make their baby's smash cake a little healthier than a store-bought cake would be, by making it low-sugar or avoiding added sugar altogether or customizing it to their baby's dietary needs.
Keep Reading:
10 Unique First Birthday Party Themes: Choose a unique and on-trend birthday theme to help you celebrate your baby's first birthday in a memorable and stylish way.
35+ Amazing Gift Ideas for 1 Year Olds: Packed with great first birthday gift ideas, our gift guide for 1 year olds is a great list to shop when searching for your baby's birthday present.
30+ Genius Non-Toy Gifts for Toddlers: Don't over look non-toy gifts as well! This list includes experiences and other non-toy gift ideas for your little one.
13 Best Pikler Triangles That Your Child Will Love: Thinking about getting your soon-to-be one year old a Pikler triangle? Here are our favorites!