If you're on social media at all, chances are you'll see dozens of photos of toddlers climbing over a wooden triangle with rungs. Those are Pikler triangles! You'll find that they are also called "climbing triangles" due to trademark regulations.
No matter what they're called, the idea is the same. These triangles give children the opportunity for endless hours of play that encourage the growth and development of gross motor skills and muscles. Your child will use their muscles to stand, balance, and climb. Toddlers and children alike love these wooden triangles. If you have a four to five-year-old child, expect them to use a Pikler as much as a younger toddler.
And, don't worry, even if your child is not super adventurous, Pikler triangles are perfect for helping your child develop coordination and balance in a safe way that's also fun!
Note that since this is a toy that your child climbs, you want to make sure you buy a quality Pikler triangle that has a proven safety record. Definitely do your research and invest in a solid piece. Your kids will use this toy for years!
What is a Pikler Triangle?
A pickler triangle is a climbing structure designed for children, created by Dr. Emmi Pikler, a Hungarian pediatrician. Dr. Pikler believed that children need to guide their motor development through free movement and uninterrupted play.
That's where the Pikler triangle comes in! A Pikler triangle looks like a simple climbing structure, and it is. It allows the child to learn how to climb at their own pace, exploring their body and learning boundaries. The purpose is to help your child build physical strength and gross motor skills. It's a versatile toy for kids that gets years of use. Parents often introduce it as young as six months old and watch their young infants use the Pikler to pull up and stand. Then, gradually, they start to climb, going up and down.
Some creators add slides, ramps, and bridges to their Pikler triangles. These are a great way to allow your child to use their muscles and stay entertained inside. It's also a great precursor to the big outdoor swingset that kids play on, along with slides and swings.
Related: 21 Fun and Easy Sensory Play Ideas to Try with Your Little One
Benefits of a Pikler Triangle
Since a Pikler triangle isn't typically a cheap object for kids, parents often wonder what the exact benefits of a Pikler are since it's not always obvious before you own one. Here are some of the known benefits!
1. Development of Gross Motor Skills
Spend time observing a child as they climb. So many muscles and skills go into climbing, and a Pikler triangle is an excellent way to develop those skills. Your child has to step onto the ladder and use their arms, legs, hands, and feet simultaneously. They also have to use a fair amount of hand-eye coordination.
2. Lets Kids Develop at Their Own Pace
Despite what some think, we cannot and should not force kids to develop at our pace; they grow best when allowed to work at their speed. Using a Pikler is the perfect way to give your child that independent learning time through play.
Over time, your child will try different things. At first, your toddler might only stand on the first ladder step, but eventually, he will climb. He might get stuck and need help, but with time, your child will go backward. It might take days or months for skills to develop, but that's okay. Kids need to develop at their own pace!
3. Safe Way to Challenge Themselves
Once your child gets used to the Pikler, you'll notice they start to branch out and try new ways to interact with it. It's definitely the perfect space to challenge themselves. Giving your child a climbing triangle gives them a way to understand their strengths and abilities and gain better control over their movements.
4. Develops Self-Confidence
Kids feel proud of themselves when they try and accomplish something new. That might be climbing higher on their triangle or going down the slide. You can see the happiness and pride on their faces as they develop new physical and mental skills.
Safety of a Pikler Triangle
When your toddler climbs, you'll want to make sure above all else, he is safe. With the proper precautions, a Pikler triangle is safe for your child as long as there is adult supervision. That's why you should never put a climbing triangle in a child's bedroom. While your child should feel independent, that doesn't mean you shouldn't be close by to stop an accident.
Here are some basic safety recommendations when using a climbing triangle.
Place the triangle on a soft surface, such as the carpet or pad.
Never place it near curtains or blinds with strings that hang downward.
Ensure no sharp corners or edges are within falling distances.
Do not keep furniture near the Pikler triangle. You don't want your child climbing from the Pikler onto another piece of furniture.
Related: The 11 Best Block Sets for Babies and Toddlers
13 Best Pikler Triangles
There are a lot of Pikler triangles on the market, so I've scoured all of them and found the very best. Here are my recommendations!
1. Lily & River Little Climber
Hands down, Lily & River is the most popular brand of Pikler Triangles among my readers.
Lily & River has a great foldable triangle, perfect for little kids to practice climbing and balancing. This is a USA-based, family-owned company that creates all of its climbers by hand.
The maximum weight limit is 90 pounds, perfect for two young kids to play together. The climber folds easily for storage, and the company sells several different accessory options like a ladder, rock wall, and slide.
They offer several different finish options like natural hardwood, white sealed, and various color seals. Lily & River uses natural birch hardwood and other hardwoods to craft their products carefully. All of their products are made and built in the USA and tested for durability and functionality.
You'll also love that they sell other great play products, including a slide add-on for the climber, an amazing dome climbing set, a rocker, and so much more. Take advantage of their playroom set discounts and fill your child's playroom with absolute delight.
Unfolded: 30 x 33 x 24.5 inches
Folded: 33 x 28 x 7.5 inches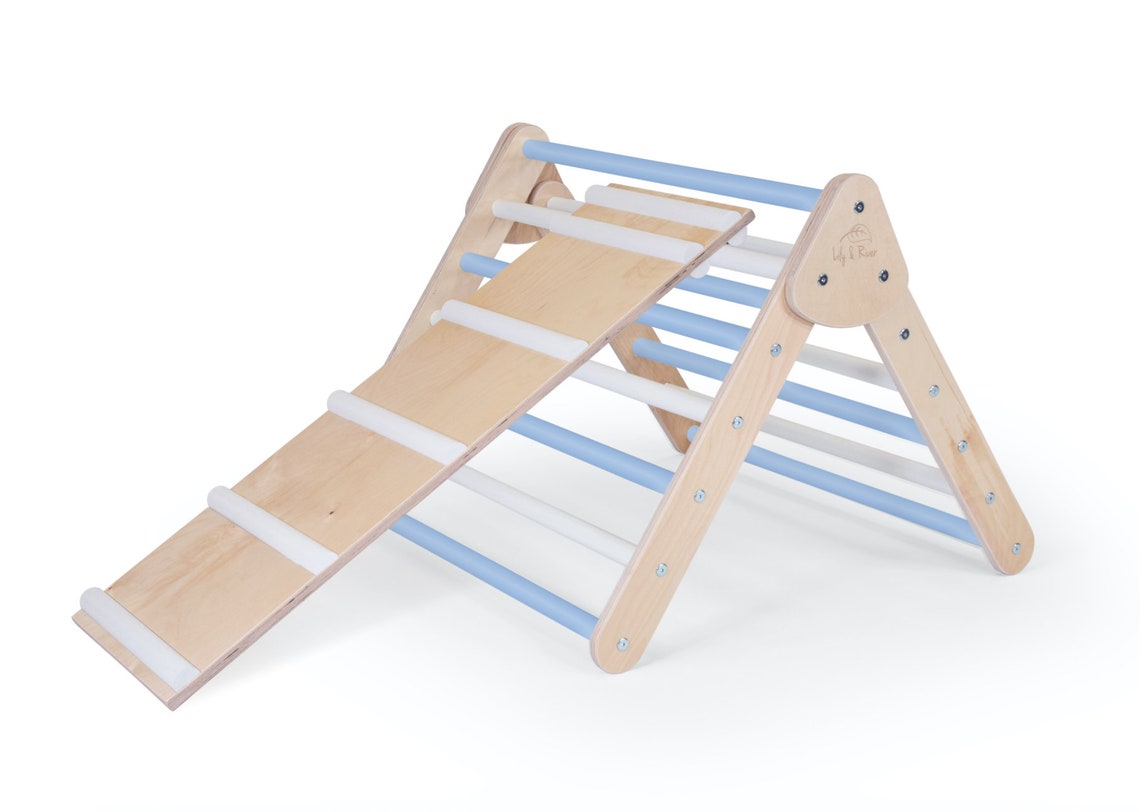 Buy on Lily & River | Etsy
2. Wiwiurka Foldable Triangle
If you're like me, I want high-quality toys that look great in my living room, and Wiwiurka fits that need. They're one of the leading brands for beautiful climbing features for children, and you'll find TONS of options.
Like, this brand is AMAZING. They might offer the most extensive selection out of all the brands on this list. They have different sizes, options, add-ons, and a palette of 23 colors.
Their foldable climbing triangles are made with high-grade pinewood and painted with non-toxic acrylic paint unless you opt for the au natural choice. They also use a non-toxic acrylic wood sealant to extend the lifespan of the triangle and make it easier to clean.
A foldable triangle is an excellent option for families who value space. It folds flat for easy storage, and they sell slides, climbing boards, and several other accessories to increase the challenge level as your child grows.
They have a higher weight limit, maxing out at 100 pounds. That's great if you have two kids who want to use it at the same time!
Triangle: 24 x 24 x 34 inches
Weight: 16.5 pounds
3. Sprout Kids Wooden Foldable Climbing Triangle
Sprout Kids sells a foldable climbing triangle that uses click-lock technology to store when not in use. It's ideal for indoor use for kids up to 10 years old – yes, really!
I love that the Sprout Kids triangle is made with a baltic birch plywood frame and maple rungs for a strong construction that holds up to 150 pounds. That's the perfect size for multiple kids or an older child who needs to burn off energy inside after school or when it's cold outside.
Sprout Kids also sells climbing triangle ramps sold separately (use our discount code GENTLENURSERY10), but they increase the playtime and ways your kids can use this climbing triangle. You also have the option to order the triangle completely assembled for an added price.
Sprout Kids says their wait time is six to eight weeks, so if this is the triangle you want, make sure you plan accordingly for birthdays or holidays!
Unfolded: 36 x 30 x 36 inches
Folded: 36 x 36 x 8.5 inches
Buy on Sprout Kids and save 10% with code GENTLENURSERY10
4. Wild Timber Primer Climber Pikler Triangle
Sometimes, you need a straightforward, well-made triangle, and that's what Wild Timber Co. offers with their Primer Climber. This triangle is simple yet provides your child with plenty of open-ended play.
Wild Timber handcrafts all of their Pikler triangles with solid hardwood maple and all are made in the USA. The Primer Climber has a natural finish, and parents have a choice of colored rungs or natural.
If the Primer Climber is too small, they also sell a larger version that folds flat for storage. Before buying the Primer Climber, one thing to consider is that it has a low maximum weight limit of only 65 pounds. I don't suggest this if you have two kids who want to play on it together.
Are you not handy? All of their climbers come with no assembly required. All you have to do is take it out of the box and set it up. Your kids will play within minutes!
Wild Timber notes that while their products aren't meant to be left outside in the rain or snow, they are suitable for outdoor use. So, feel free to bring this Pikler outside for some fun in the sun.
Triangle: 38 x 38 x 28 inches
Weight: 14 pounds
Buy on Etsy
Related: The 6 Best Baby Play Gyms: Top Picks for Baby Playtime
5. Bella Luna Toys Sawdust & Rainbows Triangle
Bella Luna sells one of the prettiest Pikler triangles on the market, and when you pair it with their slide, it's the perfect combination for little kids. Unlike other brands, this slide has safety sides to prevent falls.
The slide attaches with a join system that allows it to be multifunctional. One side has pre-drilled holes so you can add a ball run, a ring toss game, or a climbing challenge. The triangle folds for easy storage, and Bella Luna Toys sells it in various finishes, such as rainbow, pastel, and natural.
Note that all of these accessories are sold separately. Nevertheless, the quality is top-notch, so it's easy to see the value in this triangle. One of the best reasons to try the Bella Luna Triangle is its high weight limit – 110 pounds – so your child can safely use this as they get older. It will also hold more than one child at a time.
Bella Luna is an Ireland-based company that uses FSC-certified birch plywood, redwood dowels, and non-toxic paint to create its triangles. Unfortunately, these are not meant for outdoor use!
Open: 36 x 30 x 24 inches
Folded: 7x 30 x 30 inches
Weight: 16lbs
Buy on Bella Luna Toys
6. Ewart Woods 3-in-1 Triangle Kids Playhouse
The Ewart Woods is like a Pikler transformer. It morphs into a complete playset with added pieces, and parents can pick from six different set-ups! In addition, they have accessories like a rope ladder, bridge, stairs, and a swing.
When you put a 3-in-1 triangle, the setup will be more challenging, but this is versatile and has a weight limit of 130 pounds. Ewart says that their triangle easily holds up to three kids.
I love the look of this 3-in-1 triangle because it has so much for kids to do. One side has a rope ladder that would engage different muscles as your child climbs upward. They also have the traditional climbing rungs on the other side. The third side has some cutouts, and you can change the way it's set up and even add the swing in the middle.
This triangle playhouse is made out of solid birch plywood and finished with a child-safe lacquer to expand the lifespan and make it easier for parents to clean.
Triangle: 39.4 x 30.3 x 34.2 inches
Weight: 24.2 pounds
Buy on Amazon
7. Roam Creative Play Wooden Triangle Climber
Roam Creative Play sells handcrafted triangle climbers. The triangle has almost everything you want, including some features that aren't easy to find in other brands.
I like the adjustability that Roam Creative added when creating their triangle. You can easily adjust the angle to challenge an older child. I also love that this one comes apart for storage purposes. You can even hang it on their unique hanger in a closet: small-space living families will love that feature!
This company uses baltic birch and poplar wood to craft its climbers. They use an all-natural food-grade, organic wood coating that contains no harmful chemicals or toxins. It's honestly a beautiful piece of craftsmanship that showcases the beauty of the wood and looks great in any room.
If you're a family with multiples, they offer a discount for you. However, since all of their wooden triangle climbers are handmade, expect to wait two to three weeks.
The weight limit for this triangle is slightly lower than others – 80 pounds – which still gives you some wiggle room to use with older kids. The recommended ages are between 9 months and eight years old, so the company believes their product is strong enough to support older kids.
Triangle: 38 x 24 x 32 inches
Weight: 13 pounds
Buy on Roam Creative
8. Dripex Foldable Pikler Triangle Climber with Ramp
The Dripex Pikler Triangle isn't your average triangle; it has many different pieces that let you adjust and create what you need for your child. For example, parents may change into a cube, lower the climbing structure for younger kids, or create a taller triangle for big kids. Since this structure has a maximum weight limit of 260 pounds, everyone can play on this!
Dripex made sure all the edges are smooth, and it's a screw-free installation with a strong, sturdy base. Not only is it safe, but it's simple, and that's something parents love. Changing the shape and height of the triangle is easy and only takes a few minutes. I like that it has different possibilities, so it will truly grow with your kids.
When you order this climber, it comes with a ramp with a colorful climbing wall on one side and a smooth slide on the other side. While this is much larger than other triangles, the four panels stack together for storage.
Dripex crafts its triangles with natural birch and beech wood that is totally safe for kids. It's natural wood that has a long life span and complies with all US CPSC standards.
Triangle: 69 x 20 x 31 inches
Ramp: 47 x 19.68 x 5
Weight: 11 pounds
Buy on Amazon
9. Wood and Hearts Triangle for Kids
As soon as you take a look at the Wood and Heart Triangle, you'll notice that it's different from other options on the market. The set includes an arch, a climbing triangle, and a ramp.
The versatility of the Wood and Heart triangle is appealing, and with a maximum weight limit of 150 pounds, more than one child can play at the same time. This climbing triangle is made with high-quality birch plywood that is strong and flexible. All parts are hand-sanded and safe for kids, and no chemical sealants are used.
Wood and Hearts says that their climbing triangle is safe to use inside and outside in dry weather only. Overall, this is an excellent choice if you want something versatile, but given the height, I don't think that older kids will find it as exciting as other options.
Triangle: 31.5 x 34.4 x 32 inches
Ramp: 38.7 x 14.7 inches
Arch: 20.5 x 38.2 x 18.5 inches
Weight: 50 pounds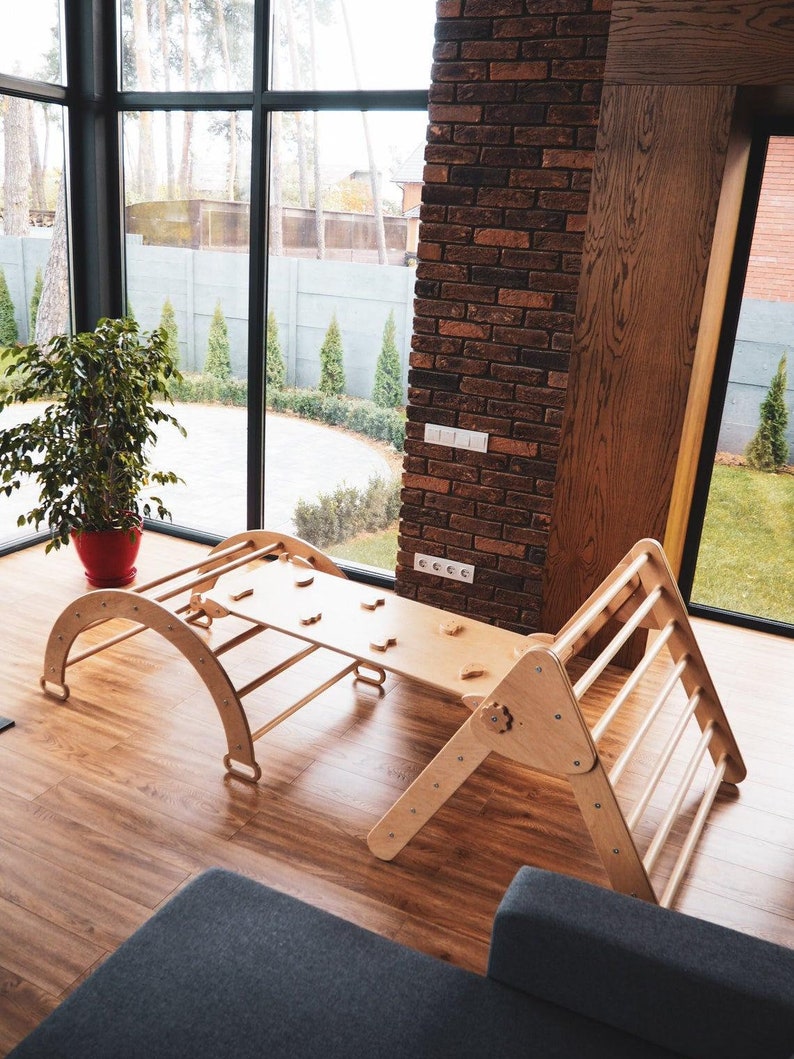 Buy on Etsy
Related: The Best Non-Toxic Play Mats For Your Baby or Toddler
10. Wedanta Foldable Toddler Slide Playground Activity
The Wedanta Foldable Triangle is a traditional Pikler that comes with a ramp that your child can use as a slide as well. It works great for little climbers as you can adjust both the incline of the slide and the height of the triangle itself. Perfect for long-term use!
Your child grows with this triangle, but it does have a weight limit of 88 pounds. So, if you have two older kids, it might not work well for simultaneous playing. Wedanta uses sturdy beech and plywood to craft this triangle, along with non-toxic finishes to be sure your child is safe.
I like that it's fully foldable, so it's easy to store when not in use. Some parents note that this triangle is more complicated to assemble than others, so this might not be the one for you if you aren't a handy person.
Folded: 5.5 x 35 x 32.5 inches
Unfolded: 21 x 33.5 x 32.5 inches
Weighs: 30 pounds
Buy on Amazon
11. Home for Dreams Climbing Triangle
With fun rainbow-colored bars, Home for Dreams used eco-friendly paint that's child-safe. They also use high-class, polished aspen wood and birch plywood. Aspen wood is one of the strongest yet most flexible woods, perfect for a climbing triangle.
This is a basic Pikler triangle, but Home for Dreams sells a ramp and several other accessories separately. While this triangle doesn't come with those accessories, it's taller than some of the alternatives, so I would consider this for older kids who want more of a climbing challenge.
That being said, Parents cannot adjust the height, and it's not foldable. Some parents also say that it's hard to assemble, but the company says that detailed instructions are included with the purchase. The maximum weight limit of the Home for Dreams for Climbing Triangle is 194lbs, perfect for kids from six months to eight years old.
Triangle: 47.2 x 34.6 x 47.2 inches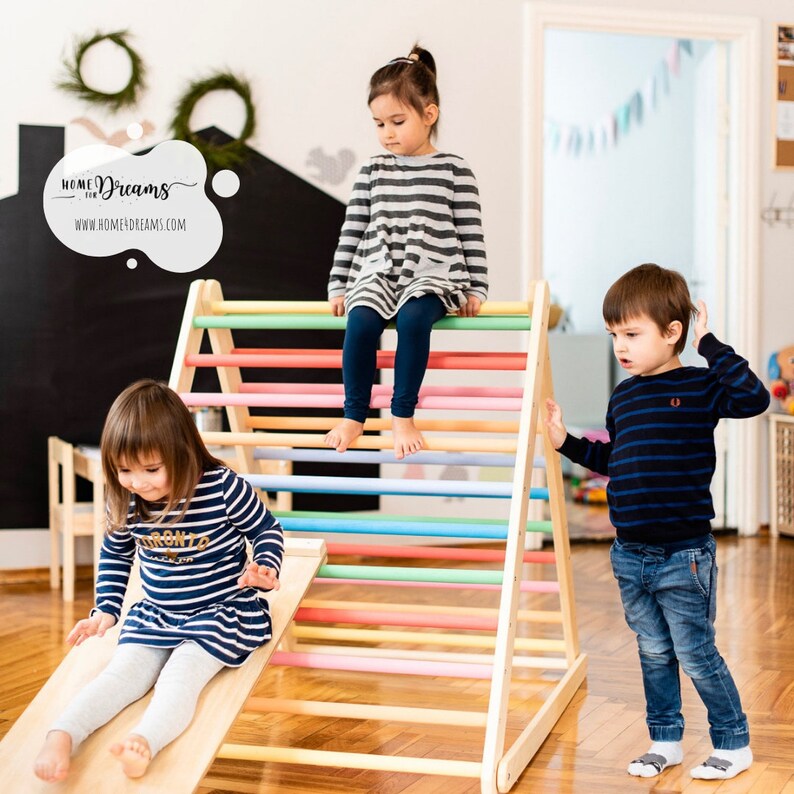 Buy on Etsy
12. Shop Joey Co. Foldable Montessori Climbing Triangle
Shop Joey Co. creates a climbing triangle with a reversible ramp that is meant to help your child have meaningful playtime. Their triangle is foldable for easy storage, and it's easy to assemble once it arrives at your home.
Their products are crafted with 100% sustainably farmed Brazilian pine and plywood for added durability and strength. The climbing triangle is sanded smooth without any coating, but the ramp has a polyurethane-based finish that passes all safety tests.
The ramp and climbing triangle have different weight limits. The triangle has a maximum weight limit of 120 pounds, but the ramp has a 60-pound limit. Shop Joey added plywood to increase the strength of the triangle, but the weight limit is the same.
Unfolded: 31 x 31 x 34 inches
Folded: 36 x 30 x 9 inches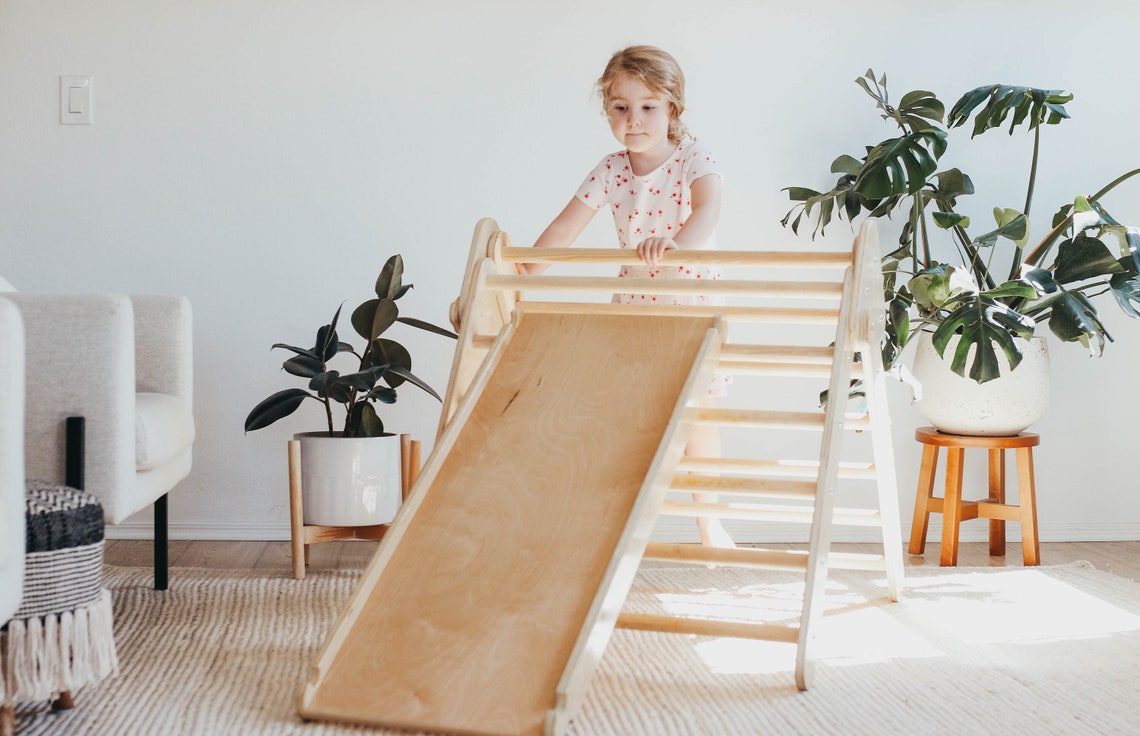 Buy on Etsy
13. Eco Activity Toys Climbing Triangle Pastel Rainbow
Eco Activity Toys has several options like a climbing triangle, ramp, and arch. Parents have the option to buy just the triangle or a combination of all their accessories.
All of their products are made with plywood, aspen wood, and eco-friendly paints. The triangle is painted with a babyproof, eco-friendly, water-based, non-toxic paint, and every part of the triangle is hand-sanded to ensure it's smooth.
This triangle also has fun colored rungs. If you buy the ramp that Eco Activity offers, it has different colored stones to help your child climb up the ramp.
Triangle: 35.4 x 24.4 x 27.7 inches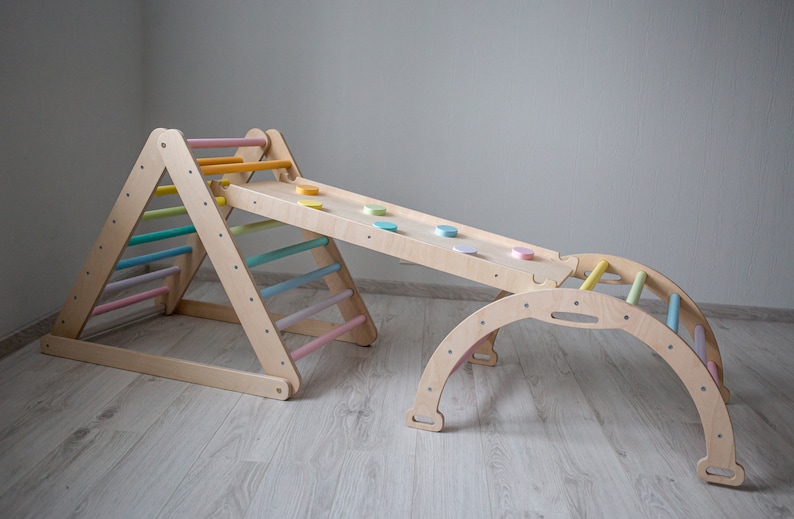 Buy on Etsy
Final Thoughts
A Pikler triangle is an excellent investment for your children that will lead to hours of open-ended play and development. And you will love how these climbers grow with your child. They will seriously entertain your baby, toddler, and young child. Watch how your child uses this climbing triangle over the years. It's pretty amazing!
FAQs
More questions about Pikler triangles? Read on!
What age is best for a Pikler triangle?
A Pikler triangle is best for kids between six months and five years old, but kids often use it outside that age range. Feel free to introduce a Pikler as soon as birth; your newborn can lay underneath the triangle and stare at the contrasting bars.
If you feel like your child is too old for a Pikler triangle, even six or seven-year-olds, find ways to use one. Three and four-year-old preschool-aged children absolutely love the Pikler!
Where should I place a Pikler triangle?
A Pikler triangle should be placed on a mat or a soft surface, making sure no sharp or hard edges are near. Kids will be playing, and they might fall, so make sure you keep objects away from the triangle.
I suggest keeping the triangle in your living or family room; don't put it in a bedroom. Parents need to monitor their toddlers for safety purposes, and toddlers might use the triangle to climb and reach things they shouldn't access. Supervision is a must!
Is a Pikler triangle Montessori?
While you often see Pikler triangles in Montessori-inspired homes and classrooms, they aren't Montessori in and of themselves. They were first designed by Dr. Emmi Pikler. However, they fit well into Maria Montessori's philosophy of childhood gross motor development, which is why Pikler triangles are often included in Montessori play.
How do I introduce Pikler triangle to my baby?
I always suggest letting your little one lead the way! Set the Pikler triangle out and see what your little one gravitates towards. It's a good idea to let him dictate his own interests. Sometimes a child automatically tries to climb the triangle and other times, it may take some time. My biggest advice is to set it out along with a few other toy options and follow your child's preferences!
Which Pikler triangle did you choose? I'd love to know!
Keep Reading: