How can it be that you're already planning your baby's first birthday party?
Your baby's first year is such a special occasion worth celebrating. In a blink, it's suddenly time to start planning a memorable way to celebrate your little one's first birthday. What better way than to throw a party, big or small, and pick a fun and unique first birthday party theme to share this exciting milestone with friends and family?
There are always new and fun themes popping up for birthdays, so, your first decision is if you want to go with a classic theme or one that is on trend. Once you choose a theme, everything will begin to come together, from the color scheme, to the smash cake, the activities, and the decorations. That's one of the biggest benefits of having a themed birthday party — it really narrows your focus onto one specific vibe for the party.
Whether you're planning a small gathering or a huge get-together with a mile-long guest list, our first birthday party ideas can help you find the perfect theme! Whichever first birthday theme you choose, you will savor this special milestone celebration.
How to Pick a First Birthday Theme
Picking a first birthday theme can be a tedious job, especially when there are so many great theme options to choose from. You can go with something popular like "twinkle twinkle little star" or keep it simple (my kids' first birthday party themes were "blue and white" because I was a tired mama running on no sleep). Or you can go with something more unique and personal to your baby. It depends on what you prefer.
But if you are swimming with options, here are a couple of things to consider to help make your decision about your baby's first birthday theme much easier.
What Time of Year is Your Baby's Birthday?
The season may definitely play a part in picking out the birthday theme! Whether it be in the summer or winter, the colors are sure to coordinate. For example, I've seen a lot of people throw "Winter One-Derland" parties in the winter, "Our Little Pumpkin Turns One" parties in the fall, "One in a Melon" in the summer, and "Some Bunny Turns One" in the spring. You can totally customize your baby's party theme for the time of year they were born.
And besides that, the weather conditions also influence your venue choice, and whether the party will be indoors or outdoors, at home, or maybe at a restaurant.
Does Your Little One Have Any Favorites?
Apart from the season, your little one might already gravitate towards a specific color, toy, cartoon or food. Picking out a favorite item and coordinating the party theme around it would be an easy route to go!
Answering these two questions will help you pick out a theme that fits your little one's emerging personality perfectly.
The Top 10 First Birthday Party Themes
Need some more inspiration? Here are our top 10 first birthday theme picks! I like to shop for balloon garlands and kids birthday party supplies from Ellie's Party. I've linked to some favorites from their shop! You can also save 15% on your purchase with code GENTLENURSERY15.
1. Boho Birthday Party Theme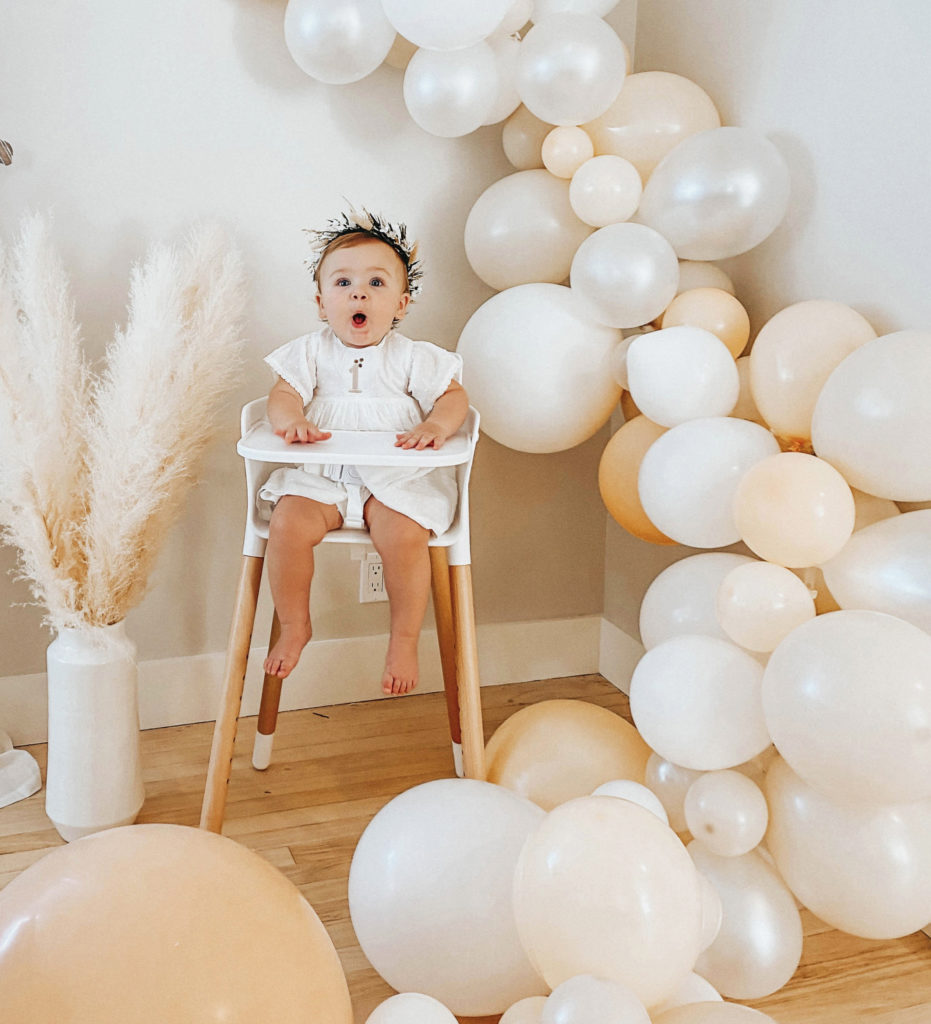 Dreamy bohemian vibes are really popular right now. Pampas grass, floral crowns, and soft hues make for a beautiful combination. This theme makes for a celebration filled with love and creative details.
A Bohemian birthday is a perfect opportunity to feature a teepee with optional flower crowns for some great photo ops. Dreamcatchers, eucalyptus leaves, vintage pillows, blankets, and a neutral boho party kit will give your guests a beautiful and inviting setting.
The dessert menu could include pastel macarons and a white birthday cake. No need to be traditional with this boho-chic theme — feel free to get creative! (Side note: this theme is also so beautiful for a baptism celebration!)
2. First Bee-Day Theme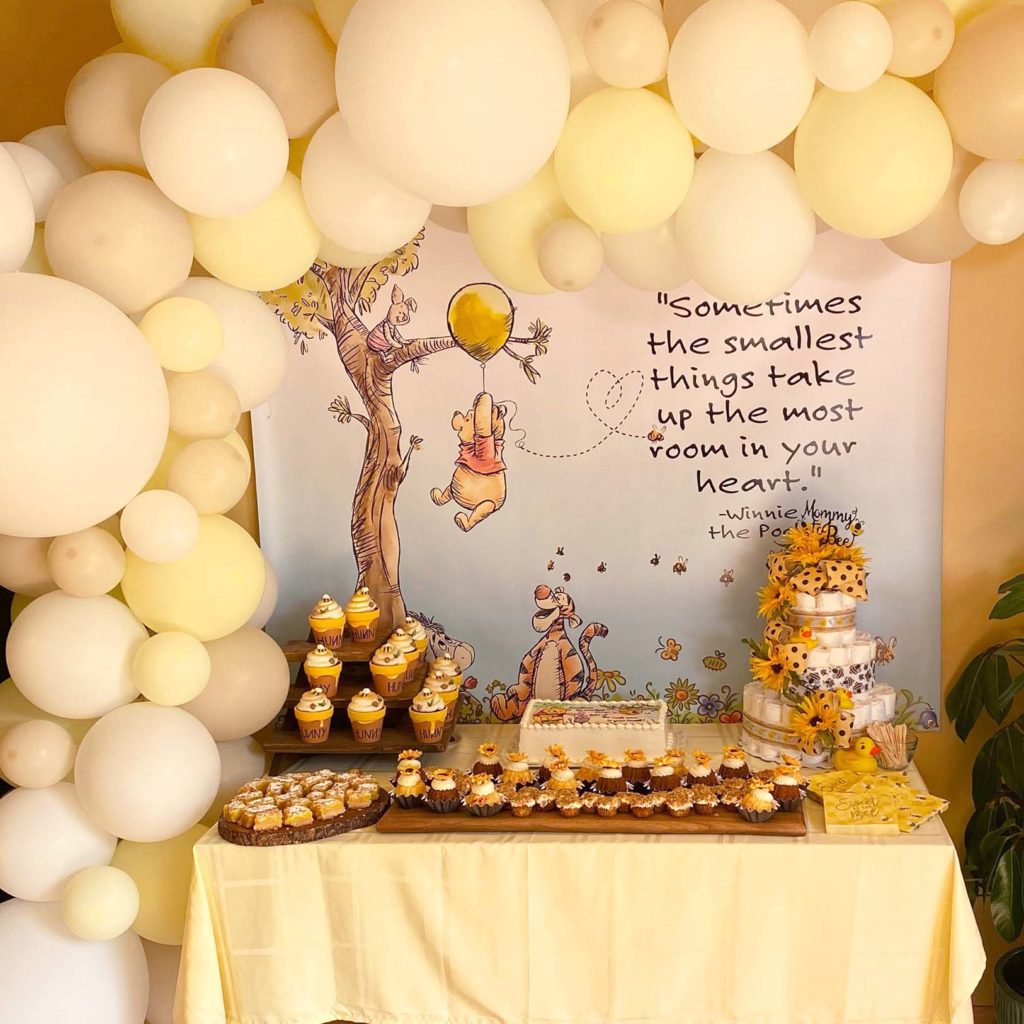 A timeless theme featuring a color palette of yellow and white, with a choice of blues, pinks or browns to be added. These neutral colors are perfect to coordinate with a Winnie-the-Pooh Bear theme.
This theme is gender neutral and allows you to decorate however you want! For instance, a Pooh backdrop and a balloon arch for your dessert table would be adorable. Make it full of bees and daisies and it's the perfect setup.
Think all things honey, with miniature honey pots as decoration, a bee-hive cake, yellow tablecloth, and soft tones to set the scene. Your little honey bee will definitely approve!
3. Wild One Party Theme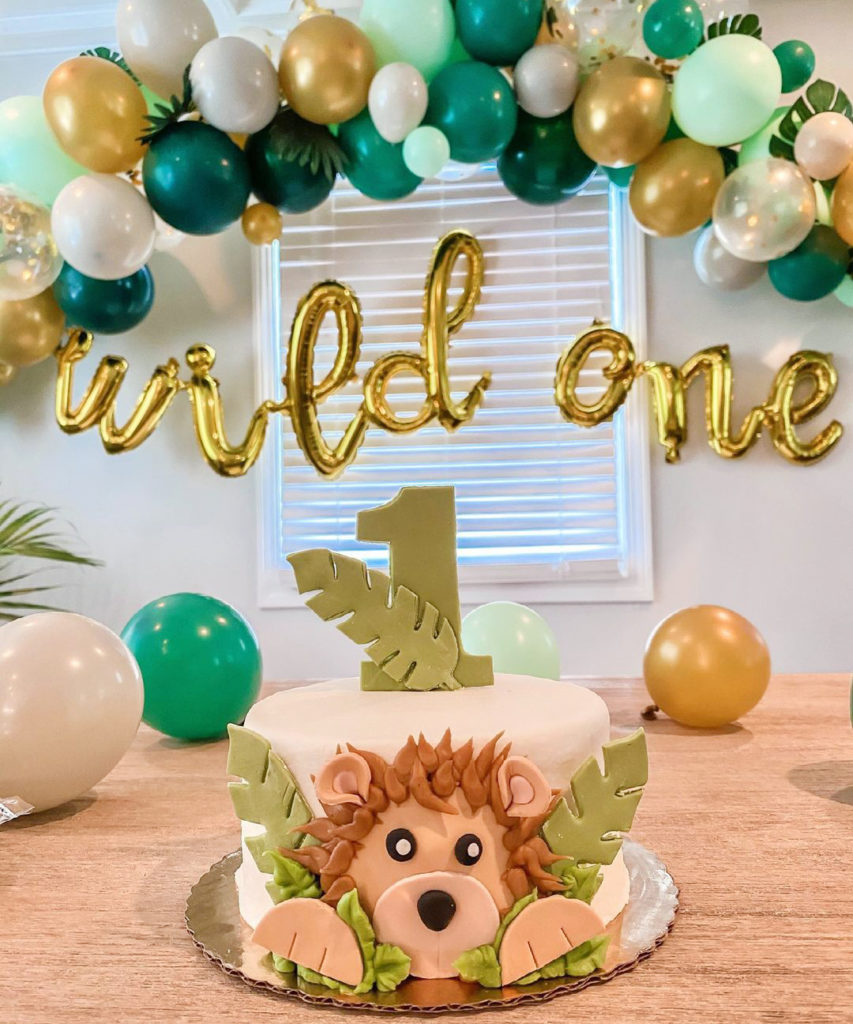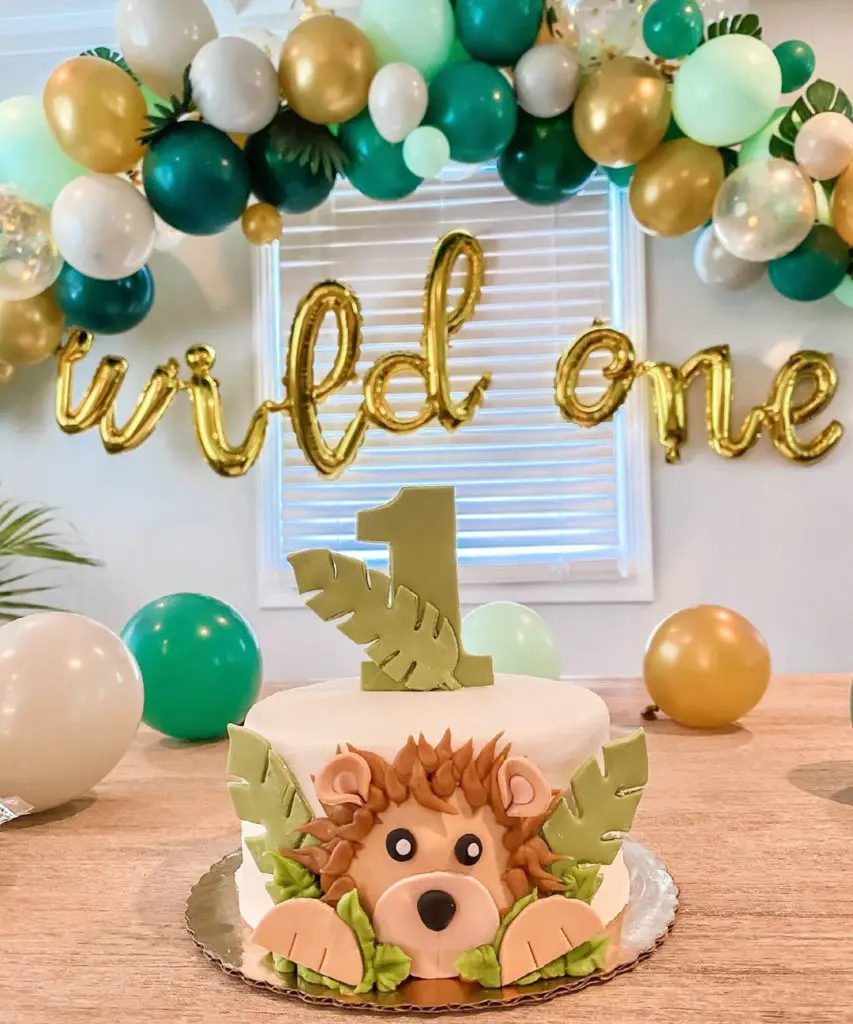 A Wild One in your life deserves a wild party. For this party idea, focus on natural textures and the other decorations will come easily. A wild one theme is very trendy and there are several options to explore.
For your wild one, you could do a safari, zoo, dinosaur or a Wild Things theme. Each theme goes well with an outdoorsy setup and so many ideas inspired by animals.
You could choose muted tones for fall or winter or have bright greens in the spring and summer! Add some faux greenery (palm trees?) and you will have a dramatic, safari setup for your little adventurer. How about adding a touch of jungle to your cake? Check out this balloon cake kit here!
This party theme will be a wild good time.
4. Shark Birthday Theme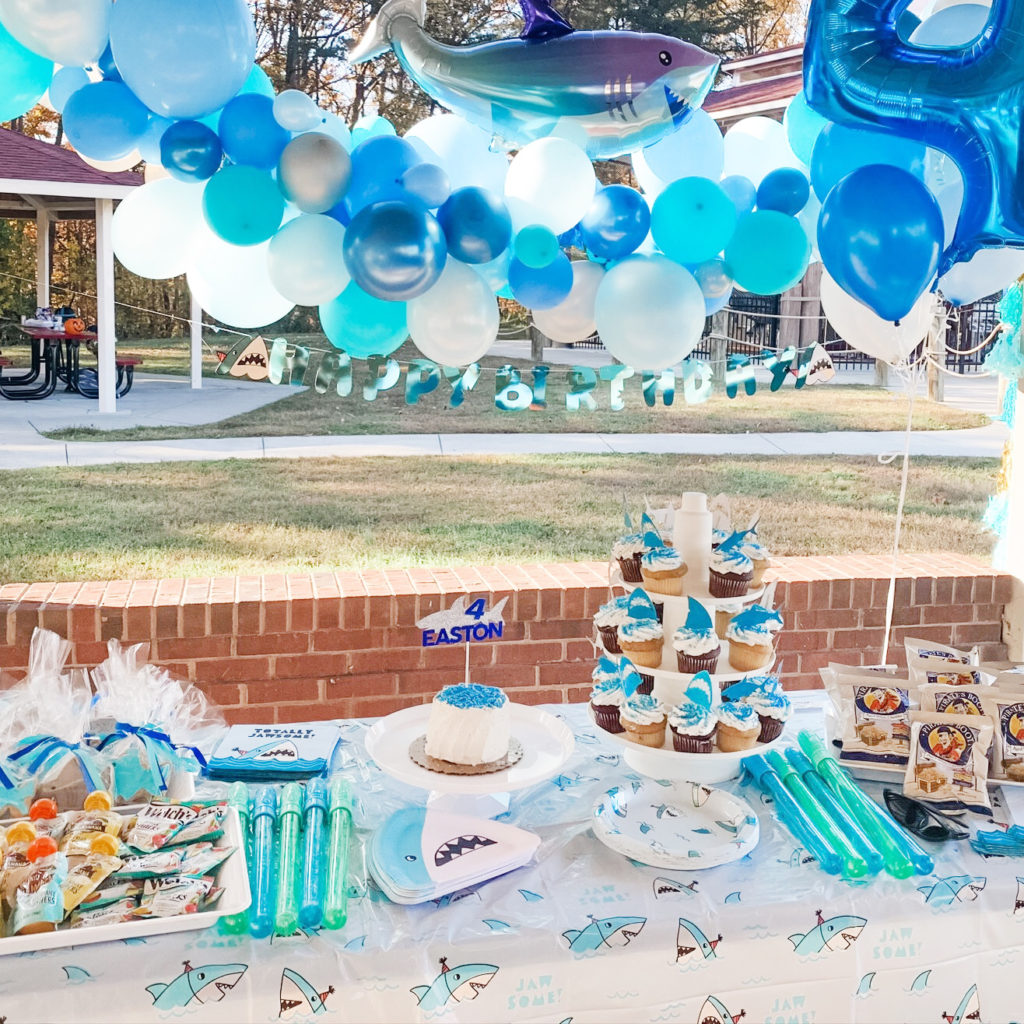 For the last couple of years, you may not have been able to escape the baby shark song. If your little one is obsessed with all things shark, this might be the theme for you!
This is a great theme that is full of color, and perfect for summer time. You would be able to incorporate many water activities outside.
Your shark party can provide all things under-the-sea! From the snacks, to the games, to the party favors, there is more than enough to choose from! Ultimately, the decorations and activities will take the show here. Incorporate a variety of blue balloons to make them look like bubbles in the ocean.
5. Unicorn Birthday Theme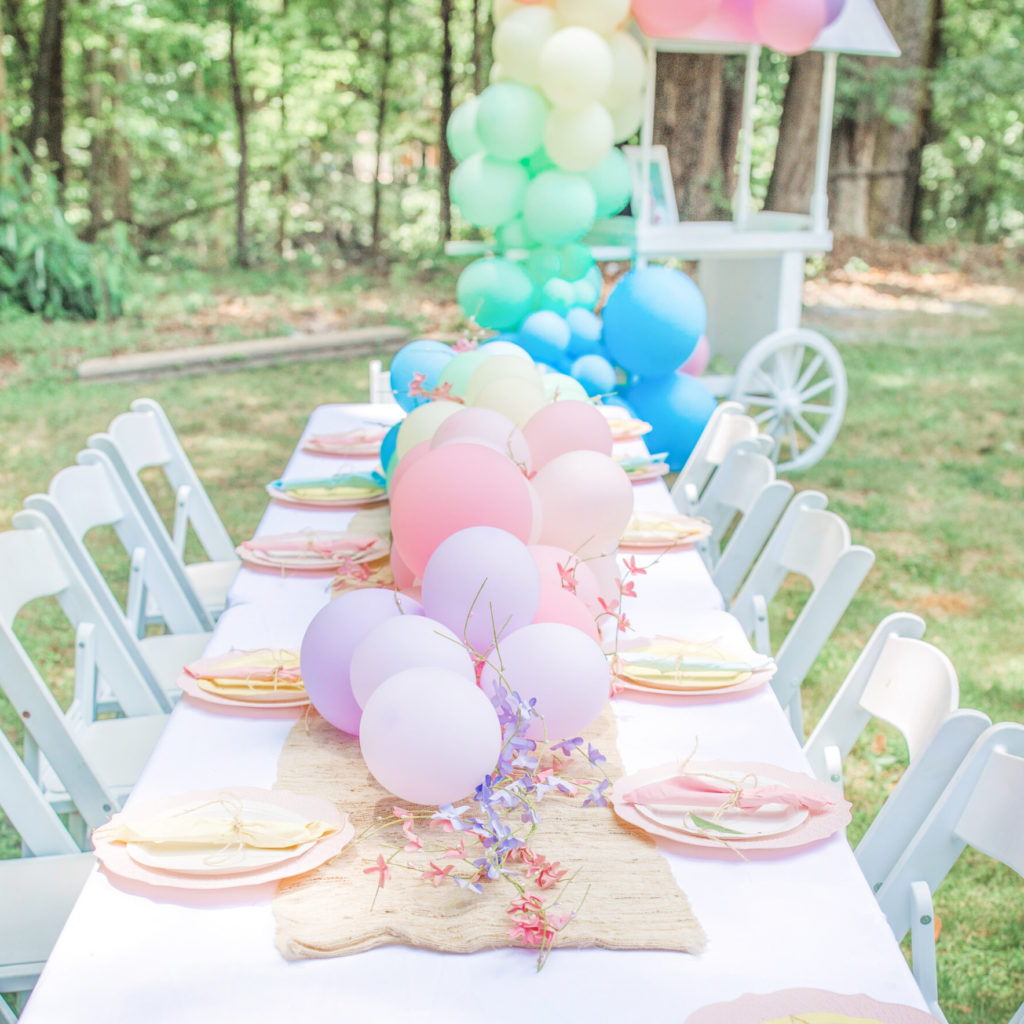 Unicorn themes are well known for their bright colors and all things rainbow. With so many glamorous options, this is a perfect first birthday party theme that may be on repeat for years ahead!
A first birthday is a magical moment. Why not celebrate with unicorns and pastel rainbows? It's all in the details, from the cake or cupcakes to the decorations. Design your cake table or party room with this fun rainbow arch and sprinkle in lots of color. This also makes a great theme for a garden party.
The unicorn theme has always been popular and is perfect for a little girl, so there are a lot of party decorations to choose from. Unicorn invitations, welcome signs, cake toppers, plates and cups, and let's not forget the outfit! An adorable tutu skirt with a unicorn headband — oh the fun you will have!
6. Woodland Birthday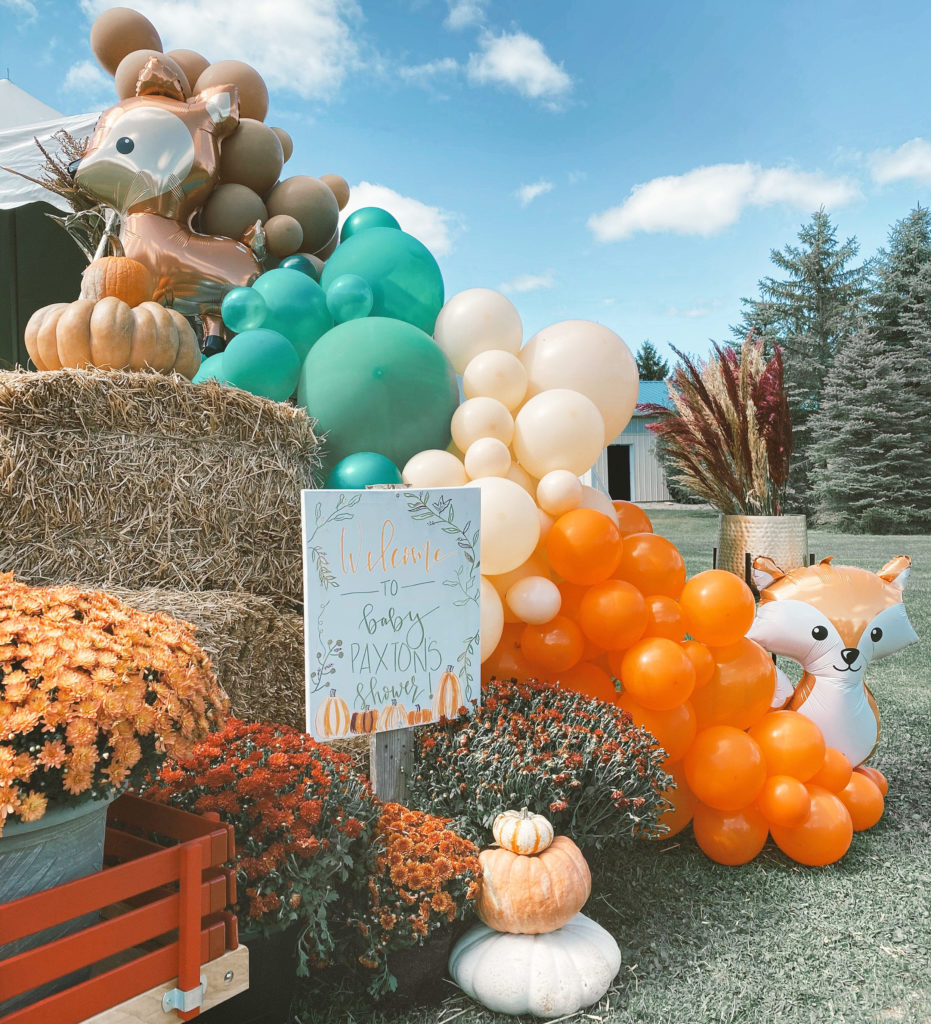 The woodland theme uses a neutral color palette and would be perfect for a fall baby! Whether it be an outdoor camp setting to an indoor teepee, you are sure to love this cute first birthday party theme.
When you think of hosting a woodland birthday, think of the forest and all of the cute baby creatures that come with it. I would assume that your little one is a bit of an explorer if you choose this theme, but it's also cute nonetheless.
This woodland theme gives you tons of options for picking your favorite colors and party arrangements. Pair the natural vibe with little foxes, squirrels, fawn, and bears and you will have an enchanting forest for all to wander in. This party kit would be a perfect backdrop for a first birthday. I could also see a hot air balloon and some hay bales thrown in.
7. You're One-in-a-Melon Theme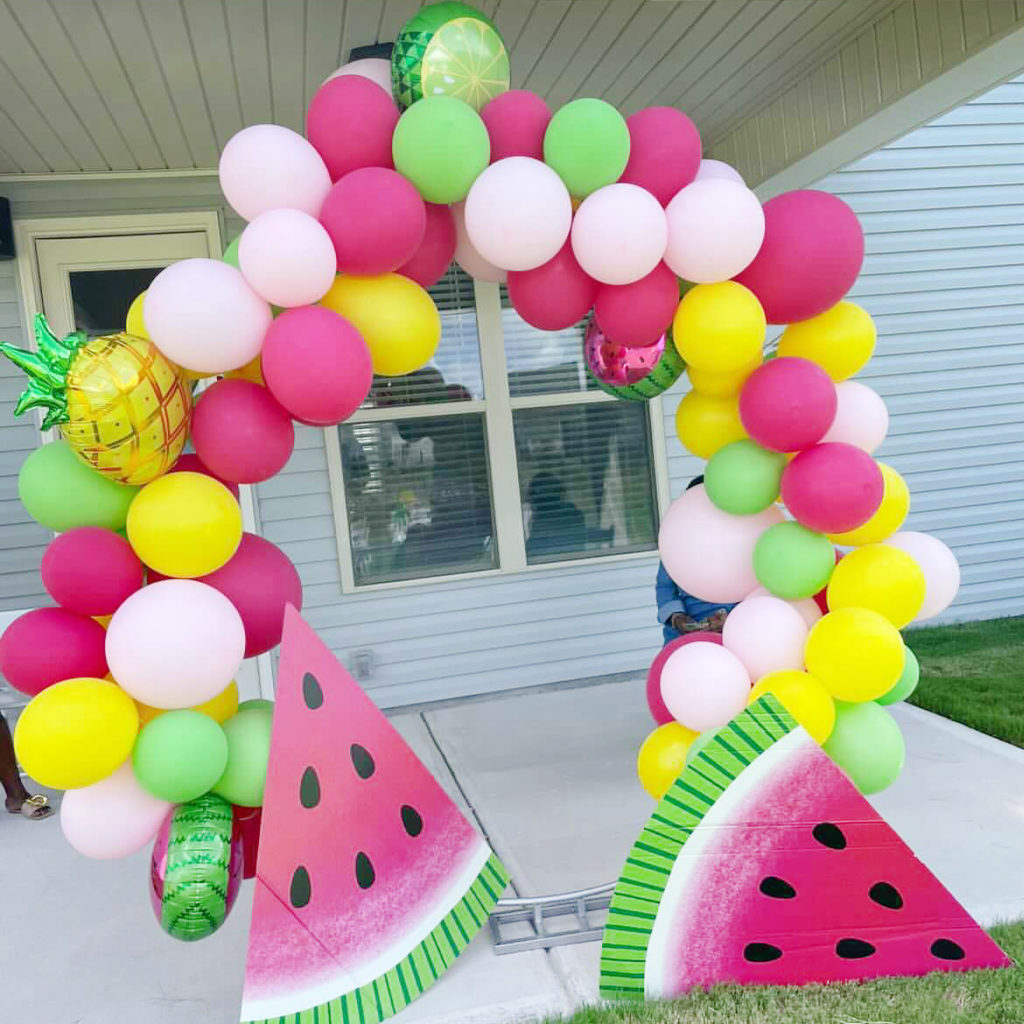 A bright color scheme that is just bursting for summertime fun! With a combination of bright pinks and greens, this color palette features all of the essential elements to have a fun party.
Everyone loves a good pun and this one is perfect for a summer birthday. Your snack table will be the big hit here, so be sure to incorporate lots of fruit and bright colors! Tutti Frutti party signs will help you decorate and add a spin to all of the delightful treats you have for your little guests.
And what's easier to decorate than with some fruit? Your local market will offer some great options. Throw some shades on a pineapple or paint some happy faces on some melons for a fun decor idea. Or maybe you can even have your little guests paint their own paper melons and have cut out little melon seeds for them to glue on.
To complete your on-in-a-melon setup, you will love this bold and bright party kit!
8. Sweet Little One Theme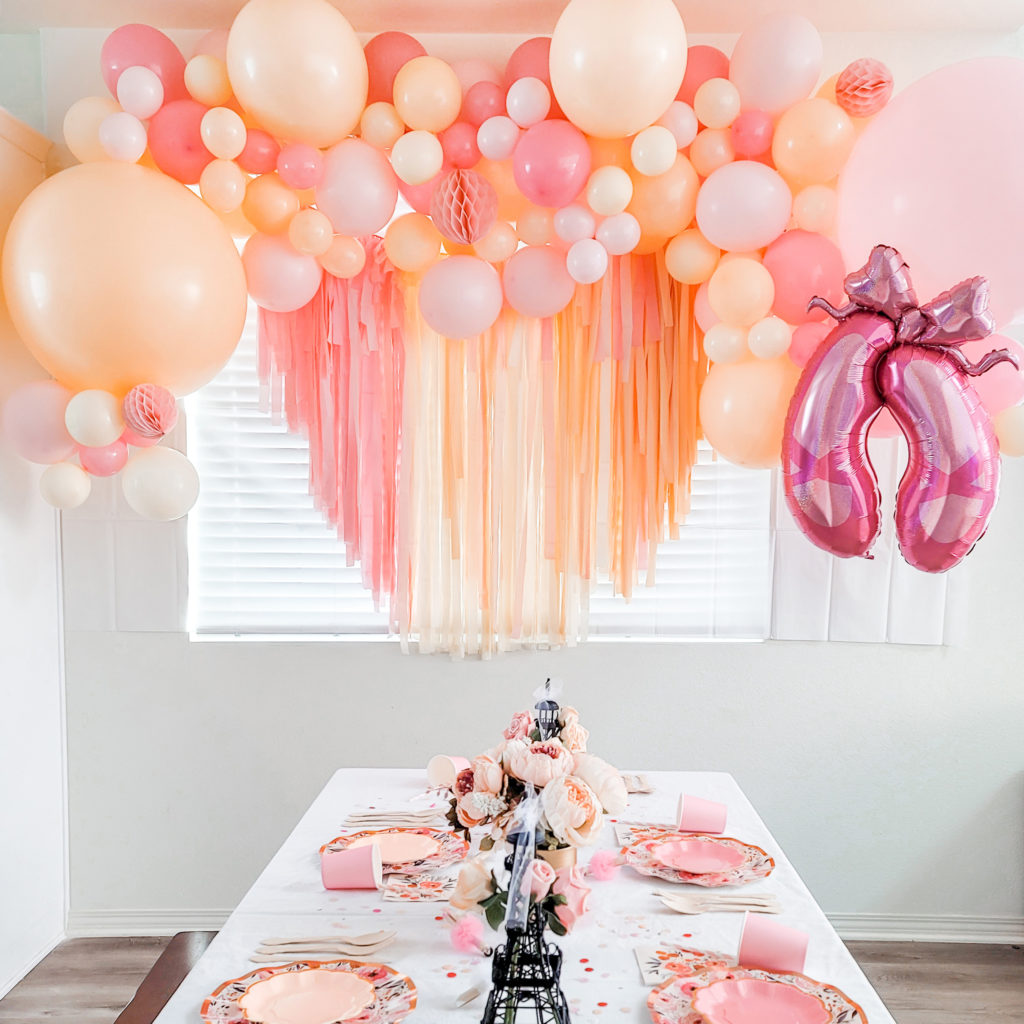 Every birthday will include something sweet. But why not center your baby's first birthday theme around all things sweet? Dreamy pastels will set the scene for all of those sweet confections at your dessert table.
Understandably, this might be the first time your little one has tried sweets, so it might seem a little overboard — but not for your guests. Your baby doesn't need a tremendous sugar rush to enjoy his or her first birthday, so you can still serve a beautiful and healthy smash cake while the other kiddos and grown ups get to enjoy the other desserts.
Another option for a sweet first birthday party celebration is to throw a tea party. Host a fancy tea party and serve scones and finger sandwiches. Who doesn't like a good excuse to dress up? This is one party your guests of all ages will love!
I really like this pastel pink and rose gold balloon arch for your baby's sweet little one themed party.
9. One-der the Sea Theme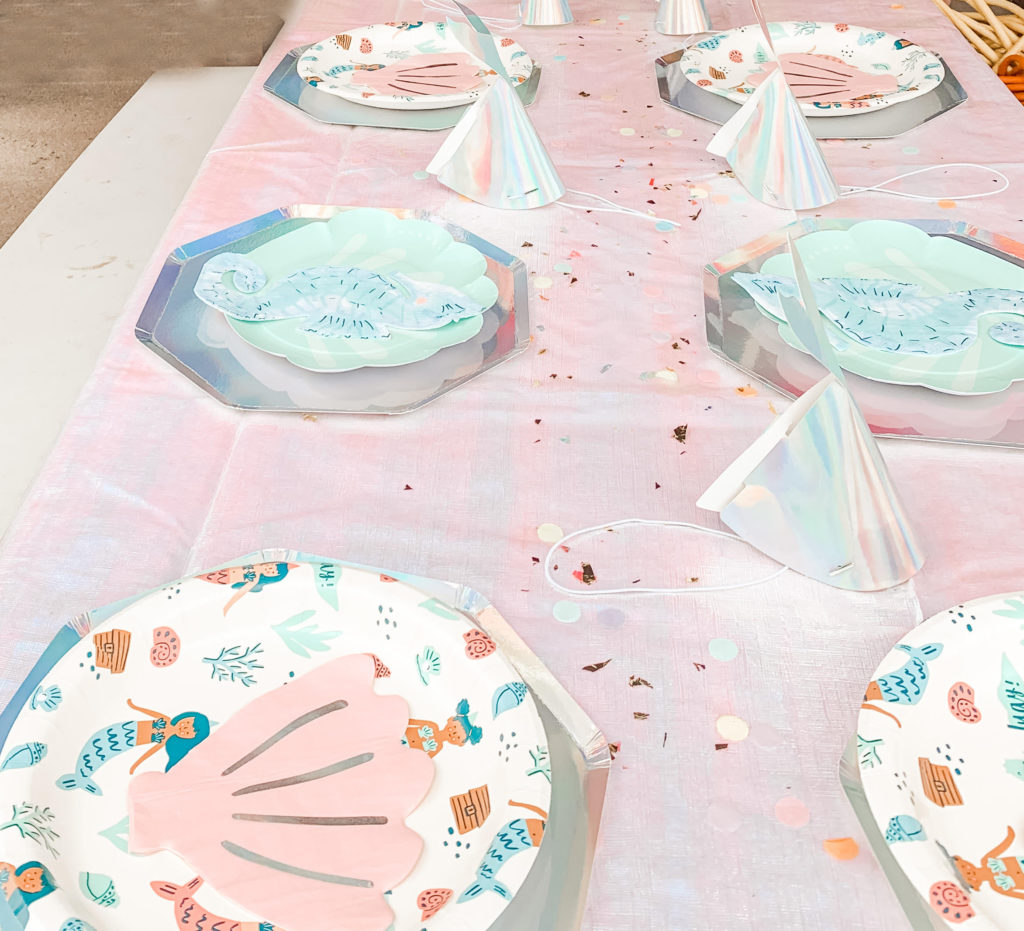 We've already touched on the shark theme, which would be more geared toward little boys. However, this One-der the Sea theme could be an excellent gender-neutral ocean themed party, or even perfect for a little girl.
For boys, a sea theme can include adorable dolphins, starfish, turtles, and lobsters. Use different shades of blue and white to create bubbles in the ocean. And for a girlier party, add mermaids with colors of shimmering teals and purples and you have a perfect first birthday party theme for your baby girl!
Definitely make a splash with the snack table. From cut-out cookies to fish food, you will have an assortment of yummy options to include. Enhance the theme with some great goody bags to giveaway at the end and I'm pretty confident you will have a one-derfully, great party!
10. Peter Rabbit Theme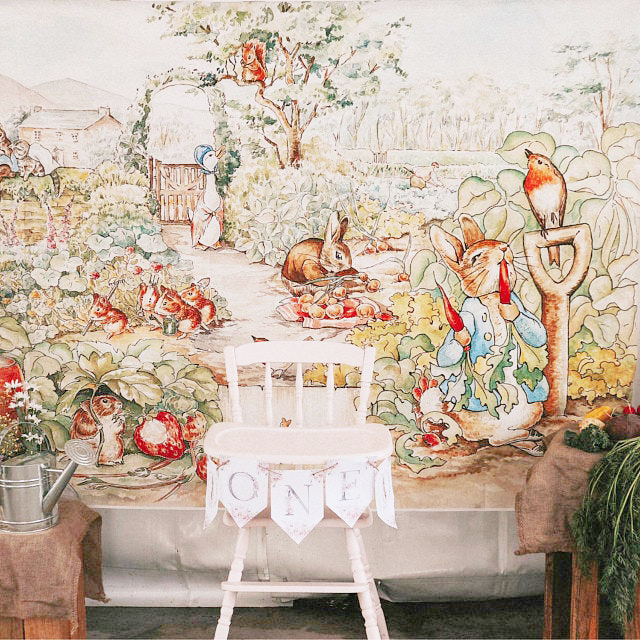 Peter Rabbit is such a classic children's tale. Everyone is familiar with the stories and the options to decorate are endless. Peter Rabbit is such a fun, creative theme that will have your little one hoppin' for joy.
Have a springtime garden themed birthday celebration. Gather vegetables and fresh flowers to make a delightful tablescape. Add a barrel full of party favors and old watering cans for the drinks. Make it picnic style with gorgeous quilts layed about for all of the little ones!
The dessert menu can be quite different from traditional themes and include a carrot cake. Add some custom cookies featuring story illustrations for a creative touch.
Check out this Peter Rabbit party kit for your vintage Peter Rabbit birthday theme.
Which First Birthday Party Theme Did You Choose?
These are just a few of our favorite first birthday party themes. No matter what you choose, be sure to include plenty of activities, decorations, and delicious food to make the day special for your little one. And don't forget the smash cake! A birthday party just isn't complete without a yummy cake for the guest of honor.
They say the first year is the hardest. But you and your baby made it through, and this wild and wonderful adventure is worth celebrating!
Planning your baby's first birthday party might be stressful, but we hope these awesome ideas for birthday party themes above gave you some inspiration. Whether you have a big bash or a more intimate event, celebrating such an important event is a great way to mark your baby turning one. We hope this list has given you some great ideas for planning your child's first birthday party. Happy planning!
Don't forget to check out Ellie's balloon garland kits and party supplies. And save 15% on your purchase with my exclusive discount code, GENTLENURSERY15.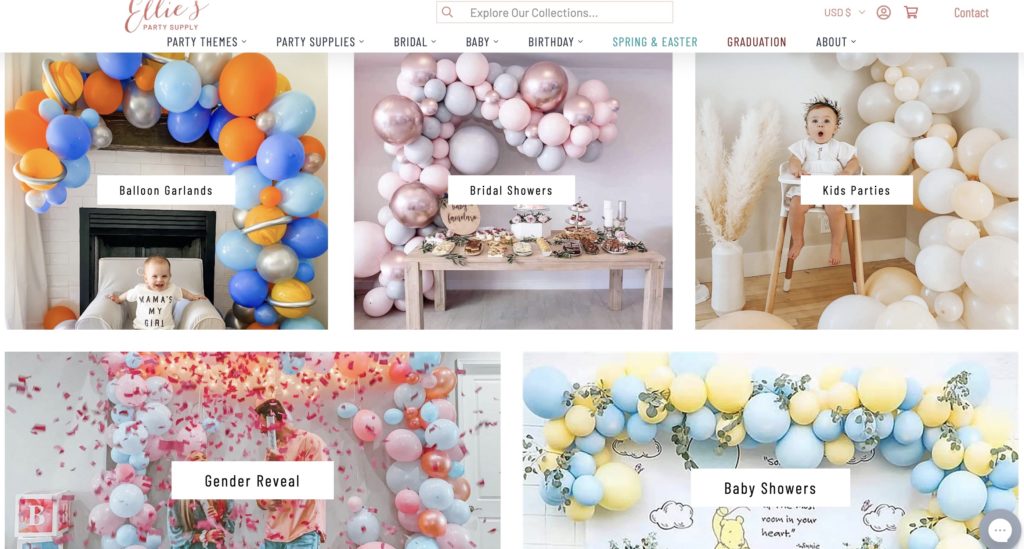 Do you have any other great first birthday party ideas? Share them with us in the comments below!
More Resources for Your Baby's 1st Birthday: