For us parents, transitioning our babies to solid foods can feel a bit daunting. Between figuring out what to feed your baby, how to serve it, and how often, it's a whole new phase of discovery, learning, and messy fun!
Finger foods can be a fun and educational part of feeding your little one. There's so much value in self-feeding. Here are the best ways to get started.
When To Start Your Baby on Finger Foods
The American Academy of Pediatrics (AAP) recommends introducing solid foods when your baby is 6 months old. And they encourage at least some self-feeding right from the beginning.
But before you assume readiness right at 6 months of age, you'll want to make sure your baby shows all the characteristic signs. Remember, every baby is different! The Centers for Disease Control and Prevention (CDC) says, before starting solids, it's important that your baby:
can sit up with little or no support
has good head control
opens their mouth and leans forward when food is offered
There is some flexibility on when to start giving your baby finger foods. The timing will depend on your comfort level and the approach to feeding that you want to take. Keep in mind that the AAP recommends you continue breastfeeding for at least 12 months, even as you integrate solid foods.
How Should You Introduce Finger Foods to Your Baby?
When you're getting ready to introduce finger foods to your little one, there is no right "approach". But there are three ways of introducing solids that you can essentially choose from.
1) A Traditional Introduction to Finger Foods
Some parents take a traditional approach to starting their baby on baby finger foods by beginning with spoon-feeding purees. Over the course of a few months, you would gradually increase the puree thickness, the number of ingredients in the purees, and how 'chunky' they are. This progression allows your baby to slowly adapt to solids. Between 8 and 11 months old, once your baby shows confidence eating purees, you could gradually integrate solid self-fed finger foods.
2) The Baby-Led Weaning Approach to Finger Foods
Another option is to take the baby-led weaning approach, which allows your baby to be more in control of their eating. In a nutshell, you would skip spoon-feeding and let your baby self-feed very small bites of finger foods directly from the high chair tray.
Research suggests that this approach helps babies develop a stronger sense of "fullness" cues, and it incorporates more opportunities for motor skill development into mealtime. That said, this method does mean you need to be a bit more watchful at first for choking and gagging on pieces of food. But it's always important to be mindful of that and closely monitor your baby when initially introducing any type of food. A study of over 1,000 infants showed no increase in the frequency of choking reported by parents implementing baby-led weaning. On the other hand, babies who received finger foods less often had a greater frequency of choking on finger foods.
Related: How to Introduce Solids and Raise a Baby Who Likes to Eat
3) A Combo: Spoon-Feeding and Baby-Led Weaning
Many parents also take a mixed approach, offering both spoon-fed purees and self-fed finger foods. This can be a great option for many families because it allows for greater flexibility and variety. It gets both you and your baby comfortable with both types of feeding as you transition to solids. (This is what I would do… I think there is no need to only use one specific method all the time!)
There is Not Only One 'Right' Way!
You might have been looking for a right or wrong answer here, but it really comes down to:
Your comfort level around introducing solids in general
Your interest in baby-led weaning
How your baby responds to each approach
The time commitment and convenience of either route for you and your family
Most babies are exposed to at least some soft finger foods by somewhere between 8–9 months and are regularly eating finger foods (in addition to purees) by their first birthday.
How to Prepare Finger Foods for Your Baby
When you're ready to introduce your baby to finger foods, you will need to pay extra attention to what type of food you decide to prepare and how you prepare it. This is because foods need to be soft and small enough for your baby to mash up and swallow them without a struggle.
Anything firm and crunchy should be steamed, sautéed, or baked into a soft texture (think carrots, apples, broccoli, squash, etc.) and then minced, diced, or cut into very small pieces. Another way to present finger foods is in thinly sliced short strips.
After offering finger foods, you'll need to watch for cues to see what food your baby prefers and handles best.
Reducing the Risk of Choking and Gagging
Your baby's windpipe is about the size of one of their fingernails. Teeny tiny! Choking is a real risk when introducing foods (and even into the toddler and childhood years). No doubt it can be anxiety-inducing to hand food over to your baby.
But if you trust in your preparation of the appropriate finger foods, understand the difference between gagging and choking, and follow these meal tips, the process will go smoothly.
What Does Gagging Look Like?
Gagging is a safety mechanism that all babies do instinctively to prevent choking. It keeps bigger pieces of food towards the front of the mouth and only allows well-chewed, small pieces to pass to the back. Babies have a highly sensitive gag reflex to help protect themselves.
You can recognize gagging mostly by sound. Gagging will be full of sounds and deep coughs as the baby tries to move food out of the way. Your baby's gag reflex is pretty far forward in their mouth, so you will likely hear a lot of coughing and spitting up during mealtime. Don't let this concern you! When this occurs, it can feel scary, but it's exactly what you want to happen. What you want to do is stand by and make sure your baby continues to have productive coughs to clear the airway.
Gagging is a necessary part of learning to eat solid foods and helps your baby learn to chew first and then swallow. This is another benefit of starting finger foods right away because purees do not teach babies to swallow after they chew.
What Does Choking Look Like?
Choking, on the other hand, is silent, which makes it important for you to always be watching while your baby eats. You can recognize choking based on how your baby looks. He might look like he's trying to cough but can't. If it progresses, your baby's airway will be completely blocked, and his lips or face may start to turn blue. This is when you need to hop into action right away.
If your 6- to 12-month old baby is truly choking, you should hold them over your forearm with their head below their chest. Then deliver 5 quick back blows between the shoulder blades to dislodge the food. Head here for a complete demonstration of this skill.
I highly recommend taking a CPR and safety course before your baby is born. This will give you time and space to practice and understand the proper protocol, so you'll immediately know what to do if your little one begins to choke during mealtime.
Tips to Avoid Choking on Finger Foods
Sit with your baby and watch them eat. Never leave your baby unattended with finger foods. This is because choking is silent.
Avoid giving foods in the car or stroller where you will not be able to act quickly if your baby starts to choke.
When preparing food, cut and dice it into very small pieces. Any foods that are round in shape (blueberries, grapes, peas) should be quartered or smashed.
Cook any finger foods that will be too hard for a baby to chew. Baking, steaming, sautéing, roasting, or grilling are all great ways to make hard fruits and veggies more tender.
Only offer finger foods when your baby is sitting upright. A reclining or overly supported position can increase the risk of choking.
Start with soft, mushy finger foods first to help your baby practice the chew-then-swallow concept.
Foods to Avoid
The CDC has listed some potential choking hazards and recommends avoiding these foods for babies under one year old. Here are some foods you may want to avoid altogether until your little one is an older, more experienced eater.
Whole corn kernels
Uncut grapes, cherry tomatoes, berries, cherries, or other spherical foods
Raw fruits and vegetables that are hard (carrots, apples, broccoli, etc.)
Dried fruits like raisins
Whole or chopped nuts
Thick nut butters
Tough or large chunks of meat
Hot dogs, sausages, meat sticks
Large chunks of cheese or string cheese
Granola bars and cookies
Crunchy snack foods (chips, pretzels, etc.)
Hard or chewy candies
Marshmallows
Related: The Best Non-Toxic High Chairs for Babies
40+ Finger Foods for Babies
The awesome thing about giving finger foods is that it allows you to expose your baby to a huge variety across different food groups. Once your baby tolerates certain foods well, you will also have the freedom to switch up flavors and add small amounts of healthy oils and spices. And, after a while, your baby will be able to eat the same thing that the family is eating as long as it's presented in a safe and finger-friendly way.
Best First Finger Foods
The first finger foods you start your baby on should be very soft. It will take your baby some time to learn the concept of chewing first, then swallowing. Remember, their gag reflex will help with this. But you can help the process along by choosing the softest foods first.
The best first finger foods to begin are:
Banana
Avocado
Very ripe or steamed pear, diced
Cooked sweet potato, diced
Vegetable Finger Foods
It's great to get your baby started on vegetables right away. This exposes them to different flavors and may correlate to a less picky eater later on. Remember that vegetables often need to be cooked so they are soft and tender enough for your baby to manage safely.
Sweet potato
Squash (all varieties)
Zucchini
Broccoli
Cauliflower
Carrots
Peas
Mushrooms
Beets
Turnips
Fruit Finger Foods
Fruit is often one of the easiest categories of finger foods to give to your baby. This is because many fruits are naturally soft in texture, and your baby's palate is already set to prefer sweet foods. Be sure to cut up into small pieces and remove peels where appropriate to reduce choking hazards and steam any fruits that are especially hard or crunchy.
Bananas
Pears
Apples (peeled and steamed or grated)
Peaches
Kiwi
Pineapple
Raspberries
Blueberries
Blackberries
Watermelon
Cantaloupe
Grapes
Mango
Oranges
Plums
Nectarines
Related: Yumi Baby Food Subscription Review
Protein Finger Foods
For proteins, you can give your baby a wide variety of options. Again, always remember to focus on safety in preparation. Smashing beans and legumes with the back of a spoon or fork makes them safer for your baby to eat. Meat should be on the softer side and diced into tiny pieces. Cheese should also be diced very small or sliced into very thin short strips.
Chickpeas
Black beans
Hard-boiled eggs
Scrambled eggs
Chicken
Turkey
Ground beef
Boneless fish
Cheese
Tofu
Grain-Based Finger Foods
For grains, it's great to give your baby simple homemade breads and muffins cut into very small pieces. By making your own, you can control the ingredients to ensure they are healthy for your baby.
Additionally, you can buy grain-based snacks made especially for babies, like puffs and teething crackers, because these are designed to soften quickly in your baby's mouth. Just keep in mind that these are just "busy foods" with much less nutritional value than fruits, veggies, and legumes.
As your baby gets better at eating solid foods, you can consider adding a very thin spread to the top of bread pieces like nut butters, hummus, or avocado. Nut butter can be a choking risk, so use only a tiny sweep across the bread.
Waffles
Pancakes
Bread or toast
Muffins
Ready to Eat Finger Foods!
Ready to prep some finger foods? I hope a lot of the stress and guesswork has been taken out of introducing finger foods to your baby. By following these preparation and safety tips, everything should go smoothly.
Remember that the majority of baby's nutrition will still come from breastmilk or formula until 12 months of age. This is all about sensory exposure, taste, and skill development. Let it be fun, embrace the mess, and enjoy this new milestone with your baby!
Related: The 6 Best Organic Baby Food Pouches
FAQs About Giving Finger Foods to Babies
Can I add spices and combine ingredients when preparing finger foods?
In the beginning, it is best to serve your baby a single food with no spices (no salt and pepper either!). This allows you to see how their body reacts to certain foods. Once you know the foods your baby tolerates well, it's fine to slowly add spices, herbs, and healthy fats. Just take care to introduce only one new component at a time so that if there is a reaction, you'll be able to tell more easily what caused it.
Adding spices, herbs, and other flavors to your baby's finger foods is great for expanding their palate and taste buds. It's also a way to add bonus nutrients to food. Things like cinnamon, turmeric, garlic, oils, ginger, and common herbs are all fine in very small amounts.
The only things to be wary of are spices or herbs that are especially spicy. These can irritate your baby's digestive system and cause a diaper rash.
When should I stop giving my baby purees?
If you have opted to serve purees as an introduction to food, you can continue to offer chunkier solids as your baby becomes more comfortable with a variety of foods and textures. Once your baby is used to lumpier purees, you can try mashed foods and then progress to tiny pieces of cut-up foods. Typically, by 12 months old, your baby will move away from purees altogether and be more interested in eating finger foods and spoon-fed solids. This is critical for developing self-feeding skills and fine-motor dexterity, so continuing purees beyond that point is not recommended.
How do I transition my baby from purees to finger foods?
If you and your baby are ready to transition away from pureed baby food and begin finger foods, you can do it in a number of ways. You actually may have already started the process without realizing it!
The first option is a gradual increase in the thickness of the purees you're offering. You can make them chunkier so that your baby becomes used to the lumpy texture. Simply blend the food for shorter periods of time. You can then move into mashing the foods with a fork and cutting pieces of food into tiny pieces. This is the point where you can let your baby dig in with his hands if he hasn't already done so. Keep in mind, this process might take some time (several months) to go from spoon-fed liquid purees to finger foods.
Another way to transition away from purees is to simply offer finger foods alongside the purees. Over time, you can offer more finger foods and less puree until he is fully interested and ready for finger foods.
How do I teach my baby to self-feed?
You will probably notice when your baby is ready to feed herself because she grabs the spoon from you and insists on trying it first. She may even start reaching for your dinner plate or fork as you are putting it into your own mouth! These are signs that she is ready to self-feed.
The best way to teach her is to let her practice! Put a few pieces of food on the tray and let her play with it, feel it, and attempt to put it in her mouth. While the food may not actually make it into her mouth in the beginning, she'll eventually master this skill.
How much should my baby be eating?
When your baby begins purees or solids at around 6 months old, you will offer a small amount of food (about 2–4 tablespoons) twice per day. As your baby gets older, he will eat more in one sitting, and you can offer food at each meal of the day. As he gets closer to 12 months old, your baby will probably consume more than half of his calorie intake from food! It's important to know that every baby is different, and so is their appetite and exploration of food! In the beginning, some babies will only eat a couple of tablespoons in a day, while later on, they might eat a couple of cups of food per day. It all depends on your baby's age, appetite, and comfort with food.
What time of day is best to feed my baby solids?
The best time to feed is whatever time your baby is most alert and wants to eat! Every baby will prefer different times of day to eat, and there is no right or wrong time. I always recommend trying when your baby is both happy and close to hungry. Avoid trying to feed solids when your baby is tired and ready for nap or bedtime or when she is too hungry and might get frustrated when just learning to finger feed.
Should I feed my baby solids before or after formula/breast milk?
Breastmilk and/or formula will be your baby's primary source of nutrition for the first year, so it's a good idea to feed solid foods after offering breastmilk or formula. That way, you know your baby is getting all the needed nutrients before attempting to eat solids. As your baby gets closer to 12 months of age, you'll begin to make the transition to giving more solid foods, which will become the primary source of calories and nutrients at 1 year. Formula is then discontinued, and though breastfeeding may continue, it will become more and more for comfort than nutrition.
Will my baby drink less formula/breastmilk once she starts solids?
Once your baby is eating enough solids at mealtimes, she may naturally cut back on breastmilk or formula. This is to be expected, especially as your baby eats more regular solid foods (around 9 to 12 months old). Formula should be discontinued at 1 year of age.
How can I tell if my baby is full?
If you watch closely, you will see that there are plenty of cues that your baby is full. The most obvious is when your baby turns his head away from food or refuses to open his mouth if spoon-fed. If eating finger foods, he might just throw the food on the floor or become fussy. The bottom line is if your baby seems disinterested in food, it's probably time to stop eating and do something else. It's also a good idea to establish that once food is thrown, mealtime is over! (I tell you—later on, you'll be glad you did.)
Keep in mind that these cues might not always mean he is full. If you think he's still hungry, you can always offer breastmilk or formula afterward.
How many times per day should I feed my baby solids?
This depends on your baby's age and interest. Generally, you can start solids once per day around 6 months old and very quickly move into twice a day as you note more interest and readiness. As your baby progresses, typically around 9 months old, you can increase solids by giving them at every meal (breakfast, lunch, and dinner). And beyond that, if your baby is interested and hungry, you could consider adding in a morning and afternoon snack (after 12 months old).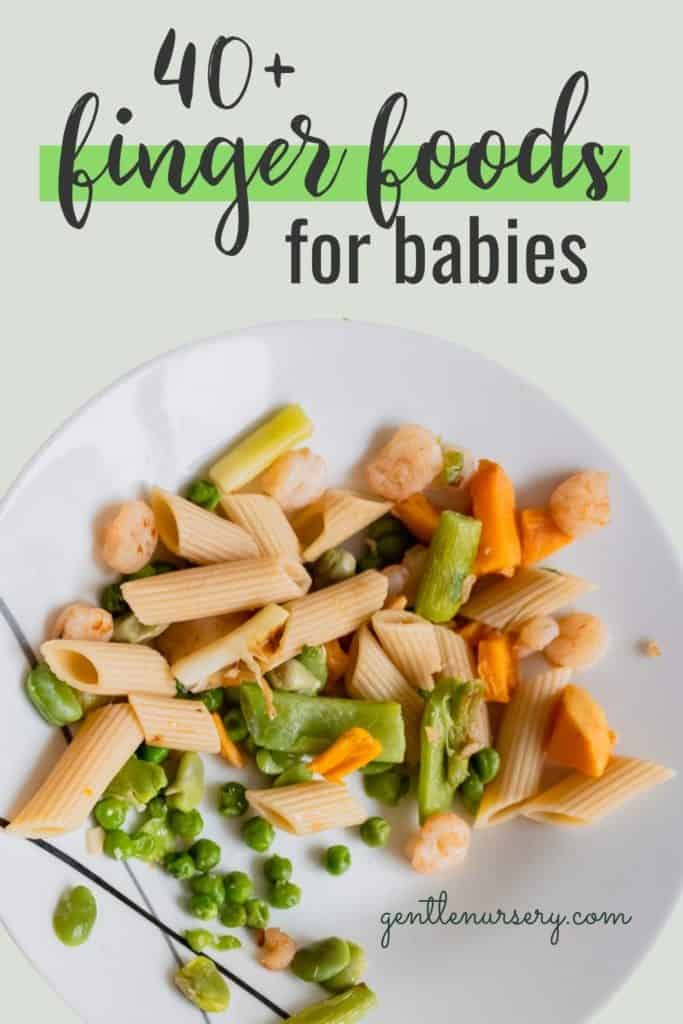 Keep Reading: