When your little one is ready to start trying solid foods, you can bypass store-bought baby food by making your own homemade baby food. It's easy to do, and you'll know your baby is eating nutritious homemade food.
Before I had kids, I used to pass by the baby food aisle at the grocery store and casually glance at the organic options. I made a mental note of the brands I would buy when I had kids. It was a fun little part of nearly ever grocery store visit. But when I actually got pregnant and found myself getting more aware of the foods I was eating, I realized that it would be so easy to make my own homemade baby food.
So fast forward to when my boys were babies, and it turned out that making baby purees was one of my favorite things to do. I loved feeding my babies purees and I loved the fact that I had made them myself.
Every Sunday, I meal planned and prepared their food. It became a fun routine that gave me a sense of control over the quality of the food they ate. I fed my little ones nutritious organic purees that were fresh and had only the ingredients I wanted to include – no preservatives or anything "extra". While making baby purees at home isn't as easy as picking up some of the premade ones at the grocery store, making your own homemade baby food has so many benefits.
8 Reasons to Make Homemade Baby Food Purees
While store-bought food might be very convenient, I highly recommend making your own purees for many reasons.
1. Homemade Baby Food is Fresh and Nutritious
You'll be using fresh fruits, vegetables, legumes– really anything you want to add– but it will be fresh, which also means the food will have a higher density of vitamins. Store-bought baby purees are often heated to extreme temperatures to kill bacteria. And during this heating process, the foods lose some of their nutritional value.
Typically, store-bought baby purees include extra ingredients like starches and preservatives so they have a longer shelf life. They also tend to add more water, which dilutes the nutrition contained in each portion. Not ideal.
2. Making Your Own Baby Food Means The Menu is Customizable
This is probably the best reason to make your own baby purees. Your purees are completely customizable! You control what your baby eats, what he's exposed to, and can make it exactly to his liking, including texture and thickness.
As you know, store-bought purees are already packaged and organized by "stage" or recommended age for that particular food. It's not always what your baby likes!
3. Making Your Own Baby Food Boosts the Flavor and Freshness
Homemade meals make the tastiest meals! Fresh ingredients, made by chef mama (or dada) often taste the best. You can take advantage of seasonal foods with rich flavors, perfect for building your baby's immune system. Ultimately, homemade purees help to expand your baby's palate. And, over time this will help to create a healthy eater who appreciates fresh foods over prepackaged, processed ones.
4. Making Homemade Baby Food Lets You Control the Quality
Since you'll be handpicking each ingredient, you can make sure you're getting quality organic produce that doesn't have dangerous pesticides or GMOs. You will be able to keep things as simple as you like and make sure everything going into your baby's food is healthy.
Store-bought baby food can have varying quality. You might find some excellent brands only to then find out that the quality of their food isn't great or worse, toxic. According to recent reports, an alarming 95% of baby foods contained one or more toxic chemicals including lead, arsenic, mercury, and cadmium. Yikes!
Some exposure to heavy metals is unfortunately a result of the soil the produce grew in, so some level is inherent with the foods we eat. Research shows that apples, avocados, bananas, beans, peaches, and strawberries contain the least amount of toxins. Consider avoiding or limiting amounts of rice, sweet potatoes, and carrots as they have been found to have the highest toxin levels.
5. Cooking Your Own Baby Food Saves Money
Buying store-bought baby purees definitely adds up! You can save money by making your own, using only what you buy, and freezing extra baby food for future use.
6. Selecting Your Baby's Menu Promotes Variety
Homemade puree recipes allow for an endless variety of tastes and textures! Your baby will be able to explore more foods than what you can find in store-bought purees. And let me tell you, variety is key to avoid fussy food-phobia eaters later on.
7. Making Baby Food at Home Helps Transition to Table Foods
As your baby gets older and ready to try thicker purees with small pieces of food, homemade purees can easily transition to solids. Since you customize your own baby food, your baby will become flexible. Trying a variety of foods and even spices will be habit. So, when it comes time to eat the same dinner you're eating, he will more than likely eat it right up!
8. Homemade Baby Food Is Easy to Make!
Preparing purees is not only fun, but it's simple. The basic idea is that you cook the food, let it cool a bit, put it into a blender or food processor, and turn the food into a puree. That doesn't sound too hard, right? Let's dive right into how to make purees!
Related: The Simple Guide to Introducing Solids
What Tools Do you Need to Make Homemade Purees?
Before you get started making your own homemade baby food, make sure you have the right supplies on hand.
The great news is that you probably already have a lot of these tools in your kitchen! Making baby food at home is easy and doesn't take a lot of gadgets or equipment – just some basic items.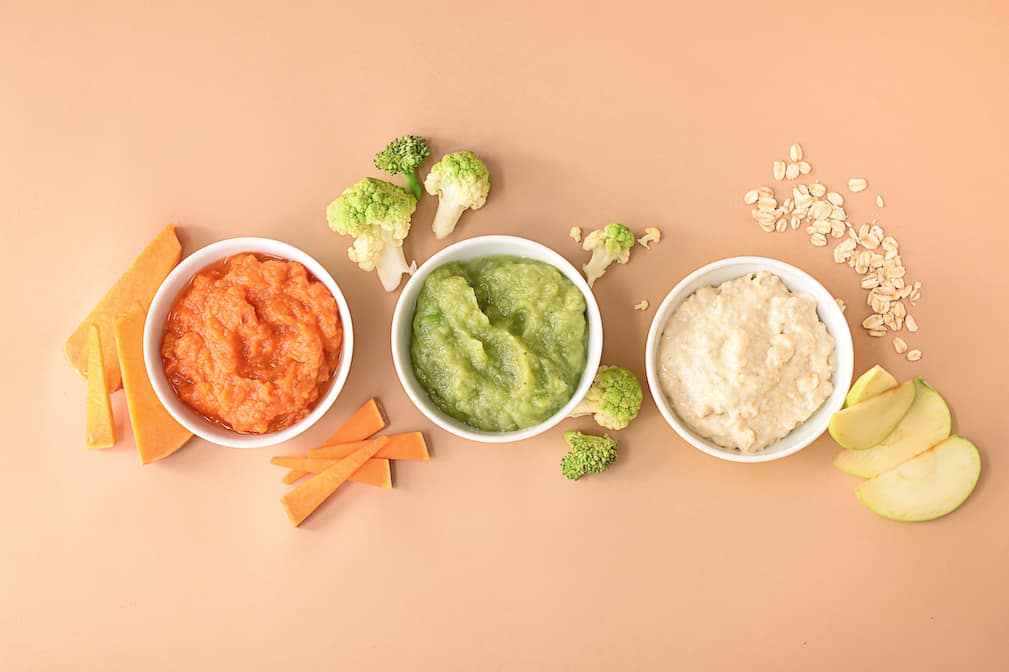 How to Make Homemade Purees: Step-By-Step
Step 1: Wash and Prepare the Fruits or Vegetables
The first step is to prepare the fruits or vegetables. This includes washing, peeling, and dicing. For example, carrots need to be washed, peeled, and chopped. Fresh green beans need to be snapped, and apples need to be cored, peeled, and diced.
Step 2: Cook When Needed
Depending what kind of puree you're making, cooking might not need to happen at all. Bananas, avocados, strawberries, and many other fruits can go straight into the blender!
Vegetables, however, you'll want to cook by steaming, baking, boiling, or microwaving. Steaming is typically the preferred method because it maintains the most nutrients.
Early on, I liked to try different methods. I ended up preferring to steam most vegetables for their nutrients, but I found baking sweet potatoes, cauliflower, and apples created better flavor profiles. You just have to experiment a little bit!
Step 3: Remove and Let the Items Cool
Once the cooking is done, you can remove them from the oven or steamer. Let them cool down a bit!
If you cooked them in any liquids, set aside that liquid for later use. You can add this liquid to the purees in the next step. This helps to preserve any nutrients that leached out during the cooking process.
Step 4: Puree the Veggies and Fruits
For this step, you need either a blender or a food processor. Set your machine to puree or grind, and add all of your vegetables and fruits into the blender.
As you blend up the food, add the cooking liquid or plain water to help thin out the purees to the desired consistency. You can also use formula or breast milk instead of water. This is a great option if you want to add a familiar taste.
(If your baby is just starting out on solids, you don't want the puree to be too thick. As your baby grows, you can increase the thickness and consistency.)
Step 5: Store or Feed to Your Baby
Finally, you can either feed your baby the puree right away, or you can save it by storing it for later. If you choose to feed your baby immediately, you can store fresh purees in the refrigerator for 48 hours.
---
How To Store and Freeze Baby Purees
Making larger batches of baby food is a great idea. You can store purees in the freezer for 1 to 3 months. So instead of having to drive to the store when you need baby food, you can go shopping right in your own freezer.Super convenient!
Option 1: Use a Silicone Freezer Tray
You can find many convenient and easy-to-use baby puree storage containers on the market. They portion out baby purees perfectly – about 1 ounce per cube or serving. This means you won't have to toss out unused baby food.
The way this works is simple. You pour the puree into the container and freeze. Once frozen, you can pop out the cubes and either use or store them in a freezer-safe food container for up to three months.
Buy on Amazon
Option 2: Use Glass Food Storage Containers
Similar to the tray, you can look for freezer-safe glass storage containers. These can store individual purees in larger portions perfect for older infants who eat more in one sitting. This is convenient because don't have to freeze first and then store it in another container. You can simply pour the puree into each container and store it for future use.
Buy on Amazon
Option 3: Use Reusable Baby Pouches
Food pouches are great for older babies when you're on-the-go. With a twist of a cap, you can hand over the pouch and your little one can suck down homemade fruits and veggies. Keep in mind that this is entirely another method of feeding; it doesn't require a spoon, which is great! But it's important to incorporate spoon-feeding time as well. When you look for the best reusable food pouch, make sure that it's freezer safe.
Buy on Amazon
Other Tips for Storing Baby Food
Freeze Individual Foods: If you save individual foods rather than blends, it will give you the option to make your own combinations as your baby gets used to different tastes. If you do freeze blends, just make sure that you know your baby likes it; otherwise, it will all go to waste!
Use Freezer-Safe Containers: Never freeze homemade baby food in glass containers that aren't labeled "freezer safe." If you don't see this label, never put them in the freezer!
Step-by-Step Instructions to Freeze Baby Food Purees
Once you have pureed your baby food to the texture you want, lett the food cool. Then transfer the puree into the cube trays or food storage containers for freezing.
Fill each cube or container with puree without overfilling it. Leave room for it to expand as it freezes.
Cover the tray with a lid and put them into the freezer.
If you're using a tray with cubes, you will want to take the trays out of the freezer once frozen, and transfer the cubes into a freezer bag. Make sure you label each bag with the date. If you're using food containers, these can simply stay in the freezer. You can also mark these with the date using tape and a marker.
When you're ready to feed your baby, take out the food cubes or containers that you need and thaw. Then, reheat the food to the temperature your baby prefers. Remember food tray cubes are typically 1 oz, so if you want to feed your baby 3 oz of pureed bananas, you will need to thaw 3 cubes.
Thawing Baby Purees
Thawing out baby food doesn't seem to be too tricky, but it doesn't hurt to know your options. There are three different ways you might go about this.
Option 1: Microwave The Cubes
If you aren't opposed to using a microwave, take the frozen cubes out of the freezer bag and put them into a microwave-safe container. Microwave in 20-second increments, stirring every time. When it's warm to your touch, it's ready to eat.
Option 2: Thaw in the Refrigerator
The next option is to take the frozen containers out of the freezer and place them in the refrigerator. If you're using the frozen cubes, you'll first want to put them into an air-tight container before putting them in the refrigerator. Leave the frozen purees in the fridge for 12 to thaw.
Don't leave the cubes in the container on the counter or anywhere that is not in the fridge. Doing so allows bacteria the opportunity to multiply and is unsafe to feed to your baby.
Option 3: Heat on the Stovetop
The last thawing option is heating the frozen cubes on the stovetop in a saucepan. Use the smallest pan on medium-low heat. You may need to add a little water or cooking oil such as olive oil. Stir occasionally until the food is warm.
Food Safety
It's important to take extra care with your little one's food. Follow food safety guidelines to keep your homemade purees safe to eat!
Always wash your hands before and after touching food.
Wash all produce before preparing baby purees.
Keep raw and cooked foods separate to avoid cross-contamination.
Store fresh puree in the refrigerator in an air-tight container for up to 2 days.
Store fresh purees in the freezer for 1-3 months.
Label and date all foods going into the refrigerator and freezer.
Any food that was served to your baby and not eaten should be thrown out.
Don't let food sit out at room temperature for more than 2 hours. If it's left out, dispose of it.
Easy Baby Food Puree Recipes for You To Try
Here are some simple recipes that your baby will love! Give them a try!
Beets & Blueberry Baby Food
Ingredients
Two medium beets
1 cup fresh or frozen blueberries
Directions
Wash, peel, and cut the beets into cubes.
Wash the blueberries.
Steam the beets and blueberries for 1-15 minutes or until the food is soft.
Blend the beets or blueberries together, adding water or breast milk to create the desired texture.
Avocado & Banana Puree
Ingredients
Two ripe avocados
Two ripe bananas
2-3 tbsp pineapple juice
Directions
Cut the avocado in half, remove the pit, and scoop out the inside.
Peel and then dice the banana in chunks.
Put everything into the blender, including the pineapple juice (so the puree doesn't turn brown). Puree until you have desired consistency. Add water or breast milk as needed to get the right texture.
Sweet Potato, Carrots, and Apple Baby Food
Ingredients
One large sweet potato
Two medium carrots
Two apples
Directions
Peel the sweet potato, carrots, and apples.
Cut out the apple core. Chop produce into ½ inch cubes.
Steam everything together or boil on the stovetop for 15-20 minutes.
Dump all of the steamed foods into the blender and puree until you reach the desired consistency. Use any cooking liquid to thin it out, or you can use breast milk instead.
Spinach and Apple Food Puree
Ingredients
Six apples
2 cups fresh spinach
½ cup of water
½ tsp cinnamon
⅛ tsp ginger powder
⅛ tsp cloves
Directions
In a saucepan, add the apples, water, cinnamon, ginger, and cloves. Cover and cook for 15 minutes or until tender with pricked with a fork.
Add spinach on top of the apple and spices mix. Let it cook for 2-4 minutes longer. Then, let it cool slightly.
Add all of the ingredients into a blender or food processor. Let it puree for 1-2 minutes, or until everything is smooth. You might need to add some more water, but that's only if you want a really thin consistency.
Apricot, Carrot & Nutmeg Rice Porridge
Ingredients
4 tbsp rice flour
1 cup of carrots
1 cup of apricots
½ tsp nutmeg
1 cup of water
Directions
Peel and dice the carrots. Pit and dice the apricots until you have one cup.
Bring the water to a boil in a small saucepan. Add the carrot cubes and cook for 8-9 minutes.
Add in the apricots, rice flour, and nutmeg. Make sure to stir often, letting everything simmer on low for 5 minutes until the water evaporates.
Put everything into a blender or food processor and puree for 1-2 minutes. Add more water or breast milk, as needed, to create the right consistency.
Broccoli Puree
Ingredients
½ pound of fresh broccoli
Directions
Cut the broccoli into small pieces.
Steam the broccoli in a stovetop steamer or a baby food cooking system for 8-10 minutes or until tender.
Puree the broccoli in a food processor or blender. Use cooking liquid or breast milk to create the desired consistency. Broccoli is thicker and requires some water not to have a chunky texture.
FAQs about Making Homemade Baby Food Purees
Here are some commonly asked questions about how to make purees for your baby.
How do I know if my baby is ready for purees?
Babies may be ready to try purees beginning around 6 or 7 months of age. Though you'll find that many people suggest starting at 4 months – the gut is not mature enough to handle solid foods and there is benefit to waiting until 6 months or older. Some research shows that babies who breastfeed for six months may have a lower risk of food allergies.
The very first step is to ask your pediatrician at your baby's well-visit. It's always wise to get the green light from your pediatrician before you attempt to feed your baby at home.
To check if your baby is ready for purees, there are a few things to look for. First, your baby should be able to hold himself steady while sitting up (even if your baby is propped up or supported). Second, you need to check if your baby is ready to swallow by testing his or her tongue-thrust reflex. This is an infant reflex that makes your baby push food out of his mouth so that he doesn't choke. Once this reflex is gone, he is able to swallow food. You can always test if he is ready by placing a very small amount of puree in his mouth. If he pushes it right out, his reflex is still there and is not ready to try purees yet.
What items do I need to feed my baby?
If you're just getting started with introducing solid foods, here are some of the feeding essentials you'll want for your baby before starting purees!
High chair: There are so many high chairs on the market! You will want to consider the size of your space. You can find low-profile high chairs that sit great at a kitchen table, counter-height high chairs, and chairs that grow with your little one and extend into the toddler years. You'll also want to consider how easy it'll be to clean. That high chair will get messy, and it needs to be wipeable and washable. My favorite is this Stokke high chair, but definitely check out my complete list of non-toxic high chairs for recommendations.
High chair splash mat: A high chair mat goes directly under the high chair to catch all the splatters. The mats are much easier to clean than the grooves in your hardwood or tile floors!
Bibs (2+): Bibs will come in handy, especially when you're feeding purees. Fabric bibs are convenient because they can be thrown in the wash. A silicone bib with a little pocket can be useful and effective against dropped food so it doesn't end up in your little one's lap.
Baby spoons (3+): You'll definitely want to have a set of baby spoons. Choose from silicone spoons (or these) or stainless steel baby spoons.
Should I add liquids before or after I freeze the purees?
You can thin your baby purees before you freeze them or after you've thawed them. As I mentioned above, you can use the cooking water, regular water, breast milk, or formula to thin out the purees to the degree that your baby requires. Many parents find that it's easier to thin the purees when you're cooking it.
How long can freshly made baby purees stay in the refrigerator?
Experts recommend that freshly pureed baby food be stored no longer than 48 hours. Don't extend beyond that time; otherwise, bacteria might start to grow in the puree.
That's why, if you don't plan to freeze your baby food, you need to make it either day to day or every other day. Make sure that you don't feed your baby from the container with the fresh puree then re-store it. Saliva can contain food and bacteria, contaminating your freshly made baby food. Always transfer portions into another container and feed out of that container.
When should the puree be put into the freezer or refrigerator?
Ideally, you would freeze or refrigerate perishable food promptly. Doing so prevents harmful bacteria from growing in the foods. You should make sure to put it away within two hours of preparation. If your room temperature is above 90 degrees F, then you need to refrigerate within one hour.
Can I add spices to baby food purees?
Yes! Don't be afraid to use spices in your purees. Spices can complement any fruit or vegetable purees and help broaden your baby's emerging taste buds.
It's typically recommended that you go slow with foods. Try each food plain first, then go ahead and add spice. This helps to determine if your baby is sensitive or allergic to any foods. For example, you can introduce apples first. Then, add cinnamon the next week.
Can I use frozen vegetables or fruits to make baby purees?
You can use frozen fruits and veggies to make purees. I always recommend cooking/steaming them before putting them in a puree to kill any bacteria that might be in the frozen produce.
I hope this guide to making homemade baby food purees has been useful! Trust me, you'll be so glad you made your own baby food.