Table of Contents

[Hide]

[Show]
Shopping for teeny tiny newborn baby clothes can be such a fun and special experience during pregnancy that it's kind of a right of passage for first-time moms. It's one of those experiences where you really start to connect with the idea that you're soon going to have a little baby in your arms that is as small as those 0-3 month size onesies you're buying.
For me, the experience was kind of surreal because it made my pregnancy feel so…real. I remember the first little outfit I bought for my son. It was this super soft blue and white striped pajama set and it was so special to me. Anytime I was feeling stressed during my pregnancy, I would go into the nursery and stare at the outfit, and it always made me feel so much better knowing that I would be cuddling my little baby soon.
Truly, shopping for baby clothes can be a special part of pregnancy and preparing for your little one. In addition to any of the fancy or extra cute baby clothes you purchase, you'll want to have a mini wardrobe of baby clothing basics ready and washed for your baby before birth.
When shopping for newborns, I prefer to purchase GOTS-certified organic clothes whenever possible since the clothing makes direct contact with your baby's skin. Buying organic newborn baby clothes is an easy way to reduce your baby's exposure to the harmful chemicals and dyes typically found in new clothes.
Related: The 22 Best Certified Organic Baby Clothing Brands
Tips for Buying Newborn Baby Clothes
How many to buy: Newborns need a lot of diaper and clothing changes throughout the day. I've made some recommendations for the number of each item I think you should purchase, but you can make adjustments based on the time of year your baby is born, how often you plan to do laundry, and your personal preferences. If your baby spits up a lot, you may need more newborn clothes on hand than what I've recommended below. Personally, the first few weeks with a newborn are such a haze that I like to have extra clothes on hand in case the laundry doesn't always get done.
What size to buy: Since you can't be certain what size your baby will be wearing, it's best to get a mix of newborn and 3-month size clothing. (Some companies have a "newborn" size, while others begin with 0-3 months, and then go to 3-6 months.) As you progress in your pregnancy, your doctor can tell you if your baby is measuring small or large, and that can also help guide you. But it doesn't hurt to buy some larger sizes early on, since you know you'll eventually get use out of them.
Wash before wearing: It's very important to wash baby clothes before using them (this goes double for any non-organic clothing items). I recommend doing this in the last month of your pregnancy so that your baby clothes are ready to go in case you go into labor before your due date. My favorite laundry detergent is Molly's Suds All-Natural Laundry Powder, which contains no harsh chemicals, parabens, GMOs, toxins, preservatives, synthetic dyes, or fragrances. (Please do not use Dreft! It has an "F" rating from the EWG for its many harmful ingredients, including fragrance, propylene glycol, ethanol amine, and more.) Read more about the safest laundry detergents for babies here.
Comfort is key: Help your baby adjust to their new environment by making sure their clothing is comfortable and not too rigid, and that they are not too hot or cold in what they're wearing. (Oh, and bring extra clothes with you anytime you leave the house, because diaper leaks definitely happen.)
Related: The Best Baby Laundry Detergent Brands
Newborn Clothing Essentials: Layette List
This list focuses on the basics – the essentials – for your baby's first few weeks or months at home.
Side-Snap/Kimono Tops (4-6)
Since your baby will still have their umbilical cord stump for up to 3 weeks after birth, it's best to avoid regular bodysuits and shirts that might cause irritation. Kimono shirts are perfect because they can easily be buttoned up from the side. (Once the stump has fallen off, you can switch to more traditional choices like bodysuits and shirts.)
Under the Nile makes a great organic short-sleeved side-snap tee. For long-sleeved side-snap tops, check out HonestBaby, Moon and Back, and L'ovedbaby's long-sleeved organic kimono bodysuit which you might prefer, especially in wintertime.
Footed PJ's (5 or more)
These are wonderful for sleep and playtime. They're also very easy to use since they're only one piece. You'll get plenty of use out of these, I promise! I prefer the zip-up version over the button-up kind, but they're not always easy to find. Please note: avoid fleece, as it is a synthetic fabric, and is therefore not breathable. Burt's Bees Baby has 100% lightweight organic cotton zip-up footed pajamas. Hanna Andersson makes great quality PJs, but they are actually footless. HonestBaby also has footed PJs.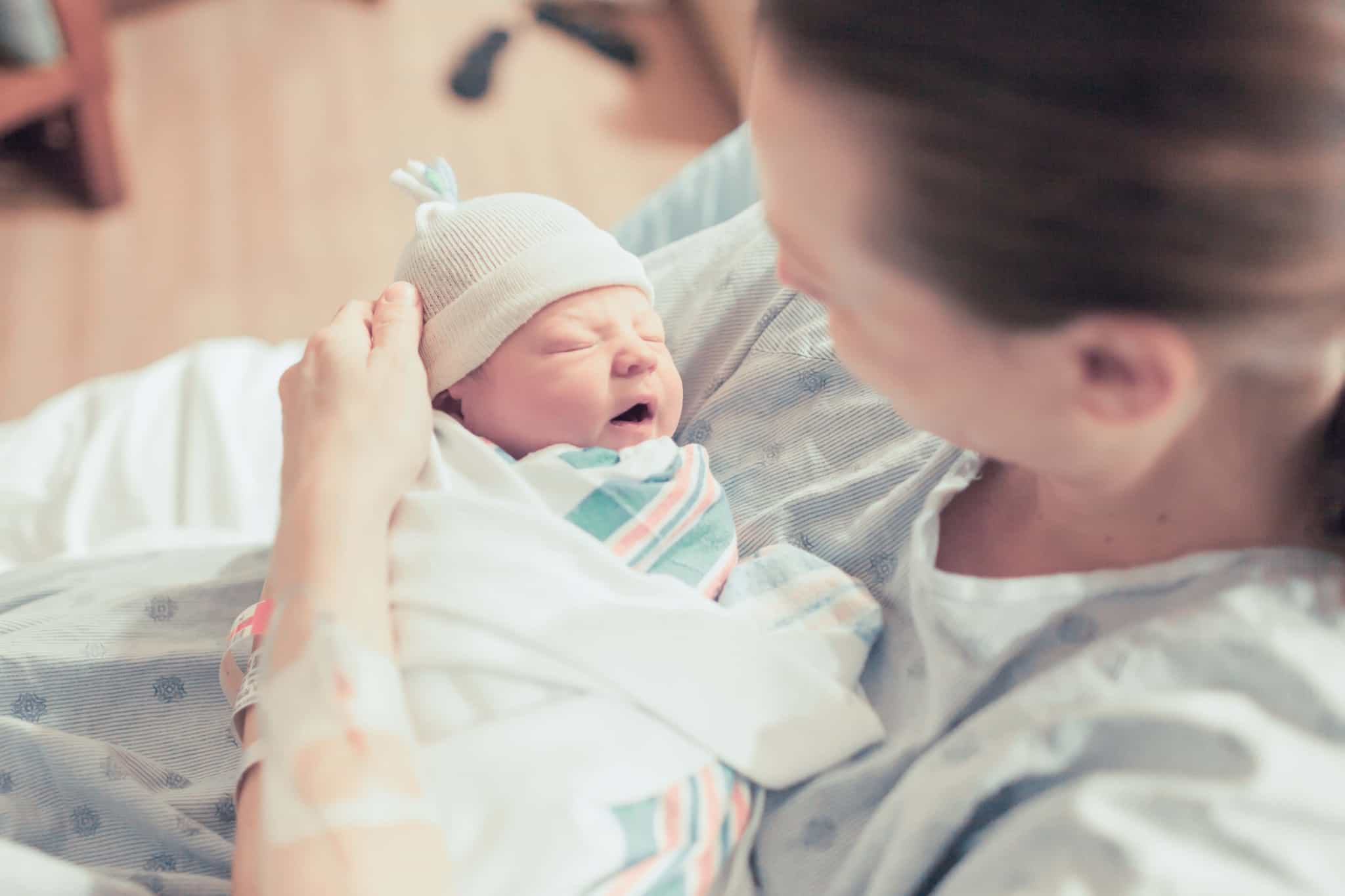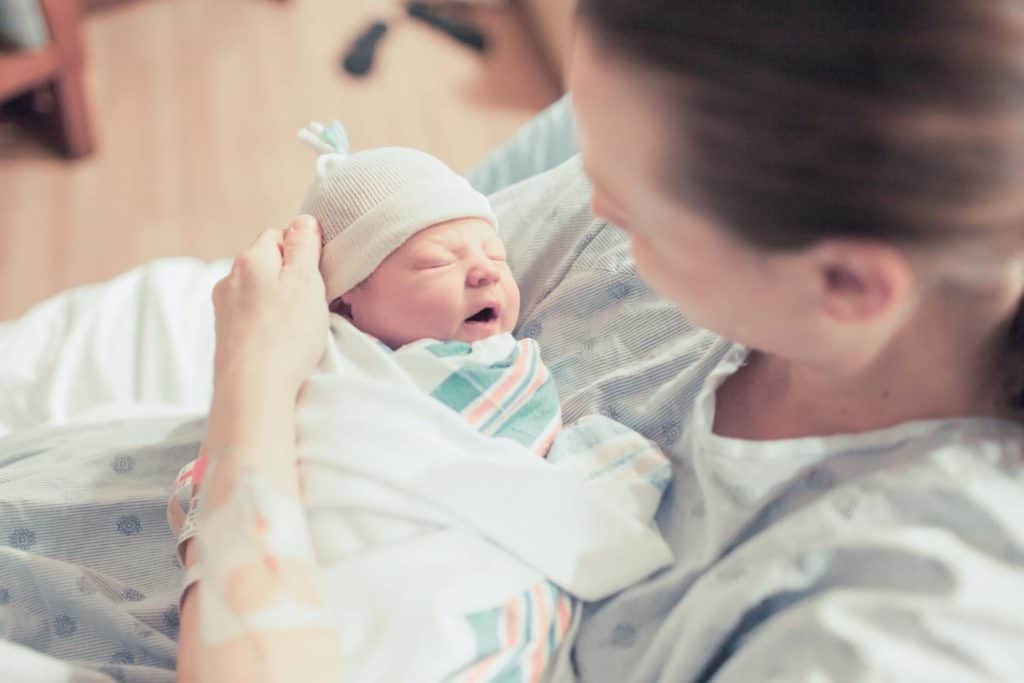 Sleeping Gowns (2-3) — optional
Since most newborns require diaper changes every 2-3 hours, you may find it easier to have your baby sleep in a sleeping gown instead of pajamas. The advantage to this is that it makes changing your baby's diaper much easier (except in the case of a diaper leak, when you'll have to replace their entire outfit). These are best used under a swaddle, though. My son didn't take to this at all until I figured that out! Burt's Bees Baby makes some great sleeping gowns.
Baby Bodysuits (5 or more)
These are a newborn staple. They're the cute little bodysuits that have a snap at the bottom. These are better for newborns than regular t-shirts because they won't ride up and they will also somewhat help catch any diaper leaks before they get too messy. My favorite organic bodysuits are made by Burt's Bees Baby, and they make a lot of different versions, although they are mostly lightweight and not ideal for cooler temperatures. They do offer a long-sleeve version, though.
Check out my guide to organic baby clothes for several more brands that make organic baby bodysuits and more
Pants/Leggings (5 or more)
Baby pants can be worn over bodysuits and are a good alternative to footed PJs for playtime or going out (and even sleep, sometimes). I really like Burt's Bees Baby's line of pants and leggings because they're super soft and lightweight. Colored Organics and MakeMake Organics make great pants and again, there are so many other brands you can shop from our list of organic baby clothing brands.
Socks (6 or more)
Babies always have cold feet, but that doesn't necessarily signal that they are feeling cold. However, it's a good idea to keep their feet covered unless it's excessively hot. Buy lots of newborn socks (way more than 5, in my opinion). They're tiny and get lost easily! Avoid the fuzzy soft chenille socks because they will never stay on your baby's feet, and stick with cotton whenever possible. Gap Kids has the best baby socks, in my opinion, but they are a little on the pricier side. Jeffries Organic Socks, Hanna Andersson Baby Best Ever First Socks, and Grodo socks are also good organic options. I also like Carter's baby socks a lot, but they are not organic.
Bibs & Burp Cloths
Bibs are a must-have, but they don't necessarily need to be organic. While you may be thinking you won't need any bibs until your baby starts eating solids, they also come in handy for handling baby spit up (especially for babies with reflux). Consider colorful choices from Neat Solutions. Aden + Anais also makes great wrap-around muslin bibs that are very popular. Green Sprouts also makes an organic muslin bib, but I'm personally not convinced it's absolutely necessary to purchase organic bibs (though I do like that these do not have a waterproof coatin).
Larger bibs are best for when you introduce solid foods, such as the adorable ones by Mushie.
For burp cloths, consider the Green Sprouts Stay-Dry Burp Pads or their organic Muslin Burp Cloths.
Hats (3 to 5)
Depending on where you live, you may want to keep a hat on your baby at all times in the first few weeks. Babies lose a lot of heat through their heads and even a lightweight cotton hat can help keep them warm. You can bring home the hats you get at the hospital, and those will last a short time. You can find some great organic newborn hats in various colors and prints by L'ovedbaby.
Outerwear (1-2)
You may want to have some baby outerwear on hand in case it gets cold when you go out or live somewhere with cooler temperatures. If you live in a warmer climate, a sweater will probably do and a long-sleeved shirt can also be useful indoors. There are so many cute choices available when it comes to buying newborn outerwear, especially since you probably don't need to stick with organic options.
You can find some great options for newborn outerwear from Carter's, H&M, and Burt's Bees Baby, Primary. If you live in a cold climate, you could also get one-piece jumpsuits for outings.
Baby Shoes (optional)
Newborns don't need shoes, but you can opt for moccasins or soft-soled crib shoes if you'd like to dress up your baby's feet. Clamfeet makes great canvas crib shoes that have organic linings. We have used these almost exclusively with my second baby. Before he started walking much outside, he would wear his Clamfeet crib shoes everywhere we went. But once he started walking more, we mostly switched to using them as indoor slippers. (Note: they make matching mommy and me shoes.)
Baby Blankets (1-2)
The American Academy of Pediatrics recommends that babies not sleep with a blanket or any loose items in their crib/bassinet, but you can still get some use out of baby blankets while supervising the baby. The Aden + Anais Dream Blanket is a popular favorite. Made from four layers of muslin, it is breathable and soft, but also provides some warmth.
Happy Layette Shopping!
I hope this guide to your baby's layette has been helpful! Be sure to shop our favorite organic baby and toddler clothing brands for a full selection of the best baby clothing essentials.
SaveSave
SaveSaveSaveSaveSaveSave