Hiring a doula to be present at your birth is a wonderful gift to give to yourself.
But before you choose a doula, it's essential for you to know how to interview a doula and what to look for to help you choose the right doula for you and your pregnancy. You want to ask the right questions to get to know your doula and her style well because she's going to be part of your birthing journey.
1. Why Did You Become a Doula?
I think one of the most critical questions to ask is why she became a doula. Why did she want to become a doula? Was it a dream for years or did something spur her decision? Becoming a doula is difficult, and it can be emotionally hard with unpredictable work hours. Plus, the pay isn't fantastic. This career choice is made because they love moms and babies!
2. Tell Me About Your Work Style
Another question you should consider is their doula style. What are her strengths and what is her style? Some doulas are great at being the energetic cheerleader if that's what you think you prefer. Others are the quiet, strong support that gives foot massages and back rubs. A doula can typically be anything, but everyone has their energy and style. Find out what makes her a fabulous doula.
3. What Training Did You Receive and Are You Certified? Have You Done Any Continued Education?
Training and certification are essential. You want to double check on DONA or another certification agency to make sure that the doula is in good standing. Ask if she has any additional childbirth training such as hypnobirthing.
Some doulas opt not to be trained and certified, so you have to decide if that's a choice that matters to you. She might have other experience that qualifies her to be a doula. For example, she might be an RN who has worked as a labor and delivery nurse, or she could be a retired midwife.
Receiving continued education keeps doulas current on birth topics and knowledgeable about new and different methods of support.
4. How Many Births Have You Attended?
You want to know how many women she has supported throughout labor. Most certification processes require a minimum of three births, so there is no right or wrong answer to this question. Newer doulas are typically more affordable, but experienced doulas have attended more births over the years.
5. Where Do You Attend Births, and Is There Anywhere You Won't Attend Births?
Find out if she plans to attend hospital births, home births, and births at centers. Make sure she is comfortable supporting you in whatever you decide is your desired birth of choice.
Also, see if there are any places she won't attend births. For example, some birth centers provide their own doula services. She might have had a bad experience at a local hospital. Talk about your plans with her to be sure your plans match her options.
You might also want to ask what her experiences were like at the place where you want to deliver. Asking doulas what their skills are can give you an idea of what your experience might be like. It might also give you an idea about how she handles challenging births.
6. Where Do We Meet for Prenatal Visits?
Some doulas come to your house for prenatal visits, but others might have an agency or office for appointments. Ask if you need to bring anything with you, such as reports from your midwife or anything else. It's always good to be prepared ahead of time.
7. What Does Your Pricing Include?
Pricing is always a big deal – for you and her. Find out how many visits her fees include. Most doulas offer advance visits so you can go over your birth plan, get to know each other more, and ask questions. Then, they provide postpartum visits to help you with breastfeeding and answer questions. The standard is 1-2 prenatal visits and 1-2 postpartum visits along with the birth.
8. What Forms of Payment Do You Accept, and When Do You Need Full Payment?
Some doulas only accept cash or check, while others will accept credit cards. She might be able to send you an invoice on Paypal. It's a good idea to know the forms of payments that are taken to create a suitable payment plan.
Speaking of payment plans, you want to find out when you need to have your full payment made. Some require full payment by full-term – 37 weeks -, but others prefer the total amount by 32 weeks. Find out what she wants.
9. Will You Meet After the Birth to Review and Answer My Questions?
This goes along with question #6. Processing your birth can be difficult at times, so you need someone who was there to be objective. Talking it through can be therapeutic. You can ask questions and talk about your feelings about the birth.
10. Do You Have a Backup Doula?
This question is crucial. What happens if you go into labor and your doula is with another woman in labor? Who will she call if you need her and she's not available? All doulas should have a backup, so you know you will be supported no matter what.
11. When Will You Be on Call for My Birth?
You want to make sure she will be available at least two weeks before your due date and two weeks after. That means 24 hours a day, seven days a week. If she planned a vacation for this time frame, she might not be the choice you want to make.
12. How Many Other Clients Do You Have Around My Due Date?
You don't want a doula that is overbooked for your due month. It's normal for a doula to take around four or five clients per month, but some take only two clients per month. Some experienced doulas are busier than others, and new doulas might use this as a part-time job, so they don't take as many clients.
13. Do You Have a List of References I Can Call or Reviews to Read?
Every doula is going to say they think they're pretty awesome. Most people don't downplay themselves; that's just human nature. So, ask her if she has past clients you can talk to. She might have a website or somewhere that you can read reviews. Those are quite helpful; references truly matter!
14. Do You Offer Any Other Services?
You might be surprised to find that your doula offers additional services. She might provide birth photography or placenta encapsulation. Some are childbirth educators, lactation consultants, massage therapists, or something else entirely.
15. How Do I Contact You? Can I Email, Text, or Call You?
You never know if you have a question or a concern. Your doula should be able to support you, calm your fears, and make you feel heard. Questions stewing in your head is never a good thing, and a doula can help you.
16. When Do I Call You and When Do You Come to The Birth?
Each doula has a different policy about when you should call them and when they will come to birth. Some want to meet you at your house, and others wait for you to arrive at the hospital. Ask what her policy is, so you can make sure it lines up with your desires for your birth and support. Some women want their doula with them for the entire time, but others want support for the hospital.
17. How Long Do You Stay at My Birth? Do You Have a Time Limit?
We know she will stay for the labor and delivery, but does she stay for a period after childbirth? Does she have a time limit before you're charged a higher fee? Once again, all of these policies will differ doula to doula, and you want to know ahead of time.
18. Do You Attend C-Sections?
You want to know if, you need a c-section, then you need to see if she can or will support you during the birth and recovery experience. Having a postpartum doula after a cesarean can be extremely helpful, too.
19. How Do You Feel About Epidurals or Pain Medication?
Some doulas prefer to work with women who want natural births. So, if you want an epidural or plan to use any other pain medication, find out if she will be supportive of those choices. The worst time to find out about her opinion is during your labor and delivery.
Things to Think About After Each Doula Interview
After the interview, you have time to think and ponder about her answers. Now is the time to decide if she is the right choice for you.
Did she listen to you and ask you any questions about yourself?

She should reflect your own desires for your labor and delivery to you. She shouldn't have her own agenda for YOUR birth only to support your wishes. A good doula is a great listener.

Do you feel like you got along well with her? Did you click?

Are you comfortable talking with her and would you want her at your birth? Hanging out with your doula should feel like getting coffee with a close friend. She is going to be with you during one of the most intimate times in your life, so she needs to make you feel comfortable.
Knowing how to interview a doula is essential. She will matter during this massively important moment in your life. Your doula should be someone that you feel comfortable with and who makes you feel supported. She should be like talking to a close friend who is about to walk with you through a huge transition.
Download the Free Checklist: Questions to Ask a Doula
Want more support during your pregnancy?
Join PURE Pregnancy, my holistic pregnancy guide. Have your best, most prepared pregnancy… starting today!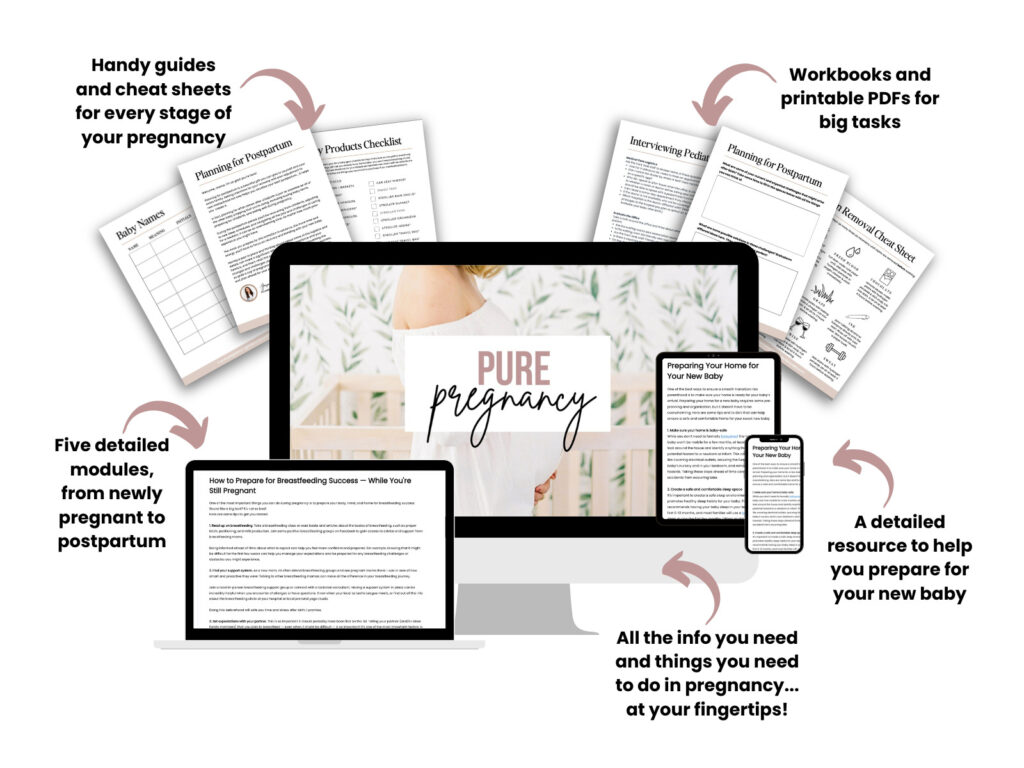 Learn More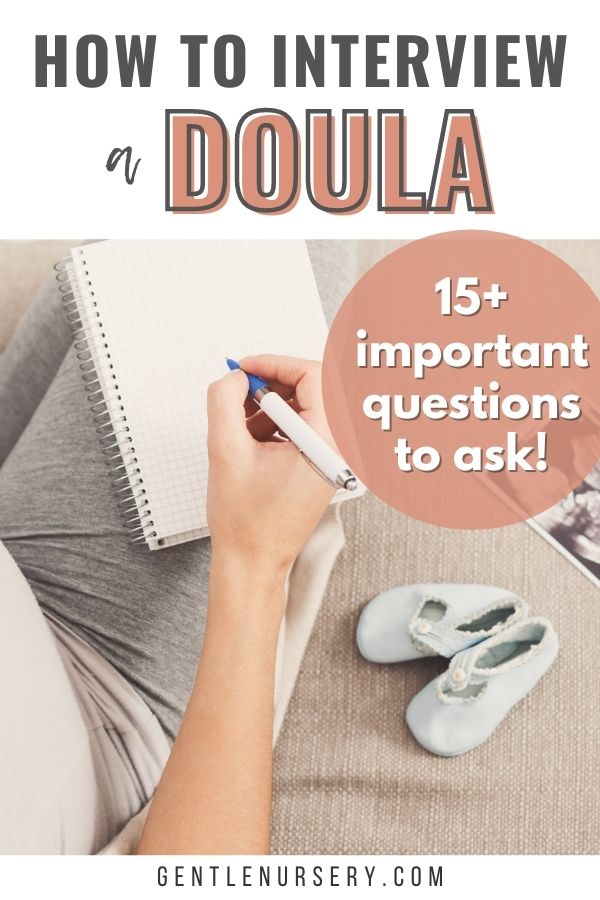 Keep Reading: