Have you considered taking collagen during pregnancy?
You likely already know that your body's nutritional needs change a lot during pregnancy to help nourish your growing baby. Because of all the hormonal and physical changes happening, you typically need more calories and nutrients than when you're not pregnant.
Of course, this is why it's important to eat well during pregnancy, but to also take high-quality prenatal supplements. You probably already know that you should take high-quality prenatal vitamins, DHA, and prenatal probiotics.
But you may not be as familiar with how important it is to get adequate prenatal collagen during pregnancy and afterwards. I know I wasn't!
Collagen for Pregnancy
Collagen, naturally made by your body, provides a foundation of support for your skin, hair, nails, joints, and bones. When you're pregnant, it can help with many things: skin elasticity and stretching, support your achy joints, help you meet nutrition recommendations, support for your baby's healthy development, and even support your body for optimal postpartum recovery.
Collagen is truly one of the missing pieces of prenatal nutrition. I wish more people were talking about how important it is to take prenatal collagen peptides.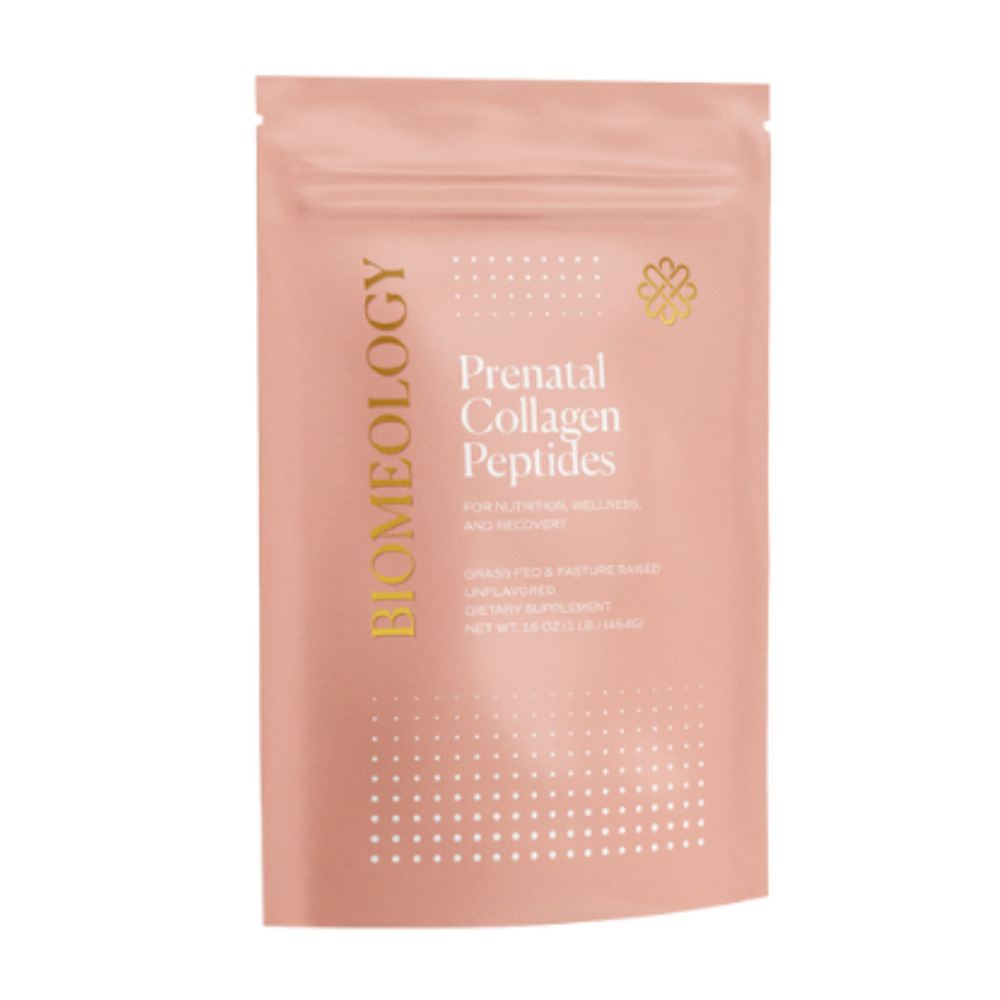 Biomeology Grass-Fed Prenatal Collagen Peptides
Grass-fed and pasture-raised bovine collagen
Pesticide-free verified and purity tested by the batch
Naturally gluten-free and non-GMO
Unflavored and odorless
Dissolves easily
11g per serving
These statements have not been evaluated by the Food and Drug Administration. This product is not intended to diagnose, treat, cure, or prevent any disease.
10 Reasons Women Need Prenatal Collagen During Pregnancy and Postpartum
Our bodies naturally produce collagen, which is the most common protein found in your body. It helps provide strength, structure, and elasticity to tissue, skin, bones, cartilage, ligaments, and more.
When compared gram to gram, collagen fibers are said to be even stronger than steel. Think of collagen as the glue that holds your connective tissue together. (I'm sure your mind is already coming up with reasons why collagen is so vital during pregnancy!)
So the problem is as you age, collagen production naturally drops, starting around age 25. Exposure to sunlight, smoking, and inflammatory diets can also contribute to losses. All of this can lead to reduced skin elasticity and smoothness, joint pain, and hair loss.
This is why collagen supplements have grown so much in popularity and awareness.
Many studies have now found that taking supplemental collagen can increase your existing collagen levels to make up for these losses. And since pregnant women require more collagen than usual, boosting your collagen during pregnancy (and afterwards) is all the more important.
But if your body already makes it, is adding more through diet and supplements even helpful? The short answer is yes! Just like your prenatal vitamin gives you those extra nutrients your body needs for a healthy pregnancy, Biomeology Prenatal Collagen is vital for your body during and after pregnancy.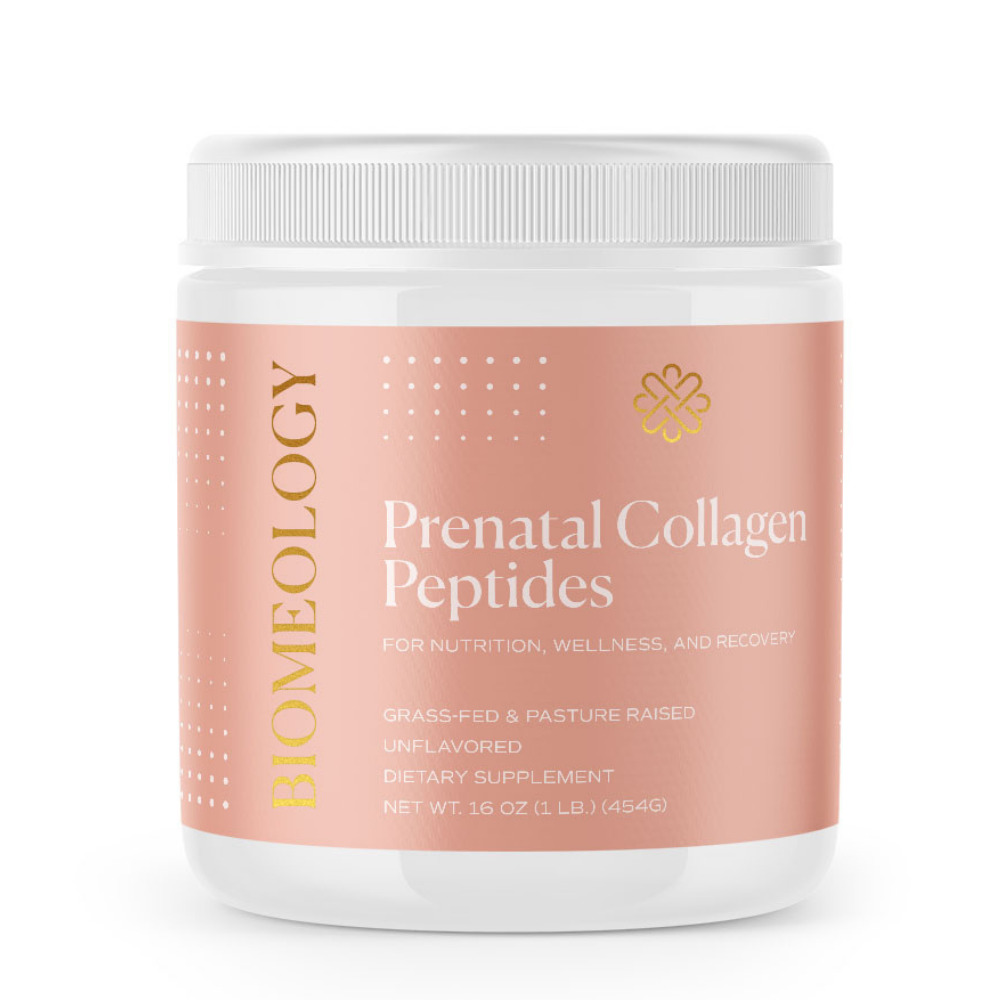 Let's dive into the reasons why women need collagen during pregnancy, postpartum, and all stages of motherhood!
1) Collagen is a rich source of glycine (which you need to supplement during pregnancy).
The reason that prenatal collagen is so helpful during pregnancy is largely because it is high in glycine. Glycine is an amino acid used to make collagen and is especially critical for healing and repair. Just some of the important benefits of glycine include better sleep, skin repair, wound healing, and gut health support.
Sometimes glycine is called a semi-essential amino acid; essential amino acids are usually required in your diet because the body can't make them. Even though your body can synthesize small amounts of glycine from other amino acids, it's usually not enough, so your diet or supplements become important.
Studies suggest that you may need even more glycine in the late stages of pregnancy due to increased nutrient demands. Biomeology Prenatal Collagen provides roughly 2,000 mg of glycine per serving.
2) Collagen is a great source of clean protein during pregnancy, when your protein needs skyrocket to 100+ grams/day.
You likely already know that pregnancy is a time when you need more nutrients than ever to keep up with the demands of your growing baby. This is especially true of protein.
During pregnancy, your protein needs are much higher than normal. According to dietitian Lily Nichols, a woman's protein needs during pregnancy are roughly 80g in early pregnancy and 100g in late pregnancy.
For me, it was pretty difficult to get this much protein in my diet during pregnancy. Collagen offers a simple, convenient, and reliable way to add extra protein to your diet. (I wish I had realized how easy it would be to up my protein intake during pregnancy!)
And for your baby, protein is critical for their optimal growth and placental health. And aside from being an essential building block for all the cells in your body, getting enough protein also reduces your risk of pregnancy complications like gestational diabetes or preeclampsia. It even can help reduce cravings and is a crucial nutrient for blood sugar management.
But even if you know protein is important, it can still be challenging to get enough in your diet. And that easily goes double if you are dealing with morning sickness or food aversions. Prenatal collagen can help because it's easier to mix the powders into beverages or smoothies to boost your protein intake.
One study found that women with lower protein intakes who supplemented with collagen protein in the third trimester and continued until ten weeks postpartum noted improved quality of life and wound healing after birth compared to mothers who didn't supplement.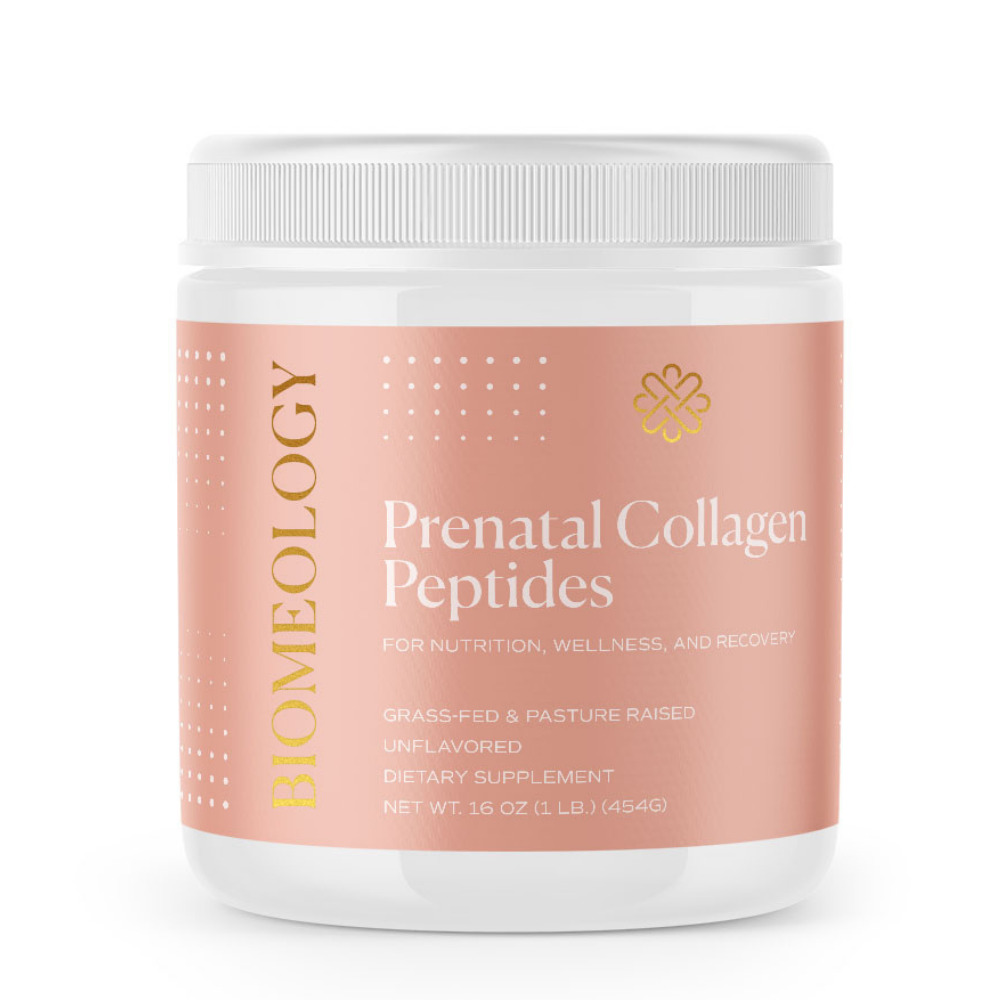 3) Collagen supports your immune and gut health (and your baby's).
In case you needed another reason to take a collagen pregnancy supplement, it is also wonderful for your immune and gut health and your baby's. Because of its amino acid profile, Biomeology Prenatal Collagen supports your gut and immune health. With large amounts of glycine, glutamine, and proline, collagen helps support the connective tissues in your gut lining and stomach.
Glutamine in particular is the most important amino acid for supporting the intestinal lining. It can help reduce intestinal permeability, which is also known as leaky gut. Collagen is also helpful for maintaining healthy stomach acid levels, which plays an important role in healthy digestion.
Related: Optimize Your Gut Health During Pregnancy
4) Collagen can help with morning sickness during pregnancy.
Morning sickness (or all-day nausea for some) can really feel quite miserable, but collagen may help with morning sickness.
Research suggests that women who eat more protein may be less likely to have nausea and vomiting during pregnancy. If you are nauseous, high-protein foods like meat may not sound great, but sipping a smoothie or even water with added prenatal collagen might be easier. (And I really hope you feel better soon because I know how hard that is!)
5) It can support your aching joints during pregnancy.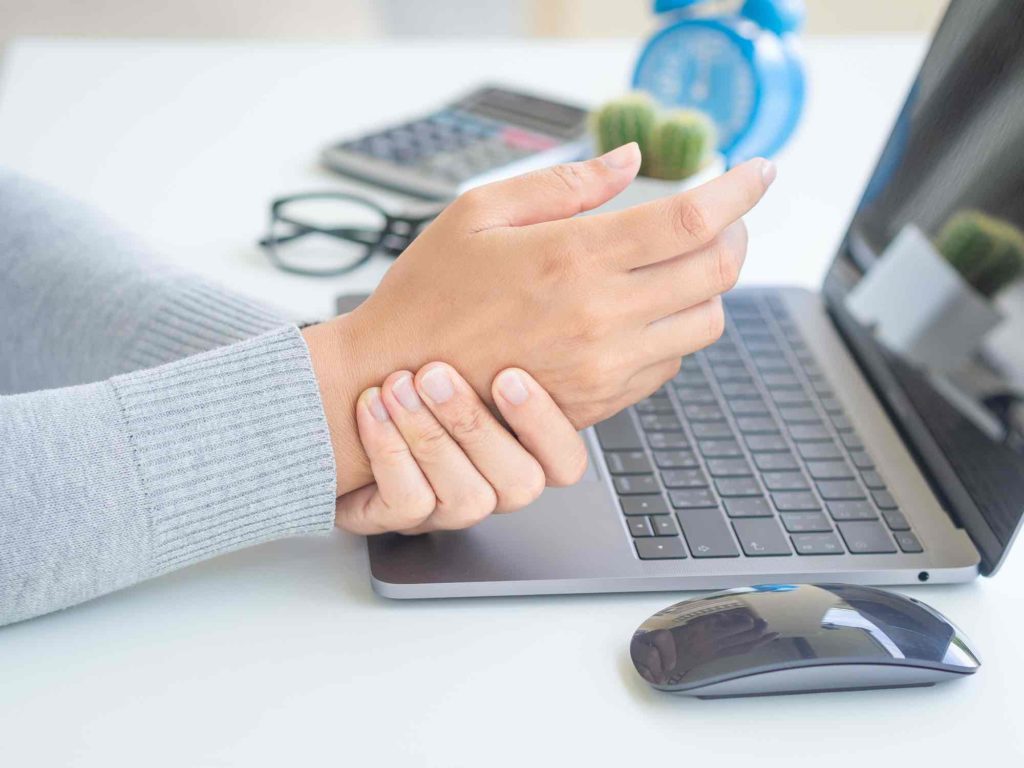 Aside from beauty benefits, one of the most common reasons people take collagen is for joint health. And the research is compelling… Multiple studies have found that supplemental collagen helps with joint pain and repair by stimulating more collagen production. People who take collagen also note improvements in joint swelling and stiffness.
Pregnant mamas are no strangers to joint pain, but safe relief options are limited. As your baby continues to grow, more and more weight and pressure get put on your joints. Even after delivery, you may find yourself with an achy back or sore neck from breastfeeding or holding your baby all day. So collagen may provide a safe option to help joint pain related to birth, pregnancy, and breastfeeding.
6) It helps your mood and promotes better sleep during pregnancy.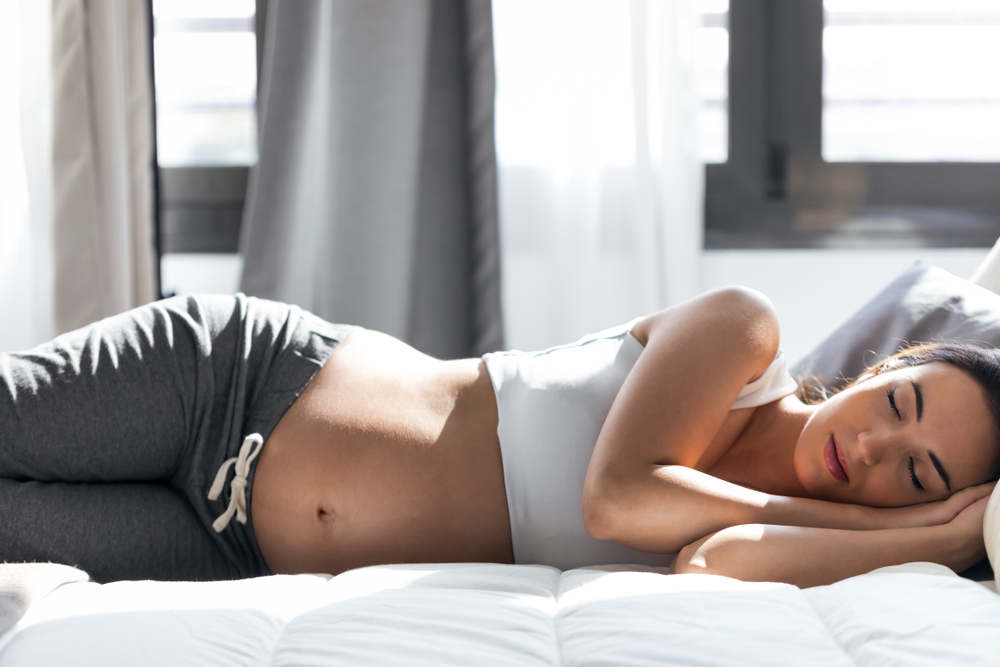 Sleep is when your body heals, restores nerves to help you with life's daily demands, and even reduces stress (which we all know is hard to do while pregnant).
Once again, the sleep and mood benefits associated with collagen are likely related to glycine. Glycine may help you fall asleep more quickly (especially helpful when you are dealing with pregnancy insomnia) and improve sleep quality. It also may help with daytime sleepiness.
More sleep means a better mood for any mom, but low glycine levels are also associated with depression. It also helps make serotonin, an essential neurotransmitter for regulating your mood.
Biomeology Grass-Fed Prenatal Collagen is an excellent source of glycine and a wonderful addition to your prenatal nutrition plan.
7) Collagen supports skin hydration and elasticity, which helps with stretch marks and can prevent tearing.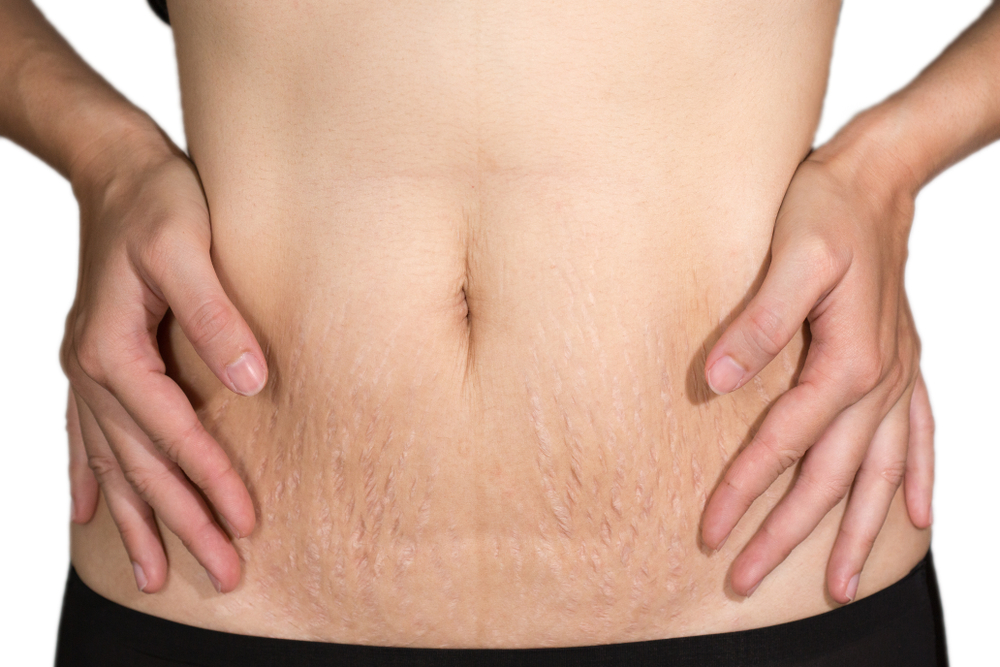 Your body goes through so many changes as it expands as your baby grows, from the skin on your belly to the tissues surrounding your pelvic floor. Collagen formation and breakdown also increases significantly in your uterus during pregnancy.
Taking supplemental collagen has been well-studied for its skin benefits with impressive results. Collagen helps maintain healthy skin by supporting hydration and elasticity, which may also help with stretch marks. Since collagen is critical for skin suppleness, a supplement can also support the healing process after birth and reduce your risk of tearing. This is such a huge reason alone to take prenatal collagen before and during pregnancy.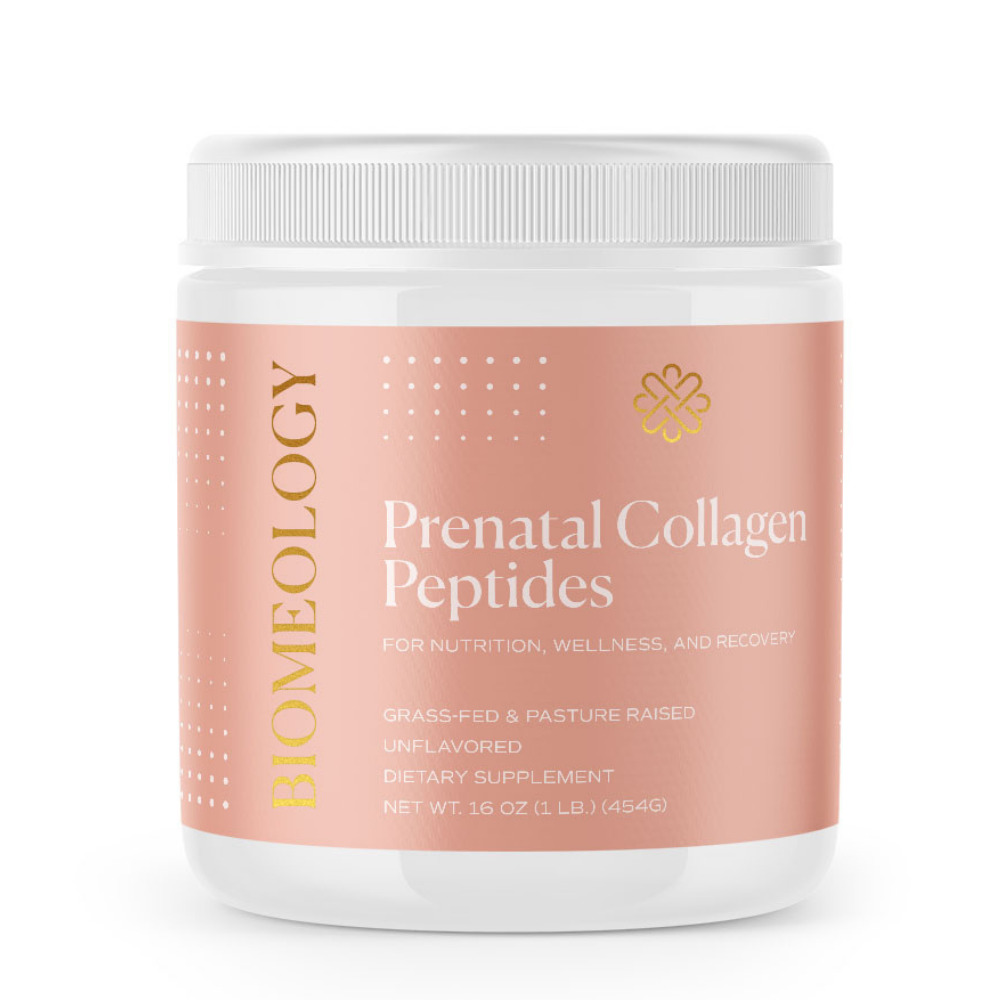 8) Prenatal collagen can support your recovery after childbirth.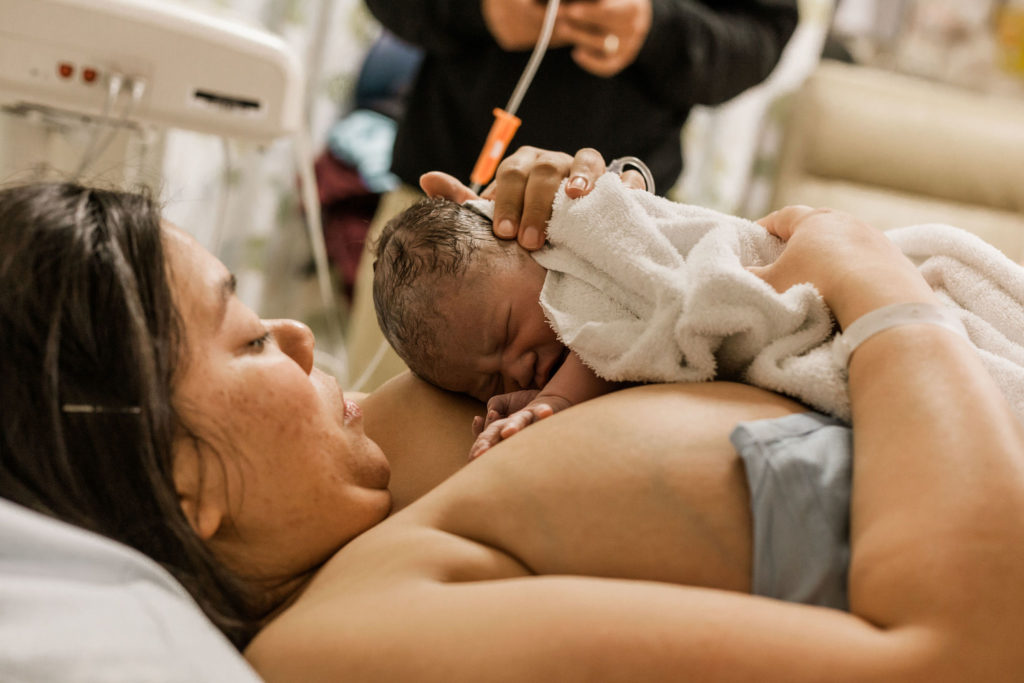 Even after you deliver, protein remains essential to support the recovery process and keep your immune system healthy. Whether you have a vaginal birth or c-section, it's extra important to be well-nourished before delivery to improve postpartum healing.
Collagen is also helpful with wound healing. Taking prenatal collagen during and after your pregnancy can help support your physical recovery from birth.
9) Collagen can help reduce the effects of postpartum hair loss.
The dreaded postpartum hair loss is very real but still can be a big surprise, especially if it's your first baby. Thick, shiny hair may be an added benefit of pregnancy, but you start shedding all that lovely extra hair after giving birth.
Collagen may help shorten this process by promoting hair growth. Many amino acids present in collagen are also necessary for healthy hair, so it may give your body just what it needs to help grow out those wispy baby hairs more quickly.
10) Collagen supports a healthy breast milk supply.
It's not just during pregnancy that nutrition matters. Protein needs also jump if you are breastfeeding. Current recommendations suggest that nursing mothers consume at least an additional 25 grams of protein per day as lack of protein can impact milk supply and quality.
Protein-rich foods like chicken, eggs, cottage cheese, or nuts and seeds all can help you meet this requirement. But once again, when you are juggling a sleepy newborn, finding time to eat the right foods can feel challenging. A quality grass-fed collagen supplement provides a convenient way to meet your protein needs.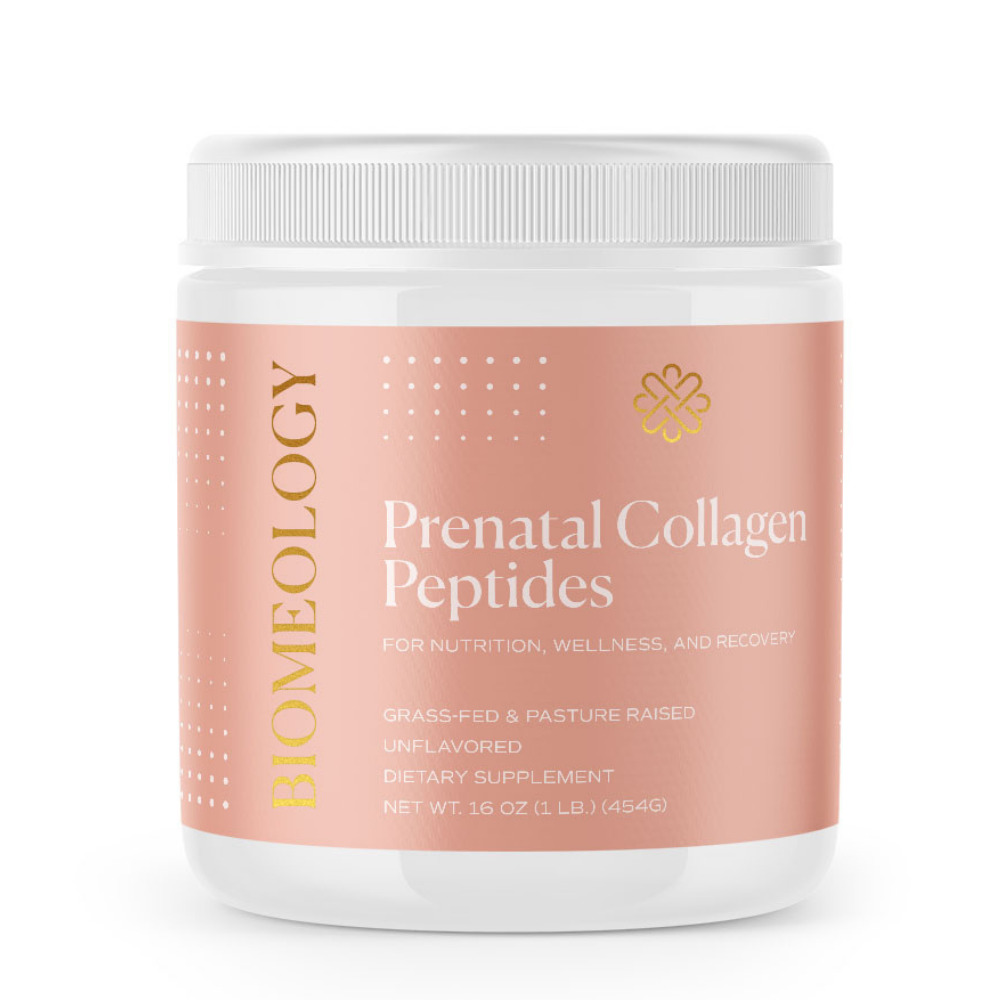 Top Food Sources of Collagen During Pregnancy
I'm a big believer in food-first nutrition. But the best way to meet your collagen needs is through a combination of real food with supplements for added support.
Some of the foods highest in collagen include:
Gelatin
Egg whites
Meat and poultry, especially with skin or dark meat
Fish with skin
But as mentioned, collagen supplements can provide additional, therapeutic amounts. And in reality, many of the food sources aren't as high in glycine as a prenatal collagen supplement will be.
You also can't easily digest collagen in its original form, which is why broths and supplements and bone broths are recommended. Collagen supplements are broken down, meaning that the proteins are easy to digest and absorb.
However, like any other supplement, making sure you purchase a reputable, quality source is essential, especially while pregnant. Collagen is derived from animals, so you want to make sure you choose a brand in the same way you'd select quality meat or poultry to eat.
Before purchasing a collagen supplement, make sure you look for the following:
Grass-fed and pasture-raised. It's important that your collagen is sourced from healthier cows that are grass-fed and pasture-raised, ensuring a higher quality of collagen.
Contains no additional ingredients. Biomeology Grass-Fed Collagen is made from 100% hydrolyzed bovine collagen. There are no other ingredients — just pure collagen! It's also unflavored, so you don't have to worry about "natural flavors" or other additives (not that we would use them anyway!).
Tested for contaminants and pesticides. Like all Biomeology products, the Prenatal Collagen is third-party tested.
Biomeology's Grass-Fed Prenatal Collagen is made with the highest manufacturing standards. I am so thrilled to have found a wonderful source of bovine collagen that I can offer to my readers and take myself. Adding collagen into my diet has given me so many profound benefits and I am a big believer of using collagen during pregnancy and throughout motherhood. It has been life-changing for me!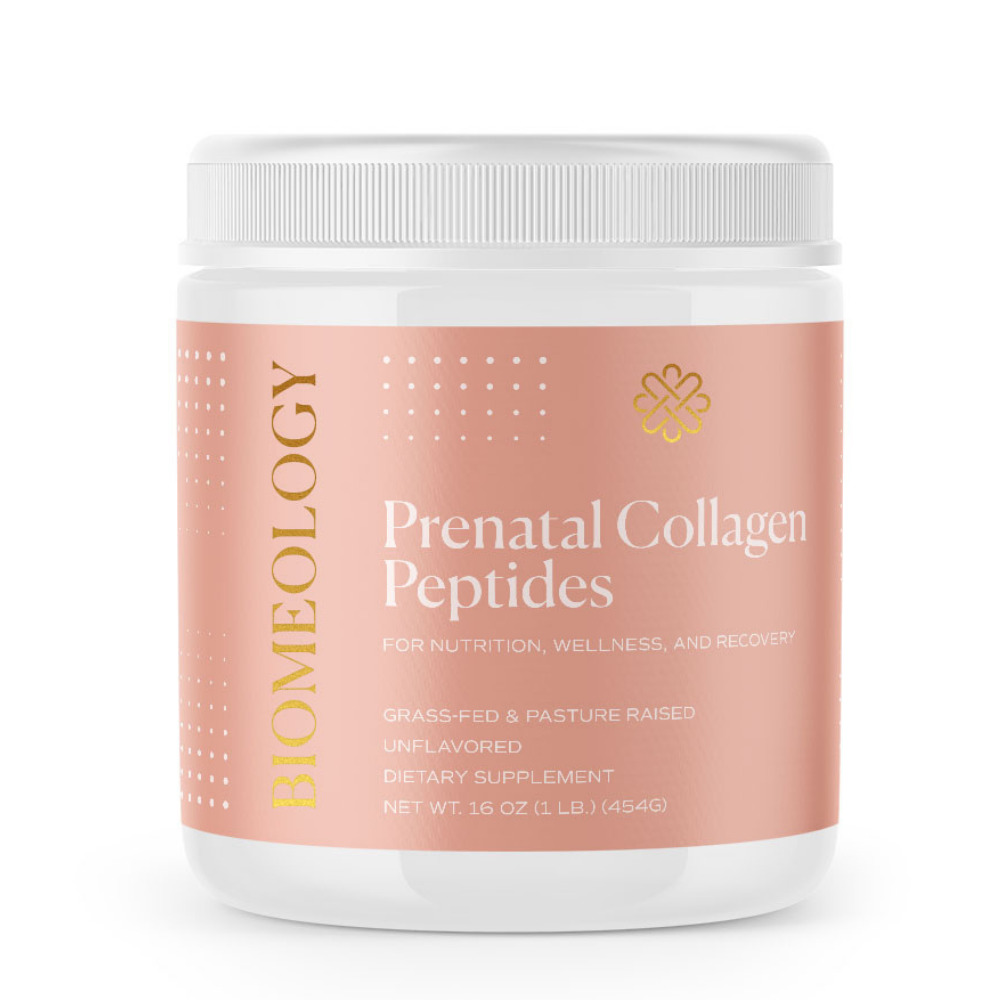 How to Incorporate Prenatal Collagen into Your Diet
When you're pregnant, your nutrition is increasingly important. Taking a daily collagen supplement during pregnancy is one of the best ways to help meet your daily protein intake and get enough of this essential nutrient.
Biomeology's Prenatal Collagen Peptides can easily be added to a number of your favorite foods and drinks. Use up to 1 scoop daily during pregnancy, postpartum, while breastfeeding, and even for the rest of your motherhood journey. (Important reminder: as always, check with your doctor before starting any new supplements.)
Here are some easy ways you can incorporate collagen into your diet during pregnancy:
Add a scoop into your favorite warm beverage. When I'm not pregnant or breastfeeding, I love to add a scoop of collagen into my morning coffee or tea. During pregnancy I would even add it to my red raspberry leaf tea or into water.
Mix a scoop of collagen into your daily smoothie. A great source of protein, you can mix 1 scoop of Biomeology Prenatal Collagen with your milk of choice and other goodies (nut butters, berries, greens, etc.) and use it as a protein shake.
Add it to your favorite baked goods recipes. You can also add up to 1 scoop of collagen into your favorite baked goods recipes. I love making pumpkin bread year-round so this is also a great way to turn a delicious snack into a functional and healthy treat for my family.
Mix it into soups, broths, and other recipes. Biomeology's Prenatal Collagen is odorless and flavorless, and it dissolves instantly in hot foods. Add a scoop to your favorite soup, or even into meat broths or stews. (Yes, it's even a good idea to add collagen to your bone broth for an extra dose of gut-healing goodness.)
Biomeology Prenatal Collagen Peptides for a Healthy Journey Into Motherhood
As you can see, there are so many reasons collagen can benefit both mom and baby during pregnancy. Even better, it can continue to be a part of your daily wellness plan even as your baby grows up. Biomeology Prenatal Collagen truly supports women's health through all stages of motherhood.
Whether it's for skin, joints, sleep or eating enough protein, most of us can benefit from added collagen. While you can get some collagen from your diet, adding in a high-quality collagen supplement can provide an additional source that's more concentrated than food sources.
It's so important to take care of your body and yourself while you are pregnant. And always, really. Because you are a mom and you are so important to your family. You may find that collagen supplementation is the perfect way for you to look after both your health and beauty during and after pregnancy.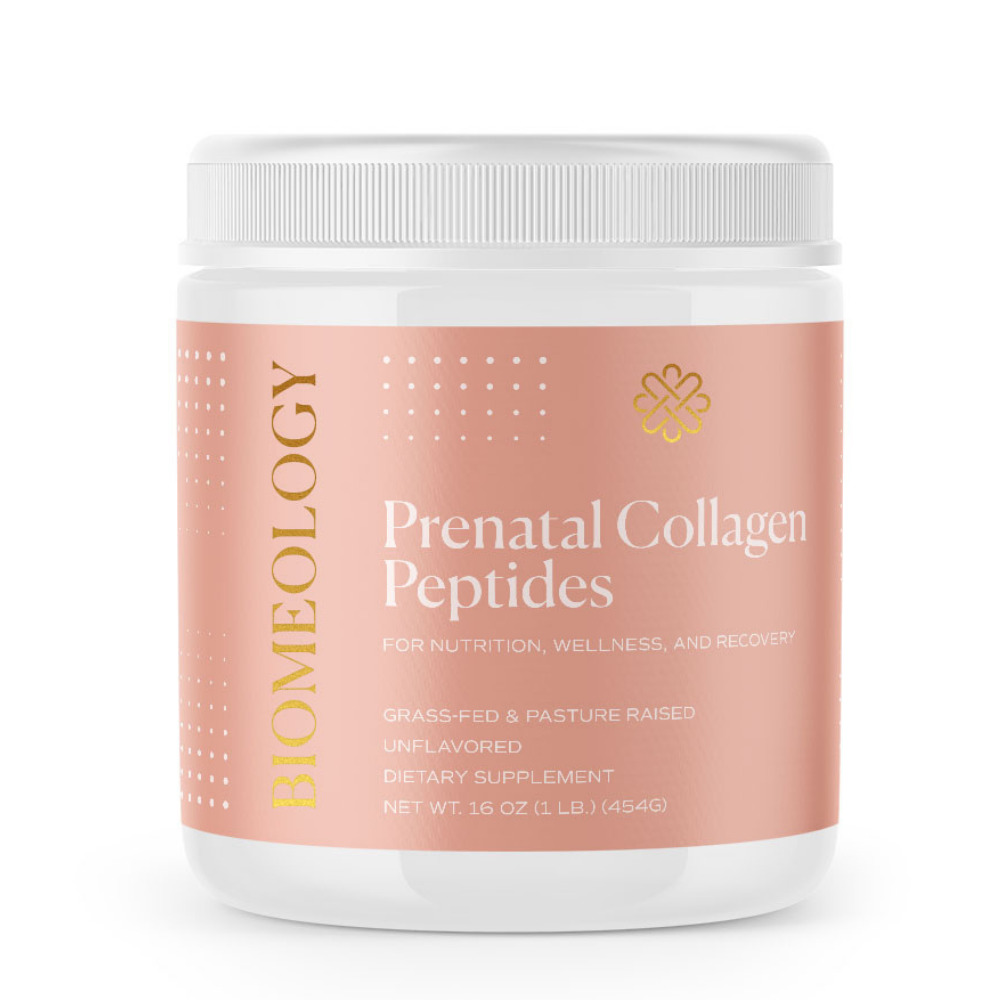 FAQs About Collagen During Pregnancy
Is collagen safe while pregnant?
A recent study that examined collagen use during pregnancy and breastfeeding indicates that taking bovine collagen supplements during pregnancy is safe in theory because it is consumed regularly when eating meat.
"There are no theoretical risks to collagen as it is comprises 65% of the protein content in animals and thus is a major constituent of what is consumed when eating animal proteins in the diet."

L. Baginsky, M. Winter, et. al.
Is marine collagen safe during pregnancy?
There are mixed messages on whether it is safe to take marine collagen during pregnancy.
Marine collagen is derived from fish, so you'll want to make sure it has the same quality standards as the bovine collagen mentioned above. While you should be conscious of how much fish you eat during pregnancy because of the high mercury content, marine-based collagen can still be a great source of collagen. Heavy metal contaminants like mercury are stored in the muscle or fat of fish and not in the scales, so it's not present in collagen supplements.
Some studies also suggest that marine collagen is even more bioavailable than collagen sourced from other animals, so your body can absorb and use it more efficiently. Unless you have an allergy to fish or simply want to avoid it, marine collagen is a safe and effective choice during pregnancy and postpartum.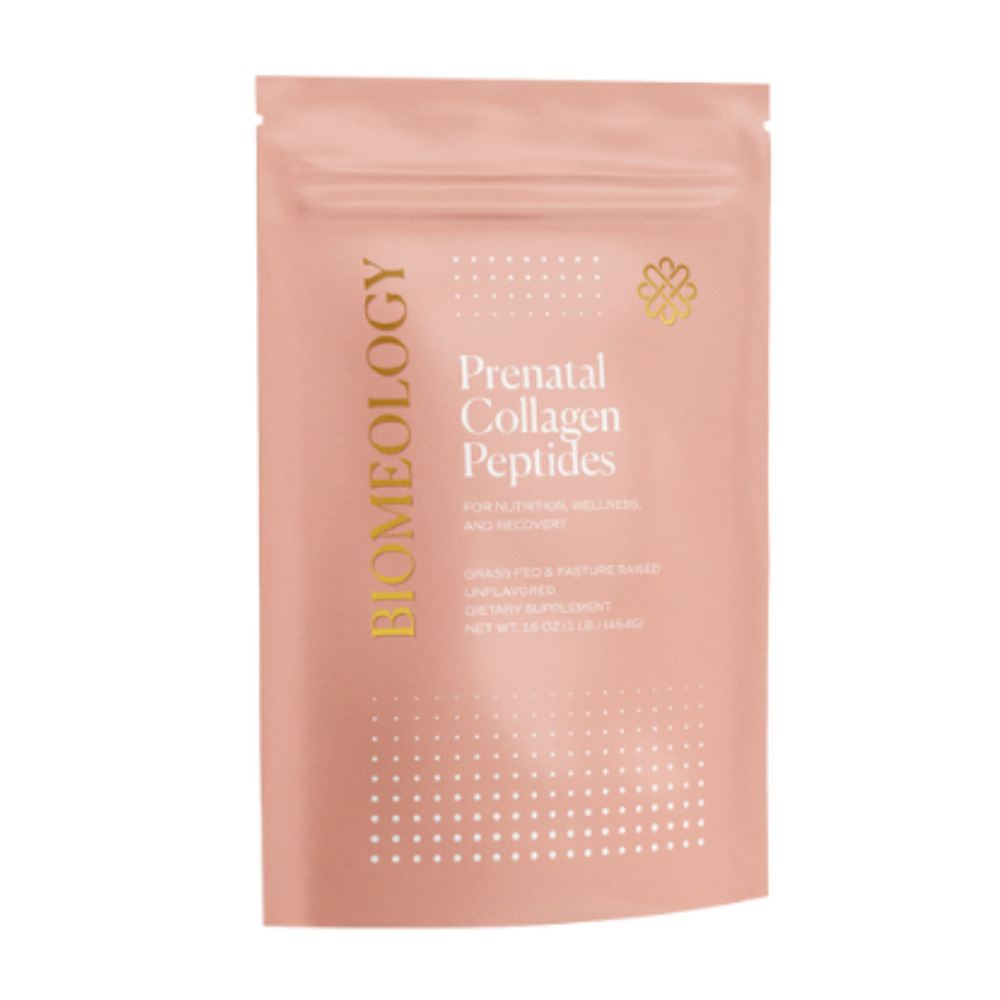 Biomeology Grass-Fed Prenatal Collagen Peptides
Grass-fed and pasture-raised bovine collagen
Pesticide-free verified and purity tested by the batch
Naturally gluten-free and non-GMO
Unflavored and odorless
Dissolves easily
11g per serving