When your baby is ready to lay on the ground and engage with toys, having a baby play gym is key. A play gym will be really useful for your baby as they start to grow out of the newborn stage and become more interested in the world around them.
Not only do play gyms help your baby with hand-eye coordination and gross motor skills, but they offer your baby a safe and dedicated space to relax and play on the floor. They're great for tummy time and help your baby learn to explore their world independently.
But, before you shop for a baby play gym, it's important to remember that your baby will be in direct contact with their play gym. Mouthing toys, touching surfaces, and later, rolling on it, your baby will be all over their play gym. This makes it crucial that the play gym you purchase is made with high-quality materials that are safe for your baby.
I used to not worry too much about the materials in play gyms until my second baby started using one and put everything in his mouth. Even when I replaced the hanging toys, he was sensitive enough that he would get irritated by the polyester in the play gym mat. It was really frustrating because I knew how valuable tummy time and play time in a baby gym could be. But I ended up tossing out our play gym because of how sensitive he was.
So in addition to looking at the toys and fun features of the play gyms, let's also review the materials they're made from. Here are the best play gyms for babies and what you need to know before you buy one.
The Benefits of Using a Baby Play Gym
There are several reasons why you should consider using a play gym with your baby, so let's take a look…
A baby play gym improves hand-eye coordination.
A play gym typically features a comfortable mat with a bunch of toys hanging above. As early as 8 weeks old, your baby will begin to really love play gym time. He can look up at the toys, and as he gets older, he will try to bat at them, eventually being able to fully grasp them. It's a great activity that helps to develop hand-eye coordination.
Baby play gyms are great for tummy time.
Play gyms are also a good surface to use for tummy time. They provide a safe surface for your baby to lay on. On the play gym mat, your baby will be able to look at a lot of interesting colors, shapes, and textures while working on head and neck strength.
The toys and colors stimulate your baby's senses.
Most play gyms have bold patterns that stimulate visual development. Some play gyms also make sounds. For example, one of the dangling toys might rattle when your child bats at it. It could have a squeaky ball attached to the mat. All of these add great sensory stimulation to your baby's routine!
Play gyms can increase cognitive development.
Play gyms promote your baby's intellectual development. Filled with so many shapes, patterns, colors, and sounds, these activities introduce learning concepts and boost your baby's natural curiosity.
A play gym adds excitement to your baby's day.
When your baby first comes home from the hospital, she will spend most of her time eating and sleeping. But as your little one get older, she will crave more interaction with her environment and with developmental toys. Having a baby play gym is something extra that you can add to her routine. Not only do play gyms promote exploration in a safe space, but they can also give you a few minutes of time to tackle your to-dos.
Independent floor play encourages more movement.
Babies need to move, kick, and roll to help develop their muscles. Being in an exciting and stimulating play gym will encourage your baby to move more. It also gives your baby the chance to make choices and gain some confidence and independence. He can decide for himself if he wants to reach for that toy or if he wants to roll on his side.
Related: The Best Non-Toxic Play Mats
The Best Baby Play Gyms (REVIEWS)
Let's go over the top picks for the best play gyms! Personally, I love each and every one of these and think you can't go wrong. It just comes down to your preferences.
Lovevery is one of the most popular choices for baby play gyms. It was designed to provide infants with a way to stimulate their cognitive development as well as their motor skills. That's why this gym offers different play zones with interchangeable toys, teething accessories, and learning cards. You can also conceal each station to prevent your child from becoming overstimulated.
Starting in early infancy, you can use this mat for exploring, playing, and tummy time. As your baby grows and becomes mobile, the mat offers a great space to practice rolling, sitting, and scooting. Most babies will enjoy this play gym until they are about 12 months old.
Once your little one is a year old, you can convert the Lovevery play gym into a fort with the included play space cover. Toddlers love to use this space as a cozy reading and play area. There are plenty of opportunities and ways to use it during the first two years of your baby's life!
I know many parents that also really appreciate how easy it is to set up and take down this play gym. Whether you're tight on space or you just want to keep your room tidy, you can put this play gym away quickly and easily.
Lovevery created their gym out of mostly baby-safe materials, including sustainable wood and organic cotton, though the play gym also contains polyester. And it offers five different interactive play zones for your baby, which means your baby won't get bored even after months of use. Most moms I know who have one rave about it and say it was a great investment!
Related: Lovevery monthly toy subscription kits
---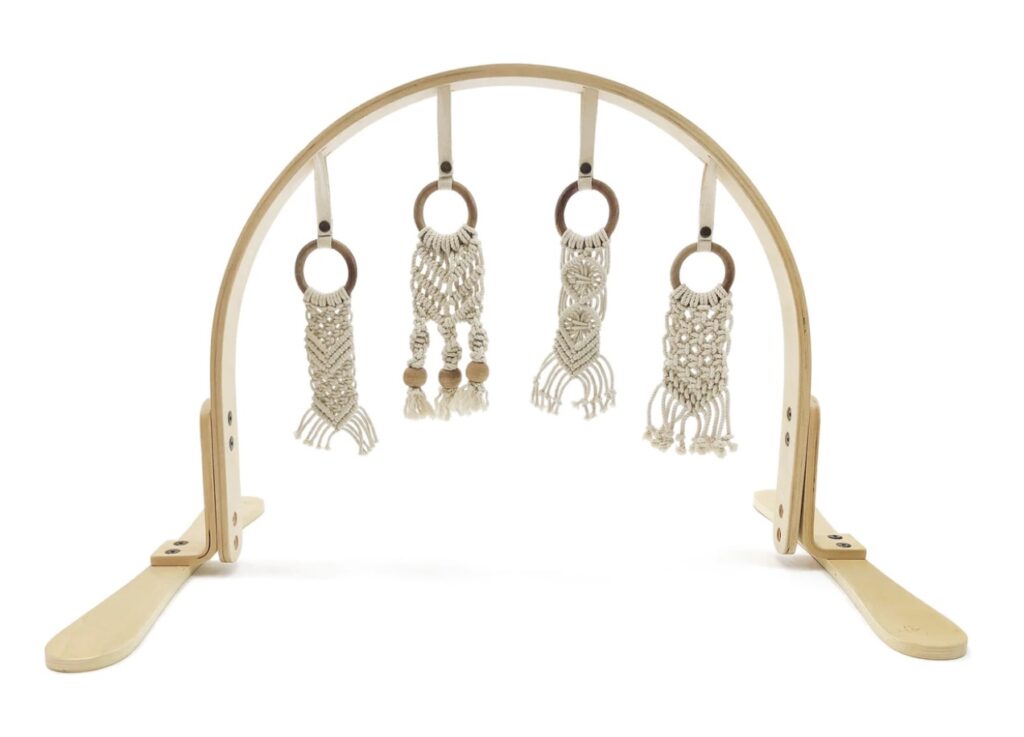 Buy on Finn & Emma
If you want a more stylish aesthetic for your play gym, take a look at Finn & Emma. Their play gym is stylish, unique, and modern without the use of any plastic elements. Instead, Finn & Emma uses natural, sustainable materials.
This play gym features a sturdy birch wood arch frame with an adjustable height. Included are two wooden teethers crafted from untreated Indian hardwood and two hand-knit rattles made from organic cotton and wool. If you prefer, you can even remove the toys and take them with you. They make great stroller toys!
It's hard not to love the Finn & Emma gym. Finn & Emma ensures that their products contain no BPA, VOCs, heavy metals, or phthalates. The Finn & Emma play gym is sold by itself so you will need a play mat to lay your baby on while they play.
---
Buy on Monti Kids
Monti Kids creates Montessori-inspired baby and children toys that are suitable for all families, even if you don't use Montessori at home. Their play gym has a nice, minimalist look made from sustainably sourced wood and non-toxic paint.
The Monti Kids Play Gym has an adjustable wooden pyramid that comes with four different mobiles and toys. Each of the mobiles is unique. For example, one of the mobiles is high-contrast black and white (which is great for infant eye development), and the others include different shapes and colors. When your baby lays under these toys, it helps to encourage motor skills, visual focus, and recognition of shapes and colors.
This play gym used to be available for individual sale on Amazon but is now only available as part of the Monti Kids Level 1 Monessori Box. You may also need a play mat to lay your baby on.
---
Buy on Amazon
I have to tell you that I'm a huge fan of HABA toys. They've always interested my kids and promoted some great creative playtime. HABA is a trustworthy, European non-toxic toy manufacturer. They have an extensive history of creating quality baby products. For their play gym, they took a simple concept and created one of the best play gyms for babies.
The play gym is made of durable wood. Hanging above your baby, wooden disks and colorful beads dangle to encourage your baby to play, reach, grasp, and turn from side to side. It might seem like a simple design compared to some of the other play gyms on the market, but it is precisely what your baby needs. (Always make sure to supervise your baby!)
That little hanging frog is the perfect encouragement for your baby to reach up and grab. When she does, she'll hear the beautiful click-clack sounds of the wooden disks. (I really love their clutching toys!) On the sides, there are sliding wooden beans that encourage your baby to turn her head and roll from side to side.
Perhaps the most ingenious part of the design is its adjustable height. Your baby can use it while she lays on the floor or when sitting upright. You will get a lot of use out of this HABA play gym!
---
Buy on Amazon
If you're looking for a wooden baby gym that's affordable and looks beautiful in your home, then the HAN-MM is a fantastic choice. It features three hanging wooden teethers that encourage and promote early motor skills.
You'll love the natural, smooth beech wood that is soft to the touch. While it looks decorative, this play gym blends into any nursery, especially without any flashing lights or noisy toys.
Parents note that this baby gym is lightweight and easy to assemble. Another nice feature is that you can add or remove the hanging toys, as well as adjust the height of the toys. The only downside to this play gym is that it has the potential to be so pretty that it may not be stimulating enough; the muted colors are beautiful but young babies need some contrasting colors for stimulation. So if you go with this one, I would make sure that you are also exposing your baby to plenty of high-contrast board books or flashcards.
Be sure to also grab a separate play mat for use along with this play gym.
---
What to Consider When Buying a Play Gym
There are a lot of things to consider when choosing a play gym.
Materials: One of the most important things when looking at the best baby gyms is to consider how your baby will make contact with it. If they're laying on a fabric mat and pulling on the toys and mouthing them, you should really consider the materials used and the chemicals they may make contact with. I would prefer a baby play gym that is free of PVC/Vinyl , BPA and other bisphenols, PFCs, phthalates, and heavy metals. If you can, look for products that use 100% organic cotton to help ensure your child isn't exposed to dangerous pesticides and other treatments.
We know that it's impossible to have all of your baby gear be 100% non-toxic, but we do have to try to prioritize. Things that our babies get up close and personal with should be as chemical-free as possible.
Included Toys: Will your child enjoy the included toys? Are they designed to encourage your child to reach up and grab at them? Ideally, you can remove the toys for easy cleaning and take them with you if your child really loves a specific toy. Removing the toys also means you can add other toys that you might find.
Ease of Storage: You might not always want to have the play gym in the middle of your living room floor. Having a play gym that is easy to store is so helpful. I prefer it when they fold up for compact storage.
Design: Last, but still important, is the design something that you like? Will it look nice in your living room or wherever you decide to put it? There is nothing wrong with wanting aesthetically appealing items as well.
FAQs About Baby Play Gyms
Still have questions about how baby play gyms? Read on!
Do babies need play gyms?
Play gyms are not a requirement, but they are one of the most-used and most-developmentally appropriate toy for babies. They really help your baby reach those important developmental milestones, and promote both gross motor and fine motor skills. I highly recommend play gyms for all babies!
When are babies ready for a play gym?
Typically, babies start enjoying their play gym between six weeks and two months old. By three to four months old, they'll begin to reach and grasp at the toys above their head.
You can start off doing short spurts of time on the play gym (around 10 minutes) to help your baby gain a sense of familiarity and exploration. Over time, your baby will become more comfortable spending more time on his mat, and he will have so much fun!
When should I stop using a play gym?
You should stop using the play gym before your baby turns one. Your baby's playtime on the mat will evolve as they grow. But typically as they become walkers, they will lose interest in the play gym and become interested in other types of toys and activities.
What age should I start doing tummy time with my baby?
Unless your doctor has advised you otherwise, you should start tummy time when your baby is a newborn. It can be as simple as turning him over onto his belly for 30 seconds after a diaper change. Then, you can build up to three, 3-5 minute sessions per day. Gradually, as your baby becomes stronger, you can increase that time to 30 minutes per day (not necessarily at one time). These baby play gyms are a great place to do tummy time!
Play gyms will entertain your baby while keeping your little one in their own safe space. I hope you find one that you and your baby love!
You might also like: