Most parents would probably agree that baby wipes are a must-have baby product! There are just so many benefits to using disposable wipes. They're super convenient; you can simply grab a wipe and wipe your baby during a diaper change or even wipe their hands and mouth while on the go. Baby wipes are also pretty affordable and a product that parents like to use.
But are you wondering what the best non-toxic baby wipes are these days? Like, which baby wipes are actually safe for your baby? This is a great question and you're definitely not alone in wanting the products you use on your baby to be safe for teheir health and development.
You might be surprised to find harsh chemicals on the ingredients list of almost every single brand of baby wipes. Seriously. Turn over nearly any package of baby wipes and scan the ingredients list. Most contain a chemical soup containing harsh chemicals, preservatives, and synthetic fragrances that don't belong anywhere near a baby.
Since baby wipes are used on a daily basis and make direct contact with your baby's skin (their largest organ) several times a day. And given that any products that you use on your baby's skin can be absorbed into their bloodstream, it's absolutely crucial to choose natural and non-toxic baby wipes that are made with healthy and safe ingredients.
In this article, we'll teach you how to choose the most natural and the best non-toxic baby wipes for your baby. We know it can be totally overwhelming trying to decode all of those ingredients on a label, but we've done all the research for you. And spoiler alert: very few brands actually meet our standards. This list is short on purpose.
Top Picks
What Ingredients Should You Avoid in Baby Wipes?
Let's go over which chemicals to avoid in baby wipes and explore a few safer alternatives to mainstream baby wipes to help you choose the most natural baby wipes brand for your precious baby.
When choosing a brand of baby wipes, it's so important that you select a brand that contains as few ingredients as possible, uses no fragrance, and minimizes its use of synthetic preservatives (they should be the very last ingredients on the list). Some brands contain several essential oils, which are unnecessary and unsafe to use on babies.
Here are some of the most common toxic chemicals found in baby wipes. AVOID these completely if you see them in baby wipes!
And this is only a short list of troublesome ingredients found in popular disposable baby wipes. What's also important to remember is that some of these potentially toxic chemicals are hidden ingredients that will not be clearly labeled on packages.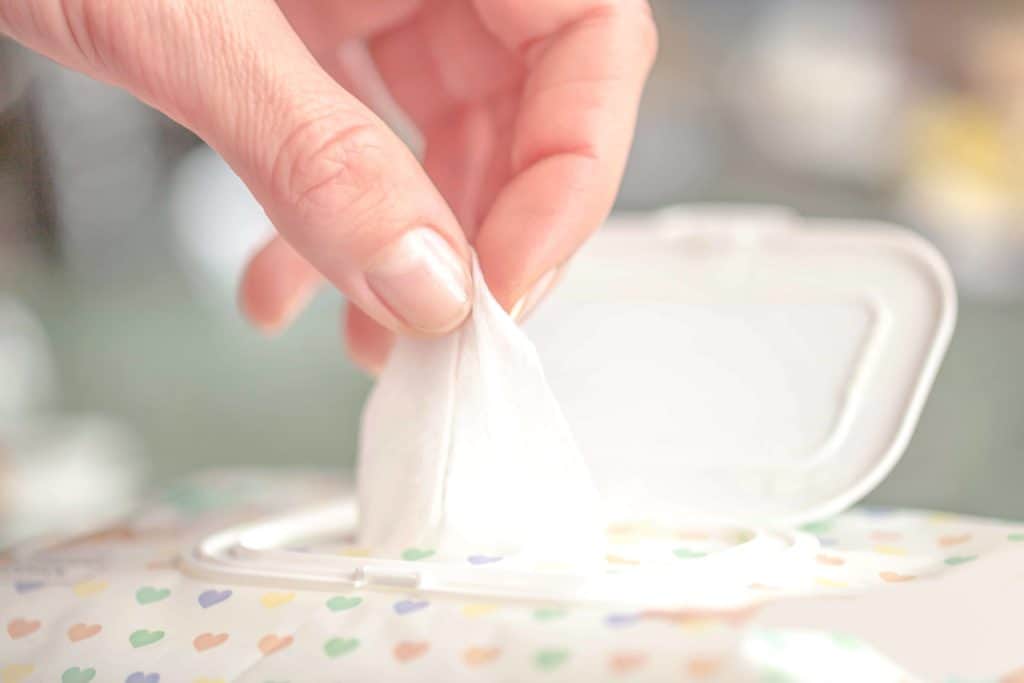 Choosing the Best Baby Wipes
When it comes to non-toxic baby wipes, there are a few things you should look for. First, make sure that the wipes are free of harmful chemicals. Many conventional brands use toxic ingredients like artificial fragrances, parabens, and phthalates. These substances can cause skin irritation and other health problems. Second, choose wipes that are made with natural ingredients. This will help to reduce the risk of skin irritation and other adverse reactions. Finally, make sure that the wipes are hypoallergenic. This will ensure that they're gentle on your baby's delicate skin.
When trying to find the best baby wipes for you, consider the following:
The Best Non-Toxic Baby Wipes (Reviews)
Here are the best non-toxic baby wipes based on ingredients, chemical safety, convenience, and overall feel and efficacy. Based on our review methodology, these are the safest baby wipes on the market today.
Buy on Amazon | Target | BuyBuy BABY
Water Wipes still tops our list of the best non-toxic baby wipes because of their minimal ingredients: water and a drop of grapefruit seed extract. But we want you to know that grapefruit seed extract can commonly contain incidental ingredients such as methylparaben and triclosan, which are exactly the kind of harmful chemicals we are trying to avoid.
However, the Water Wipes manufacturer tests their grapefruit seed extract and has disclosed that it contains a trace amount of benzalkonium chloride, roughly 0.002%. Given how clean the wipes are otherwise (in comparison to other options available on the market), we still recommend Water Wipes without hesitation. And we'll still consider them one of the purest baby wipes on the market.
Why? Because of the minimal ingredients they use. Just as how grapefruit seed extract can contain incidental ingredients, so can all of the other ingredients in any baby wipes. Some of the wipes on the market contain 8-10 ingredients alone, meaning there can be hidden or incidental ingredients in any of those ingredients. We like the simplicity of Water Wipes, period. And the company's transparency.
Water Wipes has also made some important upgrades: they're now plastic-free and biodegradable (they were previously polyester fabric). But, by switching over to biodegradable wipes, the wipes do have a slightly different scent that's almost chlorine-like. It's pretty subtle but it's definitely a marked change from the old formulation.
Another great thing about Water Wipes is that they have the National Eczema Association Seal of Acceptance. Overall, Water Wipes are a great option for a more natural wet baby wipe.
---
Jackson Reece's unscented baby wipes formulation is also a great option to consider when you're looking for natural baby wipes. Over 99% of the ingredients are made from vegetable and plant extracts, though it does contain sodium benzoate (listed as the fourth-to-last ingredient).
A UK-based company, Jackson Reece Baby Wipes are completely plastic-free and biodegradable. As with other baby wipes we recommend, these do not have any alcohol or fragrance ingredients, so they are perfectly pH balanced, hypoallergenic, and great for any babies who suffer from eczema. The ingredients are really very simple – made of wood pulp, Aloe Vera, purified water, and vegetable preservatives. We love Jackson Reece wipes!
Buy on Amazon | Honest Co. | Target | Walmart
Looking for chemical-free baby wipes? This is your best bet.
If you're open to using a dry baby wipe, The Honest Company's organic cotton dry wipes are a perfect option. Use them at home or on the go with just water in a spray bottle, a drop of jojoba oil, or a DIY wipes solution. Because they're made with organic cotton, these can run a little pricey but they are truly one of the most natural and non-toxic options available.
Buy on Amazon
Do you wonder how to clean your baby's hands at the park or on the go when there isn't a restroom nearby? Water Wipes Soapberry Wipes are a good option for cleaning baby's hands and mouth on the go. Pack these in your diaper bag for a day at the park, at the zoo, or just on the go.
Soapberry is a berry-like fruit that has natural soap-like effect, which is why we love that Water Wipes has included this ingredient in their textured wipes. We don't necessarily recommend using these for diapering, though they are supposedly gentle enough to be used on a baby's bottom.
These wipes are great for babies and toddlers (and the whole family too!).
Buy on Amazon | Pipette Baby
Pipette baby wipes contain several beneficial ingredients such as squalane, apple fruit extract, and decyl glucoside (a mild cleanser). These wipes make the list, but please note that they contain sodium benzoate, potassium sorbate, and citric acid as some of the final ingredients in the list.
Overall, these wipes are a good and safe choice, but please note that some reviews indicate they've had trouble getting the wipes out of the package. The company suggests a little workaround: open the wipes cover and make a small cut at the sides; this should help with this problem!
Buy on Amazon
Ecoriginals is a wonderful baby brand that makes non-toxic diapers and great non-toxic baby wipes as well. Made in New Zealand with bamboo fiber and pure ingredients, Ecoriginals wipes are a great and more natural baby wipe to consider.
One of the ingredients, Japanese soybean amino acid, often contains its own set of preservatives (sodium benzoate and potassium sorbate), so please keep that in mind when considering this brand.
Their baby wipes come in three versions:
If you're not sure which version to buy, you can also try a wipes sampler pack on Amazon to try each of the three formulations and see which one you prefer.
Buy on Amazon
Abby & Finn makes quality baby wipes with just a few simple ingredients. They contain 99% water and only three additional ingredients: soybean amino acids, organic aloe vera, and natural vitamin E.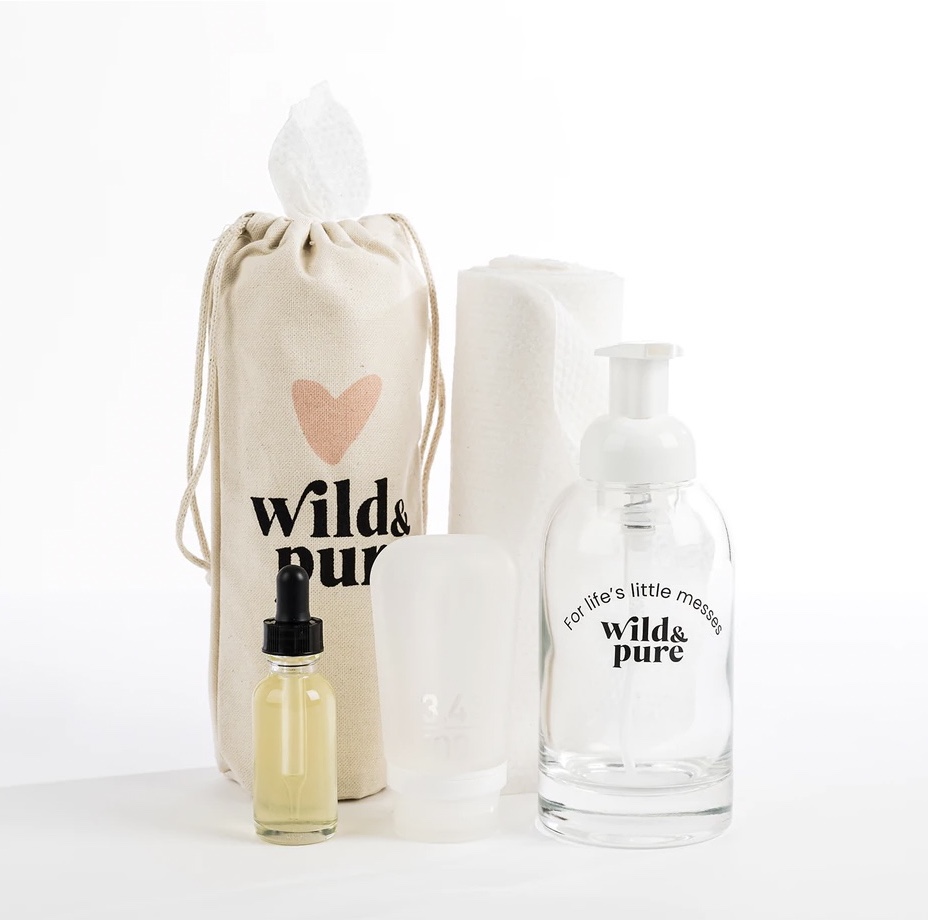 Buy on Wild & Pure
Another great option for natural baby wipes is Wild & Pure, made with 100% cotton. If you're looking for a more sustainable wipe, this is for you. These dry wipes are made with 50% repurposed cotton scrap and 50% unbleached USA-grown cotton and they can be machine-washed (once) and reused.
The starter set comes with a package of dry wipes along with a bottle of their soap concentrate (which is made with organic ingredients), a glass dispenser, and a travel squeeze dispenser. You can simply dilute the concentrate in the glass dispenser and keep that handy on your baby's changing table. Then, when it's time to change a diaper, simply spray the concentrate onto the dry wipe and wipe away.
Unlike the Honest dry wipes, these aren't organic but we do love that they come with a soap concentrate and spray bottle. If you're looking for a dry wipe and you're trying to choose between the two, the choice just comes down to your personal preference. We also like that they offer an easy subscription option for wipes refills.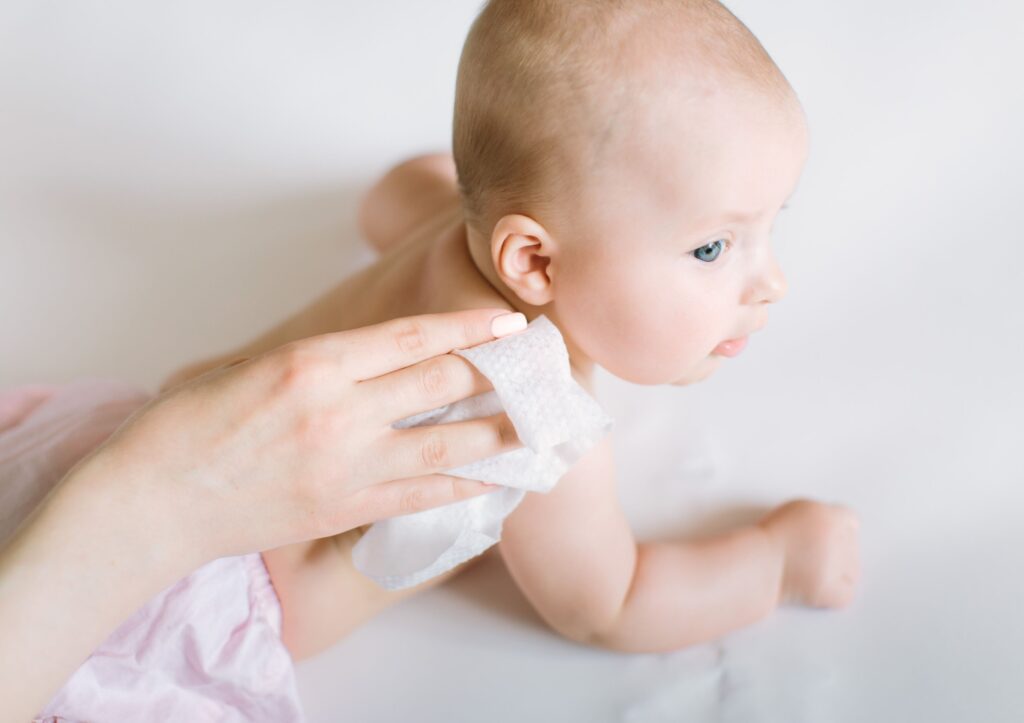 The "OK" List
Baby Wipes to AVOID
These brands don't meet my selection criteria, largely because they contain fragrances, unnecessary ingredients, or have preservatives listed as one of the main ingredients.
Final Thoughts
We've established above that most baby wipes on the market aren't perfect, but most parents agree that they're a pretty essential baby item. Here's how you can avoid exposing your baby to unnecessary chemicals, preservatives, and toxins from baby wipes:
Make a better choice and choose a brand recommended above to find the best baby wipes for your baby. Was this list of the best natural baby wipes helpful? Please let us know below in the comments!
Natural Baby Wipes FAQs
Are baby wipes non-toxic?
Most baby wipes on the market today are made with several harmful chemicals and harsh preservatives that may cause skin irritation, diaper rash, or can even be harmful to a baby's health. There are very few truly non-toxic baby wipes available on the market.
By their nature, baby wipes do require the use of chemical preservatives, or they'll grow mold, so chemicals are unavoidable in baby wipes. Very few brands make pure, non-toxic baby wipes that don't use harsh chemicals and fragrances, or that minimize the use of undesirable chemicals.
What are the purest baby wipes?
Based on a detailed review of the ingredients in dozens of baby wipes, where looked for products with the cleanest ingredients and with the most desirable chemical profile (no synthetic fragrances, unnecessary ingredients, and a minimal use of safer preservatives), the cleanest baby wipes brands are:
What are the best baby wipes for sensitive skin?
For sensitive skin and babies with eczema, the best baby wipes are:
How do you store baby wipes?
You can either store baby wipes in their original packaging or you can transfer them to a wipes container. If you find that your preferred brand of baby wipes dries out quickly, you can store the package upside down so that the solution migrates to the top of the pile.
What can you use instead of baby wipes?
A lot of baby wipes on the market contain harsh chemicals, toxic fragrances, and chemical preservatives that can contribute to diaper rash, skin irritation, and other health issues for babies. If you're looking for an alternative to using traditional wet baby wipes, consider these options:
---