Looking for the best disposable diapers for your baby? Here are the top choices! These are the cleanest disposable diapers on the market right now.
It goes without saying that diapers will play a big role in your life once your baby is born. During the newborn stage alone, you'll probably change 8-10 diapers a day! Thankfully, that slows down as your baby gets older, but you'll still become an expert at changing diapers right out of the gate.
Unfortunately, not all diapers are made the same and it's important to look into the materials used in diapers since diapers come in direct contact with your baby for prolonged periods of time.
It's sad to say, but many mainstream disposable diapers contain toxic chemicals and fragrances which have been linked to asthma, hormonal problems, developmental delays, and worse. Thankfully there are a number of safer alternatives, including organic cloth diapers and eco-friendly or non-toxic diapers.
Maybe you plan on using cloth diapers at home, and using disposables when you're out. Or maybe you'll switch to cloth diapers after the first couple of months. It's up to you, and I realize that cloth diapering may not be practical or realistic for every family. (We personally chose to use disposable diapers with both our boys, though I do have regrets over this decision.)
While disposable diapers are far from perfect, I am happy to report that there are several safer brands for you to choose from.
What Chemicals Should You Avoid in Diapers?
Diaper manufacturers are not required to disclose all of their ingredients, and some companies won't even tell you what is in their diapers. That's a red flag that tells me that some diaper brands may contain even more harmful ingredients than we realize.
Chlorine and its Derivatives
Disposable diapers were traditionally made using wood pulp that was bleached with elemental chlorine. This process is toxic and results in a byproduct called dioxins. Dioxins are a class of highly toxic chemicals that accumulate in your body and can wreak havoc on the immune system. Dioxins are highly carcinogenic and they are also known to cause allergic skin reactions and skin irritations.
Thanks to growing concerns over the byproducts of chlorine bleaching, government regulations in the 1990s eliminated wood pulp bleached with chlorine gas. As a result, two safer bleaching methods have become the standard in wood pulp bleaching used in disposable diapers:
ECF: elemental chlorine-free pulp. [Not recommended] You'll now find diapers that are marketed using ECF pulp, which means that elemental chlorine is not used. However, the pulp is bleached with chlorine dioxide, which is a chlorine derivative and itself is a hazardous substance. This process reduces dioxins, but it believed that it does not fully eliminate them and simply that some testing mechanisms may not be able to detect their presence. Since the data is inconclusive, and chlorine dioxide is still a derivative of chlorine, I prefer to avoid ECF when possible. This process is safer than bleaching with elemental chlorine, but I do not recommend elemental chlorine-free diapers if and when there are better alternatives available.
TCF: total chlorine-free pulp. TCF is a bleaching process that does not use chlorine or chlorine derivatives. It is a much safer process because it uses oxygen, peroxide, or ozone-based bleaching systems. These methods are safer than using chlorine because they do not generate dioxins. This is the safest bleaching method you'll find being used in diapers at this time. Always look for TCF (total chlorine-free) pulp when possible.
NOTE: Don't fall for technicalities or greenwashing. It is NOT enough for a company to call their diapers "chlorine-free" because they may be claiming that it does not contain elemental chlorine while it does contain chlorine dioxide. Always look for pulp that is TCF total chlorine-free.
Related: The Safest Brands of Baby Wipes
Sodium Polyacrylate: Can It Be Avoided?
As far as I can tell, all disposable diapers contain sodium polyacrylate (SAP) because this is the material that makes diapers absorbent. If you have ever had a diaper break apart after a leak, you may have noticed sodium polyacrylate as small gel-like crystals on your baby's skin. (By the way, you should discontinue using any diapers that leak gels/crystals onto your baby's skin — and ask the company for a refund.)
Sodium polyacrylate is believed to cause skin irritations, and may or may not be a health hazard. It is the same chemical found in tampons that was linked to Toxic Shock Syndrome in women in the 1980s, though this may have been because women left the tampons in too long and created a breeding ground for bacteria.
Sadly, however, I have found that all disposable diapers contain some form of SAP, including eco-friendly and non-toxic diapers. Many also contain layers made with plastic that will also come in contact with your baby's skin. If you are able to use cloth diapers, this is the best way to avoid SAP and plastic-based ingredients.
Other Chemicals to Avoid
Here's a shortlist of other chemicals of concern commonly found in diapers:
Tributyltin. Another chemical found in many disposable diapers is tributyltin or TBT. This chemical is known to be extremely harmful to water life and may also cause skin problems in humans.
VOCs. Disposable diapers commonly contain volatile organic compounds (VOCs), which are chemicals that have a high vapor pressure at room temperature. The VOCs commonly found in disposable diapers include such chemicals as toluene, ethylbenzene, and xylene. These chemicals can evaporate and cause impaired immune function and damage to the liver, kidneys, respiratory system, and lungs.
Fragrances. Besides the chemicals mentioned above, fragrances, dyes, and plastics are all used in many disposable diaper brands. Anytime a company lists "fragrance" in their list of ingredients, it means they are not disclosing the full list of ingredients in their fragrance due to a loophole in the law that allows for the protection of trade secrets. This may contain phthalates, which are known endocrine disruptors. Using products that contain a nondescript "fragrance" puts your baby's skin in direct contact with these chemicals and puts them at risk of rashes, skin irritation, allergic reactions, and other health hazards.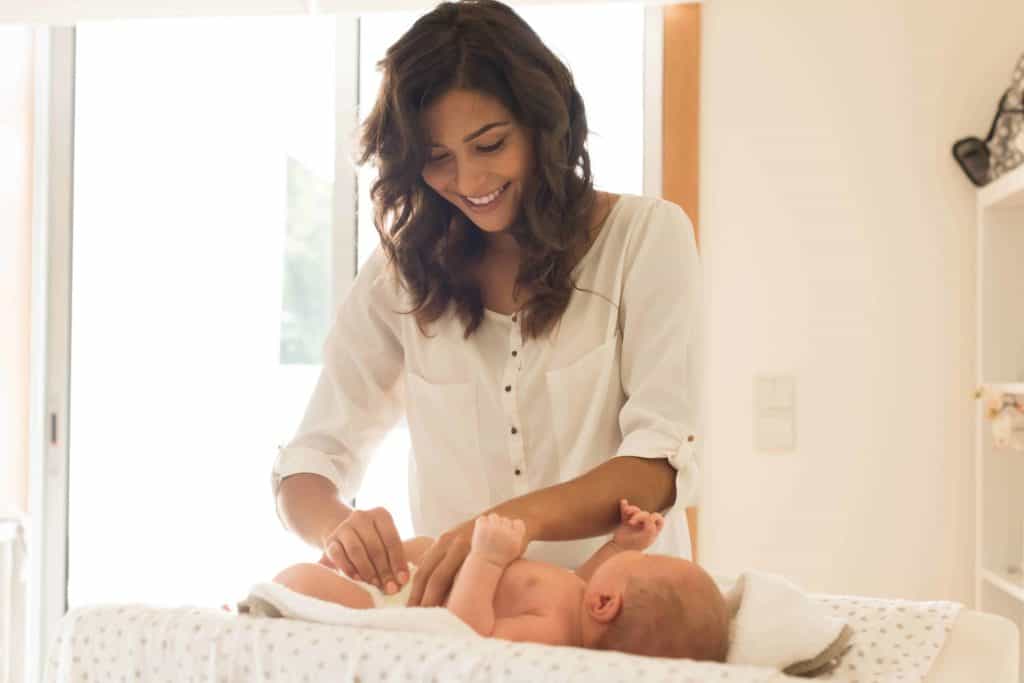 The Best Non-Toxic Disposable Diapers
To avoid these harmful ingredients (with the exception of SAP because it is in all disposables), choose disposable diapers that are made with safer materials. These diapers are safer than mainstream diaper brands because they use less harmful chemicals and materials, and provide:
Reduced risk of irritation and diaper rash
Reduced risk of allergic reaction
Reduced exposure to harsh chemicals and fragrances
While there is no perfect disposable diaper on the market, this list should provide enough reasons to forgo using mainstream diapers! And the best thing is that non-toxic diapers can be just as effective and absorbent as mainstream diapers. So, here is my list of the best non-toxic diapers.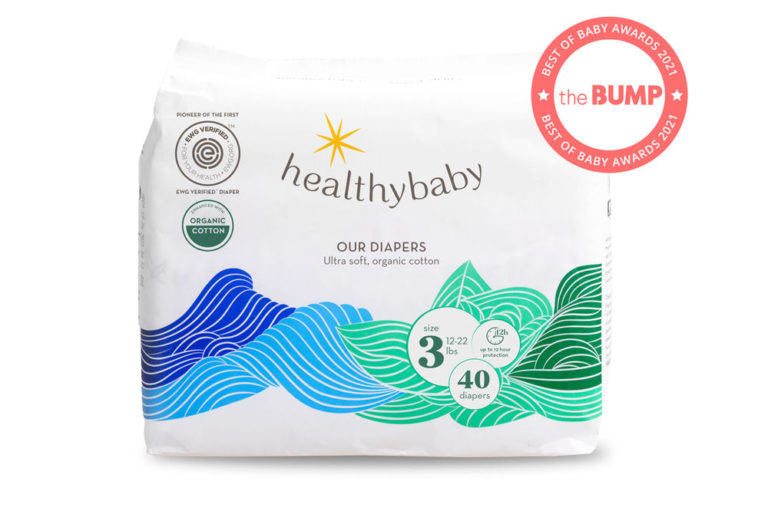 ---
---
`
Best Overall Non-Toxic Disposable Diaper
Made with organic cotton and Oeko-Tex certified, Healthynest tops our list of the best non-toxic disposable diapers. Featuring a plant-based inner and outer layer, all materials that your baby makes contact with are plant-based. Healthynest's diapers are free of chlorine, dioxins, phthalates, fragrances, and parabens.
Given their use of organic cotton and plant-based materials, Healthynest diapers are a great choice for babies with sensitive skin. They're also highly absorbent and great for overnight too!
I also like that these diapers are EWG verified because that means the company is transparent about their manufacturing process. Highly recommend!
---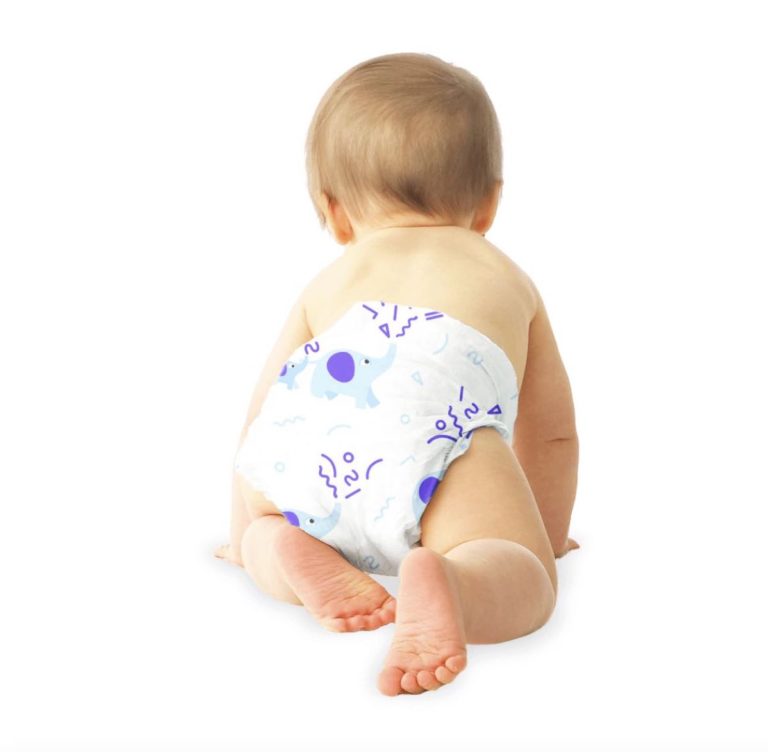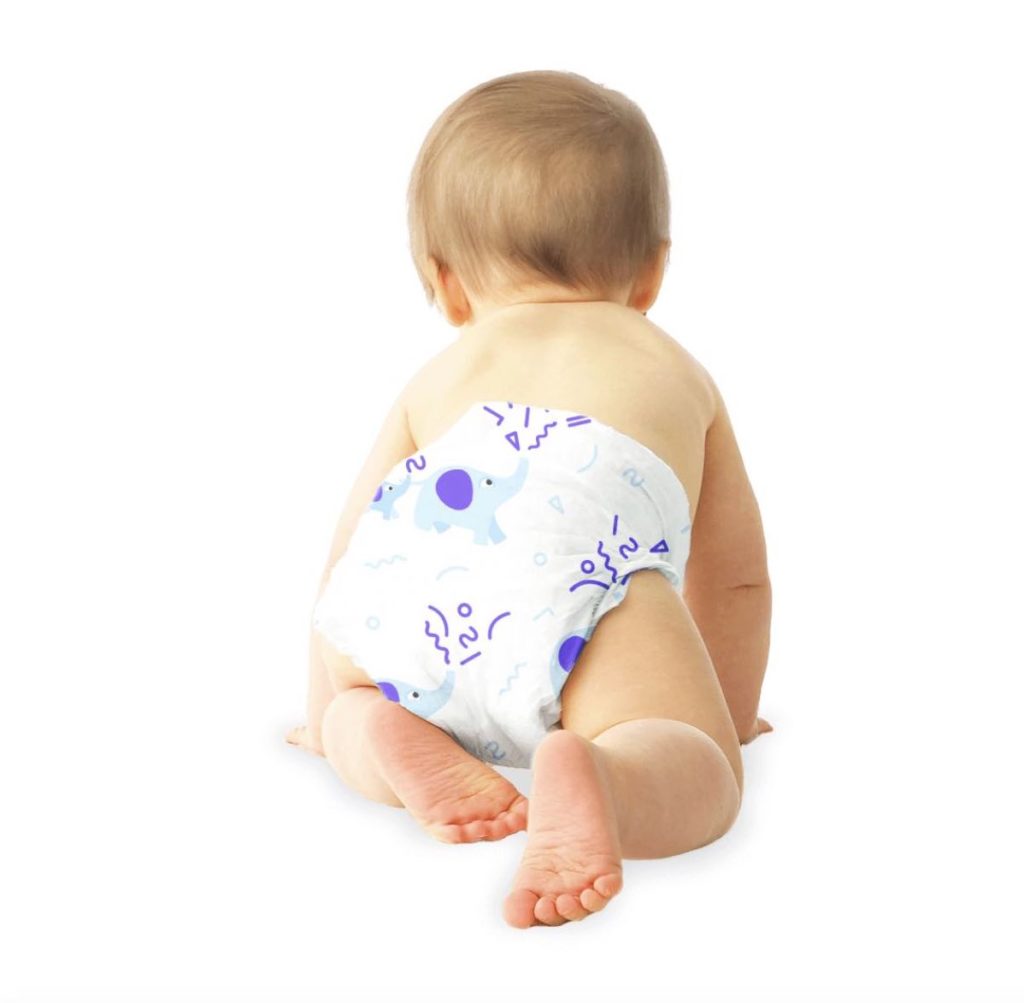 Kudos diapers also ensure that your baby only makes direct contact with cotton with a fully cotton topsheet. These Oeko-Tex certified diapers are highly absorbent and high-performing, while maintaining high non-toxic standards (no fragrances, lotions, parabens, phthalates, latex, or chlorine). They are made with TCF total chlorine free processing and plant-based biomaterials such as PLA from cornstarch and sugarcane.
Kudos diapers are very soft to the touch and parents love how absorbent they are (some even compare them to Huggies and Pampers, so that says something). If you are looking for a non-toxic disposable diaper that has a cotton topsheet and a wetness indicator, Kudos is a great choice!
---
---
---
EcOriginals, originally an Australian brand, makes a high-quality non-toxic disposable diaper. The only materials your baby will make contact with are the cotton topsheet, cotton leg cuffs, and non-GMO cornstarch. EcOriginals is focused on being a sustainable diaper brand and even their packaging is made from paper and is recyclable.
The diapers themselves are free from AZO dyes (love this), formaldehyde, heavy metals, and are total chlorine free. These diapers are absorbent and more than 90% biodegradable.
EcOriginals are available through:
---
Nest Diapers are plant-based diapers that are made with bamboo. They are Oeko-Tex certified and partially biodegradable and commercially compostable (i.e. not to be composted at home), meaning peace of mind for eco-conscious parents. The diapers are absorbent and phthalate-free.
Nest Diapers are available through:
---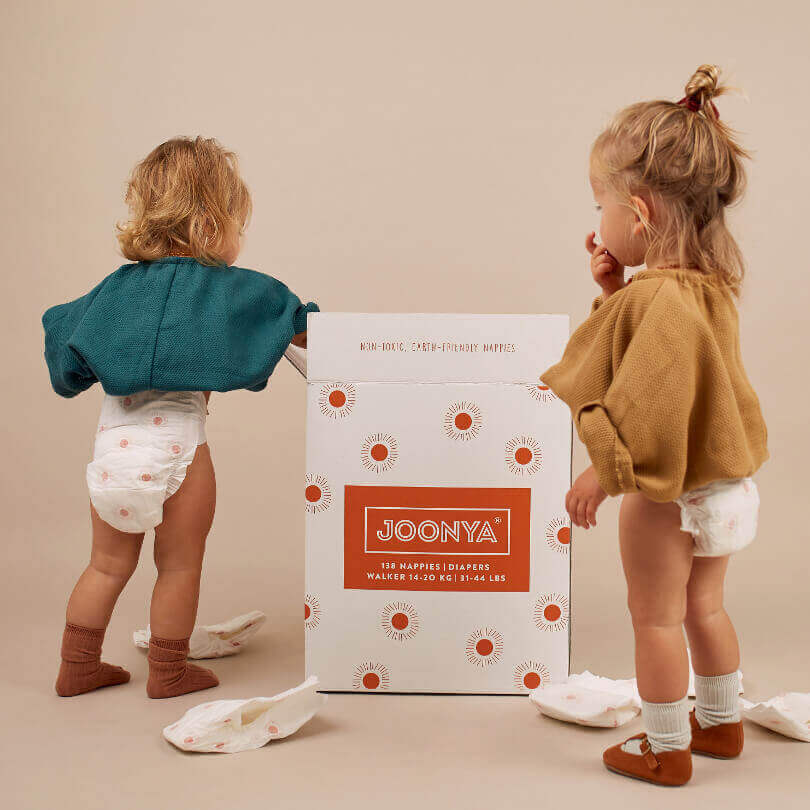 Joonya diapers are another brand coming out of Australia. While we've recommended their baby wipes for some time, the diapers are new to the list! Joonya's diapers are TCF chlorine-free, and made without parabens, latex, phthalates, perfumes, and heavy metals or toxic dyes.
Joonya Diapers are available through:
Eco by Naty diapers are also a great pick when you're looking for natural diapers because they contain no phthalates, organotins (MBT, DBT, TBT), allergens, carcinogens, heavy metals, chlorine, formaldehyde, colophonium, dyes, PVC, GMOs, dioxins, or any substances known to be harmful. They were TCF but are now ECF but the company has indicated there are no dioxins to worry about.
Naty diapers also don't have any fragrances or perfumes so you don't need to worry about skin reactions caused by questionable fragrance ingredients.
Eco by Naty Diapers are certified by the Swedish Society for Nature Conservancy, and are made from more than 60% natural biodegradable materials. Please note that they are made using cornstarch, which can be a potential allergen to the most sensitive of babies.
Developed in Sweden and made in Turkey, Naty Diapers are known for being absorbent and having a great fit.
Eco by Naty is available through:
---
Andy Pandy disposable diapers are chlorine-free, biodegradable, and eco-friendly. They contain no phthalates, BPA, PVC, alcohol, TBT, or preservatives. Andy Pandy diapers use an aloe liner to moisturize baby's skin and are breathable to help circulate air and keep baby's bottom dry. You'll also notice a wetness indicator like you'll find in many mainstream brands. A yellow line on the front will turn green when it's time for a diaper change. (This is a very helpful feature for the newborn stage when you will need to count wet diapers right after your baby is born.)
The company has also confirmed that they do not use any GMO materials and their diapers have been tested to not contain heavy metals. Andy Pandy diapers are a great option for non-toxic disposable diapers.
Andy Pandy diapers are available through:
---
Eco Pea Co. makes a soft and absorbent bamboo diaper. They are a great choice, especially for heavy wetting overnight. The diapers are TCF, meaning they were not made using any chlorine or its derivatives, and contain no fragrances, latex, phthalates, or lotions. If you are looking for a clean bamboo diaper, consider Eco Pea Co!
---
---
Similar to Andy Pandy diapers, Dyper is made from viscose fibers sourced from bamboo. They don't have any designs or patterns so you don't have to worry about any questionable dyes being used.
The diapers (dypers?) are soft and absorbent, and many parents are falling in love with this brand because of its affordability. The diapers contain no phthalates, latex, alcohol, perfumes, lotions, TBT, or PVC.
To order Dyper, you would sign up for a monthly diaper subscription. The nice thing about this is that you can set it and forget it and Dyper will adjust your subscription using predictive modeling to estimate the size and quantity of diapers your baby needs based on their age. If they get it wrong or you simply need more diapers, they'll send you a replacement – and it'll arrive sometimes as fast as only a few hours.
You can also manage your subscription through Dyper's mobile apps. If you happen to be on vacation, for example, Dyper can also send you an extra shipment to your hotel or Airbnb.
Dyper is available through:
---
---
If you prefer bamboo diapers, EcoBoom is another great choice. The topsheet and bottomsheet are made from bamboo viscose and the pulp is TCF total chlorine-free. These diapers are pretty similar to Dyper and Andy Pandy, and they also have a wetness indicator at the front. They are very absorbent and great for overnight.
EcoBoom is available through:
---
11. Happy Little Camper
Made with non-GMO cotton blend topsheet and TCF total chlorine free, Happy Little Camper is a new addition to this list of the best non-toxic diapers. Made without fragrance, phthalates, parabens and latex-free, Happy Little Camper is a good choice for your baby's diapers. They do contain synthetic fabrics as well as aloe vera and vitamin E, so if you have a super sensitive baby, you might want to avoid these added soothing ingredients.
Happy Little Camper is available at:
**NOTE: All of the diapers below are made with synthetic topsheets**
---
Sold exclusively at Target, Millie Moon diapers are a great choice for parents who prefer to buy their diapers in-store. Millie Moon diapers are TCF total chlorine free, made without chlorine processing or bleaching, and are also Oeko-Tex certified.
However, please note that while they are Oeko-Tex certified, these diapers are made with polypropylene nonwoven fabrics and polyethylene film. So if you're set on choosing a diaper with a cotton topsheet, this is not the right choice for you. But if you're looking for something relatively cleaner and easily accessible at your local Target, Millie Moon is a good choice — even as just an occasional backup.
Bambo diapers are a favorite not only because they are super absorbent but because they contain no allergens, perfumes, or harsh chemicals. That means you won't find any elemental chlorine, formaldehyde, phthalates, PVC, heavy metals, carcinogens, latex, odor inhibitors, lotions, or any other substances that are known to be harmful. Bambo's breathability is noteworthy, and your baby will still feel dry with a full diaper, which keeps them free of those pesky diaper rashes. Bambo Nature diapers are made in Denmark.
We used Bambo's classic (green bag) diapers for many years, since my oldest was just a couple of weeks old. I tried a few other brands of diapers, but none even came close to Bambo in absorbency, comfort, fit, and ingredients. Even with a full overnight diaper, my boys were still dry thanks to the absorbency and breathability. This is also one of the reasons we hardly ever got redness or diaper rashes – your baby's bottom will stay dry with these diapers.
Bambo also rebranded their diapers and launched the new (white bag) diapers. These have a wetness indicator, which is perfect for the newborn stage when you need to count wet diapers to make sure your baby is getting enough milk. The new diapers also feature a new design and seem a little thinner and softer than the classic version. However, other than that I couldn't identify much of a difference except that maybe they are slightly flimsier than the classic Bambo diapers. (I preferred using the classic diapers.)
Bambo Diapers are available through:
---
Coterie diapers are known for being super soft and highly absorbent. They use a special fabric webbing technique that gives the diapers a unique garment-like feel. The diapers are TCF total chlorine-free and made with wood from sustainable forests. These diapers are "okay" in the sense that they are TCF but the backsheet is made from polypropylene and polyester, which isn't ideal. However, I've had a lot of readers use and love Coterie and they make the list for being TCF and being made without fragrances, phthalates, dyes, and parabens.
Coterie is available at:
---
---
---
---
Though I don't use many Honest Company baby products, their diapers are pretty well-made and very absorbent. However, their diapers have gone through many changes and have been reformulated to be less plant-based and more petroleum-based over the years. Honest Company diapers were reformulated in 2018, and now the inner layer is made from polyethylene and polypropylene, which is unfortunate since they previously used a plant-based PLA inner layer. So, please note that your baby will come in direct contact with these plastic-based materials.
However, their super-absorbent core is made from TCF fluff pulp that was harvested from sustainably managed forests. Their diapers are made without fragrances and lotions, but they do use odor inhibitors.
Overall, Honest Diapers are still a great and reliable choice, but I wish they would have kept their old design!
Honest Company Diapers are available at:
---
---
Parasol diapers are free of heavy metals, latex, and chlorine (they are TCF), but the diapers do contain polypropylene. The company uses fluff pulp harvested from sustainably managed forests for absorbency. The company places an emphasis on breathability and uses embossed fabrics to enhance breathability, making the diapers gentler on your baby's skin.
Parasol diapers have received certifications from several environmental organizations which show its commitment to providing environmentally safe products. They use water-based inks and their diapers are super cute and feature designs from emerging artists in the United States.
Parasol Diapers are available through:
---
---
ABBY & FINN diapers are made with TCF pulp, and contain no chlorine or its derivatives, heavy metals, latex, fragrances, lotions or moisturizers, known allergens, or dyes. When ordering, you have the option to choose multiple sizes and patterns, which is a nice convenience.
However, these diapers are made using polypropylene, polyethylene film, and polyester. If you are trying to avoid most synthetic materials, you'll want to stick with a different brand of non-toxic diapers listed here.
Abby & Finn is available through: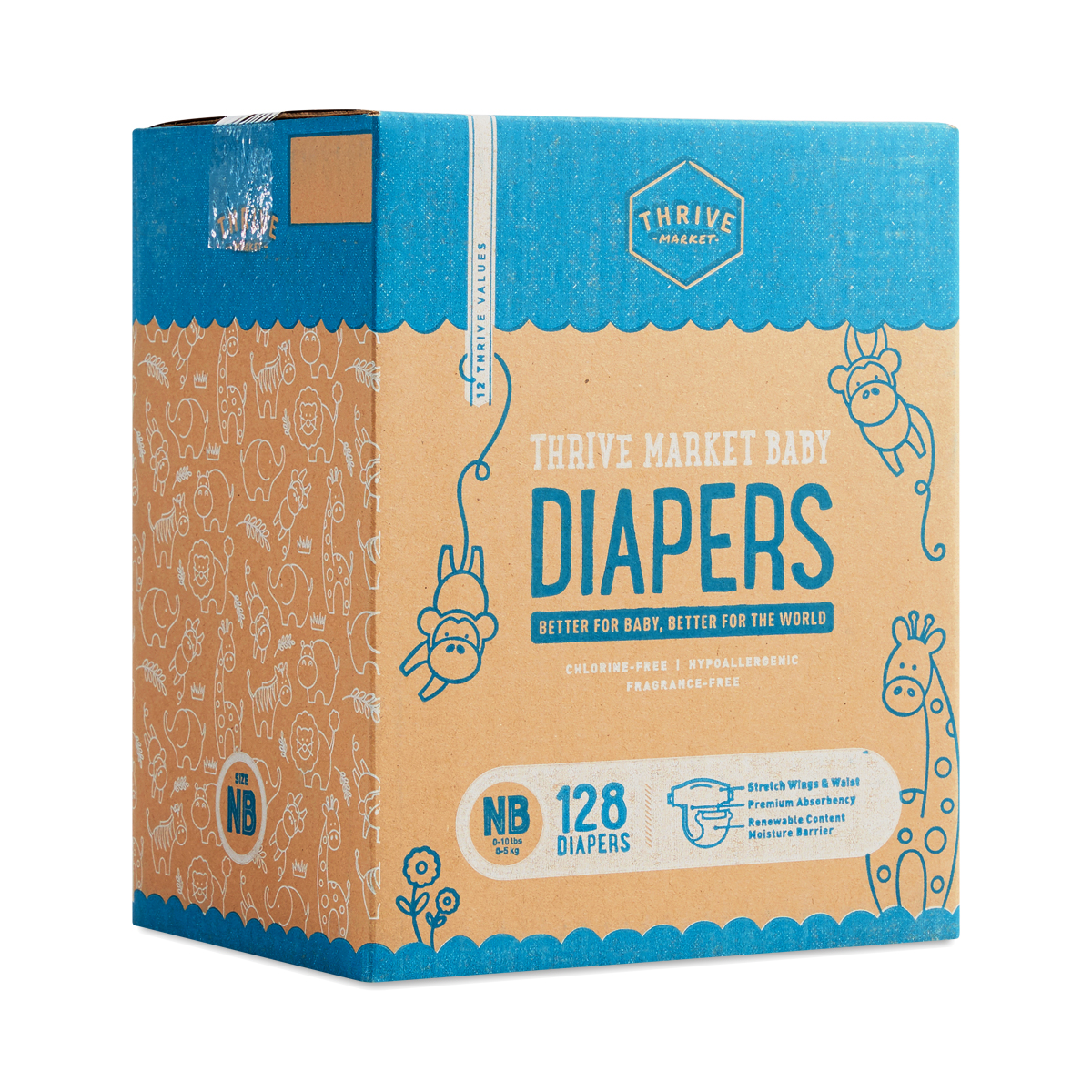 Thrive is an online market that sells products made with renewable and sustainable raw materials. Their diapers are no different, given the company's commitment to using natural materials and avoid petroleum-based materials whenever possible. Besides being better for the environment and safer for your baby, these diapers are also known to be super absorbent so it's a win-win all around!
The best thing about these diapers? Their price. They come in at around 19 cents per diaper, which is pretty amazing for any brand on this list of non-toxic diapers. A few things to know before choosing this brand: the newborn size can run pretty small (so I wouldn't stock up in advance), and these diapers aren't as soft as some of the other diapers on this list. They also contain a "plant-based" absorbent core made from GMO corn that I'm not 100% crazy about. Otherwise, they are a great pick for a safer diaper on a budget.
---
Pampers Pure is the company's venture into non-toxic diapers. And what's great about this line is that they are easily accessible at stores like Walmart and Target, and they are much cleaner than their traditional diapers.
Their diapers are TCF total chlorine free and fragrance-free, and are made with a mix of cotton, polypropylene, and plant-based materials. The main reason I didn't rank this brand higher was because the company doesn't disclose all of their materials, claiming they are proprietary. So while these may be good in a pinch, I wouldn't enthusiastically recommend them for everyday use.
Pampers Pure is available at:
---
---
How to Save Money on Non-Toxic Diapers
Buying non-toxic disposable diapers is definitely an investment in your baby's health. They can run from 20-50 cents or more per diaper, depending on which brand you buy and where you shop. At the same time, diaper deals on mainstream brands like Huggies and Pampers are nearly everywhere, making it really tempting to forgo your commitment to only using eco-friendly diapers.
The great news is that Amazon offers a 20% discount on diapers to Amazon Prime members with its Subscribe & Save program. All you have to do is sign up to be a member of Amazon Prime, join Amazon Family for free, and sign up to receive diapers on a regular schedule. You can choose delivery dates ranging from 1-6 months, according to your own needs and preferences.
We have a 6-pack box of diapers delivered to us each month, and it means that I never run out of diapers! (Or have to keep track of how many I have.) The nice thing is that even as your baby grows in size, you'll be able to easily change your diaper subscription because Amazon will email you a reminder before sending each shipment.
Having your diapers and wipes on auto-ship is one of my favorite tips for new moms. If you aren't already a member of Amazon Family, sign up for a free 30-day trial today.
---
Investing in non-toxic diapers is one of the most important decisions you can make for your baby. Because of such prolonged use, the risk of exposure to toxic substances from traditional diapers is high and simply not worth the cost savings that you'd get from using mainstream brands. Natural diapers like the ones listed above can run you anywhere from 20 to 60 cents per diaper, but your baby's health is worth it.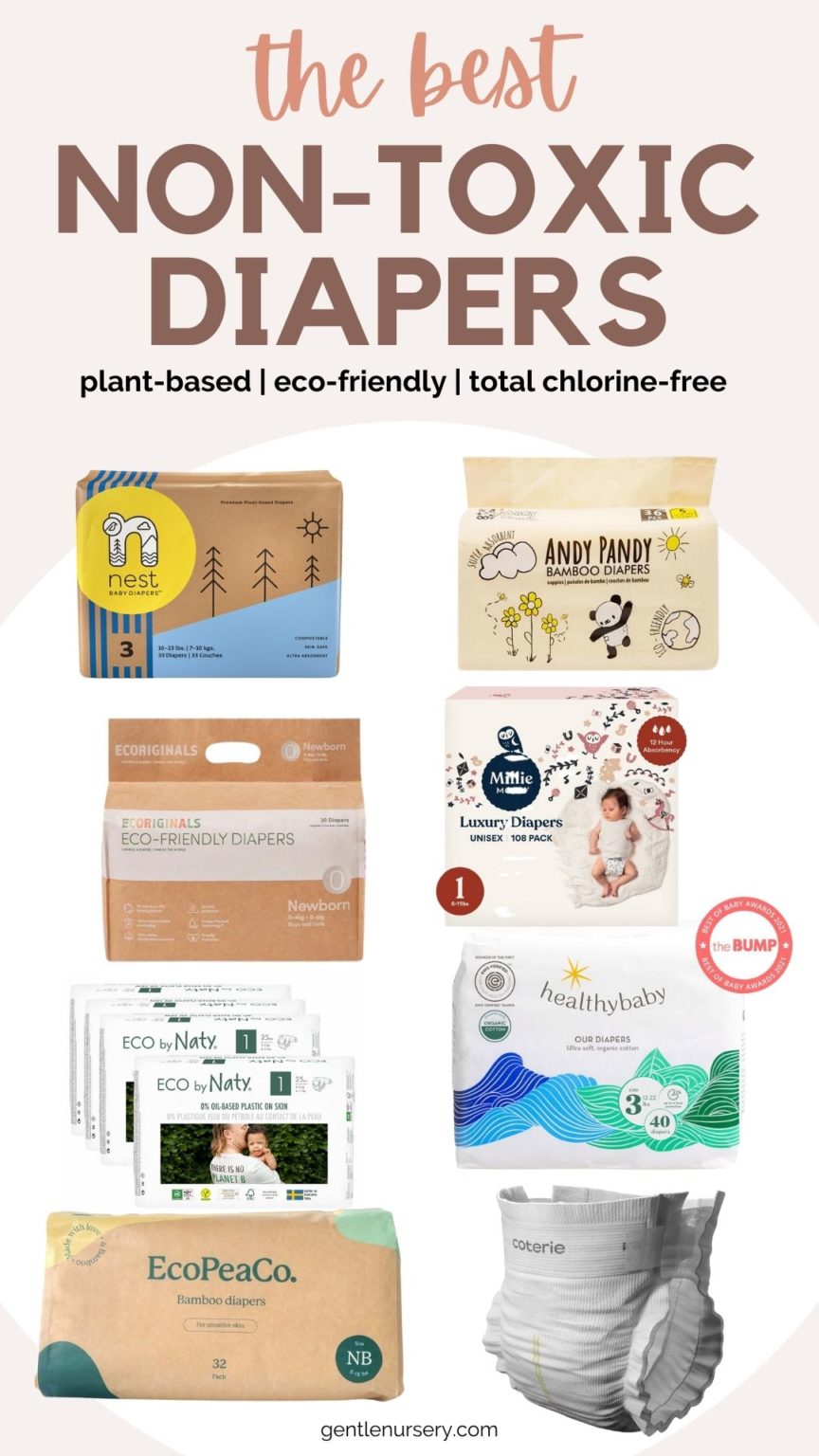 More Non-Toxic Baby Gear Guides: