As parents, we always want the best for our children. If breastfeeding isn't an option, or if you're looking to supplement with a healthy organic baby formula made with high-quality ingredients, consider Kendamil Organic Baby Formula. Kendamil is a nutrient-dense formula that is made with top-notch ingredients from local, traceable sources.
I know it isn't easy to decide which formula to try for your baby. This article will cover everything you need to know about Kendamil baby formula to help you make the best choice for your little one.
About Kendamil Organic Baby Formula
Kendamil is made in the United Kingdom, which is no surprise why it's also the choice of the British Royal Family. A family-run company, Kendamil has almost 60 years of experience in infant nutrition. The company's founder comes from a farming and food science background, and is passionate about making a premium infant formula with quality ingredients that the company sources locally.
What impresses me most about Kendamil is the company's hands-on approach to ensuring every step of their manufacturing process meets the highest standards.
Every can of Kendamil is designed, formulated and hand-crafted in-house by the expert Kendamil team. In fact, Kendamil is a popular choice among celebrities and high-profile parents in the UK and across Europe that are seeking the most natural, traceable, and sustainable formula for their little ones.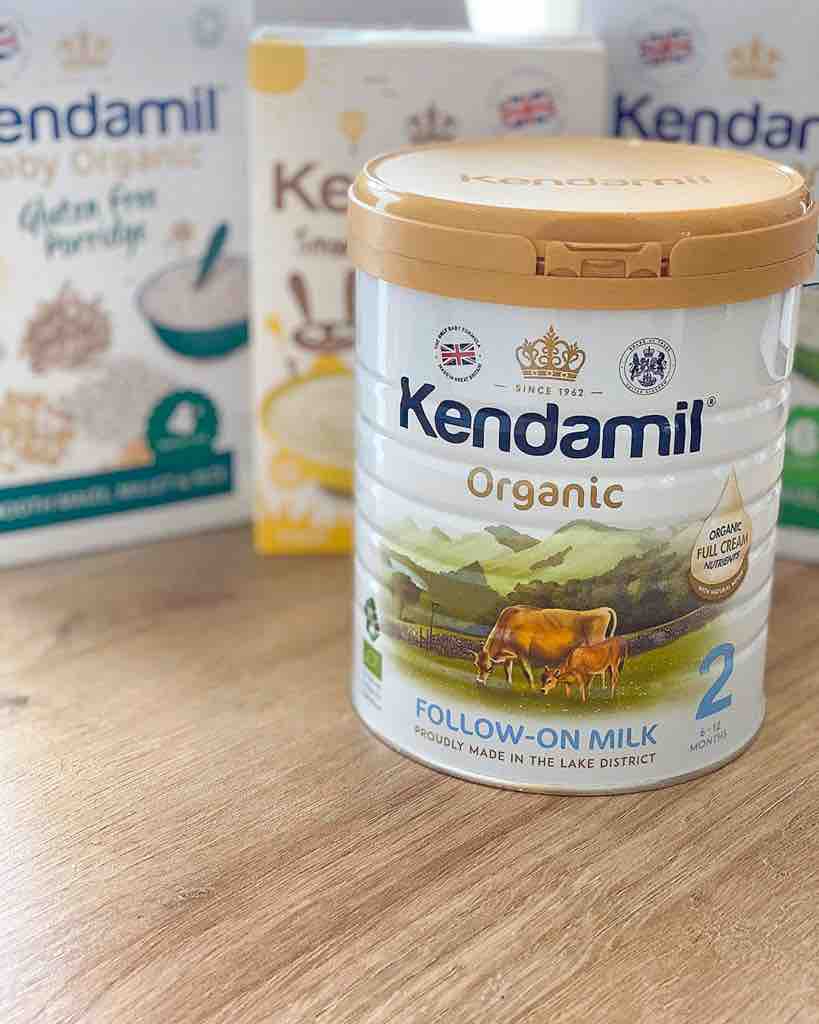 Why You Should Consider Kendamil Baby Formula
1) It starts on the farm
Kendamil's high standards begin on the farm. Kendamil lets their pasture-raised cows happily graze their pastures. Unlike a lot of other formula brands who process milk using large-scale industrial farms, Kendamil exclusively partners with 220 local family farms in the UK. All farms are organic and Red Tractor certified, meaning they meet the highest standards of quality and care throughout the supply chain, from farm to formula.
By partnering directly with these farmers (who Kendamil has direct relationships with), they ensure the highest standards within their supply chain while also minimizing their carbon footprint and obtaining a high natural milk fat level essential for optimal infant nutrition.
2) Kendamil's organic certifications
European baby formulas are popular for a reason. European organic standards and farming regulations are much stricter than US organic standards. Kendamil is certified organic by the EU and, in addition, Kendamil meets even stricter standards of the British Soil Association. The UK Soil Association sets stringent test interpretations of the European organic guidelines allowing only 5% non-organic vitamins/minerals.
The standards for European formulas make pretty remarkable requirements including no GMOs, no pesticides, and no use of hormones or antibiotics. The farming techniques also require crop rotation and specific attention to animal welfare.
British dairy is also celebrated as being among the highest quality in the world. The United Kingdom's temperate climate produces really beautiful lush green grass on large swathes of pastured land and allows cows to graze outdoors the majority of the time.
With access to indoor housing and milking twice per day, cows have a stress-free environment and a healthy diet supplemented with silage and hay from grass production during winter. This is a huge benefit to the baby formula—because cows can graze outdoors throughout the year, their milk is often richer in Omega-3 fats, Vitamin E beta-carotenes and CLA fatty acids.
All crucial ingredients for optimal infant nutrition!
3) Kendamil formula uses natural and healthy fats—and no palm oil!
There are very few baby formulas that do not contain palm oil. In fact, most multinational formula brands use vegetable oils, including palm oil, as the primary fat component in their organic products.
Because a mother's breast milk contains up to 30% milk fat, many formula companies add vegetable fats such as palm kernel fats and oils, rather than mammal milk fats, to meet WHO guidelines. The problem is that palm oil has been proven to lower calcium, fat absorption, and bone mineralization in infants.
It's also really difficult for a baby's immature digestive system to process palm oil. In addition, palm oil is well-known for devastating our planet's rainforests, wildlife, and indigenous populations, harming the world our babies will inherit.
By using a traditional recipe, Kendamil uses natural full-cream mammal milk fat nutrient, which means a high concentration of medium chain triglycerides (similar to breast milk triglyceride composition) to help with calcium absorption, digestibility, and fat absorption.
This means that Kendamil avoids the need for palm oil and uses less vegetable oils overall. Kendamil uses a blend of coconut oil, sunflower oil and canola to provide essential linoleic acid and alpha linolenic acid, which infants need as a supplement in addition to the full cream milk fat. Ultimately, this composition is closer to breastmilk.
4) Kendamil contains no fish oils
Kendamil uniquely sources their Omega-3 DHA from plant-based pure marine algae (this is what fish eat to obtain their Omega-3), which can be really appealing to parents wanting to avoid fish—usually due to allergy concerns. The algal DHA is extracted without the use of chemical solvents or hexanes. By going to the source, Kendamil provides a non-allergen, plant-based source of essential DHA.
5) Kendamil's whole-milk formulation
Rather than use a skimmed milk base, which requires high levels of processed vegetable oils, Kendamil has formulated a recipe using a whole milk base and containing the highest level of full-cream nutrients. Each drop of milk used by Kendamil is sourced directly from pasture-fed cows in England and contains critical nutrients such as MFGM (Milk Fat Globule Membrane), scientifically proven to support infant cognitive development.
Furthermore, whole milk contains naturally-occurring fat-soluble vitamins and minerals that babies need for growth and development. If you look closely at some baby formula labels, you might notice that they contain skim milk. While this isn't unsafe for babies, those formulas typically have to add vitamins back into the formula since skim milk doesn't provide them.
An added benefit we certainly can't underestimate is that whole milk has a really yummy, rich, and creamy taste that babies love!
6) Uses lactose as the carbohydrate
Unless your baby has lactose intolerance, lactose is the best primary carbohydrate that a baby formula can include. If you look at cheaper, processed substitutes for lactose you'll find: maltodextrin, corn syrup, glucose syrup solids, sugar, brown rice syrup, and sucrose. In formulas that are hypoallergenic, some of these ingredients may be unavoidable. But for regular, organic baby formula, these ingredients should not be included as a source of carbs.
Kendamil Stage 1 uses 100% lactose for their carbohydrate, meaning your baby will be getting the best carbohydrate without the non-lactose sugars. Lactose is naturally broken down slowly in the baby's digestion process and has a low glycemic index, which is just what a little one's belly needs!
7) Kendamil is soy-free
Kendamil uses the full cream nutrient from cow's whole milk to provide a source of naturally-occurring proteins, and on top of that, uses no soy ingredients (no soy oil, no soy lecithin and no soy protein). Why does this matter? Research has shown that too much soy in infancy can possibly have negative effects later in life.
8) Contains none of these ingredients…
In addition to these benefits, Kendamil doesn't contain any: GMOs, lutein, lycopene, nucleotides, taurine, L-methionine, added sugars, or synthetic ingredients. Phew!
9) It's environmentally friendly
Kendamil is an extremely environmentally conscious brand. Each step of the production process has been carefully mapped out to minimize the formula's impact on the environment.
By working exclusively with hand-picked local farms, Kendamil has a low carbon footprint. And by avoiding palm and fish oils, Kendamil helps protect our rainforests and oceans.
Finally, all Kendamil products are stored in recyclable metal cans, perfect for re-use or even as plant pots!
What are the Differences Between Stage 1, 2, and 3 of Kendamil?
As with most baby formulas, they are divided into three stages. You'll want to pick the best for your baby by age. To help explain further, I've outlined the differences below.
Kendamil Organic Infant Formula Stage 1
Kendamil Stage 1 is suitable from birth to 6 months. You can use this formula to replace breastmilk or use alongside it as a supplement. Kendamil stage 1 is based on the same whey to casein ratio as breast milk which is 60% whey and 40% casein.
This formula is easy on digestion due to the use of whole milk and no palm oil, and it contains all essential vitamins, including MFGM, iodine and iron (for cognitive development), calcium and vitamin D (for growth and bone development), iron, zinc and vitamins A, C & D (for the immune system), and DHA (for visual development). Lactose is the only carbohydrate used (Stage 1 is 100% lactose), and along with natural milk fats, a combination of coconut, sunflower and canola oils form the primary fat source.
Each Kendamil product comes in a recyclable metal can (better for storage and shelf life) with instructions. You'll get approximately 31 bottles per can.
Kendamil Organic Infant Formula Stage 2
Kendamil Stage 2 is a "follow-on" milk perfect for babies aged 6-12 months.
Kendamil Stage 2 has been designed with a whey to casein ratio of 50% whey and 50% casein. This is more like cow's milk and is a great transition to cow's milk (or any other milk source you choose!). It is higher in minerals naturally found in milk like calcium, magnesium, and phosphorus.
Again, this Kendamil product comes in a recyclable metal can with instructions You'll get approximately 29 bottles per can.
Kendamil Organic Infant Formula Stage 3
Kendamil Stage 3 is for babies 12 months and onward. This "toddler milk" is perfect for parents who want to use formula into toddlerhood.
Kendamil Stage 3 is based on a whey to casein ratio, of 20% whey to 80% casein, allowing children over 1 year to be ready to be weaned onto normal cows milk of a similar whey to casein ratio. You'll note that the iron and calcium content is higher than Stage 2.
In this can, you will get approximately 29 bottles per 800-gram can.
Where Can You Buy Kendamil Baby Formula?
You can find Kendamil Formula in the USA over at My Organic Company.
My Organic Company was founded in 2017 by two parents, Cecilia and Kevin, who are dedicated to ensuring that organic European formulas are available to parents who want them in the US. The company has multiple warehouses across the US and Germany to ensure safe, fast, and reliable shipping.
My Organic Formula ships free on orders over $50, and you can receive an additional 5% off by using the code "GENTLENURSERY" at checkout. Also note that you can sign up for subscribe and save to save an additional 5%.
FAQs About Kendamil Organic Baby Formula
How do you prepare Kendamil Baby Formula?
Here are the steps to preparing Kendamil baby formula.
Boil water: Boil water on the stove for up to 5 minutes and then let it cool. This ensures that the formula is sterile and safe to use for your baby. I always recommend using filtered water.
Measure water and formula needed for the size bottle you want to prepare.
Pour half of the water into the bottle, add formula, close bottle and shake.
Add remaining water, shake and check temperature. The formula should be body temperature. You can check by putting a few drops on your wrist.
Please read their mixing guide to know exactly how much formula and water to use for each bottle. This will vary based on formula stage and your baby's age.
How long does stored formula keep?
Mixed formula lasts for 24 hours in the refrigerator, but should be consumed within 2 hours if stored at room temperature. Always clean and sterilize baby bottles before and after use.
What are the benefits of baby formula made in Europe and the UK?
Kendamil is certified organic by the EU, where the product can have a minimum organic content of 95%. There are also strict rules for the remaining 5% of agricultural ingredients.This means that the product cannot have sucrose, pesticides, and no GMOs. Kendamil also meets the standards of the British Soil Association, ensuring that organic food production meets certain benchmarks extending not just to the organic food, but to the production of it, including packaging, additives, and animal welfare. Ultimately, you'll get a clean baby formula that you can trust for your baby.
Is Kendamil safe for infants?
Yes! Kendamil is perfect for age newborn through early toddler age. Kendamil stage 1 is for ages 0-6 months; stage 2 is for 6-12 months; and stage 3 is for 12+ months. Kendamil uses the best, most high quality ingredients to ensure that each portion of formula is safe and healthy for your baby. As with any baby formula, I suggest you run it by your pediatrician for approval as every baby's needs are different.
Have you tried Kendamil? I'd love to hear about your experience!