If you've been searching for the best organic baby formula, chances are your quest has led you to consider European baby formulas. They're popular for a reason — European organic standards and farming regulations are much stricter than US organic standards.
The standards for European formulas make pretty remarkable requirements including no GMOs, no pesticides, and no use of hormones or antibiotics. Beyond these material differences, there aren't many organic options on the American market, so many parents opt for European baby formula where there is an abundance of options.
Whether you're going to Kendamil, HiPP, Holle, Loulouka, or another European brand, finding a legitimate source of European baby formula that ships to the United States can be somewhat complicated and sometimes even frustrating. To help you avoid dealing with shady importers, I've gathered the best and most cost-effective shops that sell top-rated organic European formulas to customers in the United States.
1. Organic Baby Food 24 (Our Pick!)
Savings Alert! Take 10% off your purchase at Organic Baby Food 24 (baby formula) with coupon code GN10.
Organic Baby Food 24 is a well-established retailer of European infant formula based in Germany, though they only carry German brands like HiPP, Holle, and Lebenswert. Given that they export their products directly to you, they rarely have any issues with stock, so you can always count on them having everything ready to ship out. If you have questions about products, formula stages, or shipping, they have a great staff for expert support, so be sure to ask them!
While standard shipping takes 10-20 days, they do offer expedited shipping so you can receive your order within 2 days. Based on my research their formula costs a bit less than most other vendors. One of the downsides is that while their prices for formulas are lower, they don't offer free shipping.
Organic 24 Offers: Holle, HiPP, Lebenswert, Loulouka
2. Organic Formula Shop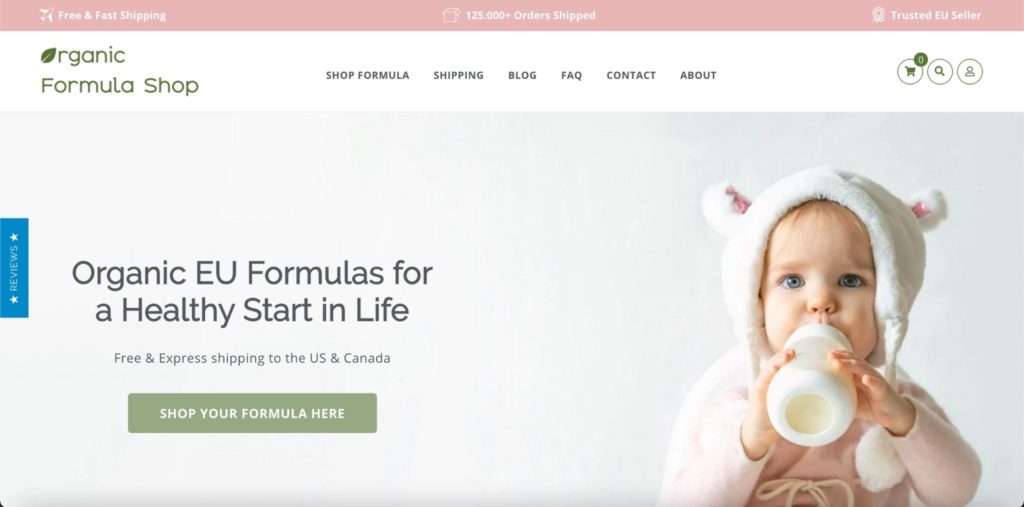 Savings Alert! Save an extra $5 on your order with code GENTLE.
Founded by Dutch parents who spent some time living in the US and knew how hard it was to get quality European baby formula, Organic Formula Shop allows you to import popular European baby formula brands directly from Europe. The founders are very hands-on with the company and strive to offer American and Canadian parents a premium experience importing baby formula from Europe.
As of the time of publishing, Organic Formula Shop offers free express shipping on all orders. Formula is kept and ships from their temperature-controlled warehouse in the Netherlands. If you are shopping HiPP or Holle formula, definitely look at Organic Formula Shop.
Organic Formula Shop Carries: HiPP and Holle
3. The Milky Box (new!)
Savings Alert! Save an extra 5% on your order with code GENTLENURSERY.
If you're looking for a European baby formula distributor in the US with a wide selection of premium brands, check out The Milky Box. They might possibly have the largest selection of European baby formula brands.
The owners are experienced with sourcing European baby formula and are committed to helping parents on their feeding journeys. With a direct manufacturer supply chain, The Milky Box can pretty much always stay in stock.
They've chosen a great range of formula brands that you can shop, ranging from Kabrita and Kendamil to your HiPP and Holles. Bundle orders (6 or more bottles) ship fast and free with The Milky Box's free express delivery service.
The Milky Box carries: Bebe M, HiPP, Holle, Jovie, Kabrita, Kendamil, Lebenswert, and Premibio.
4. Formuland
Formuland is a reliable, reputable retailer. They carry most of the big-name brands like HiPP, Holle, Lebenswert, Kendamil, and other specialty formulas. If you visit their website, you'll see that they include a good amount of information about each formula they offer, which can be useful if you're still searching for the right one for your baby. Note that, while they don't offer live support for any questions you may have, they do respond to inquiries via email form.
Most orders ship the same day as long as you place the order early enough, and they ship from California, so you can expect your order fairly quickly. You can also receive free shipping on orders over $100, so definitely think about buying in bulk!
Formuland Brands Include: HiPP, Holle, Kabrita, Kendamil, Lebenswert, Loulouka, Nanny Care
5. Organic's Best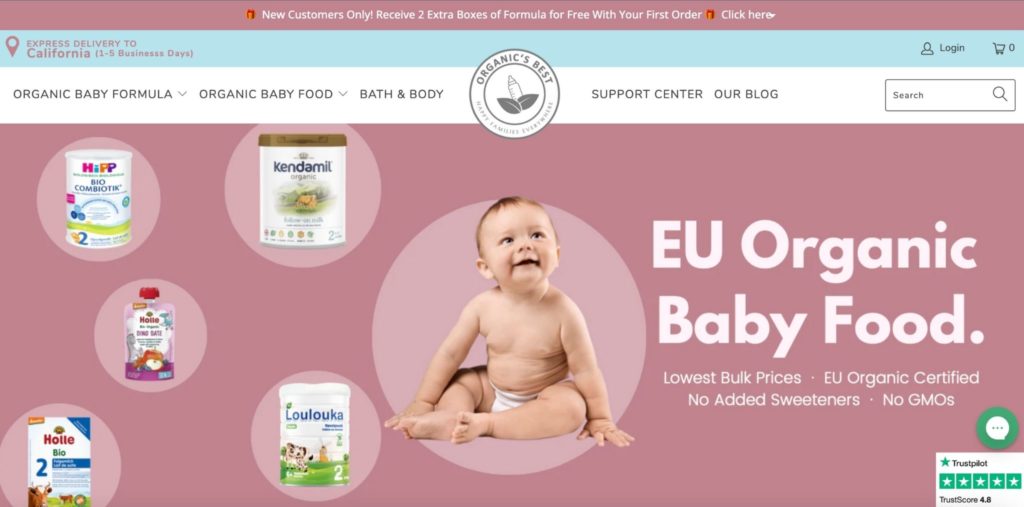 While Organic's Best does not offer a huge array of brands, they offer an extensive selection of the most popular, top-rated brands including Holle, HiPP, Loulouka, and Lebenswert. Every stage and formula version can be found here for these brands! Each product is extensively described which should help you find the right one for your baby. Whether you want to compare nutrition facts or preparation directions, it's all there for you to browse.
As with most companies shipping worldwide, delivery times will vary, but they do work with DHL Express to ensure that they can ship all of their formulas fast and easy. You can choose premium express delivery and receive your order within 4 days, or you can opt for standard free shipping, which can extend up to 21 business days. Know that you have options and all of it is insured!
One unique feature of their website is their guaranteed availability. You will find everything you're looking for on their website that they currently have stocked. Also, note that they offer organic baby food (for when the time comes). Like many vendors, they provide a bulk discount if you decide to purchase many boxes of formula at once.
Organic's Best Brands Include: HiPP, Holle, Lebenswert, Loulouka
6. My Organic Company Store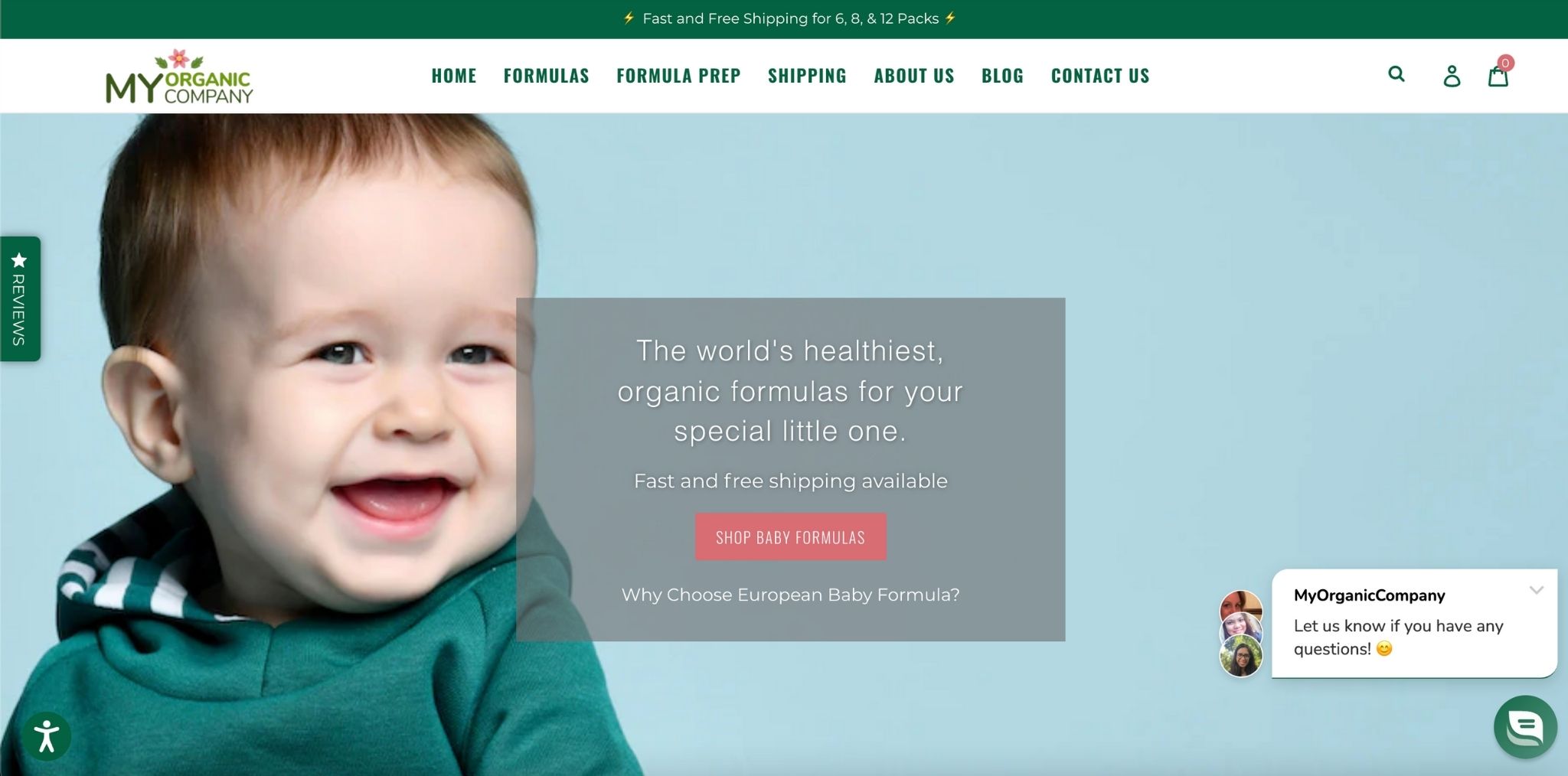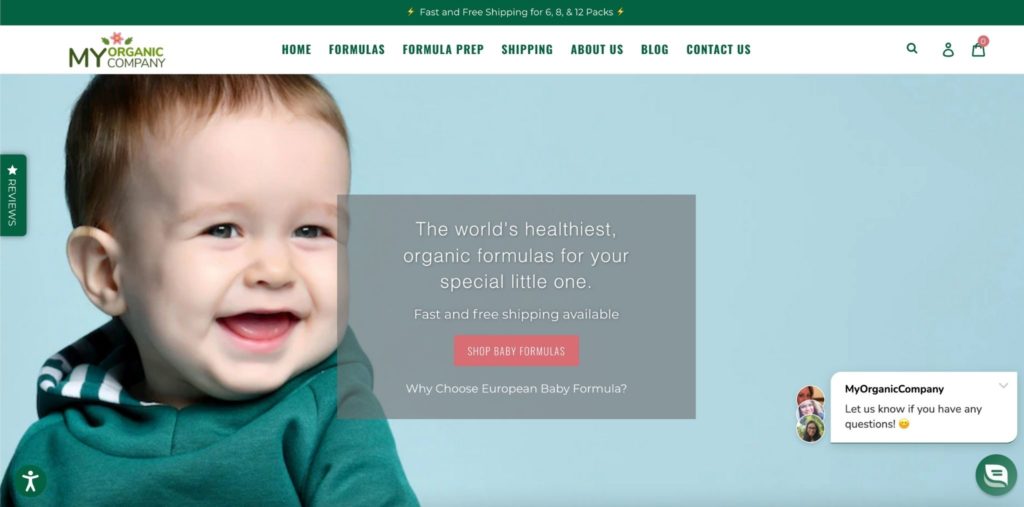 My Organic Company Store has a wonderful selection of European baby formula brands, including Kendamil, HiPP, Holle, Lebenswert, and Loulouka. They are definitely a reliable platform and distributor for your baby's formula, and it all comes at a fair price. And, with orders over $50, you can get free shipping.
With so many options, you'll likely be able to find the perfect one for your baby. You'll also find a lot of useful information and additional resources on their website including some good instructions on formula types and the best way to prepare each.
Brands You'll Find at My Organic Company: HiPP, Holle, Kendamil, Lebenswert, Loulouka
Ready to Order?
That does it for our list of the best places to buy European baby formula. I hope this list is helpful! I know that many parents struggle with the decision to use formula and then the decision regarding which formula to use. You shouldn't have to worry about where to buy baby formula! Thankfully after years of working with these companies, as well as the positive feedback from my readers, I feel comfortable recommending these companies.
---
FAQs About European Baby Formula
What are the main differences between American and European baby formula ingredients?
Overall, European baby formulas use healthier ingredients and are held to higher standards than American formulas. For example, lactose is the best primary carbohydrate for babies because it is naturally broken down by a baby's digestive system and has a low-glycemic index. Many American formulas substitute lactose for less expensive carbohydrates like corn syrup, maltodextrin, and table sugar. These substitutes are unhealthy, and studies indicate that there may even be a link between ingredients like corn syrup and obesity, cardiovascular disease, liver disease, and type 2 diabetes. European standards actually stipulate that the carbohydrate content in baby formula must be at least 30% lactose.
European formulas also include whey, which is the same protein component of breastmilk. They also contain less palm oil, which in larger quantities has an environmental impact and may cause issues for your baby, from digestive gas issues to more serious concerns like lower calcium and fat absorption. Many European formulas also contain prebiotics and probiotics for added digestive support.
Is European baby formula better for babies?
European baby formula is not regulated by the United States Food and Drug Administration (FDA). If you are thinking of giving your baby European baby formula, speak with your pediatrician first. It's very important that you feed your baby the correct amount of formula to ensure your baby's health, that it meets your baby's nutrient requirements, and that the formula itself has been handled safely.
What kind of milk is closest to breastmilk?
There is no such thing as perfect baby formula and nothing can replicate breastmilk. If you can breastfeed, definitely give it a try! Generally speaking, there is no one type of milk or formula that is closer to breast milk. I always recommend sticking with organic formula because it won't use any harmful ingredients like synthetic nutrients, GMOs, or pesticides. European formulas specifically have higher standards and healthier ingredients.
Can I give my baby 2 different formulas?
If your baby likes more than one kind of baby formula, it's fine to give your baby two different types. When introducing a new formula, you want to make sure to give it a few days and monitor your baby for any digestive issues before mixing another formula into the routine. As always, I recommend speaking to your pediatrician when making changes to your baby's diet as he/she knows your baby's health.
How do I choose a baby formula for my baby?
Start with your pediatrician to see what he/she recommends. And do your research! There are so many baby formulas on the market, and some really wonderful quality European formulas available. Head over to my article on The Best Organic Baby Formula to learn more about how to access good quality, nutrient-dense baby formula.
If you need some help choosing a baby formula for your little one, here are all of our articles on choosing a formula: