Looking for the best organic baby food pouches? It can be hard to know which ones are healthy and use the best ingredients, but we've found the healthiest organic baby food pouches.
I always feel like a super mom when I make homemade baby food for my little ones. Having full control over the ingredients, I can be assured they are getting a nutritious meal at home—and I love that.
However, I'm also a busy mom, and it's not always possible for me to achieve my ideal standards—especially with cooking. Sometimes you just need convenient baby food that's healthy and ready-to-go. So I've used baby food pouches more than once. And it's great knowing that I don't need to sacrifice the nutrients that my baby needs or my standards for healthy, organic ingredients.
When it comes to buying baby food pouches, there are many different choices available: refrigerated, shelf-stable, subscription-based, and more! That's why I took the time to research and review the best ones on the market. I wanted to create a complete guide to organic baby pouches to help you choose the highest quality brands for your baby.
The brands I've included in this guide are organic and made by responsible companies that have earned my trust. Read on to decide which brand is right for your little one and for the smartest ways to integrate baby food pouches into your baby's diet.
This article has been reviewed by Dr. Gina Jansheski, M.D., FAAP
Are Baby Food Pouches Good for Babies?
Organic baby food pouches are practically a parent's dream… the food is premade and prepackaged, has a long shelf life, and the brands listed below contain healthy, organic ingredients. All you have to do is unscrew the cap and hand it over to your baby, which usually buys a few uninterrupted minutes of focused self-feeding time (aka time for you to get a chance to think).
And it seems like baby food pouches are sold everywhere. When you walk through the baby section at the grocery store, you'll find dozens of pouches in different flavors. At my local Target, for example, there is an entire half-aisle dedicated to them.
But are baby food pouches good for babies? Being that baby food pouches are so convenient and accessible, it's easy to assume that they're a good and reliable way of feeding your baby. I know I assumed this as a first time mom while I was strolling the aisles at Target and Whole Foods. I almost didn't even question it. The subtle message I received was, "Okay, when you start feeding your baby, choose between jarred baby food and pouches."
But that's misleading. And I want you to know that there are drawbacks to consider. The message that doesn't really get out to parents is that baby food pouches should only be used occasionally. You don't want to count on them as your baby's main source of nutrition.
Here are some important reasons not to overuse baby food pouches—yes, even the organic ones:
1. Baby Food Pouches Prevent Important Oral Muscle Development
Because the food in pouches is consumed by sucking, it bypasses traditional feeding methods, which include spoon-feeding and offering age-appropriate finger foods. If your baby isn't primarily spoon-fed or doesn't self-feed using finger foods, the opportunity is missed to develop important oral muscles and chewing skills, which can hinder normal oral motor and speech development.
2. Pouches Offer Limited Sensory Exploration
When babies sit at the high chair for a meal, it's usually a pretty messy experience. If they're being spoon-fed, they'll often have food on, in, and around their mouth. And if they're doing Baby Led Weaning or if they're experienced eaters that self-feed, there's a whole host of senses and motor skills involved as they touch, grasp, select, and move the food through their mouth. Babies who self-feed work hard at developing their pincer grasp, for example, where they use the pads of their index finger and thumb to grasp things. Since baby food pouches conceal the food they're eating, this removes the sensory experience babies have when they're touching or seeing their food and can hinder their fine motor skill development.
Food is meant to be smelled, seen, and touched—at least by babies. This helps babies gain exposure to different textures, too, which is an essential part of learning to eat table food. Pouch-feeding, for the most part, offers none of these important experiences.
The main exception to this would be babies and toddlers who have problems with texture and sensory integration. Pouches are useful for children with sensory issues since the consistency can be very refined because they're commercially made. In fact, I had sensory issues as a child and still have problems with certain textures, especially anything "mushy". But I had zero issues when I was tasting pouches for this article. In fact, I really liked the taste and texture of Once Upon a Farm and enjoyed the flavors I sampled.
3. Pouches Reduce Parent/Baby Interaction During Mealtimes
Another good reason to not overuse baby food pouches is that they often lead to reduced interaction between mom/dad (or the caregiver) and baby during mealtimes. That's a lost opportunity for your baby to connect with you while working on this important new skill of eating.
4. Baby Food Pouches are Difficult to Recycle
If you needed more convincing, baby food pouches are not easily recycled, adding to a growing problem in our landfills and oceans. The reason is that they are made from multiple layers of plastic, which means that the recyclable components can't be separated. Terra Cycle, however, does offer a program for recycling baby food pouches, and you can recycle the pouch caps at any recycling facility that processes plastic.
And there is good news: Gerber has plans to launch a single-material pouch by 2025, which would be recyclable.
The Recommendation: Use Baby Food Pouches Occasionally
For these very important reasons, it's best to only use baby food pouches occasionally and for specific purposes.
For example, you could take them for a snack when you're out of the house. Pouches are perfect for a playdate, the park, or a trip to the zoo. Just throw them in your purse or diaper bag, and you're set.
They're also great for adding foods and flavors to your baby's diet that you might not otherwise get to expose them to. For example, how often do you serve grass-fed bison in your home?
And for some little ones with special needs, premade baby food may also be their only source of fruits and vegetables, in which case it's better than the alternative of not using the pouches. If your baby has sensory challenges, your pediatrician or occupational therapist may recommend an extended period of pouch-feeding to ensure their nutrition is adequate when they won't take anything else. (In this case, you could also make your own purees using reusable pouches yourself.) So the key is to use them strategically. In the majority of cases, it's just not wise to use baby food pouches daily in place of spoon-feeding your baby or offering age-appropriate finger foods. But you and your baby can benefit from intentional occasional use.
Related: Yumi Baby Food Subscription Review — What I Really Thought
What Should You Look for in Organic Baby Food Pouches?
Now that we've covered the importance of not overusing baby food pouches, let's go over the criteria for choosing the best brands. When it comes to deciding on the right organic baby food pouches for your little one, there are a lot of important things to consider. Here's what to look for:
1) USDA Organic Certified Ingredients
When it comes to store-bought baby food, it's recommended to go with a brand that's USDA organic certified. By choosing an organic brand, the ingredients contain fewer pesticides and other toxins than conventional options. One of the brands on this list is also certified biodynamic, which is an even higher certification standard than USDA organic.
2) Only Food-Based Ingredients
When looking at baby food pouches, always look at the full ingredient list. The best organic baby food pouches will be made from only food ingredients, and each ingredient should be organic, grass-fed, or wild-caught.
Basically, you want the baby food to be as pure as possible and not contain anything like water (used to dilute the purees), added sugar, artificial colors, artificial flavors, preservatives, GMO ingredients, concentrates, citric acid, xanthan gum, nondescript "natural flavors," or other chemical-sounding additives that you don't understand. Ideally, you should recognize and be able to pronounce every one, and the flavors named on the front of the pouch should be at the top of the ingredient list.
The pouches you choose should only include ingredients that you are comfortable giving your baby. If you are avoiding certain foods due to your baby's sensitivities, don't get a pouch that contains something that may trigger their system. For example, some babies and toddlers may not tolerate baby food pouches that contain dairy or coconut. (Just another reminder to always read the labels!)
One thing to note is that some organic baby foods (including brands on this list) occasionally contain added ascorbic acid or lemon juice. Ascorbic acid is a derivative of vitamin C that is added to some baby foods to lower the pH and make the food more shelf-stable. It's also an antioxidant and has antimicrobial properties. Though I prefer only whole food ingredients, I don't personally mind this at all.
3) What's the Expiration Date?
Most brands of baby food pouches are shelf-stable and can be kept in your pantry for months. But Once Upon a Farm, for example, must be refrigerated, and the pouches only have a 120-day shelf life. They can still be used on the go but must be consumed within four hours if left unrefrigerated. (This is actually a plus, and I really like the freshness aspect of this brand!)
Keep this in mind when shopping: how will you use these pouches? And would you prefer fresher food or a pouch that doesn't need to be refrigerated? Most likely, both types would be helpful for different uses.
4) Consider the Packaging
Lastly, consider the packaging. You should be aware that a 2017 study of baby food (including 138 baby food pouches) found that 60% of the products claiming to be BPA-free actually tested positive for BPA! Obviously, this is troubling—not to mention all of the other toxic metals they found.
As an ingredient-savvy parent who goes out of your way to give your baby organic food, I'm confident you're not going to be okay with baby food pouches that contain BPA or other toxic metals. So let me be honest here about the packaging:
Baby food pouches aren't ideal from a packaging perspective. The pouches are sterile, flexible containers usually made from polypropylene with a layer of aluminum foil, which does not make contact with the food contents of the pouch. Some may contain polyesters or polyethylene as well. Each brand uses its own packaging, so this differs from company to company.
Making homemade baby food and storing it in glass jars will always be preferable to buying premade baby food. You can control the ingredients and the packaging, and you don't have to worry about toxic chemicals introduced without your knowledge that might show up in some study. You can pretty much avoid using plastics altogether when you make your own baby food at home.
However, I'm not saying that you should never use pouches. I still believe that pouches can serve a purpose and even help you give your baby better nutrition in some cases. For example, I personally didn't have the time or know-how to make my baby a wild-caught salmon puree with butternut squash and beets! I think that as long as pouches aren't the sole source of your baby's nutrition, you can use them wisely on occasion without adversely affecting your baby's development.
5) Consider the Company
In that same study done by the Clean Label Project, 65% of baby food products tested had detectable levels of arsenic, 36% had lead, 58% had cadmium, and 10% contained acrylamides (a chemical created during the manufacturing linked to brain damage, cancer, and reproductive harm).
What does a conscious parent make of this? First, try to relax because some of these metals would be found naturally in the foods themselves. Being grown in soil, the foods we normally eat contain some level of these metals. But, what you don't want is a baby food pouch that is prepared irresponsibly and contains unsafe levels of acrylamide or introduces heavy metal contamination during the manufacturing process.
I bring up these points to raise awareness and inspire your vigilance towards researching baby foods, whether they're in a pouch, jar, or something else. Not all store-bought baby food is bad, but it's important to know that they're definitely not all on the same playing field.
So let's get to the reviews and focus on which brands make the best organic baby food pouches. That way, you'll know what brands to buy!
The Best Organic Baby Food Pouch Brands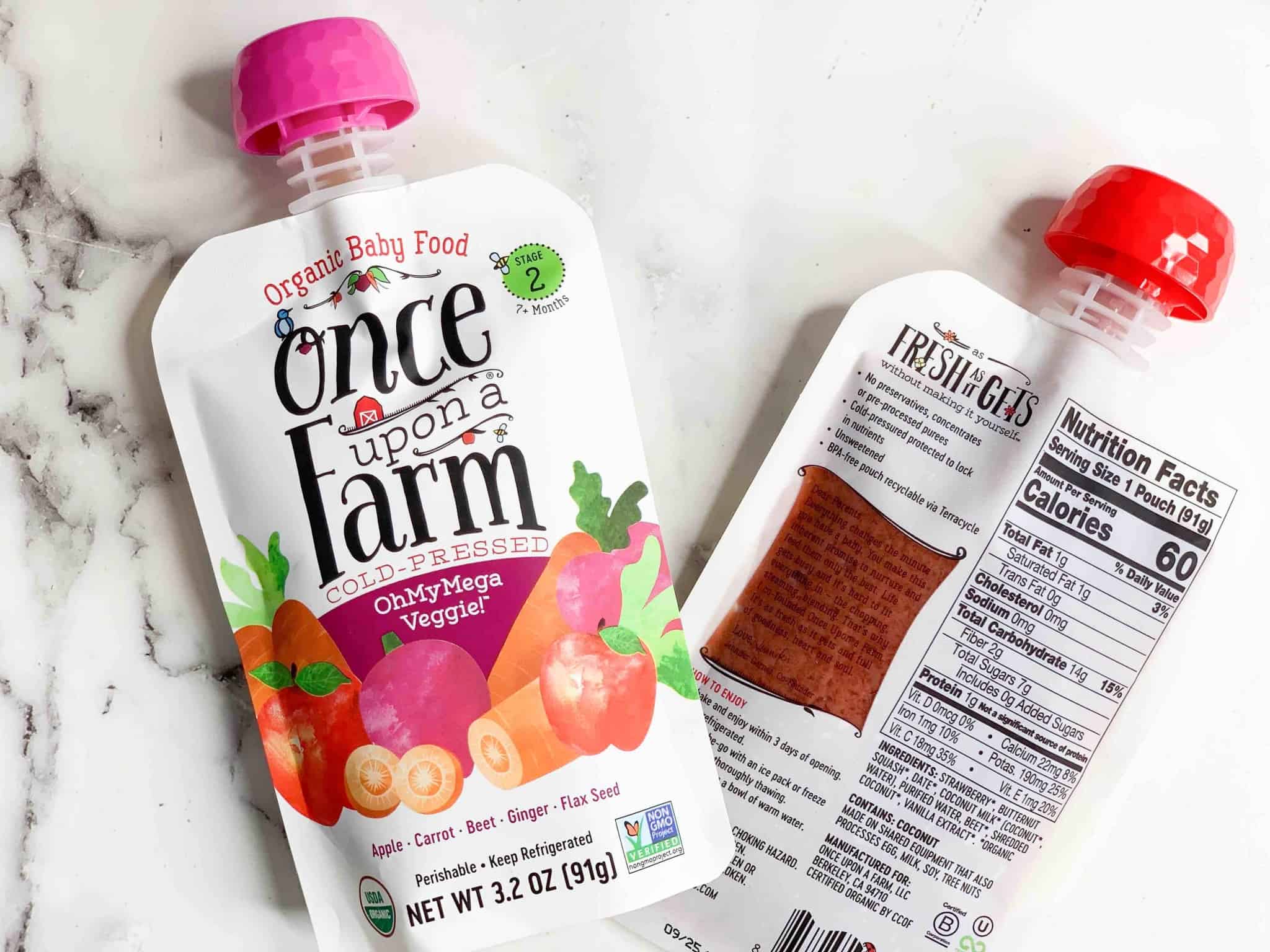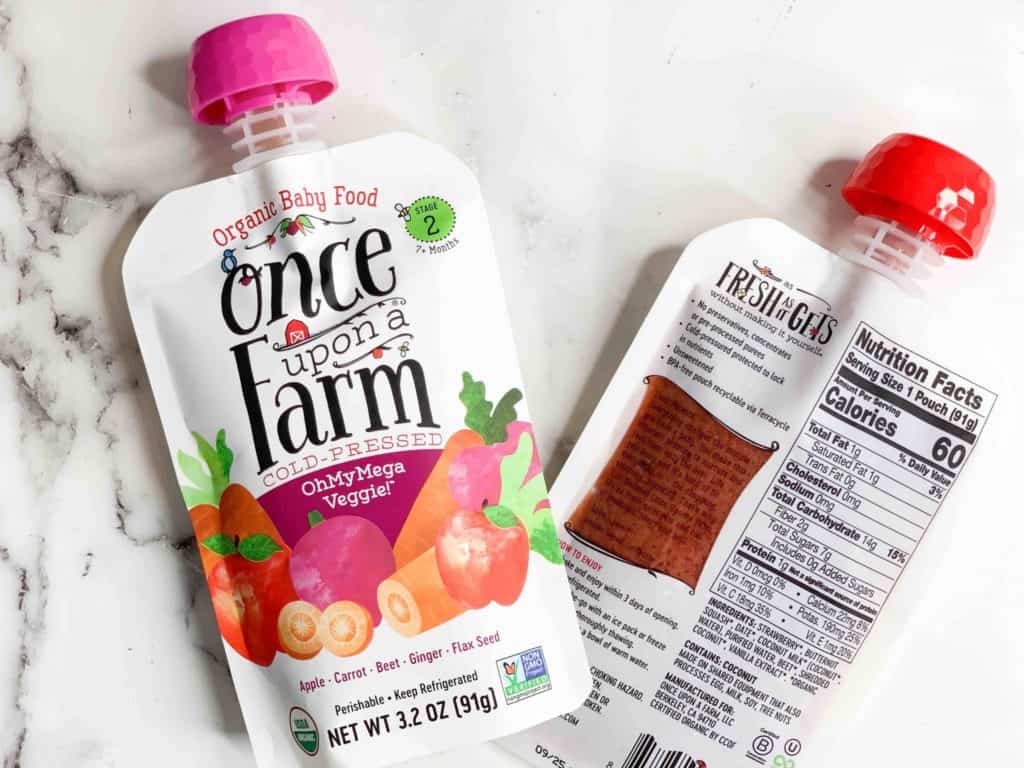 These are the brands of organic baby food pouches that I would grab if I needed the convenience of premade baby food. Here are my top six brands: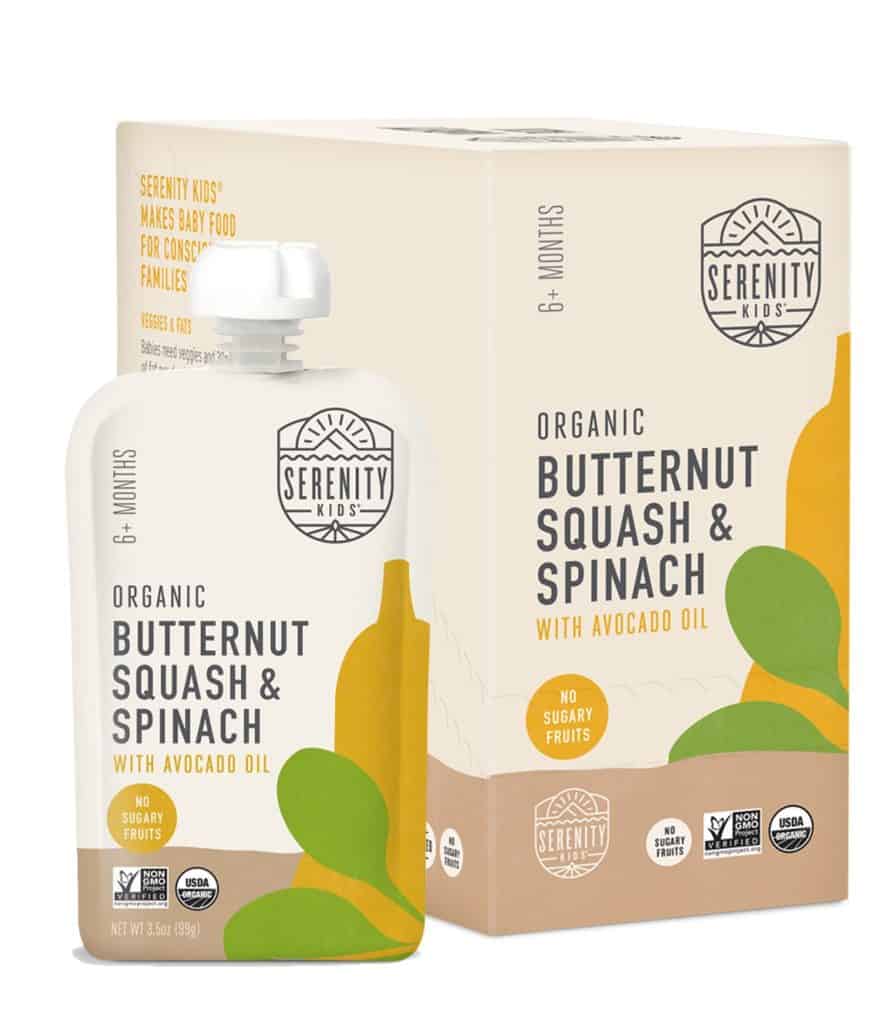 Buy on Amazon | Serenity Kids
Save 15% on your order with code GENTLENURSERY when shopping through this link.
Founded by a husband and wife team, Serenity and Joe, Serenity Kids delivers pureed foods that pack in the most nutrition per bite. They actually designed their pouch recipes to mimic the macronutrients contained in breastmilk. This means they have a similar balance of fat, protein, and carbohydrates that is ideal for babies 6 to 12 months old.
Also important, their products never contain artificial sweeteners, chemicals, or sugar. You won't find low-nutrition fillers (like grains and corn) either. These pouches are also allergy-friendly as they avoid gluten, dairy, eggs, and nuts. The ingredients used are largely certified organic or raised organically; however, not all of their ingredients will carry a USDA organic certification.
And the pouches currently contain no fruits, meaning that you can do your baby a huge service in life by exposing their palate to a variety of savory flavors. Nothing against fruit, but I find that it's easier to serve fruits than meats and vegetables since you usually don't have to cook it. And you can always serve fruit along with the pouch or separately as a snack.
What You'll Love About Serenity Kids Organic Baby Food Pouches:
Serenity Kids baby food pouches are shelf-stable, making them great for on-the-go.
All blends have an optimal balance of fat, protein, and carbohydrates.
Their veggie blends are all "savory" in flavor.
They have an entire line of pouches that contain ethically sourced meats like grass-fed beef, wild-caught salmon, and free-range chicken.
The company offers a 20% discount when you subscribe, and I have an exclusive coupon to save you 15% (in the gray box below).
Some Things to be Aware of:
Serenity Kids pouches exclusively feature meats, veggies, and fats–– there are no fruit varieties.
Their product line contains 6 meat varieties and 4 veggie blends.
They don't give exact age guidelines but list all of their products as 6+ months.
The pouch does not have a see-through window so you can't preview the contents.
---
Buy on Amazon
Once Upon a Farm baby food was co-founded by actress Jennifer Garner. The company's mission is to provide nutritious, farm-fresh, organic baby food, and they source many of their ingredients from small, locally owned farms.
Once Upon a Farm products are all stored in a refrigerated facility. They use high-pressure processing, which helps to maintain flavors and nutrients. The use-by dates are 120 days post-production. This is one of the features that really sets these organic baby food pouches apart—the freshness!
Because their blends are cold-pressed, they do not kill off the vital nutrients, enzymes, or healthy bacteria present in the ingredients.
I have so much love for this company and think they are a true winner in the baby food space. And after doing my personal taste-testing of all the brands on this page, I can confidently say that this is the tastiest brand because I finished all of the Once Upon a Farm pouches that I sampled. They were delicious!
What You'll Love About Once Upon a Farm Organic Baby Food Pouches:
All of their pouches are certified USDA organic.
Their line of pouches is divided into stages, making it easy to find the right blends for your little one.
Their pouches are available in almost every major big-box retailer and grocery store.
These pouches need to be refrigerated, which allows for the ingredients to maintain better nutritional value than shelf-stable alternatives.
Their limited shelf-life means this is the closest store-bought baby food available to homemade.
The pouches have a preview window, which is nice because you can see the contents of your baby food before buying it.
Some Things to be Aware of:
Once Upon a Farm pouches are exclusively fruit, veggie, and dairy blends––you will not find any meat in their products at this time.
Their pouches need to be stored in the refrigerator but can go unrefrigerated for up to 4 hours, meaning they can still be used on the go. YAY!
You'll need to find them in the refrigerated section of your local retailer, usually next to the yogurts or in a cooler in the baby food aisle.
Some of their flavors are made in a shared facility, meaning they may be exposed to some common allergens.
---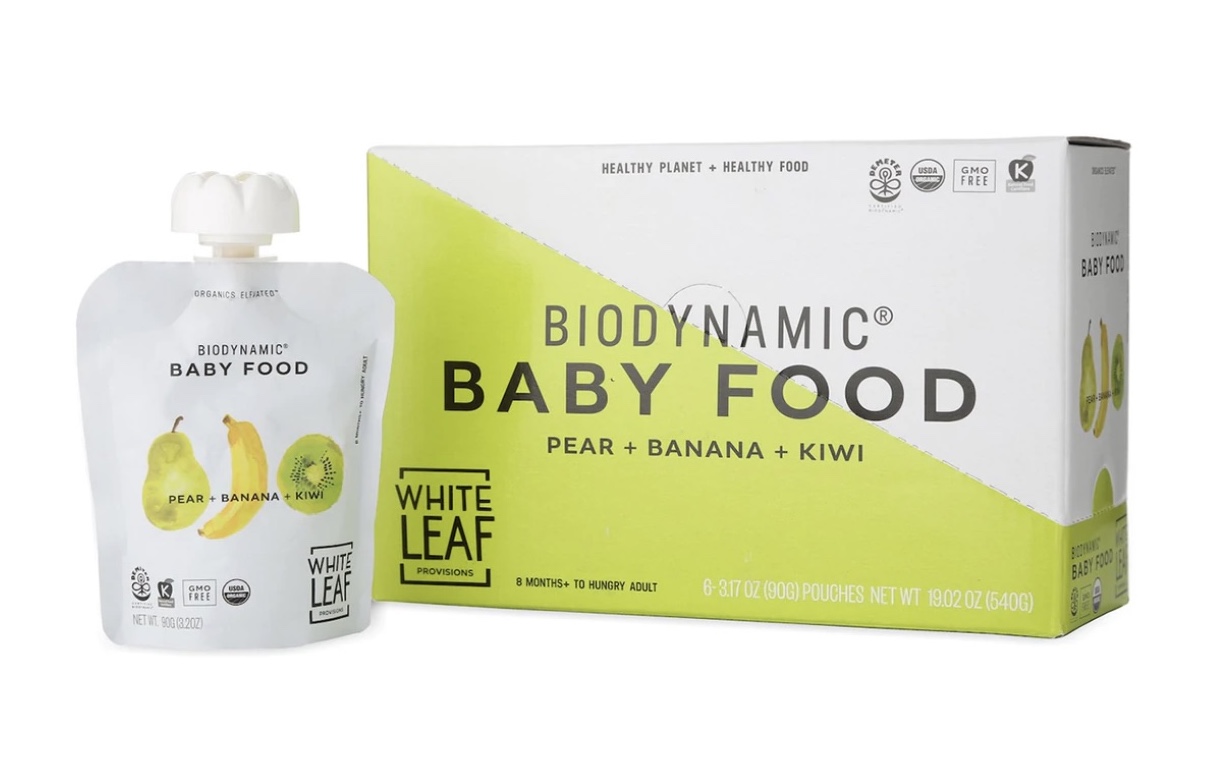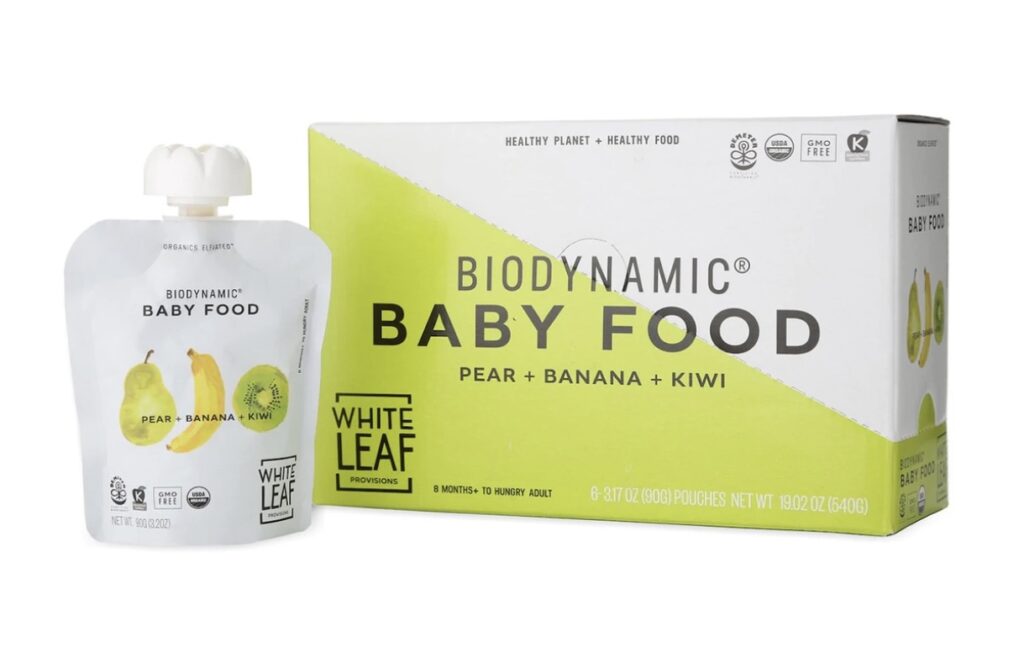 Buy on Amazon | White Leaf Provisions
Certified organic and free of glyphosate, White Leaf Provisions' biodynamic certified baby food takes organic pouches to a new level. Created by a husband and wife team (with the husband being a chef), this company works hard to make eating healthy and nutritious meals easier for babies.
Your baby will love the flavors and smooth consistency, and you will love that it's just pure goodness in a pouch. In fact, the consistency is amazing! This is a perfect choice for picky eaters or little ones that are sensitive to textures. If you are looking for a pure organic baby food pouch, definitely consider White Leaf.
Currently, four flavors are available:
Mango + Carrot + Banana + Pear
Carrot + Sweet Potato + Pea
Pear + Banana + Kiwi
Apple + Sweet Potato + Beet
What You'll Love about White Leaf Provisions' Baby Food Pouches:
Certified organic, biodynamic, and glyphosate-free
Never any added sugars or flavors
No artificial colors, flavors, or preservatives
Babies seem to love these pouches (it must be the smooth texture and subtle flavors!)
Take advantage of my 15% off discount code – below!
Save 15% on your White Leaf Provisions order with my exclusive discount code YASMINE
---
Buy on Cerebelly
Founded by an MD-PhD neurosurgeon mom, Cerebelly is an interesting player in the baby food space. The company was founded on the premise that baby food should directly supply the nutrients needed for early brain development.
Cerebelly makes certified organic baby pouches with flavors like broccoli pear or black bean sweet potato that are formulated to offer babies the key nutrients they need. On each label, you'll find added nutrient blends like:
Organic Nutrient Blend: Organic Tapioca Fiber, Nutrients derived from (Spinach, Squash Seed, Kelp, Maitake Mushroom, Chlorella, Sunflower Seed), DHA Algal Oil.
What You'll Love About Cerebelly:
All of their pouches are certified USDA organic.
Each pouch flavor lists the key nutrients it includes, such as zinc, iron, folate, and iodine.
The food combinations offer unique blends like sweet potato and mango or peas and basil.
The pouches are free of BPA, BPS, and phthalates.
Some Things to Be Aware Of:
The added nutrients might not be for everyone, but many parents are thrilled about this feature.
---
Buy on Amazon
Happy Family Organics has been around since 2003 and has a large selection of products for babies and toddlers. Their food pouches are non-GMO and use certified USDA organic ingredients without added preservatives.
Their line of food pouches is divided into stages 1–4. This takes a lot of the guesswork away, especially when first introducing solids. Simply start with the stage corresponding to your baby's age and readiness for solid foods.
Because they are a well-established company, they offer a HUGE selection of flavors and varieties featuring fruits, vegetables, grains, and meats. You'll find everything from guava and turkey, to quinoa, and beyond.
What You'll Love About Happy Family Organic Baby Food Pouches:
All of their pouches are certified USDA organic.
Happy Family pouches are shelf-stable, making them easy to use on-the-go and for travel.
They offer a huge selection of ingredients and flavors, helping you to easily add variety and exposure to different foods into your little one's diet.
Their price point is far lower than many other organic baby food pouches on the market.
You can find pouches geared for your baby's age and ability using their filter features.
They're available in almost every major big box store or grocery store that sells baby food.
Some Things to be Aware of:
Some of their ingredient lists contain ascorbic acid or lemon juice concentrate.
---
Buy on Amazon
Sprout is another great company that makes organic baby food pouches you can trust. Their pouches come in stages to help you identify the right purees for your little one, beginning with stage 2, which is for 6 months and up.
And what I love is that the food combinations are flavorful but contain no added sugars and no artificial ingredients. As far as the pouches go, you'll find multiple options that include fruits, vegetables, bone broth, grains, and more.
What You'll Love About Sprout Organic Baby Food Pouches:
All of their products are USDA Certified Organic.
You'll find flavorful food combinations and healthy ingredients like organic olive oil and organic beef bone broth in their pouches.
They use no artificial ingredients, and there's never any added sugar in their pouches.
They have dozens of flavors for you to choose from.
The pouches are shelf-stable, making them super convenient for on-the-go feedings.
Order their flavor variety sampler to receive 12 different flavor pouches, and see which ones your baby likes.
Some Things to Be Aware Of:
While their ingredients are organic, the meat used is not from grass-fed cattle.
This brand does use grains, like organic oats. If you are avoiding grains for any reason, look at the ingredients carefully.
---
The Bottom Line: Choose the Right Organic Baby Food Pouch for Your Little One
When it comes down to it, you choose what's best for your baby! These are six great brands that I personally trust. There is no right or wrong answer because we all have different needs, goals, and budgets when deciding on the baby food we will buy for our littles. Try a few different kinds and see what your baby likes!
Organic Baby Food Pouches: My Top Picks
If I were starting pouches with a new baby, I would probably use a combination of these three brands. Each of them offers something unique and they all meet my standards. For example, White Leaf has biodynamic organic stage 1 purees while Serenity Kids has awesome savory veggies and grass-fed/pasture-raised meats that I would use all the time. And Once Upon a Farm has probably the tastiest and freshest purees, so they would always have a spot in my rotation, too.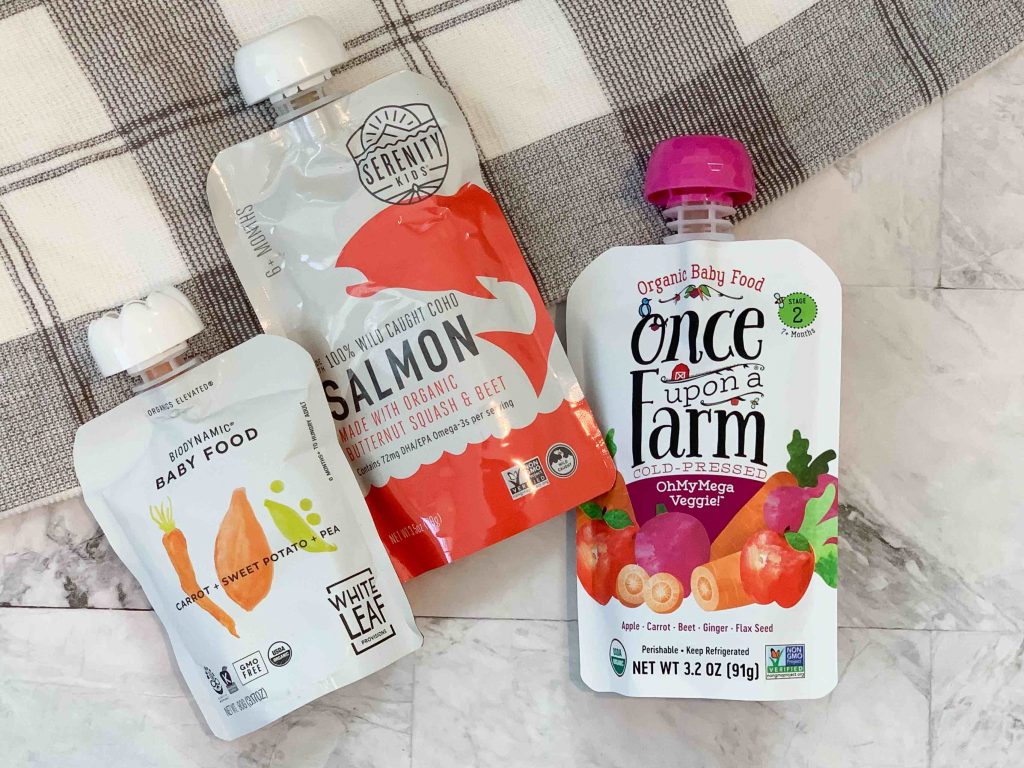 FAQs About Organic Baby Food Pouches
Here are some commonly asked questions about using baby food pouches. You might find these useful if your baby is new to solids or if you're planning on using baby food pouches for the first time.
Are baby food pouches better than jars?
Pouches are convenient, especially from the standpoint of messiness. Babies can often feed themselves using a pouch, and they are portable. On the other hand, jars require your baby to be spoon-fed.
Pouches may help your baby develop a sense of independence while they self-feed but can have adverse effects on development if they are overused—or serve as your baby's sole source of nutrition. Jarred baby food (as well as homemade purees) helps babies to accept spoon-feeding and eventually learn how to eat with a utensil, though a great little hack for using pouches is to squeeze the purees onto a spoon or into a bowl.
Mom tip! If your baby needs a little extra help with using pouches, try this awesome baby food pouch holder that gives them something to grip.
Are organic baby food pouches healthy?
Yes, most organic baby food pouches give your baby great nutrients, but there's more to consider. If you can make your own homemade baby food, that would always be preferable because it would be fresh, and you would control the ingredients. But that's not always possible, and the brands of organic baby food pouches listed here are nutritious, safe, and healthy alternatives you can count on to be ready when you need them.
As with any food, you want to limit your baby's intake of sugar and other unnecessary ingredients. Opt for pouches with only fruits, vegetables, and/or meats without additives or fillers to get the most nutrients. Also, keep in mind that having your baby feed directly from pouches is different from spoon-feeding purees. Pouches do not let your baby practice the same eating mechanisms, so you want to make sure you save them for when you really need that convenience.
What is the best age for starting baby food pouches?
Most babies will be curious and ready for solid foods between 6 and 7 months old. You can start baby food pouches during this time. Remember to stick with the appropriate stage (stage 1 being the thinnest consistency). You can always spoon-feed using a food pouch by squeezing its contents onto a baby spoon, too!
Should I feed my baby only organic food?
Organic foods are healthier than conventional in terms of chemical exposure. They are generally grown without the use of synthetic pesticides, fertilizers, and other chemicals. By choosing organic foods, you are limiting your baby's exposure to these toxins.
Is homemade baby food healthier than store-bought baby food?
Homemade baby food is often healthier, mostly because you are able to control the ingredients and the quality of those ingredients. Choosing healthy, fresh, and nutrient-dense foods (in pouch form or homemade pureed form) will give your baby the best and healthiest variety.
What is the difference between natural and organic baby food?
This can be tricky! Manufacturers often market foods using the terms "organic" and "natural" interchangeably. But they are different! Organic baby food is made with ingredients grown without synthetic pesticides and fertilizers. Natural baby foods typically are free of artificial ingredients as well as other additives. However, baby food labeled as "natural" may still include food grown with synthetic pesticides, herbicides, or fertilizers.
How long do baby food pouches last?
Unopened baby food pouches should be consumed by the best-by date. Once opened, pouches should be stored in the refrigerator and consumed within 24 hours.
I hope you found the best organic baby pouches for your little one!